AI art is sweeping the globe, and while concerns may arise regarding its impact on artists and designers, there's no denying its ability to produce exceptional tattoos.
Whether you're a tattoo artist seeking fresh inspiration or an enthusiast on the hunt for your next ink masterpiece, AI tattoo generator presents an exciting avenue to ignite your creativity and streamline the design process.
Feeling unsure about where to begin? Look no further, as we present you with 9 fantastic choices to discover the best AI tattoo generator .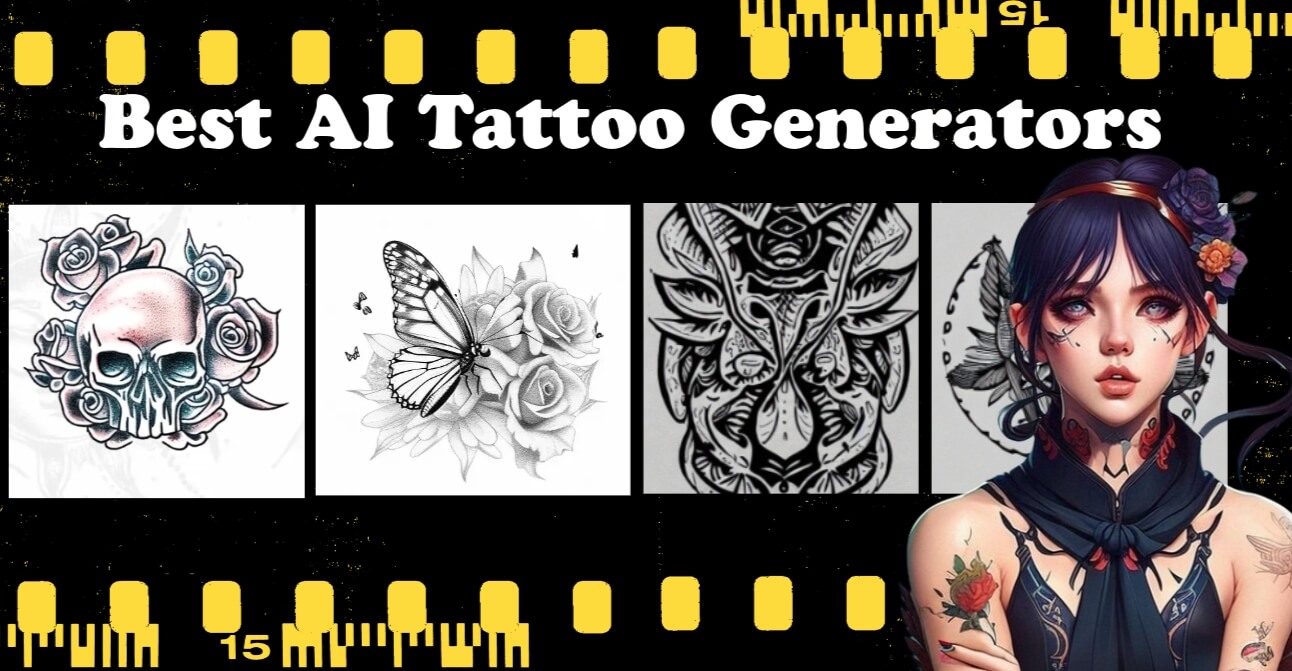 Part 1. Basic Info About AI Tattoo Generator
An AI tattoo generator is a computer-based tool that utilizes artificial intelligence algorithms to create virtual representations of tattoos. It uses machine learning techniques to analyze and interpret various input parameters such as text describing what you want to design, desired style, and design elements to generate unique tattoo designs. By leveraging AI capabilities, the tattoo generator aims to assist individuals in visualizing and exploring tattoo ideas before making a permanent commitment to the design, allowing them to experiment and make informed decisions about their body art.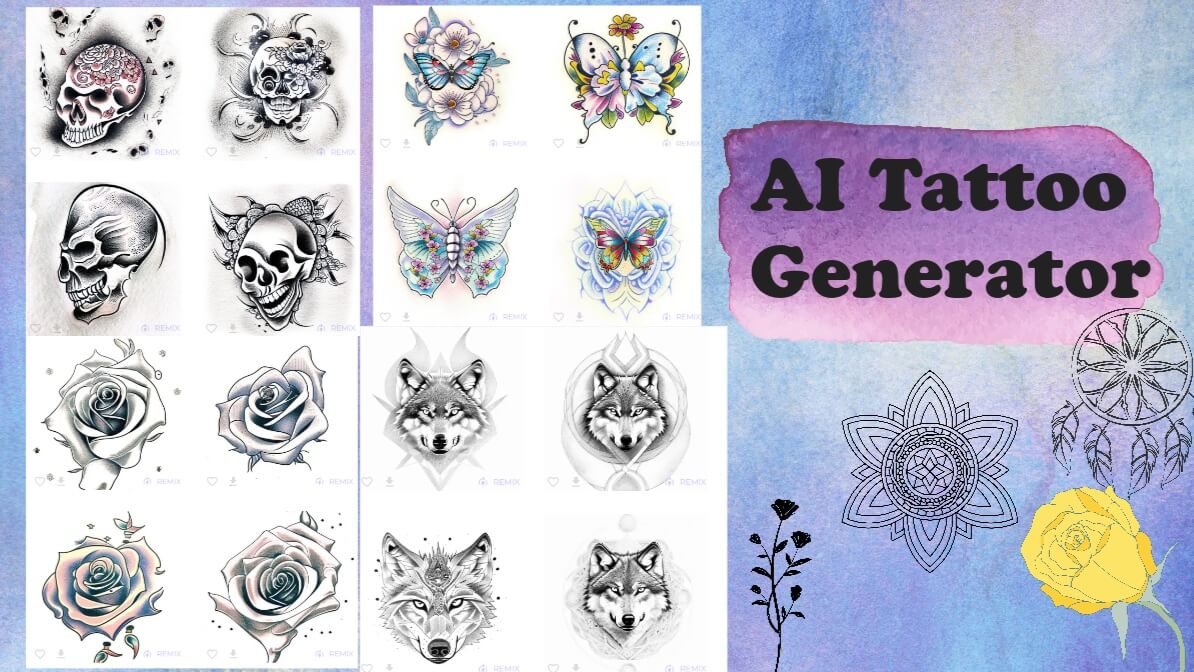 Part 2. Best AI Tattoo Generator to Create Unique AI Tattoo Designs
BlackInk AI is an online AI tattoo generator that uses the power of AI to give you various tattoo designs within 30 seconds after you input your design ideas, including entering what you want, and choose a specific style.
BlackInk.AI stands out among its competitors by offering a wide range of popular tattoo styles such as dot work, Japanese, tribal, and more, catering to the preferences of tattoo enthusiasts.
Users can share their generated designs in the public gallery or keep them private with a Pro account.
Price: Free Trial: 5 credits for 20 images; $5 for 100 credits.
How to Make an AI Tattoo Design in BlackInk:
Step #1: Visit the website & Click "Try For Free", and then, sign in.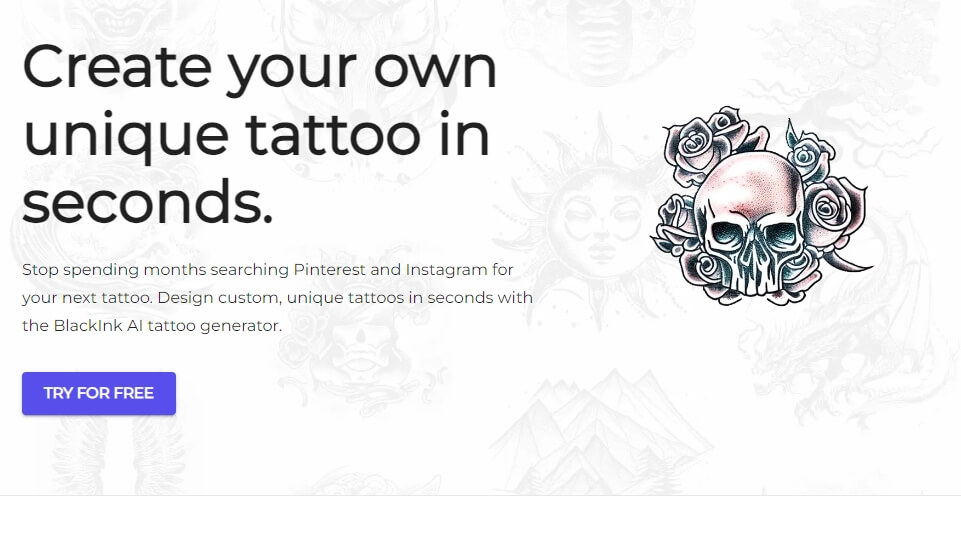 Step #2: Enter your prompt, and choose a style you want.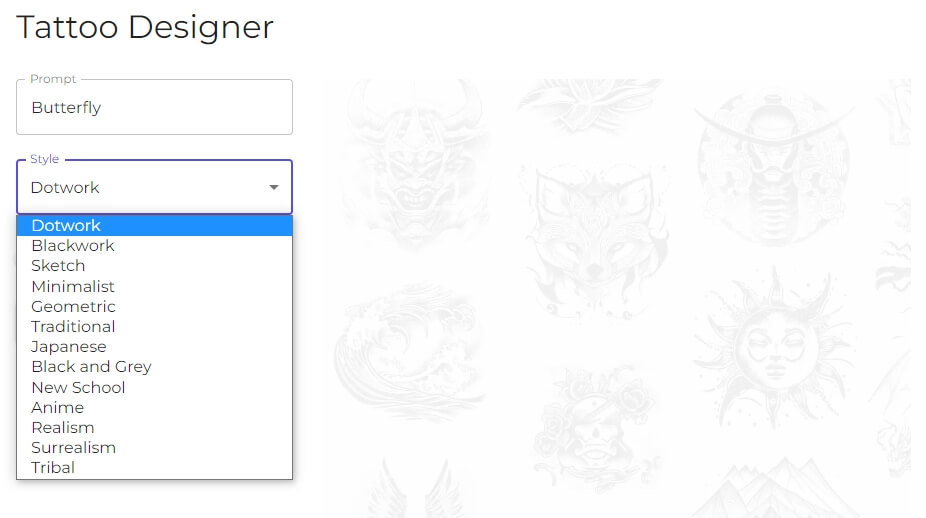 Step #3: Download the stunning ai generated tattoo designs.
Pros:

The UI is straightforward to use.

It is web-based.

It offers various design styles, including Dotwork, Blackwork, Sketch, Minimalist, Geometric, etc.

You can explore and choose form 100000+ ai tattoo designs created by its community of tattoo lovers.

It is specially used for AI tattoo generation, so there is no need to enter complicated prompt.
Cons:

You are not allowed to upload your own artwork.
If you're seeking to create distinctive designs using artificial intelligence, Fotor is a top contender. Not only does it offer the ability to enhance tattoo designs through text descriptions, but it truly shines as an AI tattoo generator when using images.
By simply uploading an existing design or image, Fotor's magic comes into play. It offers a variety of styles and generates a plethora of fresh concepts based on the original input.
This approach enables the creation of designs that are akin to, but not identical copies of, existing tattoos. Furthermore, Fotor can be a valuable tool for formulating ideas even if you ultimately decide not to use the generated tattoos.
Price: Start from 9.99/month for 200 credits.
How to Create AI Tattoo Designs in Fotor:
Step #1: Enter the website & Click "Generate".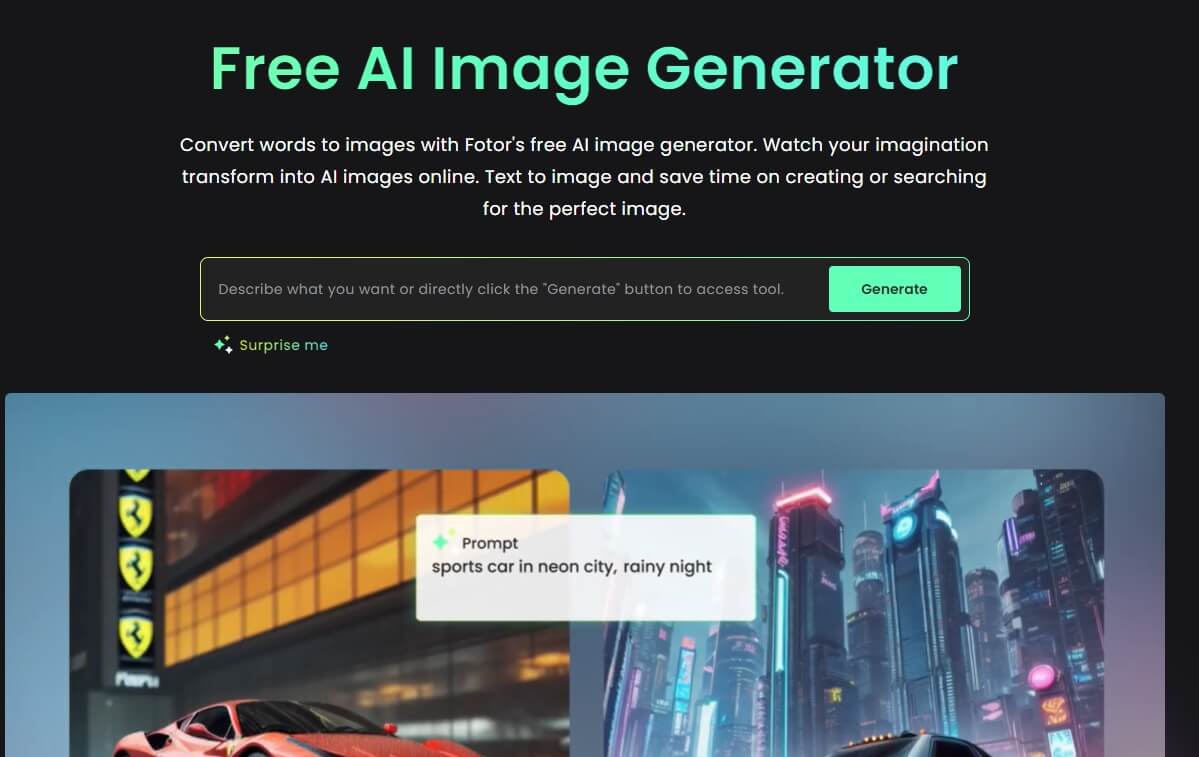 Step #2: Enter your own design ideas Or upload the existing design to let AI generate new designs based on the original one. Remeber to select styles.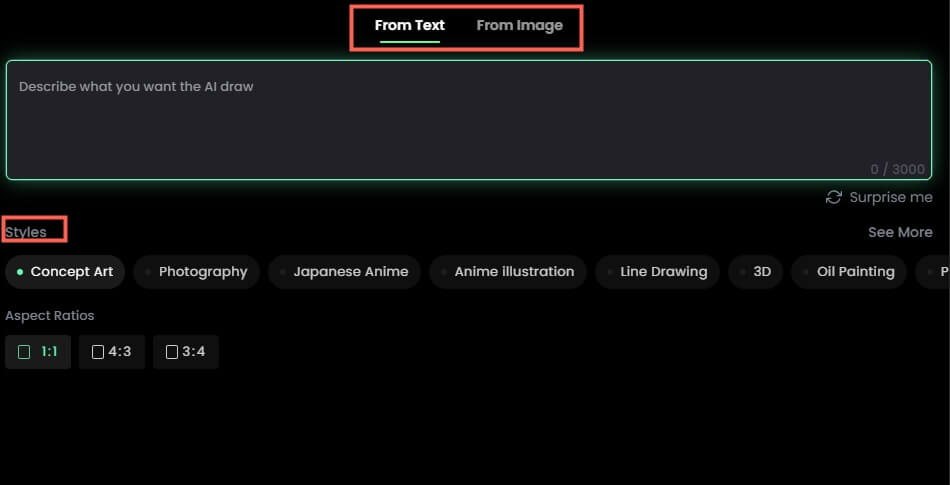 Step #3: Download the output.
Pros:

It supports both AI text-to-image and photo-to-image conversion.

It is available online, for Mac, Windows, and mobile.

It has various styles, like anime, oil painting, concept art, photography, etc.
Cons:

It's not specially used for AI tattoo designs, so it may require some time and practice to become proficient.
NightCafe has gained significant popularity as an AI tattoo generator, evident from numerous creations found through a quick search. It offers both desktop and mobile app versions, allowing users to access a range of leading image AI algorithms. Each algorithm, such as DALL-E 2, CLIP-Guided Diffusion, Stable Diffusion, Neural Style Transfer, and VQGAN+CLIP, possesses its own unique style and approach to image analysis and generation.
For instance, Style Transfer utilizes a style image and a content image to replicate the content from the latter in the artistic style of the former. This feature proves valuable for tattoo enthusiasts seeking to explore new subjects within their preferred tattoo style quickly.
It also accommodates text-only prompts to help users overcome creative blocks. The platform is user-friendly and provides a helpful walkthrough wizard upon initial sign-up.
Price: It grants 5 credits per day, and Start from 4.79/month for 100 credits.
How to Free Make AI Tattoo Designs in NightCafe:
Step #1: Enter the website & Click "Start Generating".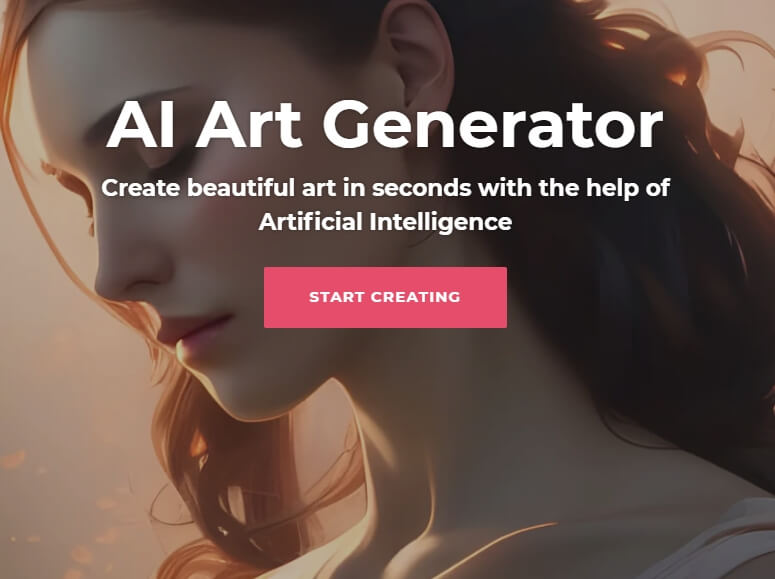 Step #2: Choose an algorithm model & Enter the text prompt to describe what you want the AI to create.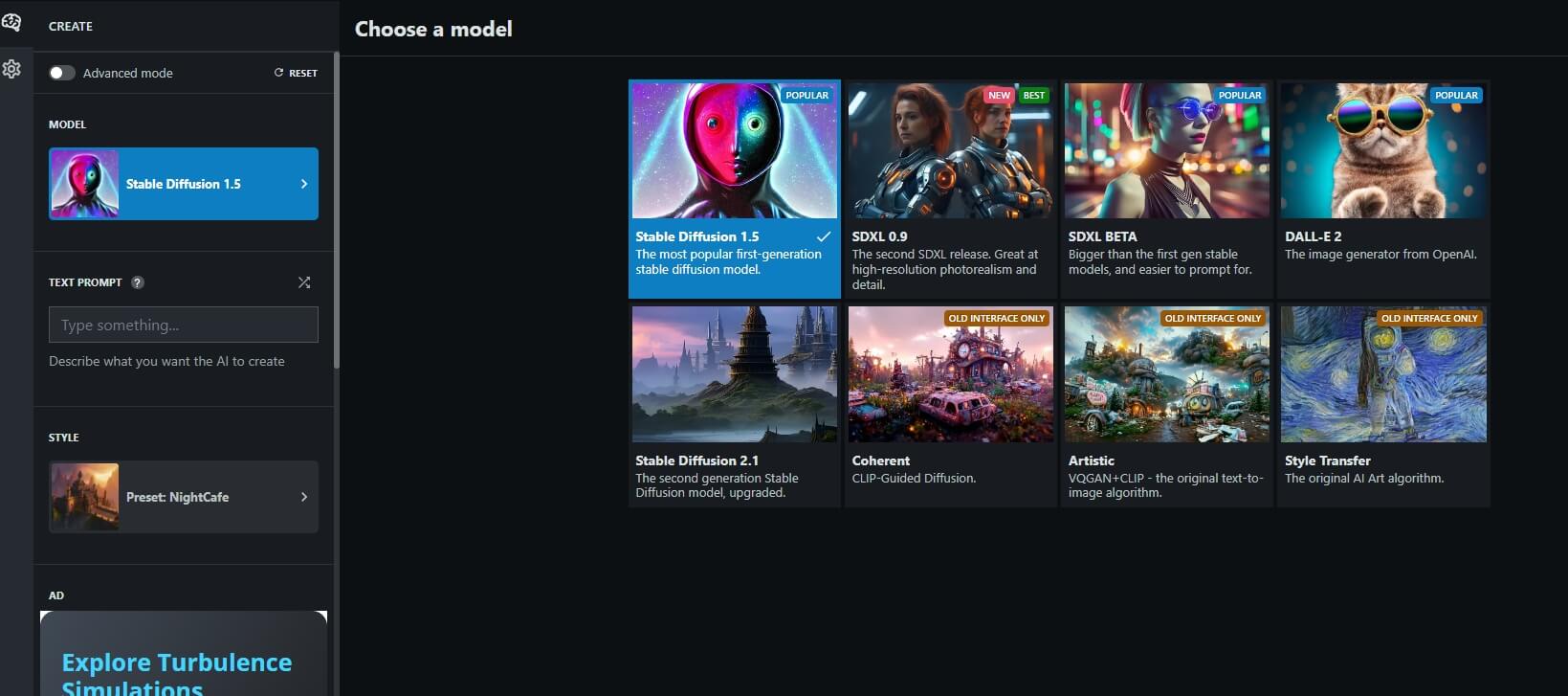 Step #3: Select a style from various preset styles.
Step #4: Download and save the tattoo designs generated by AI.
Pros:

It has more algorithms than others.

It has a vibrant AI art community to create, share and discuss your designs.

It offers 5 free credits per day for you.
Cons:

It's not specially used for AI tattoo designs, so you need to train it with detailed description of your design ideas.
While Adobe is commonly known among designers, it has also ventured into the realm of AI with its Firefly software. This comprehensive suite incorporates multiple AI models that can be employed not only for tattoo designs but also for advertising or illustrations.
For instance, the initial model is capable of generating images from text, creating special effects for text itself, and recoloring vectors. Once an image is generated, users can input additional commands to further refine the results.
The generative recolor functionality serves as a valuable companion tool for tattoo artists, enabling them to quickly explore different color variations of their artwork. Overall, if you are already familiar with Adobe products for your tattoo work, incorporating Firefly into your workflow is a logical choice.
Price: Currently available in the free Beta of Adobe Express.
How to Free Make AI Tattoo Designs in Adobe Firefly:
Step #1: Enter the website & Click "Explore Firefly".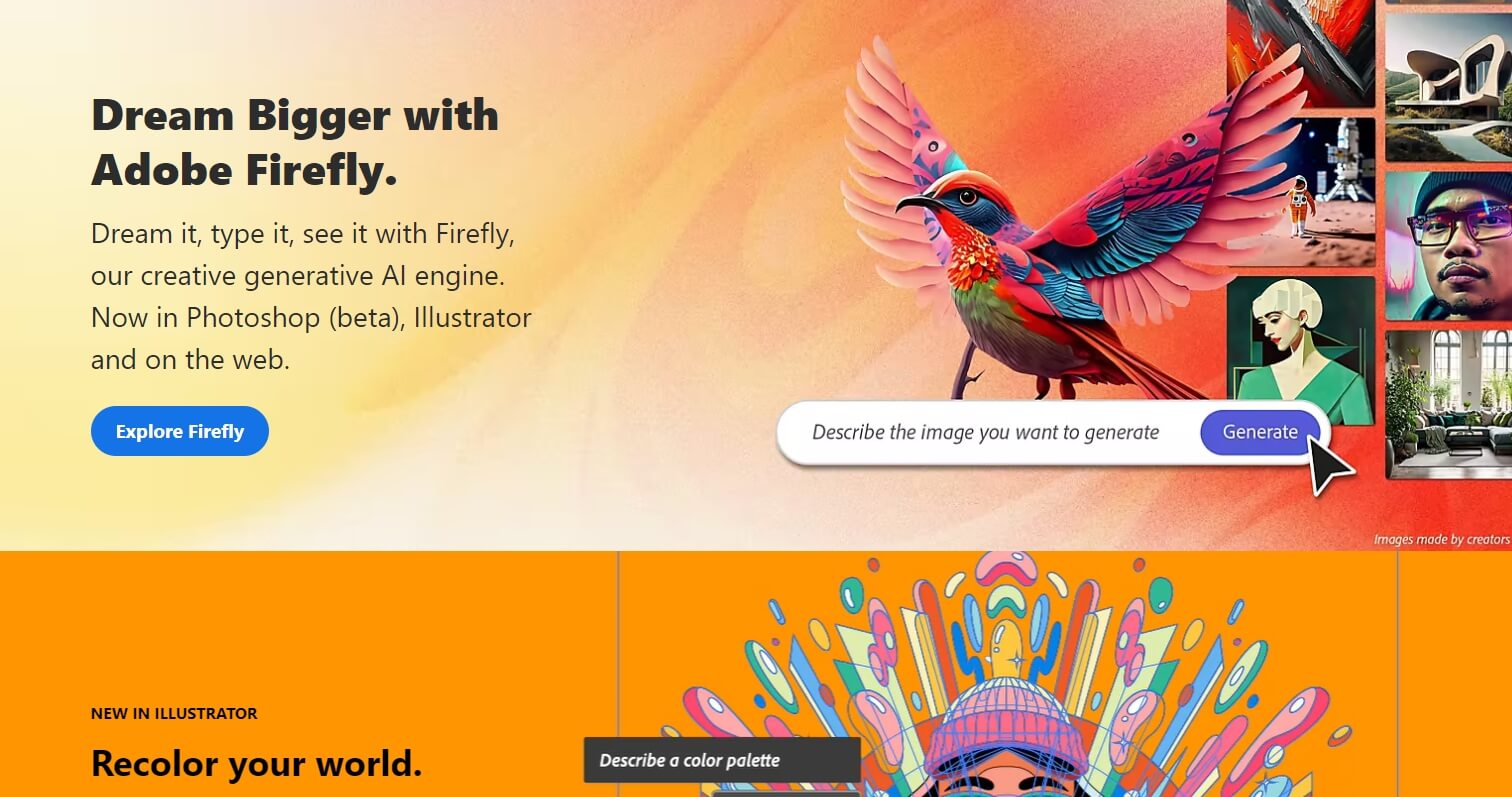 Step #2: Choose Text to image to start your generation.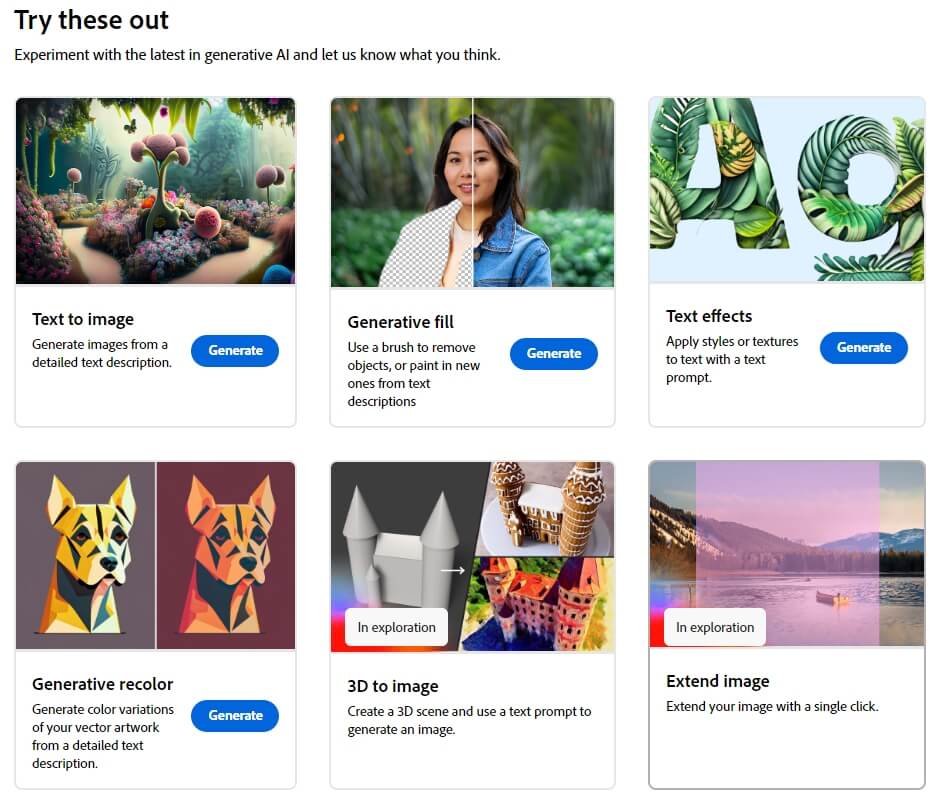 Step #3: Describe what you want to generate in the text bubble and click generate.

Step #4: You can refine the ai generated tattoo designs to unleash your creativity.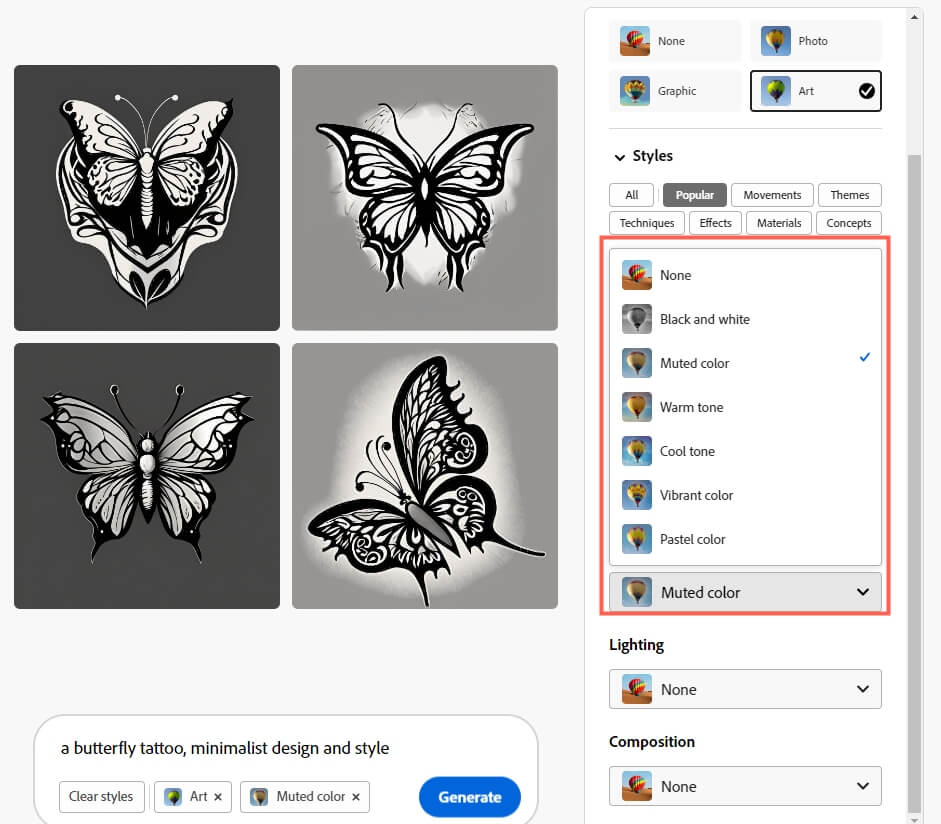 Pros:

It is user-friendly with its intuitive interface.

It allows further refinement, like adjusting color and tone.

It offers various styles to let your imagination sparkle.

It is currently free to use.
Cons:

Not allowed to generate new image from photo.
Midjourney, being one of the pioneers in the realm of AI art generators, has invested ample time in training its algorithms. Consequently, the results it produces today are truly impressive, with tattoos representing just a fraction of its capabilities.
A highly effective approach involves combining a descriptive prompt with a desired artistic style. For instance, a prompt such as "butterfly, black and white tattoo style" can yield excellent results.
Midjourney goes a step further by recognizing renowned tattoo artists, allowing users to conclude their prompts with phrases like "by Sailor Jerry," referencing the famous style associated with the artist of the same name.
Moreover, Midjourney provides the option to incorporate existing images or designs, which can be combined with a prompt to fine-tune the output, exploring different styles, colors, and more.
Price: Start from $10/month.
How to Create AI Tattoo Designs in Midjourney:
Step #1: Enter Midjourney website to join its discord community.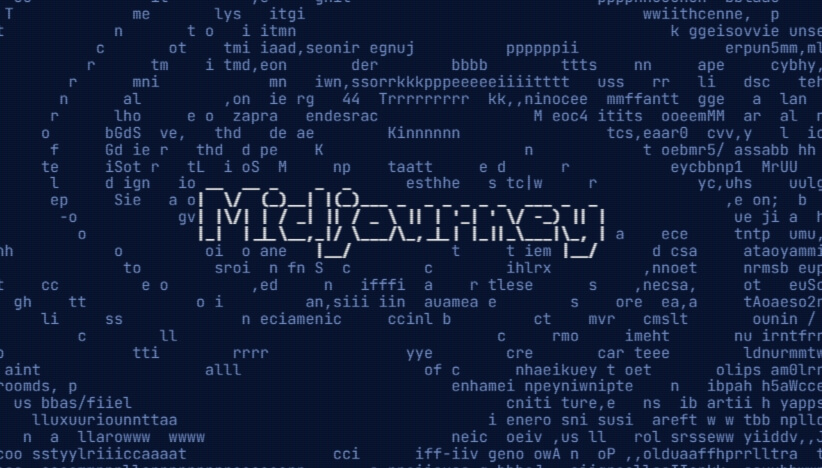 Step #2: Go to one of the newcomer rooms.
Step #3: Enter "/imagine" in the message box, and type your text prompt, and finally press Enter. Wait a moment, the bot will send AI-generated tattoo out for you.

Note: Please pay attention that the "U" buttons are for upscaling the selected image, while "V" buttons are for creating new variations for the selected image.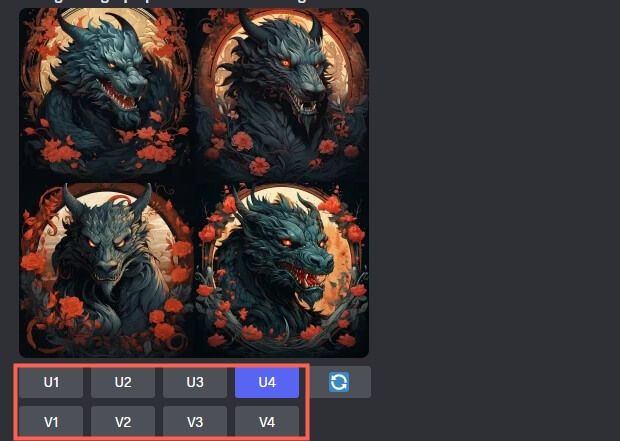 Bonus Tip
You are also allowed to generate tattoo designs from your own photos, only by entering the prompt that includes "fine-tune it into a different styles, colors, and more."
Pros:

It supports both text-to-image and photo-to-image.

It boasts a large community to share inspirations.

It allows further upscaling and making variations.

It can generate tattoos with styles from famous tattoo artists.
Cons:

Not free to use.
If you have a specific tattoo concept in mind but haven't found any existing designs that resonate with you, TattoosAI is the ideal solution.
The platform offers a range of styles to choose from, including popular options like surreal, watercolor, and lettering. Additionally, there is a 3D feature that allows you to visualize how the tattoo would appear on the body.
The best part is that you don't need any artistic skills. All you need is the ability to describe your idea using key terms. By solely relying on text prompts, TattoosAI keeps the process straightforward, making it particularly effective during the brainstorming and ideation phase of tattoo design.
Price: 8 tattoo designs for free, and then, start from $9.99 for 7 days.
How to Create AI Tattoo Designs in TattoosAI:
Step #1: Enter the website, and sign in to start.
Step #2: Describe the tattoo, pick a style and a color, and finally click "Generate tattoos".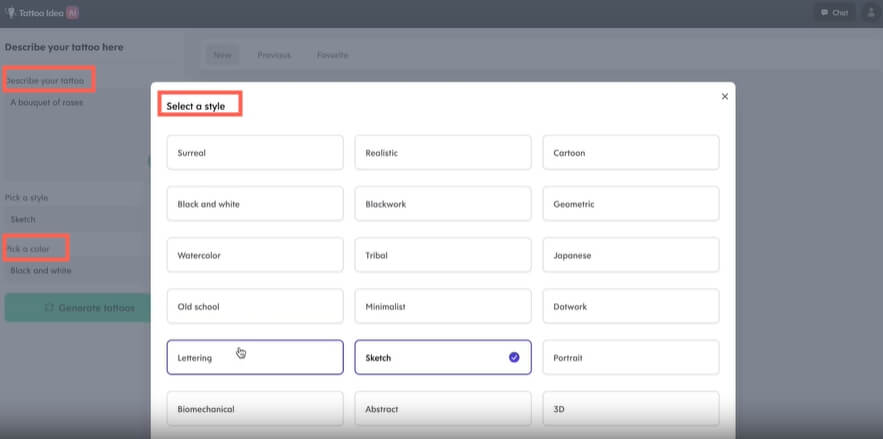 Pros:

It's specially designed for tattoo generation.

It is easy to use.

It generates a bunch of results with one prompt.

It has a wide range of styles to choose from.
Cons:

The results may not be so unique.
Photoleap is a robust AI art application available for both iOS and Android devices. Its primary AI art generator offers two distinct modes for generating images.
The first mode, text-to-image, allows users to describe their desired visual content, which the app swiftly generates within seconds.
However, the second feature, Sketch-to-image, proves particularly valuable for tattoo purposes. With this feature, users can utilize an in-app sketch or an existing image, and the AI intelligently "fills in the gaps," enhancing the artwork.
To further elevate the creativity, users can even combine the Sketch-to-image feature with a text prompt, resulting in the creation of more intricate and complex designs.
Price: 7-day free trial & $39.99/year.
How to Create AI Tattoo Designs in Photoleap:
Step #1: Open the app & Describe the design you desire. Remember to choose the style.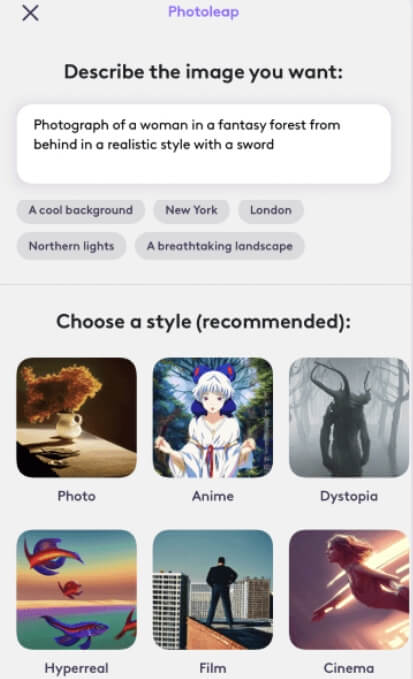 Step #2: You can also draw a sketch Or upload your own photo.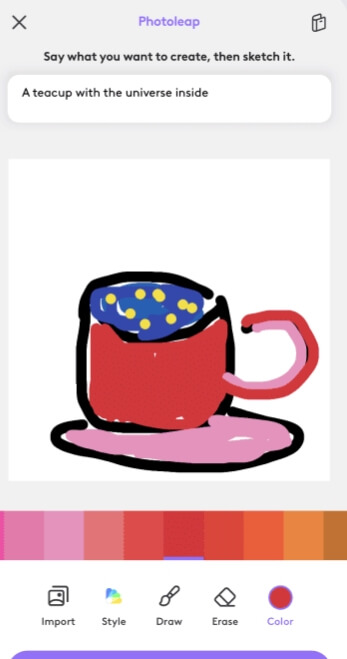 Note: You are also allowed to further edit the result.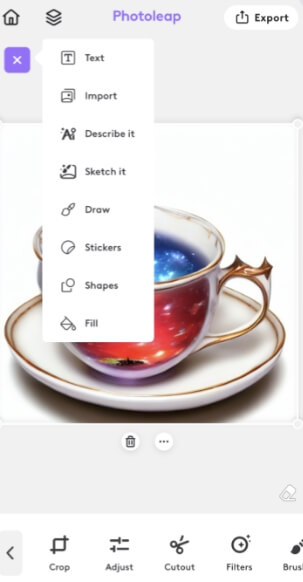 Pros:

It allows text/sketch/photo to image generation.

It is easy to use.

It supports further editing the design.

It has a wide range of styles to choose from.
Cons:

It is not solely designed for AI tattoo generation.
Tattoo Jenny is a web-based AI tattoo generator, it is very simple to use, and all you need to do is to input yout tattoo idea, select a style, and click "generate".
Once you have a clear idea in mind, effectively communicating your tattoo vision to your artist can sometimes be a source of frustration. However, this site simplifies the process, making it effortlessly easy to articulate and convey your desired tattoo design to your artist.
Price: 10 free credits, then 60 credits for $8.33 USD.
Pros:

It has different tattoo styles to choose.

It is user-friendly.

It has a large tattoo gallery to get inspirations.
Cons:

The generation is a bit slow.
InkTune is a popular AI tattoo generator, that allows you to create unique tattoo designs with various styles from different artists.
Different from others, InkTune boasting a large library of styles and colors for you to choose.
More importantly, it provides you with the freedom to select your preferred tattoo artist to bring your design to life. It offers an extensive array of renowned tattoo artists, ranging from legendary figures like DaVinci to contemporary masters who excel in diverse tattoo styles.
Price: Starts from $9.70 for 7-day; $12.70 for 30 days.
How to Create AI Tattoo Designs in InkTune:
Step #1: Enter the website and get started for free.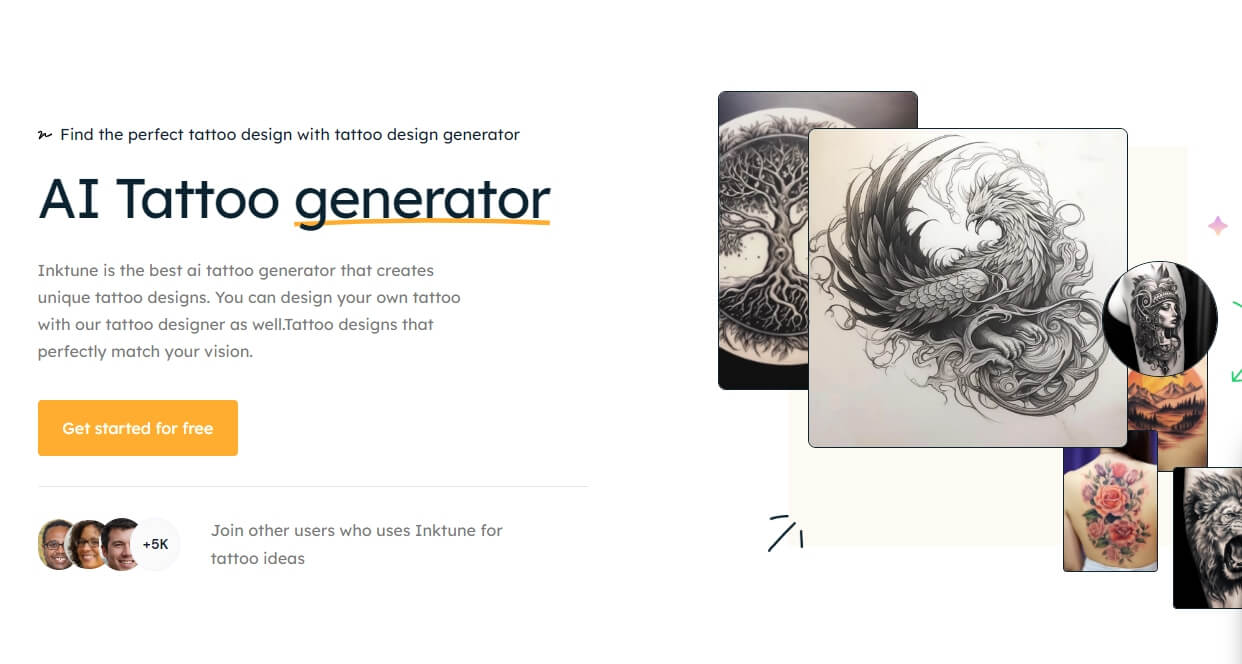 Step #2: Describe your tattoo, pick a style, a color and an artist.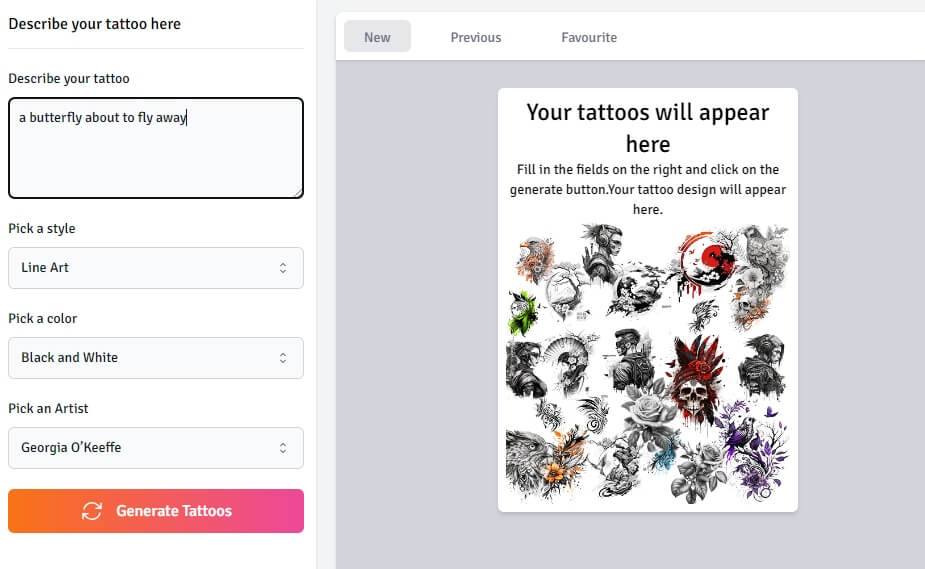 Pros:

It allows users to choose various artists to generate designs with their corresponding styles.

It is easy to use.

It offers various options for style and color.
Cons:

Not free to use.
Part 3: Bonus Tip to Get Unique and Cool AI Generated Tattoos
We have reviewed powerful AI tattoo generators that have their own pros and cons, and are great tools for you to design unique and cool tattoo designs effortlessly. Apart from them, here is another powerful AI tool for you to design stunning tattoo designs with AI.

iMyFone MagicPic is an AI photo editing and graphic design tool, and its current feature is bulk background removal with AI .
The next version is about to be released, and you will experience the use of AI to generate stunning art, graphics, tattoos and more. It not only supports inputting design ideas to generate stunning art, but also provides various types and styles of tattoo designs made by others for you to make your inspiration sparkle.

Moreover, it also supports photo-to-image generation, which helps to make your designs vary from style to style, unlocking your creativity. Stick around, you don't want to miss out!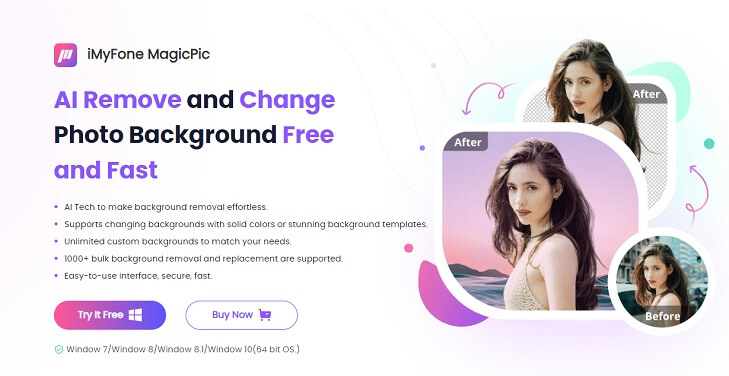 Part 4. FAQs about AI Tattoo Generator
Can AI design a tattoo for me?
Yes, you can generate stunning tattoo designs only by inputting certain design ideas, by using AI tattoo generators like BlackInk AI, Fotor, NightCafe, Adobe Firefly, Midjourney, TattoosAI, Photoleap, Tattoo Jenny, InkTune.

What is the best AI tool to design tattoos?
There are a lot of AI tools to design tattoos, including BlackInk AI, Fotor, NightCafe, Adobe Firefly, Midjourney, TattoosAI, Photoleap, Tattoo Jenny, InkTune.
Adobe Firefly is the best one, since it supports text-to-image tattoo design generation, plus recoloring and refining the results. Moreover, it's free to use for now.
How do I get AI to design a tattoo?
You can head to a AI tattoo generator, for instance, BlackInk AI.
1. Enter the website and sign in.
2. Enter your prompt.
3. Choose a tattoo style.
4. Download the result.
Wrap it Up
Having explored our recommendations for the top AI tattoo generators, there's no better moment than now to embark on creating your own captivating designs.
Whether you're a tattoo artist seeking to unlock the full potential of your existing artwork or a customer in search of fresh ink, liberated from the constraints of traditional catalogs, AI can invigorate your ideas and infuse them with a renewed sense of vibrancy.