The fashion industry has witnessed a notable surge in the integration of AI technology, and the same applies to the realm of t-shirt design. This innovative trend enables individuals to generate visually stunning and awe-inspiring designs that were once unimaginable to create manually, all with just a few simple clicks.
AI t-shirt design generator offers a multitude of benefits, including time savings, enhanced productivity, and reduced design costs. In this guide, we will learn about the best AI T-shirt design generators, and how to use AI to design T-shirts. Let's get started right away!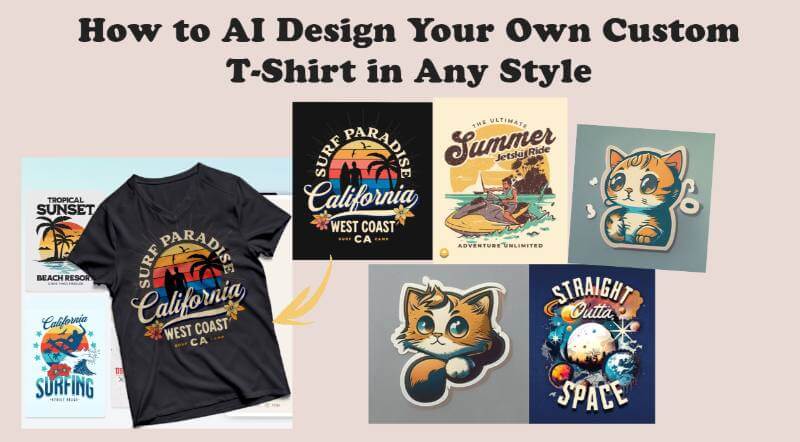 Part 1. Basic Info About AI T-Shirt Design Generator and Why It Gains Popularity?
AI t-shirt design generators are cutting-edge tools that utilize artificial intelligence and machine learning algorithms to simplify and enhance the process of creating customized t-shirt designs. You just need to enter your prompt to describe the design, the powerful tool will turn it into reality in no time, moreover, they are also equipped with various templates and customization features for you to use.
These generators have gained significant popularity due to their ability to democratize design, making it accessible to individuals of all skill levels. With AI-powered text-to-image conversion and advanced design algorithms, users can effortlessly describe their desired design and receive a plethora of unique and stylish options instantly. This convenience, coupled with the cost-effectiveness and time-saving benefits, has contributed to the widespread adoption of AI t-shirt design generators, revolutionizing the way people approach t-shirt design and customization.
Part 2. Generate AI T-Shirt Design in Any Style with AI T-Shirt Design Software
Xinva Ai t-shirt design generator is your key to generating the ideal t-shirt design for your devoted customers. Simply input a creative prompt into our prompt box, and our AI-powered t-shirt designer will take care of the rest. Harnessing the capabilities of powerful machine learning, Xinva Ai empowers you to craft exceptional, fashionable, visually captivating, and extraordinary designs that enhance sales in your store.
How to Make a Stunning T-shirt Design in Xinva.ai:
Step #1: Visit the website & Click "Start For Free".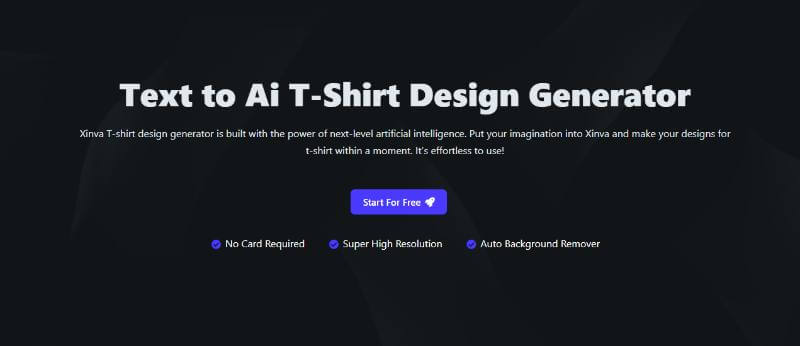 Step #2: Enter the prompt to describe what you want to design, and then click "generate".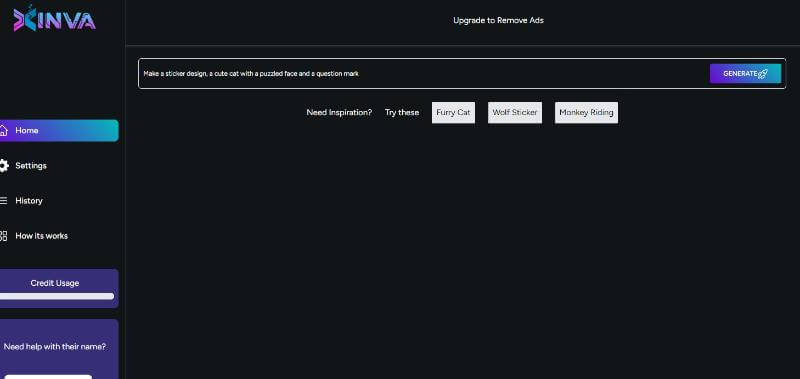 Step #3: Click "Remove BG" button to remove the background to use it on your t-shirt mockup. And you can further make more variants from the current AI-generated design.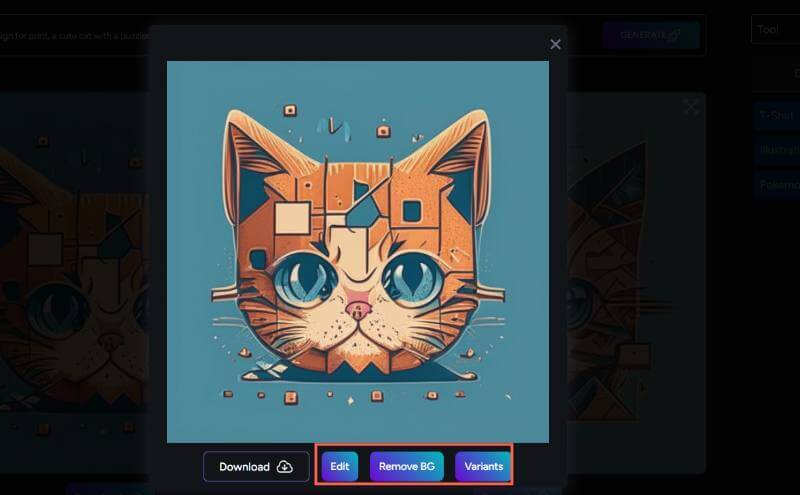 Step #4: Download the results.
Key Features:
Smart Text-to-Image Conversion: Xinva Ai employs state-of-the-art algorithms to transform text descriptions into stunning visual representations, enabling users to describe their design ideas effortlessly.

One-Click Remove BG: After generating images, it also allows to remove the background with single click, so that you can use it directly as t-shirt mockup.

Time and Cost Efficiency: Users can save valuable time and resources that would otherwise be spent on hiring designers or outsourcing the design process.
This intuitive platform offers a wide range of design elements, graphics, fonts, and customization options, allowing users to unleash their creativity and bring their design ideas to life. Whether you're a professional designer or someone with no prior design experience, Kittl's t-shirt design creator provides a user-friendly interface and powerful features that make the design process seamless and enjoyable.
How to Create Your Own T-Shirt Design in Kittl:
Step #1: Enter the website & Click "Get started!".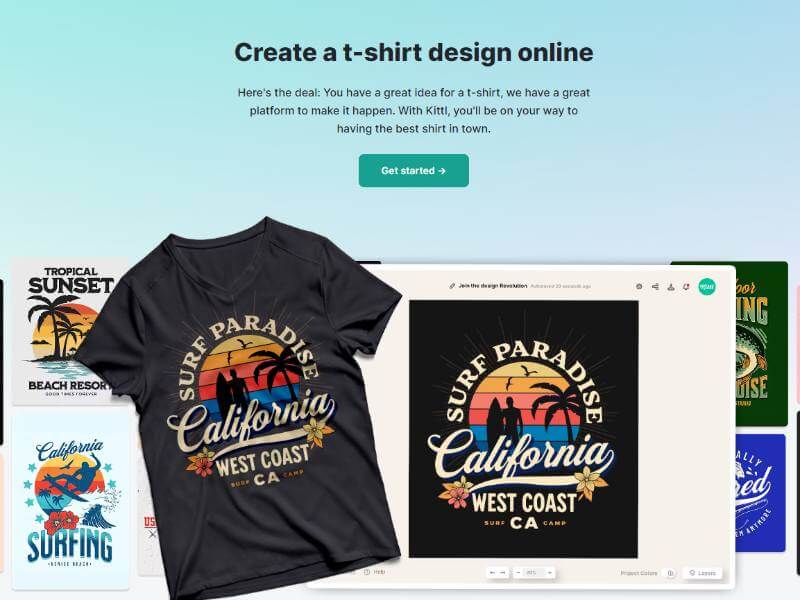 Step #2: Explore a myriad of design templates, and choose the one you prefer to make further customization.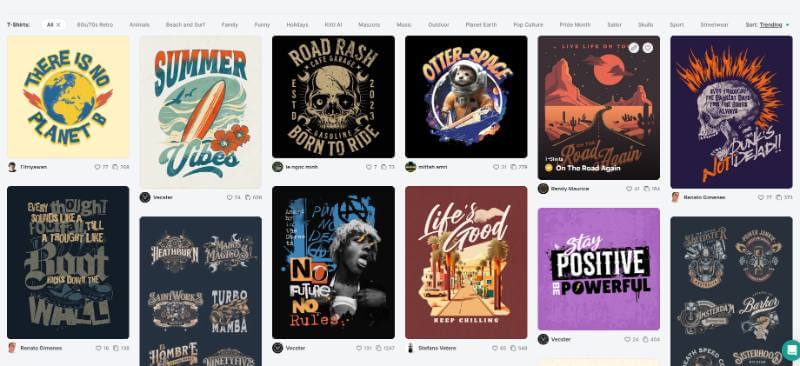 Step #3: Customize your design to make it special, by adjusting text, design elements, texture, and more.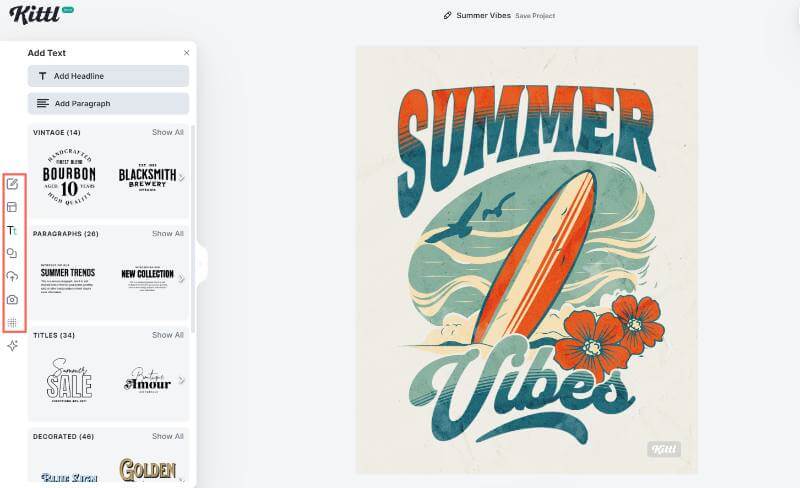 Note: You are also allowed to create the image that you've imagined in your head with its built-in AI text-to-image feature. All you need to do is to enter your prompt and choose certain style, and then turn your imagination into reality by a single click.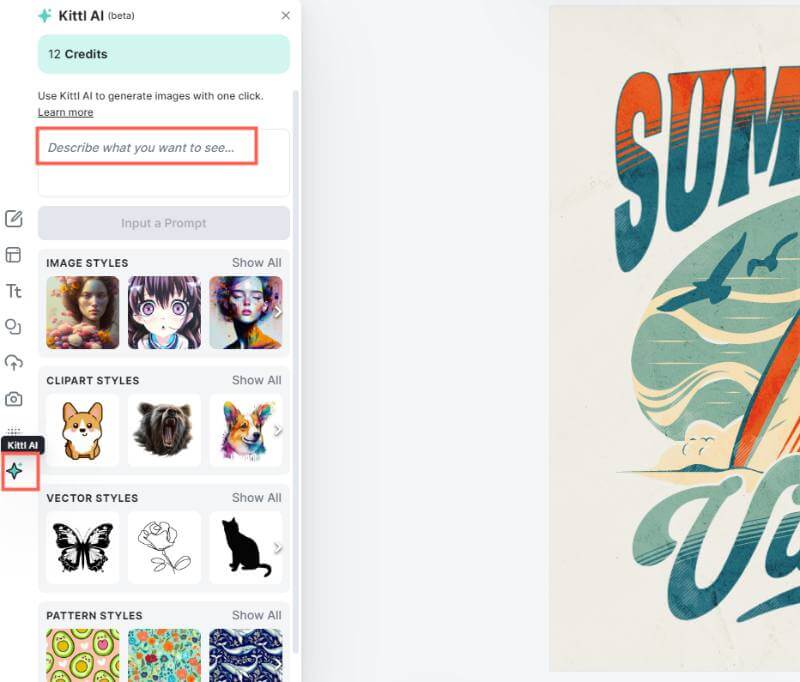 Key Features:
Extensive Design Library: Kittl offers a vast collection of design elements, graphics, fonts, and templates for you to create unique designs.

Templates with Various Styles: You can always find a style you like, from 1000+ templates it offers, like 60s/70s Retro, Animals, Beach and Surf, etc.

High-Quality Output: Kittl ensures that the final output is of high quality, suitable for printing on t-shirts.

AI Text-to-Image Feature: Apart from all the templates, it also allows you to generate the original and unique design with Text-to-Image tool.
Part 3: Bonus Tip to Use AI to Design T-Shirts
We have mentioned two AI T-Shirt design generators which are great tools for you to design unique and stunning T-shirts effortlessly. Apart from them, here is another powerful AI tool for you to design T-shirts using AI, which offers 1000+ design templates, powerful AI text-to-image feature,and more editing tools, making it fully customizable.

iMyFone MagicPic is an AI photo editing and graphic design tool, and its current feature is to bulk remove and change background with AI .
The next version is about to be released, and you will experience the use of AI to generate personalized and stylish T-shirt design. It not only supports inputting description to generate unique and stunning design, but also provides 1000+ various types and styles of templates for you to use and edit. Stick around, you don't want to miss out!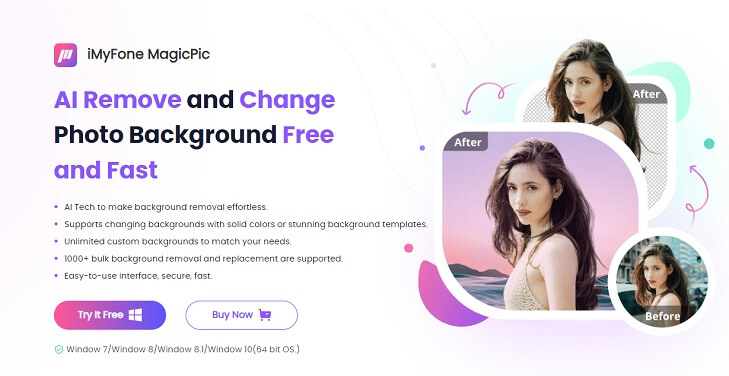 Part 4. FAQs about AI T-Shirt Design Generator
Can AI design a tshirt?
Yes, With the integration of AI technology, the design process becomes even more effortless, allowing individuals of all skill levels to create personalized t-shirts. By utilizing an AI-powered text-to-image generator, customers can now describe their desired design in written form and immediately access a diverse range of generated options for selection. This advancement in technology ensures that custom t-shirt design is easily accessible to everyone.
What is the AI tool to make t-shirt designs?
Xinva AI t-shirt generator, Kittl, iMyFone MagicPic, etc.
They empower you to craft extraordinary, fashionable, and captivating designs that amplify sales in your store. By utilizing these tools, you no longer require the services of a dedicated designer to consistently create new designs for your store. These AI tools efficiently and cost-effectively bring your design aspirations to life, ensuring that you stay ahead of the curve.
Is Canva good for t-shirt design?
Yes, it allows users to craft personalized and top-notch t-shirts in a flash. By leveraging Canva's user-friendly design tools and the convenience of Smartmockups preview, you can visualize precisely how your design will appear on a t-shirts prior to finalizing the printing process.
Final Thoughts
In summary, the AI t-shirt design generator, powered by robust machine learning, empowers you to effortlessly create one-of-a-kind, fashionable, aesthetically pleasing, and extraordinary designs that significantly enhance sales in your store. The need to hire a designer to consistently produce designs for your store is eliminated, as this AI t-shirt design tool provides an affordable solution.
Start using the AI t-shirt design generator now and witness the transformative impact it can have on your store's success.Embrace the power of AI and create t-shirts that leave a lasting impression!