When you capture a beautiful photo of yourself, but the background is cluttered, when you don't want to wander around searching for appealing photo backgrounds or expensive studio backdrops, when you desire to photograph in places that are currently inaccessible to you, and when you want your products to stand out while doing E-commerce, the AI background generator is the best solution! This ingenious tool harnesses the power of artificial intelligence to effortlessly produce awe-inspiring backgrounds that can elevate any digital project to extraordinary levels.
Stick around! We will learn about the incredible possibilities offered by AI background generator, unveiling how to use AI background generator to boost your productivity and enhance your online presence. You don't want to miss it!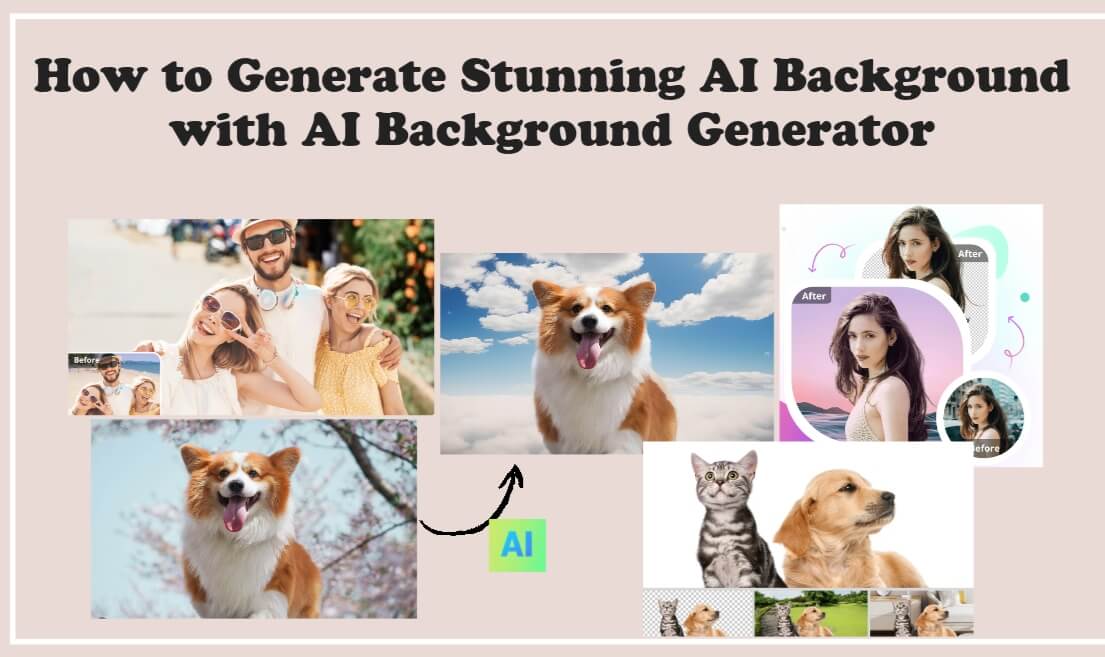 Part 1. What is AI Background Generator?
AI background generators are incredible tools that enable users to transform their images' ordinary and generic backgrounds into stunning, AI-generated ones. These tools primarily operate by utilizing the text descriptions provided by users. However, some generators also offer the option to select a template before proceeding. In addition to text descriptions, these powerful tools allow you to customize the styles, textures, lighting, and more, tailoring the generated backgrounds to perfectly align with your specific requirements. Whether you need high-quality e-commerce product images, captivating profile pictures, or immersive video game backgrounds, AI background generators can instantly create breathtaking backgrounds for a multitude of purposes.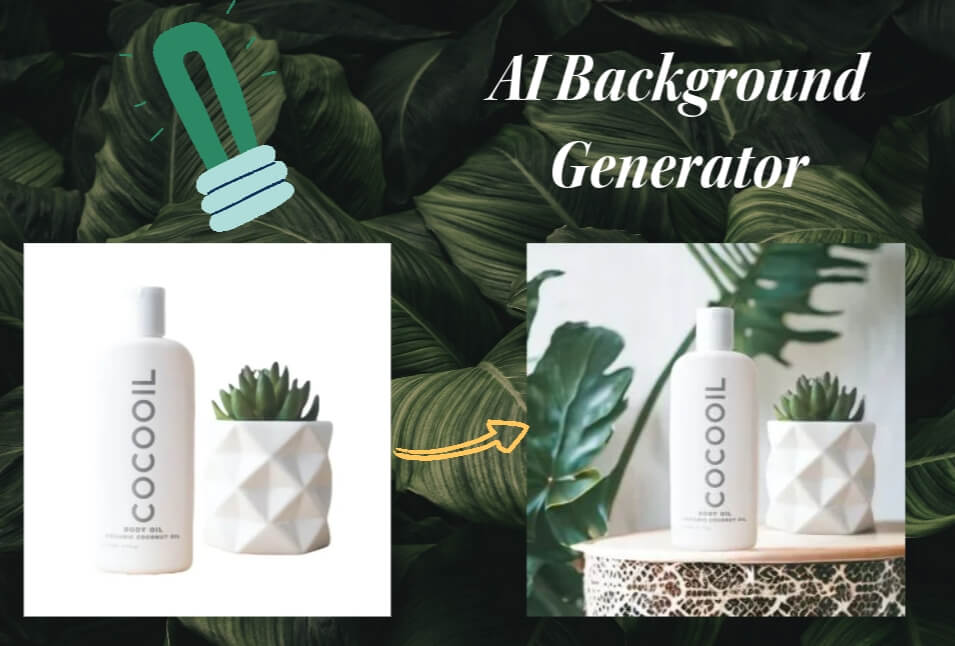 Part 2. Best AI Photo Background Generator to Create Custom Background with Ease [Step-by-Step Guide]
Picsart empowers you to create visually striking images that truly stand out by generating unique AI backgrounds tailored specifically to your photos. With just a few descriptive words capturing your vision, the AI background generator works its magic, crafting an image backdrop that perfectly complements the subject of your photo.
Moreover, after you got the image you are satisfied with, you can directly edit it in Picsart, saving your time and giving you the full customization. It allows 7-Day free trial. after that, you have to purchase to continue to use.
How to Generate Stunning AI Background in Picsart:
Step #1: Visit the website & Click "Generate AI background now".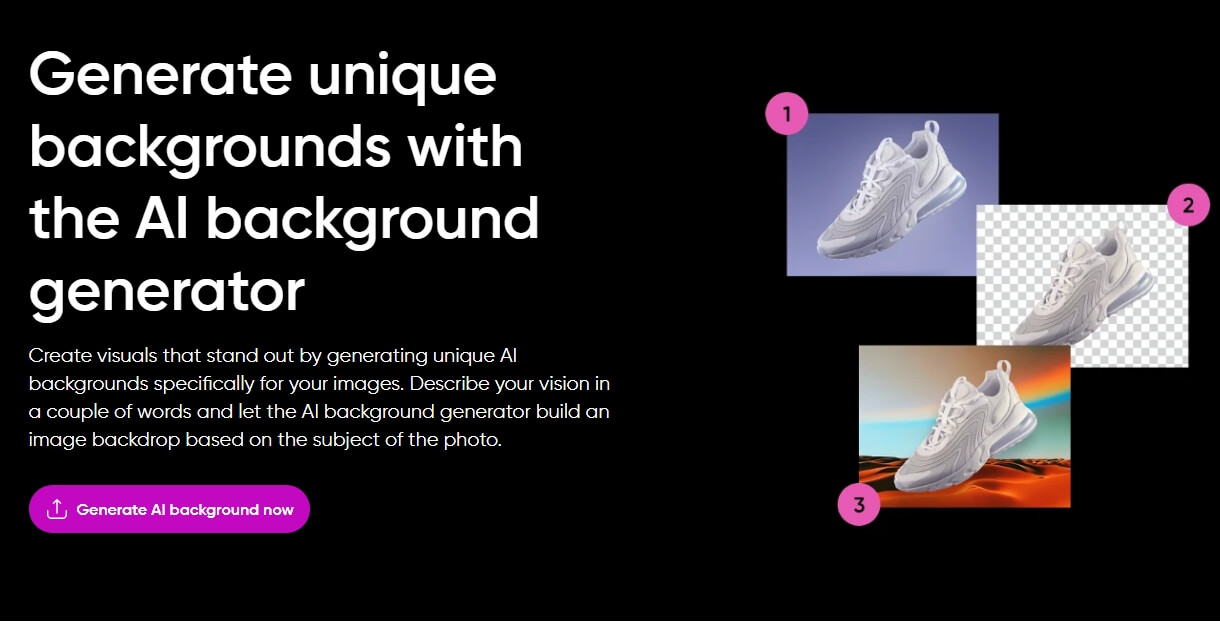 Step #2: Upload your images.
Step #3: AI will automatically remove the background, then click "More Tools" > "AI Background Creator".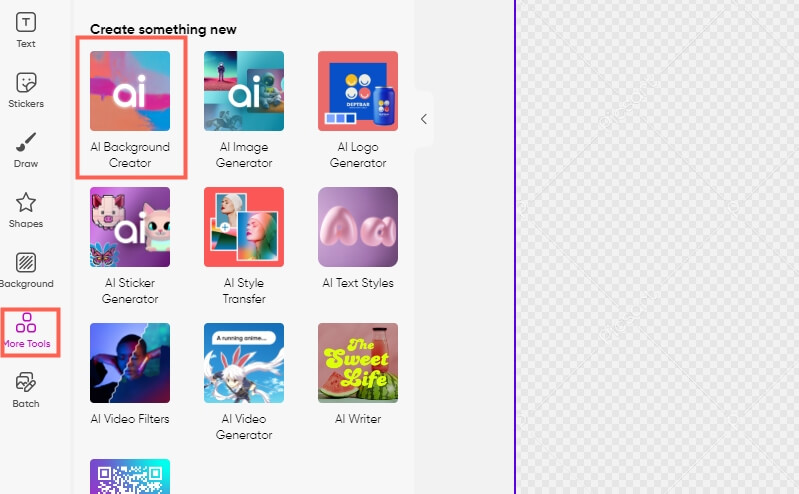 Step #4: Enter the description of the background you want to generate & choose the main color and visual styles.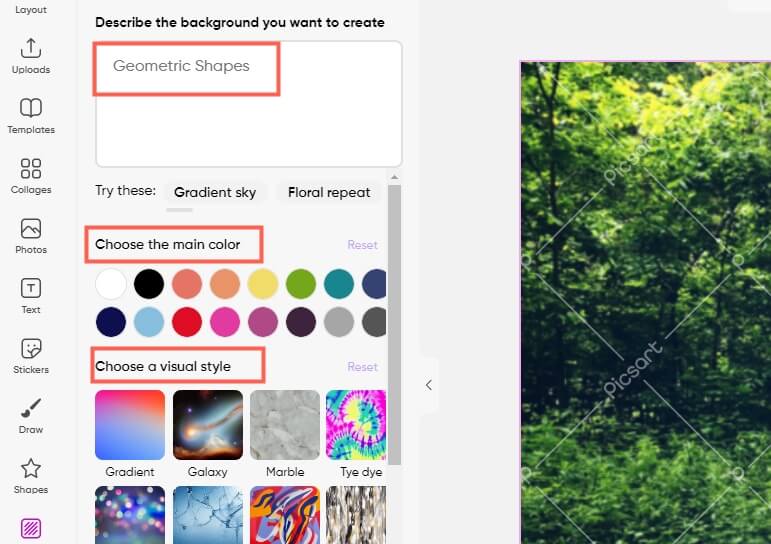 Step #5: Click "Generate Background" on the bottom.
Step #6: Preview the AI generated backgrounds & choose what you prefer to use it as the new background.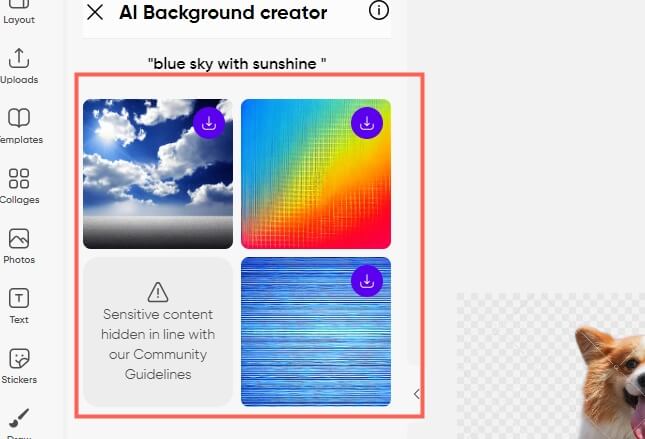 Note: You can also use the pre-made background templates by clicking "background" and background images under "Library" & Further editing your images with AI editing tools provided in Picsart.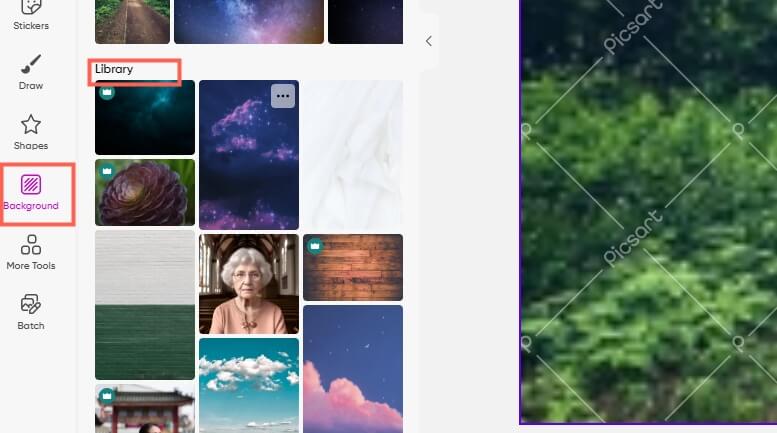 Key Features:
Instant Background Generation: You just enter your description, the powerful AI will instantly generate stunning background for you.

A Variety of Background Styles: Offers a wide range styles for you to choose to generate the backgrounds catering to your needs.

Library of Background Templates: You can also use the templates Picsart offers as the new background.

All-in-One Photo Editor: It offers other editing features for you to customize your images, like adding stickers, texts, making collages, and more.
ZMO.AI's AI Background Generator elevates your e-commerce product images to new heights, producing stunning and photorealistic visuals at an affordable cost. This innovative tool goes beyond mere background replacement, taking into account lighting and shadows to seamlessly integrate your products into captivating lifestyle photos that are worthy of Instagram's spotlight. With just a simple click of a button, zmo.ai effortlessly enhances not only product images but also profile pictures and any other image you desire, effortlessly leveling them up to mesmerizing quality.
It allows 7 day free trial, and purchase is needed after that.
How to Create Photo Background with AI in ZMO.AI:
Step #1: Enter the interface & Click "Generate Background".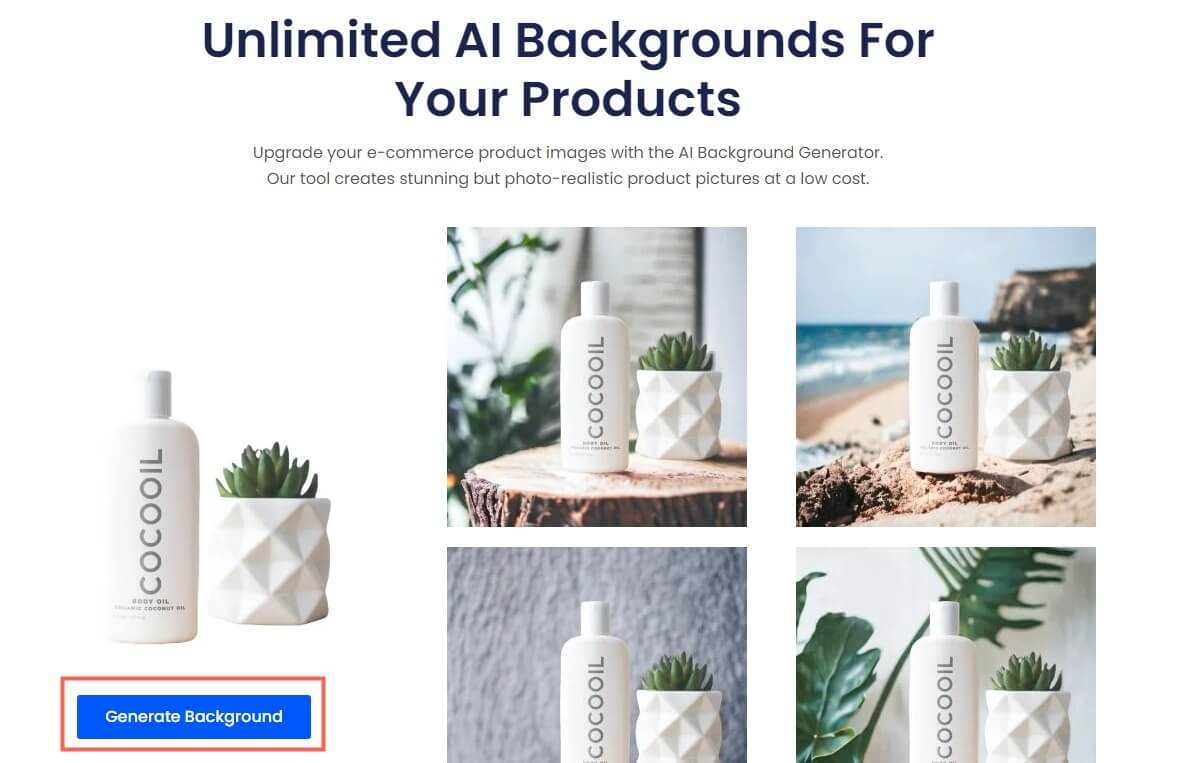 Step #2: Click "open" to upload the image & Choose filters and design style.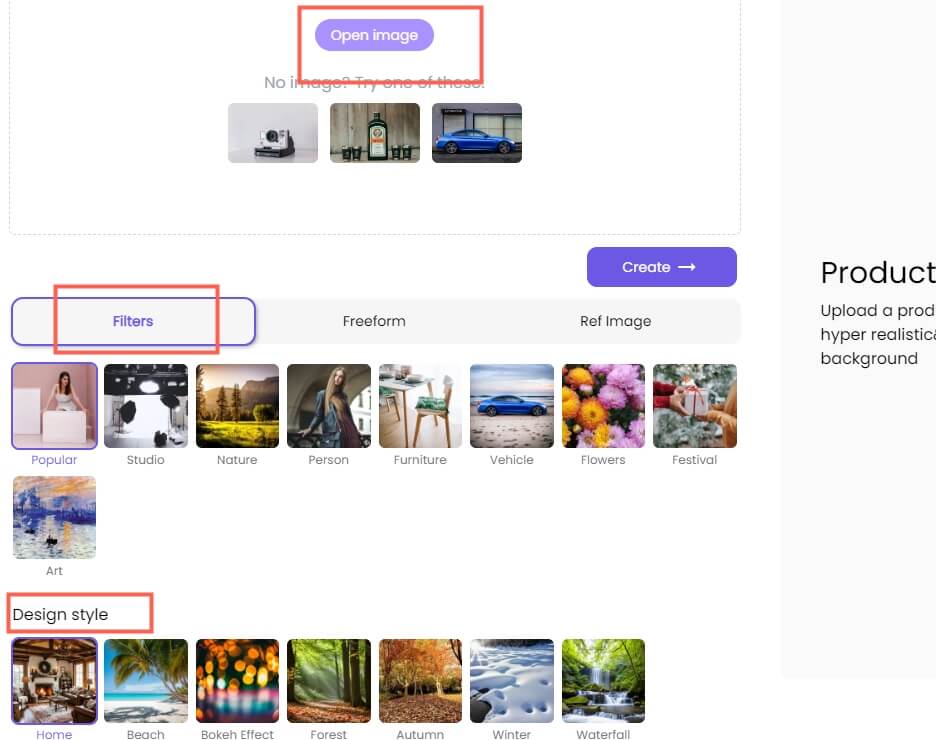 Step #3: Click "Create" to magically generate the new background with AI.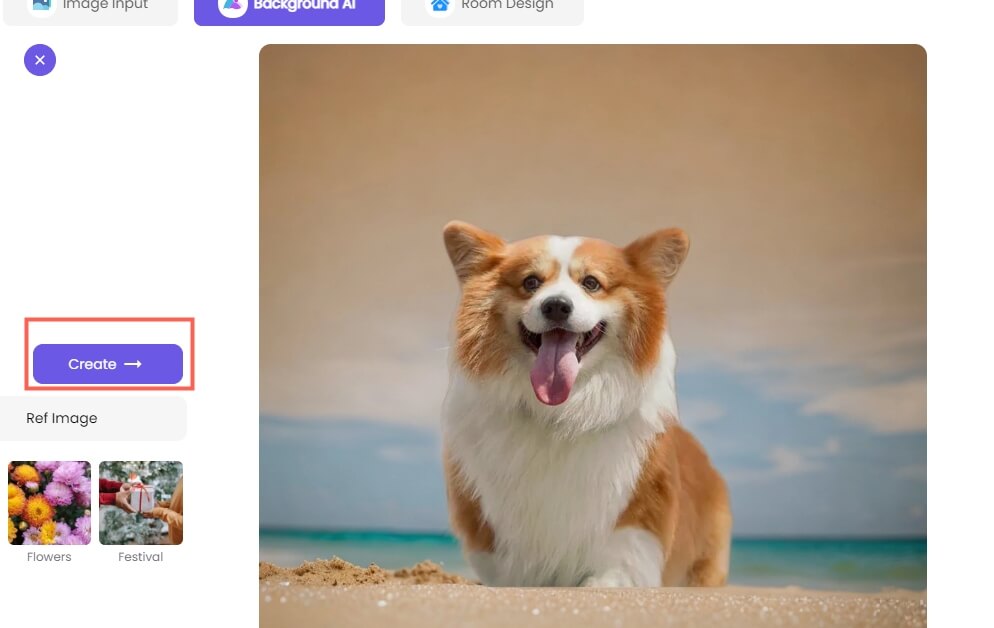 Step #4: If there is no styles you want in "Filters", you can click "Freedom" and enter your description of what kind of background you want AI to create.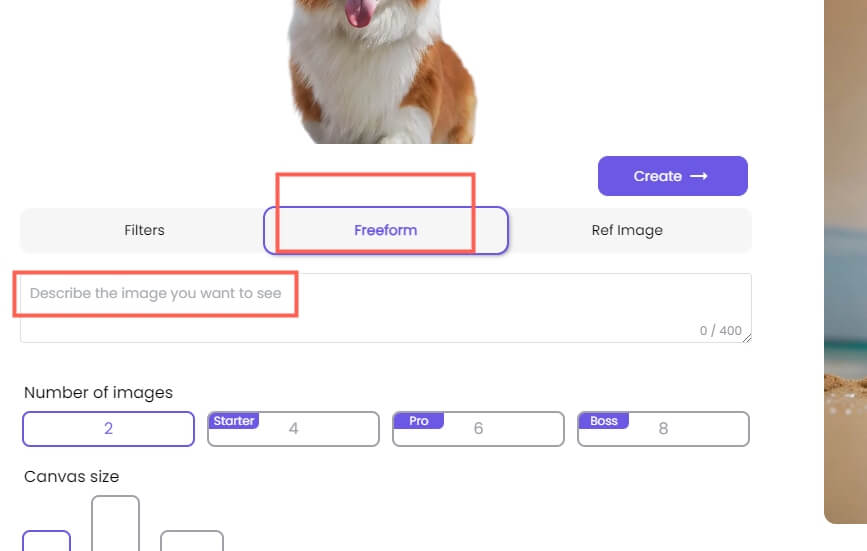 Step #5: It also allows you to upload your own image as the background.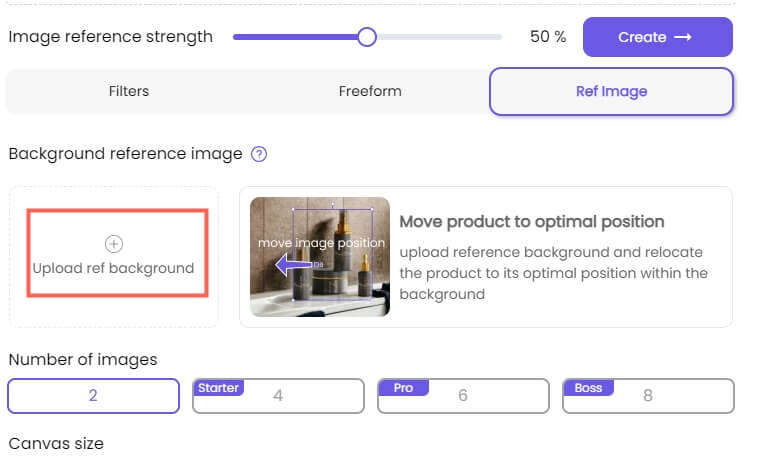 Key Features:
Cost-Effective Solution: You can achieve remarkable results without the need for expensive equipment or extensive photo editing skills.

Attention to Lighting and Shadows The AI Background Generator takes lighting and shadow into consideration when creating the new backdrop. This attention to detail ensures that your images maintain a realistic and cohesive look.

Versatile Application: It is not limited to e-commerce product images. It can enhance any type of image, from profile pictures to personal photos, effortlessly leveling them up and giving them a professional touch.

Upgrade E-commerce Product Images: It seamlessly replaces ordinary backgrounds with stunning and realistic visuals, making your products stand out.

Allows Customization, Choosing Styles, and Enter Description: You can create the background according to your needs by choosing various modes.
It can effortlessly bring your vision to life by describing your desired background in text, and watch as Fotor's powerful AI technology generates a range of stunning backgrounds tailored specifically to your requirements within seconds. Whether you need backgrounds for profile pictures, wallpapers, gaming, branding, Zoom meetings, E-commerce, or any other purpose, Fotor has got you covered.
How to AI Create Stunning Backgrounds in Fotor:
Step #1: Enter the interface & Click "Make AI Background Now".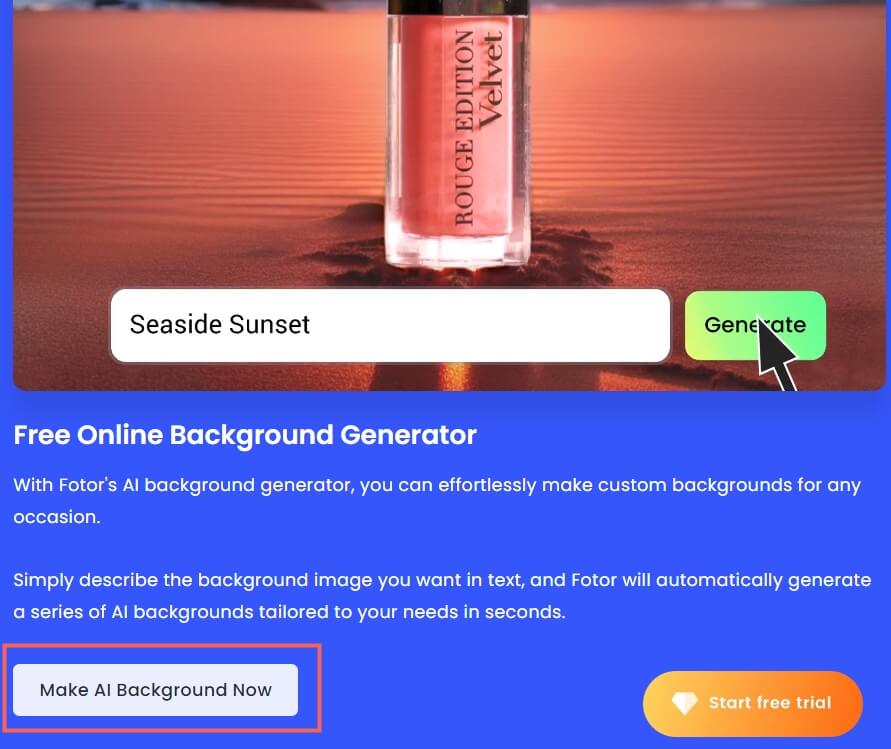 Step #2: Upload an image to remove the image background at first.
Step #3: You can choose to enter your prompts to describe the background you want to create Or choose various scenes provided.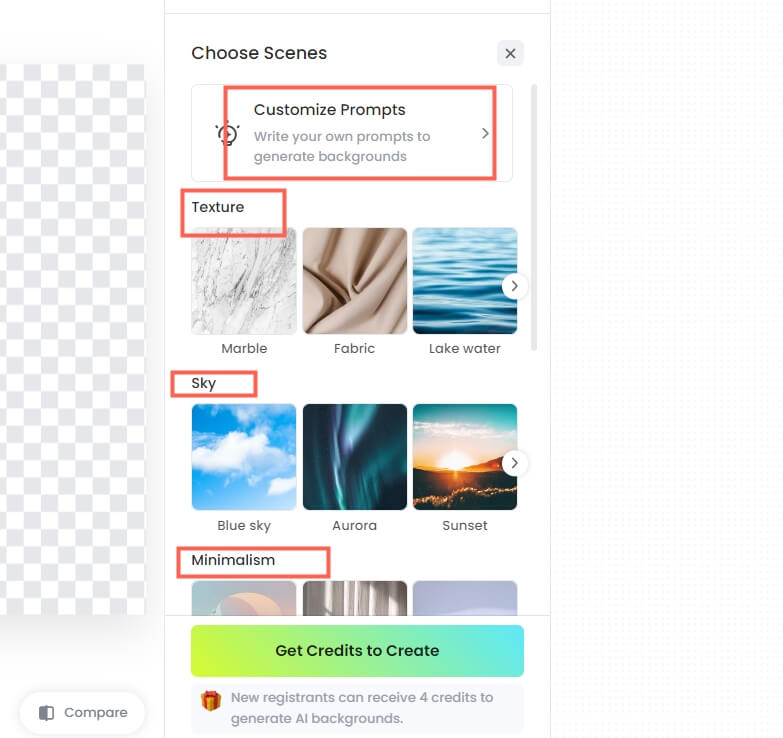 Step #4: Tap "Generate" & Preview and Download images you prefer.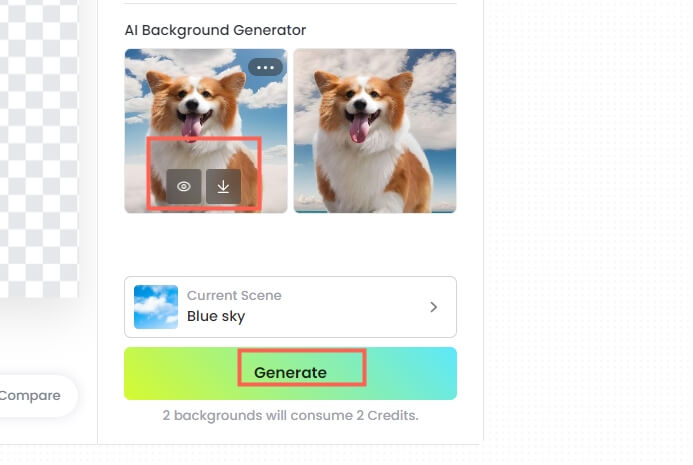 Key Features:
Effortless Creation: You can easily generate custom backgrounds without any technical skills or design expertise. Simply describe the background you want in text, and let the AI do the rest.

Diverse Options: Fotor offers a wide range of background options to choose from. The generator generates a series of backgrounds that cater to different styles, moods, and themes, allowing you to find the perfect fit for your project.

Versatile Applications: Whether you need them for personal use, professional branding, gaming, virtual meetings, E-commerce listings, or any other scenario, Fotor has the versatility to accommodate your needs.

Tailored to Your Needs: It understands the context and purpose of your background, delivering results that suit your intended use, whether it's for a profile picture, wallpaper, game, branding, Zoom call, E-commerce, and more.
Part 3: Another Solution to Customize Your Image with AI Generated Background
All the above-mentioned AI background generators are great solutions for you to create stunning and visually appealing image background effortlessly. Apart from them, here is another powerful AI tool for you.

iMyFone MagicPic is an AI photo editing tool, and its current feature is to bulk remove and change background with AI .
AI background generator feature is coming soon, which not only provides myriads of image backgrounds with various styles, but allows to create image from text description. Stay tuned, you won't regret it!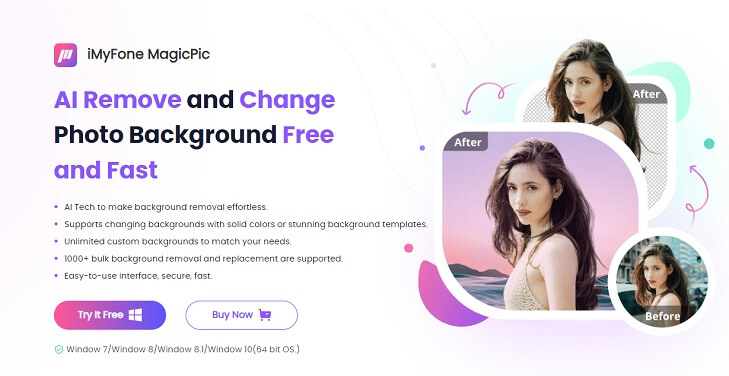 Part 4: FAQs about AI Background Generator
How do I make an AI background?
1. Upload your image.
2. Remove the background.
3. Enter the description of the background you want AI to create.
4. Start generating.
5. Download the image with AI generated background.

What is the best AI background generator?
Fotor's AI Background Generator. Fotor stands out due to its user-friendly interface, rapid generation speed, and the ability to generate tailored backgrounds for various purposes like profile pictures, wallpapers, gaming, branding, Zoom calls, E-commerce, and more. With its diverse range of options and high-quality outputs, Fotor's AI Background Generator provides a convenient and versatile solution for creating customized backgrounds effortlessly.
What is the AI tool to generate backgrounds?
An AI tool commonly used to generate backgrounds is Fotor's AI Background Generator. This tool leverages artificial intelligence technology to automatically create custom backgrounds based on user descriptions or preferences.
Other AI tools to generate background include Picsart,ZMO.AI, Cutout.pro, etc.
Can AI create wallpaper?
Yes, many AI art generators, like Hotpot.ai, Neural.love, Midjourney, Fotor, etc. can help create stunning and unique wallpapers for yourself. All you need to do is to enter the prompt to tell AI what kind of wallpaper you want to make.
Final Thoughts
In conclusion, an AI background generator is important because it simplifies and enhances the process of creating custom backgrounds. It eliminates the need for technical design skills and time-consuming manual work. By describing your desired background, you can quickly generate a series of tailored backgrounds for various purposes such as profile pictures, wallpapers, gaming, branding, Zoom calls, E-commerce, and more.
To experience the convenience and versatility of an AI background generator, take action now and try AI Background Generator today. Transform your background creation process and make your photos more stunning and eye-catching with just a few clicks.