Get ready for a wild ride, folks! The long-awaited teaser trailer and character posters for Greta Gerwig's epic Barbie movie dropped on Tuesday (April 4), and the internet exploded with meme magic. But hey, hold your horses, because you too can join in on the fun! Thanks to the brilliant minds behind the Barbie team, they've conjured up a Barbie selfie generator (opens in a new tab) that lets you create your very own Barbie character poster.
Moreover, you will not only get to know how to make your own Barbie meme, but how to use the Barbie filter that has gone viral on TikTok! So, buckle up and let your wildest "This Barbie" and "This Ken" dreams come true!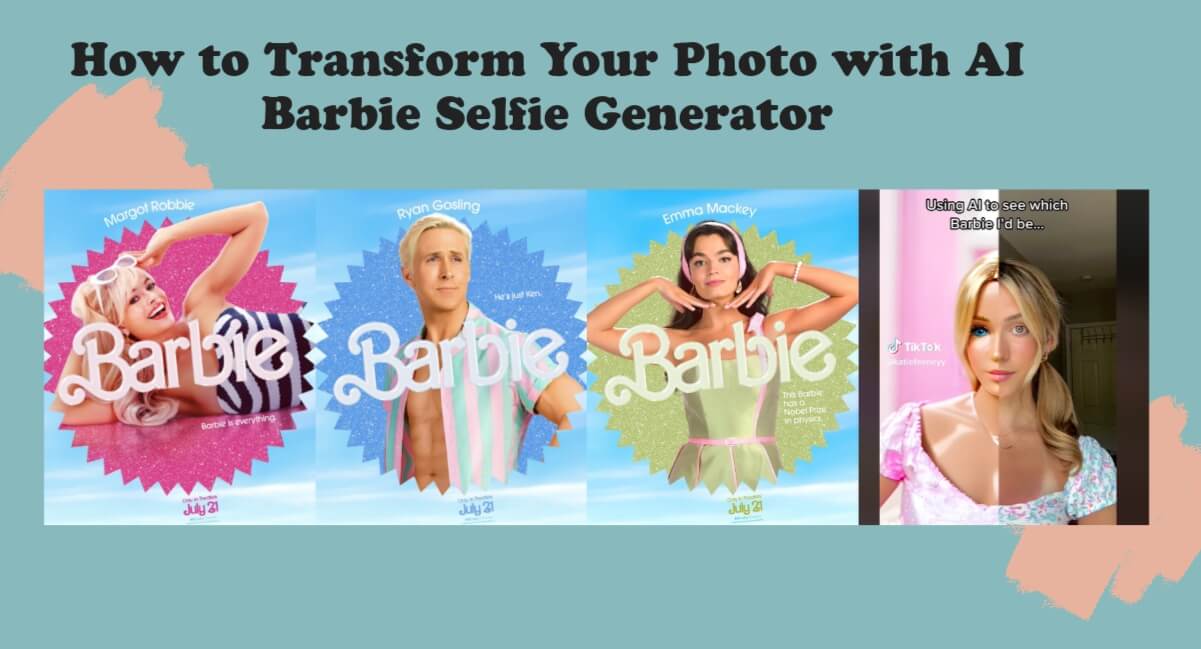 Part 1. Get Ready! The First Live-Action Barbie Film is Coming!
Get excited for the highly anticipated Barbie movie, a delightful fantasy comedy helmed by the talented Greta Gerwig and co-written with Noah Baumbach. Drawing inspiration from the beloved Barbie fashion dolls created by Mattel, this upcoming film marks a groundbreaking milestone as the very first live-action Barbie adaptation, following a series of computer-animated direct-to-video and streaming releases. Leading the cast are the incredible Margot Robbie as Barbie and the charming Ryan Gosling as Ken.
Excitement is building among Barbie enthusiasts worldwide as they eagerly anticipate the highly anticipated release of the upcoming Barbie movie scheduled to hit theaters on July 21, 2023. Recently unveiled posters for the film have captivated fans, revealing acclaimed actors Margot Robbie, 32, and Ryan Gosling, 42, embodying their iconic characters.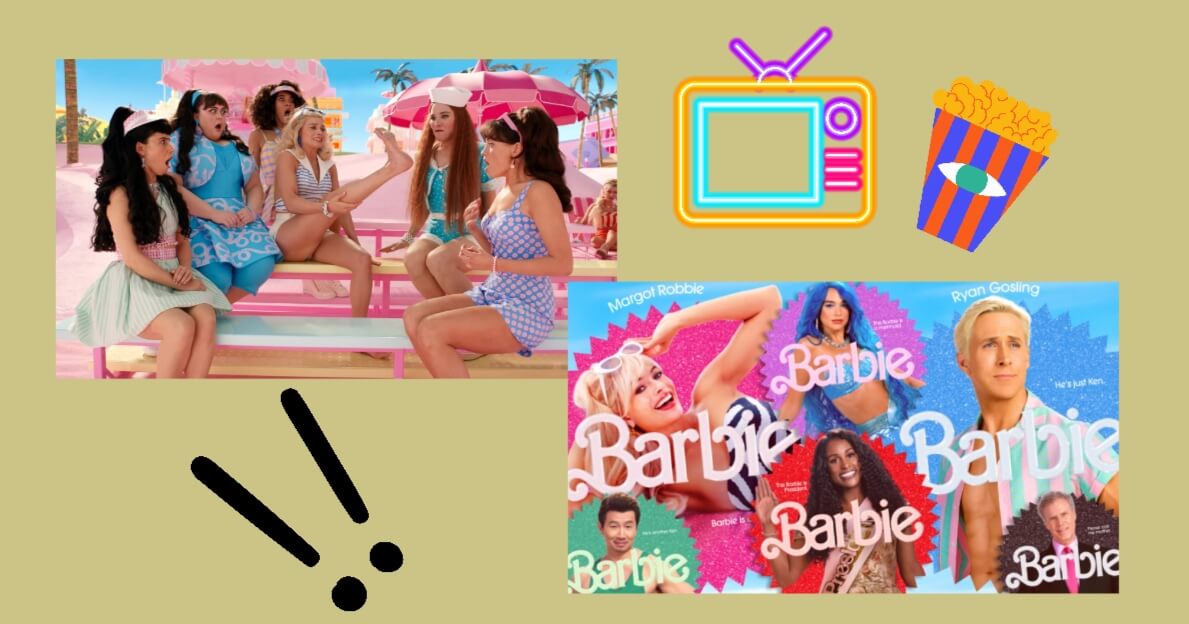 Part 2. How to Make Yourself in Barbieland Using Barbie Selfie AI Generator
Amid heated anticipation, Warner Bros Entertainment has released a free tool called the Barbie Selfie Generator, which allows you to effortlessly transform your photos into Barbie movie posters with the help of powerful AI. Let's explore how to do it step by step now!
How to Make Yourself a Barbie Movie Poster:
Step #1: Visit the Barbie Selfie Generator & Click "Start".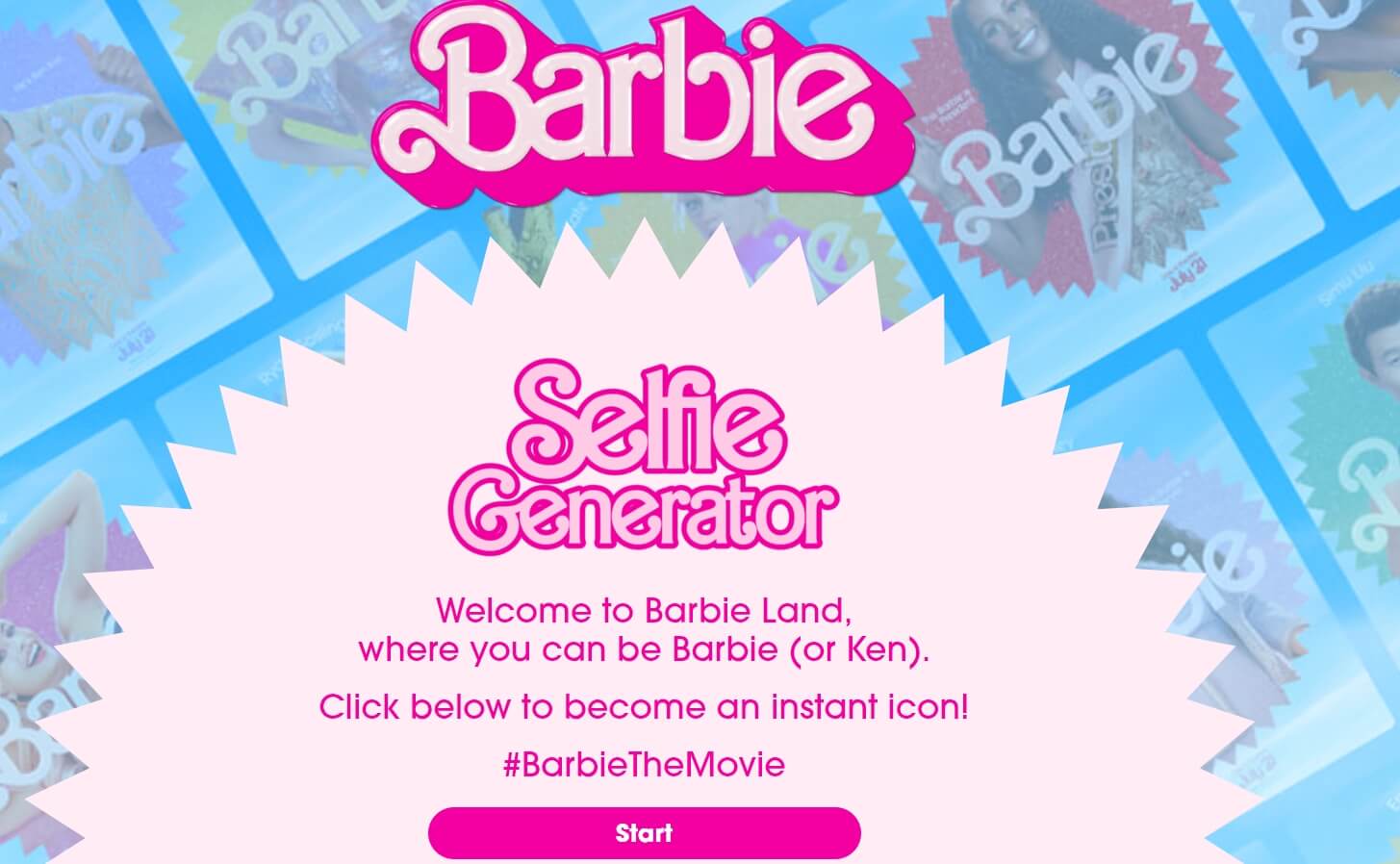 Step #2: Take a photo of yourself or upload a selfie.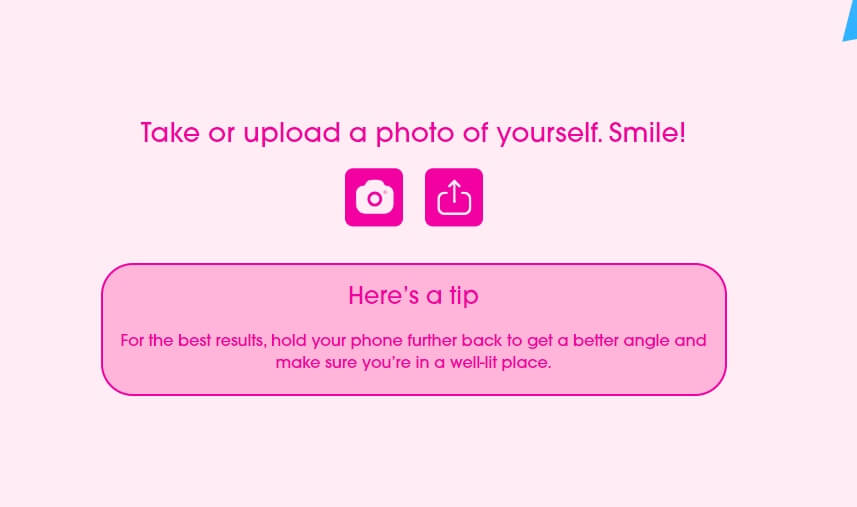 Step #3: Click "Continue" to automatically remove the background of your photo.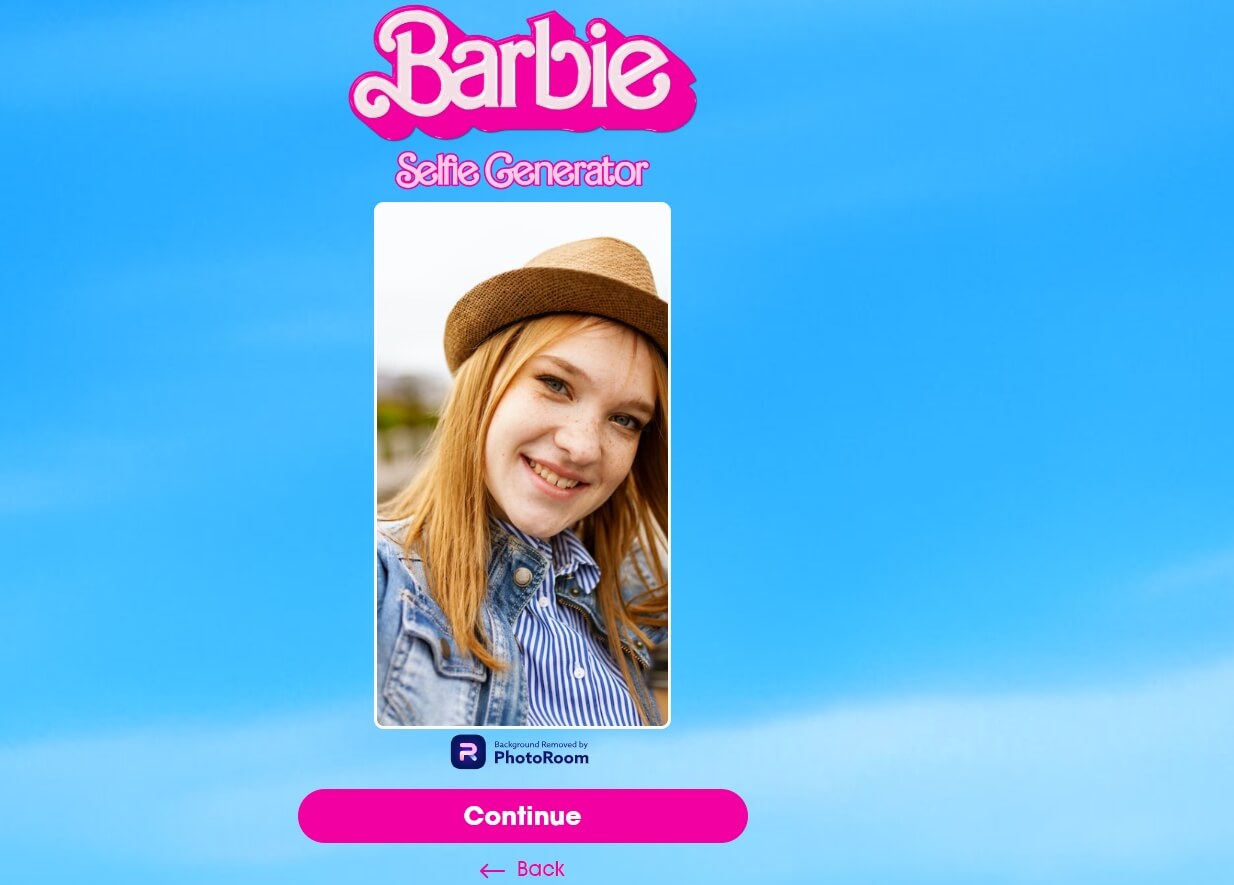 Step #4: Customize your poster by repositioning and resizing your selfie, editing the text in the poster, or you can adjust the color of the background to fit your selfie perfectly.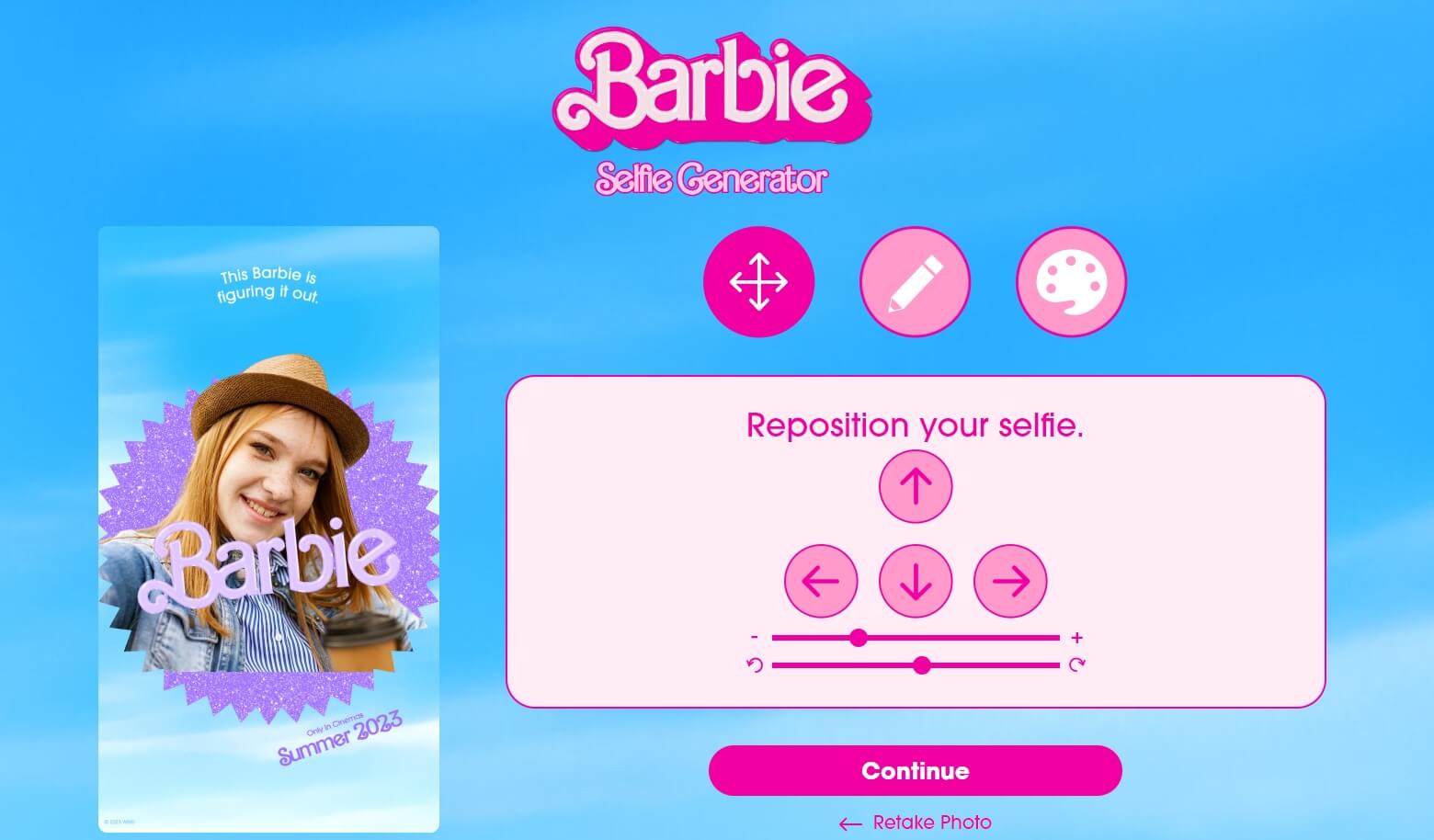 Step #5: Download and save the results to share with your friends.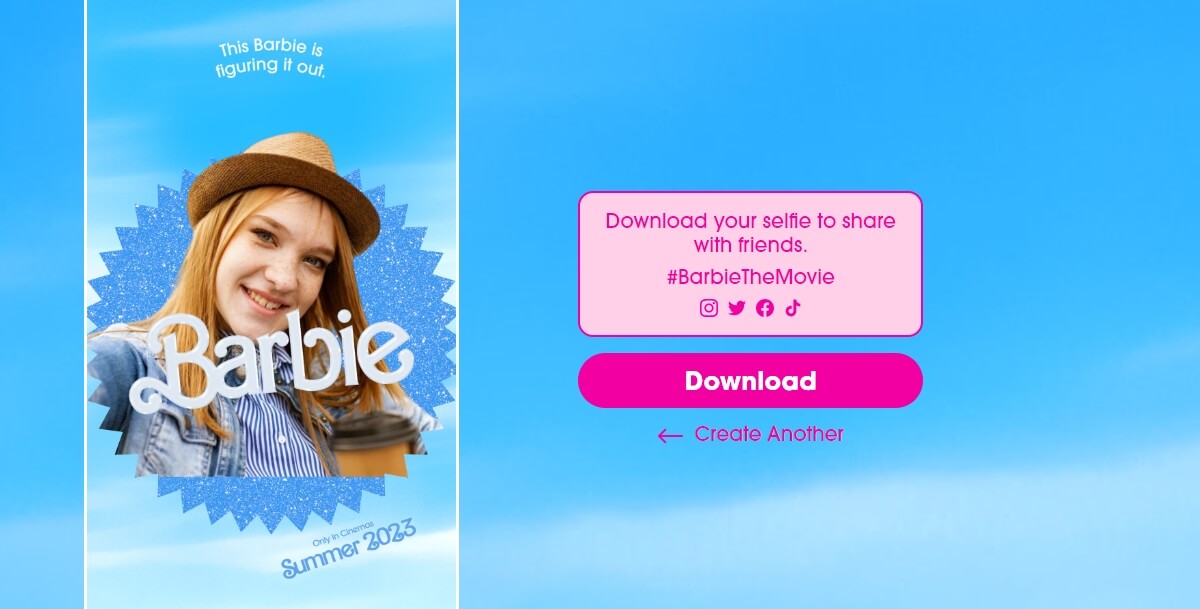 Key Features:
Magic Background Removal: Its built-in AI can automatically remove the background within no time.

Fully Customizable: You can customize the poster to make it more stunning by repositioning and resizing, editing fonts, and adjusting the background color.

High-Resolution Download: You can get high-quality output, and download it as JPG to share with yout friends.
Part 3: Bonus Tip to Make Your Personalized Barbie Posters
Although the barbie selfie generator is a good choice to make Barbie movie poster, it dones not allows you to make personalized and custom barbie poster, since it only has one template for you to use.

If you want a more unique and personalized while stunning barbie poster, here is a better choice for you! Go try it out free!

iMyFone MagicPic is an AI photo editing and graphic design tool, allowing you to ai remove image background and change it with another custom background as you wish. So all you need to do is to upload your selfie, and with two clicks, you can remove and replace the background, getting a stunning poster with a personalized barbie background.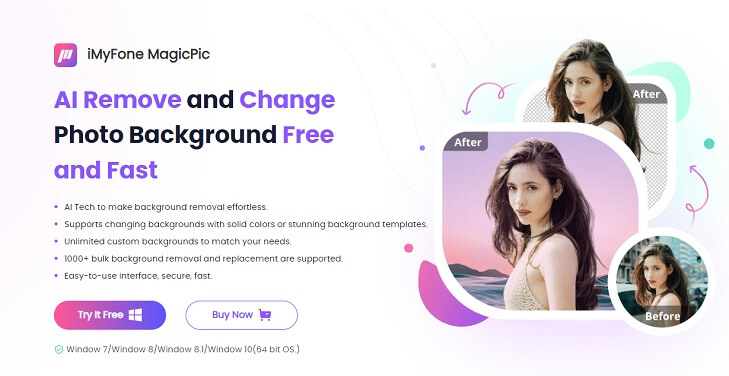 Key Features:
Intuitive interface for effortless use, no prior learning required.

AI-powered automatic background removal and replacement for seamless editing.

Time-saving batch background removal and change feature.

Vast background library catering to diverse requirements, including portrait, product, and more.

Extensive customization options for backgrounds, empowering imagination and creativity.
Part 4: Going Viral on Tiktok: How to Get AI Barbie Filter
TikTok has always been a hotbed of viral trends and challenges, thanks to its ever-expanding collection of cool filters and special effects. And now, there's a new filter taking the app by storm – the Barbie AI filter! This enchanting filter gives you a whimsical and unique look, reminiscent of the beloved Barbie doll. Ever since the release of the 'Barbie' movie trailer featuring Margot Robbie and Ryan Gosling, TikTok users have gone wild for this filter. Using the power of artificial intelligence, it magically transforms any face into a stunning Barbie-like visage. Want to give it a go? Here's how you can try it out for yourself!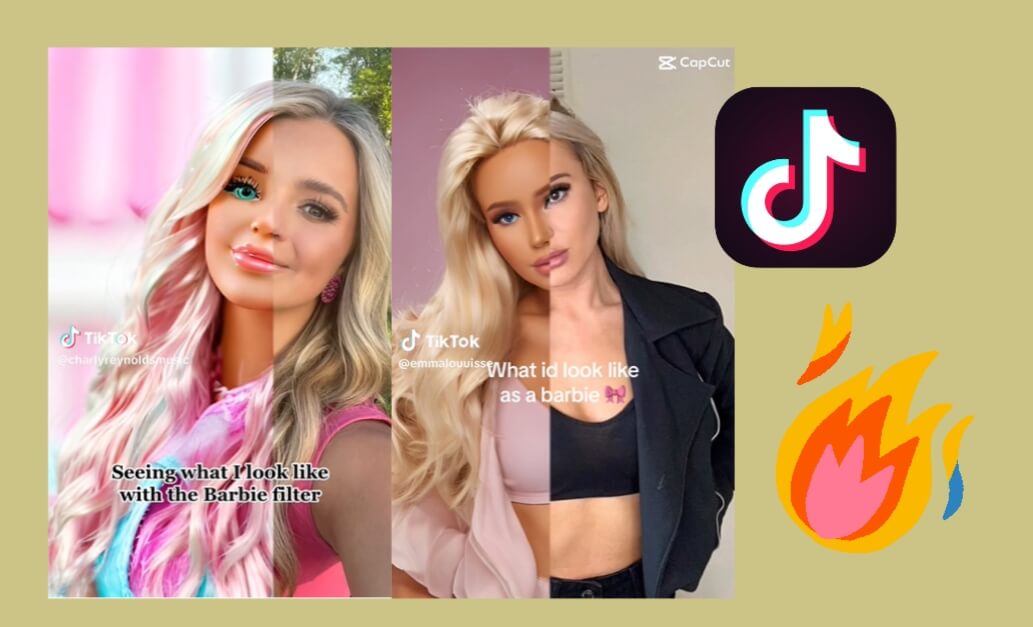 How to do barbie filter:
Step #1: Download and open Photoleap.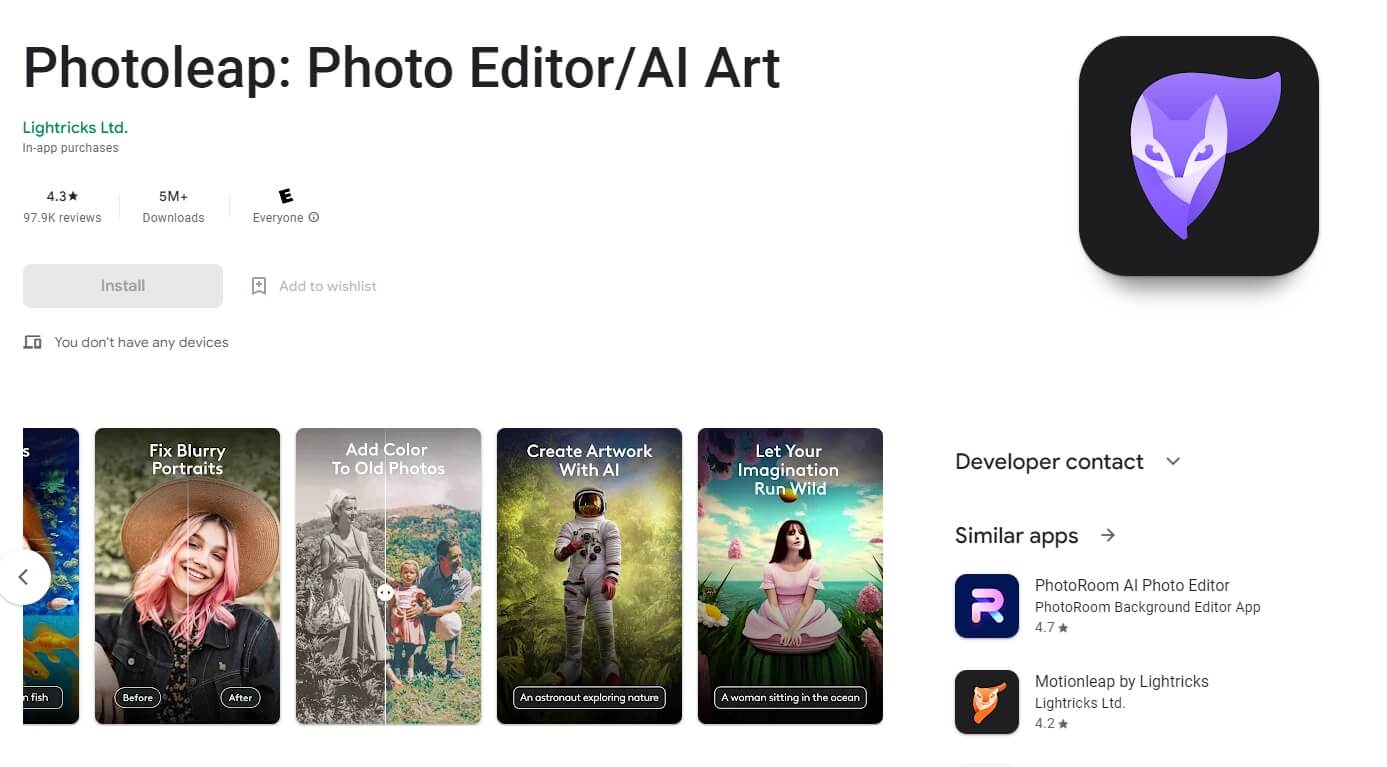 Step #2: Click "AI Selfie" under "AI Edits".
Step #3: Upload your own photo.
Step #4: Choose "Girl Doll" or "Guy Doll" at the bottom of the screen.
Step #5: Download the result.
Tips
To create an awesome video that showcases the transition between your original photo and the Barbie AI filter, fire up TikTok and follow these simple steps. Open the TikTok app and type '
Barbie AI Filter
' in the search bar. Look for the first video that appears and give it a click. Now, hit the
'CapCut - Try this template'
button. You're all set to unleash your creativity and make that captivating video with the swiping effect. Get ready to wow your audience!
Part 5. FAQs about Barbie Selfie Generator
How do you make a Barbie selfie?
1. Visit the Barbie Selfie Generator website (opens in a new tab).
2. Click on the "Start" button to begin.
3. Capture a photo of yourself or upload an existing one.
4. Use the arrow keys to adjust the position of your image if needed.
5. If you wish to edit the text below "This Barbie is," select the pencil icon for customization.

What is the Barbie selfie generator?
The baribie selfie generator effortlessly eliminates the background of your photo and grants you the flexibility to fine-tune its placement and size. Utilize the arrow keys to reposition your selfie, and easily zoom in or out of the image by dragging the pink circle towards the plus or minus signs for precise adjustments.
How can I get the Barbie filter?
You can get Barbie filter in Photoleap:
1. Click "AI Selfie" under "AI Edits".
2. Upload your own photo.
3. Then you can choose "Girl Doll" or "Guy Doll".
4. Wait a few seconds, your photo will be generated.
Final Thoughts
Now that we've learned how to design your very own Barbie movie poster using the incredible Barbie Selfie Generator, and uncovered the secret to getting that viral AI Barbie filter on TikTok.
So, what are you waiting for? Go forth and create your own Barbie-inspired masterpiece. Let your imagination sparkle, your creativity shine, and remember to always have fun along the way!