In today's visually-driven world, where first impressions matter more than ever, having a professional headshot is crucial for personal branding, career advancement, and establishing a strong online presence. AI Headshot Generator, has gained immense popularity,and there is no need to go to an actual studio to take the professional headshots with spending a lot of money. Whether you're a job seeker, a business professional, an influencer, or even a content creator, the AI Headshot Generator empowers you to create stunning, high-quality and professional headshots effortlessly.
In this ultimate guide, we will learn how to craft professional headshots that will captivate your audience with AI Headshot Generator, boost your personal brand, and propel your success in 2023 and beyond. Let's dive right in!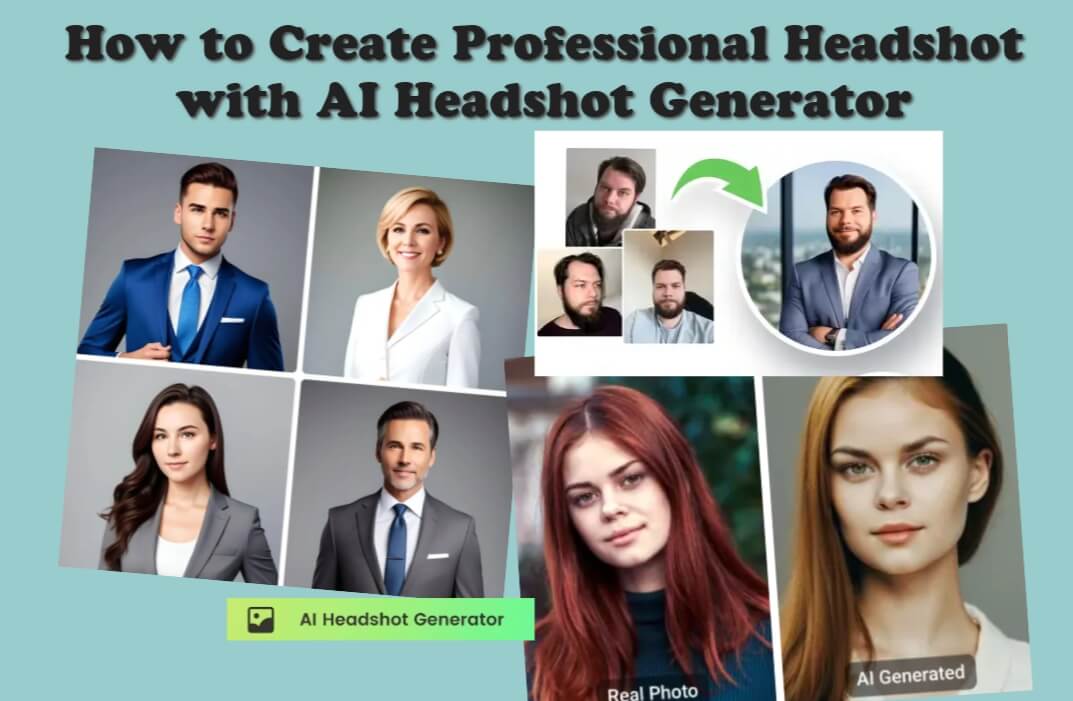 Part 1. What is Headshot and AI Headshot Generator?
A headshot, in the digital age, is a contemporary portrait that places the individual at the center of attention. It is commonly associated with professional profile images on social media platforms, online dating profiles, the "about us" page of corporate websites, as well as promotional pictures for actors, models, and authors. This captivating form of visual representation has become increasingly important in our image-driven society, serving as a powerful tool for personal branding and making impactful first impressions.
An AI-powered headshot generator is a cutting-edge tool that harnesses the power of AI to create lifelike digital portraits. Using advanced algorithms, the generator recreates an individual's face with astonishing photorealism, resulting in stunning digital art. These AI-generated headshots serve a multitude of purposes, ranging from creating digital CVs and designing logos to updating corporate profile pictures and selecting the perfect LinkedIn profile image.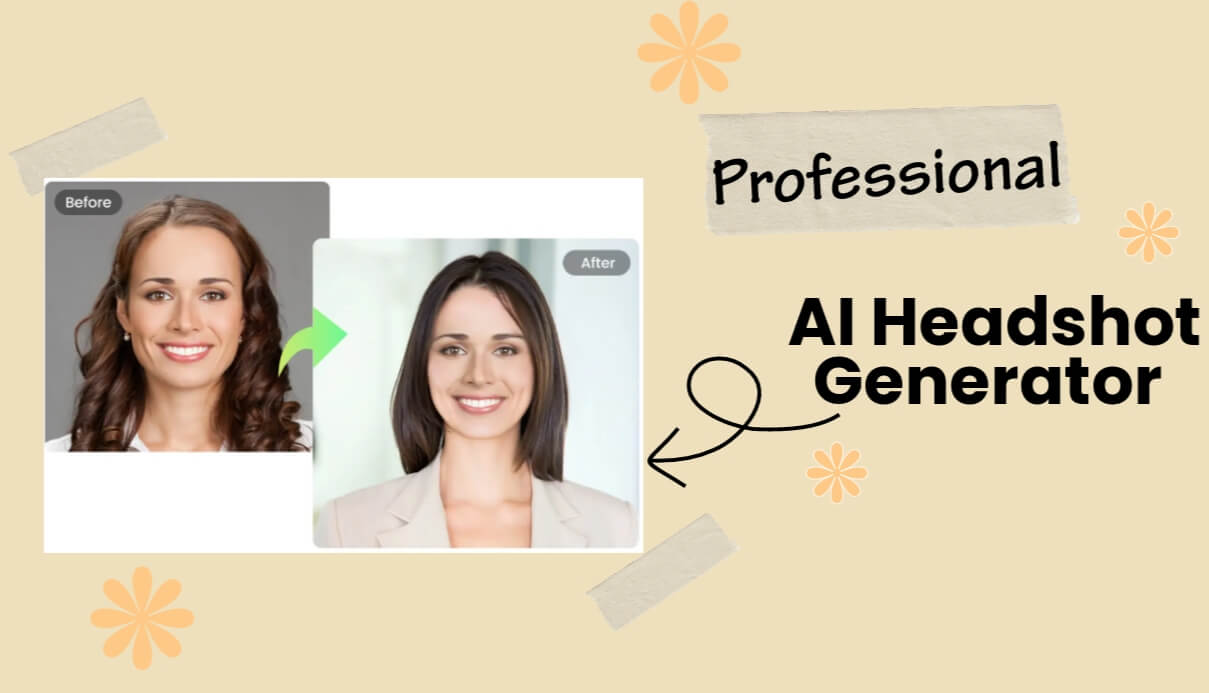 Part 2. AI Professional Headshot Generator Free to Create AI Generated Headshots [Step-by-Step Guide]
Fotor's user-friendly and efficient online AI headshot generator enables you to effortlessly create professional and realistic HD headshots and profile pictures, and stand out from the crowd with captivating profile headshots that leave a lasting impression. Whether you're enhancing business profiles, crafting impressive resumes, or aiming to make an impact on social media platforms, Fotor is the ideal tool to help you achieve your goals.
How to Create Professional Headshot with AI in Fotor:
Step #1: Enter the interface & Click on "Generate a Headshot".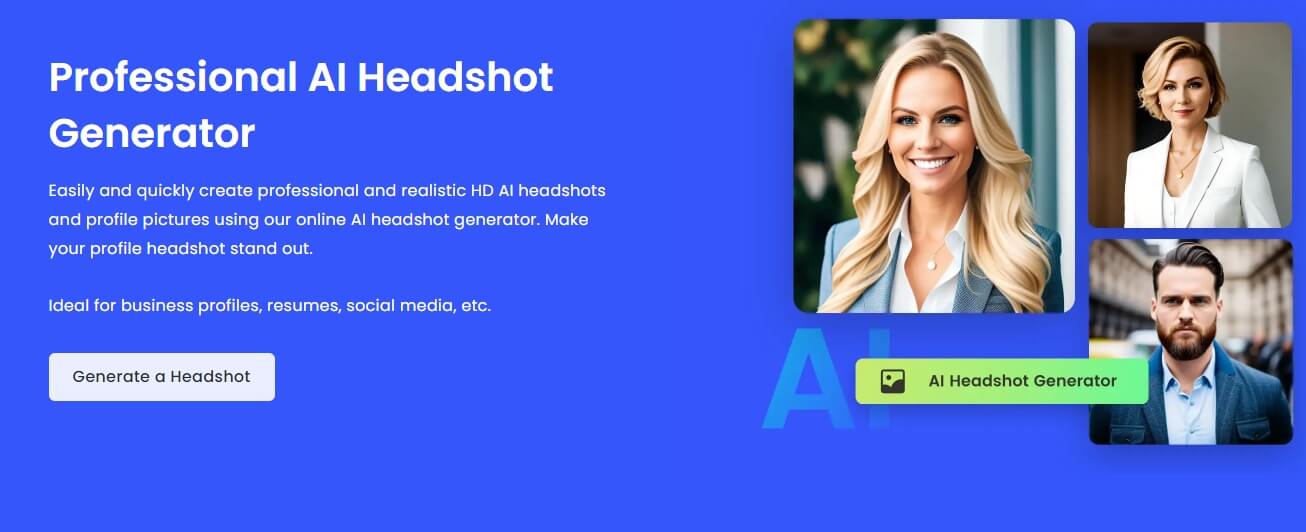 Step #2: Upload images of yourself, more angles they show, more professional and accurate the AI-generated headshot will be.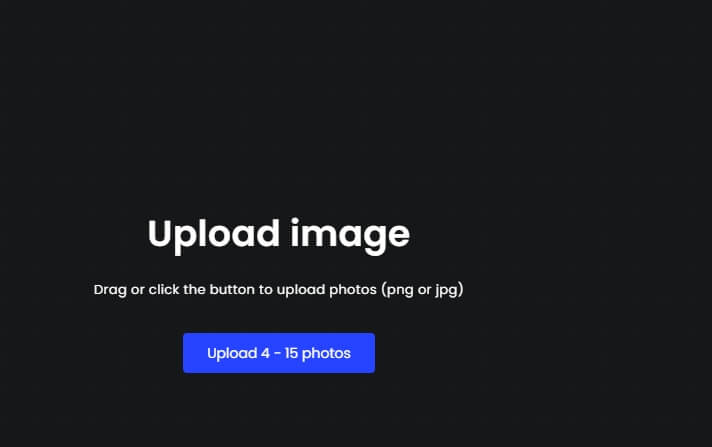 Step #3: Choose the gender & Click on "generate".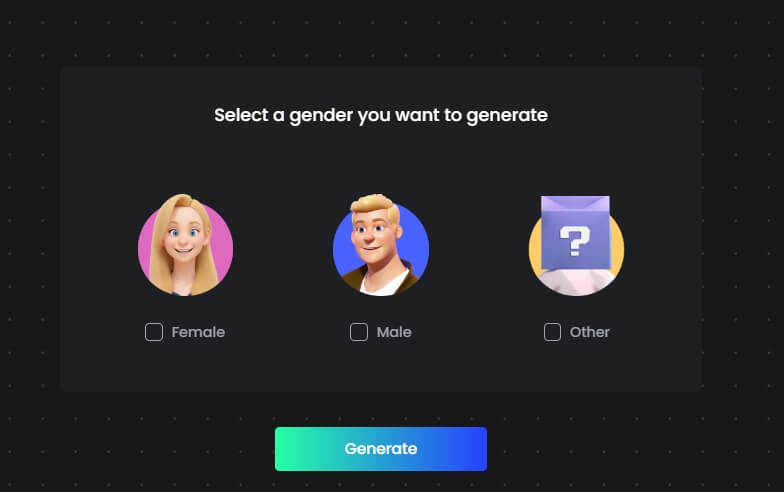 Step #4: Choose the number and styles of headshots generated with AI.
Step #5: Choose one you are most satisfied with from multiple results, and download it.
Key Features:
Easy and Quick Creation: Fotor's AI headshot generator offers a seamless and efficient process, allowing users to easily and quickly create professional and realistic HD headshots and profile pictures.

Online Accessibility: With Fotor's online platform, you can access the AI headshot generator from anywhere, eliminating the need for complex software installations or downloads.

Realistic Results: The AI algorithm employed by Fotor ensures that the generated headshots closely resemble real photographs, offering a high level of realism and authenticity.

Stand Out Profile Headshots: Elevate your online presence and make your profile headshot stand out from the crowd with Fotor's AI headshot generator, enabling you to create captivating and attention-grabbing visuals.

Versatile Applications: Fotor's AI headshot generator is not limited to a specific purpose, as it caters to a variety of needs, including business profiles, resumes, social media, and more.
Whether it's for your individual business account or the entire team, PFPMaker enables you to level up your presence on professional social networks like LinkedIn and beyond. With PFPMaker, you can craft a powerful image that conveys your dedication and seriousness towards your business endeavors. Make a lasting impression with a professional profile picture that speaks volumes about your commitment to success.
How to Create Professional AI Generated Headshots with Pfpmaker:
Step #1: Open the interface & Click "Create Your Headshots".
Step #2: Select package you favor from "professional styles" or "creative styles".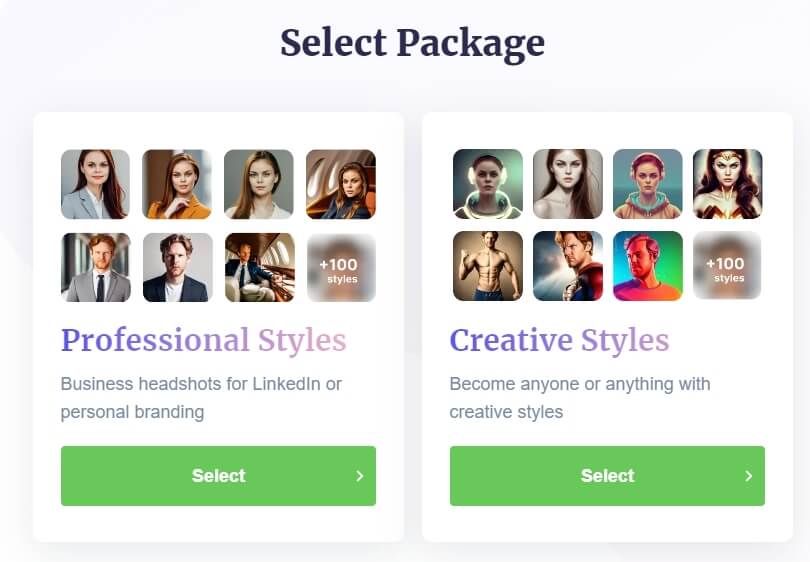 Step #3: Choose the gender and the specific 15 styles you'd like to have & Click on "Continue".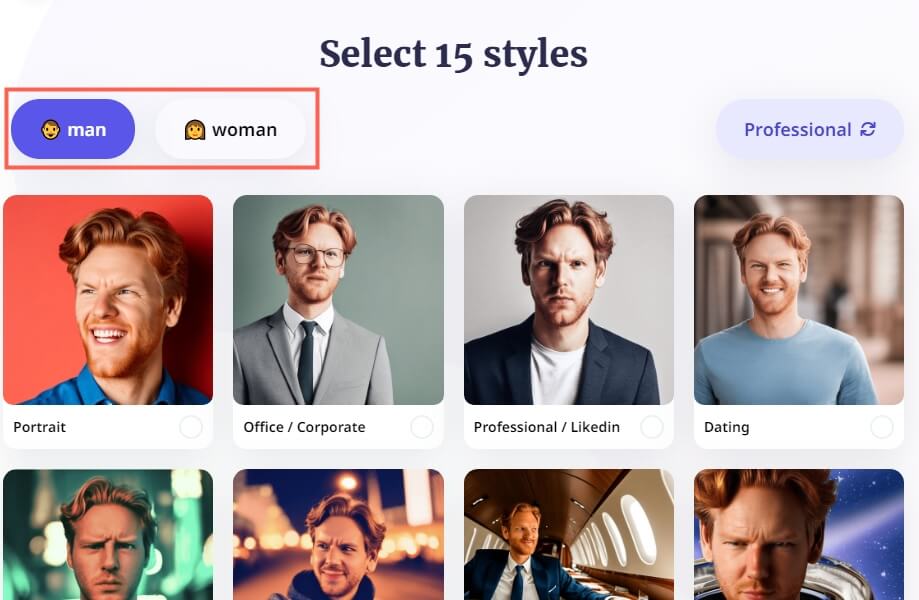 Step #4: Download AI generated headshots that you like.
Key Features:
Powerful Visual Representation: PFPMaker's AI headshot generator helps you create headshots that project a professional and trustworthy demeanor.

User-Friendly Interface: Easily navigate the platform and generate stunning corporate profile pictures with just a few clicks.

Various Styles Provided: You can choose from a wide range of styles to make your headhshots standout.

Myraids of Settings and Backdrops: It allows you to choose the setting you prefer, like in private Jet, CEO Office, a Coffee shop and everything in between.
Aragon is your go-to solution for all your headshot-related needs. This efficient tool effortlessly turns ordinary photographs into stunning headshots, saving you time and hassle. With Aragon, the retouching process is completed in just thirty minutes, delivering exceptional results. By providing twelve of your photos, Aragon trains its AI algorithm to accurately capture and enhance your unique features, ensuring personalized and high-quality headshots that truly reflect your appearance.
AI Create Professional Headshots in Aragon.ai:
Step #1: Click on "Create Yours Now" & Sign in.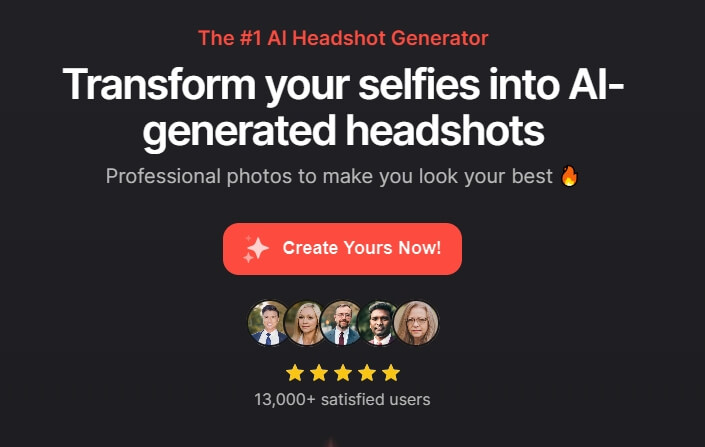 Step #2: Upload at least 12 images of your face, more angles, more accurate the results would be.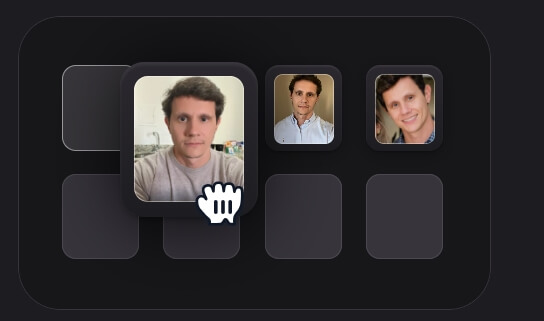 Step #3: Start generating with magic AI.
Step #4: Review your 200+ headshots and download your favorite one.
Key Features:
Hassle-Free Transformation: Aragon simplifies the process of turning ordinary photographs into stunning headshots, providing an efficient and hassle-free solution for users.

200+ AI-Generated Headshots: You can download your favorite one from all these choices.

Personalized AI Algorithm: By training its AI algorithm with twelve of your photos, Aragon ensures that the generated headshots accurately capture and enhance your unique features, resulting in personalized and high-quality representations.

Professional-Looking Headshots: Aragon's AI headshot generator enables users to create headshots that exude professionalism and visual appeal, helping individuals make a memorable impression.
This remarkable tool simplifies the process by allowing you to submit 10+ selfies to create AI-generated headshots. Choose your preferred portrait style from the available options. Once submitted, the algorithm works its magic, delivering 100 AI outputs within 24 hours. Whether you need headshots for your LinkedIn profile, a dating app, or any other platform, Try it on AI fulfills your requirements with exceptional results.
How to Create Professional AI Generated Headshots in Tryitonai:
Step #1: Click on "Create AI Headshots" & Sign in.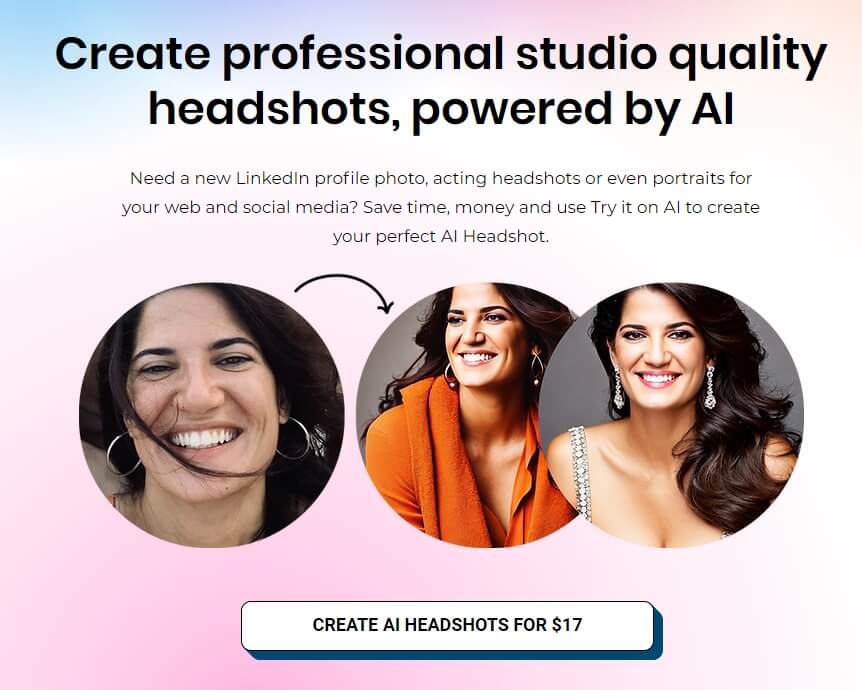 Step #2: Pay $17 for 100 AI generated headshots & Upload your selfies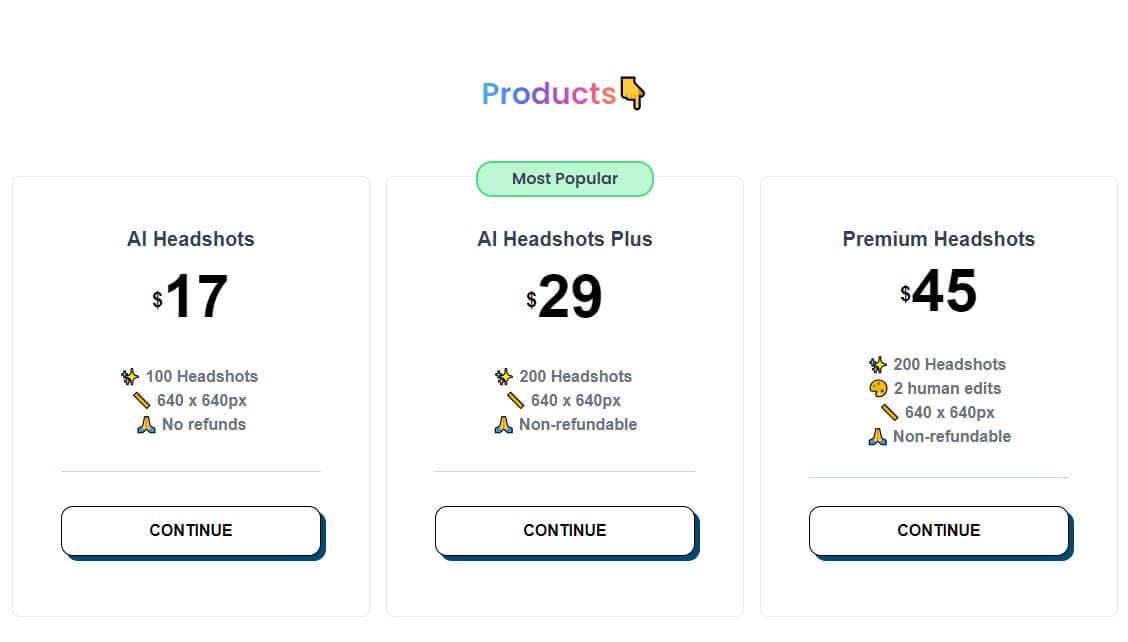 Step #3: Select the portrait styles you want & Start generating.
Step #4: You will receive a email within 24 hours, including the headshots you have created. View the results and pick what you like the most.
Key Features:
Studio-Quality Results:Tryitonai's AI headshot generator empowers users to obtain studio-quality headshots without the need for professional equipment or setups, making the process effortless and accessible.

Selfie-Based AI Generation: By submitting 10+ selfies, users can leverage Tryitonai's AI technology to create personalized and accurate headshots that reflect their unique features and style preferences.

Diverse Portrait Styles: Users have the freedom to select their desired portrait style from a range of options, ensuring that the generated headshots align with their personal preferences and intended use.

Fast Turnaround Time: Tryitonai's algorithm works efficiently to deliver 100 AI outputs within 24 hours, providing users with a wide variety of options to choose from in a timely manner.

Versatile Use: Whether it's for professional platforms like LinkedIn, dating apps, or any other context where headshots are required, Tryitonai's AI headshot generator caters to diverse needs and ensures high-quality results for any desired application.
Part 3: Best AI Headshot Generator to Create Professional Headshots with AI
All the above-mentioned AI professional headshot generators are all great tools for you to create studio quality headshots effortlessly. Apart from them, here is another powerful AI tool for you.

iMyFone MagicPic is an AI graphic design tool, and its current feature is to remove background with AI.
But the feature of creating professional AI generated headshot free is coming soon, which provides a myriads of portrait styles for you. Just simply import your selfies, powerful AI can create amazing close-up headshots. Moreover, apart from Image-to-Image generation, Text-to-Image is also supported. Stay tuned, you don't want to miss out!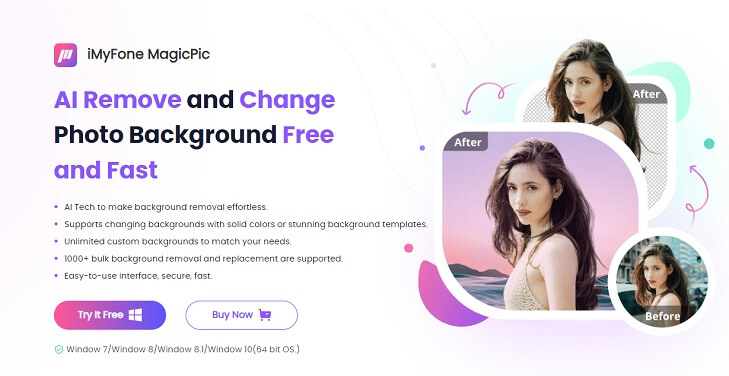 Part 4. FAQs about AI Headshot Generator
Can AI create a headshot for me?
Yes, thanks to AI headshot generators like Fotor, Pfpmaker, Aragon.ai, and Tryitonai, obtaining high-quality close-up photos has become effortless.
Which AI headshot generator is best?
--Fotor
-- Pfpmaker.com
--Aragon.ai
-- Tryitonai.com

How to make an AI headshot free?
Most AI Headshot Generators in the market are not free, since the AI algorism costs a lot when generating professionally-looked headshots.
If you want to free create a professional headshots, an editing tool like canva is the best choice.
1. Open Canva & Select "create design".
2. Upload your photo.
3. Tap "Edit photo" > "Magic Edit".
4. Use editing tools to edit the photos to make it more professional.
Wrap it Up
All in all, utilizing an AI headshot generator is of paramount importance as it revolutionizes the way individuals obtain high-quality headshots. These powerful tools eliminate the need for camera setups or professional photographers, offering a convenient and accessible solution for users. With AI headshot generators, individuals can effortlessly create professional and visually captivating headshots that accurately represent their unique features. Whether it's for business profiles, resumes, social media platforms, or personal brandin.
Don't miss out on this great and powerful technology. Take the first step and transform your headshots with the click of a button!