From captivating logos to stunning illustrations, AI graphic design tools have become indispensable for both professionals and enthusiasts alike. With their ability to streamline complex processes, enhance creativity, and offer user-friendly interfaces, these innovative tools have alleviated the pain points faced by designers, opening up a world of endless possibilities.
So, we will delve into a selection of remarkable AI graphic design tools and how to use them to create stunning designs. Get ready to embark on an exciting journey where technology and art seamlessly converge!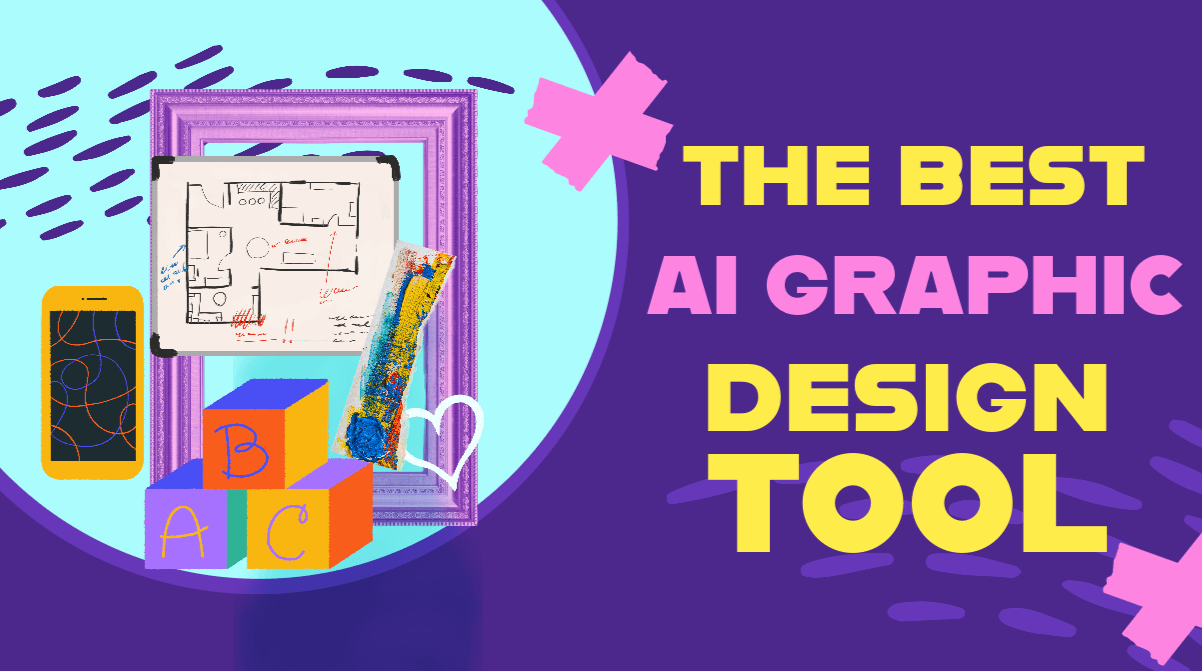 Part 1. What is Graphic Design and Why You Need AI Graphic Design Tools?
The realm of graphic design encompasses a diverse range of knowledge and expertise, serving as a vital component of various visual communication systems. Its applications extend far beyond the boundaries of advertising strategies, permeating even into the realms of aviation and space exploration. It encompasses a vast array of types and classes, each playing a crucial role in the diverse tapestry of visual communication.
Excitingly, the digital marketing industry is undergoing a rapid transformation fueled by the advancements of artificial intelligence. With its remarkable capabilities, AI has become an invaluable asset for businesses seeking to enhance their efficiency and achieve their objectives with greater speed. In parallel, AI has made significant strides in the realm of design, acquiring the ability to swiftly undertake creative tasks, thus simplifying the lives of designers. This convergence of AI and design heralds a new era of accelerated productivity and innovation, empowering both marketers and designers to accomplish more in less time.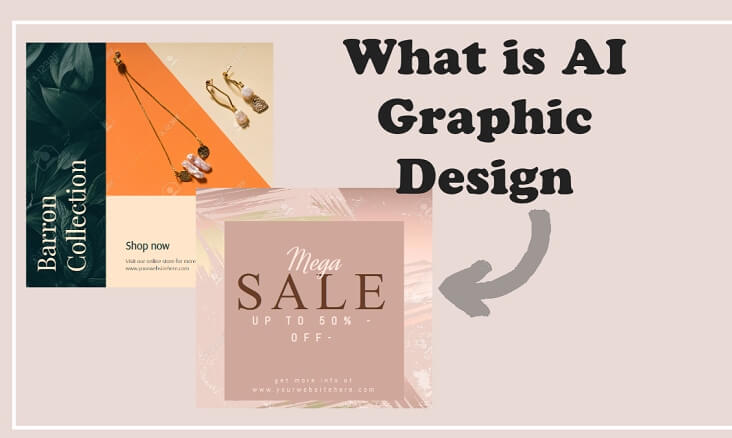 Part 2. Best AI Graphic Design Softwares
NightCafe Studio stands out as an extraordinary AI Image Generator that seamlessly converts text and image prompts into mesmerizing artwork in a matter of seconds. Powered by an impressive array of five distinct algorithms, including clip-guided Diffusion, Dall E-2, stable Diffusion, neural style, and VQGAN+CLIP, this platform effortlessly produces cohesive and lifelike images, paintings, and portraits based on your inputs. The most remarkable aspect is that NightCafe Studio eliminates the need for coding expertise or advanced artistic skills, enabling anyone to effortlessly create stunning and captivating artwork. Moreover, you can use the image-generated for either personal or commercial purposes.
How to Use NightCafe.studio to Generate Creative Images:
Step #1: Enter this website & Click "Start Creating".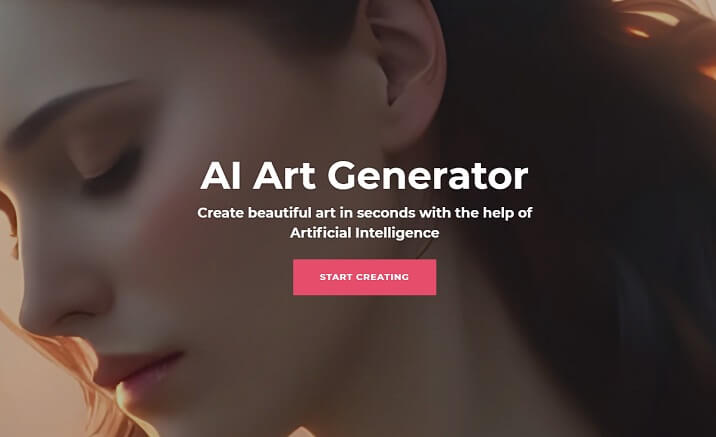 Step #2: Describe your design ideas into the text bubble.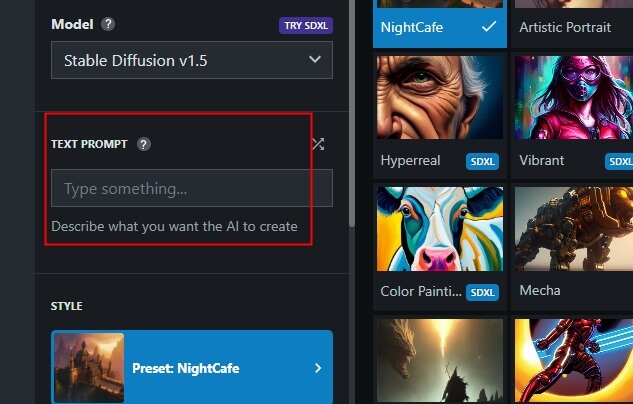 Note: After entering your prompt, you can choose a style you favor.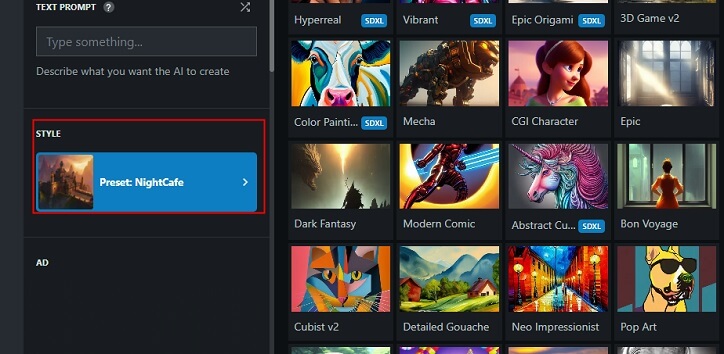 Step #3: Enter to the generate images.
Step #4: Download and save the AI-generated image to use in your design.
Bonus Tips: If you want to further edit it through adding texts or certain design elements, you should go to a photo-editing tool to make further design and refinement.
Key Features:
Endless Artworks:With NightCafe Studio, you can create an infinite number of artworks without any restrictions or limitations, offering you boundless opportunities for artistic expression.

Diverse Algorithms:NightCafe Studio provides a range of cutting-edge algorithms to choose from. You can explore and utilize powerful algorithms such as Stable Diffusion, OpenAI DALL E2, CLIP-Guided Diffusion, and more, allowing you to experiment and achieve the desired artistic results.

Varied Styles:Experience a plethora of artistic styles at your fingertips. NightCafe Studio offers a wide array of styles, including artistic portrait, striking, anime v2, vibrant, 3D games, and many more.

Allows Personal and Commercial Use: You own the copyright of the images you generated in NightCafe.studio.
Canva, with a powerhouse of AI editing features, templates, design elements, and customization options, is a greate tool to create stunning visual masterpieces. It empowers you to choose, customize, and bring your vision to life. Furthermore, Canva's AI Text-to-Image tool takes your designs to the next level, allowing you to refine and enhance your unique creations.
How to Make your Graphic Design with Canva:
Step #1: Open this website & Sign in.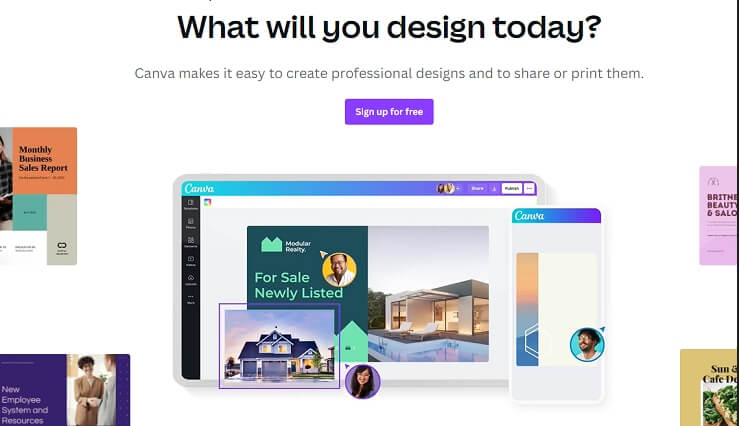 Step #2: Click on "Create a design" in the right corner & choose a function you'd like to design.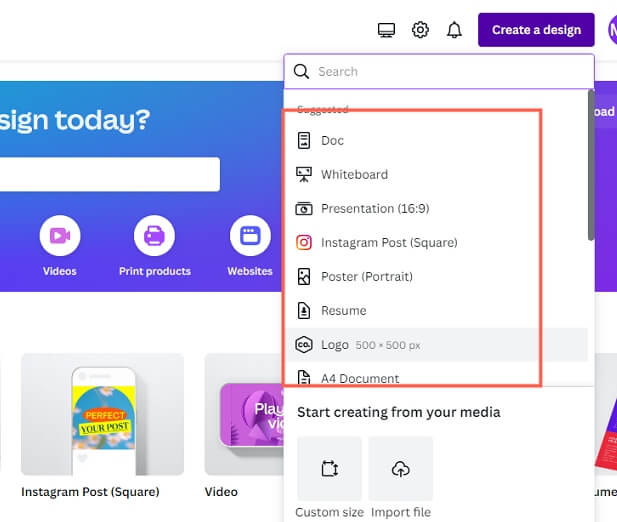 Step #3: Choose from various templates Or just start from an empty canva.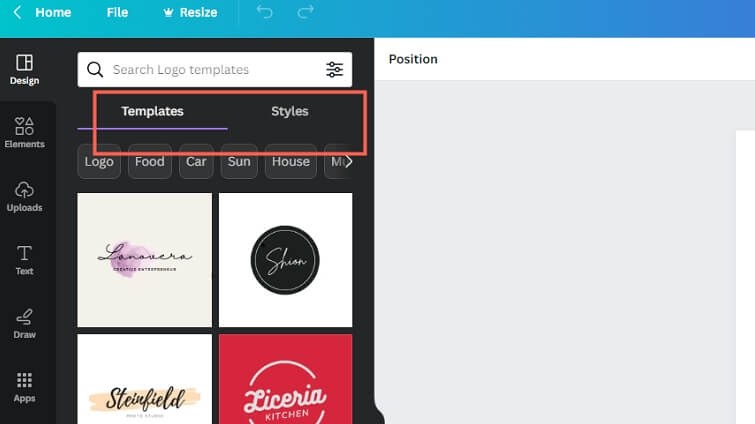 Step #4:Start your design using the design elements it offered.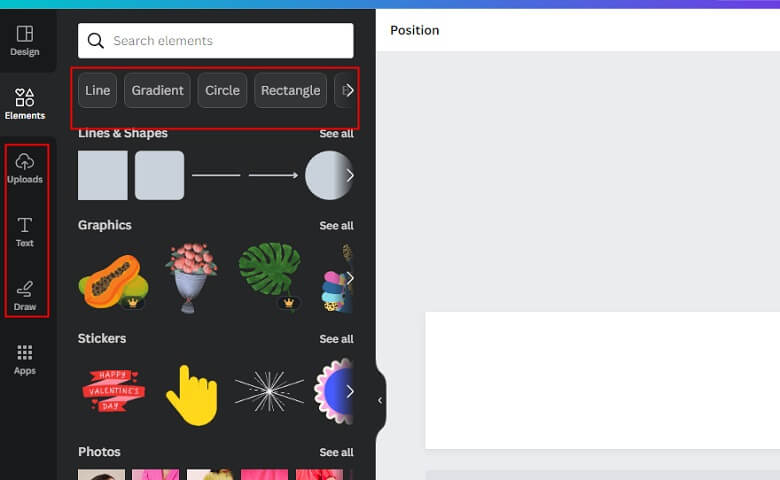 Note:You can also utilize the Text-to-Image feature to help create certain elements or images you want to use in design.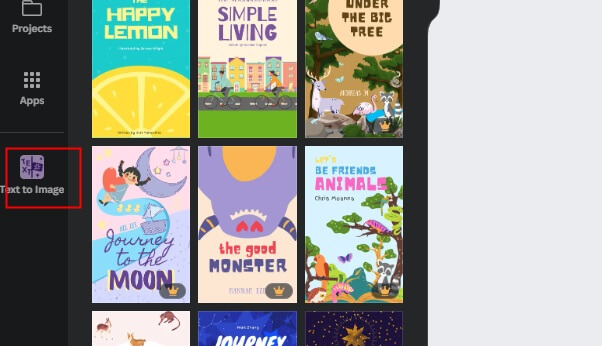 Step #5:Download and save your design.
Key Features:
Canva's banner templates boast 100% customization, allowing you to personalize every element according to your preferences.

It offers creatively designed templates that are not only visually appealing but also exude a professional touch.

A vast collection of design elements, including millions of photos, icons, and illustrations, and even the option to upload your own images.

Downloading and sharing your creations is a breeze, as it offers a range of format choices, including JPG, PNG, and PDF.

Boasts text-to-image features for you to create more creative and unique design, turning your imagination into reality.
Designs.ai is an innovative online tool that empowers users to effortlessly create stunning designs for various purposes, including logos,banners, flyers, graphics mockups, and more through customizing a wide range of templates with AI design features or generate design from ideas with powerful AI. With its user-friendly interface and advanced AI capabilities, Designs.ai makes the poster design process accessible to both professionals and beginners.
How to Design Your Own Artwoks in Designs.ai:
Step #1: Enter the website, sign up and log in.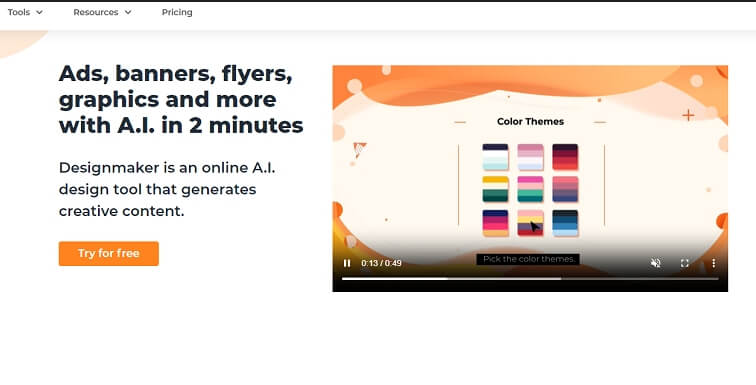 Step #2: Choose a template catering to your needs.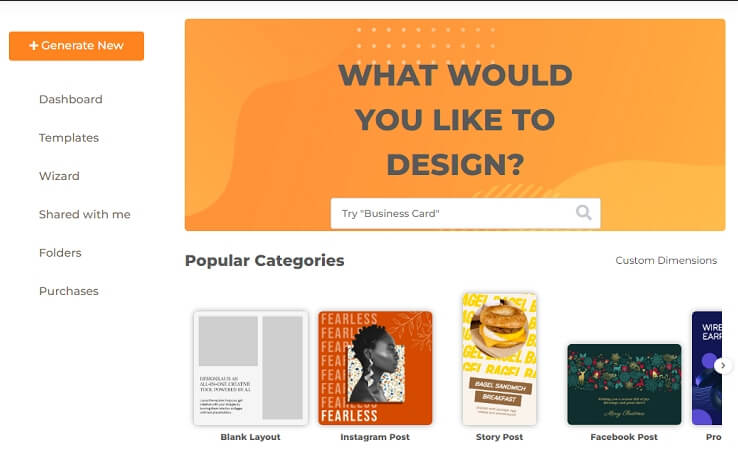 Step #3: Start customization with a library of design elements.
Rearrange the elements, adjust the fonts, texts, color, bakckground, or any other design elements in Design.ai.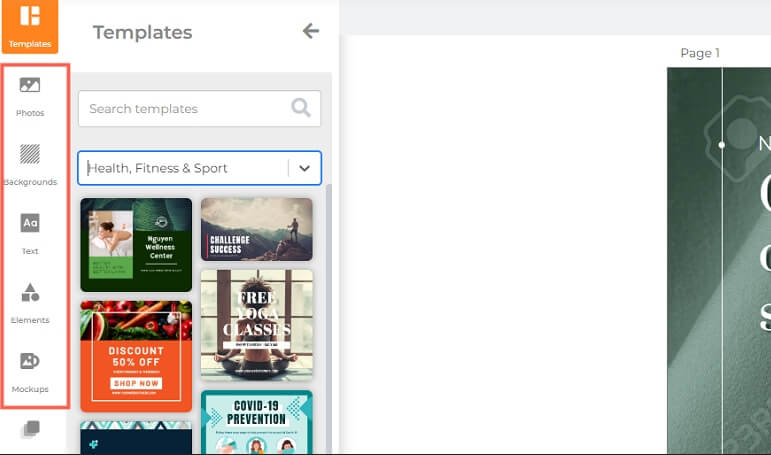 Step #4: Download the stunning deisgn as PDF, JPG or PNG file.
Key Features:
Designs.ai presents an extensive selection of professionally designed templates catering to diverse industries and occasions.

Enjoy complete customization freedom as users have full control over the elements within the chosen template. Effortlessly modify text, fonts, colors, backgrounds, and images to create a design that reflects your unique style.

Access an expansive library of assets, including top-notch graphics, stock photos, icons, and illustrations, to enhance and enrich your poster with visually captivating elements.

You can save your designs as high-resolution image files, such as PDF, JPG, or PNG, ensuring optimal quality and versatility.
iMyFone MagicPic is an powerful and creative AI photo editing tool, and its current main feature is to bulk remove and change image background with AI . It provides a wide range backgrounds and also allows customize image background by uploading your own image.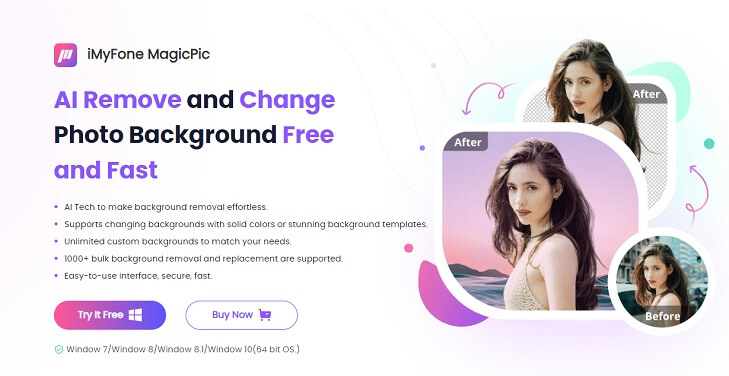 Key Features:
One-click to remove and change photo background seamlessly.

Supports 1000+ bulk editing background, greatly improving work efficiency.

Supports background customization to match your needs.

Easy to navigate and use.

Effortlessly making poster designs in the upcoming version.
5) Adobe Sensei - All-in-One Graphic Design Tool
Adobe Sensi, an embedded tool within the Adobe Creative Cloud suite, encompasses an array of impressive capabilities such as content-aware fill, font recognition, automated color matching, and numerous other features. Rather than being a standalone tool, it seamlessly integrates into various Adobe software applications, enhancing your graphic design workflow regardless of the program you're using. By incorporating Adobe Sensi, you unlock a wealth of innovative functionalities that elevate your design process to new heights.
Key Features:
Tailor your marketing efforts to individual customers

Streamline and automate repetitive tasks and processes.

Making visual content more dynamic and visually appealing.

Create engaging and impactful content

Gain valuable insights and up-to-date information about your business.
6) Uizard - For Web/App/UI Design
Uizard, with which you can effortlessly create professional websites, desktop interfaces, and web/mobile apps in a matter of seconds. This remarkable tool seamlessly transforms your hand-drawn sketches into interactive prototypes and integrates them into your projects. Additionally, Uizard offers a wide range of ready-made design templates and easy-to-use drag-and-drop components, enabling swift editing and customization of your designs.
Key Features:
Swiftly transforming sketches into interactive prototype.

A myriad of pre-set and unique templates.

Easy for both designers and non-designers.

Boasts design assistant powered by AI.

Supports digital product wireframing.
7) Fronty - Image to HTML CSS
With Fronty, you can make transforming your webpage designs into HTML CSS code a breeze. Just upload an image of your design, and the AI will identify the elements, automatically generating the corresponding HTML/CSS code. You can further fine-tune your webpages using Fronty's user-friendly online UI editor. Emphasizing clean, speed-optimized, and accessible code, Fronty ensures your final output meets the highest standards.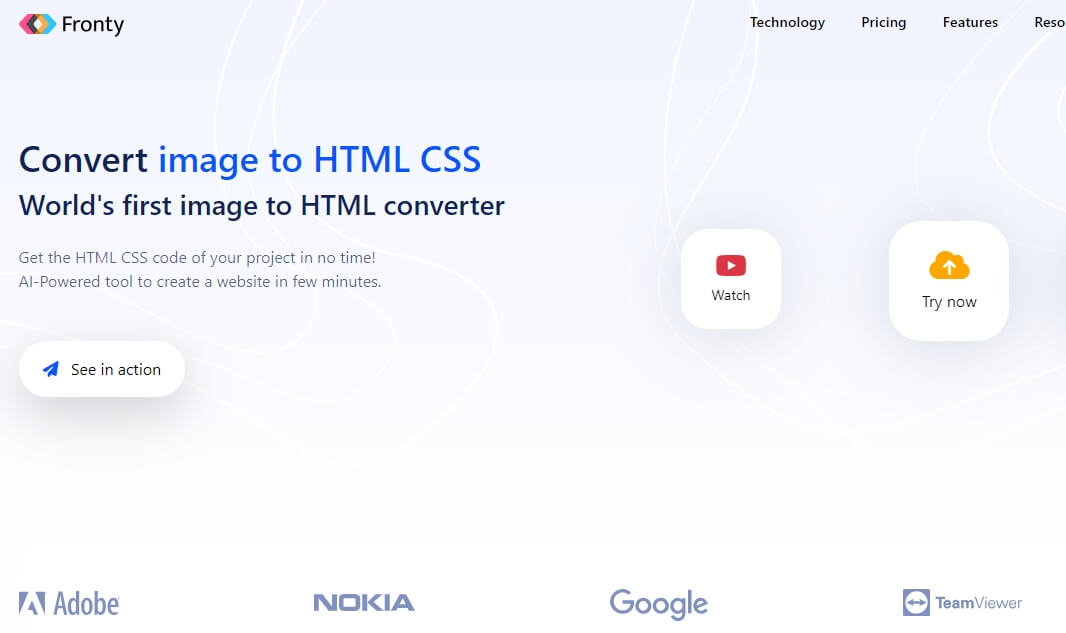 Key Features:
Covert image to code with ease.

Provides an online layout editor.

A wide range of templates offered.

It has customized bootstrap theme.

Easy to operate.
8) Khroma - Palettes Creator
If you are struggling with finding the perfect color scheme for projects, Khroma can get you covered, and all you need to do is to select colors you prefer, then, AI will generate color combinations, complete palettes, and even images featuring those colors.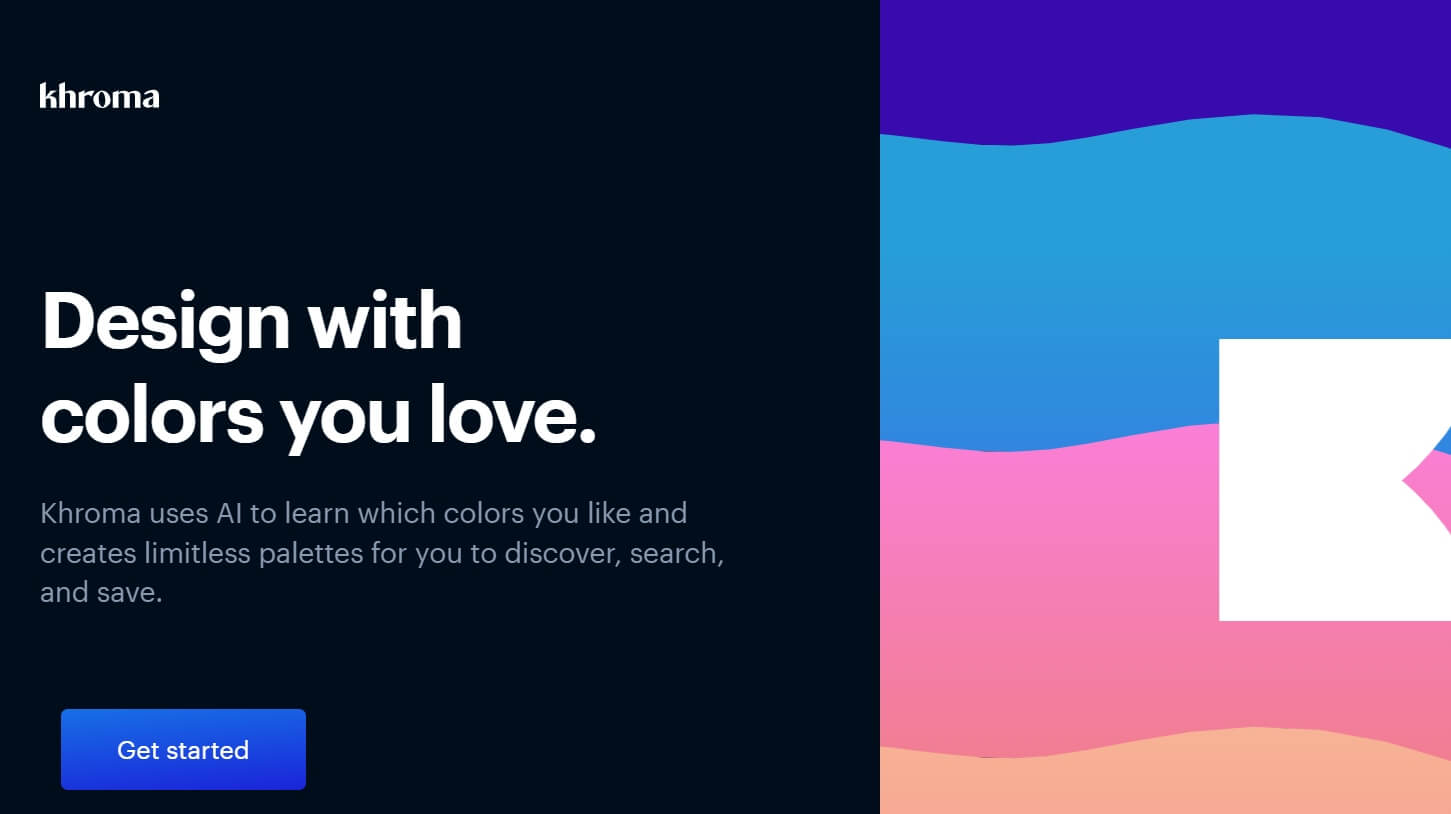 Key Features:
Unlimited color palettes generation.

It ensures easy color implementation by copying hex codes.

Generate images with your chosen colors.

Supports uploading your own images to colorize them.
9) AutoDraw - Sketch-to-Art
AutoDraw is an AI-powered drawing tool that operates right in your web browser. It empowers you to sketch quickly and refine your artwork by combining machine learning with drawings from talented artists. Just make a simple doodle on AutoDraw, and its intelligent suggestion tool will try to identify your drawing.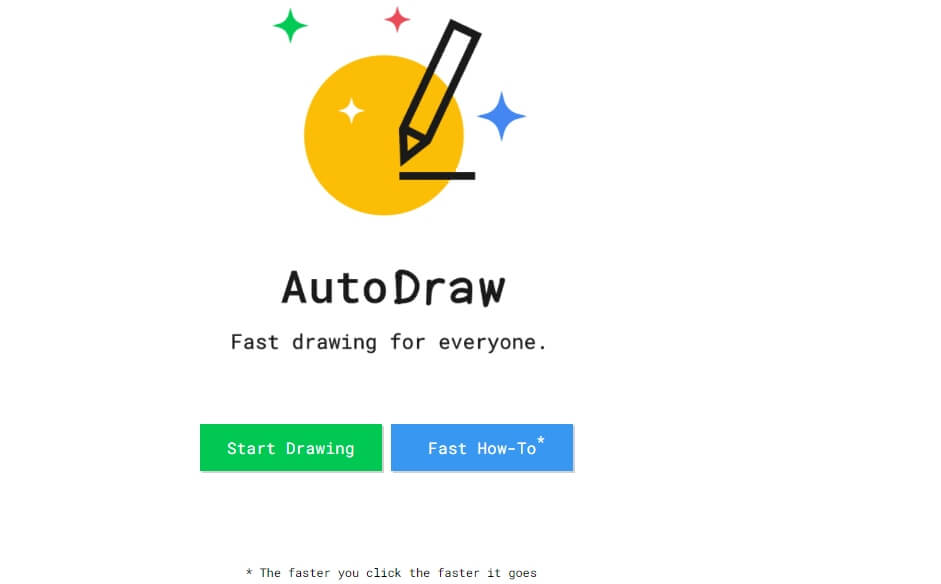 Key Features:
It is web-based.

Has various drawing tools.

Turn doodles to works of art.

Download as png and share option available.
Part 3: Another AI Graphic Design Tool—iMyFone MagicPic
These AI-powered graphic design tools we have mentioned can satisfy almost all your design needs. But they have their own prominent features. An all-in-one AI graphic design tool is in urgent need to boost productivity and cut cost. Here I highly recommend iMyFone MagicPic.

iMyFone MagicPic is an powerful and creative AI photo editing tool, and its current main feature is to bulk remove and change image background with AI . But the new feature of AI text-to-image feature and a large number of graphic templates for variou design purpose is going to release! All design features you want are included. You don't want to miss out!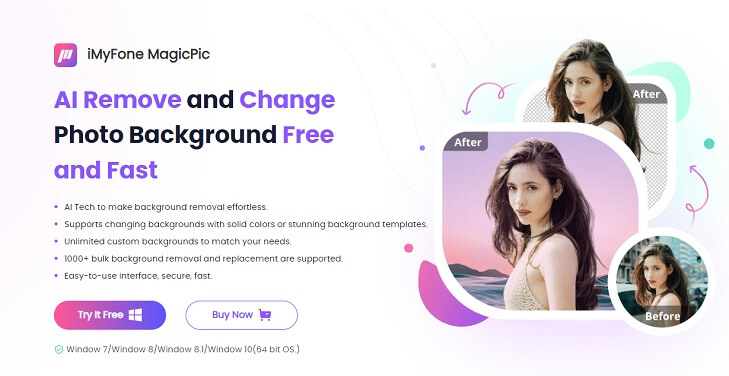 With just a few simple text descriptions, you can effortlessly create stunning pics. With a few clicks, stunning and eye-catching graphic designs are created!
Part 3: FAQs about AI Graphic Design
Is there an AI for graphic design?
Designs.ai, Canva, and NightCafe.studio are all powerful AI graphic design tools that can boost your productivity.
What is AI used for in graphic design?
AI revolutionizes graphic design by streamlining work processes, elevating creative assets, and analyzing customer preferences. With AI graphic design tools, optimizing your workflow becomes effortless as they are trained to identify and provide the precise visual assets you require with just a single click.
Is AI the end of graphic design?
No, complete replacement of designers by AI is highly unlikely. While AI can automate certain design tasks like layout generation or color schemes, it cannot replicate the irreplaceable qualities that designers possess: creativity, critical thinking, and problem-solving skills. Designers bring a unique human touch and expertise that AI cannot fully emulate.
What is the best free AI for graphic design?
1. NightCafe.studio
2. Canva
3. Designs.ai
4. iMyFone MagicPic
Final Thoughts
In conclusion, the emergence of AI in graphic design has sparked a profound transformation in the industry. AI graphic design tools have become invaluable assets for professionals and enthusiasts alike, offering streamlined workflows, enhanced creativity, and simplified processes. While AI can automate certain tasks, it cannot replace the unique qualities that human designers bring to the table, such as creativity, critical thinking, and problem-solving skills. Instead, AI serves as a powerful ally, empowering designers to unlock new levels of productivity and innovation.
So, start using the AI graphic design tools today and greatly boost your work efficiency while without losing design quality!