In today's digital world, where social media platforms and online forums have become an integral part of our lives, having an eye-catching and unique profile picture is more important than ever. This is where AI profile picture generators come into play.
These innovative web-based tools leverage the power of artificial intelligence algorithms to create personalized profile pictures that reflect your personality and preferences.
In this article, we will explore what AI profile picture generators are, why you should use them, and highlight some of the best options available in the market. So, let's dive in and discover how these AI-powered tools can help you create stunning profile pictures effortlessly.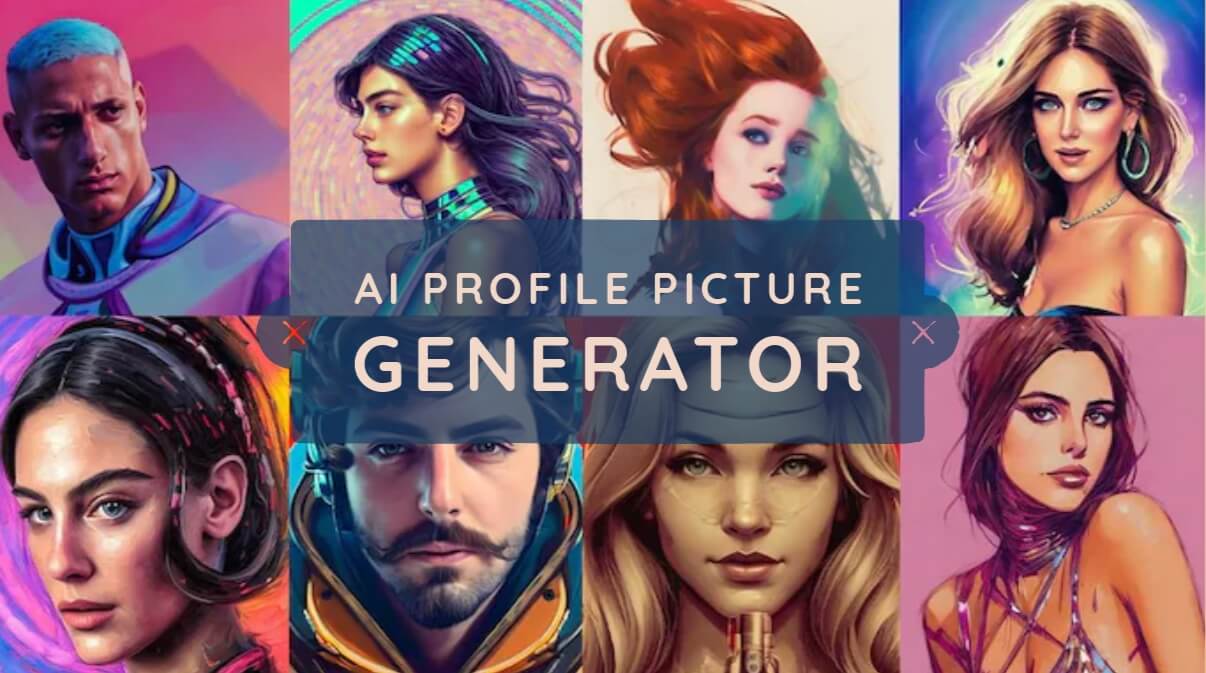 Part 1. What is AI Profile Picture Generator?
AI Avatar Generator is an innovative tool that utilizes artificial intelligence technology to create lifelike and customizable digital avatars. These avatars can be used across various digital platforms, such as social media, websites, and virtual reality applications.
The beauty of AI Avatar Generators lies in their ability to transform a simple photograph or description into a visually appealing and personalized representation. Whether you're an individual looking to spice up your online presence or a business seeking to enhance your brand identity, AI Avatar Generators offer a unique and engaging way to stand out in the digital landscape. By utilizing these powerful tools, you can captivate your audience, increase brand recognition, and create a strong and memorable online persona.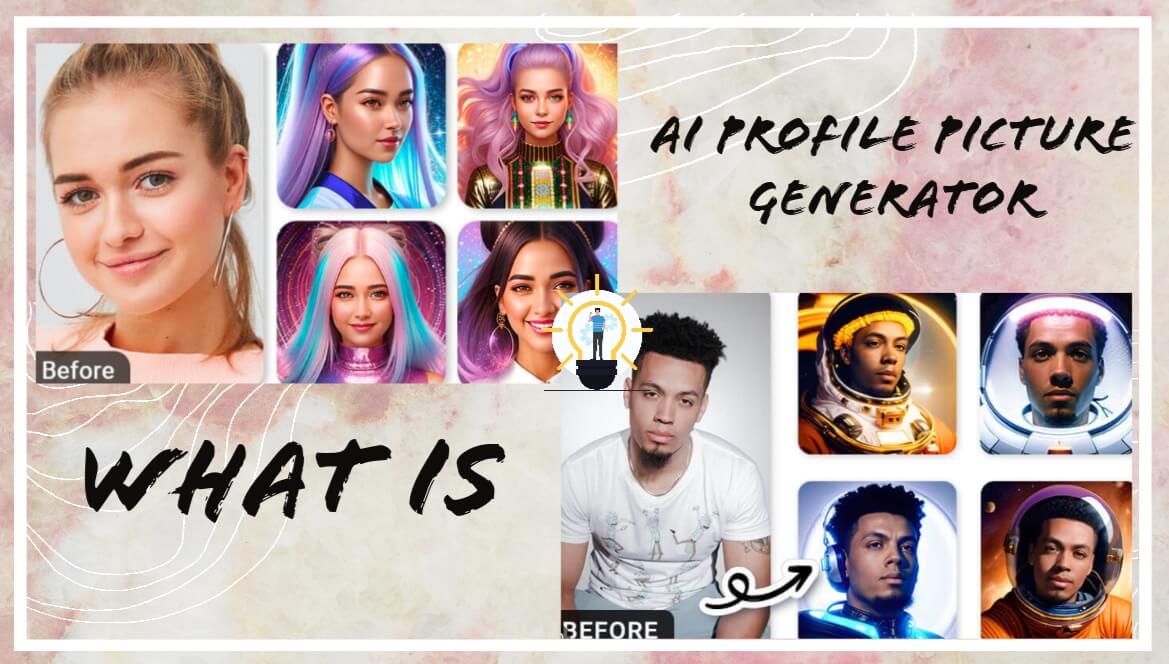 Part 2. Why Use an AI Profile Picture Generator?
When it comes to creating a profile picture, using an AI profile picture generator offers several compelling advantages. Let's take a look at the top five reasons why you should consider using these tools:

Variety: AI profile picture generators provide users with a wide range of options. Whether you prefer abstract designs, cartoon-style characters, or more traditional looks, you can find the perfect style that suits your preferences.

Customization: Most AI profile picture generators allow users to customize their creations by adding text or other elements. This level of customization ensures that your profile picture is unique and tailored to your specific requirements.

Cost-effective: Hiring a professional photographer or graphic designer to create a profile picture can be expensive. With an AI profile picture generator, you can achieve professional-looking results at a fraction of the cost, making it a budget-friendly option.

Quick turnaround time: Time is of the essence, especially when you need to update your profile picture promptly. AI profile picture generators offer a quick turnaround time, allowing you to obtain your new image within minutes or hours, depending on your desired level of customization.

No special skills required: One of the key advantages of using an AI profile picture generator is that it doesn't require any technical expertise. Anyone, regardless of their knowledge or skills, can create an attractive and professional-looking profile picture effortlessly.

.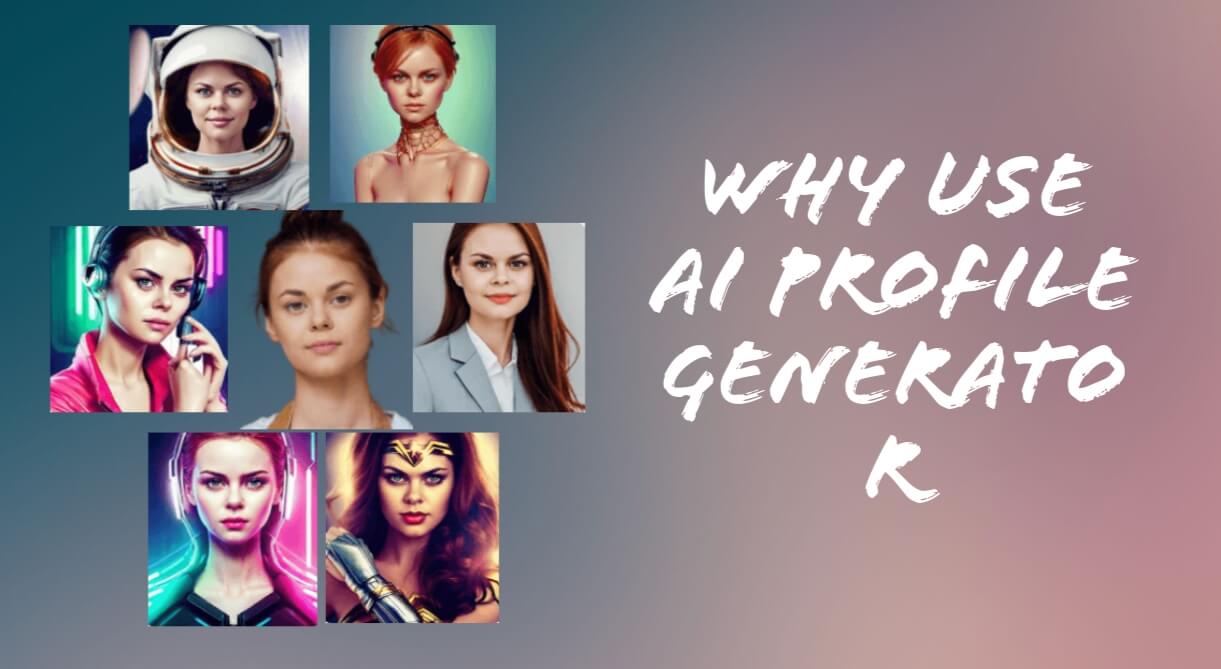 Now that we understand the benefits of using AI profile picture generators, let's explore some of the best options available in the market.
Part 3. Best Free AI Profile Picture Generator to Create Stunning AI Profile Picture
The Fotor AI avatar generator is a powerful tool that uses artificial intelligence to create exceptional and personalized profile pictures. It is a prominent part of Fotor's collection of AI-powered tools, including an AI Image Generator, AI Face Generator, and Photo Enhancer.
This versatile AI profile picture generator allows you to create images not only based on photos of humans but also extends its capabilities to pets. Whether you want a human or a furry friend in your profile picture, Fotor has got you covered.
What's best is that Fotor allows to generate AI profile pictures based on text descriptions.
Price: Starts from 200 Credits/mo x12 (€3.33/mo)
How to Use Fotor to Generate AI Profile Picture:
Step #1: Enter the webite and click "Create a Profile Picture Now".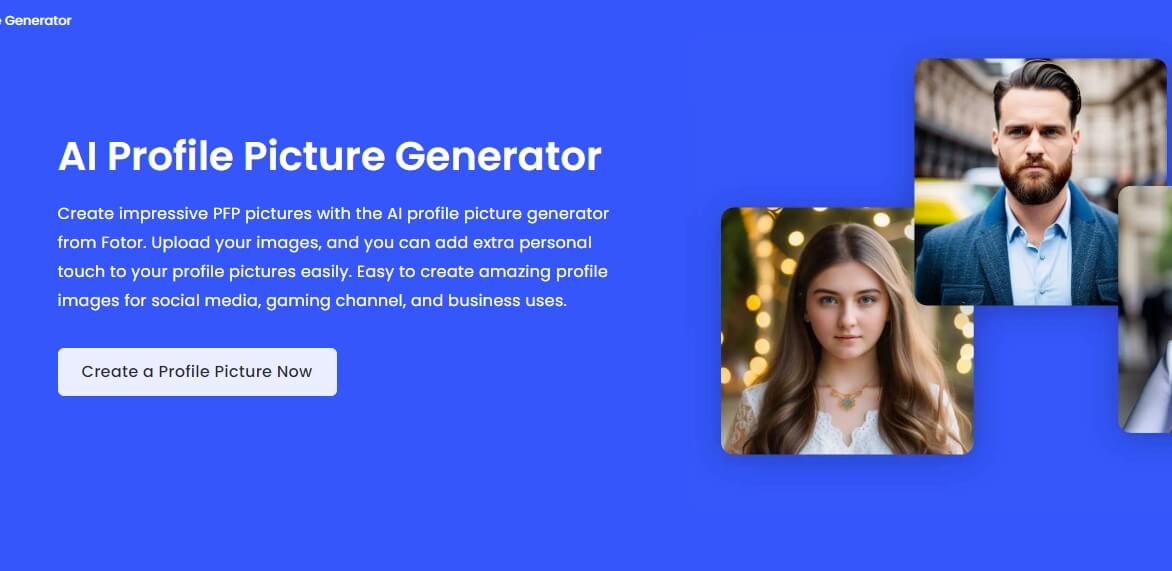 Step #2: Upload 4-15 photos, and these photots should be clear and full face.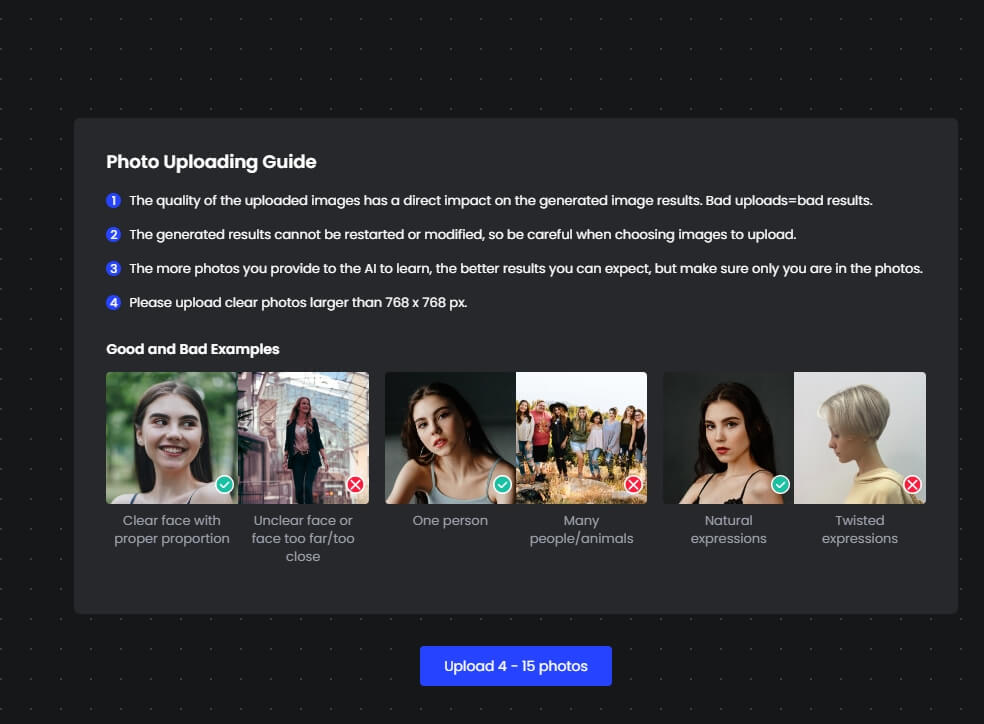 Step #3: Select your gender & Click "generate" to get your personalized Ai profile picture.
Key Features:
Photo-based or text-based generation: Fotor allows you to create profile pictures based on photos or even text descriptions.

Versatility: Fotor's AI avatar generator is not limited to human portraits; it extends its capabilities to pets as well.

Avatars for Humans or Dogs & Cats:It allows you to generate AI avatars for yourselves or your pets.

Various styles: You can choose styles you prefer, like oil painting, anime, and more.

Customizable Aspect Rations: You can choose different aspect ratios you favor, like 1:1,4:3, and 3:4.
ProfilePicture AI is an incredible tool that allows you to create stunning images by utilizing 357 unique styles from your own photographs. It is especially beneficial for those who want to have a unique and fresh look for their social media profile pictures.
Using ProfilePicture AI is as easy as uploading your preferred photo and letting the AI take over. In just a matter of minutes or hours, you'll have access to a wide variety of personalized and distinctive profile picture options right at your fingertips, all with just a few clicks.
As one of the top AI image generators available, ProfilePicture AI offers an extensive range of packs designed to cater to diverse preferences. Whether you're looking for a profile picture for LinkedIn, YouTube, WhatsApp, or even for platforms like Cool, Discord, video games, TikTok, funny, or anime, ProfilePicture AI has got you covered.
Price:
Small ($8) – 96 photos, 12 styles in 512×512 resolution.
XL ($14.75) – 280 photos, 35 styles in 4K resolution.
All ($24.75) – 800+ photos, all 100+ styles in 4K resolution.
How to Make your Distinct AI Profile Picture with ProfilePicture.AI:
Step #1: Head to its website & Sign in.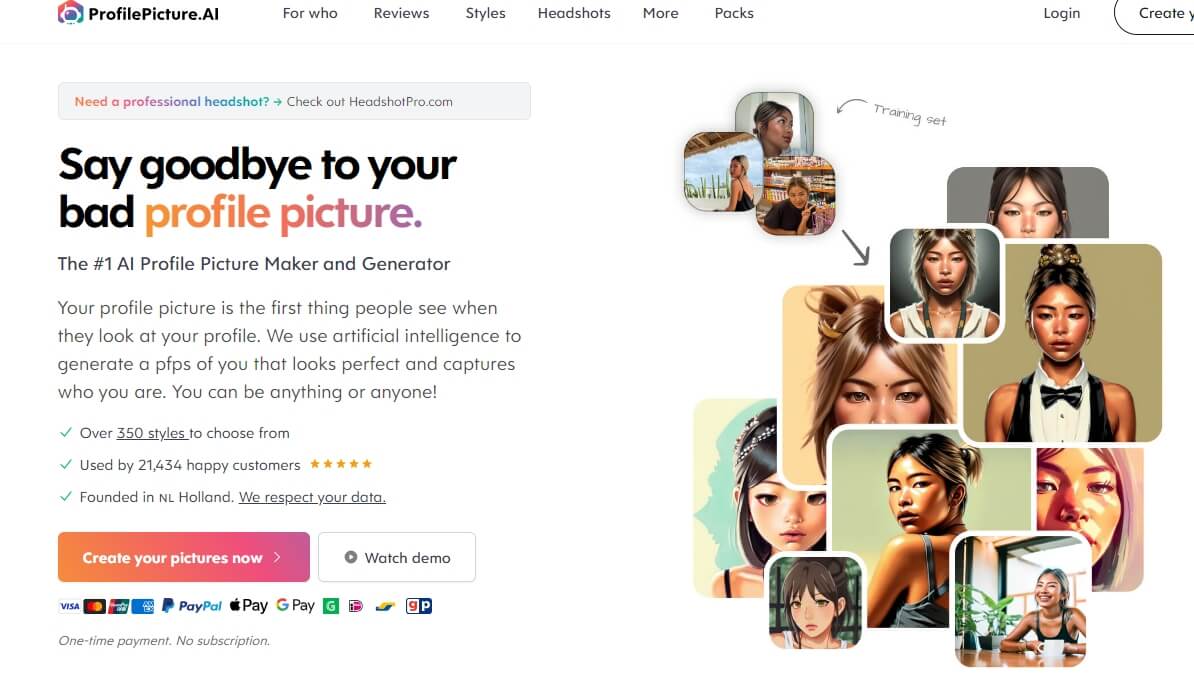 Step #2:Upoload your photos and choose the style you prefer.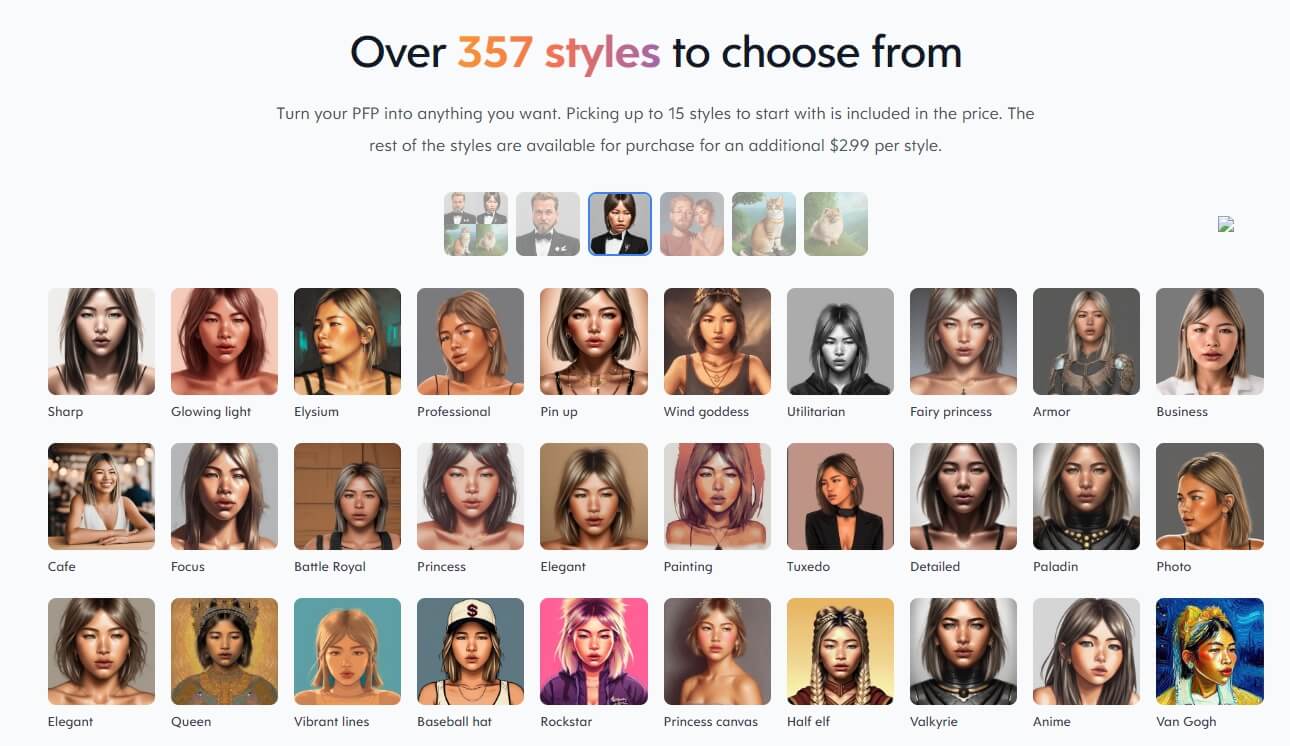 Step #3: Let AI do its magic.
Key Features:
Exceptional variety: ProfilePicture.AI provides access to 357 unique styles, ensuring you can find the perfect look for your social media profile picture.

User-friendly interface: With just a few clicks, you can upload your photo and let ProfilePicture.AI work its magic.

Categorized packs: ProfilePicture.AI offers a plethora of packs catering to various preferences, including LinkedIn, YouTube, WhatsApp, and more.
Picsart utilizes advanced AI technology to help you create a customized profile picture from your uploaded mobile photo. This innovative platform allows you to turn your personal mobile images into artistic masterpieces.
Once you submit a photo, the AI system analyzes facial features like eye shape, nose, mouth, skin tone, and overall facial structure to generate stunning images.
With an abundance of styling options available, including a wide range of hairstyles and accessories, creating a captivating online presence that truly reflects your real-life persona has never been easier.
Price:
100 Unique Avatars (€4.99) – 10 Variations of 10 Styles.
200 Unique Avatars (€5.99) – 20 Variations of 10 Styles.
How to Make AI Profile Picture with Picsart AI Avatar:
Step #1: Download & Open the App.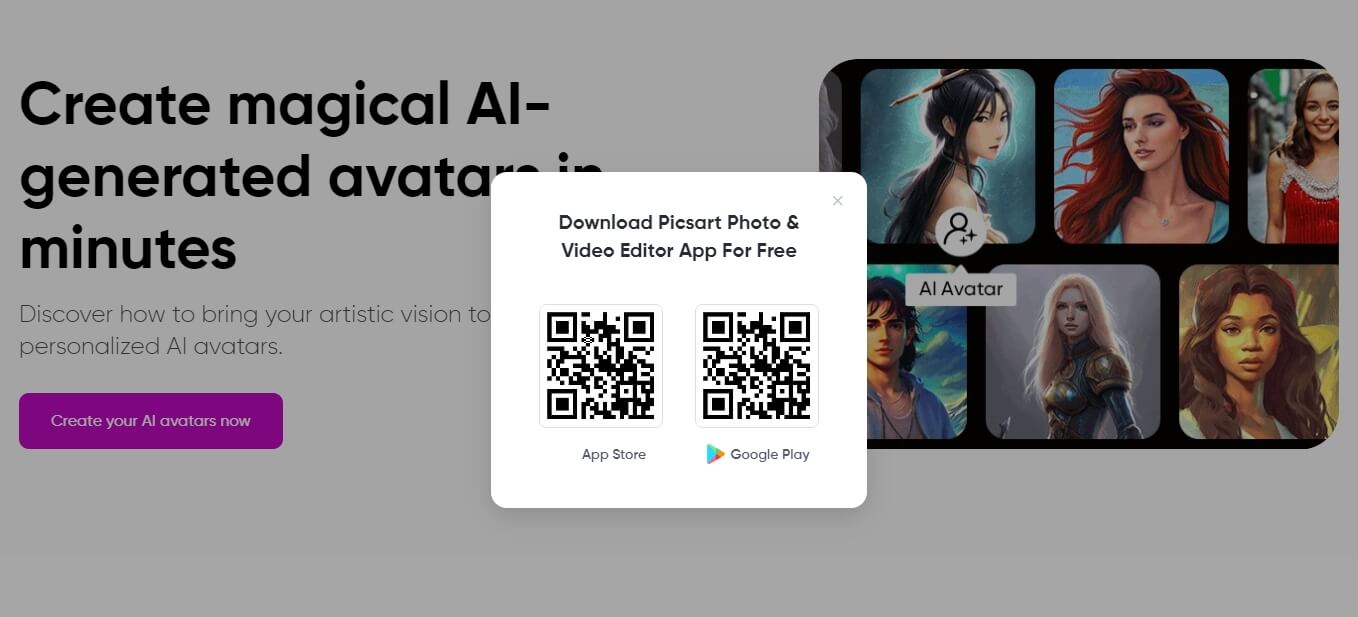 Step #2: Choose "Individual" or any other choices based on your needs.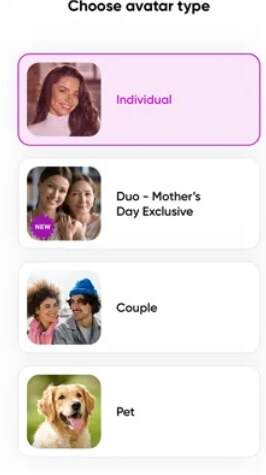 Step #3: Upload 10-30 photos of yourself.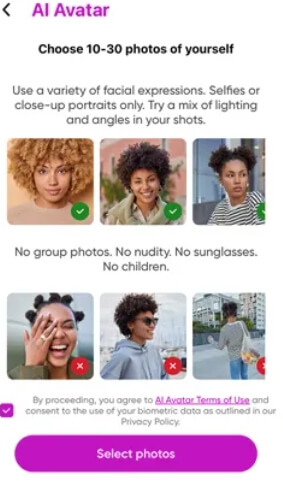 Step #4: Choose at least 1 avatar style to generate AI profile pictures.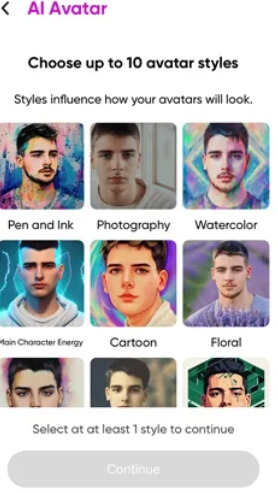 Key Features:
Intelligent facial analysis: Picsart's AI system carefully examines facial features to generate realistic and artistic profile pictures.

Unlimited styles for you to select from: It provides you with various styles to create distinct avatars.

Customization: You can customize your pfp through changing hairstyles, attire, accessories, and more.
iMyFone MagicPic stands out as an exceptional AI-powered photo editing tool with a focus on bulk background removal and replacement with single click.
You can generate professional-looking profile pictures without any hassle with MagicPic. You can only upload your photos, and remove background with single click, and then change the background color or replace the backdrop as you wish. It offers you a library of backdrops ready to use, enabling you to transform your photos into stunning profile picture.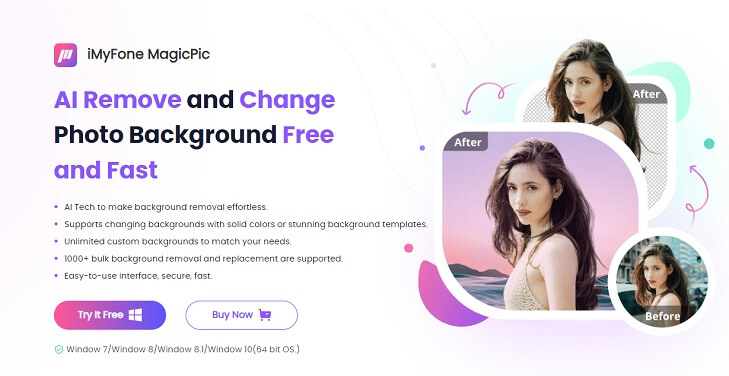 Price: Allows free trial.
Key Features:
Hassle-free photo transformation: With MagicPic, you can upload your photos and transform them into stunning profile pictures with just a single click.

Easy customization: MagicPic offers a range of customization options to make your profile picture unique.

Powerful Background removal and replacement: MagicPic excels in bulk background removal and allows you to easily replace the backdrop with a color or choose from a library of ready-to-use backdrops.
Part 4: FAQs about AI Profile Picture Generator
How do I get an AI profile picture?
You can get an AI profile picture using an AI profile picture generator, like ProfilePicture.AI, with which you only need to upload your photos, and choose a style, then the powerful AI will do the magic.
Can AI make a profile picture for me?
Sure! There are many AI profile picture generators in the market that can make stunning profile picture for you, including ProfilePicture.AI, Fotor, Picsart AI Avatar, iMyFone MagicPic, and more.
What is the best AI profile generator?
Determining the "best" AI profile generator depends on individual preferences and specific needs. However, some popular options that are often considered among the best include ProfilePicture AI, Fotor AI avatar generator, Picsart AI Avatar, and iMyFone MagicPic. These platforms offer unique features, customization options, and high-quality results, making them highly regarded choices in the realm of AI profile picture generation.
How do I make my AI profile picture for free?
You can use a free AI profile picture genrator,like iMyFone MagicPic to help you create an AI profile picture.
1. upload your photo.
2. AI auto-remove the background.
3. Choose a backdrop you like to be your pfp background.
4. Customize and download the AI profile picture.
How can I ensure the generated AI profile picture looks like me?
To achieve the best results, it is recommended to provide multiple photos showcasing different facial expressions and angles. This helps the AI system analyze your unique facial characteristics and create a profile picture that closely resembles your appearance.
Can AI profile picture generators be used for commercial purposes?
Yes, AI profile picture generators can be used for both personal and commercial purposes. However, it's important to review the terms and conditions of each specific tool to ensure compliance with licensing and usage restrictions.
Can AI profile picture generators create images other than human faces?
Yes, some AI profile picture generators have the ability to create images of pets, objects, or even abstract designs. These generators offer versatility and allow users to explore various creative possibilities.
Final Thoughts
AI profile picture generators have changed the way we create and personalize our online presence. With their ability to generate unique, eye-catching images in a matter of minutes or hours, these tools provide a convenient and cost-effective solution for individuals and businesses alike.
So, take advantage of these AI-powered tools, and make a lasting impression with your AI-generated profile picture. Remember, your online presence starts with a single click.
Ready to create your AI-generated profile picture? Download MagicPic now and discover a world of possibilities for your online persona.