Business cards are of paramount importance because they serve as a tangible representation of a company or individual's professional identity. So making a professinal and impactful business card is crucial for a business or individual. However, you may find it frustrating to spend a lot of time and money to design one. Don't worry! AI business card generator is here to help! With the help of it, you can simply input your info and logo, or choose a template to make customization, and then a personalized and impactful design that match your brand identity will appear.
Stick around, we will learn about the best AI business card maker and how to use it to make stunning card design that can leave deep impression on others, further taking your business or career to the next level!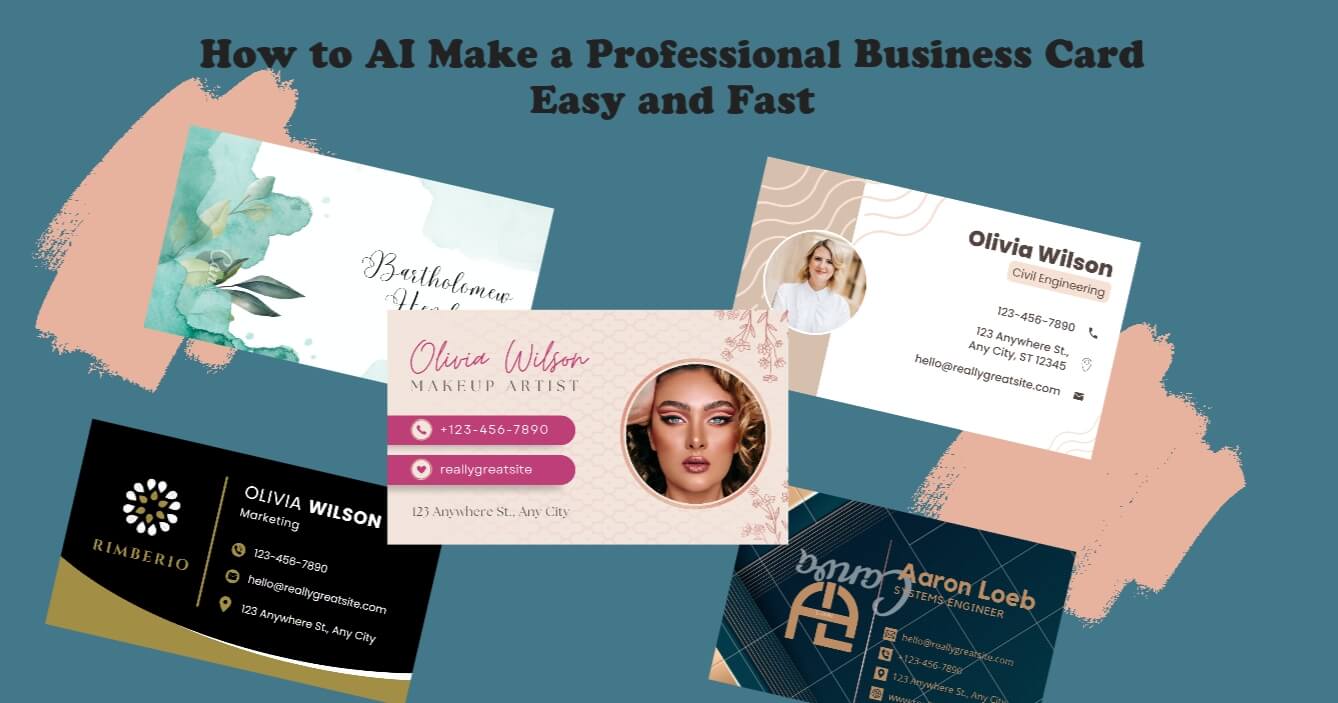 Part 1. Basic Info about AI Business Card Generator
Business cards are small cards that contain important information about a company or an individual. These cards are exchanged during formal introductions to make things easier and help people remember each other.
An AI business card generator takes input information such as the company name, individual's name, contact details, and other relevant information, and then applies pre-designed templates, and customizes designs to generate visually appealing business card designs. This saves time and effort by automating the card creation process and providing users with a quick and convenient way to create personalized business cards.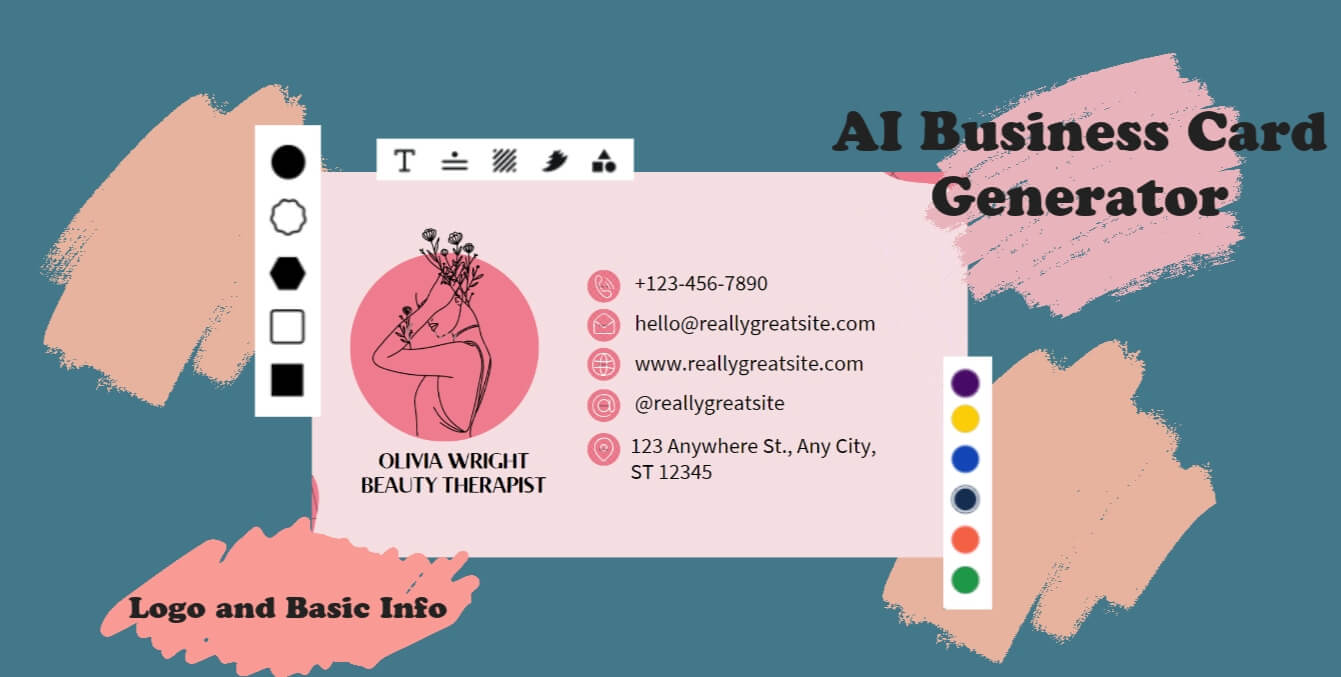 Part 2. 3 Free AI Business Card Generator to Create Your Perfect Business Card Fast & Easy!
BrandCrowd offers a wide selection of templates and customization options, allowing users to customize their design based on their relevant information to create unique and eye-catching business cards that align with their brand identity.
How to Make a Professional Business Card in BrandCrowd:
Step #1: Visit the website & Click "Start Now".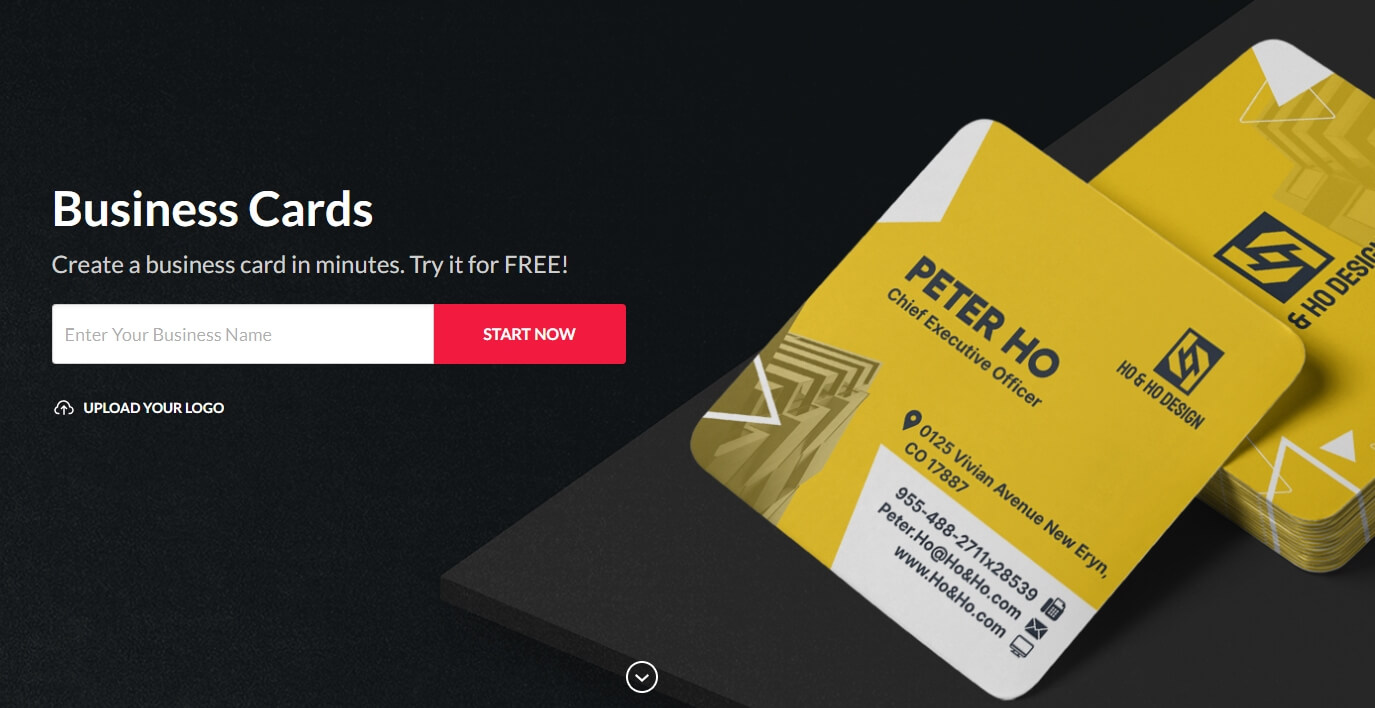 Step #2: Choose a template you prefer.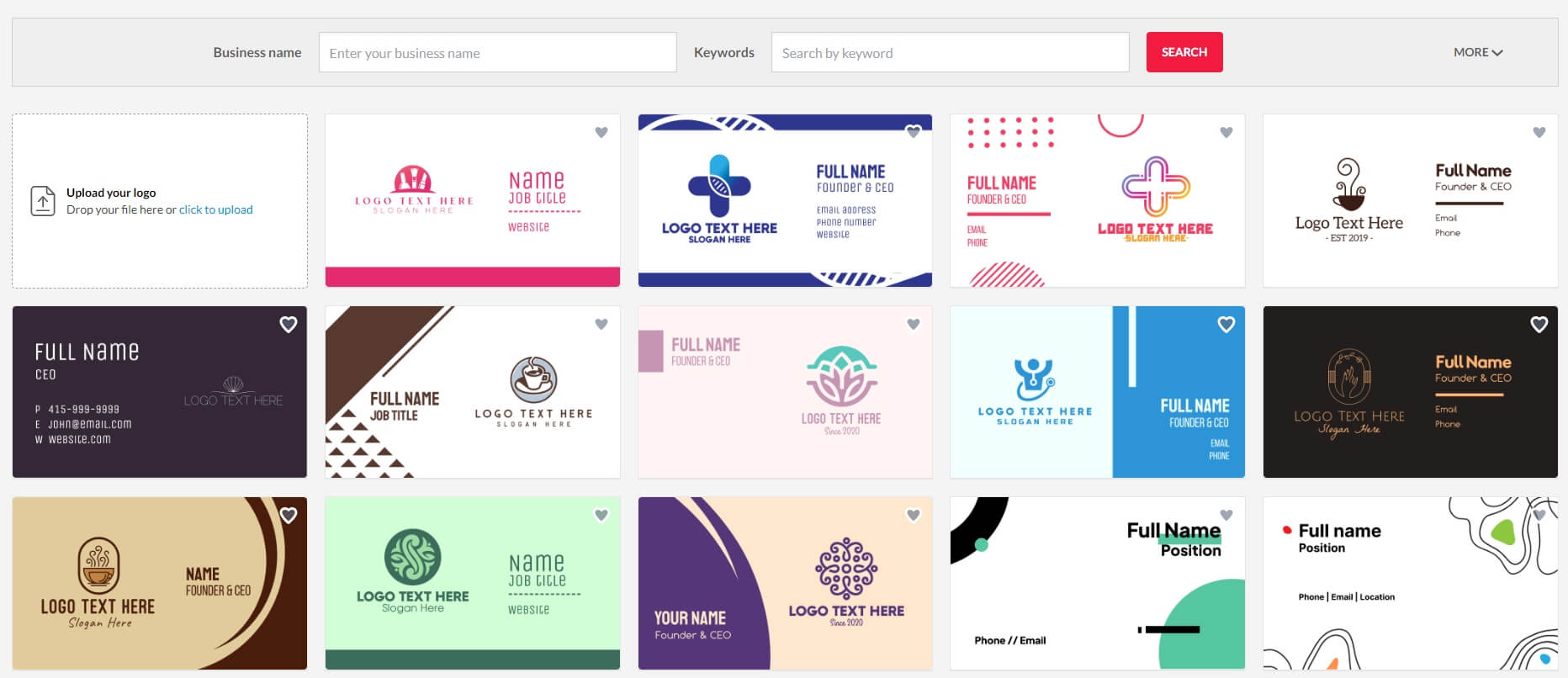 Step #3: Customize the template by adding your info, and adjusting certain design elements.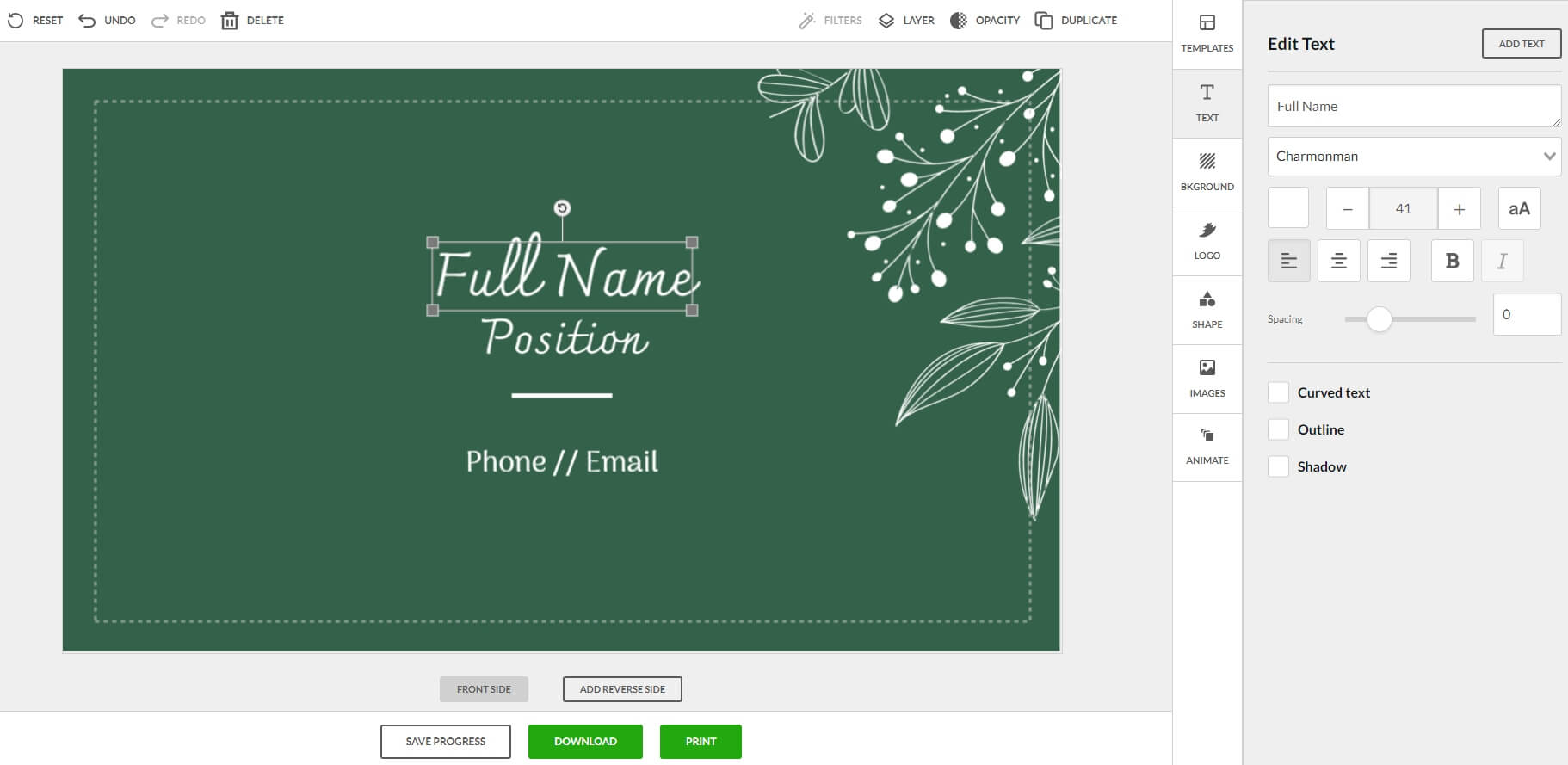 Step #4: Download & Save it.
Key Features:
Extensive Template Collection: Users have access to a vast library of pre-designed templates, covering various industries, styles, and themes.

Unlimited Customization: You can make any adjustment you want on the template, such as layout, color, font, etc.

High-Resolution Output with Vraious Format: You can get high-quality output, and download it as SVG, EPS, PDF, and more.
Looka's AI business card generator allows users to generate stunning business card only by inputting logo and basic company info, and you can choose from various templates it generated with powerful AI, and then, further customize it to leave a lasting impression on others.
How to Create Professional Business Card in Looka:
Step #1: Enter the website & Click "Let's make a business card!".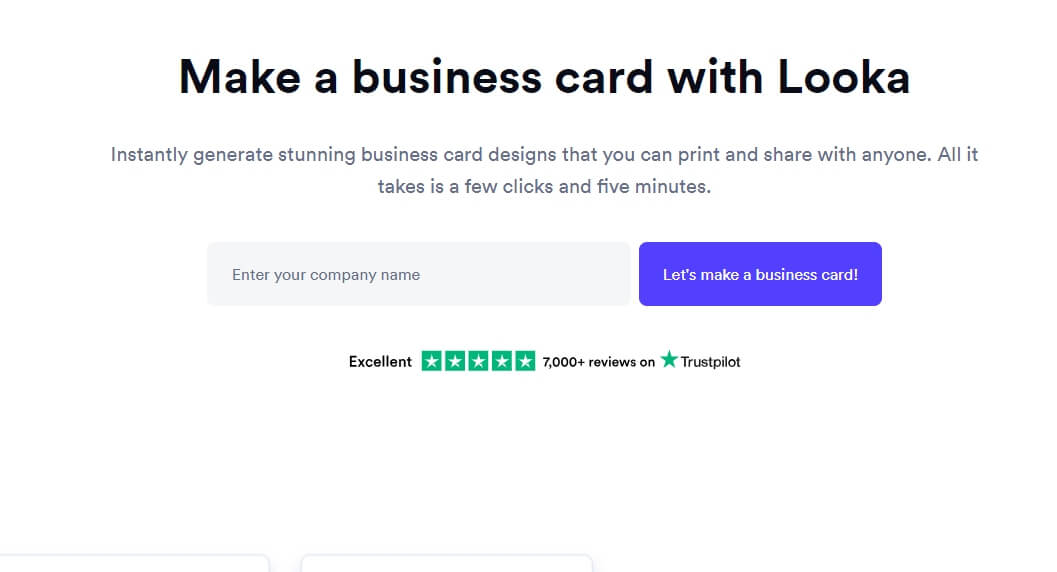 Step #2: Upload logo of your business, if you don't have one, you can make a logo with AI.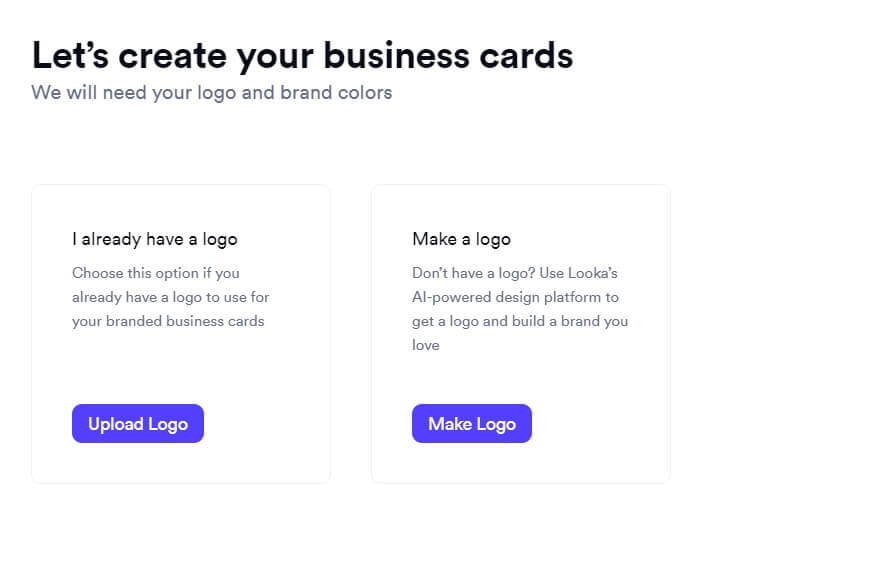 Step #3: The powerful AI will suggest colors that will be used in card design according to the logo, and then enter your company info.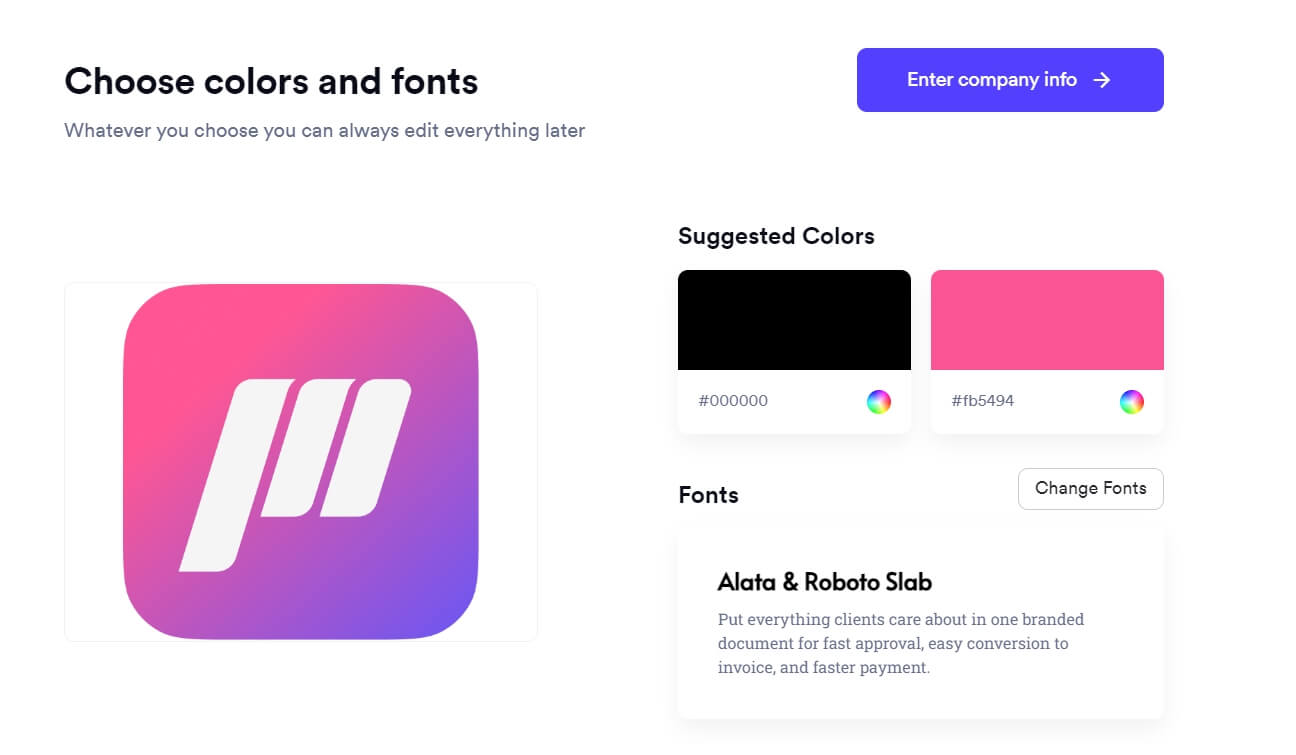 Step #4: After completing the company info, click "Generate business cards".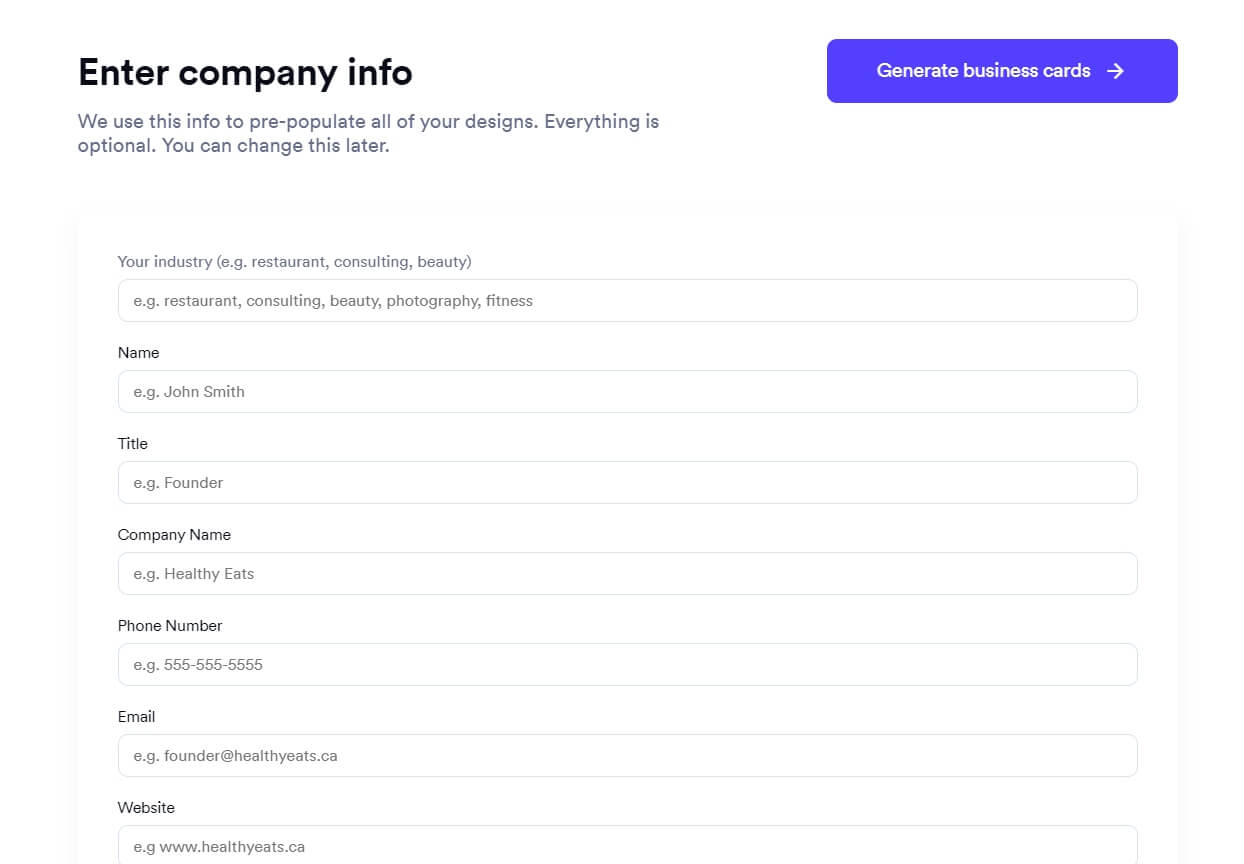 Step #5: Choose one you like in various AI-generated business card.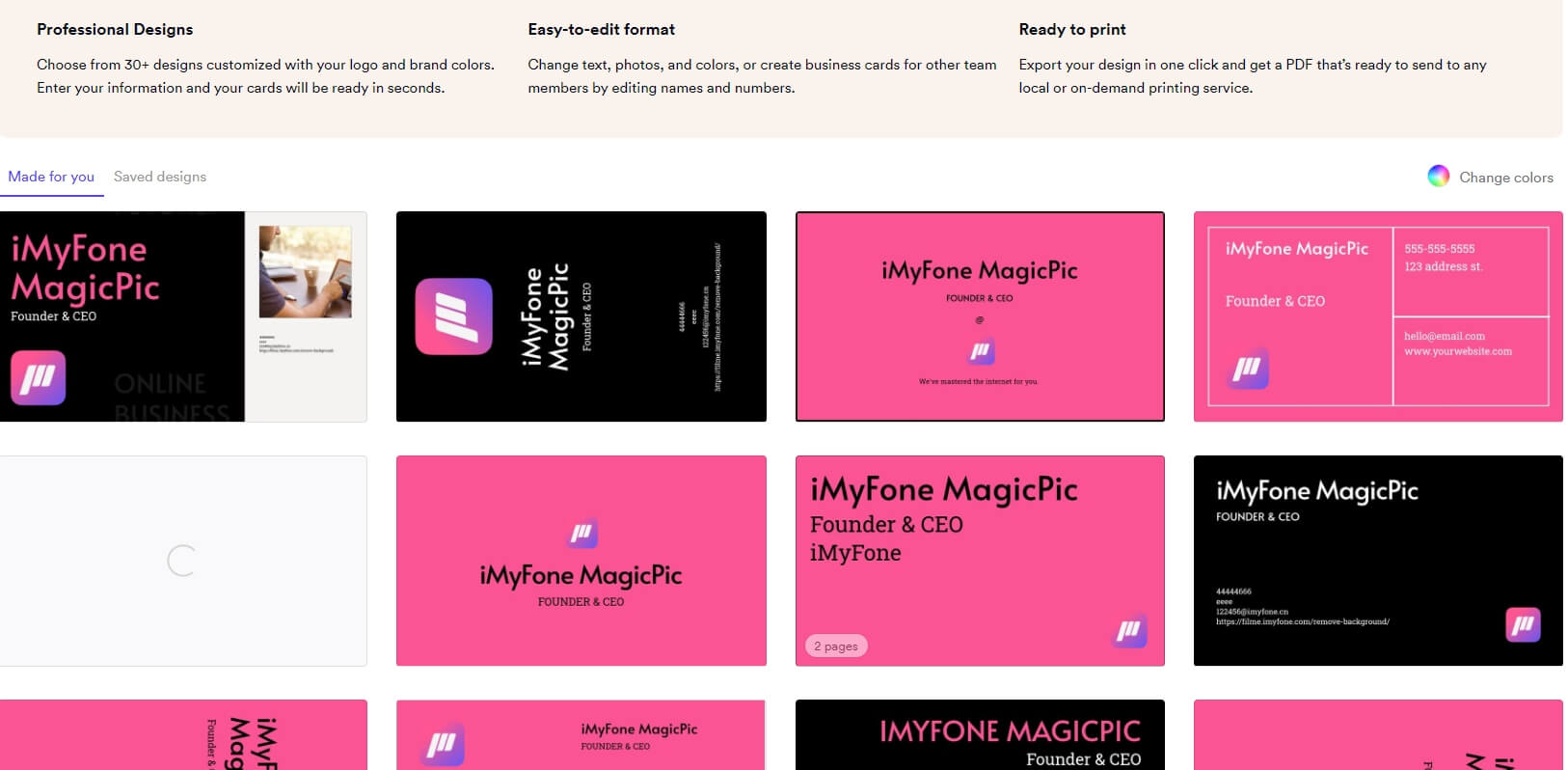 Step #6: Customize it with editing features.
Key Features:
AI-powered Design: Automatically design professional business card based on the logo and company info you upload.

Extensive Templates Generated: It can generate a wide range of pre-designed templates that suits your brand to choose from.

Customization Options: Users have the flexibility to customize their business cards by easily adding their own logos, selecting fonts, adjusting colors, and modifying layout elements.
Design.ai provides users with a wide range of templates that are ready to customize, you can impart your brand identity into the business card with ease with brand kit it offers. There is no need any professional design skills, just drag and drop design elements to fit your special needs.
How to Free Make Business Card in Designs.ai:
Step #1: Enter the website & Click "Create a business card now".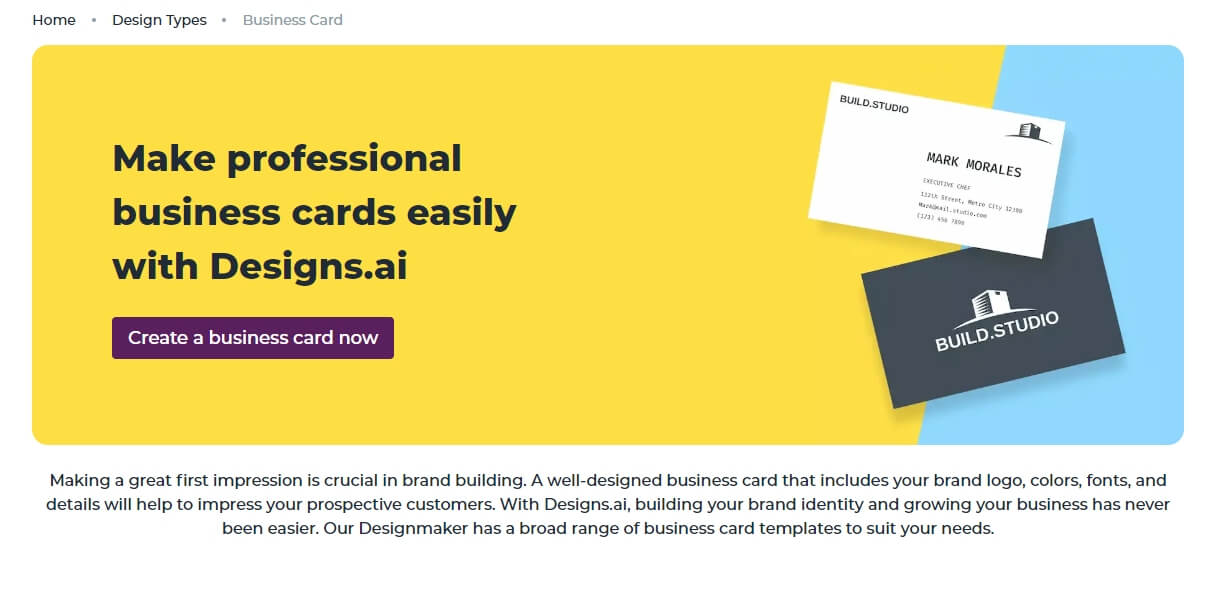 Step #2: Choose a template you like & Click it to futher customize it.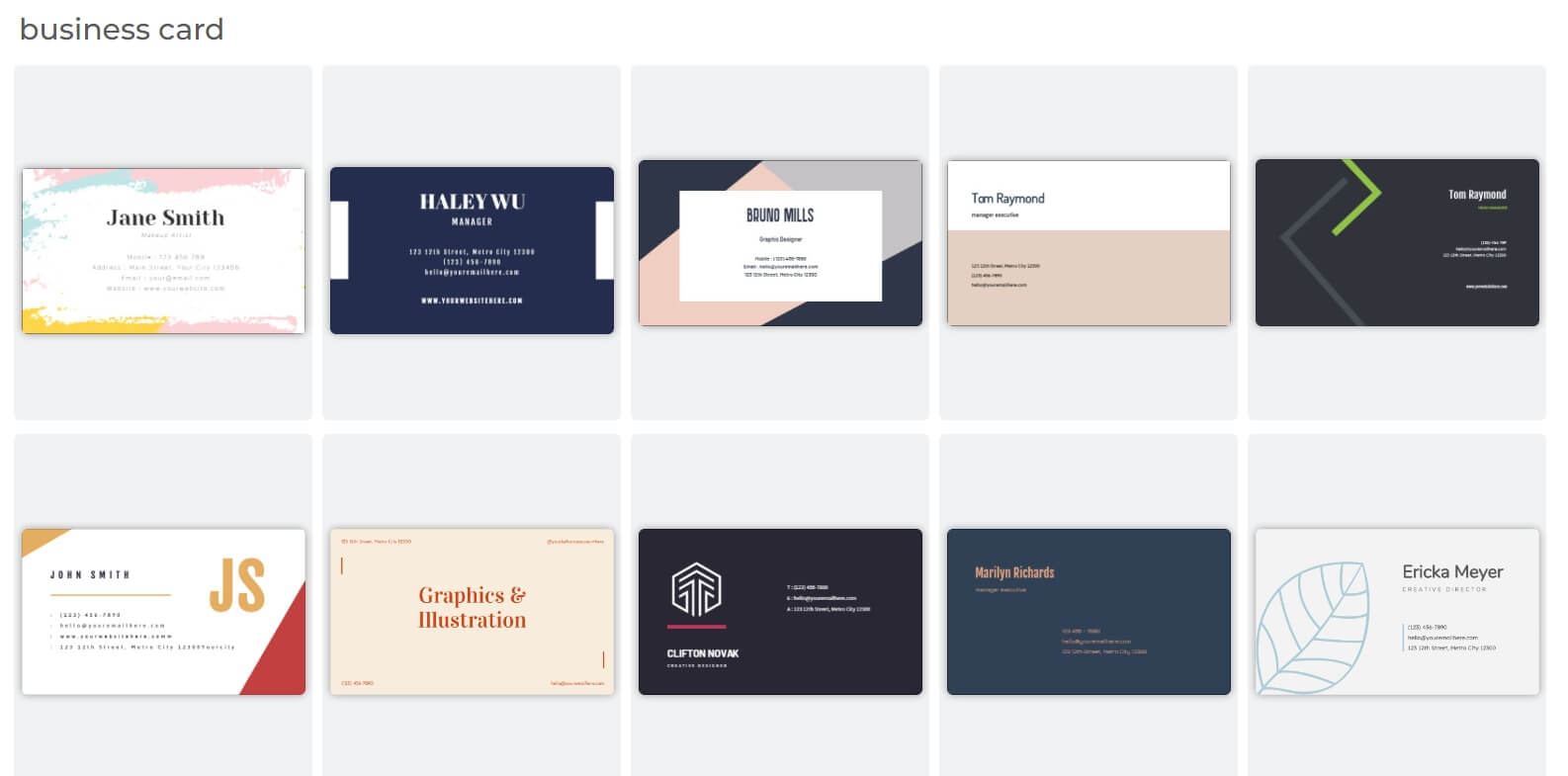 Step #3: Edit the business card by adding info, adjusting certain design elements and more.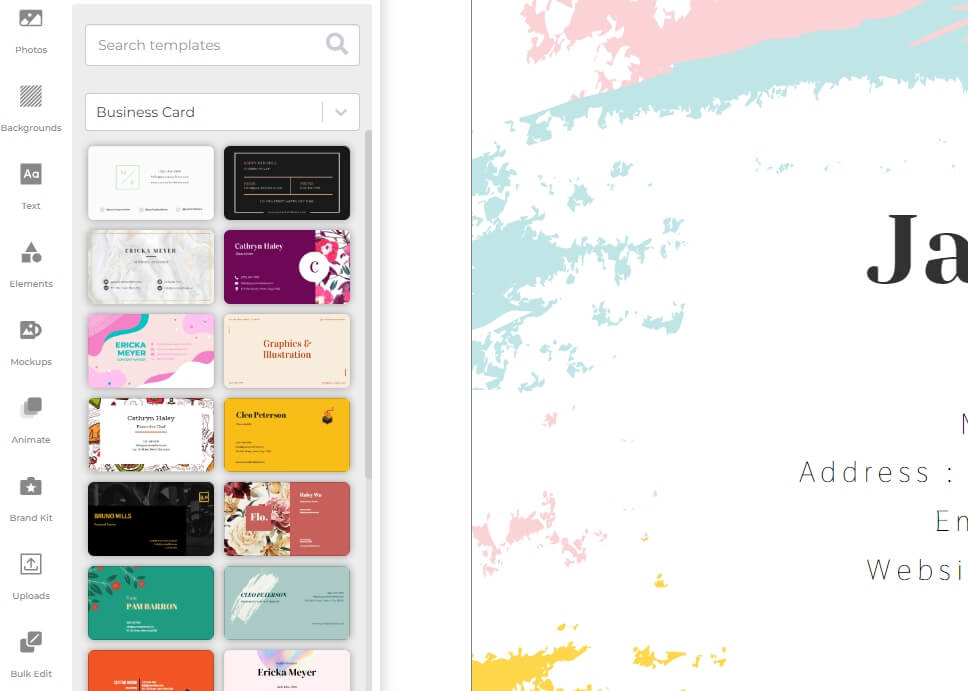 Step #4: Download and save the business card you have created.
Key Features:
Extensive Template Collection: Various templates are provided to you to effortlessly customize to match your brand identity.

Highly Customizable: It offers a lot of editing features, like text, background, design elements, mockups, brand kit, etc. to further make adjustment.

Easily Apply Your Brand Style: You can use the brand kit to choose color, fonts, and upload your logos, in order to match your brand identity.
Part 3: Bonus Tip to AI Make Business Card with Ease
All the above-mentioned AI business card generators are great tools for you to design professional and impactful business card effortlessly. Apart from them, here is another powerful AI tool for you to design business card with AI.

iMyFone MagicPic is an AI photo editing and graphic design tool, and its current feature is to bulk remove and change background with AI .
The next version is about to be released, and you will experience the use of AI to generate personalized and professional business cards. It not only supports inputting relevant information and logos to generate personalized business cards, but also provides various types and styles of templates for you to use and edit. Stick around, you don't want to miss out!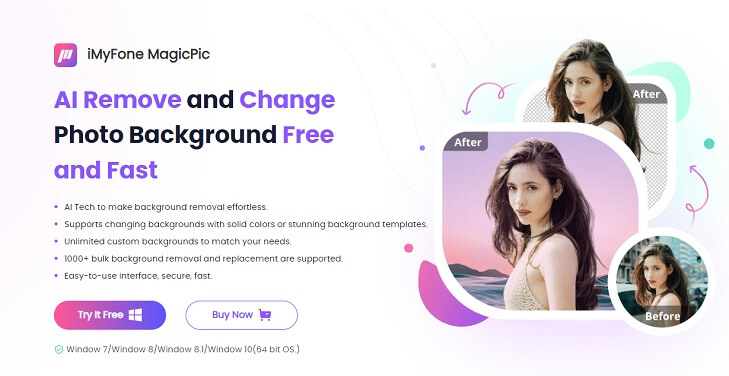 Part 4. FAQs about AI Business Card Generator
Can AI create business cards?
Yes, you can generate business cards only by inputting certain info and logo, AI will create personalized business card for you in Looka.
while in other AI tools, like Designs.ai, you cna choose a template you favor, and then customize it with AI editing tools.
How do I create a virtual business card?
You can create a virtual business card by using AI Business Card Generator. With a few clicks, you can get a professional and impactful business card with ease.
1. Open Designs.ai website.
2. Choose a business card template you like.
3. Customize it with AI editing tools.
What app do I use to create business cards?
BrandCrowd, Looka, Designs.ai, Canva, iMyFone MagciPic.
Does Canva make digital business cards?
Yes. All you need to do is to select a template you like, and then make certain customization based on your own business info and style.
Final Thoughts
In conclusion, AI business card generator empowers individuals, regardless of their design knowledge or expertise, to effortlessly create stunning and professional business card. we have talked about the best free AI business card generator and how to use it to create business cards that match brand identity and leave greate first impression.
If you are looking for an AI tool to help create vector art, why don't try BrandCrowd, Looka, Designs.ai or iMyFone MagicPic . Now start to create a professional business card and take your career to the next level!