Are you looking for the best photo to anime converter to make yourself look like an anime character? If so, you've landed in the right place.
In the present year of 2023, whether your aspirations involve battling titans akin to Eren Yeager or donning the attire of a professional hero from My Hero Academia, you now have the opportunity to utilize numerous AI-powered applications for transforming your photos into anime representations.
These applications can be accessed either free of charge or for a fraction of the typical expense. After examining numerous options, we have compiled a list of the best photo to anime converters available. Let's dive into it!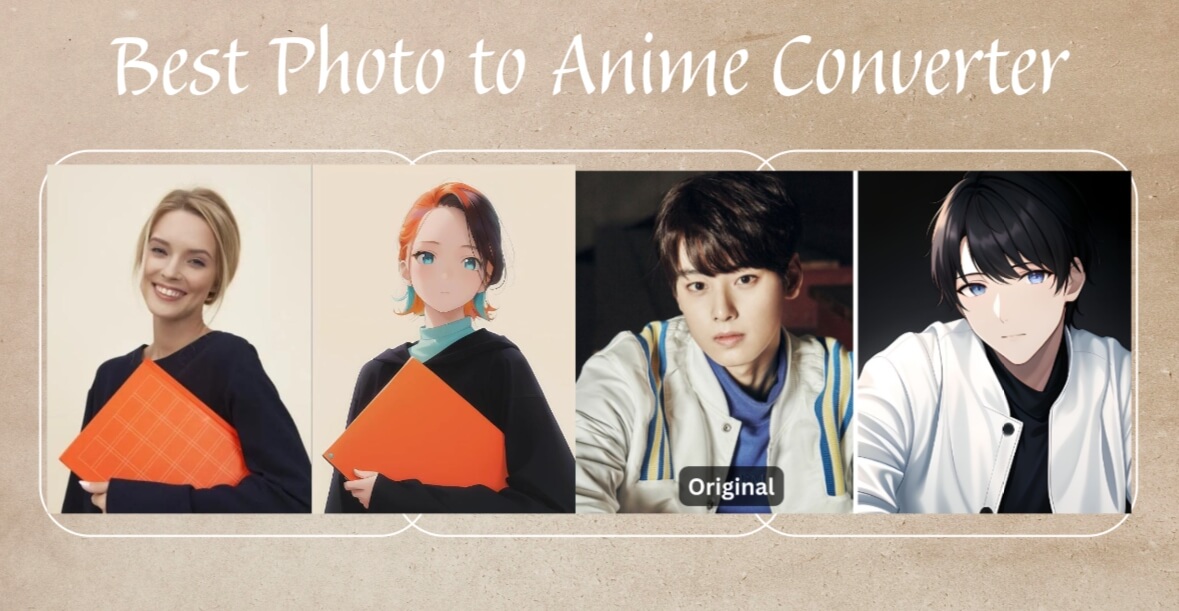 Part 1. What is Photo to Anime Converter
Photo to Anime converter refers to an AI tool that uses advanced artificial intelligence to turn your photos into stunning anime pictures within single click. You can choose various anime styles for the transformation to make the results the best and most satisfied one.
The converter analyzes the input image, identifies facial features, and applies artistic filters, color palettes, and stylistic elements commonly found in anime art to create a new image that resembles an animated or hand-drawn anime character. These converters have gained popularity as a fun and creative way to give photographs a unique and stylized appearance reminiscent of Japanese animation.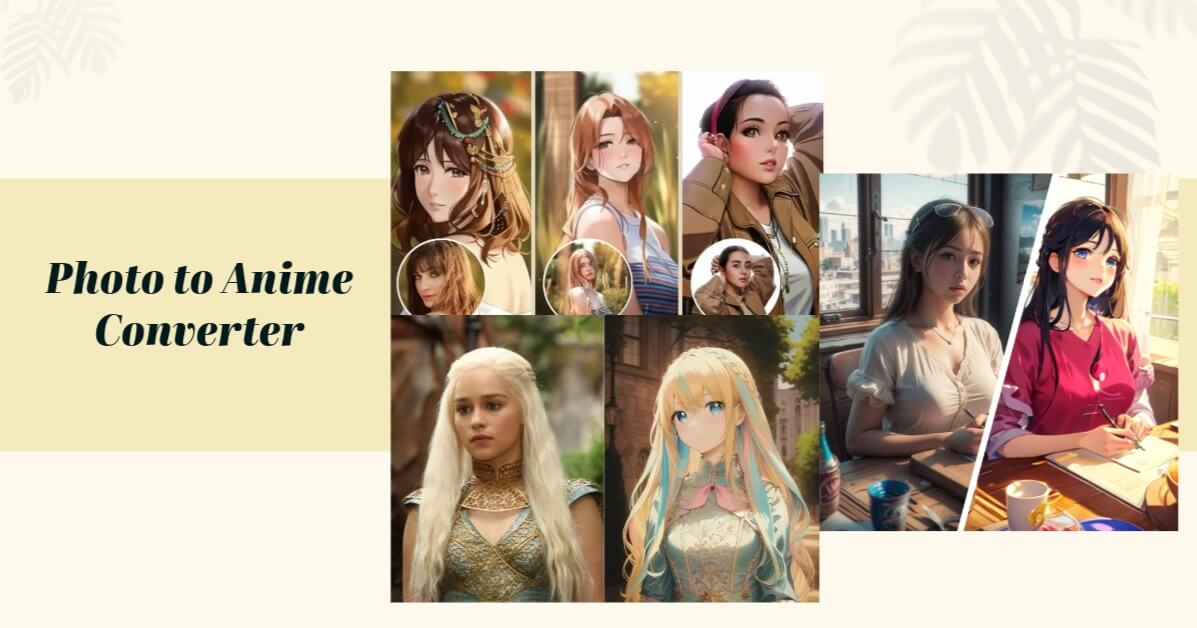 Part 2. Best Photo to Anime Converter to Convert Photo to Stunning Anime
Anime Myself is an online photo to anime converter, with which by leveraging a specially customized and finely tuned AI model, you can excel at generating top-notch anime artwork with unparalleled quality.
The functionality of AnimeMyself is simple yet effective. Users can effortlessly upload their desired photo, which the app promptly converts into five distinct anime variations.
Whether your quest is to acquire a premium anime artwork for Dungeons and Dragons, a captivating profile picture (pfp), a game, or for sharing on social media platforms, AnimeMyself emerges as the unrivaled choice for obtaining the finest outcomes. However, it's important to note that this superior quality comes at a price.
Price: Free package has a watermark, and only allows 1 upload per day; $2.99 for 6 uploads.
Convert Photo to Anime Online:
Step #1: Visit the website & and sign in.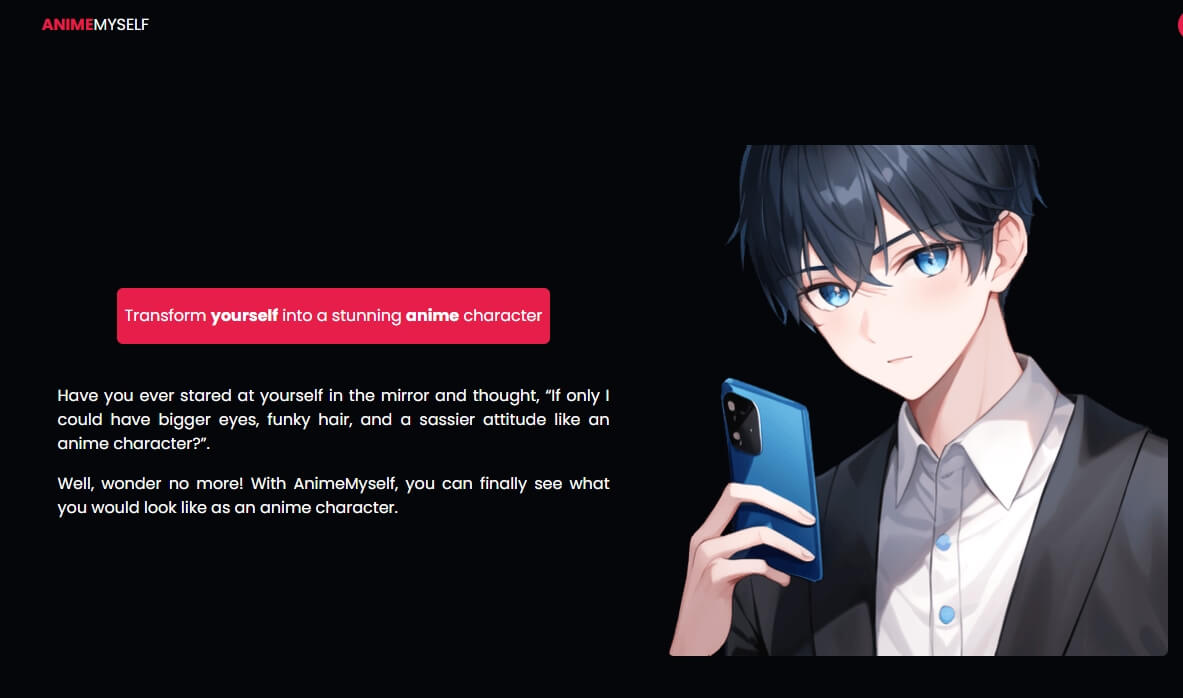 Step #2: Start your free trail $ upload your photo.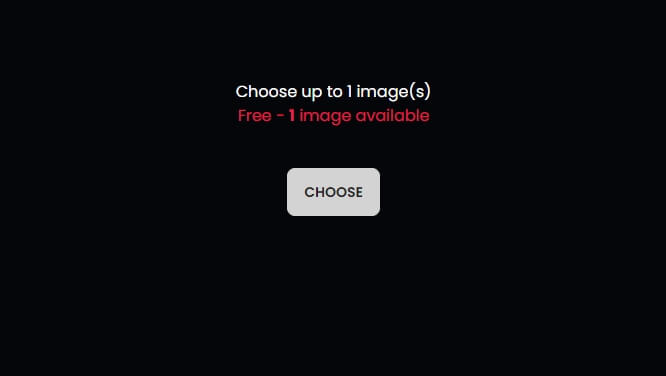 Step #3: The tool will automatically process the image to convert it into an anime.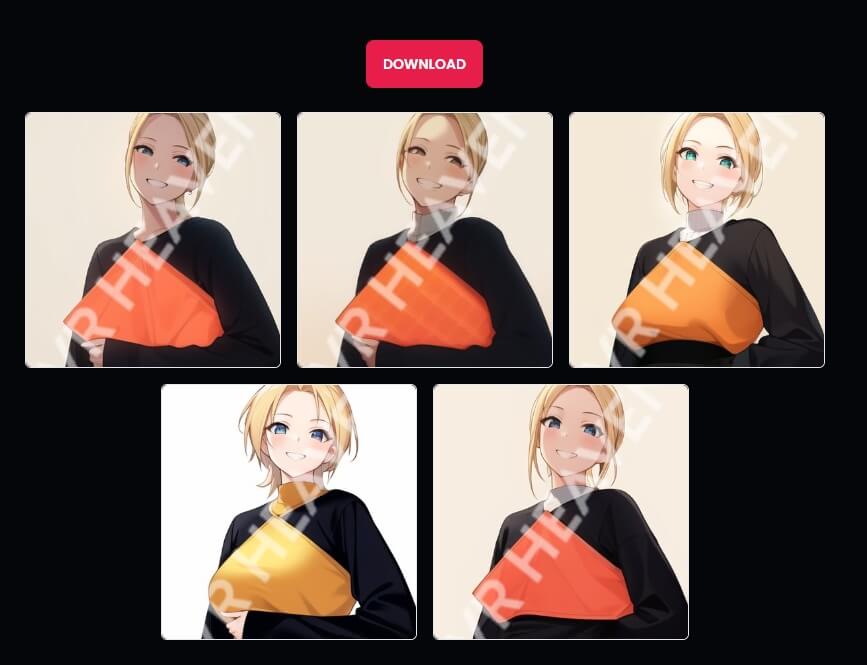 Pros:

The quality of results is high.

5 variations are generated for each image uploaded.

Protect your privacy, since it will auto-delete your photo after generation.
Cons:

The free version has a watermark.

Free version only allows 1 conversion per day.
Fotor's AI Photo-to-image converter presents users with the ability to generate three distinct variations of an uploaded image.
It's worth noting that the resulting output tends to exhibit a slightly westernized aesthetic, deviating somewhat from the traditional anime style.
Price: Start from 9.99/month for 200 credits.
How to Convert Photo to Anime in Fotor:
Step #1: Enter the website & Click "Generate".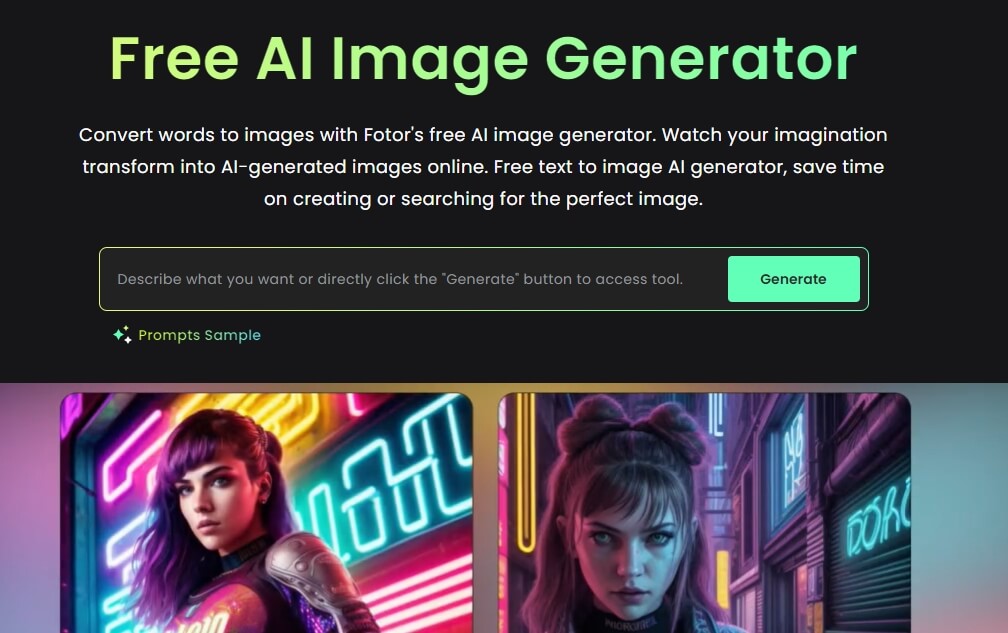 Step #2: Upload your photo, choose a style you want, and click "generate".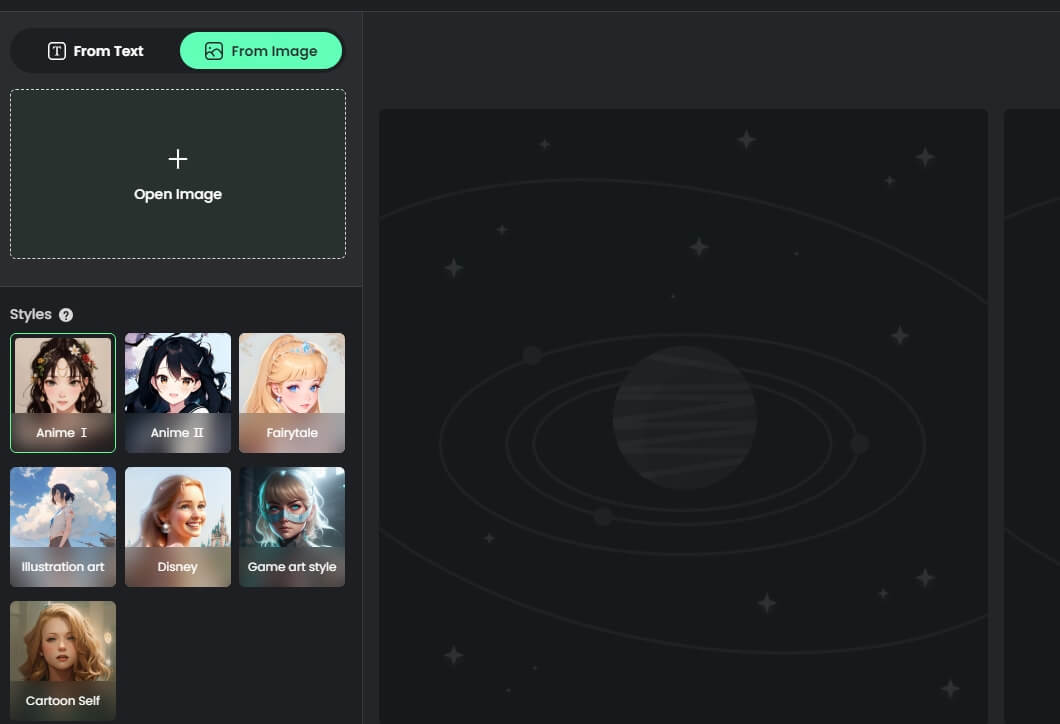 Step #3: Download the 2 outputs.
Pros:

It has various styles to choose from.

It generates 2 variations per image.
Cons:

It's not free to use.
Selfie2Anime is a free service that offers its users the option to convert photo to anime after signing up with their email address. The process is straightforward: you upload a selfie, provide your email address, and patiently wait for the magic to happen.
After the image processing is complete, you will receive an email containing your personalized artwork derived from your selfie.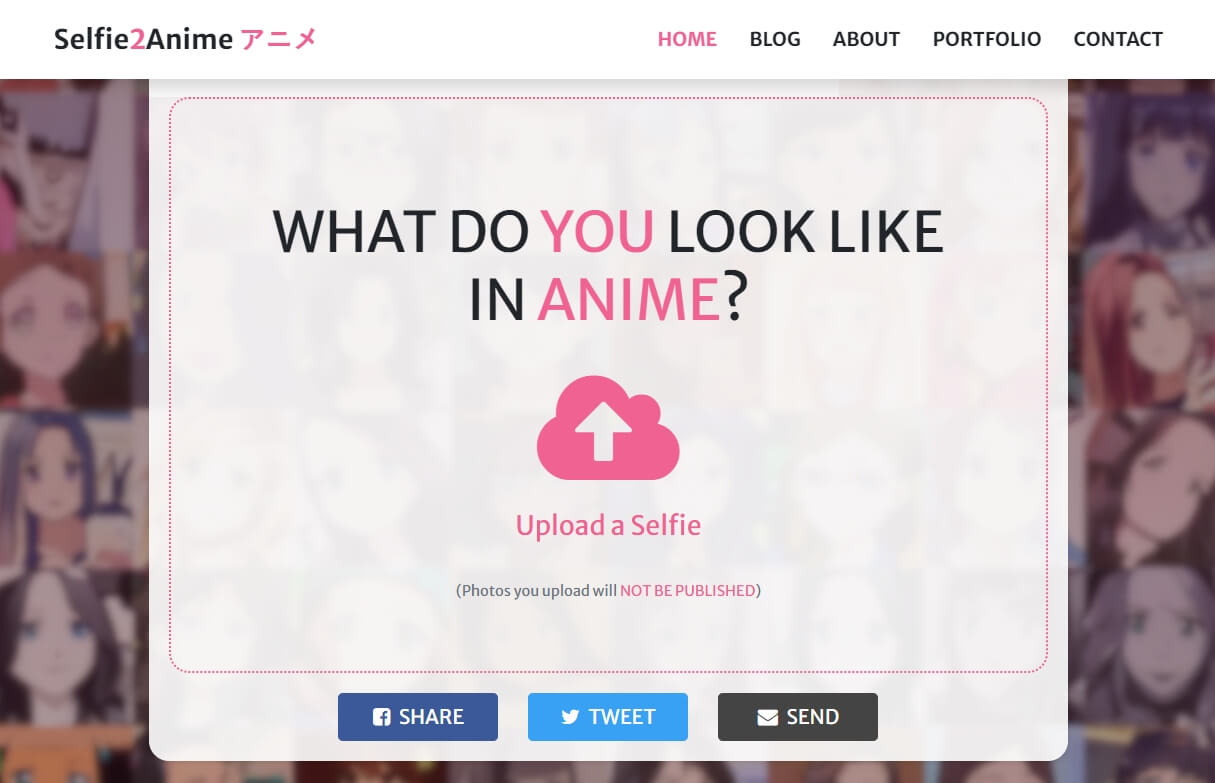 Price: Free to use.
Pros:

Easy to navigate and use.
Cons:

The quality is low.
It is a free online tool that can turn your photos into stunning anime-style artworks. It's extremely wasy to use, you only need to upload your photo, then just wait for the results.
The best part of this tool? It's free and web-based!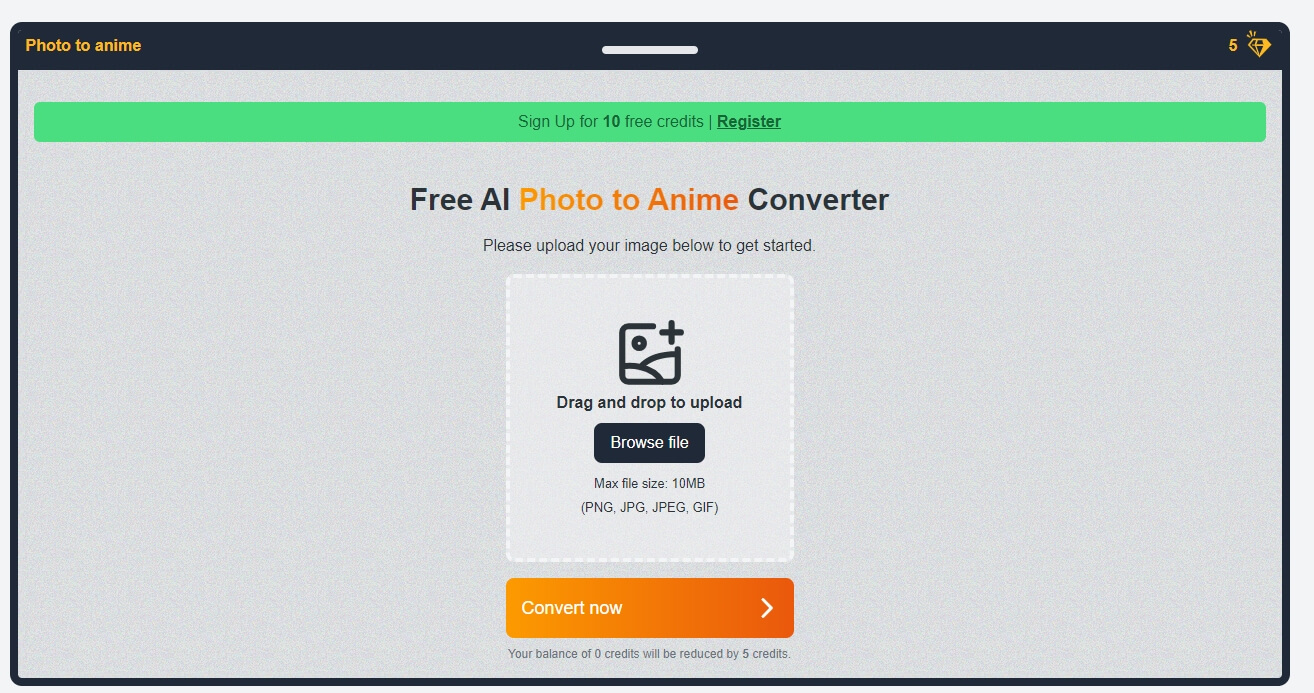 Price: Free
Pros:

It is user-friendly.

The output is of high quality.

It offers various styles to let your imagination sparkle.

It is free to use.
Cons:

The bottom of the result has its website name.
ToonApp is a pwerful photo to anime converter app, which stands out with its unique feature of detecting and altering backgrounds to complement your anime selfie. With a wide range of anime and cartoon styles to choose from, you can easily find the perfect match to suit your vibe. Whether you're looking to create a fresh anime avatar or share your edited anime selfies, ToonApp provides a versatile platform for expressing your creativity.
But the results are not so Japanese anime style, but more westernized. And it's best for changing the backgrounds into anime style.
Price: $1.99 - $54.99 per item
How to Apply the AI Filter in ToonApp:
Step #1: Open the app.
Step #2: Scroll the screen to find the anime filter you want and click on it.
Step #3: Upload your photo to start the creation.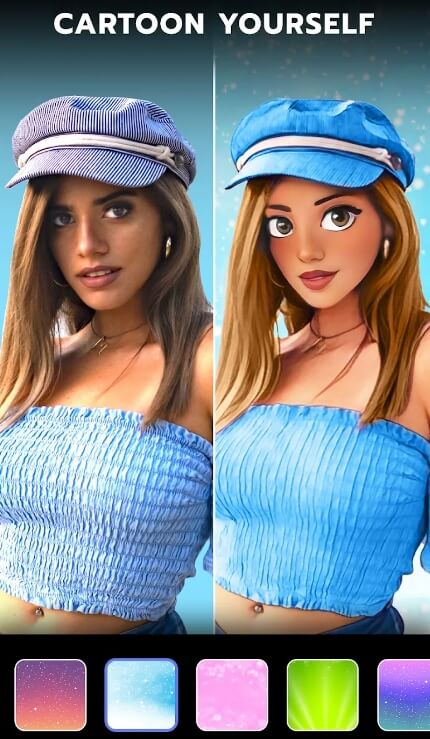 Note: You are also allowed to customize your anime photo generated.
Pros:

It supports various features to convert photos to anime.

Boasts many anime styles.

Allows you to further edit the results background after generation.
Cons:

Not free to use.
This tool is perfect to convert image to another image with any style you want, including anime, illustration, and more.
The platform offers a range of styles to choose from, including popular options like surreal, watercolor, and lettering. Additionally, there is a 3D feature that allows you to visualize how the tattoo would appear on the body.
The best part is that you don't need any artistic skills. All you need is the ability to describe your idea using key terms. By solely relying on text prompts, TattoosAI keeps the process straightforward, making it particularly effective during the brainstorming and ideation phase of tattoo design.
Price: Free
How to Convert Photo to Anime Style Image in ZMO.AI:
Step #1: Enter the website, sign in, and click on "Get started for free".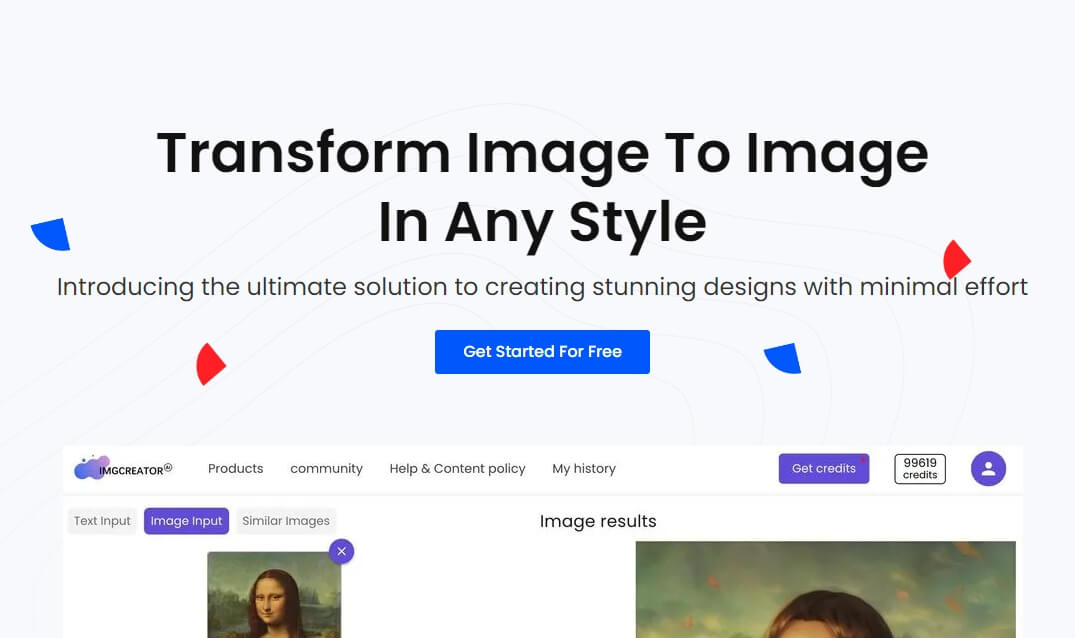 Step #2: Upload your photo & Choose the category and add a style $ click "generate".
Step #3: 2 images are generated for you to download.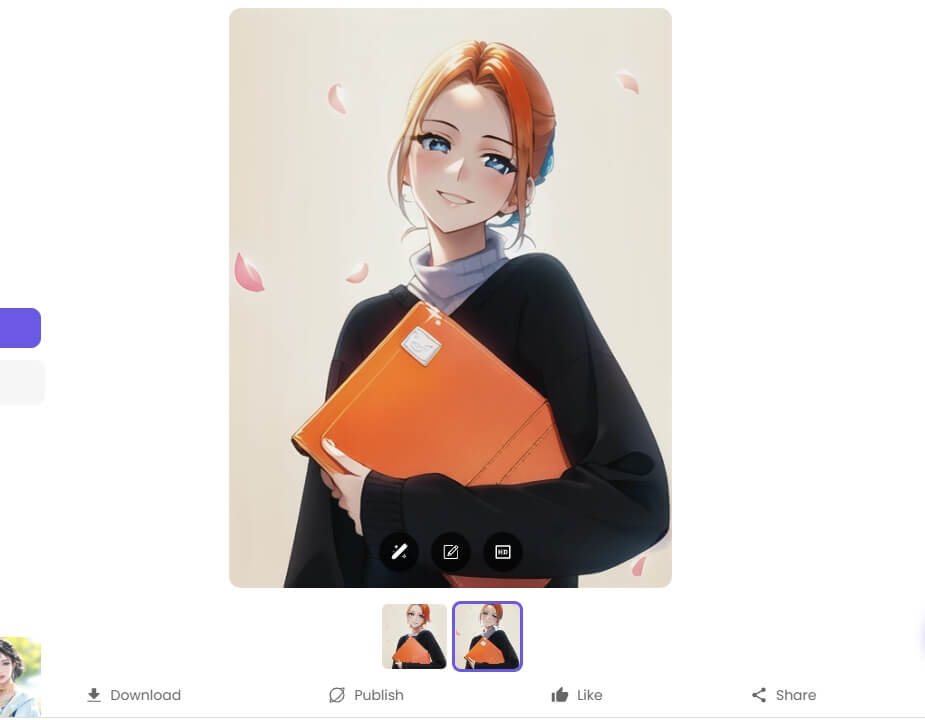 Pros:

User-friendly and easy to use.

Has a variety of anime styles for you to choose.

Allows free trial.

The conversion results are of high quality.
Cons:

More images and higher resolution needs upgrading plan.
The results generated from this app has painting styles, but not so anime styles.
Although it's free and easy to use, and you only need to upload your photos, but the results are not so satisfied.
Price: Free to use.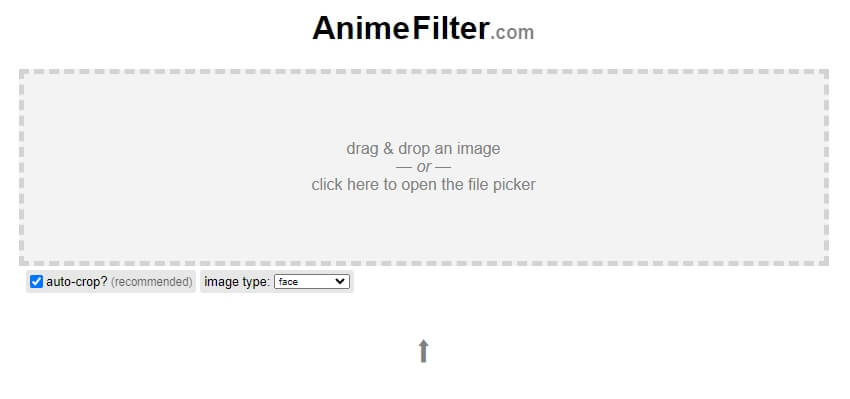 Pros:

It is a free online tool.

It is easy to use.
Cons:

The results are a bit weird.
Meitu is a mobile app which excels in enhancing beauty with the power of AI, and it has the feature of producing beautiful anime art from photos.
While Meitu offers a wide range of filters, including anime filters, it's important to address its significant downside—the terms and conditions that users must accept before utilizing the app.
Privacy concerns are a major cause for caution. Meitu not only requests access to the camera and photo storage, but also asks for sensitive information like your location and phone number. Additionally, the app seeks permission to launch on startup, raising further concerns about potential privacy breaches.
However, if you can overlook these issues, Meitu does provide a diverse selection of filters, including not just anime filters but also over 200 others.
Price: Free to use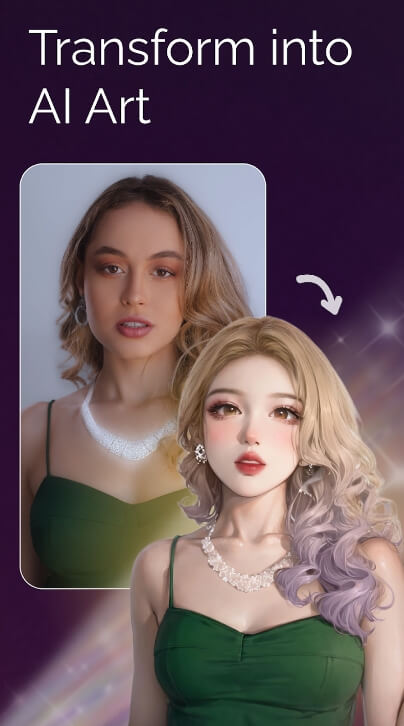 Pros:

Generates good quality art.

Free to use.

Boasts many other stunning filters.
Cons:

Has privacy concern.
This app offers a plethora of adorable anime art styles that can be seamlessly integrated into your photos. With this app, you can embark on a delightful journey of creating charming selfies and group snapshots, adorned with a wide range of kawaii looks.
It is best for creating cool anime with Japanese style, CG, Street, and Role style.
Price: 100 anime pictures for $1.99.
How to Create Anime Pictures in Anime AI:
Step #1: Upload your photo & Choose the gender.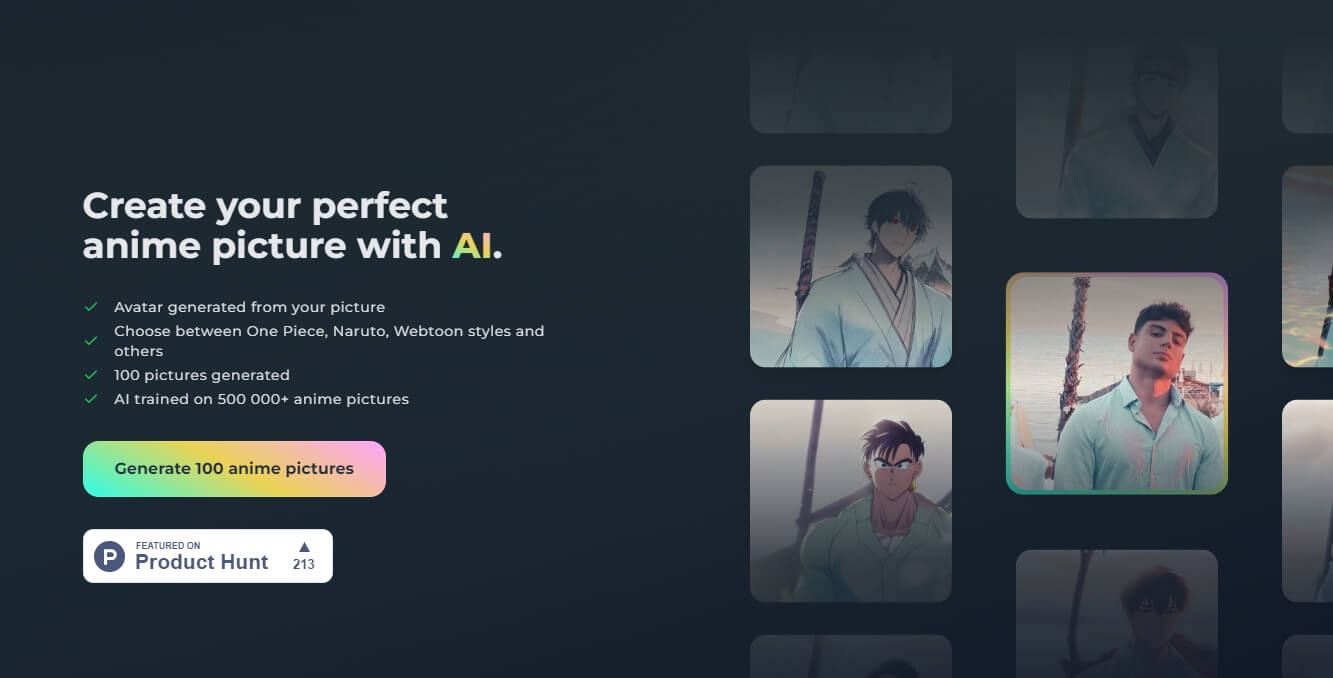 Step #2: Choose styles & attributes.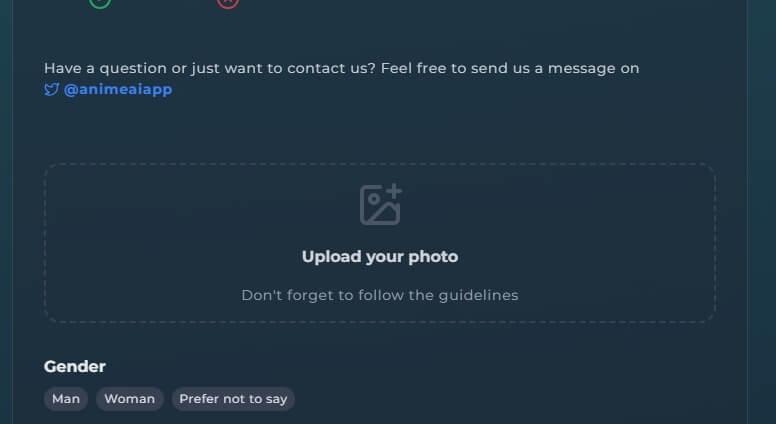 Step #3: Click generate to get your personalized anime pictures.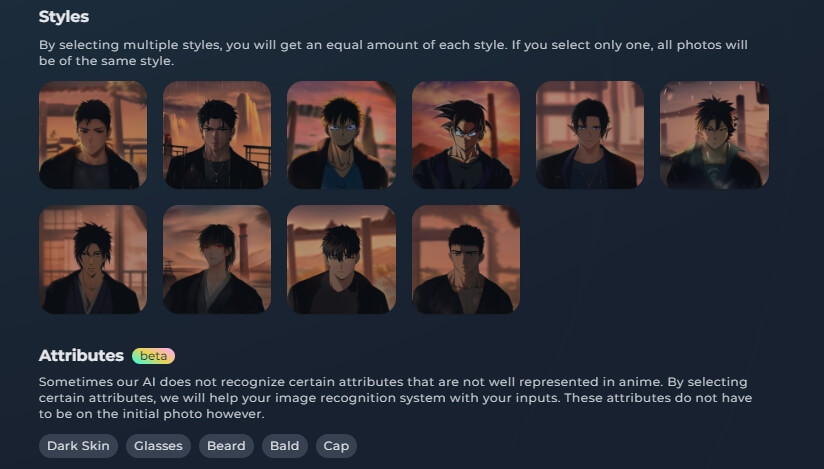 Pros:

It has various styles.

It allows you to choose attributes, like dark skin, glasses, beard, etc.

It can generate 100 pictures of various styles at one time.
Cons:

Not free to use.
We have reviewed several online tools and mobile applications to convert photo to anime. But they both have their own pros and cons, and are great tools for you to turn photos into animes effortlessly. Apart from them, here is another powerful AI tool for you to make stunning anime selfies.
iMyFone MagicPic is an AI photo editing and graphic design tool, and its current feature is bulk background removal and replacement with AI .
The next version is about to be released, and you will experience the use of AI to generate stunning art, graphics, and more. It not only supports inputting your own photos to generate stunning art with different styles, including anime style, for you to level up your photo.

Stick around, you don't want to miss out!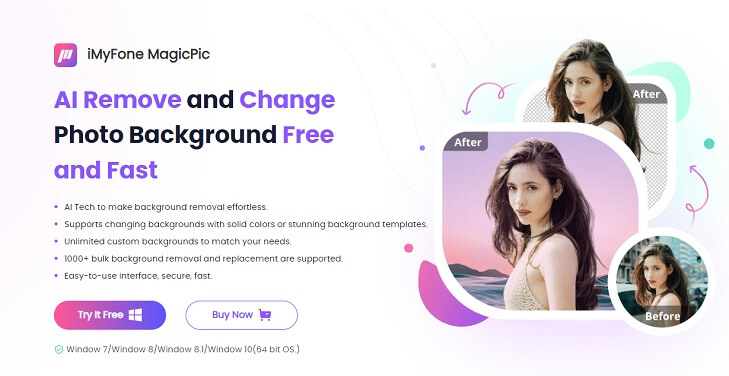 Part 3. FAQs about Photo to Anime Converter
How do I turn a picture into an anime?
You can turn a picture into an anime using Fotor:
1. Click "Anime your picture now".
2. Upload your own photo.
3. Select the anime style you want.
4. Download the results.
Is there a free AI that turns photos into anime?
Zmo.ai is an exceptional free photo-to-anime AI generator that empowers users to effortlessly generate stunning artistic anime from their photos. Powered by advanced AI technology, this tool is incredibly powerful, requiring only a simple upload of any desired image. Within seconds, the tool works its magic, transforming the image into a captivating anime rendition. With Zmo.ai, the process of creating beautiful anime artwork has never been easier or more accessible.
What is the app that turns your picture into an anime?
Anime AI is an app that allows you to transform your photo into anime, available for Android and iOS. You only need to upload your photo, and choose a style to generate stunning anime pictures.
What site turns pictures into anime characters?
When it comes to top-notch online face-to-anime converters, AiLabTools anime face converter emerges as the ultimate selection. It offers a seamless experience for transforming your uploaded photos from various social media platforms into your desired cartoon effect, be it the whimsical style of Pixar or any other preference. With AiLabTools, the conversion process takes mere seconds, culminating in the generation of a flawless and captivating cartoon photo.
Wrap it Up
Having explored our recommendations for the top photo to anime converters, there's no better moment than now to embark on transforming your own photos into anime.
Whether you want to create an anime pfp, or use it for other purposes, AI can level up your photos and infuse them with a renewed sense of cartoon vibrancy.