As a blogger, you wish to start posting vlogs on your blog and social account. But you don't know which vlog maker to use for your video. This article is here to help you decide. Vlogging is one of the best ways to engage with your online audience. After recording your video, you need to edit it to make it look and sound great before uploading it to the internet.
How to Edit your Vlog Video Using Vlog Star?
Vlog star is a free video editing tool that lets you create a video log for your blog and social media accounts using multimedia files in your gallery. In this article, I will answer every question you may have concerning Vlog star and its alternatives.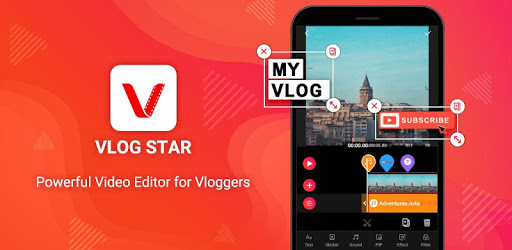 Now let's talk about how to edit your vlog video using vlog star editor. First, head over to the Googe play store to install the app if you are using your android phone, or download this app on your computer using the method I will mention later in this article. After the installation, Launch the editor to start your editing.
Step 1: Upload your videos to the timeline of the editor, or screen record your favorite moment with one tap to create your video.
Step 2: Trim, cut, and effects to your video
Step 3: Add filter, text, photo, or sticker to your video
Step 4: Done with your editing? Click the export button to save your project to your device.
Vlog star comes with several features and resources available for you to use on your video log.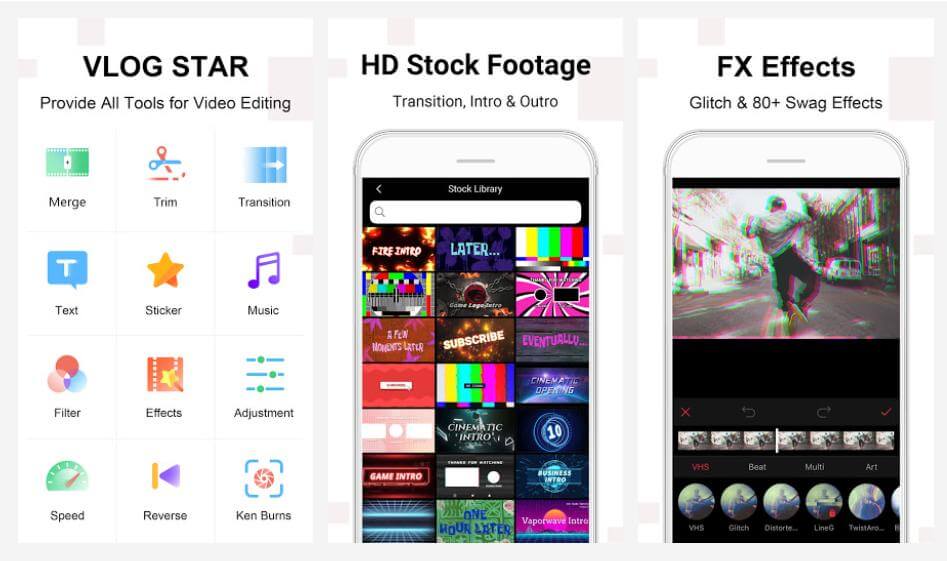 Best vlog editors for smartphones and computers?
There are different vlog editors on the market, but getting the best and cost-effective is essential if you want to make your video log perfect. Let me show you the best handpick vlog editor;
Perfect for any video type. From Youtube videos to social media posting videos and blog videos. It comes with beautiful video templates and other fun resources to make your video good for your audience. Also, the most cost-effective Pro video editor for low-budget YouTubers, and you can get started for free. Available for Mac & Windows computers.
Cyberlink Power Director 365- This is the second choice on my list. Cyberlink power Vlog video editor comes with its resources, and their plan starts from 12.95 with some features limitations. For Android, iOS
Quik- This is another smartphone video editor for your vlogs. It comes with 23 templates that have an in-built transition and graphics. Users can use it for their videos. It's free
Magisto Video Editor- The app powered by AI that turns the video editing process into a semi-automatic. It is for busy social media influencers that post lots of vlogs on their social media channel daily. There are limitations to the free version.
Adobe Premiere Element- With this software, your creative possibilities are endless. It comes with powerful features, and it a premium video editor; no free version. Billing plans start from $99.99 to $149.99.
Is vlog star free?
Vlog star is an easy-to-use video editor and can even be a free video intro maker and outro for your video. You can use vlog star for free if you are working on your intro and outro video. To capture, cut, add effects to your video, you need the pro version. There are fewer features available for the free version.
Is vlog star in the app store?
Yes. You can download vlog star from your app stores.
Can I use vlog star on my iPhone?
If you are editing a vlog video on iPhone, you can use the free in-built iMovie. But for those vloggers that prefer using their computer for editing, I recommend iMyFone Filme Editor. Its rich features will help you make beautiful and engaging videos.
How can I Download Vlog Star to My Computer?
Vlog start is a mobile video editor with rich features. But you can also use vlog star on your PC by following these steps;
Step #1 Download Bluestacks software on your computer. Here is the download link.
Step #2 Double click on the download Bluestacks.exe file to install the application on your window PC
Step #3 Launch the Bluestacks app and allow it to load the android emulator. After that, log in to your Google play store account.
Step #4 Inside the launched Bluestacks app, search for the play store icon and click on it to look for vlog Star for Youtube.
Step #5 Click on the install button close to the "Vlog star for Youtube" app to install on your PC.
Check this instruction and video tutorial for more.
Alternatively, you can use the iMyFone Filme editor for your Mac and Windows PC. No much work. Just follow this link to download it to your PC. You can get the intuitive tutorial here.
Where To get a song for my vlog?
I like to add a royal free song to my vlog; where can I get one? Here are a few sites that offer free and paid royal free music for your vlog;
bensound.com
YouTube.com/audiolibrary/music/
purple-planet.com
Make sure you check for copyright policy. You may get banned from your social media platforms and Google if you violate the copyright policy.
iMyFone Filme Video Editor for Vlog Video Maker
iMyFone Filme is vlog star's best alternative. iMyFone Filme is a powerful video maker and editing tool that fulfills all your editing needs due to its multi-features toolbar. It's good for any video production. From simple social slideshows to professional youtube videos, Filme is the best.
It easy to edit your video using Filme editor. Here is a step by step guide;
Step 1: Download and launch to open Filme Interface.
Once you have the software downloaded and launch, click on my media tab and then click on the fast video for slideshows.
Step 2: Choose a template for your video.
There are 7professional themes to choose from them. Look around and decide on the one that fits your video and click on the add button to continue.
Step 3: Like to add your file to your video.
You can add your files by clicking anywhere on the screen or click on import to add files from your computer. After importing, preview your video.
Step 4: Rearranging Your clips
Now you click on your clips to rearrange them the way you like them, then preview your video again.
Step 5: Add text to your video
In the last step, you can add text or edit one from your chosen theme by using the add text button.
Step 6: Adding Filters, Animations, Stickers, and photos.
With the help of the animations and filters feature in the toolbar, you can add filters, animations, photos, etc. Make your video with these awesome features inside the iMyFone Filme editor.
Step 7: Add transitions and save them to your PC.
Adding Transitions has never been this easy. Click on the mix icon to add transition & effects to your taste, then preview your video. Hit the export button to download to your PC.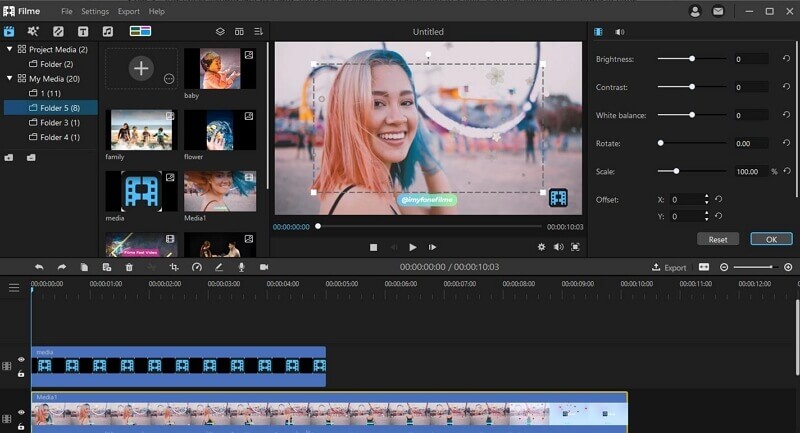 iMyFone Filme Features- Why Choose Filme?
Extensive video editing tools. You can use it for your professional videos.

Rich effects and resources. Filme has several animations, transitions, filters, music, and a vast stock image library.

Fast Video mode. Create a video with music with just a click.

Advanced features: multi-layering, multi-track audio options, instant preview, and style adjustment.

Wide-format support. It supports most file formats of image, video, and audio.
How to add transitions, filters, sound effects, and text?
In this video, we explain everything on how to use Filme editor, from adding transitions to filters, sound, and text. Watch here and here.
How to download filme video (mac and window)?
Click on this link to download your Filme editor for free. This link will take you to iMyFone Filme official website, where you will see the Free Download button. Click on it, and you will be prompt to choose your device model. Mac or Windows. Once you pick your device type, the download will start automatically.
Filme Supported Devices & Formats.
Filme editor is a desktop & OS video editing software. You can use it on your Mac and Windows PC.
Support OS device;
Windows 7/Windows 8.1/Windows 10 (32 & 64 bit OS)
MacOS v10.15 (Catalina)/macOS v10.14 (Mojave)/macOS v10.13 (High Sierra)/macOS v10.12 (Sierra)/OS X 10.11 (El Capitan)/OS X 10.10 (Yosemite)
PC, iPhone, iPad, Apple TV, iPod, Samsung Galaxy, Smart Phone, Android Generic, Google Pixel, Xbox One, PlayStation 4, PSP, Smart TV
Check out the tech specifications and supported image, video, and audio formats here.
My Final Recommendation.
Start creating high-engaging videos for your social media using good tools. As a beginner, it hard to create a professional video with a complicated editing tool. With iMyFone Filme newbie-friendly dashboard, you can start your successful video production. Not only that, you can post your edited videos and slideshows to Facebook from the Filme editor timeline. There are lots of in-depth video tutorials to help get started. Download now is free.