Getting the right, if not the best, video editor to express your editing skills has always been a coveted task. Lately, Kdenlive has left the tongue wagging in the world of video editing and has been the to-go software for many newbies to create compelling videos without spending a dime.
But the question stands if Kdenlive video editor is worth your time or not when it comes to professional-level video editing. Read this Kdenlive tutorial till the end to learn about all the necessary information about kdenlive as well as if there're better alternatives to Kdenlive you can use in 2021.
Overview of Kdenlive
Also called non-linear video-editor, Kdenlive is free software that has gained worldwide acclaim lately. Let us demonstrate the key features, pros and cons, and premium packages of this software
1. Features & Availability
Kdenlive Linux is an open-source tool equipped with a range of amazing editing features, which include:
One of the best multi-track video and audio editing with a timeline

Allows multi-camera editing

Captures screen along with audio

Users can write and format the title

Can create a low-resolution output file, if you want

Provides latest audio effects such as volume adjustment, normalization, phase and pitch shifting, equalization, and reverb filters

Automatically backups the data regularly to avoid accidental loss

Tons of transitions, themes, templates, effects, and more

It monitors the audio and color levels to give an enhanced video editing experience to the users.
2. Pros and Cons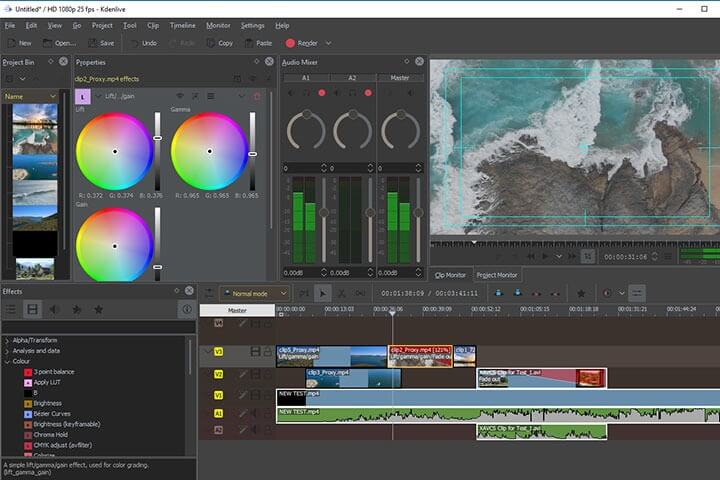 Pros of Kdenlive
Some well-known pros of Kdenlive Windows include:

Comes with advanced keyboard shortcuts

Open-source and 100% free

Saves custom interface layouts to fit the users' needs

The interface is intuitive and friendly, making it an ideal choice for beginners to get their hands over it

Advanced audio mixer

Fast rendering, updates the video in real-time
Cons of Kdenlive
The common drawbacks of this software include:

This tool is good only for basic editing, not a preferable choice for professionals.

Many users have reported that Kdenlive often crashes on Windows - especially while working with larger files.

Kdenlive has limited output video options and doesn't support many popular formats like MKV, MOV, AVI.

While working on multi-dimensional videos, slows down low-end PCs.
3. Pricing
Kdenlive is free and open-source but users have to refer to the third-party stocks to access video effects, filters, and other resources – and have to pay for them.
Full Review of Kdenlive
Here in this section, we'll present a detailed analysis of the Kdenlive video editor, starting from its interface to the highlighted features it boasts of. Let's cut to the chase.
1. Interface
Kdenlive has a simple and friendly interface that makes it ridiculously easy to locate and apply the desired video effects – even while using it for the first time. at the first glance, it may look a bit complicated and professional but that's because it is feature-packed. It is specifically designed to help new users master their editing skills thoroughly and efficiently.
Thanks to its straightforward and easy-to-use interface, Kdenlive can be a good choice for both beginners and professionals to edit videos.
2. Transitions
The most highlighted feature of Kdenlive is the tons of amazing editing transitions it offers to the users. You can get hands on both built-in transitions and online templates.
Roughly, Kdenlive transitions can be categorized into three types, which are
a. Clip-to-clip Transition
Having two keyframes, start end, and far end, this transition automatically replaces one clip with another in intervals.
b. Dynamic Compositing
This transition is used for combining two clips – and the way of combination may change with time. Kdenlive only supports simple dynamic compositing like Affine, Composite & Transform, Cairo Blend, Cairo Affine Blend, etc.
The user sets certain keyframes that control several parameters of dynamic compositing.

c. Layer compositing
As the name indicates, users combine two clips in a constant, static way much like layer modes in image editors. This category includes most of the Kdenlive transitions available to the users.
Note that, applying transitions in Kdenlive is not a straightforward task as it doesn't support in-track transitions. Users have to place clips on separate tracks and then use filters on them. Since it's a free software, it's still a handy tool to master your editing skills.
3. Crop
Cropping is one of the most important features of any video editor to remove unnecessary portions of a video and adjust its dimensions.
Kdenlive allows users to crop a video in multiple ways. The best thing about the Kdenlive crop feature is it adjusts your video with little to no quality loss. However, there's no direct way to copy a video using Kdenlive. One of the easiest ways to do so is:
Import the video into the program's timeline.

Then, apply the Position and Zoom Effect and position your video according to your needs.
As mentioned earlier, the Kdenlive crop video feature isn't intuitive and beginners should expect some time to learn it.
4. Effects
What distinguishes Kdenlive from other players in the wide variety of unique and advanced video effects it offers, ranging from standard transform options to color correction to audio adjustment. What's best is the majority of the effects support keyframes to avoid abrupt shifts while editing.
The most popular Kdenlive effects are:
RGB adjustment, white balance, and curves

Image adjustment

Audio adjustment

Alpha/transform

Dynamic text to add running text

Luminous

Mask0mate or four-point garbage mask remove parts of frame you don't want, and so on.
To apply any effect, just drag and drop it on the video in the timeline.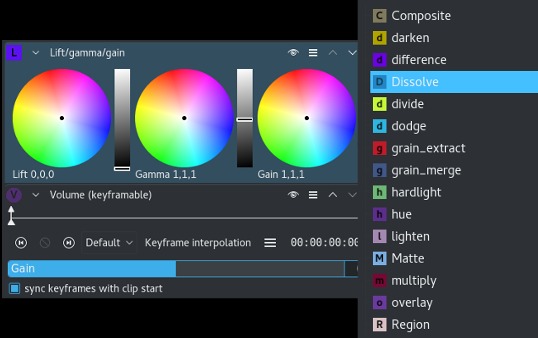 5. Audio
The best thing about Kdenlive audio editing is it lets users arrange different audio files in separate tracks. It helps users adjust volume levels, apply filters, and organize the final project easily.
Here're the noteworthy audio effects of Kdenlive available under Effects > Audio:
Audio Meter

Histogram

Waveform

Vectorscope

RGB Parade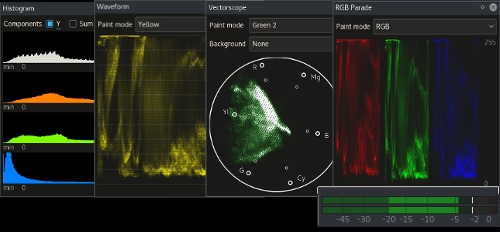 Alternatives to Kdenlive
Kdenlive may be a go-to choice for beginners but it isn't the first choice if you want to edit videos like a pro - as its editing features are basic and limited. If you want to make your ordinary videos look extraordinary, here're the two best video editing tools that you can use instead of Kdenlive.
Suitable for even the most demanding users, iMyFone Filme is a professional-level video editor that anyone can use with ease. It includes all the features that Kdenlive offers along with tons of superior and futuristic effects, transitions, and themes.
Noteworthy Features
Below are the features that set iMyFone Filme apart.
Plentiful effects and animations

Create cinematic titles and texts

Perform multi-layering of videos, audios, and text.

Offers 14 advanced voice styles

Users can morph existing audio files

Provides tons of audio editing tools

Offers real-time voice changing
Pros:

Intuitive and friendly interface

Users can record audiobooks for personal use or commercial use

Multiple voice effects for dubbing videos

Fade in or fade out the audio
Also Read:
Best Free Video Editors for Beginners >>
2. Sony Vegas
Published by Sonic Foundry, Sony Vegas is another premium video editor that fits the criteria of a good alternative to Kdenlive. It is an open-source software, equipped with all the features to help users polish and create exceptional videos.
What makes it a top-ranked video editor is its built-in interactive tutorials that show you how many of the tools work.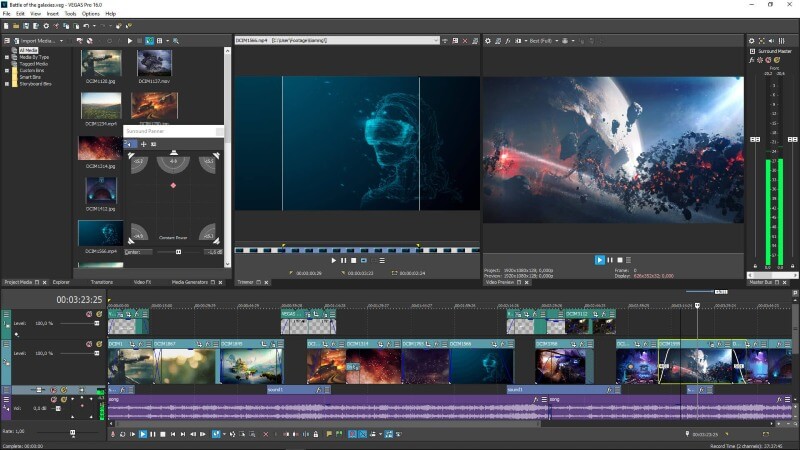 Noteworthy Features of Sony Vegas
Here are the top features of Sony Vegas:
Automatic tracking control to an object or image

Amazing image and video filters and transitions

Complex compositing tools

Advanced video stabilization effects

Offers translations of the video's audio automatically.

Real-time multitrack video and audio editing on unlimited tracks
Pros:

Easily add the audio tracks

Autosave option to avoid data loss
Also Read:
How to Resize A Video in Sony Vegas >>
Kdenlive Vs. iMyFone Filme Vs. Sony Vegas
While comparing the three top-notch video editors, choosing the best amongst them is no easy feat. However, when we analyze the efficiency, features, stability, and other evaluation factors of each, iMyFone Filme stands apart as the best.
With such stellar features at such a low price, iMyFone Filme is an ideal choice for both beginners and professionals alike to create amazing videos. The features and effects it offers are more advanced which lets users perform and detailed operations on the video. The same goes for its audio mixing and voice-over effects. Simply put, if you want a one-stop solution to showcase your editing skills, then Filme is what you need.
But the final choice is yours to make.