Packed with amazing features and possibilities, iMovie has been one of the top video editors for mac for quite some time now. At the same time, many users wonder if it is still a top-notch tool as it claims or are there better alternatives.
To answer your concerns, this iMovie Mac review will analyze every aspect, from its basic to advanced features and system requirements to usability, drawbacks, and competition, to assess if this wonderful movie-making software has the chops to set itself apart from other players in the market.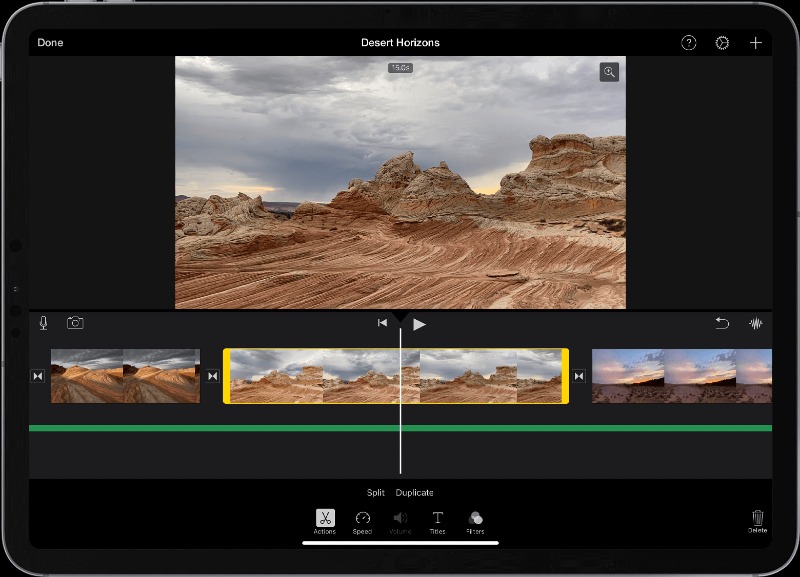 Part 1. Main Features of iMovie for Mac
iMovie for Mac is a professional tool to begin mastering your video editing craft. Since it is completely free, you can explore your editing curiosities without costing an arm and leg.
One of the most notable things about iMovie is its impeccable features. Almost everyone knows iMovie has some of the most advanced features, but only a few could tell what exactly to expect while using it. Here are the top iMovie features Mac that make it an exceptional software to work with.
1. High-Fidelity Filters
What sets Mac iMovie apart is the range of creative and amazing video filters it offers that you can add with minimal effort. It makes it incredibly easy to apply the 13 creative video filters to individual clips or the entire movie. What's more, you can adjust the intensity of these filters as well.
2. Add Soundtracks
What's a great video without your favorite background music track? And here too, iMovie won't disappoint you. It's equipped with over 80 smart soundtracks that automatically adjust to match the length of your video clip, allowing you to create suspense and drama, and make your video more memorable.
It also lets users add built-in sound effects or record their own voiceover. Plus, you can tweak with audio settings to reduce the background noise for an even better final product.
3. Cut or Crop Video and Audio
Just like any premium video editor, iMovie makes it ridiculously easy to cut or crop audio and video clips. Both these features are a must to create high-quality, professional videos, and thanks to iMovie, you can create seamless productions and even switch cut parts between iOS and macOS with just a few clicks.
4. People Detection
Its advanced People Detection feature tracks the characters in the clip and allows you to tag them and determine their distance from the camera. Note that mac iMovie will take time to analyze the whole clip and detect the characters.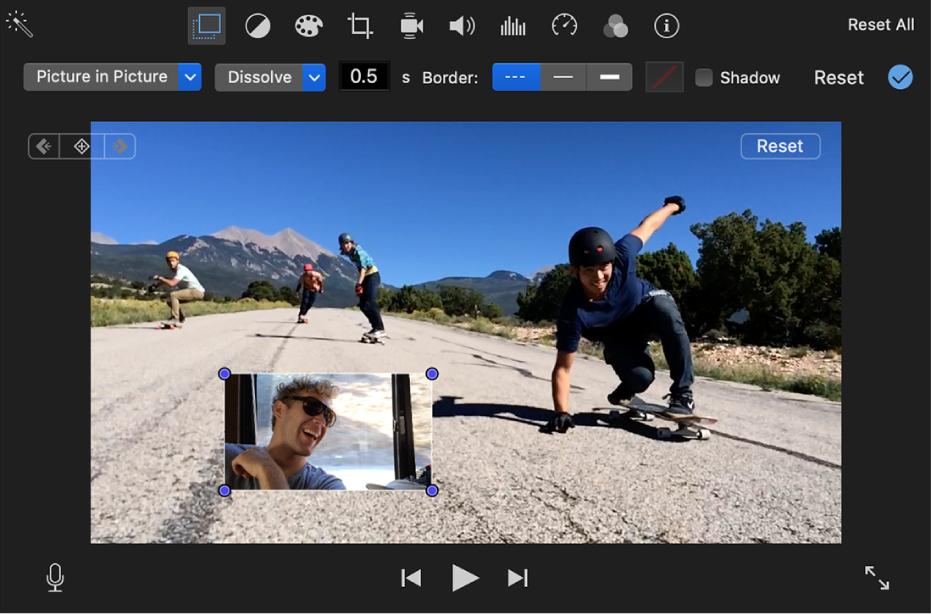 5. Timeline
Its timeline includes a plethora of features that you can apply directly such as color balance, which adjusts the tone of your clips while the color correction controls contrast, brightness, and saturation of your videos.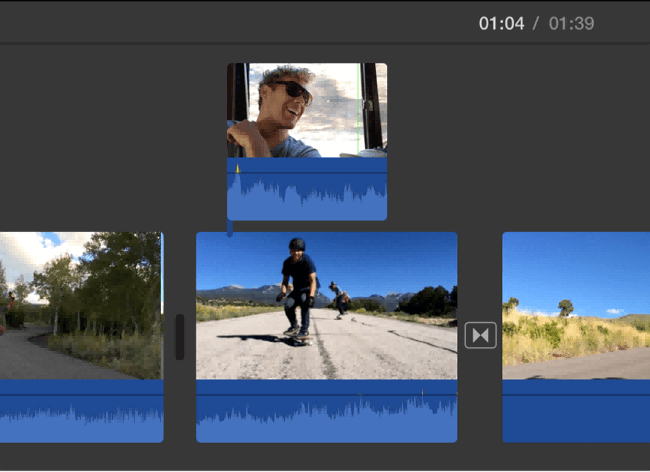 6. Text overlays
iMovie provides you the freedom to add texts to your videos. However, you have to use Canva to use the text Overlay feature.
7. Video and Graphic Overlays
Another distinct feature of iMovie is the Picture-in-Picture mode using the video overlay option. You can also add a logo or image to a video called, called graphic overlay, using Canva.
8. Sharing option
After editing, you can share the final project directly to YouTube, Facebook, Vimeo, and many other online platforms as easily as it can get.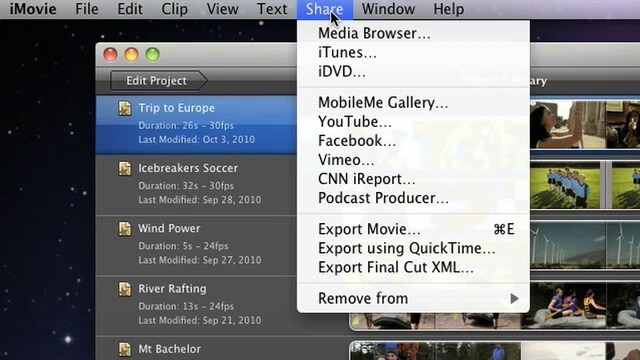 Other Features
Some other noteworthy features of iMovie include:
HD & 4K video support

Crop & rotate video clip

Adjust video speed

Pre-built themes & backdrops

Real-time titling

Open multiple projects simultaneously
Also Read:
Imovie Alternatives for Windows
Part 2. System Requirements
Before running iMovie on your PC, make sure the system meets the below minimum requirements:
It works only on Mac at OS X 10.14. 6 or later; Mac OS X v10.4.4 recommended.

It has a PowerPC G4, PowerPC G5, or Intel Core processor (512 MB of RAM required for HDV support)

At least 2GB free space in your hard drive

QuickTime v7.0.4 or later

For running Audio FX, Mac OS X v10.4.4 is required while you need Quartz Extreme for using advanced features of iMovie such as motion themes, real-time effects, and the Ken Burns Effect.
Apple recommends users updating the system to the latest versions of Mac OS X and QuickTime to get the most of this amazing video editor.
Part 3. iMovie Drawbacks
Just like any other video editor, iMovie too has its set of disadvantages that users have to deal with while using it. Below are the biggest downsides of iMovie that users have long been complaining about:
Despite all the incredible editing features it offers, iMovie is still not as complex as other software because it is missing many advanced features that pro users will want or need.

Learning iMovie is tough especially for not-so-tech-savvy users. Expect sufficient time getting used to its interface and how to apply various effects and filters.

Offers limited video tracks and color grading features which is why professional users don't prefer it for next-level editing.

Limited ability to customize titles and text, making it a less desired option to add text to your videos.

Less video output options and often has issues with MP4 compatibility

The multi-layer editing feature is basic – doesn't add layers after a few layers.

No 360-degree video feature

Doesn't support certain MP4 files and many a time gives error while importing MP4 files for editing. Users need to convert MP4 files to H.264 codecs to get the best results.

This program requires high levels of HDD space as the output files it produces are large. Even a basic video could be close to 1 GB. Users can compress the video size, but that compromises the video quality and also adds another step to the export process.

Compatible with only Mac.
Simply put, iMovie doesn't qualify to be a full-featured video editor as it lacks many useful features and capabilities which are necessary to create high-quality videos. For this reason, users have to rely on iMovie alternatives to express their creativity and skills in video editing.
Part 4. Best iMovie Alternatives for Windows and Mac
iMyFone Filme is a complete video editing software that lets users create amazing videos with just a few clicks. It's a one-stop solution for producing quality videos, color adjustment, multi-layer editing, post-production, and visual effects.
Considering its simple and intuitive interface, stellar features, and user feedback, Filme is rightly tagged as the best iMovie alternative. It combines all the powerful and advanced features that you expect from a professional video editor such as splitting, merging, adding texts, rotating, transition, effects, animated and 3D titles, and so on.
What distinguishes it from other players in the market is its lightweight, super-fast speed, and ease of use even for newbies for producing high-quality videos.
Features:
Split, trim, crop, rotate videos, and all other basic video editing features

Advanced picture in picture mode

Unlimited animations, themes, filters, and effects

Can play 8 or more audio tracks simultaneously

Quickly create unique cinematic titles

Adjust speed, both increase or decrease speed

Fast video mode

Quick slideshow maker

Adjust background music

Multilayer audio, text, image, and video editing
Pros of iMyFone Filme
Intuitive and friendly interface.

Easy to navigate and explore thousands of features.

Multiple editing modes

Add a variety of text to videos easily

A range of transition effects

Shallow learning curve
Part 5. Conclusion
To sum it all, this blog post has provided all the information you need to know about iMovie - a free yet powerful video editor. In this comprehensive iMovie review, we walked you through its key features and major disadvantages to analyze whether or not you should use this software.
Even with its cons, iMovie is still a preferable choice for beginners to do basic editing without spending a single penny. However, if you want to edit videos like a pro, you need a powerful and full-featured video editing software like iMyFone Filme which is exceptionally easy to use even by beginners.

iMyFone Filme
Release Your Creativity with Best Video Editor iMyFone Filme!
Download Now