Cinelerra is a famous application for Linux, and it has made video editing possible and simple for users. In this article, we are going to have a deep look at this software. We will try to explain its interface, features, pros, and cons. Let's start.
Part 1. What is Cinelerra?
Cinelerra is a free video compositing and editing software. It is an open-source and professional video editing tool. It is considered one of the most used video editing software for Linux. There is no limitation of the video quality in Cinelerra as it supports high-quality videos and audios with the use of 64 bits precision along with standard video quality. Cinelerra performs three main tasks, i.e., capturing, editing and compositing. You can professionally perform motion tracking through this software to give your video a movie-type look.
Part 2. Design and Interface of of Cinelerra
Cinelerra's interface is pretty much similar to any other non-linear video editor like Adobe Premiere Pro. It has its widget tool kit, which makes interfacing pretty simple and easy for users as there is no such necessity to comply with any user guidelines of Linux.
The design and interface of Cinelerra are incorporated into the following parts and windows:
Timeline:
The timeline is the place where the actual editing of the video takes place. It shows the whole video in a time sequence along with separate music tracks if you have added them. Every effect, transition, and other objects you apply will be visible here.
Viewer:
This window is used to play any video that is in the resources window. It has basic features like Play, Pause, Forward, and some others.
Compositor:
This is the window in which you can view any particular segment of the video that you want to focus on during editing. It shows the video in the timeline and depicts the outlook of the editing you have performed.
Resource Window:
This window holds all the resources in the current project, including all files of videos and audio, effects, transitions, etc. When any video is clicked in the Resource window, it will be played in the Viewer Window.

Part 3. Main Features of Cinelerra
Some top features of Cinelerra are as follows:
1. Video and Audio Editing
Cinelerra provides its users with a wide range of video and audio editing features. You can also add special effects to your videos with the help of an extensive range of libraries available in the application. Moreover, it supports 1080p as well as HD videos in real-time among other resolutions of the videos. Its video editing interface is professional in every aspect, considering the range of tools and its accuracy.
You can choose the instant from which you want to start your video from the whole clip and where to end it. Moreover, you can also add audio tracks from your library to the video. The volume can also be adjusted with a slider on the audio track. Transitions can also be added where necessary, and there is a vast range of effects available. You can also vary the duration of the transition effect.
2. Keyframing
In non-linear video editing, Keyframe refers to a certain value at a certain instant in the video.
Keyframe is used to manipulate the changes made to the video over time, which gives the user authority over a certain point to set parameters. Cinelerra provides the option of using this technique, and the keyframing in Cinelerra is very smooth and satisfying. By adding a keyframe, you can add a set of parameters for the same video but a different duration of the clip. In Cinelerra, there are keyframes for almost all compositing parameters and effects parameters.
3. Floating-point
You can store and access photos with the best possible result by using floating-point imaging offered by Cinelerra. You can have access to OpenEXR, the official file format for Lucasfilm, as well as CR2 images, which is the official format for Canon EOS digital cameras. In simple words, by using floating-point, you don't have to worry about losing fine details of the images by adjusting the colors.
Part 4. Technical Details of Cinelerra
The following are the minimum system requirements for running Cinelerra on your system:
CPU should be at least 500 MHz single core (dual and multi-core preferred).

Hard Disk should be at least 200 GB

For audio, any device that is supported by ALSA or OSS/Free.

RAM should be 1GB or more.
On the software side, Cinelerra only works with Linux Operating System.
For creating an output media that is going to be viewed on multiple platforms, including phones, televisions among others, it is essential to select the right kind of output media. It provides a wide range of these, including mp4, mp3, pro, DVD, Flv, Video FLASH, GIF, pam, PBM, and many others.
Part 5. Pros and Cons of Cinelerra
Pros of Cinelerra :
Cinelerra has all the professional features that you might need to edit your videos. Moreover, this wide array of features covers all the necessary tools, from basic contrast editing to 3D editing tools.

It offers real-time processing of the videos, which helps in providing a better response time while reusing effects between multiple tracks. It supports OpenGL on NVidia Graphic cards which enhances the response time. In short, it edits videos in real-time.

Cinelerra is a very user-friendly application which must be considered one of the essential benefits of this application. The video editing process is very simple, and to provide a base knowledge regarding the software usage, a wide range of tutorial videos of this application are available on the internet.
Con of Cinelerra:
One of the major setbacks of this application is its availability on Linux only. So, if you are a Windows user, you might need to change your Operating system first or to look for any other application that is compatible with your OS.

Cinelerra does not support every codec. Although it supports FLV and WMV derivatives, some codecs will not be supported by this application.

Four windows simultaneously might get pretty confusing at times, and it will take more time to edit a video in this software.
Also Read:
Top 10 Linux Screen Recorders for All Linux Users >>
Part 6. Best Alternative to Cinelerra Win & Mac – Filme
If you are looking for a more efficient and easy-to-use application, then Filme might be the perfect match for you. It is a widely used video editing application. It is currently available on Windows and Mac, and it will be available for Linux very soon. The reasons you should prefer Filme over Cinelerra are:
It is more user-friendly than Cinelerra.

It provides built-in effects as well, so the editing becomes much quicker and easy.

The user interface is also simple.

You only need a few clicks to edit your videos. It saves your time.

It also offers stunning templates to create slideshows in 1 click.
Some features of Filme are as follows:
Effects and Transitions
There is a wide range of effects and transitions available on Filme. It also provides a preview of these effects to show the impact that they would have on your video. You only need to click on the effect or transitions to apply them to the video.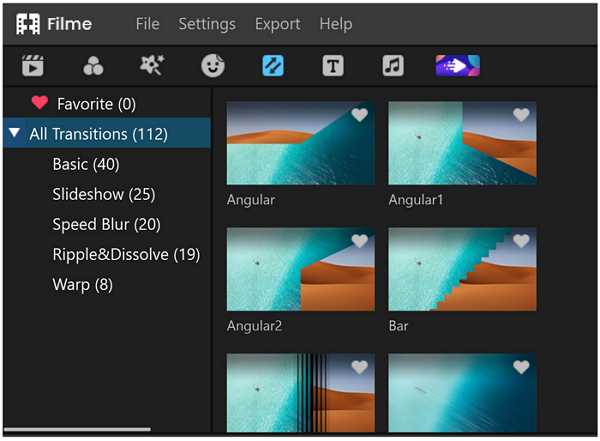 Audio Editing
You can also edit the audio in your clip through this application. It all depends on you, whether you want to add a music track from your library or you want to adjust the original audio. Also, there are some built-in sound effects that you can apply.
Fast Video Mode:
Filme also provides the feature of Fast video mode in which you can create a slideshow through built-in templates to make a wonderful video or slides with background music. You can select templates for different occasions, such as Easter, birthdays, anniversaries, engagements, and special events.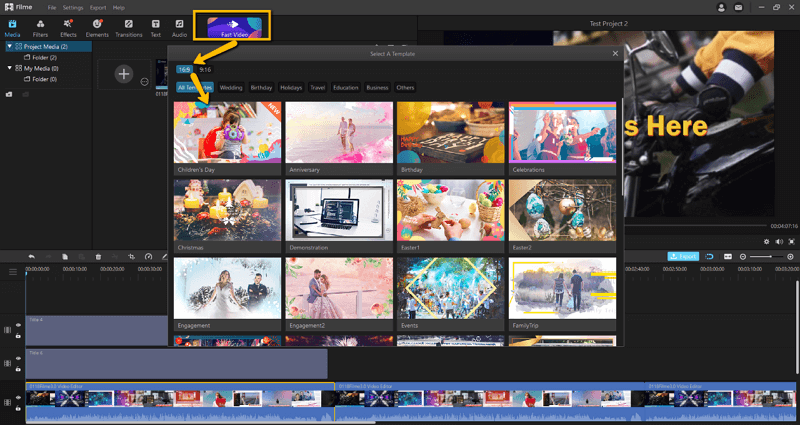 Basic Editing Tools
Other than some technical editing tools, there is a range of basic tools as well that come in handy every time you want to edit your video. These include tools for color adjustment, rotation, resizing, cropping, trimming, splitting, and a few others as well.
Final Words:
In this article, we have discussed Cinelerra in detail along with its features and other aspects. The main limitation of this software is its operating system; otherwise, it is more than amazing. If you are looking for a more diverse option, then Filme might be a perfect choice. Filme is a professional video editor and can make your video editing simpler and easier.