As a beginner, I know you are wondering how to get started with video editing with your phone. Create fun and engaging videos using this powerful video leap editor. Here is an all-in-one creative video editing app, Enlight Videoleap, with rich features. Add impressive effects, music, and trim to your videos with ease using the Flme video editor.
What is Videoleap?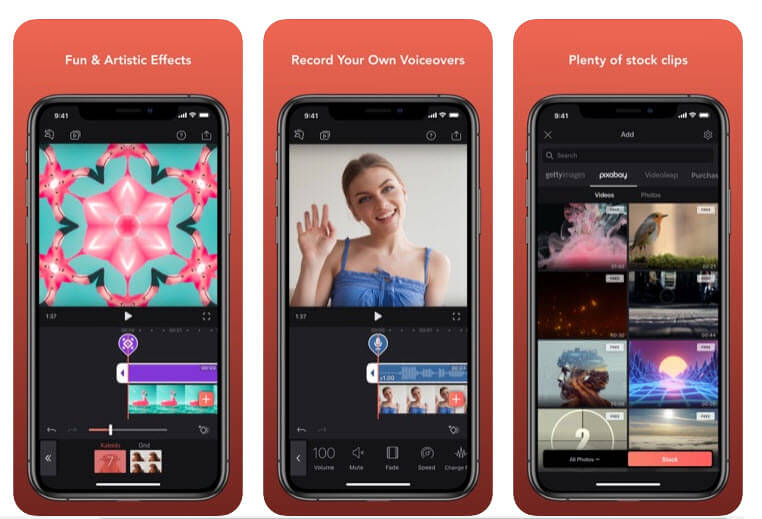 Videoleap is a video editor app by Lightricks LTD. Fun and powerful video editing app that allows you to combine clips, add text and artistic effect to your videos. Make amazing Hollywood videos using the videoleap editor on your iPhone and iPad. Enlight videoleap is only available on the Apple platform and is free to start, while the pro version is up to $139.99/year. You can choose to pay monthly, annually, or the one-time payment that will be a tab on your iTunes account at confirmation of subscription. The pro version comes with rich-feature than the free version.
Pros:

Your projectswill be saved automatically during editing.

Creative cinematic compositions.

It comes with an intuitive timeline with zoom for frame by frame precision.

Special effectsare possible, including Prism, Defocus, Colorfy, Pixelate, Chromatic Aberration, and more.

Unique, adjustable film filters for every moment.
Cons:

Subscription is required for unlimited access to all features and content.

Videoleap Pro can be expensive at up to $139.99 per year.
(i) How good is videoleap, and how does it work?
Enlight videoleap is good but only for fast videos and social media. iMyFone Filme video editor is for those who need a good video editor for YouTube videos. Filme editor is available for Mac and Windows computers.
Videoleap is beginner-friendly, but not all features are intuitive. It may take a few tries to understand how it works, and the pro version is on the high side! Up to $139.99/year. How does it work? With videoleap video editor, you can edit a movie or create a video with the pro editing tools. Can add effects, sounds effects, filters, green screen, and more to produce beautiful videos.
(ii) How to make a video on videoleap editor?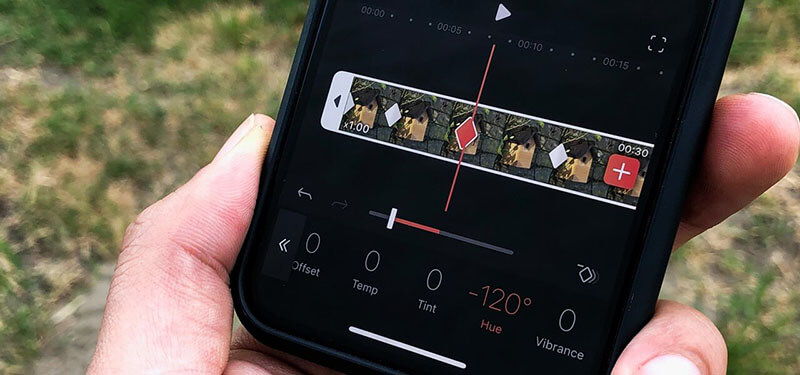 Here is a step-by-step guide on how to edit a video for your social media account using enlight videoleap video editor and maker on your iPhone and iPad.
Step#1: You need to install the videoleap editor app on your smartphone. Head over to your Apple Store to install it for free. After the installation, open the install app to launch.
Step#2: Upload videos to videoleap editor, click the + icon to add clips to the timeline from your gallery. After that, scroll your timeline to see how your clips. To change the position of a clip on your timeline, hold and drag the video to your desired position.
Step#3: Adding files to your video; when adding effects & sound, make sure none of your clips in the timeline are selected. Also, place the playhead where you want your audio to start in your video, then click on the audio icon on the toolbar to choose the audio of your choice from the listed options or upload your audio file. Trim your audio if you want, hold and drag the audio file to where you want it to be. You can split your audio and clip by clicking on your video in the timeline to highlight your video, then hit the split icon on the toolbar, and your video will divide into 2 or 3 parts. You can remove any part of your video using this method. Like to reverse every change, click the back button on the toolbar.
Step#4: Adding text, filter, transition, image, sticker, etc. To add a photo or sticker to your video, hit the mix button choose your photo, then adjust the size if you want. Add text by clicking the text icon on your toolbar. Font and correction effects hit the filter button and adjust the power filter to get some nice for your video.
Step#5: Download your video: After you have finished your editing, then click the export button at the top left of your screen to download your project.
Get the complete video tutorial here and here.
(iii) Can I use video leap songs, and are they copyrighted?
The answer is yes. You can use the free content in the app provided you will not distribute it directly out the edited videos.
FAQs about Videoleap
1. Can I use Videoleap on my computer?
There is no computer or web-based videoleap software at the moment. But you can use videoleap on your computer by using an Android emulator(Bluestacks). Why not try the iMyFone Filme video editor on your computer? No app or software is required. Available for Windows and Mac.
2. Is Videoleap free on android?
You can start using the videoleap video editor for free- it does not matter if you are a beginner or an expert. You can access it for free. There are more features and flexibility on the pro version, and it comes with an annual plan of up to $139.99.
3. How can I leap videos on android?
Yes. Enlight videoleap video editor comes with rich features. You add videos, trim, sound effects, filter, transition, etc. But not all features are intuitive and may take a few tries and errors to understand how it works.
4. How to edit your videos on your iPhone?
Want to start editing your videos on your iPhone? Here is how to go about it using the videoleap editor app.
Step#1: Open the video editing app and add the videos you want to edit
Step#2: Tap on edit to trim.
Step#3: Move your slider on both sides of the clip on your timeline to change the positions of your video. Then start and stop to preview your changes.
Step#4: Add filter, effects, and transition.
Step#5: Hit the save or export button to download
5. Is videoleap good for YouTube videos?
Videoleap video editor by Lightricks is for fast videos, which are good for social media posts. You can upload your videoleap edited videos to any platform, including Youtube. But every YouTuber should create high-quality videos with excellent resolutions if you want to increase watch hours.
6. Videoleap reviews Positive or negative?
Videoleap is a clean video editor and maker that is safe to use but with caution if you don't want to be disappointed. There are positive reviews on the app store based on the paid plan, while the free version is not getting much. One of the users was disappointed because the app crashed after purchasing the pro version for his youtube video. Read more here.
People Who Liked this Content Also Liked
Top 10 Best Vlog Editing Apps 2021 [iPhone & Android] >>
What are the Best Video Editing Tools for YouTube Videos on the Computer Paid/Free?
This is one of the best new video editing software for your computer in 2021. Filme comes with stunning templates to get you started. It has a complete pack of rich features every YouTubers needs to create captivating videos for their subscribers. Want to make videos or slideshows for your social media channels iMyFone Filme has your back. You can add transitions, filters, fonts, and sound effects to your video. There is a monthly plan of $29.95/month, $3.33/year, and $59.95 one-payment. Download and start for free now.
Cyberlink Power Directors 365- Here is another video editor for your Youtube video production. Their monthly plan starts from $12.50.
Final Cut Pro- This is an Apple store app. It only available for Apple smartphone users, and the price is $299.99.
Shotcut- Shotcut is a free video editor.
Lightworks- Has been at the forefront of film for more than 25 years in many cinemas history.
How Do I use Filme Editor To Edit Videos?
iMyFone Filme editor is a powerful, fun, and cheapest video maker that comes with high-quality templates. With Filme video editor, features you are good to go when it comes to video making. From uploading your file to adding effects, sound effects, trim, filter, and transition. Due to several options available to its users, Filme editor has become an addictive choice.
Step#1: To edit videos using Filme, you need to download and launch the software.
Step#2: Upload your videos
Step#3: Use the rich features available option to create a professional video.
Step#4: Hit the export button to download your video.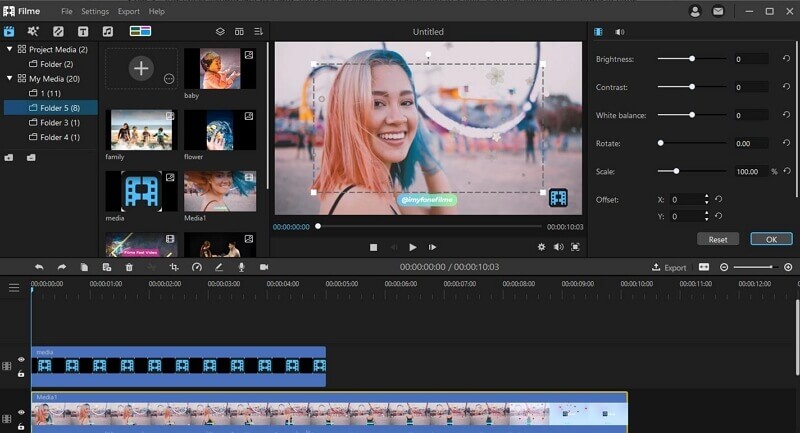 Key Features- Why Choose Filme?
Extensive video editing tools. You can use it to make a professional video.

Lots of effects and resources. Filme has tons of animations, transitions, filters, music, and a vast stock image library.

Fast Video mode. Create a video with music with just a click of the mouse.

Advanced features.Multi-layering, multi-track audio options, instant preview, and style adjustment.

Wide-format support. It supports most file formats of image, video, and audio.
Conclusion
There you have it. The quality of your video determines the engagements your video will get. Filme editor has brought the best editing features for you to create amazing videos for your marketing and build authority for your business.