Claiming copyrights and putting stamps to claim rights over intellectual property has always been an important part of every industry. However, with the advent of digital channels and software, adding a watermark has become an easy task. Photoshop is one of the most popular and credible software for digital art editing, pictures, and graphic designs. Adding a watermark is also an inherent feature of Photoshop.

However, due to expensive subscriptions and a steep learning curve, everyone is not confident to use Photoshop for editing. Therefore, we need other answers on how to put a watermark on the photo without Photoshop.
This article is all about methods of adding watermark to photos without getting into the Photoshop software. Let' s get into it.
Best Method – MarkGo AI Watermark Tool
iMyFone MarkGo is a complete watermark solution. It helps the user to add and remove watermarks from any kind of pictures and video. With the help of MarkGo, anyone can remove or add a watermark with just one click.
Tips
Hunting for a tool to add watermark on video in batch efficiently? Why not try
iMyFone MarkGo
, a professional watermark tool that helps you add watermark for your video in batch within 5 secs in 1 click.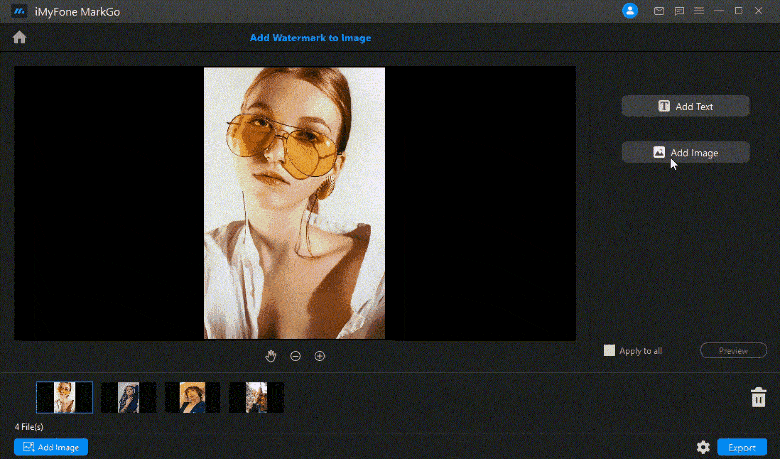 Watch the video tutorial to learn more about MarkGo.
Wonderful Features of iMyFone MarkGo
User-friendly, without any technical knowledge required to erase watermark in just one single click.

Easy to get rid of and add watermark for videos and pics, with no traces at all.

Free to try the remover, during which you can check the compatibility.

Able to add watermark for up tp 100 pics in batch for copyright considerations.
iMyFone MarkGo is our personal favorite because it's an all-in-one software that caters to most image editing needs without in-depth professional editing knowledge. It is an AI-powered software that lets you add/remove image watermarks, remove image backgrounds, add/remove video watermarks, and remove unwanted objects from the images.
It' s an affordable way of putting a watermark on photos without Photoshop. We will look into steps you need to follow for adding watermarks with MarkGo.
Here is a step-by-step guide to getting you started for adding watermarks to your photos.
Step 1: Launch MarkGo after Installation on official website
You can download the MarkGo software from the official website of Filme if you already don't have it. Launch the program and choose 'add watermark to image' to get started. Once downloaded, install the program and complete signup.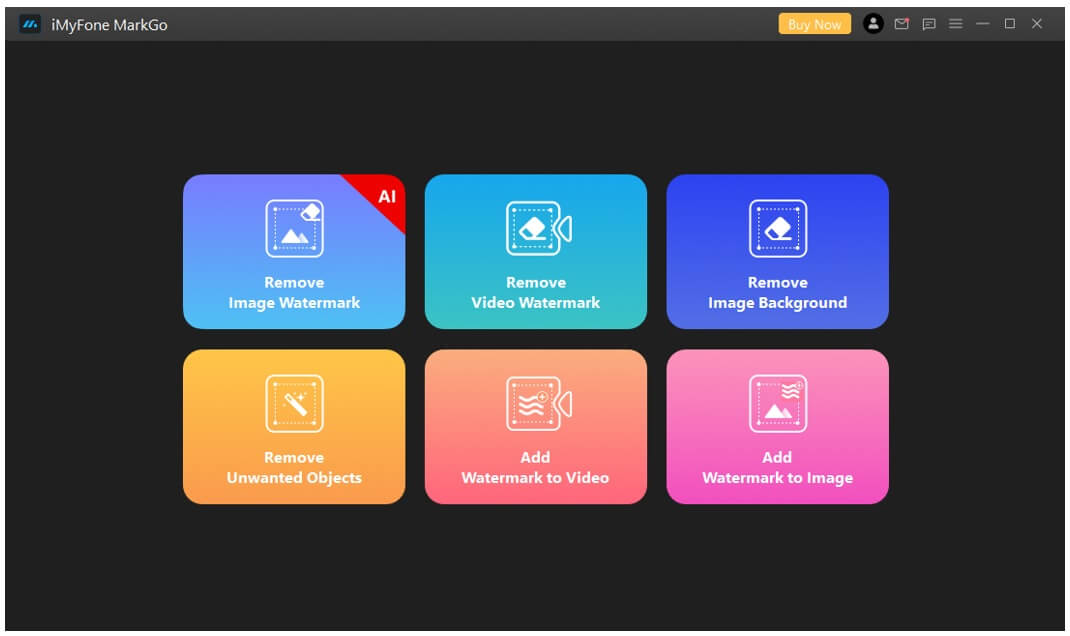 Step 2: Add Image for Your Media
Once you're in, you will have to add the image or images for editing. The best thing about MarkGo is that you can edit multiple images at a time. If you've numerous images with a watermark on the same location, you can use the 'Apply to All' feature for quick editing.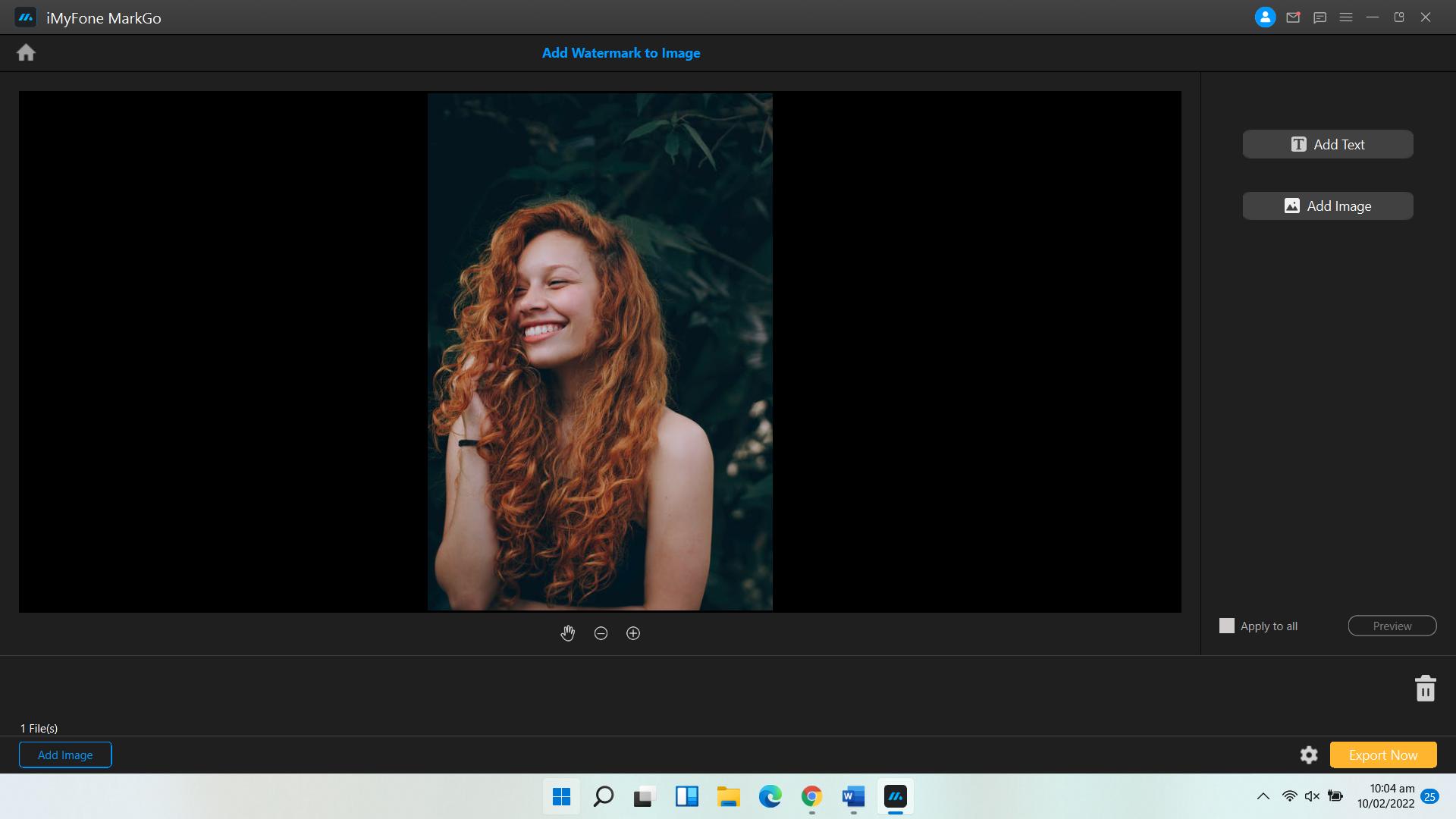 Step 3: Add Text Watermark by Typing
MarkGo is a great tool that lets you add text watermark or image watermark as per your requirements. The first option is a text watermark. Hit the Add Text button, and it will open a text box where you can add a watermark. Besides, you can also change the location of the watermark.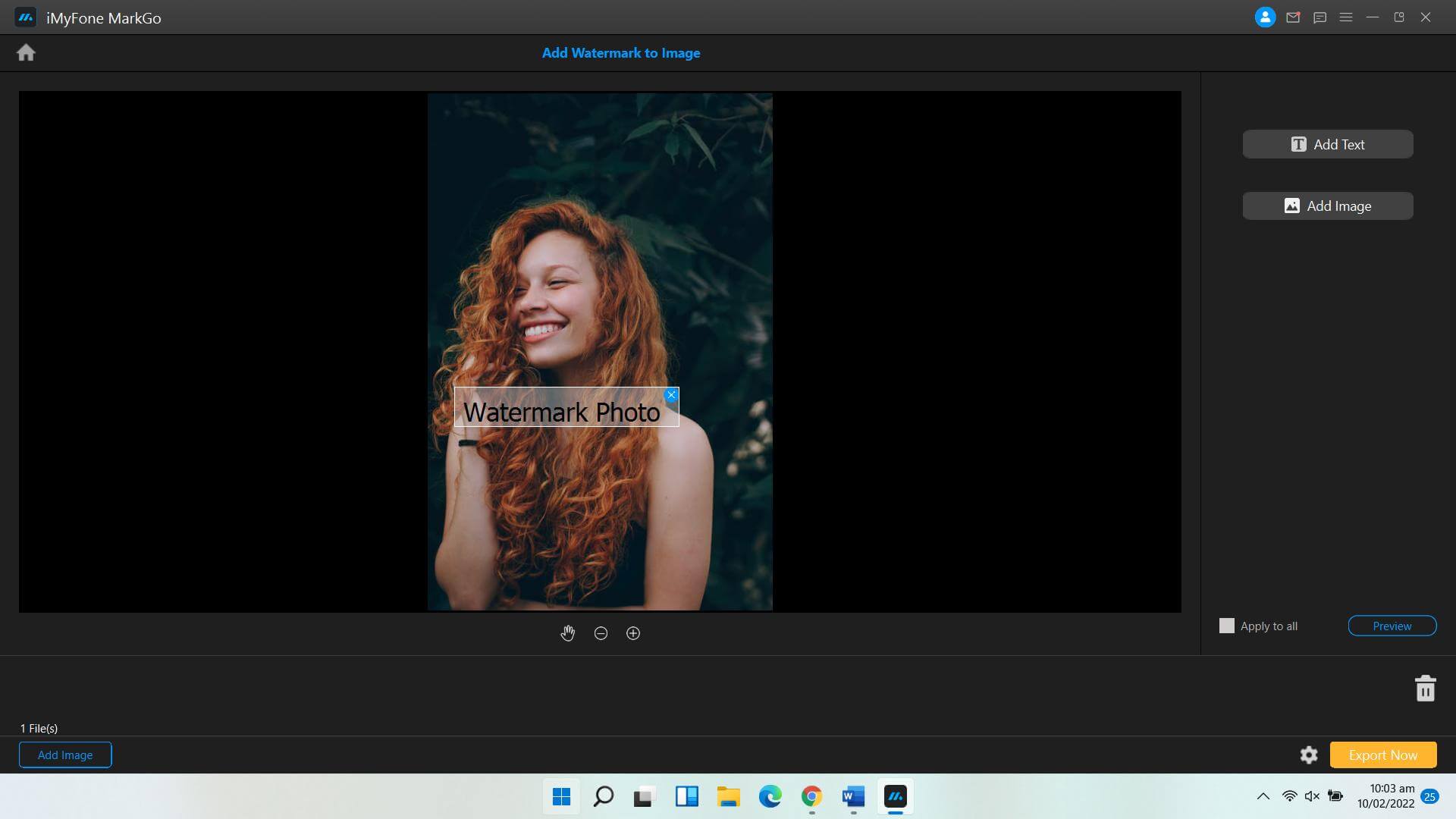 Step 4: Add Image Watermark by Uploading Image
The second option is adding the image watermark to your images. You can add image logos to the images. Click on 'Add Image,' add a photo, change the location, and you're good to go.
Step 5: Save the Final File
Once done, click on the Export button and save the file on your device.
Put A Watermark on Photo With Paint 3D
Paint 3D is an in-built software that comes with your Windows. Paint 3D lets you add images into images, text, 3D animations, drawings, etc. Therefore, Paint 3D can be your temporary option if you're an occasional editor.
Step 1: Head the Paint 3D
You can directly look for Paint 3D or search the application to launch.
Step 2: Add Image For Editing
Once you have launched the application, you will be asked to open an existing file or make a new one. You can get started with Open and open the image you want to edit or add a watermark to.
Step 3: Add Text or Image Watermark
You can directly add text watermark to images in Paint 3D. However, if you want to add image watermarks, it's possible, but the results are not as professional as other photo editors.
Step 4: Export the Result
Once you've put the watermark on the photo without Photoshop in Paint 3D, all you have to do is save the file by clicking on the menu and following the steps.
Put A Watermark On Photo Online
For all people who want online tools to add/remove watermarks to images, you can use the watermark.ws. It's a dedicated open-source platform that lets you remove or add watermarks to images, videos, GIFs, etc.
Here is a step-by-step guide to adding a watermark using the watermark.ws:
Step 1: Add the Image to Microsoft Word
Log on to the official website of the watermark.ws to get started.
Step 2: Upload The Image
Click on 'Get Started' to start the editing process. Once you're there, you will be asked to upload files from the device. Upload the image that you want to add watermark. After uploading the image, click on the Edit button to add a watermark.
Step 3: Add Your Own Watermark
On the left-side pane, there are several editing options. Choose the Watermark option on the second number. You can add text watermark, logo watermark, or signatures to your images. Add the text you want to put as a watermark or alternatively add the logo image. Adjust the location of the watermark on the image and press enter.
Step 4: Download the Image
Once applied, download the file to the desired destination on your laptop, mobile, or Mac device.
Conclusion
We have discussed how to put a watermark on the photo without Photoshop. You have explored some great tools to get you started with the process. Among all the methods, MarkGo is the most credible and accurate. You can add a watermark by using the AI-powered technology of the software. Besides, it's not expensive like other tools available in the market. You can download the software on your Mac or Windows device from the following links: