Filmmaker Pro is a very popular app that lets you edit videos, create slideshows, but you have to bear a Filmmaker watermark in your edited videos and slideshows. Getting watermark-free videos costs you a lot. Therefore, most people look for alternative ways of filmmaker pro apk no watermark.

In this article, we will introduce you to the best market choice tool that uses AI-powered technology to remove the watermarks and unwanted objects from images and videos. So let's get into it.
Part 1. How to Remove Filmmaker Watermark with AI Remover [Best Choice in Market]
iMyFone MarkGo is a complete watermark solution. It helps the user to add and remove watermarks from any kind of pictures and video. With the help of MarkGo, anyone can remove or add a watermark with just one click.
Tips
Hunting for a tool to get rid of Filmmaker watermark efficiently? Why not try
iMyFone MarkGo
, a professional watermark remover that helps you remove watermark 100% clearly with AI-powered Technology within 5 secs in 1 click.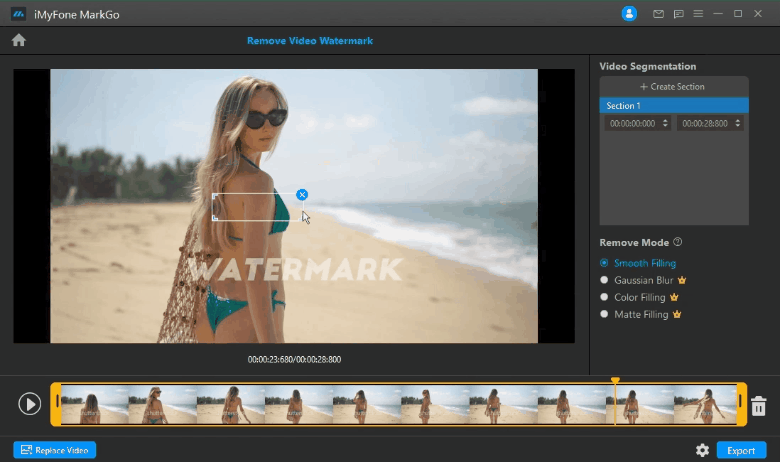 Watch the video tutorial to learn more about MarkGo.
Wonderful Features of iMyFone MarkGo
User-friendly, without any technical knowledge required to erase watermark in just one single click.

Easy to get rid of and add watermark for videos and pics, with no traces at all.

Free to try the remover, during which you can check the compatibility.

Able to add watermark for up tp 100 pics in batch for copyright considerations.
MarkGo or iMyFone MarkGo is an AI-powered tool used for editing photos and videos. You can remove watermarks, unwanted objects, add watermarks, and do a lot more editing of photos and videos. Besides, the powerful tool also lets you edit your PDF files.
There are many free and paid features within the app. We will tell you the cost-free method of removing the Filmmaker watermark by using the MarkGo tool. The story of iMyFone MarkGo's feature doesn't end here, but there are a lot of other enticing features that you can unlock by downloading the tool on your Windows or Mac device. The most interesting highlights of this tool are as follow.
Here is a step by step guide of removing watermark in filmmaker pro apk no watermark alternative tool.
Step 1: Launch MarkGo And Enter The Environment
You can install the software from the website without paying any bucks. Once installed on your device, you will launch the software and choose 'Remove Video Watermark' from the options shown on the home window of the application.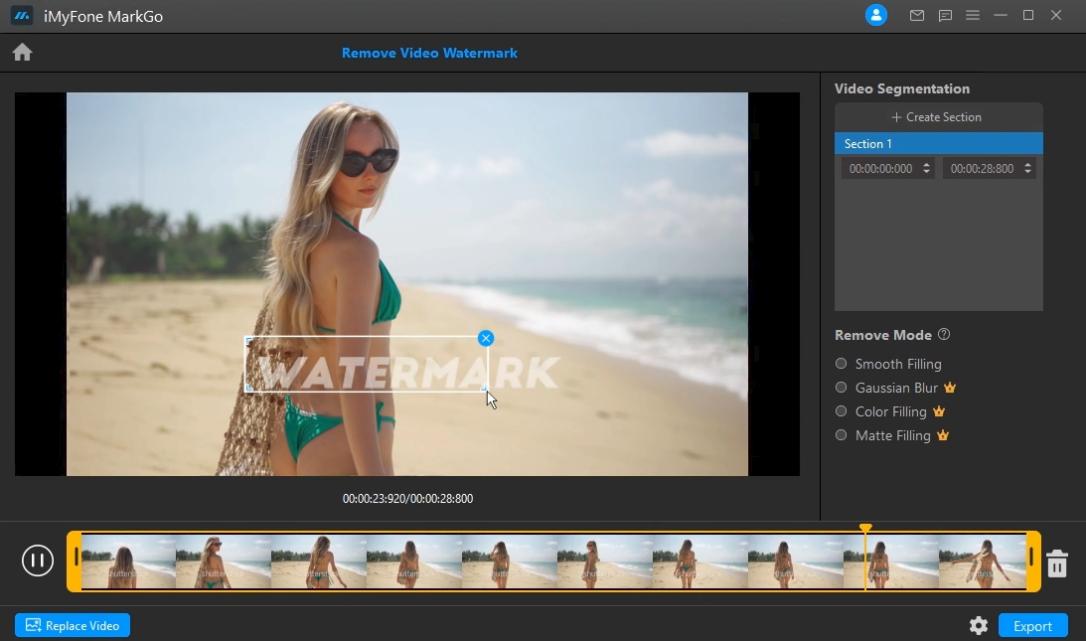 Step 2: Upload Your Video by Filmmaker
You will be asked to upload the video you want to remove watermark from. Choose the desired video from the destination folder and import it to the application for editing.
Step 3: Select The Watermark Area by Dragging the Rectangle Box
Once video has been imported to the application, you will select the area in video where watermark is located. Make sure to select the whole area of the watermark. Currently, there is no free selection tool available in the application and you can only select rectangle or square areas.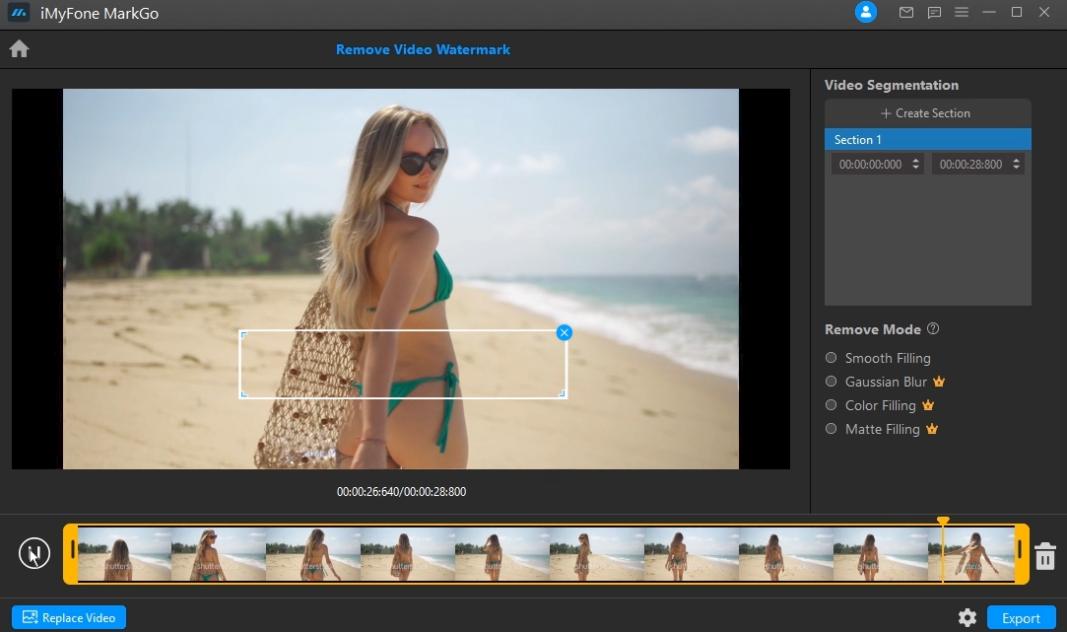 Step 4: Remove Filmmaker Pro Watermark
In the free version of the application, there is only one option of Smooth Filling available for replacing the watermark. However, you can get the paid version at a very affordable price to do more editing like matte filling, gaussian blur, or color filling.
When you choose the Smooth Filling option, the watermarked area is replaced with the background of the video.
Step 5: Save Your Video
The final step is to export your edited video to your Mac or Windows device. Once you hit the Export button, the file is saved within the matter of seconds to your destination folder.
Watch the video tutorial to remove watermark using MarkGo
Part 2. FAQs - How to Remove Filmmaker Watermark
How do I remove the watermark from filmmaker?
Filmmaker pro is a video editing software available on mobile devices. You can edit and create videos for free but there is restraint of the filmmaker watermark. The software gives you an option of unlocking watermark-free regime but it can be costlier to pay a monthly fee for getting watermark-free videos. We have shared an AI-powered tool that doesn't only let you remove watermark from videos but you can also do editing of images and PDF files.
How do I remove watermark from Filmora pro?
Removing watermark from Filmora pro can be done by getting the free trial or paying for the watermark-free version of the app. However, the same can be done by using the iMyFone MarkGo that lets you remove watermarks and unwanted objects from your videos.
Is filmmaker Pro free?
Well, apparently, the app is free to be downloaded from the playstore. However, there are in-app purchases to unlock most of the useful video editing features like removing watermarks, adding watermarks, adding intros & outros, etc.
How do I remove Filmora watermark from MAC?
If you're a Mac user, you can remove watermark from your Filmora videos instantly. All you have to do is to follow the procedure as we have discussed for removing Filmmaker watermark. You can also check out our article:
Conclusion
We have shared how to remove Filmmaker watermark with the best video editing and watermark removing tool –MarkGo. MarkGo is a versatile tools and you will hardly find any tool with such diversity. The developers have put real hardwork in making the software a success for the users looking for watermark removing solutions out there.
You can remove unwanted objects, add watermarks, remove watermarks, add text, add logos, and a lot more by just downloading the application on your Windows or Mac device.