WOW slider is also an image slider tool that lets you add a lot of filters, effects, and a lot of other functions.

However, when you're using this multimedia application, you often get bothered by the watermark. There is a cost to get the watermark-free premium version.
In this article, we are going to share an amazing tool that solves your problem of how to remove the WOWSlider watermark from the sliders of your images.
Part 1. How to Remove WOW Slider Watermark FREE without Purchasing License
MarkGo is a proud development of iMyFone to ease your photo or video editor life. With this all-in-one tool, you can do a lot with your images, videos, and PDF files. iMyFone MarkGo is a dedicated watermark remover equipped with a lot of additional features.
Most Advanced AI Watermark Remover
Hunting for a tool to get rid of WOW Slider watermark efficiently? Why not try
iMyFone MarkGo
, a professional watermark remover that helps you remove watermark 100% clearly with AI-powered Technology within 5 secs in 1 click.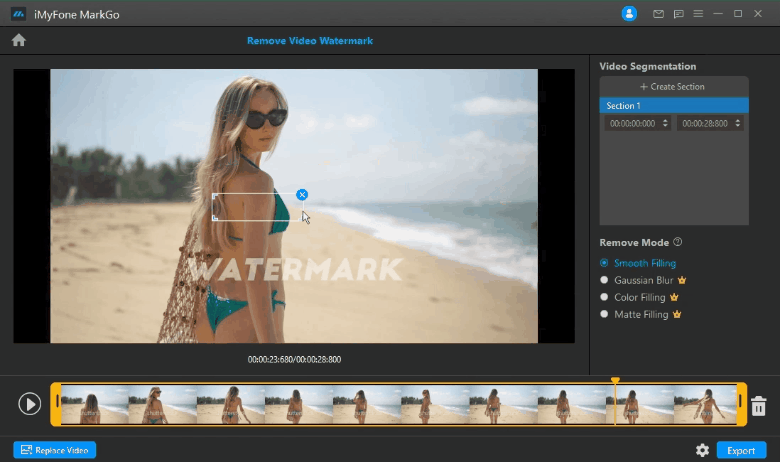 Wonderful Features of iMyFone MarkGo
User-friendly, without any technical knowledge required to remove watermark in just one single click.

Easy to remove and add watermark for videos and pics, with no traces at all.

Free to try the remover, during which you can check the compatibility.

Able to add watermark for up tp 100 pics in batch for copyright considerations.
Watch the video tutorial to learn more about MarkGo.
Here is a step-by-step guide on how to get rid of WOW Slider watermark.
Step 1: Install and Launch MarkGo First
The first thing you've to do is to install the software on your Windows or Mac device. Install the software from iMyFone MarkGo, and launch the program. Click on 'Remove Image Watermark' and enter the interface for editing.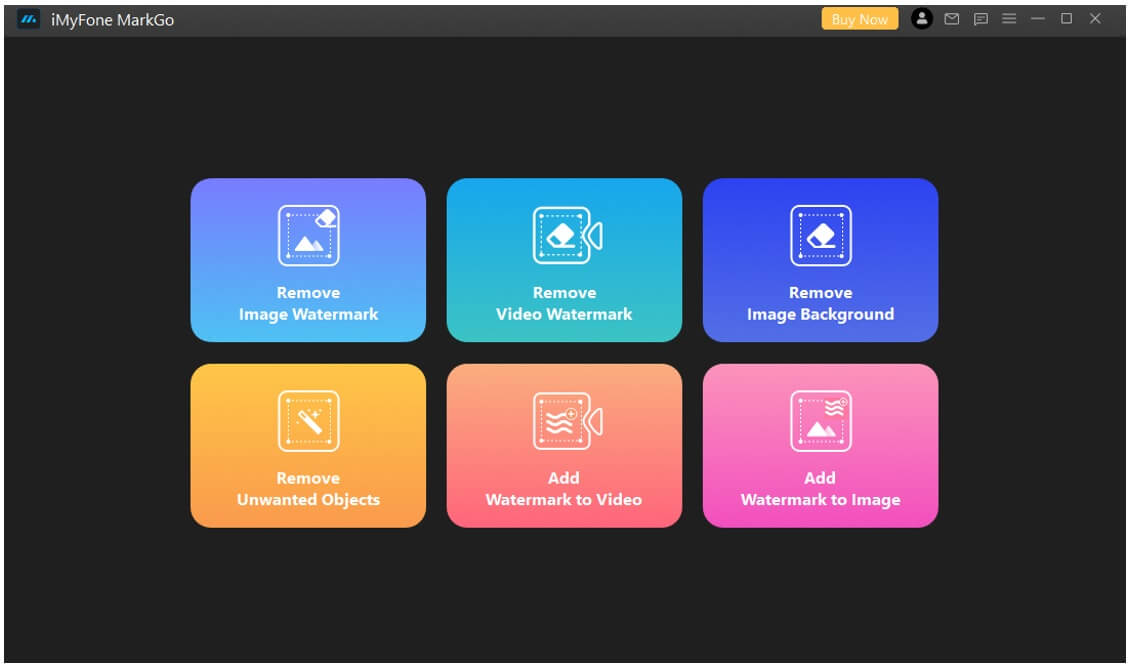 Step 2: Upload the Image You Plan to Remove Watermark from
Click on 'Add Image' showing on the screen to upload your image to the MarkGo for removing the background. You can see the WOW Slider watermark at the bottom of the image.
Step 3: Select Watermark by Covering the Area
Choose the rectangle marquee tool for selecting the watermark shown on the image. For the removal mode, choosing the texture fill make it look more realistic. So, you should go with it.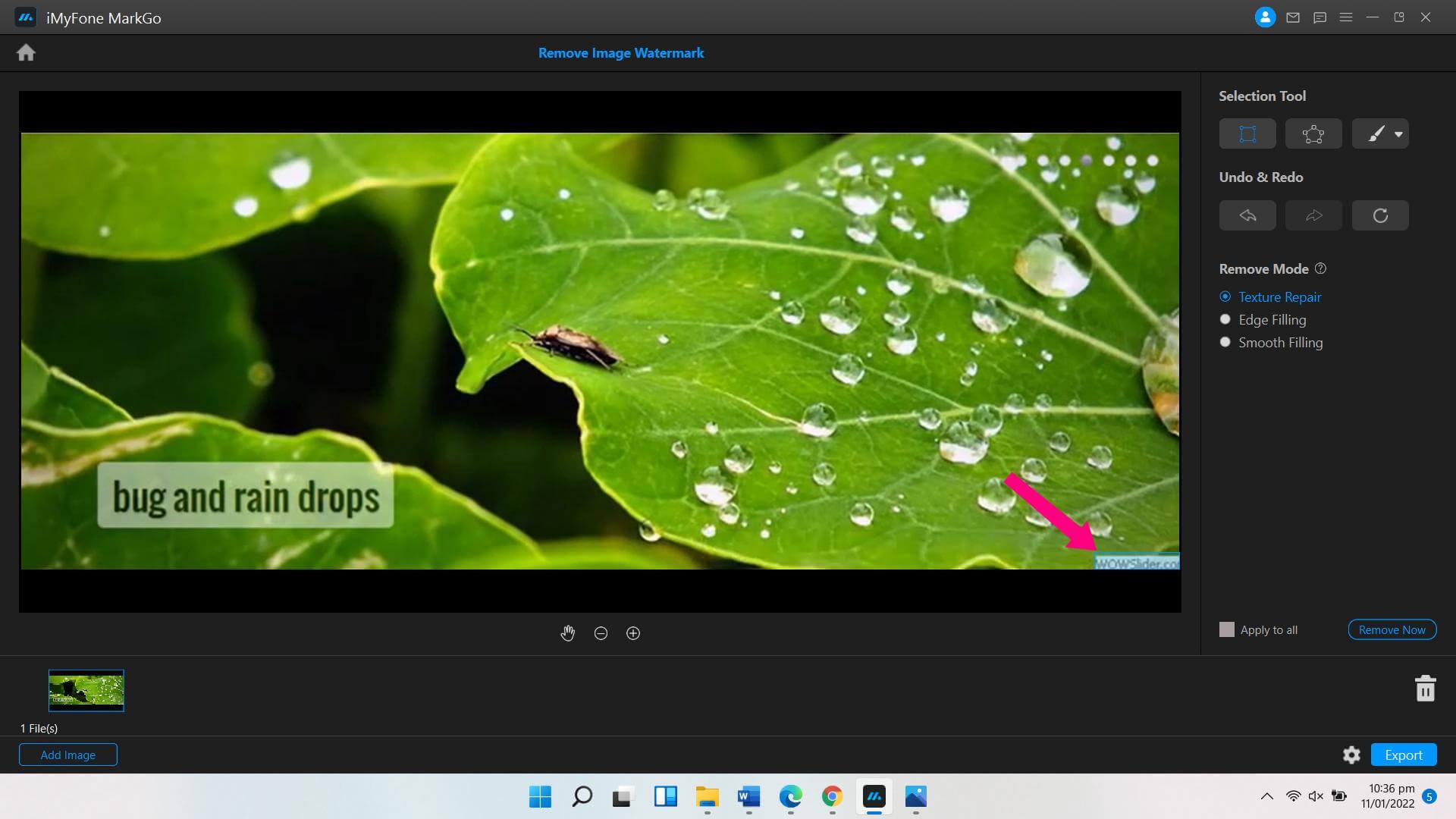 Step 4: WOW Slider Remove Watermark With MarkGo
Hit the 'Remove Now' tab to remove the watermark. If you've more than one image, don't forget to check 'Apply to all.' Once you tap on the tab, WOW Slider watermark removal process will start.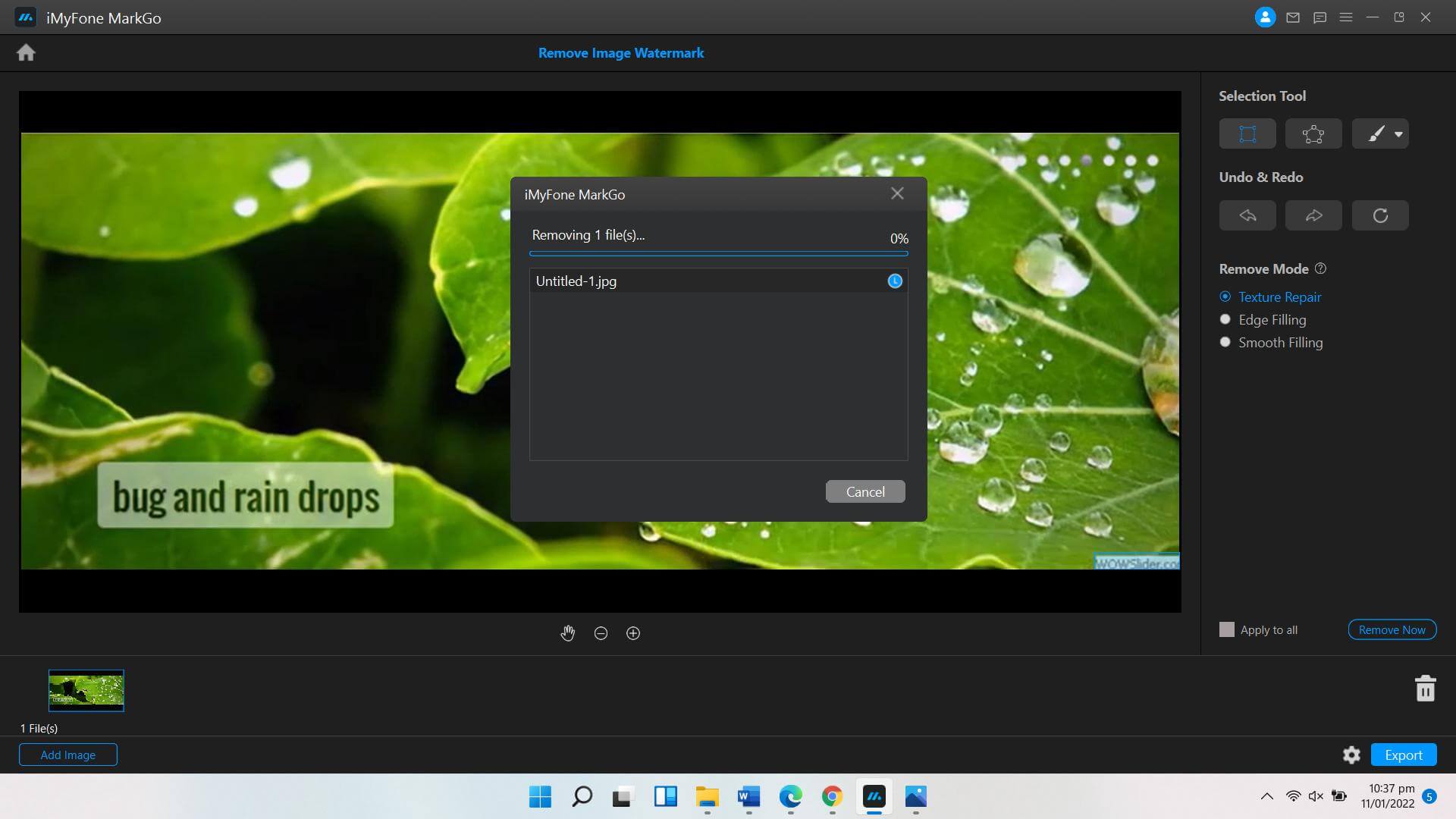 Step 5: Export the Image Output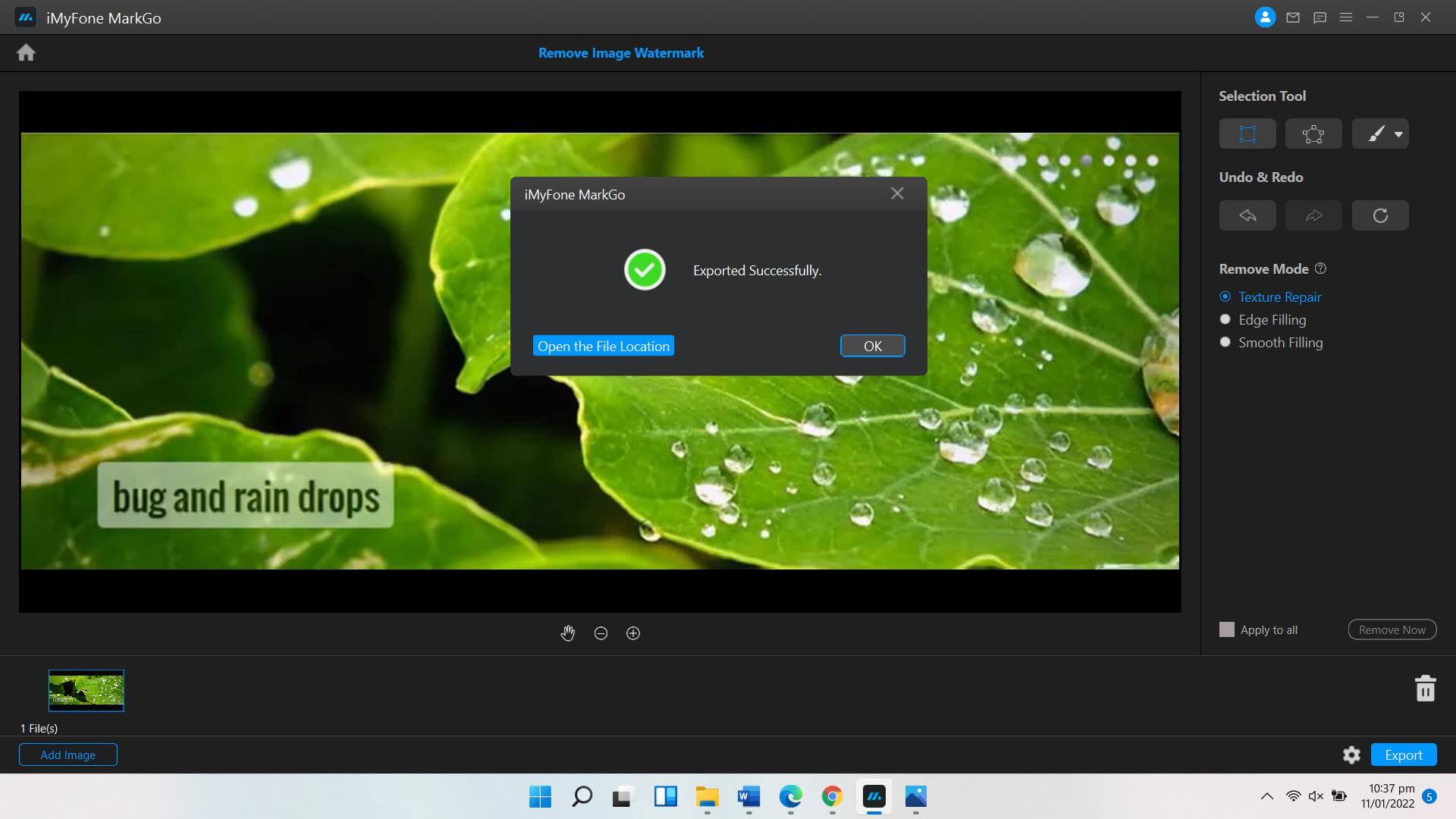 All you've to do now is export the image and save it at the desired destination on your device.
Part 2. How Do I Remove the Watermark from WOW Slider If I Have Paid for WOW Slider
As we talked about before, you can remove the watermarks from the sliders by using the paid version of WOW Slider. This section will talk about how to remove the watermark from WOW Slider's paid version.
Step 1: Purchase The License
The first thing you've to do is purchase WOW Slider's paid license. You can purchase it from the official website.
Step 2: Launch And Login
Now you've to launch the application, register, or log in yourself in the interface for editing your images.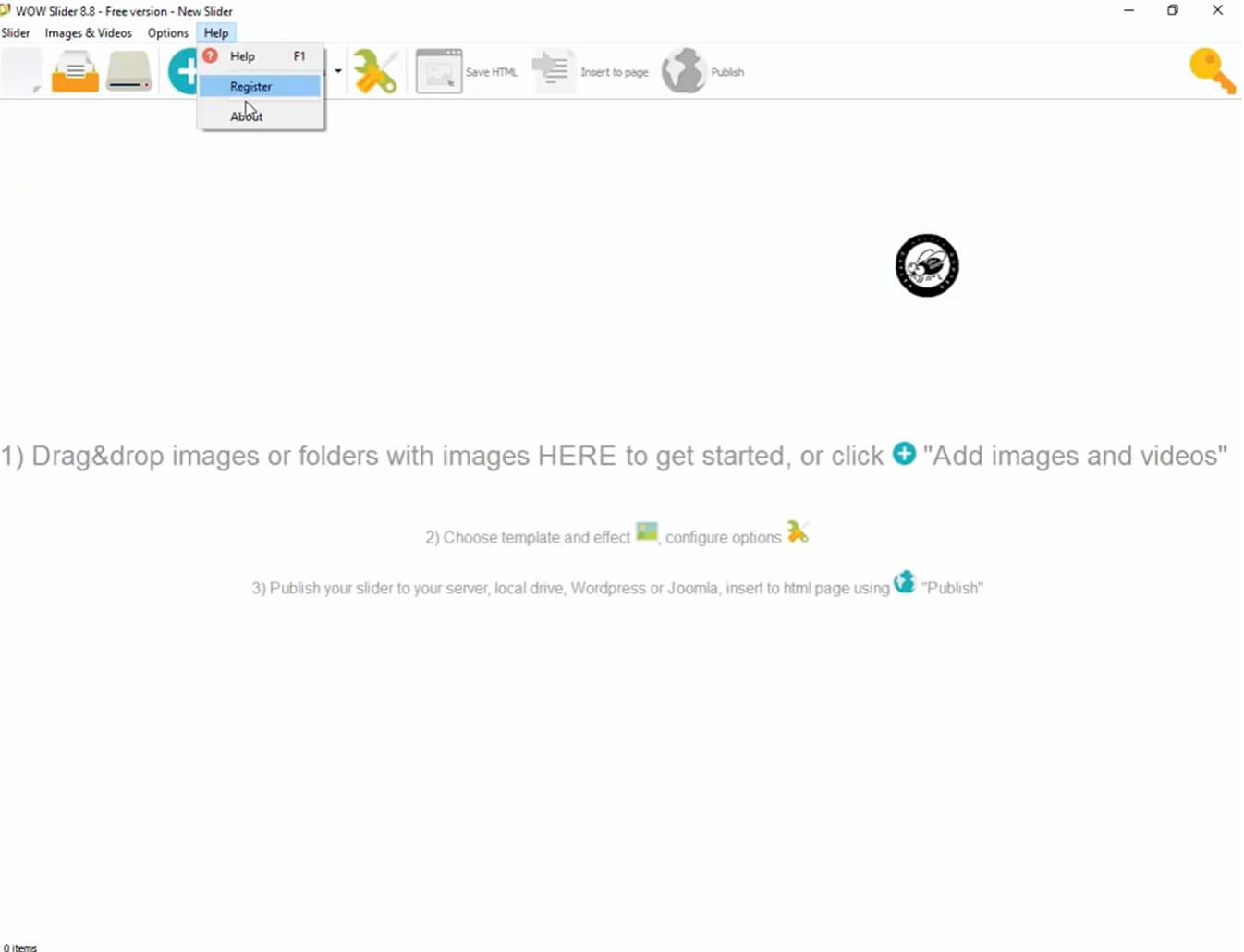 Step 3: Edit Your Image
The next thing is to add your images you want to edit. Apply different features and effects. Once done, go to the properties of sliders as shown in the picture below.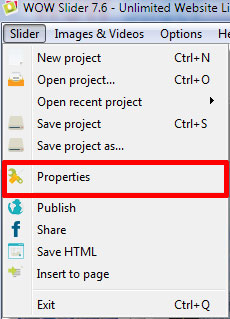 Step 4: Uncheck Watermark Option
In the slider properties, you'll have an option to check or uncheck the watermark appearance. All you've to do is to uncheck the watermark option from there. All the images and files will be watermark-free after unchecking the option.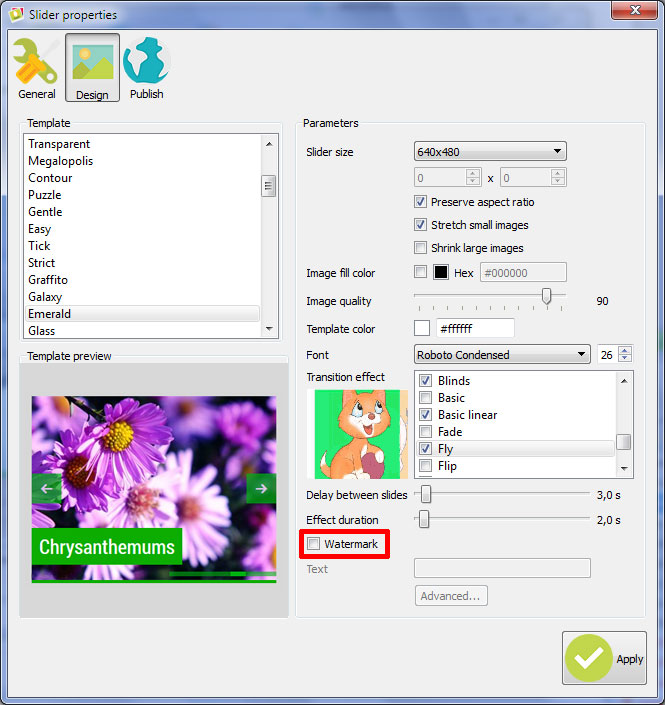 Part 3. FAQs -How to Remove WOW Slider Watermark FREE
1. How to Remove Wow Slider 8.8 watermark completely?
You can remove WOW Slider 8.8 Watermark completely by purchasing the paid version of the application. However, there is another way of removing the watermark entirely. MarkGo is a go-to tool for removing all kinds of watermarks. All you've to do is follow the method as shared above.
2. How to remove watermark from WOW slider using source code?
All you've to do is go into the 'data folder' created when publishing your slider. Replace the images there with the original watermark-free images. The next step is to go to the Engine 1 folder, right-click wowslider.js and open it. Type' 0 0 0 0' in the search bar by pressing Ctrl + F. The new text will appear, and all you've to do is replace 'show ()' with 'Hide (), and you're good to go.
3. How do I set my own watermark in WOWSlider?
You can set your own watermark and go to the slider's setting properties. Click on 'Design tab, and go to advanced options below the watermark option. You can add your custom watermark, thereby entering 'Watermark setting.'
Conclusion
We've shared with you the most convenient way to edit the images and remove WOW Slider watermark from your images. You can choose to get the premium license of WOW Slider, but MarkGo is a better value for money. You can download the application on your desktop or mac device by clicking on the following links: