A watermark ruins enchanting and attractive pictures and imposes a bad impression on viewers. If you are a B612 user and want a watermark/logo-free shot, then this article is going to be very fruitful for you. This article is all about how to remove the B612 watermark free of cost in very easy steps. We will also share very helpful software that can remove every watermark or logo along with B612. So, let's start!
Part 1: How to Remove Any Watermark Not Just for B612 [Quick Effective Way]
MarkGo is a tool designed by iMyFone Filme, particularly for the purpose of adding and removing watermarks, logos, and objects from images as well as from videos. It is available for both Mac and Windows users. Download it for free and install it on your PCs to use its features.
Tips
Hunting for a tool to get rid of
B612 watermark
efficiently? Why not try
iMyFone MarkGo
, a professional watermark remover that helps you remove watermark 100% clearly with AI-powered Technology within 5 secs in 1 click.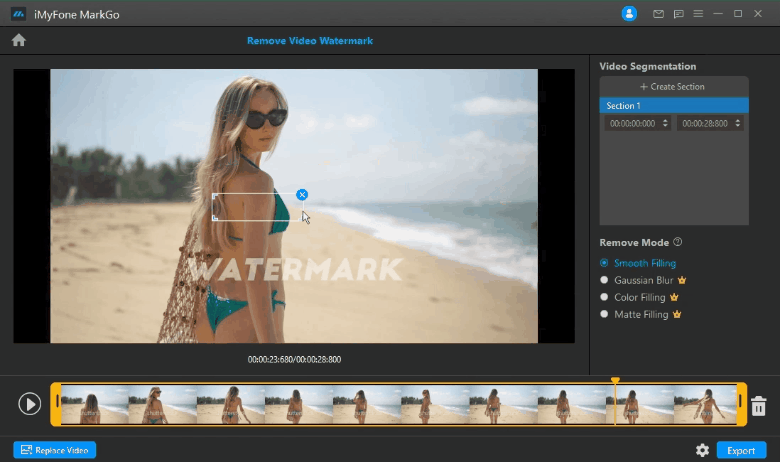 Wonderful Features of iMyFone MarkGo
User-friendly, without any technical knowledge required to remove watermark in just one single click.

Easy to remove and add watermark for videos and pics, with no traces at all.

Free to try the remover, during which you can check the compatibility.

Able to add watermark for up tp 100 pics in batch for copyright considerations.
Watch the video tutorial to learn more about MarkGo.
Step 1: Download and Install MarkGo
Go to the iMyFone website and download the software free of cost. It will easily be installed on both Mac and Windows platforms.
Step 2: Open and Select Option to Get Rid of B612 Watermark
After installation, open MarkGo, and you will see different options on the first screen. You will have to click on the 2nd option, "Remove Image Watermark" because you want to remove the watermark or objects from images.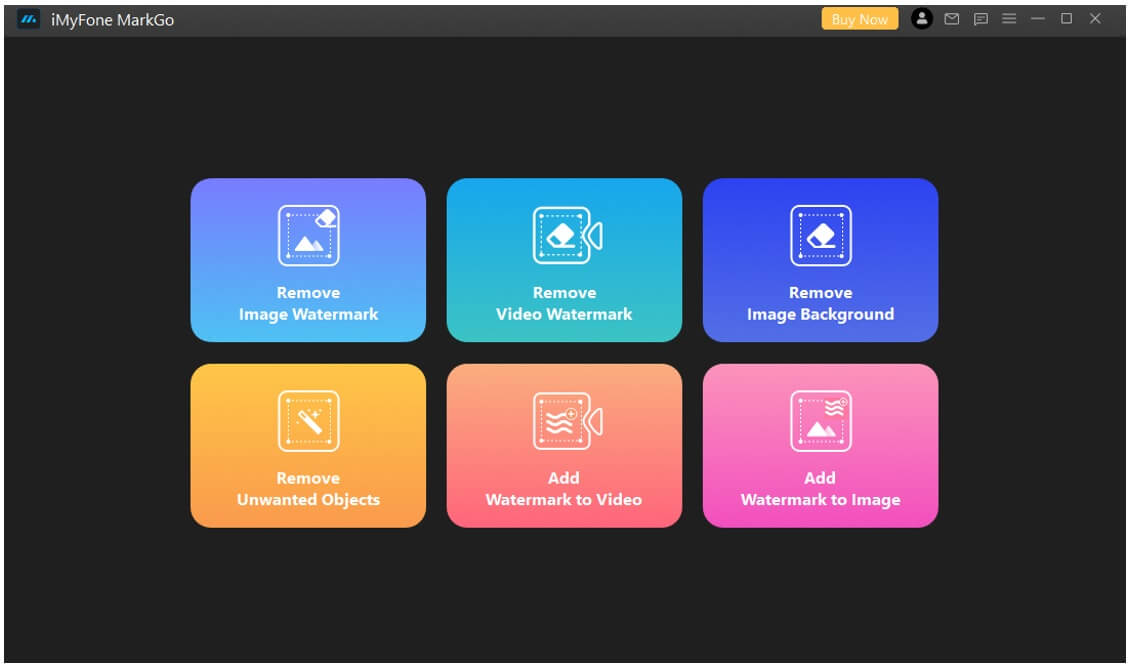 Step 3: Add the Image and Select Area that Needs Removing
Now, the software will ask you to add images from your device. Click on the Add Image button and then select the area you want to remove by using the Selection Tool on the right side of the screen.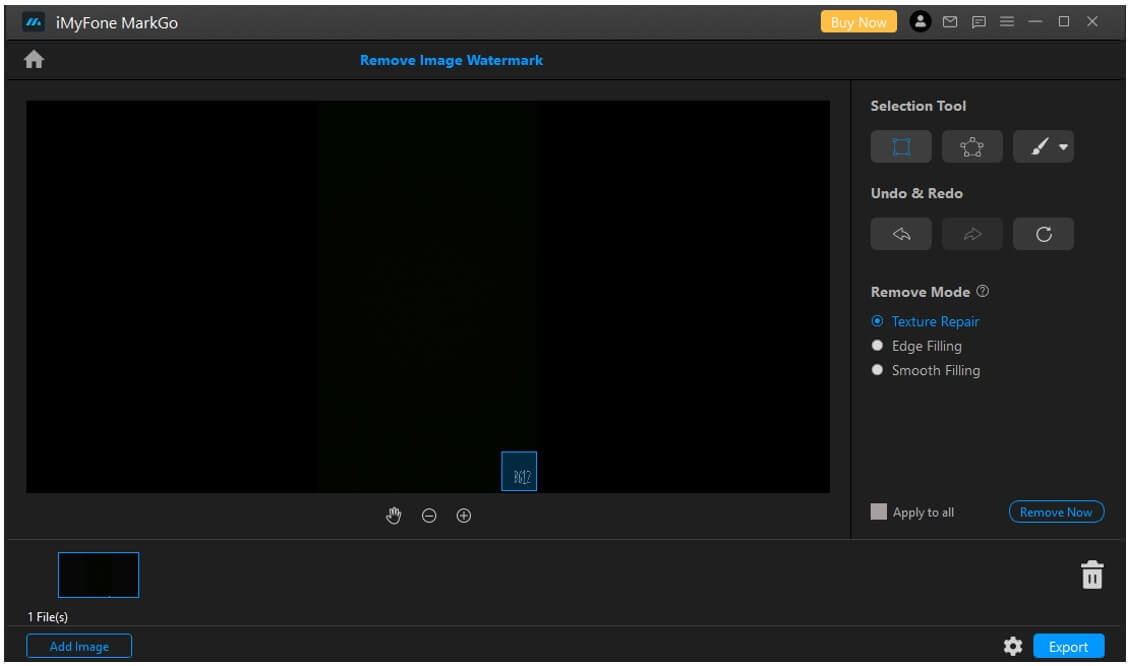 Step 4: Remove and Export Photos with No B612 Watermark
Once you select the desired area, click on the Remove Now button, and the selected object or watermark will be removed. In the end, click on the Export button and save your image on your device.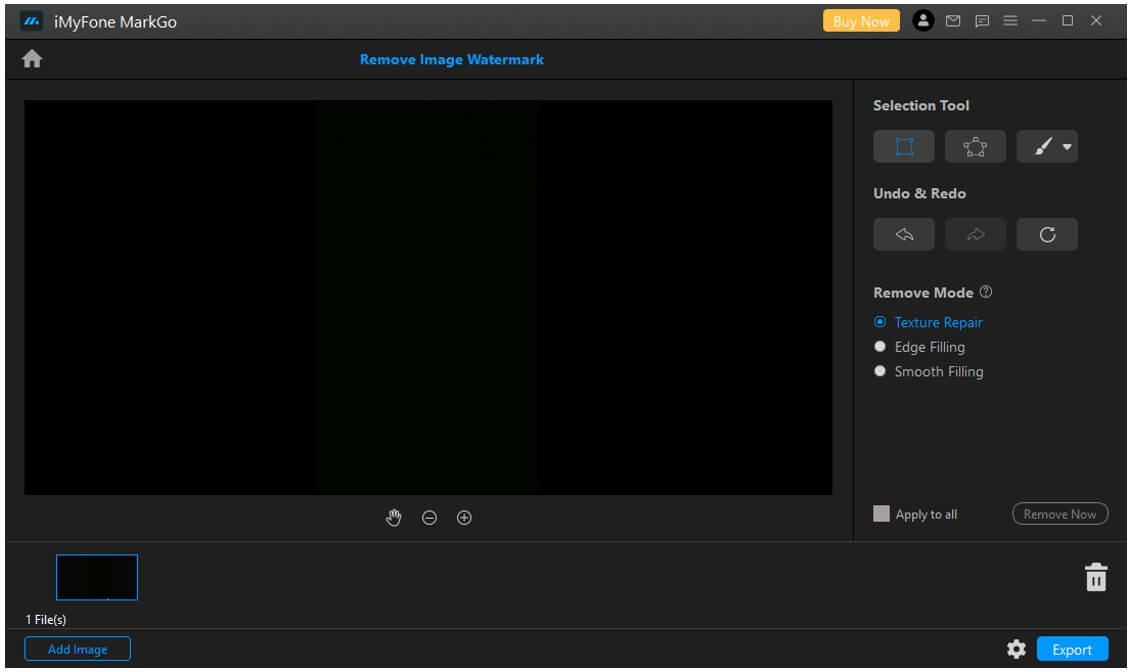 Part 2: How to Remove B612 Watermark by Taping the B612 MARK to Turn it OFF?
B612 is an all-in-one mobile application for photography lovers. You can use it as a beauty camera and an editor for images and videos. It offers a number of features and effects for making pictures more than amazing. At the same time, it can make images unacceptable by adding a watermark on the side. But do not worry because we are going to suggest to you the easiest method to Turn OFF the B612 watermark.
Step 1: Download and Install
Firstly, download and install B612 on your mobile and then open it. This application is available for Android and iOS users.
Step 2: Open It and Select the Setting
Now open the B612 Camera, and you will see 3 dots encircled with white color on the top left corner of the camera interface. Tap on the 3-dots icon, and some more options will move down on the screen. Tap on Settings, and you will see a list of many options.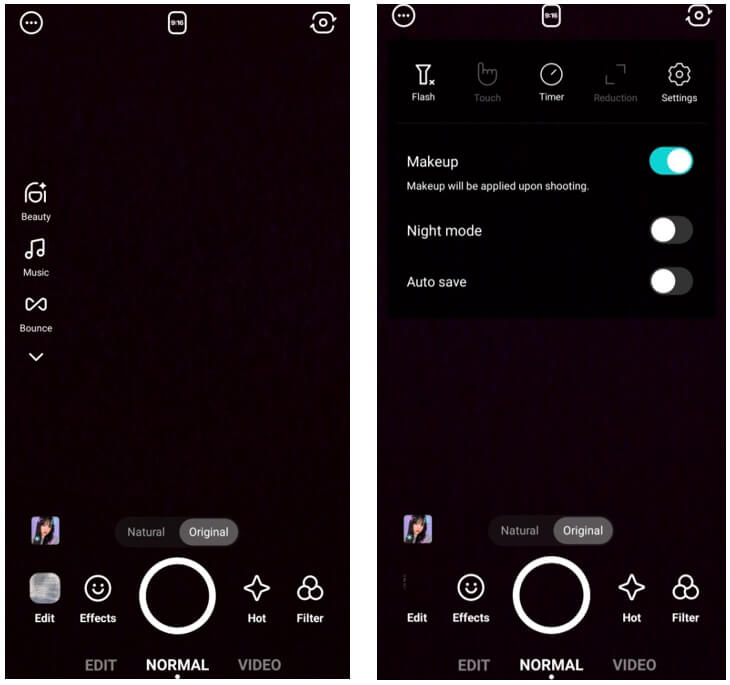 Step 3: Turn OFF the Mark Option
After selecting Settings, you will see a list of many options. Under the Camera Setting, tap on the 6th option of the B612 mark and turn it off.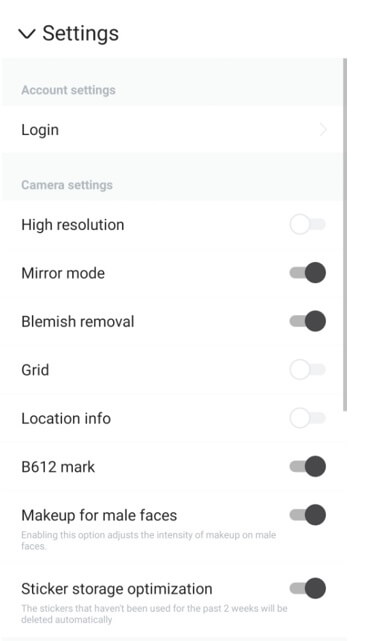 Step 4: Take Selfies and Images Without Watermark
Now go back to the camera interface and click a picture. You will see that the image will be saved without a watermark.
Part 3: FAQs-How to Remove B612 Watermark/Logo in Shot Pictures for Free?
1. How can I remove the watermark from a selfie for free?
B612 is a mind-blowing mobile application that works as a beauty camera and video/image editor at the same time. Yes, it leaves its watermark, but you can easily remove it or turn off the watermark option from its setting. Follow the steps mentioned in Part 2 of this article for taking watermark-free selfies.
2. How can you remove watermarks from photos?
There are hundreds of software, applications, and online tools which allow removing watermarks and different objects from images and videos. One of them is MarkGo, a wonderful software for removing and adding watermarks and objects to both images and video formats.
3. How do I remove an object from a photo in B612?
Well, B612 is a camera and video/pictures editor, but it lacks the proper function of removing objects from images. You can remove its watermark easily, but for the removal of objects, you will have to move into a deep process of cutting and pasting parts of images over each other. Instead, you can use MarkGo; it can easily remove objects from photos.
4. How can I remove Watermark from Picsart?
Picsart allows the removal of watermarks from images in a unique manner. You will have to use the screenshot addition method for this purpose. Check out thi‍‍s article for more details. Moreover, you can also use the Picsart premium plans for watermark-free images or effects. It will be easier than the earlier one.
Conclusion
Watermarks are the identification of software, and almost every software or application adds its watermark for its identification and popularity. The same is the case with B612. On the other hand, watermarks are not accepted or liked by the users. For such people, we have discussed the best and easiest ways to remove watermarks or any other objects from images using MarkGo and B612. Follow the above-mentioned steps and enjoy B612 images without watermarks.