As a software developer, you often come across different modeling tools like Visual Paradigm, Star UML, etc., for software modeling. Different projects have different requirements. Therefore, you often find yourself switching between different tools. Therefore, purchasing a license might not be a worthy decision for you.

However, not buying the license comes at the expense of undesired and unpleasant watermarks all over the designed workflows and models. Therefore, we have come up with Star UML to remove watermark magic for you.
We will discuss how to remove the watermark from Star UML without paying anything.
Part 1. How to Remove Unregistered StarUML Watermark with Best AI Remover
iMyFone MarkGo is a watermark remover that lets you remove watermarks, logos, objects or add watermarks, logos, and objects to your images and videos. iMyFone MarkGo is packed with some other amazing features that you will love when doing the photo editing process.
Most Advanced AI Watermark Remover
Hunting for a tool to get rid of Unregistered StarUML watermark efficiently? Why not try
iMyFone MarkGo
, a professional watermark remover that helps you remove watermark 100% clearly with the most advanced AI-powered Technology within 5 secs in 1 click.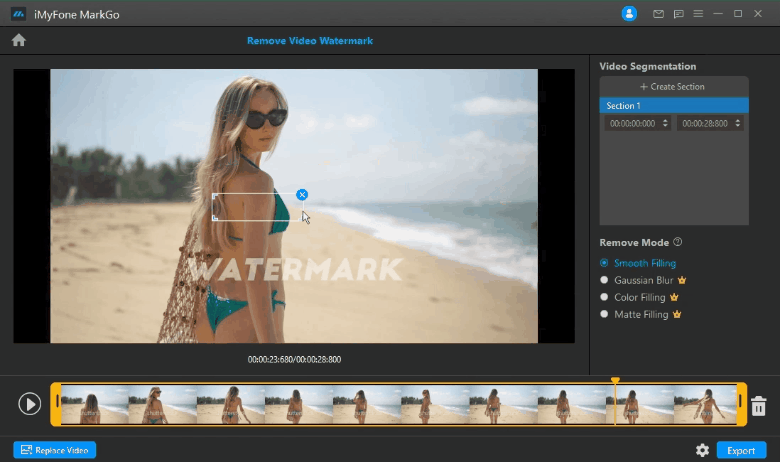 Wonderful Features of iMyFone MarkGo
User-friendly, without any technical knowledge required to remove watermark in just one single click.

Easy to remove and add watermark for videos and pics, with no traces at all.

Free to try the remover, during which you can check the compatibility.

Able to add watermark for up tp 100 pics in batch for copyright considerations.
Watch the video tutorial to learn more about MarkGo.
Here is a step-by-step guide on how to get rid of the StarUML watermark for free.
Step 1: Installation and Launch MarkGo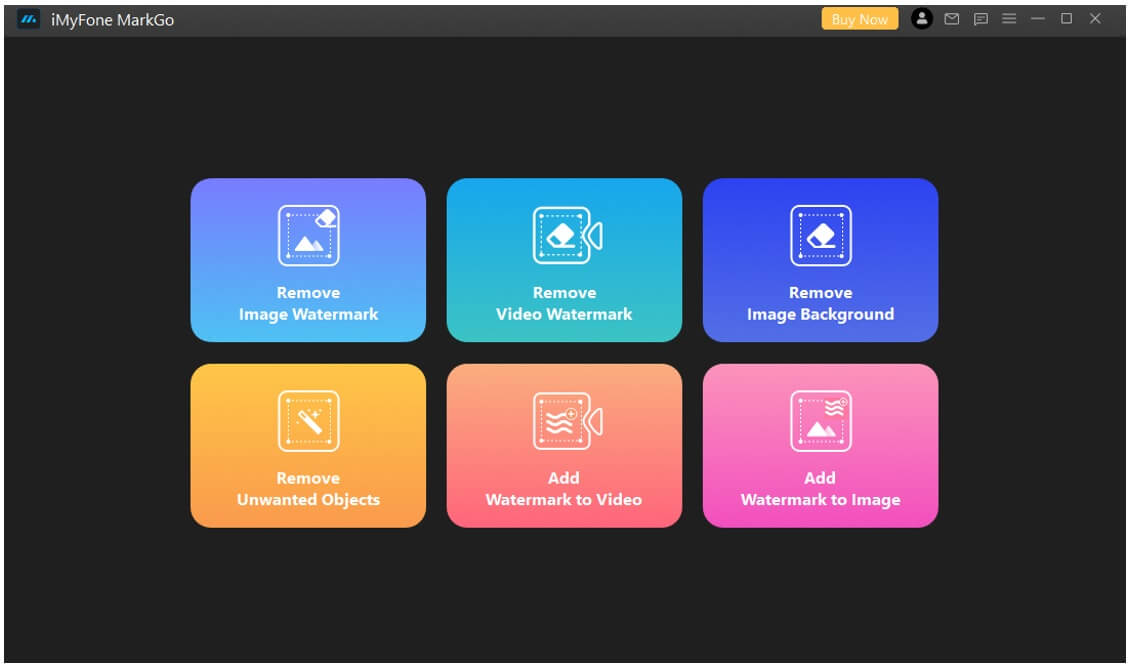 You can easily download the iMyFone MarkGo software on your device by visiting the website. After installation, launch the application and signup for the free or paid account. The next step is to choose Remove Image Watermark from the application' s main window.
Step 2: Upload StarUML Image to MarkGo
Since you want to remove the watermark from your diagrams, you' ve to export the diagrams as JPG or PNG images. Image can be uploaded by clicking on 'Add Image' tab shown on the screen. It will make the watermark removing process easier.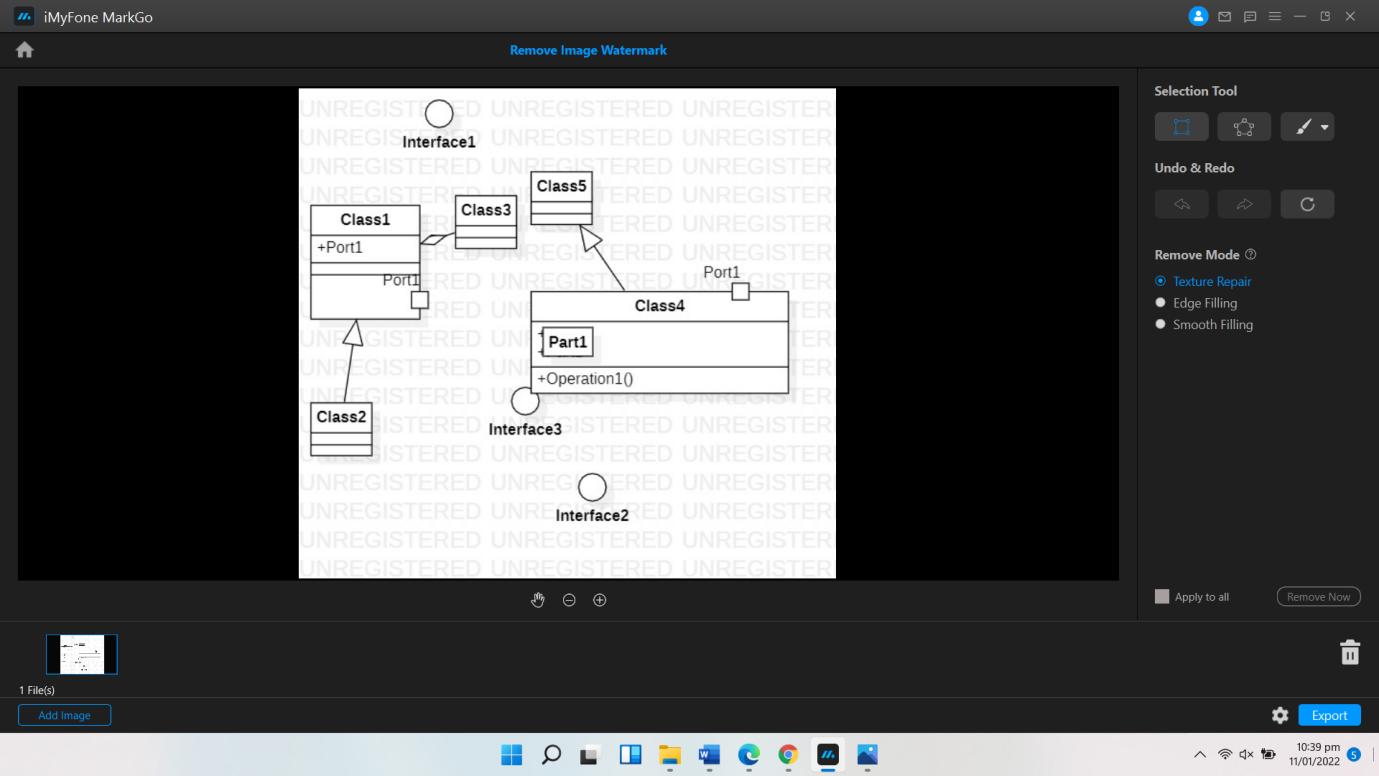 Step 3: Select The Watermark by Using Lasso Tool
Since the diagram is crowded with the watermark, you' ll have to choose all the three selection tools to mark all watermarks. The marquee tool will be beneficial for selecting chunks of rectangles. The Lasso tool and brush tool will help you select the tricky areas of the diagram.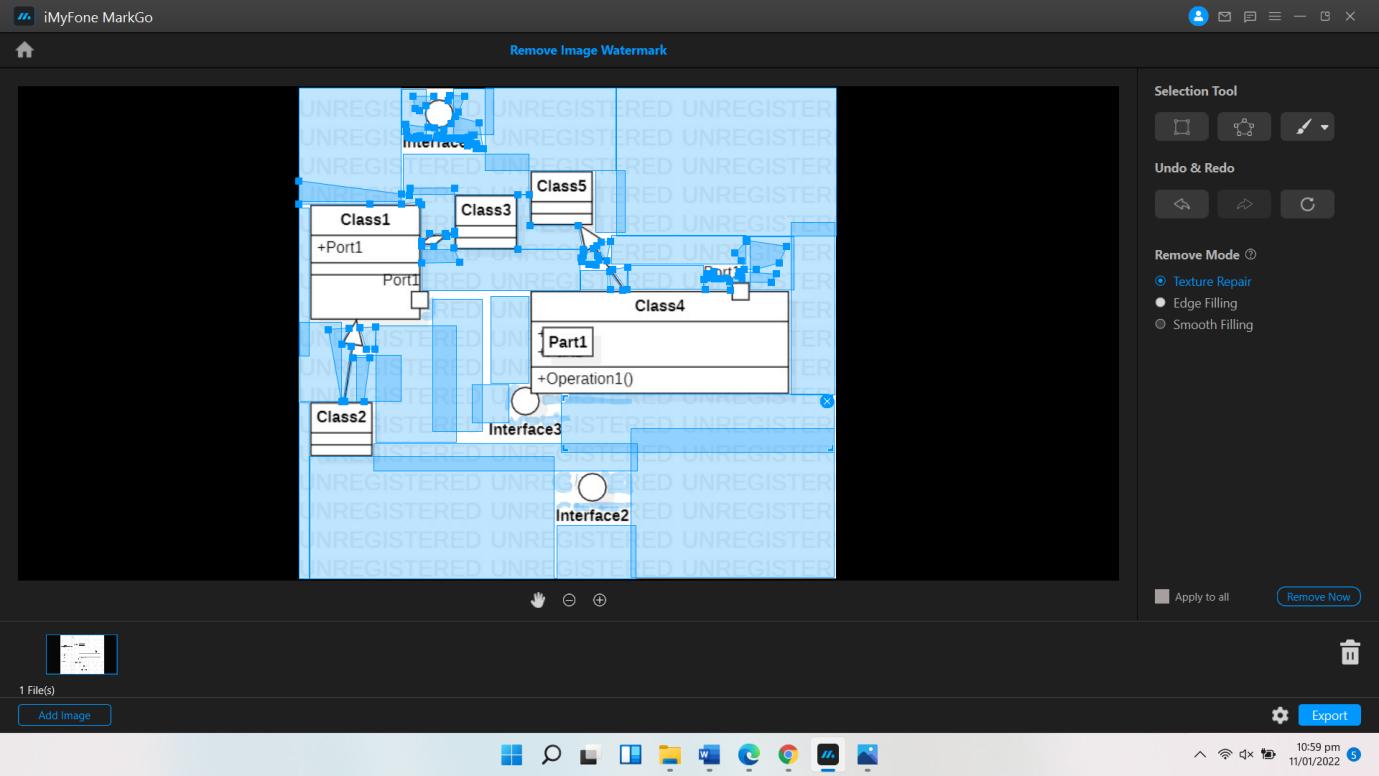 Step 4: Remove the Watermark by Choosing Various Mode
The next step is removal of watermark. You have to choose 'texture repair' or 'smooth filling' as a removal mode and hit the 'Remove Now' tab. If you' re editing more than one diagrams, also mark the 'Apply to all' box.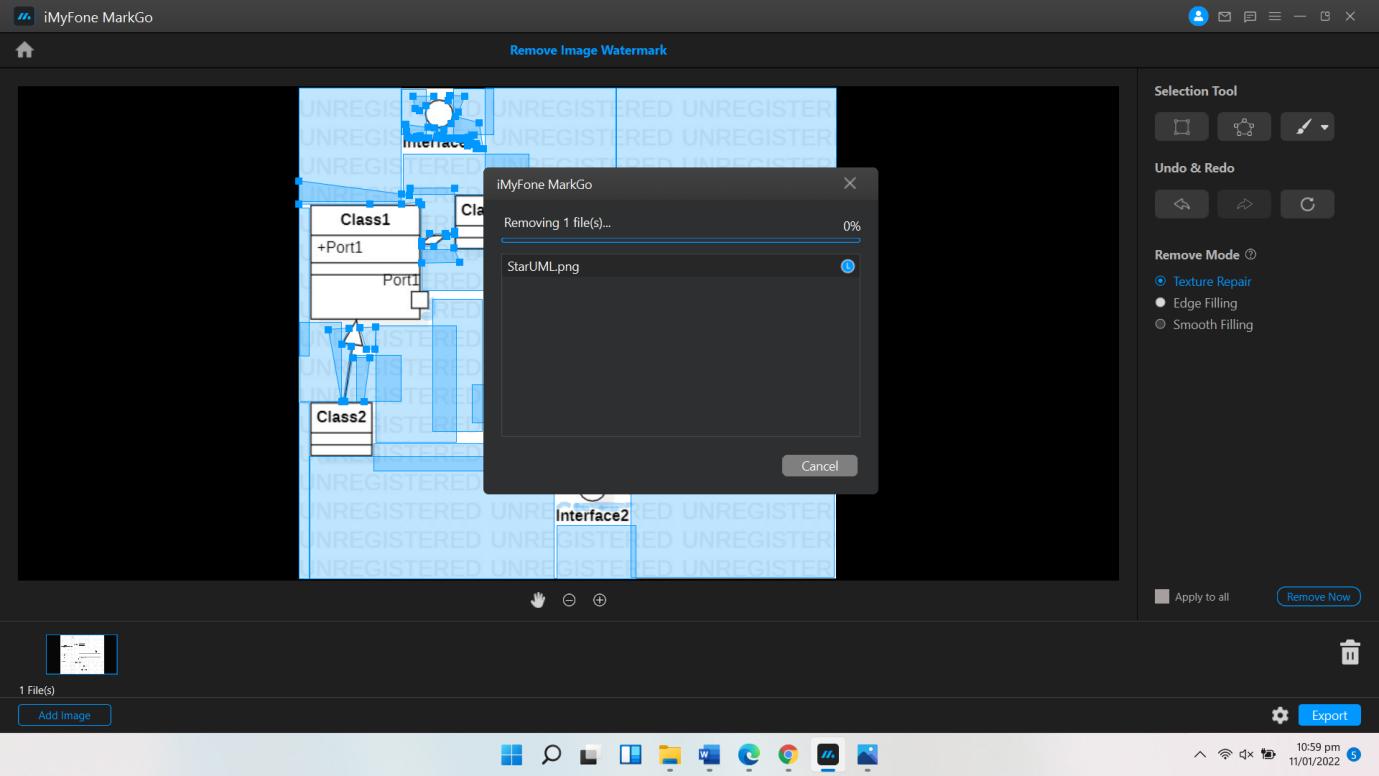 Step 5: Export the File with No Watermark
You can see that the watermarks have been removed from the diagram. All you' ve to do is export the file on your device.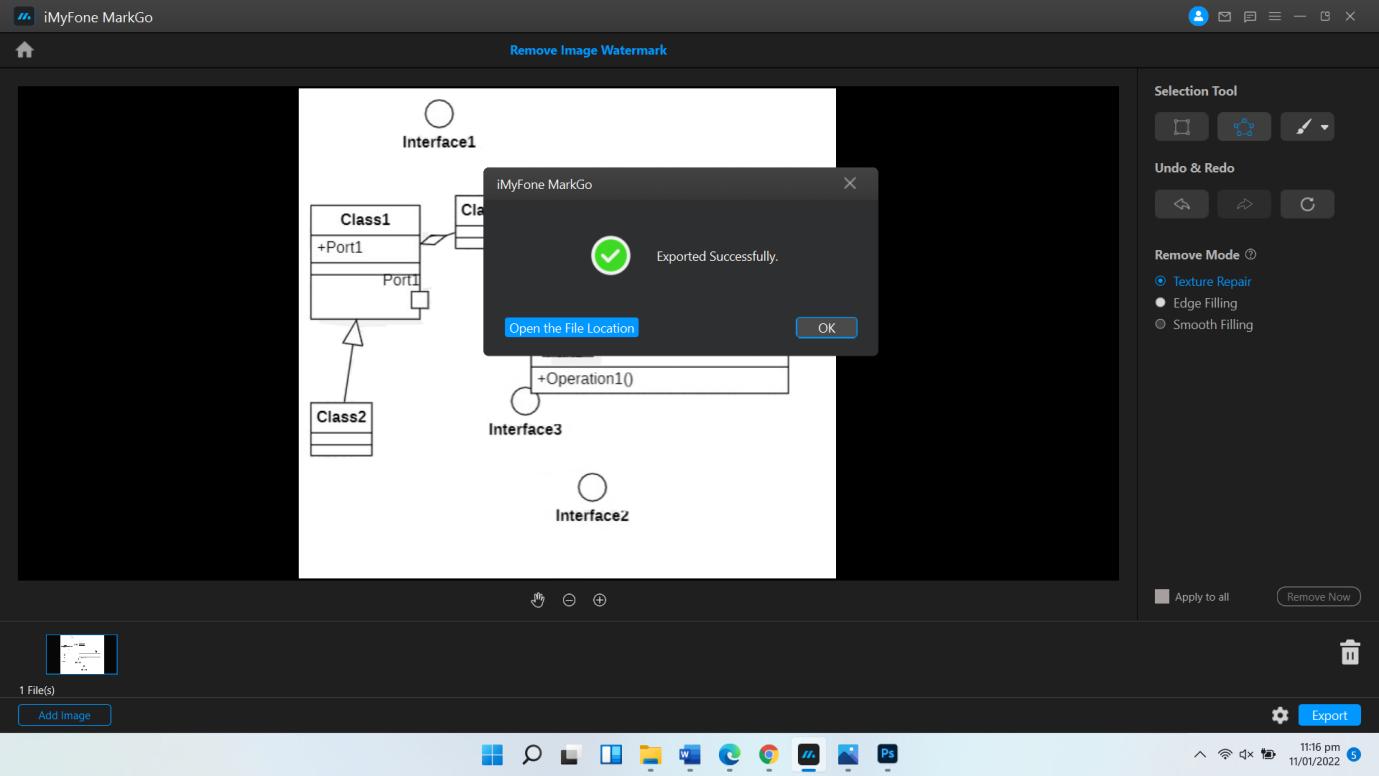 Part 2. How to Get Rid of StarUML Watermark in StarUML by Purchasing a License
You can remove the StarUML watermark without leaving the interface of the modeling application. Yes, all you' ve to do is purchase the license for the watermark-free version. Once purchased, here is what you need to do.
1. Register with a license key on a device having an active internet connection.
2. Launch the application and draw the diagrams you want to draw.
3. Once you export the diagrams, there will be no watermark on them.
However, there are different pricing and validity terms and conditions for a license. Make sure to read everything before signing up for a specific license type.
Part 3. FAQs - How to Remove Unregistered StarUML Watermark in StarUML for Free
1. How to remove the unregistered StarUML watermark in StarUML?
You can remove the watermark from your diagrams without doing much work. All you've to do is export the diagram as an SVG file and open it with Notepad. After that, you've to edit the coding of the file and delete the watermark from there.
For non-developers, the easiest way is to use MarkGo and get rid of the annoying watermarks hovering over your diagrams.
2. How to remove an unregistered StarUML watermark from multiple images?
You can remove the watermark from as many images as you want. You have to install MarkGo on your device and export diagrams in JPG or PNG format. Follow the process as discussed above. You will get flawless diagrams.
3. Is StarUML Open source?
It is an open-source software modeling tool that allows developers to create 11 different types of diagrams to execute projects efficiently.
Conclusion
We' ve discussed how you can start making watermark-free diagrams of StarUML without paying a high license price. MarkGo is a user-friendly, easy, and cheaper option for editing your diagrams and getting rid of the annoying unregistered watermark on StarUML diagrams.
You can remove unwanted objects, add watermarks, remove watermarks, add text, add logos, and a lot more by just downloading the application on your Windows or Mac device.