ShootProof is an online platform for users to take credit for their creations. It allows the user to upload their photo and add their watermark to it. The client can only access it without a watermark if he/she pays for it.
But there is an alternate way to get rid of this watermark. iMyFone MarkGo is a tool that helps the user to erase the ShootProof watermark for free. Let us see how one can use a tool to get rid of any watermark.
Part 1. How to Remove ShootProof Watermark Completely Free
ShootProof is a website that allows users to upload their pictures on it. The users can add a watermark and sell them to clients. The client can only remove the watermark from the picture by paying for it.
If anyone wants to remove the ShootProof watermark for free, then he can use iMyFone MarkGo. It is a simple and easy tool to remove the watermark.
Tips
Hunting for a tool to get rid of ShootProof watermark efficiently? Why not try
iMyFone MarkGo
, a professional watermark remover that helps you remove watermark 100% clearly with AI-powered Technology within 5 secs in 1 click.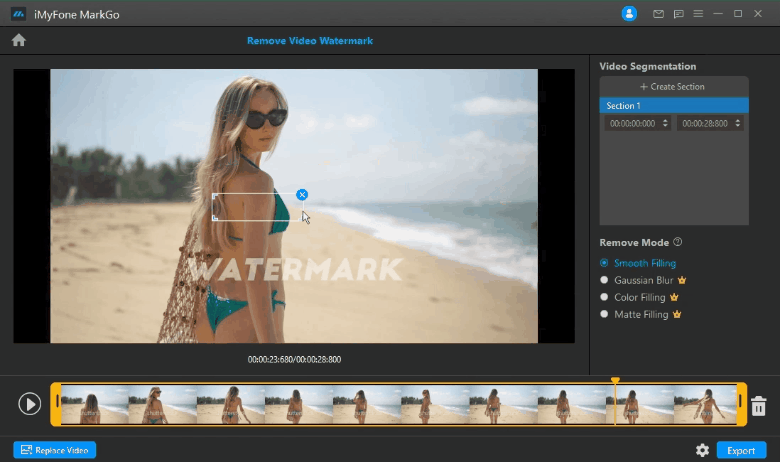 Step 1: Download and install MarkGo. Open it and click on the option of "Remove Image Watermark".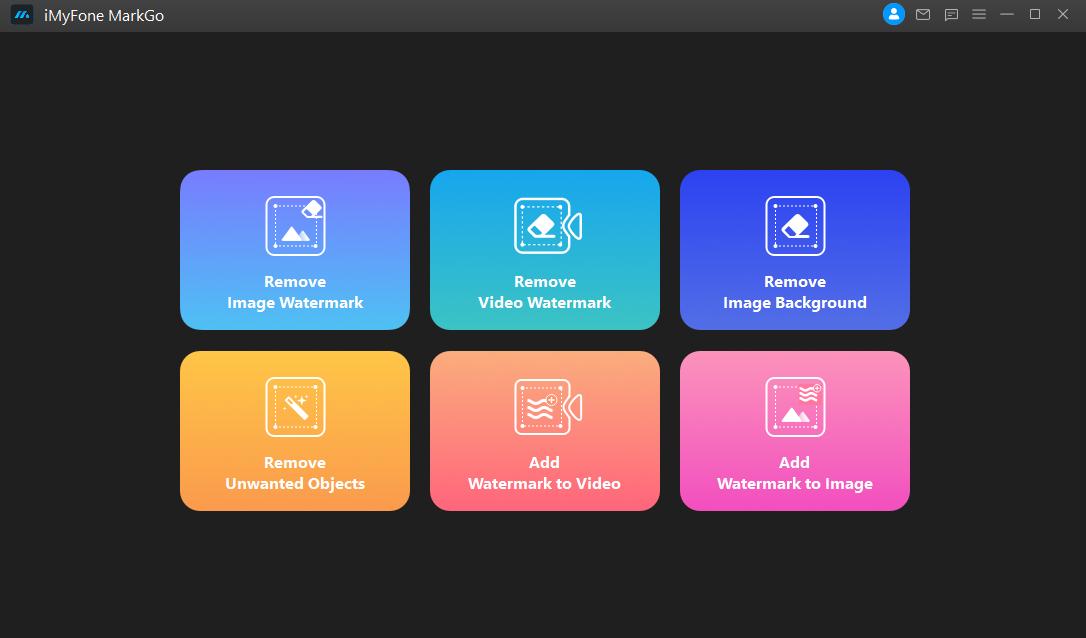 Step 2: The next step is to upload the photo. Click on "Add Photo" and browse the image of ShootProof.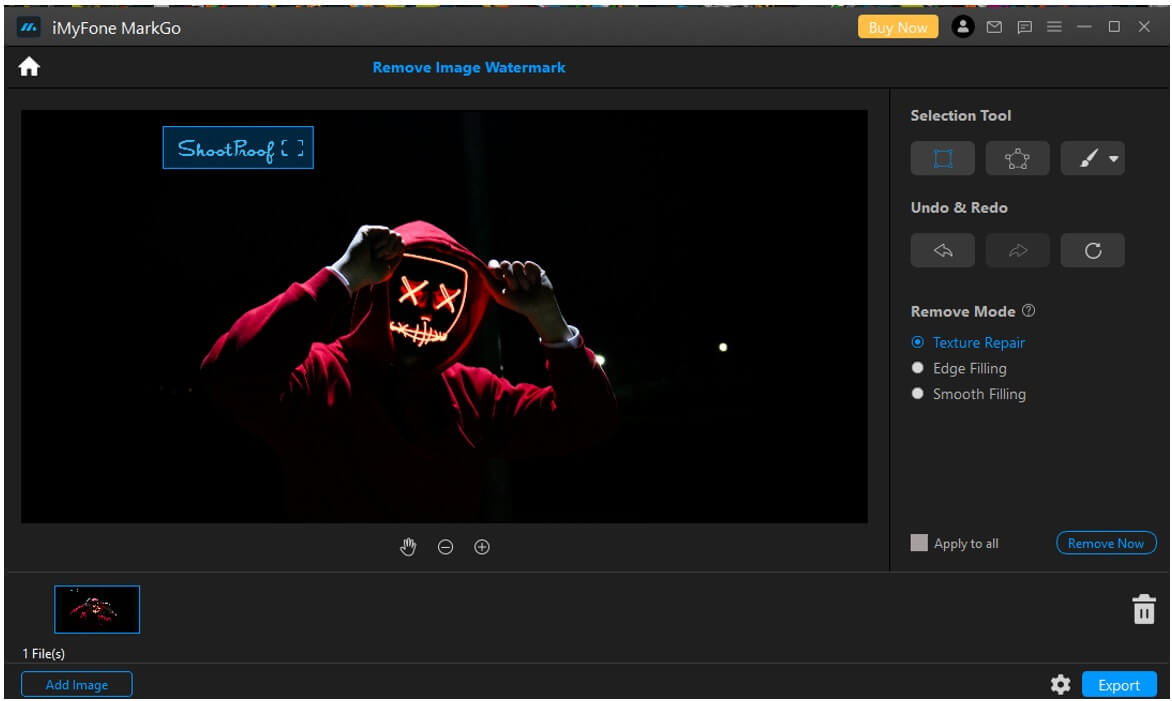 Step 3: With the help of the Selection tool, select the watermark of ShootProof and click on "Remove Now".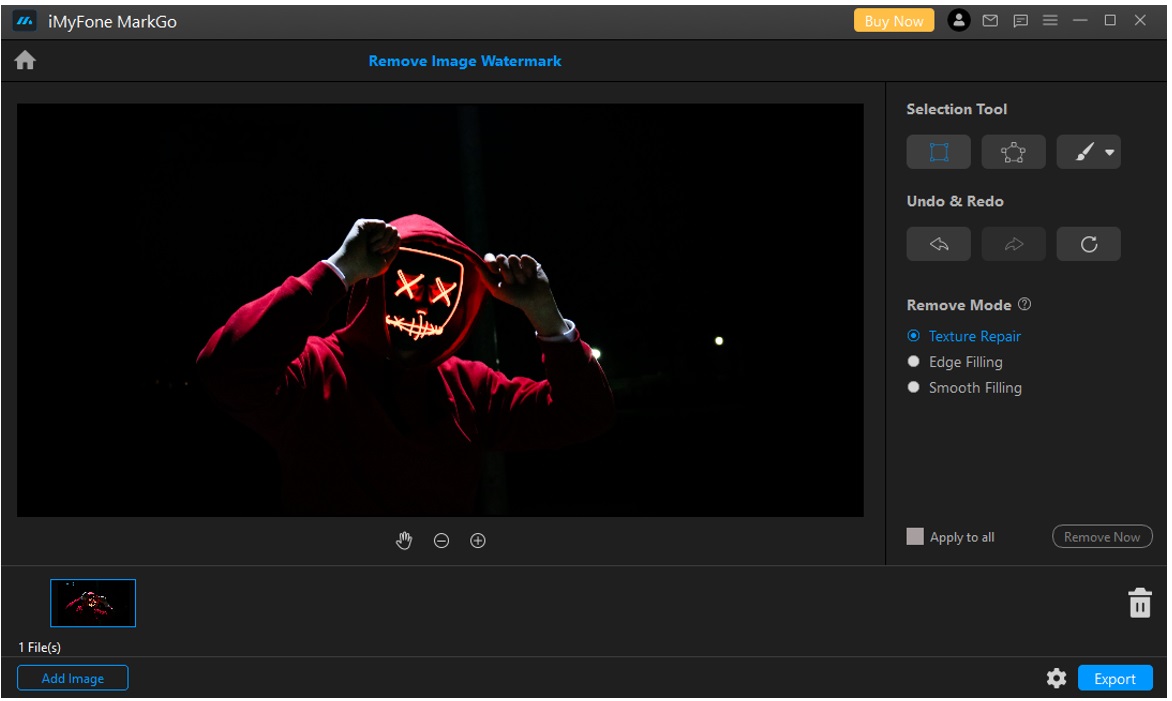 Step 4: The watermark is now removed. You can export the photo by clicking on the "Export" option at the bottom right corner.
Part 2. 6 Tips About Using ShootProof's Watermarking Feature
The best thing that a person can do to protect his/her photos is by adding a watermark to them. ShootProof is a website that applies the watermark to all the photos you upload.
First, you need to design the watermark, and then with every upload, it will be added to the photo automatically. However, if you don't want the watermark on a certain picture, you can change it from the settings. ShootProof allows the user to create their custom watermark with a text or even an image.
There are many things that the user needs to know before using the watermark feature of ShootProof. So, here are some tips that can help anyone who wants to use ShootProof.
Tip 1: Once the watermarks are added to the photos, you apply any kind of changes to them. There will be no changes made to the previously uploaded photos. It will be applied to the photos you upload after making the changes. If you don't want a watermark on certain photos, you can go to the settings before uploading the photo and turn off the watermark.
Tip 2: If you are thinking of using an image for your watermark, make sure it has a transparent background, and the file is in PNG format. A solid or visible background will cover the photo, and it won't look good.
Tip 3: ShootProof has options to adjust your watermark. You can adjust the position and opacity of the watermark on the photo. If the watermark is too visible, it will be hard for people to steal it. If it's too transparent, then there is a high risk of misusing the photo.
Tip 4: The user can sell digital copies of their photos. If someone purchases the photo, there will be no watermark on it.
Tip 5: The user can add a copyright symbol to their watermark. It is pretty easy with Photoshop. Go to the "Custom Shape Tool" in Photoshop, and you will see the copyright logo among the list of shapes.
Tip 6: Last but not least, people can take screenshots of your photos, and ShootProof cannot prevent it. But they will receive the watermark on the photo. The best way to prevent it is to advise the people that it is nothing but stealing someone's work and is ethically inappropriate.
Part 3. FAQs – How to Remove ShootProof Watermark Free
1) How do I remove a watermark from my ShootProof?
You can remove ShootProof by going into the preference settings and turning off the watermark for uploads. Secondly, you can use iMyFone MarkGo to remove any type of watermark from the picture.
2) Can digital watermarks be removed?
Yes. ShootProof has an option to turn off the watermark. It works for an individual picture. Make sure to turn it off before uploading to remove the digital watermark from the photo.
3) Can you remove a watermark from a photo?
Yes. Any type of watermark can be removed with the help of iMyFone MarkGo. It is a very effective tool that works with just a click.
4) Can ShootProof detect screenshots?
No. ShootProof cannot detect screenshots. People can easily take screenshots from ShootProof. There is nothing that can prevent people from doing it.
5) How to change Social Preset and Original Size preset in the digital rules?
There are plenty of digital rules that users can apply. You can go to the settings, click on "Free Digitals". You will now see an option of "Create Free Digital Rule". From here, you can change the social preset and original size preset easily.
Conclusion
ShootProof is a great platform for people that want to keep their name as a watermark on the photo. People can take screenshots for free. But a watermark will appear on the image if anyone takes the screenshot. Here, MarkGo comes to help. With the help of iMyFone MarkGo, the ShootProof watermark can be removed with just a click.