Videoshop is an editing tool that people can use on their phones to edit videos. But the free version of Videoshop adds a watermark to the video. Here, we will discuss how to remove the Videoshop watermark.
Part 1. One-Click to Remove Watermark from VIdeoshop Completely Free – MarkGo
iMyFone MarkGo is a watermark tool that adds and removes the watermark from any media file, whether it be a photo or a video. It is a tool that downloads and installs in seconds and is not complex at all. It is available for Windows and macOS, so anyone can use it. With MarkGo, you can erase the watermark from the video with just a click.
The only problem you will face is that Videoshop is a phone application while iMyFone MarkGo is a tool for PC. You need to transfer the edited video from Videoshop to your PC through any means. Once the video is available on your PC, you can use MarkGo and remove the watermark with just a few steps.
Tips
Hunting for a tool to get rid of Videoshop watermark efficiently? Why not try
iMyFone MarkGo
, a professional watermark remover that helps you remove watermark 100% clearly with AI-powered Technology within 5 secs in 1 click.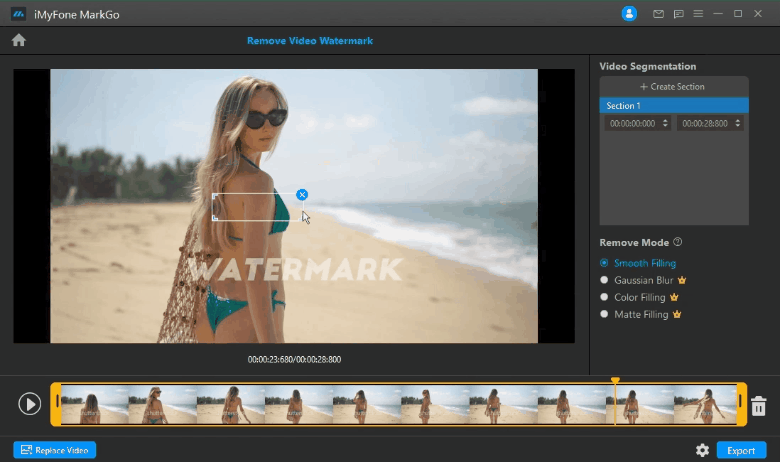 Wonderful Features of iMyFone MarkGo
User-friendly, without any technical knowledge required to remove watermark in just one single click.

Easy to remove and add watermark for videos and pics, with no traces at all.

Free to try the remover, during which you can check the compatibility.

Able to add watermark for up tp 100 pics in batch for copyright considerations.
Watch the video tutorial to learn more about MarkGo.
Step 1: Go to the website and download MarkGo. It has a free or trial version that you can download for free. Install the tool and open it. As MarkGo has more than one feature, you need to click on "Remove Video Watermark" on the home screen.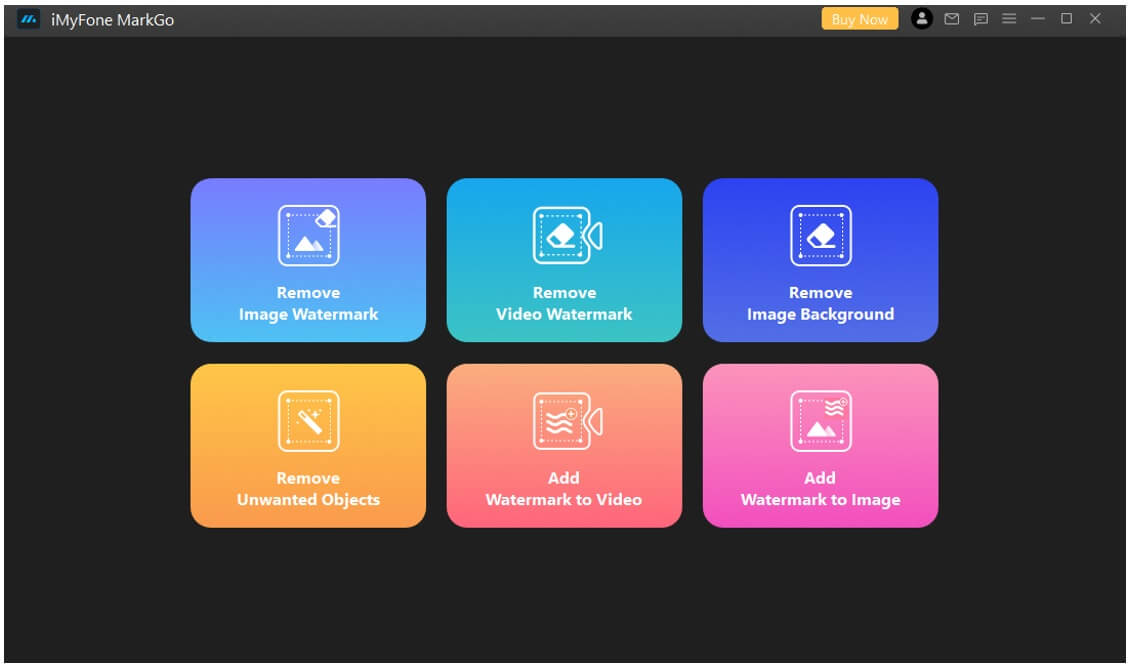 Step 2: A new window will open asking you to "Add Video". Browse or upload the video that you edited with Videoshop. Make sure the video has a watermark so that you can remove it. Or you can drag and drop the video here as well.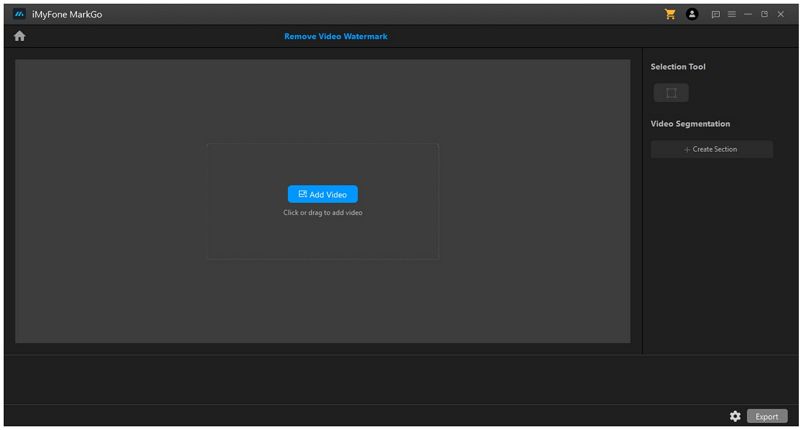 Step 3: After uploading the video, you will find an option of "Create Selection" on the right-hand side. This option will generate a box on the video. Take the box and select the whole watermark with it.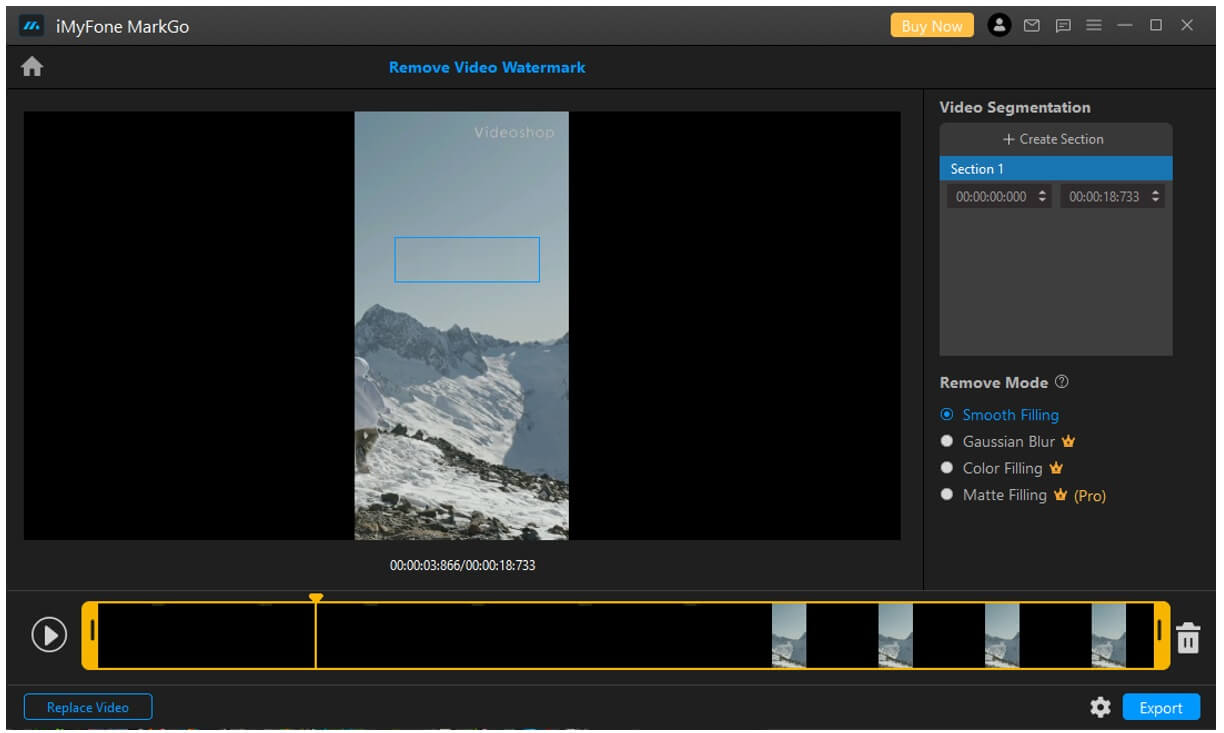 Step 4: Now play the video; the watermark won't appear on it as it is erased with the help of the box. You can export the video by clicking on the "Export" button.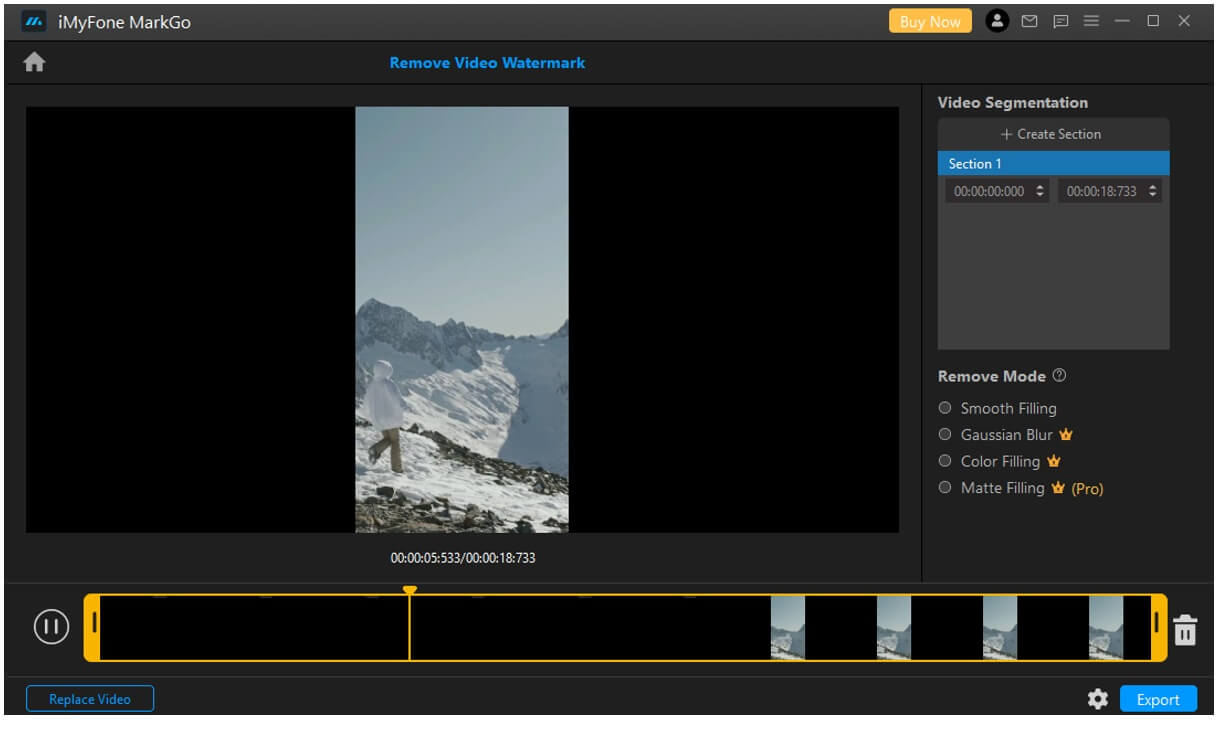 Part 2. Get Rid of Watermark by using Videoshop
There is another way to get rid of the Videoshop watermark. But it involves paying money and buying the Pro version of the application. If you find this tool effective and it fulfills your editing needs, you can pay for it. There are different plans that you can buy. It offers different prices for different plans and anyone can pay for whatever he/she likes.
The Pro version of Videoshop not only erases the watermark but also has additional features. These features include more filters, transitions, themes, texts, screens, and much more. It is available in a one-month, 12 month, and lifetime plan. Moreover, it also has a plan where you can buy no watermarks. It is the best deal that one can get. No other app has this feature of only excluding the watermark from the video.
The 1-month subscription plan of Videoshop costs around $2.50, the 12-month subscription plan costs around $15.65, and the lifetime subscription costs around $33.00. But if you remove only the watermark, then you can do it for $2.45.
Part 3. FAQs – How to Remove the VIdeoshop Watermark for Free
1) How do you remove a watermark from a video app?
If there is a watermark after editing on a video app, then you can download this video on your PC. Now, with the help of iMyFone MarkGo, you can easily erase the watermark from the video. It is a simple and effective tool that works for free.
2) Can the watermark be removed from a video?
Yes. There are two methods of removing a watermark from the video. Firstly, you can buy the license of that application, and the watermark won't appear on your videos anymore. Secondly, if you don't want to spend any money, you can opt for iMyFone MarkGo and remove the watermark easily.
3) How do I remove a stock watermark from a video?
Download and install iMyFone MarkGo on your PC. Open the tool and click on "Remove Video Watermark". Import the video and select the watermark with the help of the selection box. The watermark will be removed.
4) How do I remove watermarks for free?
iMyFone MarkGo is the solution for removing a watermark from a video without any cost. You can download the trial version for free and remove any kind of watermark from the video.
5) How do you get rid of watermarks?
Whether the watermark is on the photo or video, for both cases, iMyFone MarkGo is the solution. It helps the users to remove the watermark easily with just one click. It is the simplest tool available on the market.
Conclusion
When it comes to removing watermarks from a video, there are not many tools that do so. iMyFone MarkGo is the tool that one can use to remove the watermark from videos for free. But if you want an alternative solution, then you can purchase the license of Videoshop to erase the watermark. However, the easiest and free way to get rid of watermarks is iMyFone MarkGo. You can download the trial version for free and use it for any type of watermark.