In this article, we are going to discuss the most effective batch photo watermark software and tool that will allow you to use the batch processing feature. Through batch processing, you will be able to add watermarks to your photos in no time.
1 Click to Batch Add Watermark to Photos - MarkGo [up to 100 Photos]
Adding batch watermarks to photos is not a big deal anymore, as MarkGo has amazingly solved this problem. You can add watermarks up to 100 photos in one go. The best part is that you just need to select and adjust the watermark in only one photo. The same watermark will be applied to the rest of the photos with one click. However, MarkGo also allows you to add watermarks to each separately to protect your images against batch watermark removal.
You can add text and image watermarks using MarkGo. There can be multiple watermarks in one image, and you can adjust every watermark according to your needs.
iMyFone MarkGo
Start to Remove Watermarks from Videos and Images Now.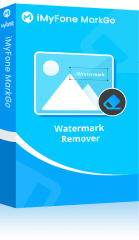 1,000,000+
people have downloaded it
Steps to Add Watermark to a Batch of Images Using MarkGo
Step 1: Open the Tool
Open MarkGo on your computer. Click on Add Watermark to Image.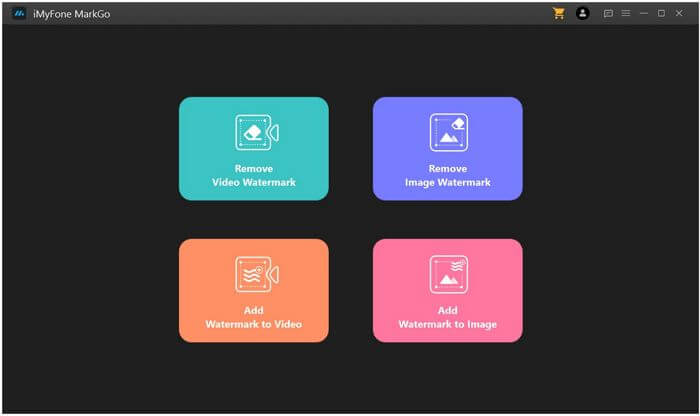 Step 2: Add Images
Now, you need to add images. Click on the Add Image button at the center of the screen. You can also drag and drop your images.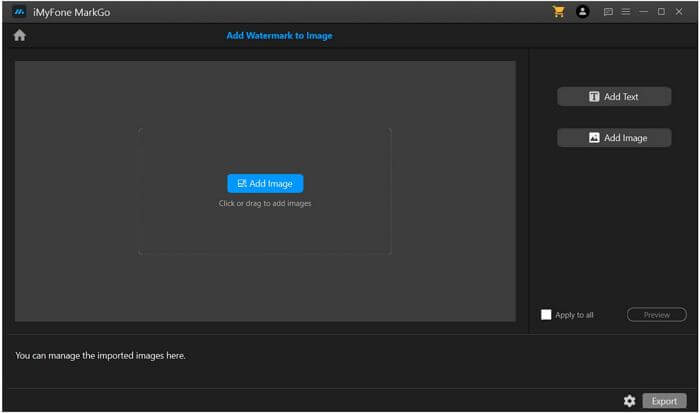 Step 3: Add Watermark
On the right, you will see two options: Add Text and Add Image. Click on Add Text. A text box will appear on the canvas. Double-click on it and type whatever you want.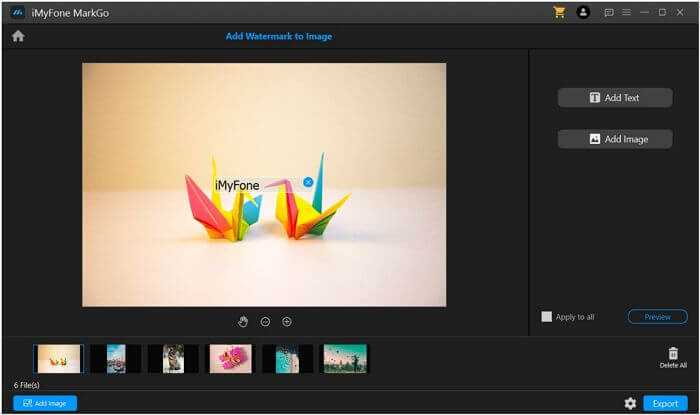 You can also add an image watermark on the images. But for this, you need an image that does not have a background. Click on Add Image. Select that image from your computer. You will see it on the screen. Now, you can adjust both watermarks. You can position them and adjust their sizes.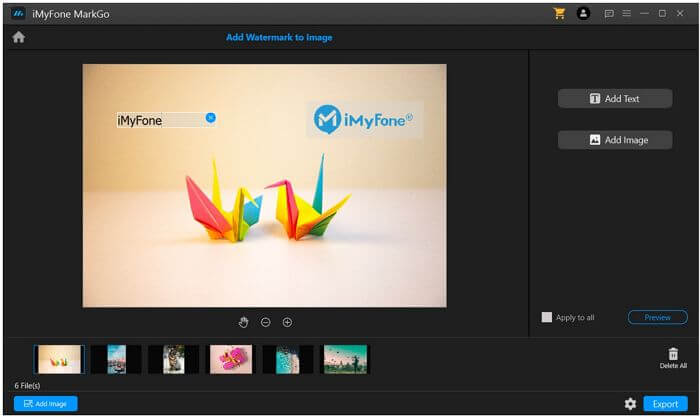 Step 4: Export Images
Click on Apply to all to apply the same watermark on all images. Now, click on Preview. It will take a few moments to add watermarks to all the images. Finally, you can click on the Export button to save the photos.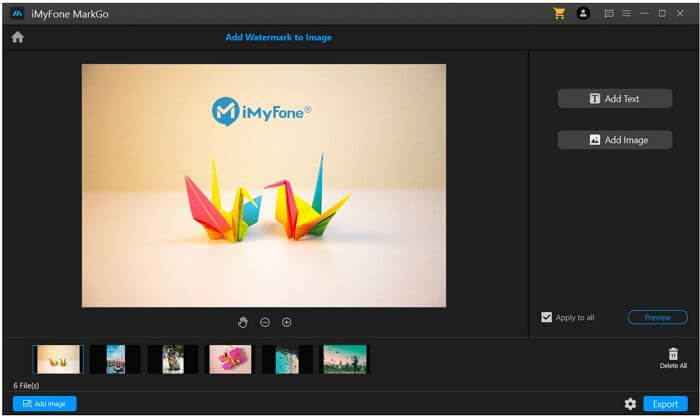 Pros:

Batch watermark removal

Easy to use; perfect for beginners and professionals

Can be used for images and videos

Text and image watermarks can be added

Requires on click to add watermark to all images

Saves time

Can add multiple watermarks in an image
Cons:

You can add only one watermark per image using the free tool.
Batch Watermark Photos Online at Once - Batch Watermark
Online tools are the best option for those who want to add a watermark of any kind on their photos without downloading software/tools. Batch Watermark is one of the well-known online tools regarding watermark addition. Due to the simplicity of its working procedure and the effectiveness of its results, it is recommended for professionals and beginners.
It is a 100% free tool with fast working and batch processing features. You can add text watermarks or picture watermarks to your photos by following straightforward steps. Now, let's have a look at the steps on how to watermark a batch of photos at once.
Steps on How to Use Batch Watermark
Step 1: Open the Tool
After having pictures, the first thing is to go to the Batch Watermark's main site through the link. On your desktop, you will see a self-explanatory interface.
Step 2: Drop Your File
The next step is dropping the file to the tool by clicking on the blue button with the name Choose Images. The tool will allow you to choose and add images from your device. Select your desired image and click on Open.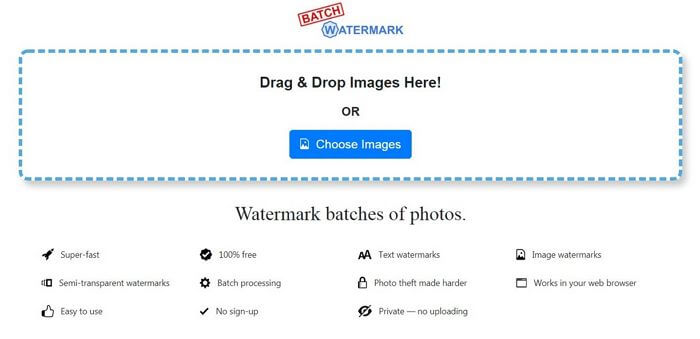 Step 3: Choose the Watermark Type
After selecting images from your device, it will ask you to select the type of watermark that you want to add to your images. On the screen, you will see two options, one will be Image, and the other will be Text. Click on whatever you want.
Step 4: Create Watermark
In this step, there will be many options on your screen to write the watermark text or to select the picture style. All the options are very clear and separate. Make your watermark by using the prominent options on the screen and click on the Start button at the bottom of the screen.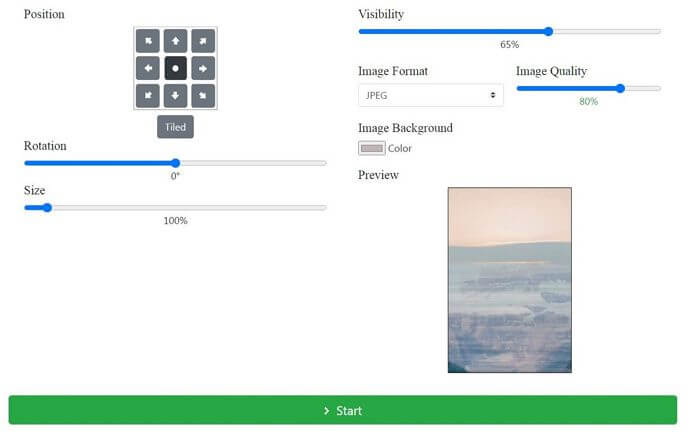 Step 5: Download Your File
After clicking on the Start button, the tool will direct you to the next page, where you can download the edited images by clicking on the Download Again option.
Pros:

You can customize the size and shape of your images through it.

You can add text or image watermarks.

It supports batch processing.

It is very easy to use.
Cons:

It does not support videos.

Internet connection is a must.
Batch Watermark Photos Against Automated Watermark Removal
In this portion, we are going to make you aware of the perfect way of watermarking photos against watermark-removing tools. In the case of batch processing, you will come across the point when all of your watermarks are similar and exactly at the same positions over all the selected images. Such images can easily be cleared from watermarks because a similar and repeated pattern of watermarks is easily detectable by watermark-removing software nowadays.
For such reasons, it is highly recommended to change the position, size, style, or color of your watermarks for different images. An uneven and irregular pattern cannot easily be recognized by watermark-removing software. You can use MarkGo for this purpose.
You might also want to read:
Remove Any Object from Photo with GIMP >>
Why You Should Watermark Photos?
Many people usually get stuck at the point of deciding whether they should use watermarks on their images or not before uploading them to the digital world. If you are wondering why you should use a watermark, then here are the answers to solving your query. Several reasons compel the creators to use his/her name, logo, or stamp as a watermark on their images.
1) Protection of Copyrights
Watermarks serve as a safeguard to protect someone's copyrights and reduce the chances of image theft. By using watermarks over your images, you can easily take action against anyone who has stolen your content from the internet.
2) Promotion
A little sign or watermark on your images can spread your name or your brand all around the world. You can showcase your expertise with your name by just sharing a simple image.
3) Finishing effect
If you are a professional photo creator, then watermarks will give your images perfect, final, and real vibes. It becomes a source of building trust in original work for your clients.
4) Credits
Suppose you are creating content for your client. So wherever the client uses your photos or images, you will get a small credit due to the recognition through your watermark. It can also become a fast source of branding your name and achieving a good reputation quickly. But it also requires the permission of your client.
Final Words
Watermarks are of great importance, but if used correctly. Those who do not know the batch processing feature waste a lot of their time for this purpose. You can easily add watermarks to a bunch of images by using a batch watermark tool. There are many online and desktop tools available, but we recommend MarkGo as it is a professional tool made for this purpose. You can add watermarks to a batch of images without any hassle.