Are you a passionate fan of the legendary Johnny Cash and his unmistakable voice? Imagine having the ability to use Johnny Cash AI voice for your creative endeavors, whether it's for music covers, podcasts, or even gaming.
We will introduce you Johnny Cash AI voice generator that enables you to harness the power of Johnny Cash's voice for your content.
So, if you're eager to explore the magic of voice generation and make your projects stand out, keep reading.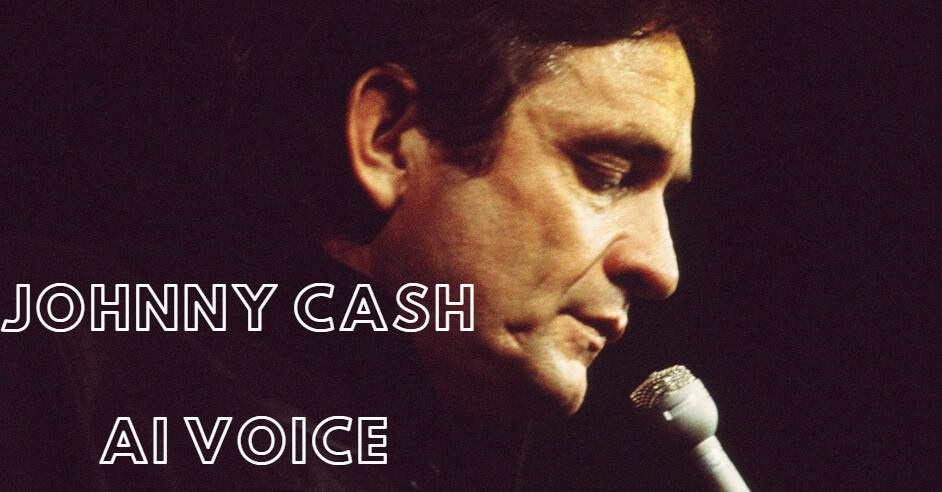 Part 1: Basic Info about Johnny Cash
Johnny Cash (1932-2003) was an iconic American country singer-songwriter known for his deep, bass-baritone voice and captivating music. His songs often explored themes of sorrow, moral struggles, and redemption.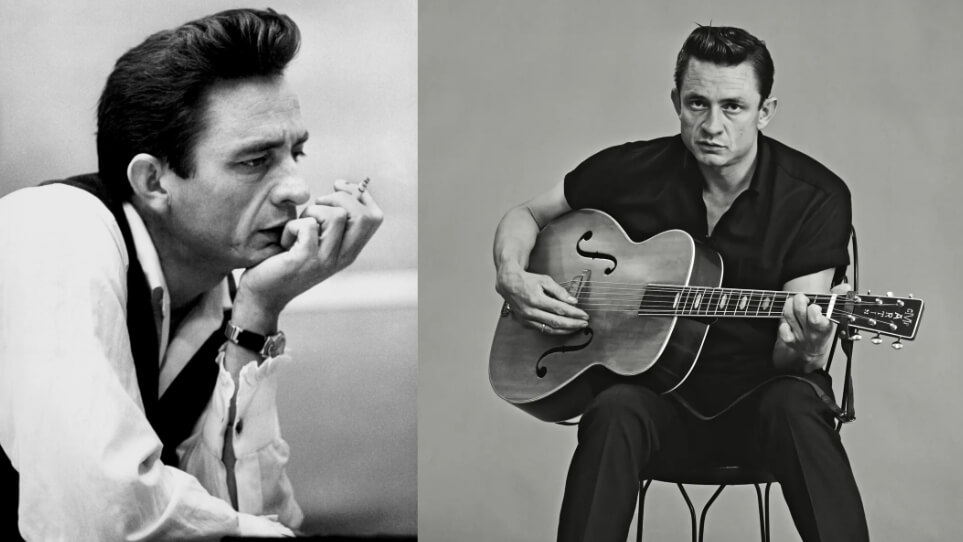 He gained fame during the rockabilly era in Memphis, Tennessee, after serving in the Air Force. Johnny Cash was famous for his signature introduction, "Hello, I'm Johnny Cash," followed by hits like "Folsom Prison Blues," "I Walk the Line," "Ring of Fire," and "Man in Black."
His diverse repertoire also included humorous songs like "A Boy Named Sue" and covers of contemporary rock songs. Cash's music crossed genres, from country to rock and roll, earning him a place in the Country Music, Rock and Roll, and Gospel Music Halls of Fame.
Part 2: How to Generate Johnny Cash AI Voice for TTS and Voice Change
1. MagicMic - Johnny Cash AI Voice Generator & Changer
MagicMic stands as the premier Johnny Cash AI voice generator and changer. By simply uploading an audio file, you can gain access to Johnny Cash AI voice, making it ideal for streaming, gaming, and real-time interactions.
In addition to its remarkable voice generation capability, MagicMic offers a wide array of 225+ voices. These encompass character voices from popular games, renowned celebrities, talented singers, and more.
Furthermore, MagicMic boasts an impressive collection of 600+ voice effects and 200+ voice memes. These creative tools enable you to elevate your content creation to new heights.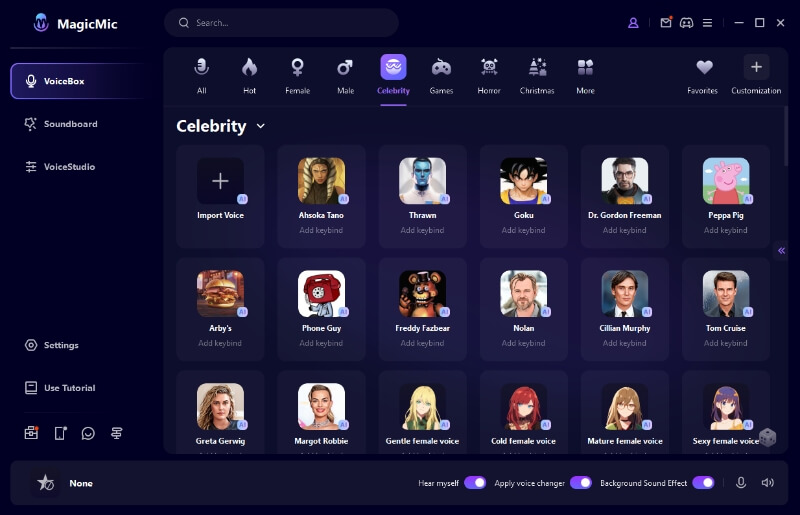 Key Features:
Instantly generate Johnny Cash voice AI or any other voices you want from uploaded audio files with a single click.

Access a vast selection of 225+ AI voices for real-time voice transformation.

600+ voice effects and 200+ voice memes are provided to add a unique touch to your digital content.

Effortlessly improve audio quality with easy capture and enhancement.

Customize your voice by adjusting specific parameters to your liking.

Seamlessly integrate with popular platforms like Discord, Fortnite, Valorant, Zoom, Twitch, and more.
Free Generate Johnny Cash AI Voice in MagicMic:
Step 1: Download and Launch this Application
Step 2: Configuration
Enable "Apply Voice Changer", and activate "Hear myself" for real time voice change.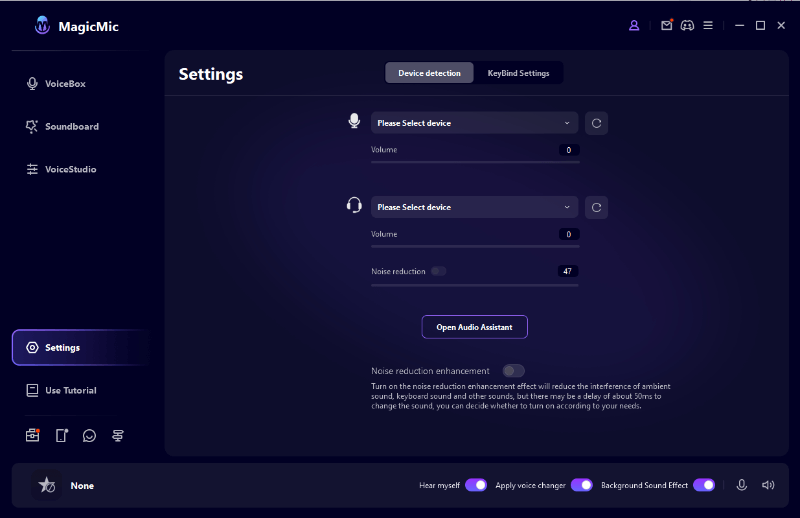 Step 3: Audio Device Selection
Opt for the Voice Changer Virtual Audio Device as your app's input.
Step 4: Get/Generate Voices or Effects
Generate Johnny Cash voice AI or any other desired voice by offering the audio file featuring the voice you want and set up keybinds for smooth effect transitions.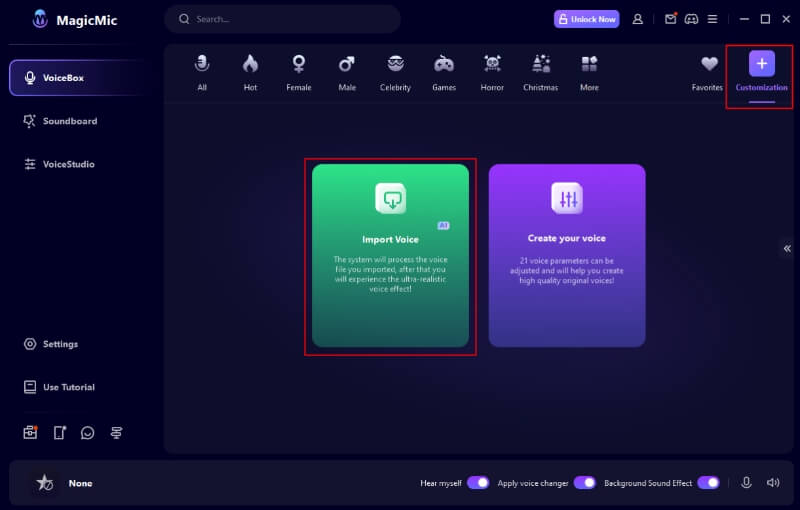 2. VoxBox - Johnny Cash Text to Seech Voice Generator
VoxBox, with its robust AI voice generation feature, takes Johnny Cash text to speech conversion to new heights, enabling the conversion of text into Johnny Cash voice and offers a vast library of over 2000 character counts across 77+ languages.
Furthermore, VoxBox grants access to 3200+ voices, including celebrities, singers, fictional characters, and more, making it the best choice to do dubbing, make voiceovers for your content creation, audiobooks, podcasts, and more.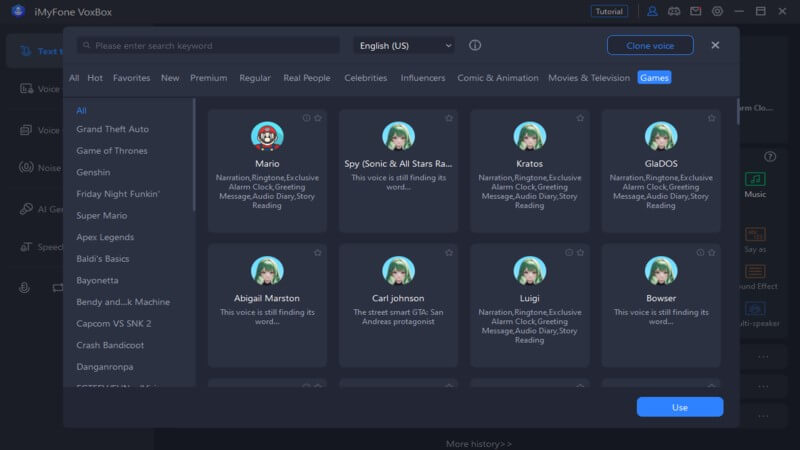 Key Features:
Allows to generate realistic Johnny Cash AI voice for text to speech conversion, and any other voices as you like.

Grants 2000 free character counts for TTS.

3200+ voices, ranging from singers, celebrities, fictional characters, influencers, etc, satisfying all your needs.

Supports to export your TTS voiceovers in over 77 languages, best for localization and gain a global reach.

Beyond text-to-speech, enjoy speech-to-text, recording, audio editing, and conversion capabilities.

Export your text-to-speech voiceovers in multiple formats like MP3, WAV, Ogg, and more.

Ideal for dubbing, audiobooks, podcasts, content production, marketing materials, and various other applications.
Part 3: Go Viral: How to Make Johnny Cash AI Cover Song
MusicAI – Johnny Cash AI Cover Song Generator
I bet you must have scanned through the popular AI cover songs generated using Johnny Cash AI voice, and if you want to make your own Johnny Cash AI cover to elevate your channel, head to MusicAI.
This platform employs AI and music composition to create captivating covers inspired by different voice models. MusicAI streamlines music projects through text-to-music conversion and vocal isolation, harnessing a range of AI models.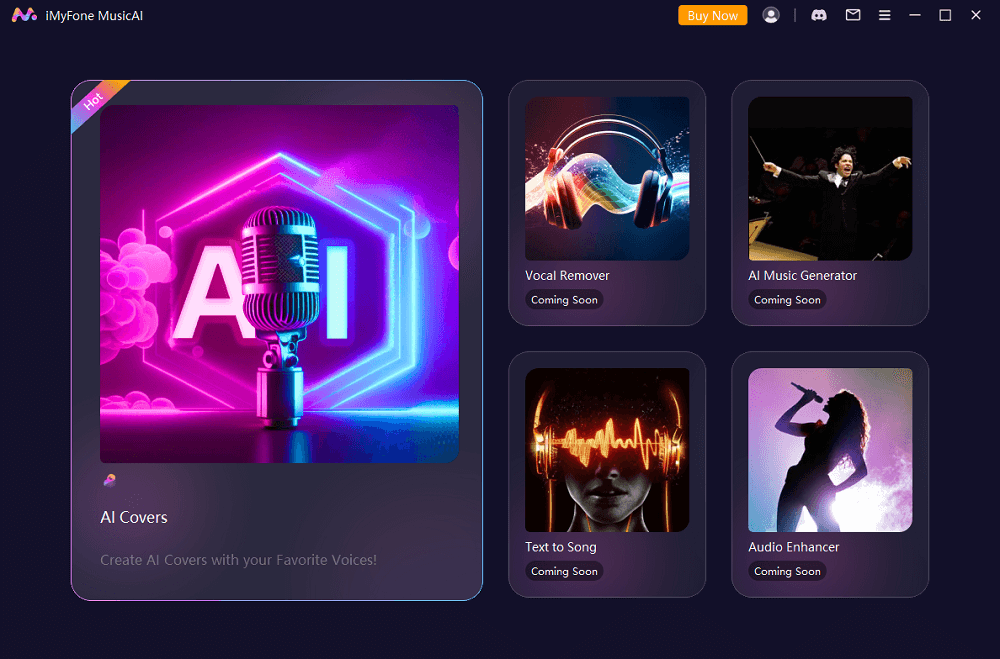 Key Features:
Utilize AI models to blend celebrity or fictional character voices into your cover songs.

Achieve precise separation of vocals, music, and instruments effortlessly for top-notch quality.

Effortlessly enhance audio quality to attain superior results.

Export AI covers in versatile formats such as WAV, MP3, and OGG.

Enjoy one-click text-to-music support for seamless composition.
Part 4: FAQs About Johnny Cash AI Voice
1. What is Johnny Cash AI Voice?
Johnny Cash AI Voice is the voice that uses artificial intelligence to replicate the distinctive voice of the legendary American country singer-songwriter, Johnny Cash.
2. How can I use Johnny Cash AI Voice for my projects?
You can use Johnny Cash AI Voice through platforms and tools specifically designed for voice generation and transformation, such as MagicMic and VoxBox. These tools allow you to generate Johnny Cash's voice for various applications like streaming, gaming, and content creation.
3. How can I make Johnny Cash AI cover songs?
You can make AI cover using the AI cover generator - MusicAI, with which you can gain access to Johnny Cash voice model and generate AI cover song with single click.
Conclusion
In conclusion, if you've ever dreamt of capturing the essence of Johnny Cash's timeless voice in your creative projects, MagicMic, VoxBox and MusicAI make it possible, where you can generate Johnny Cash AI voice to make text to speech voiceovers, conduct real-time voice change and make popular AI cover song.
Whether you're a musician, content creator, or simply a Johnny Cash enthusiast, these applications offer an exciting way to elevate your projects.
Don't miss the chance to create something truly extraordinary—download MagicMic and VoxBox today and bring Johnny Cash's AI voice to life in your work.