Are you a huge DJ Khaled fan? Are you interested in DJ Khaled 's voice and want to change your voice into his? Well, you're in the right place!
In this article, we're talk about the DJ Khaled AI voice tech, using DJ Khaled voice changer and generator to generate his voice. Whether you're a content creator, or just want to add some humor to audio game, these tools will satisfy you!
Keep reading to find the answers.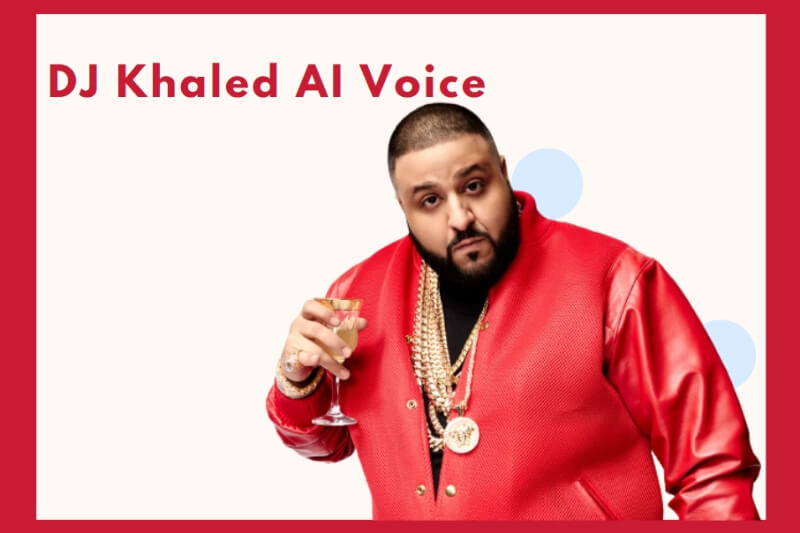 Part 1: Info of DJ Khaled
DJ Khaled was born on November 26, 1975, and he got his start as a radio personality in Miami. But what really sets him apart is his knack for bringing together famous artists and producers to make smash-hit songs and albums.
His career began when he independently released his debut album, "Listennn... the Album," in 2006. Subsequent albums like "We the Best" (2007), "We Global" (2008), and "Victory" (2010). The latter produced the triple platinum single "All I Do Is Win."
"Major Key" (2016) and "Grateful" (2017) both debuted at number one on the Billboard 200, featuring chart-toppers like "I'm the One" and "Wild Thoughts." DJ Khaled's song "Higher" from "Father of Asahd" (2019) won a Grammy Award for Best Rap/Sung Performance. Besides music, he is also an author with his book "The Keys" on the New York Times Best Seller list and has appeared in films like "Spies in Disguise" (2019) and "Bad Boys for Life" (2020).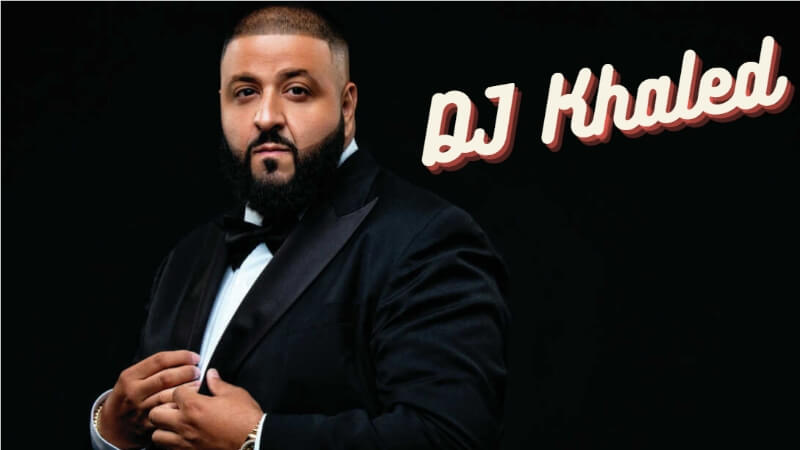 Part 2: How to Sound Like DJ Khaled with Voice Changer in Real-time?
MagicMic is a real-time voice changer that can transform your voice into any celebrity, singer, or anime character. If you also like DJ Khaled's voice, you can try this voice changer. It provides more than 250 preset sounds. You can also clone the voices of other characters yourself, such as DJ Khaled AI voice, and it can be used on game platforms and communications used in the software.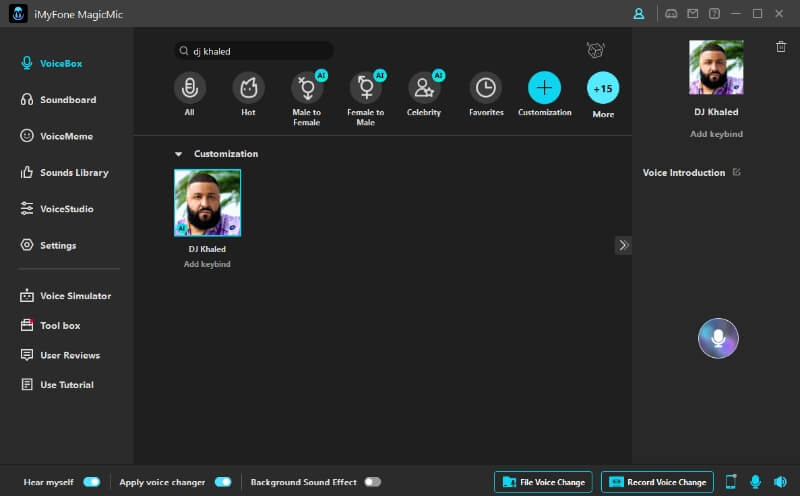 Key features of MagicMic DJ Khaled AI voice changer
Over 300 voice effects, 600 soundboards, 200 voice memes.

Real-time, low-latency voice changes on gaming, streaming, online chatting like plantforms Discord, Skype, Twitch, Xbox and more.

Noise reduction for clear communication in noisy environments.

Easy hotkey customization for gaming audio control.

Enhance audio from any source for superior content.

Compatible with Windows, Mac, Android, iOS.

Effortlessly personalize AI voices to your preferences.
How to use MagicMic to sound like DJ Khaled?
Step 1: Get MagicMic Software
Download it from the official website or by clicking the provided button.
Step 2: Configure Your Settings
After downloading, launch the software. In the interface, select your microphone and headphones. At the bottom, enable "Hear Myself", "Apply voice changer" and Select "Microphone (Voice Changer Virtual Audio Device)" for an optimized experience.

Step 3: Choose or Custom DJ Khaled AI Voice
Browse preset voices in the "VoiceBox" or set up gaming hotkeys for convenience. If your desired voice isn't available, use the "Customization" feature to upload your own audio clips such as DJ Khaled and craft a truly unique auditory experience.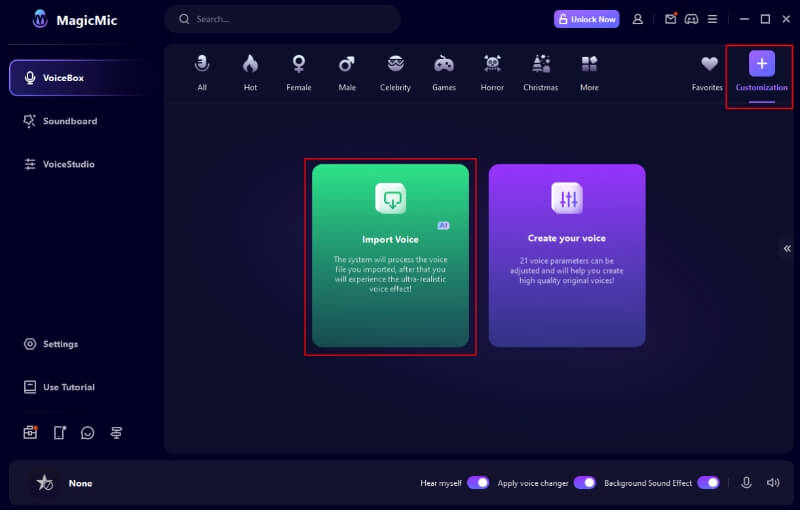 Part 3: How to Generate DJ Khaled AI Voice Text to Speech with Voice Generator
1) VoxBox DJ Khaled AI Voice Generator
VoxBox is the go-to for getting that super real DJ Khaled AI voice. With VoxBox, you can clone DJ Khaled's voice in the blink of an eye. It's got the cool feature of using DJ Khaled's text-to-speech tech, so you can make voice-overs that sound totally natural and genuine. Whether you're working on commercials, audiobooks, podcasts, or any kind of content, VoxBox guarantees top-notch voice dubbing that's gonna stick with your audience for sure.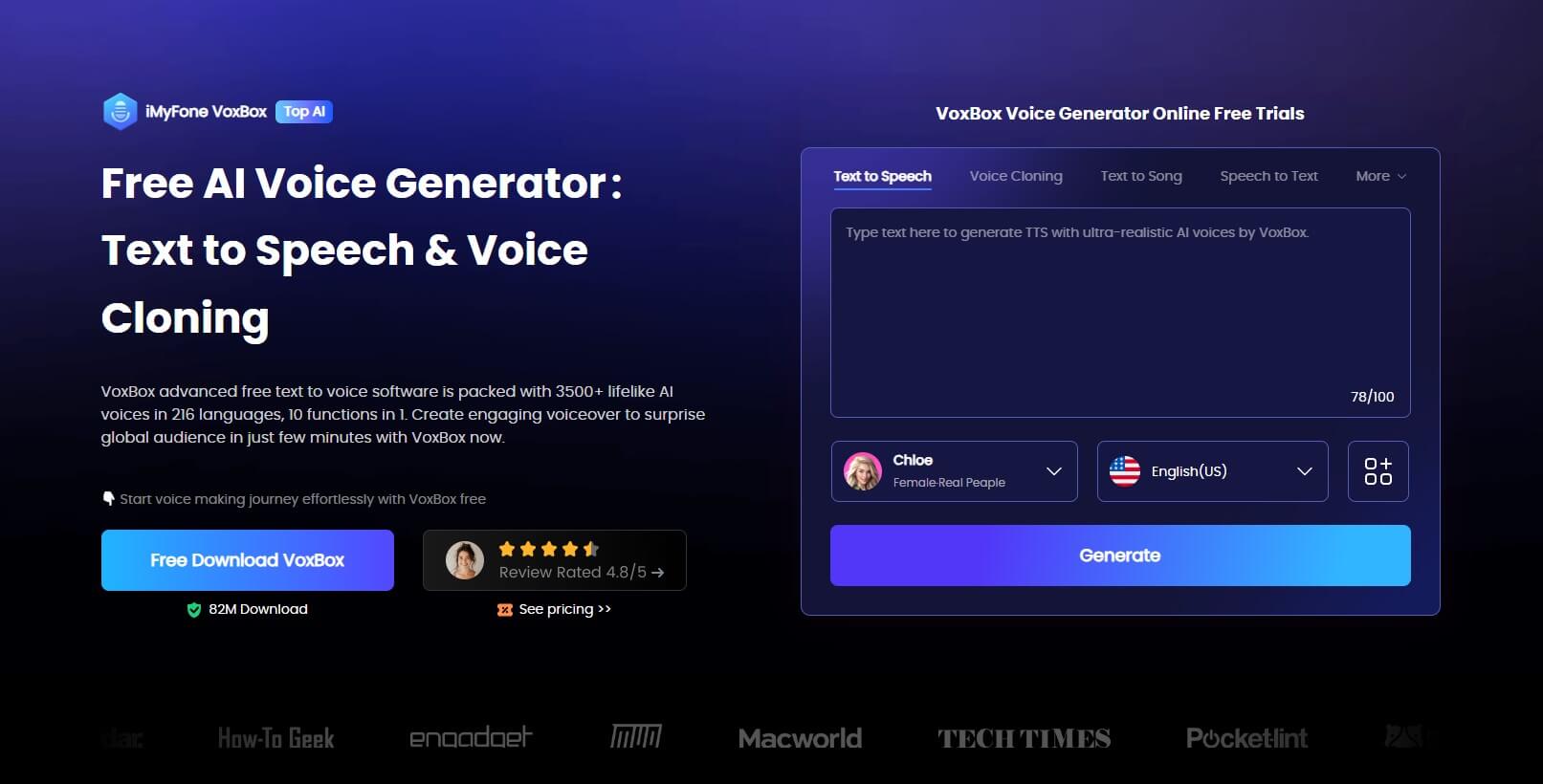 Key features of Voxbox voice generator
Utilize text-to-speech, voice cloning, and transcription functionalities.

Select from 3200 AI voices across 77+ languages and 100+ accents.

Ideal for business, entertainment, and social media applications

Effortlessly tailor pitch, speed, and volume settings.

Experience top-notch audio outputs in OGG, WAV, and MP3 formats.
How to Generate DJ Khaled AI voice?
Step 1: Begin by downloading VoxBox from the official website and then proceed with the installation.
Step 2: Navigate to the "Voice Cloning" tab and upload an audio sample featuring the desired DJ Khaled's voice for cloning. After a brief wait, your AI-cloned DJ Khaled voice for text-to-speech will be ready.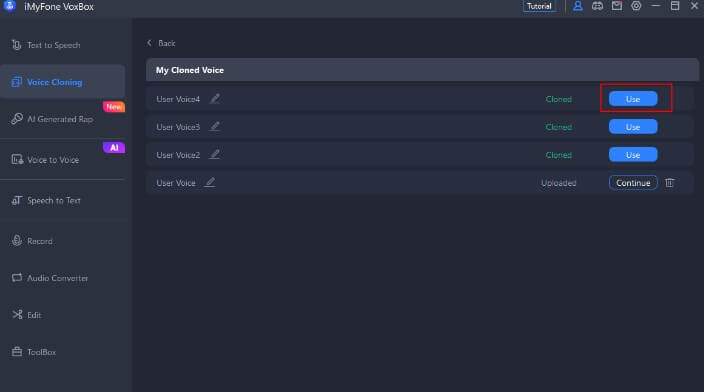 Step 3: Now, you can access your lifelike DJ Khaled AI voices for text-to-speech with ease.
Part 4: Get DJ Khaled Sound Effect in Real-time Free!
Would you like to use DJ Khaled's sound effect, "another one," in real-time? Follow these steps:
1. Download a DJ Khaled sound effect that interests you from the internet.
2. Click the "Soundboard" option on the left side of MagicMic, then click on the "Import" option at the top. Upload the downloaded DJ Khaled's audio clip, and once it's selected, you can use this sound effect in your voice chats and live broadcasts.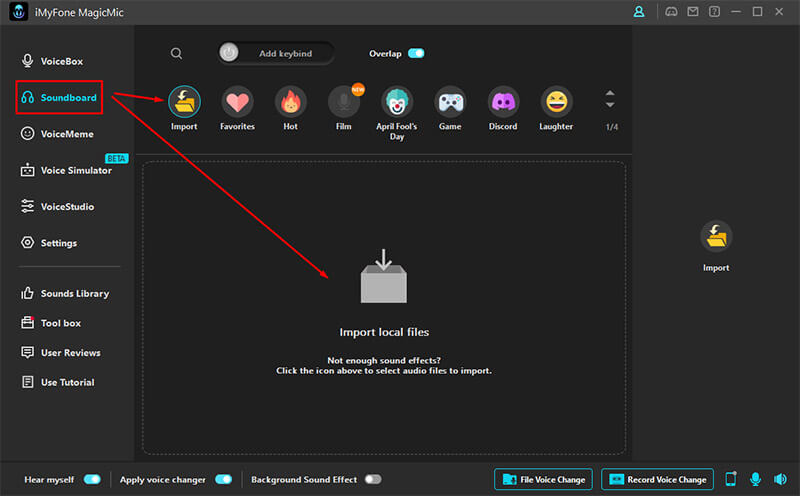 Part 5: FAQs about DJ Khaled AI Voice
1. What is DJ Khaled AI Voice?
DJ Khaled AI voice refers to a technology that uses artificial intelligence to replicate the voice of DJ Khaled, a well-known music producer and personality. It allows users to generate speech or audio that sounds like DJ Khaled.
2. What can I use DJ Khaled AI Voice for?
DJ Khaled AI Voice can be used for various purposes, including creating voice-overs for videos, podcasts, or commercials, personalizing content, or adding DJ Khaled's voice to gaming or entertainment projects.
3. Are there legal considerations when using DJ Khaled AI Voice?
It's important to be aware of copyright and licensing issues when using DJ Khaled AI Voice, especially for commercial or public use. Make sure you have the necessary permissions to use DJ Khaled's voice in your projects.
Final words
In conclusion, DJ Khaled AI voice tools like MagicMic or VoxBox, which we mentioned, are making our online experience more fun. You can generate DJ Khaled's famous voice and prank your friends with it. At the same time, these tools are fantastic for creators and gamers to make their videos more attractive. Come and download the DJ Khaled AI voice tools.