Are you curious about the possibilities of harnessing AI voice technology to replicate the captivating voice of ClownPierce? Look no further! In this article, we embark on an exciting journey into the world of ClownPierce voice changer and AI voice solutions.
Whether you're a dedicated fan of ClownPierce's content, a content creator seeking to explore new horizons, or simply intrigued by the concept of enhancing your audio projects, these innovative tools are here to revolutionize your audio experience. Join us as we delve into the future of voice technology and its remarkable potential in replicating the distinctive vocal charisma of ClownPierce.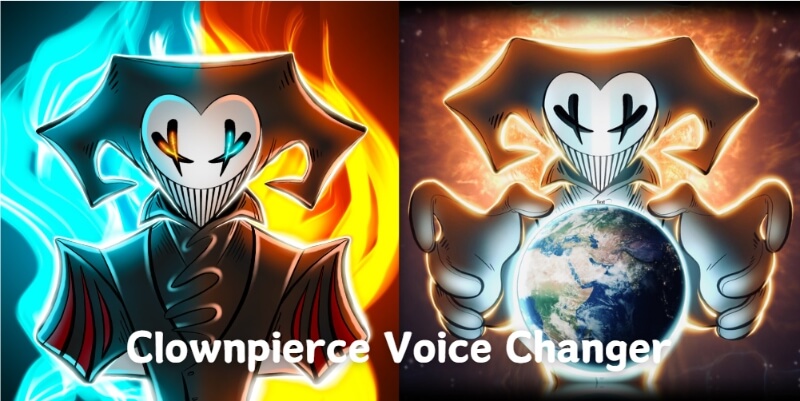 Part 1: Info about ClownPierce
ClownPierce is a prominent Dutch content creator known for his prowess in Minecraft's PvP scene. He's recognized as one of the game's top PvP players and has earned a reputation for his skills. He gained initial recognition through his participation in public Minecraft servers, particularly AJTHEBOLD's server, and later transitioned to creating gaming content on YouTube.
On August 9, 2021, he became a part of the Lifesteal SMP, where he started making videos that garnered a substantial subscriber base. His popularity continued to grow as he joined other Minecraft SMPs, including TeamSeas SMP, Money SMP, and, notably, the Kaboodle SMP in August 2022, where he became the first post-launch member.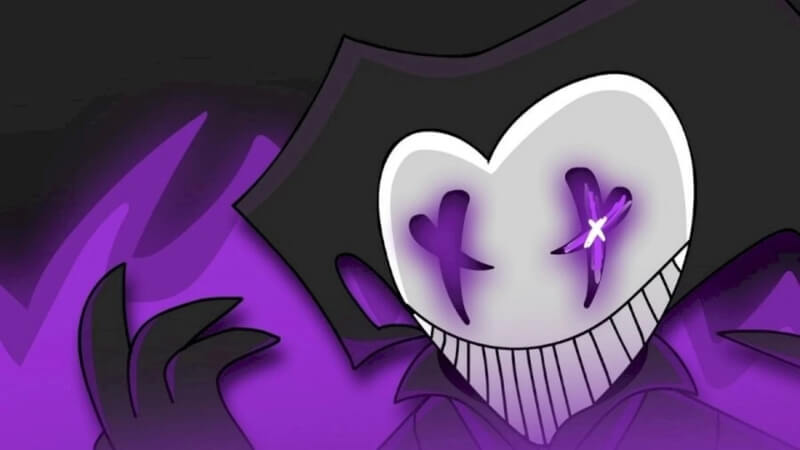 Part 2: How to Generate & Sound Like ClownPierce Voice?
1) MagicMic ClownPierce Voice Changer
The iMyFone MagicMic real-time voice changer is an advanced AI voice modifier designed specifically for enthusiasts of ClownPierce. This state-of-the-art tool offers a wide range of features, including over 250 AI voice filters, more than 600 voice effects, and a library containing 200 voice memes.
Ideal for gamers and content creators, it excels in the real-time alteration of voices and accurate sound replication, enhancing the audio experience. This user-friendly functionality enables users to easily generate distinctive voices, providing a fresh dimension to their content and projects. MagicMic stands as the preferred choice for infusing creativity and ClownPierce's AI voice charisma into audio content.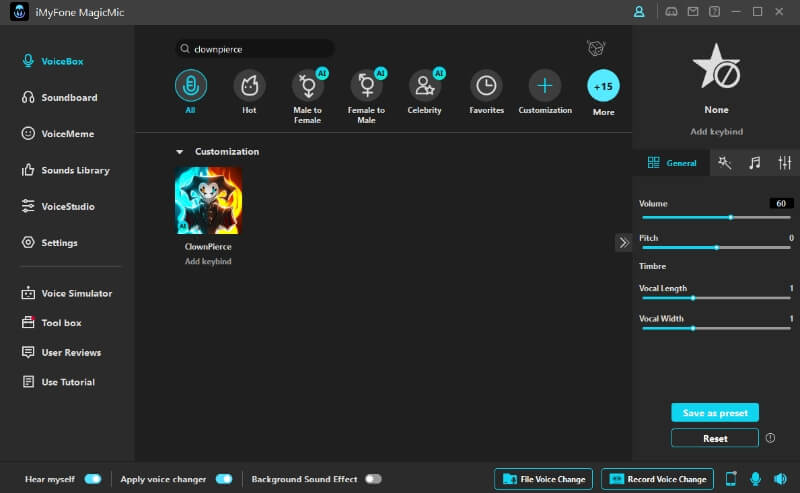 How to use MagicMic ClownPierce voice changer?
Step 1: Get MagicMic Software
Download MagicMic software from the official website or the provided button. Set your main microphone as the input device and activate "Apply Voice Changer" and "Hear myself."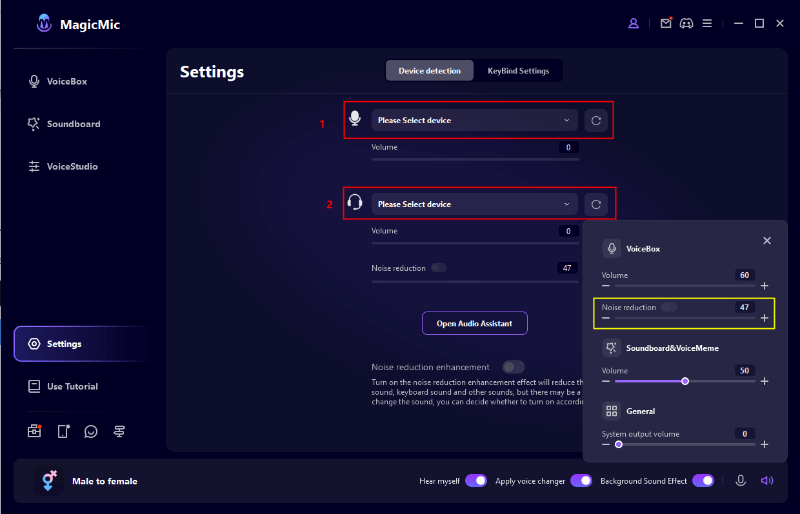 Step 2: Select MagicMic Virtual Audio Device
In your desired application, select "Microphone (Voice Changer Virtual Audio Device)" as your input source.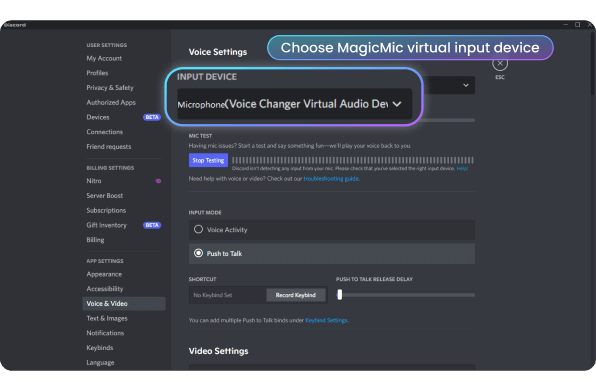 Step 3: Choose or Custom ClownPierce Voice
Explore preset voices in the "VoiceBox" or create gaming hotkeys for convenience. For a unique voice, use the "Customization" feature to upload ClownPierce audio clips.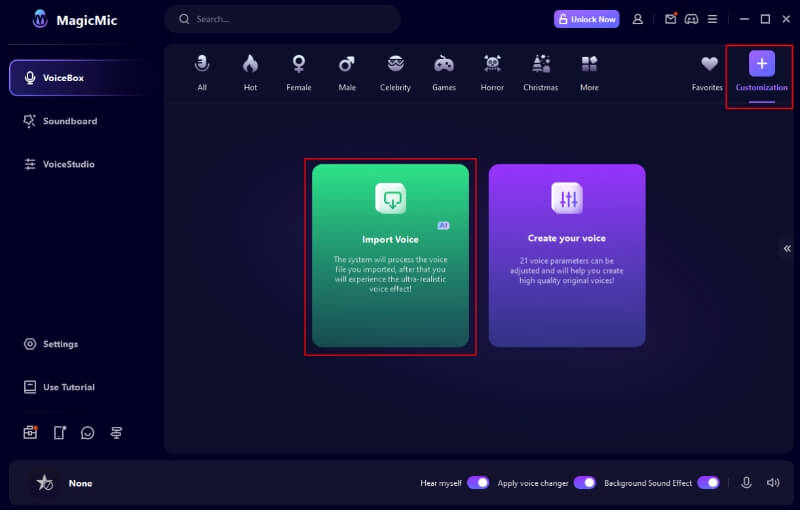 Key features of MagicMic ClownPierce Voice Changer
A vast array of resources: Over 250 voice filters, 600 soundboards, and 200 voice memes at your fingertips.

Real-time voice transformation with minimal delay on popular platforms like Discord, Skype, Zoom, Twitch, and Roblox.

Customize hotkeys effortlessly for seamless in-game audio control.

Enhance audio quality from any source to elevate your content.

Experience efficient noise reduction for clear communication in noisy environments.

Hassle-free operation on Windows, Mac, Android, and iOS with cross-platform compatibility.

Create your unique AI Voice to match your specific preferences and style.
2) VoxBox ClownPierce Voice Generator
VoxBox is the ultimate ClownPierce AI voice generator, providing free text-to-speech capabilities that transform the production of audio content. With a vast library of more than 3200 natural-sounding text-to-speech voices in 46 languages, VoxBox utilizes AI voice emulation to deliver instant, nearly 99% accurate human-like voices. This enables content creators to harness the power of personalized, genuine AI voices, elevating their projects to new heights of quality and authenticity.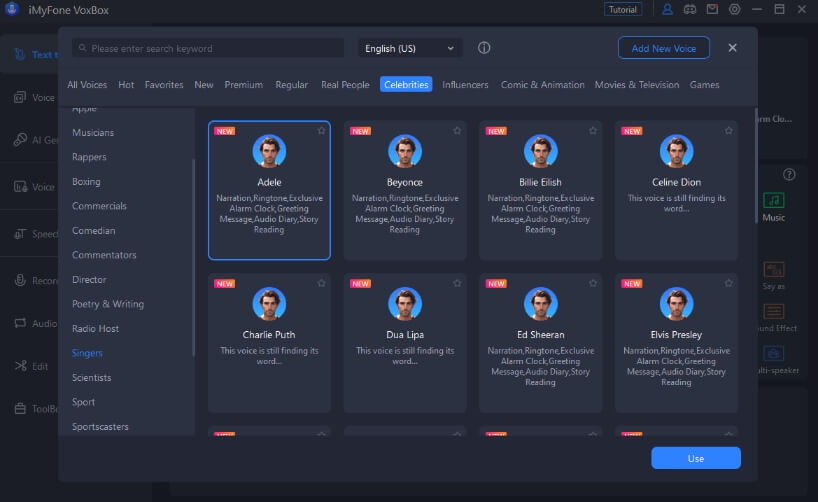 Key features of VoxBox
Instant access to highly precise, human-like voices through state-of-the-art AI voice cloning technology.

Offers an extensive selection of over 3200 natural-sounding text-to-speech voices covering 46 languages.

Enjoy the advantages of cost-effectiveness, user-friendliness, speed, and robust security with VoxBox.

Content creators have the flexibility to utilize custom AI voices to tailor their projects.

VoxBox supports top-tier audio formats such as MP3 and WAV.
Part 3: FAQs about ClownPierce Voice Changer
1. What can I use ClownPierce Voice Changer for?
You can use ClownPierce Voice Changer for a variety of purposes, including online gaming, streaming, prank calls, content creation, and adding entertainment value to voice chats.
2. Is ClownPierce Voice Changer easy to use?
Most ClownPierce Voice Changer software is designed to be user-friendly, with intuitive interfaces and customizable settings.
3. Does ClownPierce Voice Changer support different voices and effects?
Yes, ClownPierce Voice Changer often offers a variety of preset voices, effects, and filters for users to choose from.
Final words
In conclusion, the world of voice transformation and entertainment has taken a giant leap forward with ClownPierce voice changer like MagicMic. With ClownPierce voice changer, you have the power to unleash your creativity and experiment with various voices and effects. MagicMic, on the other hand, offers a seamless and user-friendly experience for real-time voice modification across multiple platforms.
So, if you're ready to elevate your audio content, enhance your gaming experience, or simply add a touch of magic to your conversations, don't wait any longer. Download and try MagicMic ClownPierce voice changer today!