YouTube is a popular video website that allows its users to watch millions of videos from around the world and share their own videos throughout the globe. Many of these creators use their screen recordings in their videos and have millions of followers. These videos can be used to portray many kinds of things. The most popular use of screen recordings is to show simple tips and tricks that make you easily use different unknown functions and installations on PC and Mac. Here is how to record your screen for YouTube:
Best All-in-One Screen Recorder & Video Editor to Record Your Screen, Edit and upload Video directly for YouTuber
Today there is software for each and every one of your computer needs! Similarly, to record your screen videos to use them on YouTube, you will require software. The best software to use for this purpose is iMyFone Filme. It offers all the functions in a user-friendly interface that allows the users to record the screen easily. Not only can you record screen Nexfilx videos in Filme, but also you can record Youtube video as you like. Here are some of its pro-advantages that you might need to know.
Key Features

Easy to Use– The user-friendly interface allows an easy and simple understanding of the different functions of this software. You can easily record your screen with this software, even if you're new to YouTube.
Quick Video Editing – You can directly edit your video after recording the screen and make any changes without first manually saving the video on your device. Cut, trim or add any changes that you need.
Time-Saving – Due to the availability of ready-made templates, quick editing features, and easy to record options, it save a lot of time.
Advanced Features – Apart from the basic editing options, you have access to a lot of advanced features that can make your videos like a masterpiece.
How to Record Your Screen using iMyFone Filme
Using this video recorder is as simple as riding a bike. Here are some steps that you need to follow to easily record using iMyFone Filme.
Step 1. Record Your Video with 3 Clicks – In three simple clicks, you can record your screen. After opening the software, select the record tab and then choose the record PC screen. Next, select the record option, i.e. custom, target window, or full screen.
Step 2. Get the Video in Your Media Library at Once – After recording the video, get it instantly in your media library so you can continue editing your video.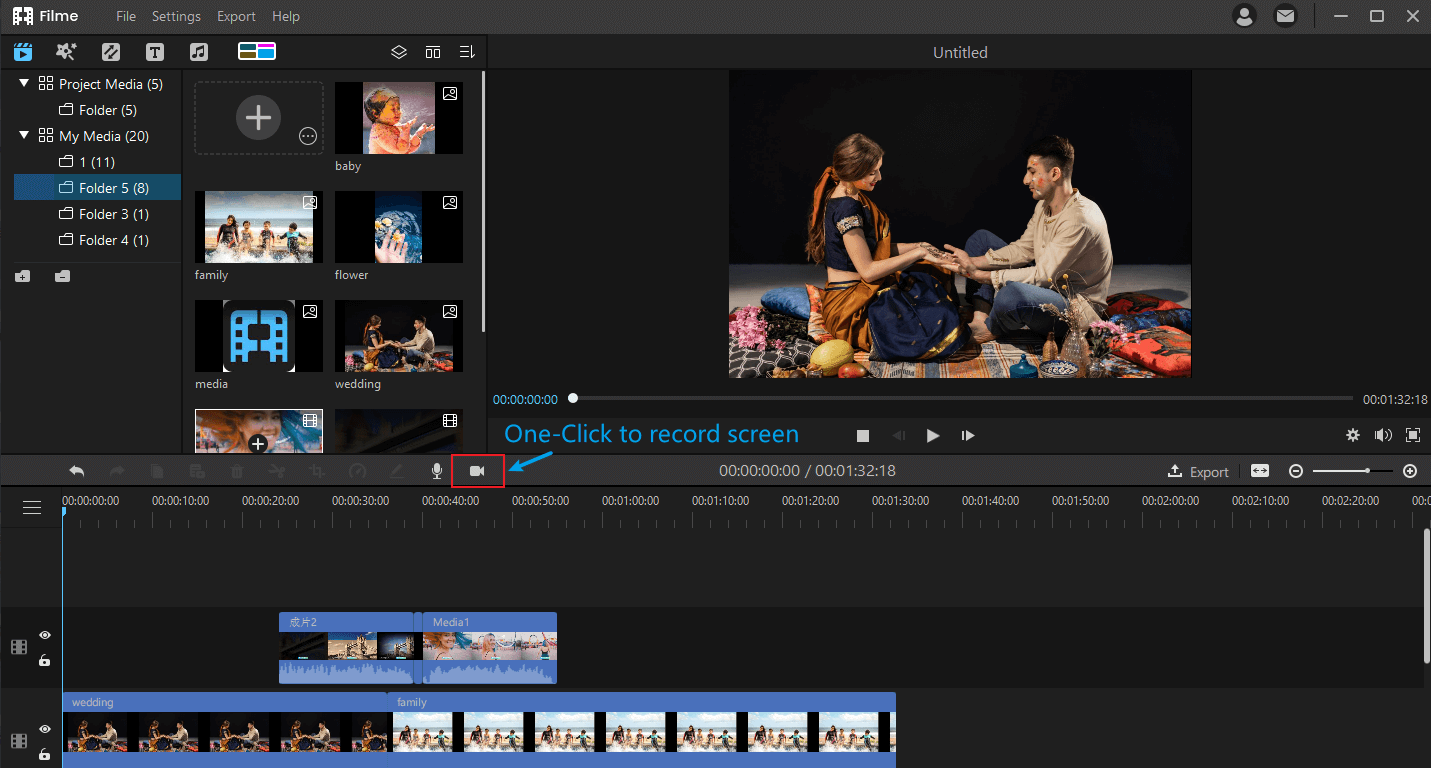 Step 3. Cut the Videos, add filters and add music and text – After importing the video next, you need to cut any non-required bits from the video and add filters to enhance the video effect according to your needs. Select from a range of filters and then continue to add music files from the software library or your PC & add text if needed.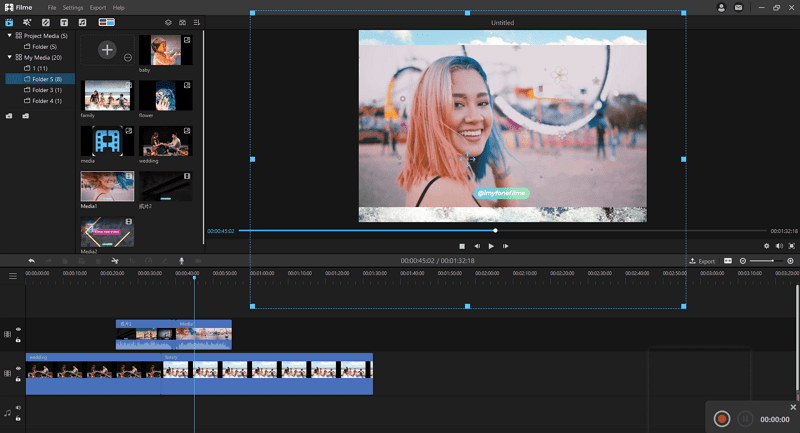 Step 4. Export and Share your slideshow – After editing, save and export your file to your pc and simply share on YouTube.
How to Record Your Screen with Built-in Windows Game Bar [With Shortcut Key]
Most gamers like to record their gameplay and upload it to different platforms to show their skills. Many third-party software's are available that serve this purpose but did you know that windows have a built-in function that allows the users to record their gameplay. You can record your gameplay and even assign shortcut keys to use various functions like screenshots. In windows 10, whenever you play a game, there is a bar that shows at the starting of the game and then disappears. The bar is there provides you the option of recording and other functions. Let us see how you can record using the windows game bar and use shortcut keys for this operation.
Step 1. Before using the shortcuts, you might need to adjust the settings of your PC. Go to settings and then select gaming. In the gaming, menu select the game bar option. You will reach the recording settings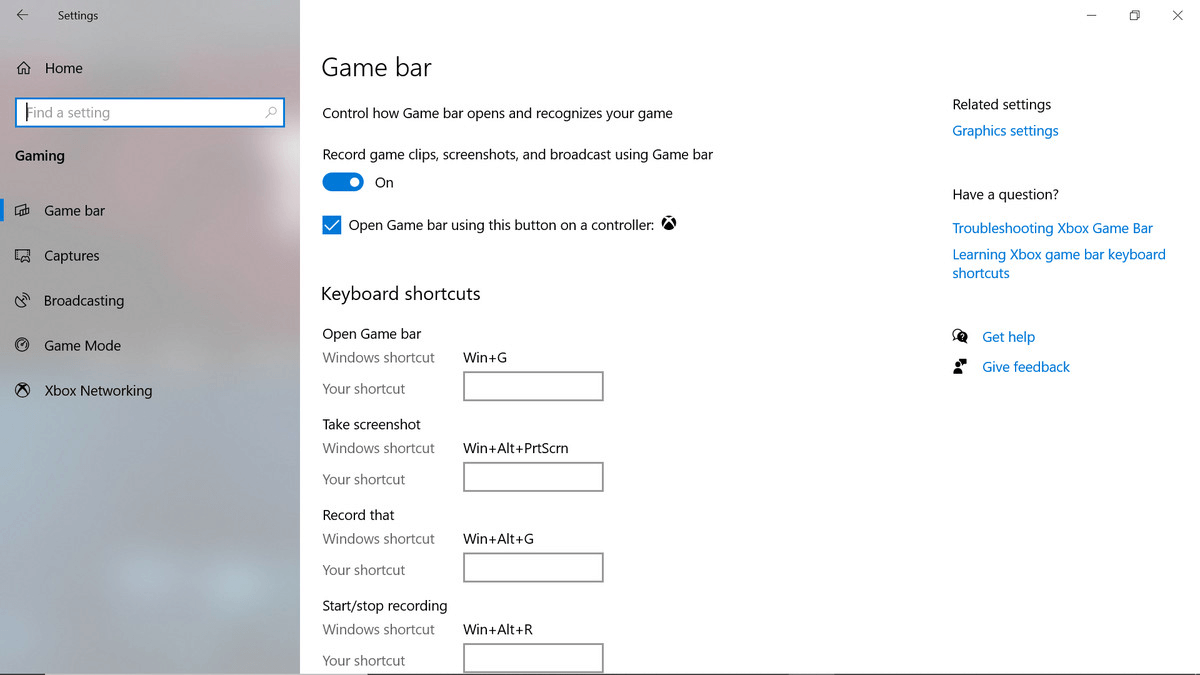 Step 2. Turn on the recording settings from the menu by toggling it between off and on. You can also turn on the use of a controller for this feature from the next option.
Step 3. After turning the recording ON, go to the shortcuts menu just below and see if you want to change any screenshots or recording shortcuts to your needs. Windows + G, Windows + Alt + G are the default shortcut keys for these operations.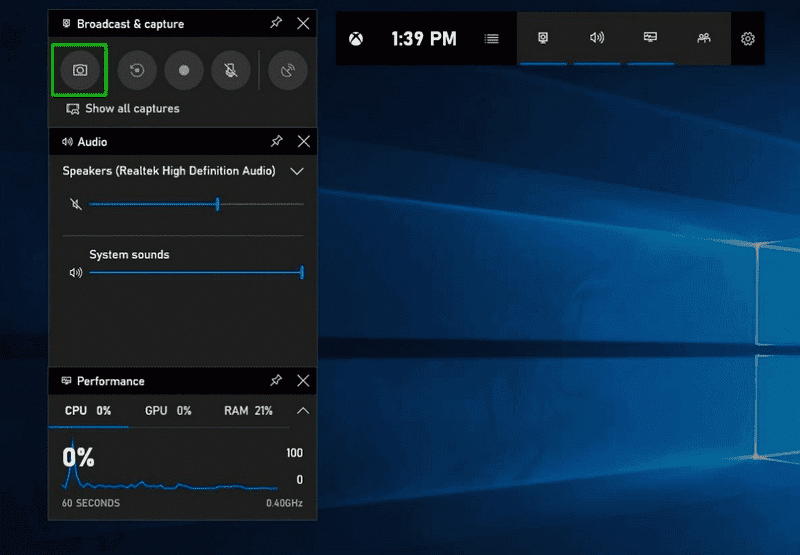 Step 4. After adjusting the shortcut keys, close the setting and start your game. You will see a game bar pop-up. Use the shortcuts to take screenshots and record videos during the game by these shortcuts without any third-party application.
How to Record Screen for YouTube with Free Screen Recorder on Mac Using QuickTime Player
If you are using a Mac, there is no need to panic. Much like the Windows platform, the Mac also comes with its own functionalities. It also has an in-built screen recorder for YouTube videos that allows you to record screen on Mac and save your screenshots and gameplay. Here is how you can access this feature.
Step 1. Open the QuickTime video player and then go to files and select new screen recording.
Step 2. In the next step, you will be asked to grant permission to the player to record your screen. Go to settings and click on the allow button to complete this operation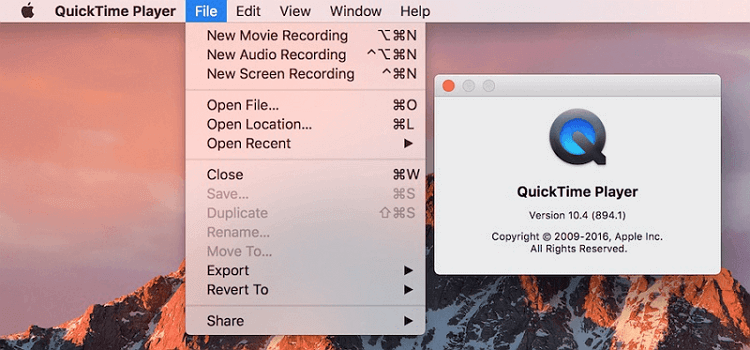 Step 3. Now start the recording again after granting permission to record the screen. Use QuickTime with Mac's recording tools to efficiently record videos in no time.
To use Mac's recording tools, follow the below steps.
Step 1. Use the shortcut Shift + Command + 5 once you have opened the window that you want to record.
Step 2. You will see the options of record. Through customization, you can select either to capture the whole screen, a window, or just a portion of the screen.
Step 3. Select any of the options, and the screen will be recorded. After recording, stop the recording by clicking on the stop, and the video will be saved on your Mac, and a thumbnail for the video will appear.
Click on the options button, and you will see options that allow you to specify the location for saving your recording and also allow you to set a timer as the recording starts. During the recording, you can record your own sound or the external sound using Mac's microphone. If so, enable it from the options.
How to Record Screen Online in YouTube
Recording videos on your screen is an easy task that can be performed in a number of ways. You can use in-built windows/ Mac recorders or third-party software for this purpose. The in-built recorders are easy to use but come with limited editing and functionality options. They lack a ton of options that are available in third-party apps such as iMyFone Filme.
Follow these steps to learn how to screen record on YouTube:
Step 1. First of all, you need to open the tab/browser or any gameplay that you want to record and then open the application.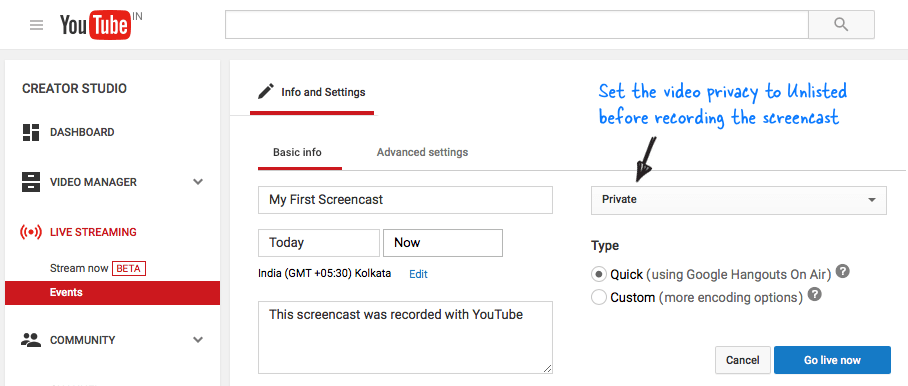 Step 2. After opening the application to the record button and start recording, in the options menu, select the window, tab, or the part of the screen that you want to record.
Step 3. After recording the video, press stop and start the editing process, cut, trim, crop and apply any filters that are required to the video, you can add and remove text from the video and make any changes that you like.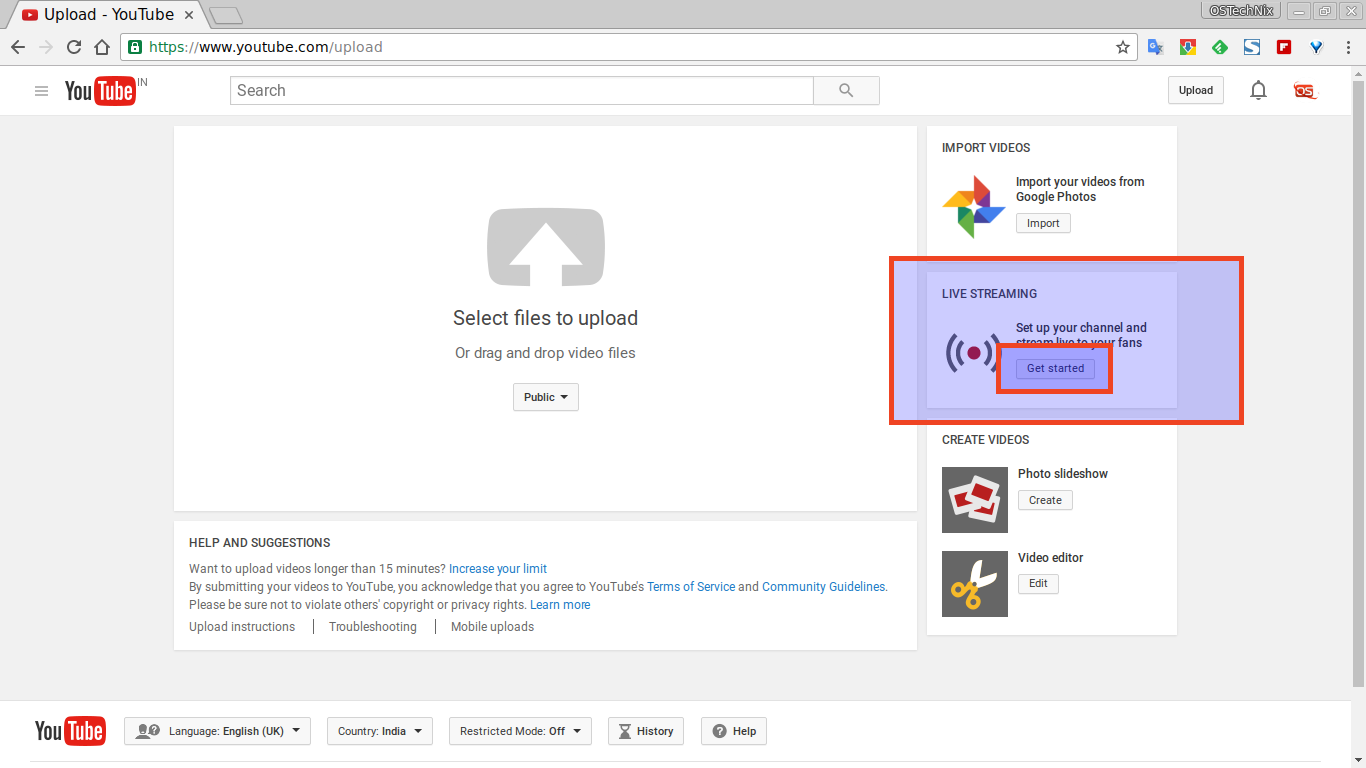 Step 4. Then click on export and shift the tab to YouTube to directly upload the video to YouTube from the application.
Top 6 Screen Recording Tips That Will Make You a Pro YouTuber
If you are new to YouTube screen recordings, you might find it difficult to make quality videos or get views. There are a lot of seasoned professionals that improve their videos over time, so staying determined is the key, but to help you along the way, here are some professional YouTuber tips that will make your videos a work of art.
1. Record Clean
– While you are recording, make sure that you show limited items on your screen. The number of increased icons or tabs and other unrelated things can be a big source of distraction for the viewers and pose a negative impact on the overall quality of the video.
2. Be Prepared
– Make a plan about the video before you start recording. Make a list of things that you are going to say in the video and make a pattern from start to end to make the video smooth and strong. Do not abruptly start recording without any prior plan and try to talk through the video.
3. Recording Area
– When you record, make sure that you are recording the critical portion of the screen. Focus on the perfect positioning of the recording window to make an efficient video that can gather views. A poorly placed recording section of the screen will not help in any way.
4. Be calm and smooth
– During a video, do not try to rush things. The viewer tries to understand what you are doing in the video step by step. Make sure that you give them ample time to notice the changes that you are making and smoothly perform tasks instead of rushing and ending the video.
5. Proper Editing
– This is the key to make a good video. Cut out the useless bits of the video by trimming the tool and focus on the main task of the video. For example, don't make people wait at a loading screen. Cut it out from the video if it takes too much time. Besides, choosing a right software frome the list of
top screen recorders
are crucial to better edit your video.
6. Length of Video
– The length of the video determines the retention time of the viewers. Do not make a very lengthy video unless you need to. Try to stay on the point during the video and make it as compact as possible.