You can send videos and photos on Snapchat from your gallery. It is possible, and the videos/photos can be sent to Friends, Story, or Spotlight. In this article, we will show how to send a video on Snapchat from gallery or camera roll. We will also share an excellent video editor that you can use to edit your Snapchat videos.
How to Upload Saved Photos and Videos to Snapchat
Snapchat allows you to upload the saved photos and videos. You don't need to create or click an image or record a video on the app. You can also upload already saved content from your device. It is extremely useful for the users that edit their videos using a video editor, and then they upload it to Snapchat Story or send it to others. The process is quite simple, and you just need to follow a few simple steps.
Steps to Upload Save Photos and Videos to Snapchat
Step 1: Open the Snapchat application.
If you are already a user of it, you just need to open the application. If you are new, you download the app and sign up.
Step 2: Access the saved media file.
Once you open the application, you will see the camera option. You will have the record button at the bottom center. On the left of the record button, you will have the Memories option; tap on it.
Step 3: Open Memories and Camera Roll.
This will open Memories. You will have four tabs at the top: Snaps, Stories, Camera Roll, and My Eyes Only. Your saved videos on your device will be available in the Camera Roll. Tap on it, and you will have all videos and images that are present on the device.
Step 4: Select the media files and upload.
Select the video or image of your choice. After selecting the video or image, you can edit it. You will see the edit option (pencil icon) at the bottom left corner. Tap on the icon. You can edit the videos for Snapchat the such as to add text, create a doodle, add music, attach a video, zoom in, and add emojis and stickers. You can also trim the video if you want.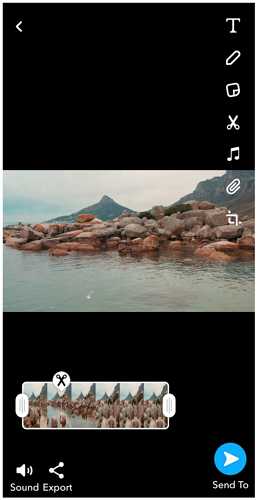 Step 5: Finally, you need to press the Send To button at the bottom right corner. Now, you can send the video to any friend. You can share the video on Story, Spotlight, and group.
FAQs About Sending Videos on Snapchat
Q1. How long of a saved video can you send on Snapchat?
If you are sending a saved video to your friend, it can be up to 60 seconds long. You can upload the video from your camera roll and send it to anyone. The video will be sent as a complete video; it will not split into clips of 10 seconds.
If you are uploading a video to your Story, then a single snap will be 10 seconds long. If you want to send a longer Snapchat video, then it will split in multi snaps, and each will be 10 seconds long. However, there can be six snaps and each of 10 seconds, which means 60 seconds in total.
Q2. How to post a long video on Snapchat?
If you want to post a long video on Story, you need to record the video up to 60 seconds long. The video will be in multiple snaps, and each will be 10 seconds long. Press the record button and hold it. It will automatically record the snaps of 10 seconds. This is the only option to post a long video on Snapchat Story as the snaps can only be 10 seconds long. However, the multiple snaps transition quickly. Long videos can also be posted on Spotlight, and the maximum limit is 60 seconds.
Q3. Why can't I send videos on Snapchat?
There can be several reasons you cannot send a video on Snapchat. First, you need to check your internet connection. Make sure you have a stable internet connection; you can also switch between your WiFi and cellular data. If your internet connection is stable, you need to check a few other things. There can be some corrupt files and issues with the Cache memory. Go to Snapchat settings and tap on Clear Cache. It can solve your problem. But if the problem persists, you should reinstall the application. Delete the application and reinstall it.
You might be interested in this:
No Sound on Snapchat Videos? Fix with 2021 Solutions >>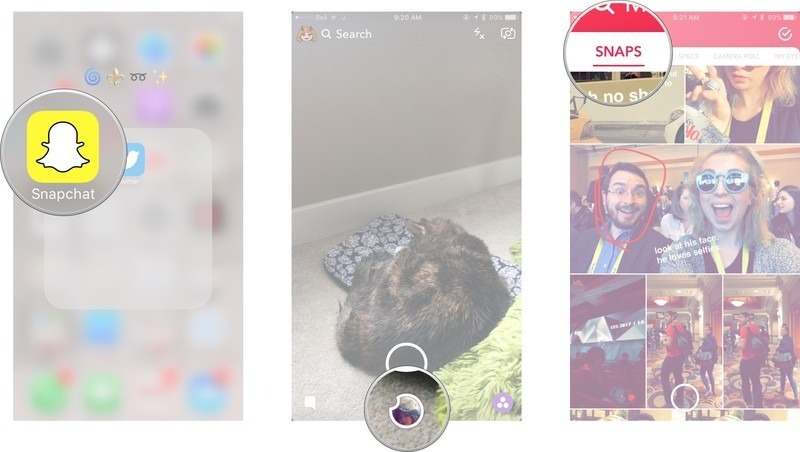 Edit Videos Before Uploading to Snapchat - Filme
Filme is a versatile video editing tool for Windows and macOS. It is a professional video editor that can be used for basic as well as advanced video editing. You can use it to make your social media videos more engaging and appealing.
It is important to edit your videos before uploading them on Snapchat. If you want to engage your audience and get a good result, you need to make sure your video is perfect in every aspect. Therefore, professional editing of your video is required before you upload it. However, you can edit your Snapchat videos on your own using Filme, as it is a user-friendly and simple video editor.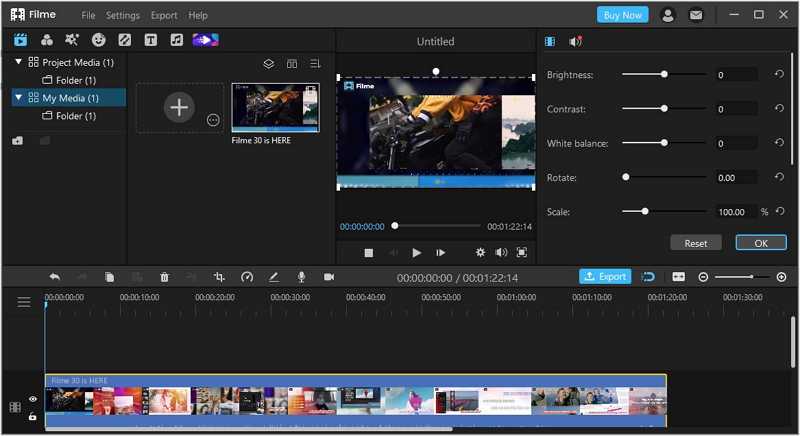 Features:
1) Basic Tools
You can do basic editing, such as cropping, trimming, splitting, speed adjustment, voice recording, and color adjustment. You only need to select the tool and follow simple steps.
2) Effects
There are dozens of effects that you can use to make your videos more appealing. You only need to click on the effect you like, and it will be added to the video.
3) Stickers and Emojis
You can add stickers and emojis to your videos. There are stickers, emojis, and GIFs available in Filme.
4) Text
Filme has a wide range of text styles. You can add titles, subtitles, and end titles. You can select the font, color, and size.
5) Audio Editing
The audio editing features of Filme are commendable. You can add music and adjust its duration. You can also add sound effects. Filme can also record your voice and change its pitch using the voice changer. There are various voices available to change the audio.
Final Words:
We have shared how you can send Snapchat videos from your gallery or camera roll. It is pretty simple, and the video can be up to 60 seconds long. Before sending Snapchat videos, you must edit them using a professional video editor, such as Filme. You can easily edit your videos using Filme, as it is an excellent and user-friendly tool and it can help you make a viral video for Snapchat.