Snapchat users and content creators try to make their videos viral to get fame and earn money. After the introduction of Spotlight, the priority of content creators is to make their video viral. In this article, we will share how you can create a viral Snapchat video. We will share some tips and tools that can help you succeed.
About Snapchat's Spotlight Feature
Short Video Platform
Snapchat's Spotlight is a short video platform just like TikTok. The short videos are shared by the users, and they are publicly available. They are quite engaging, and the creator can show his/her creativity in a few seconds. The video can be up to 60 seconds long, which makes it longer than your snaps. It is a growing platform, and there are over 100 million monthly users.
The best part is that the creators have the opportunity to make their content viral on the platform, and once your video is viral, it reaches a huge audience. The Spotlight Snaps can also be shared with a Snapchat user or on a third-party messaging service or website.
User's Privacy
Snapchat takes care of the user's privacy on Spotlight. The users under 18 can share their videos on Spotlight; however, the username will be hidden. Moreover, there is no comment section, so there is no chance of any invasion of privacy and other incidents; it is a safer platform for sharing short videos. The platform allows its 18 or above users to show their profile and make it public; however, it is completely up to the content creator.
For Everyone
Unlike other short video platforms, Spotlight is for everyone. The views, view time, shares, and likes are hidden. So, no one knows how many times your video has been viewed and how many likes it has. These metrics are only known to Snapchat. Thus, it does not matter for how long you have been on the platform or how many subscribers you have. Anyone can create and share content, and Snapchat gives an equal chance to everyone to get viral. It is perfect for beginners.
Earning
Spotlight also offers you a chance to earn. If your video goes viral, you can earn a lot of money. Snapchat has paid millions to some content creators because of the viral Snapchat video. If your video qualifies, you can also earn through it.s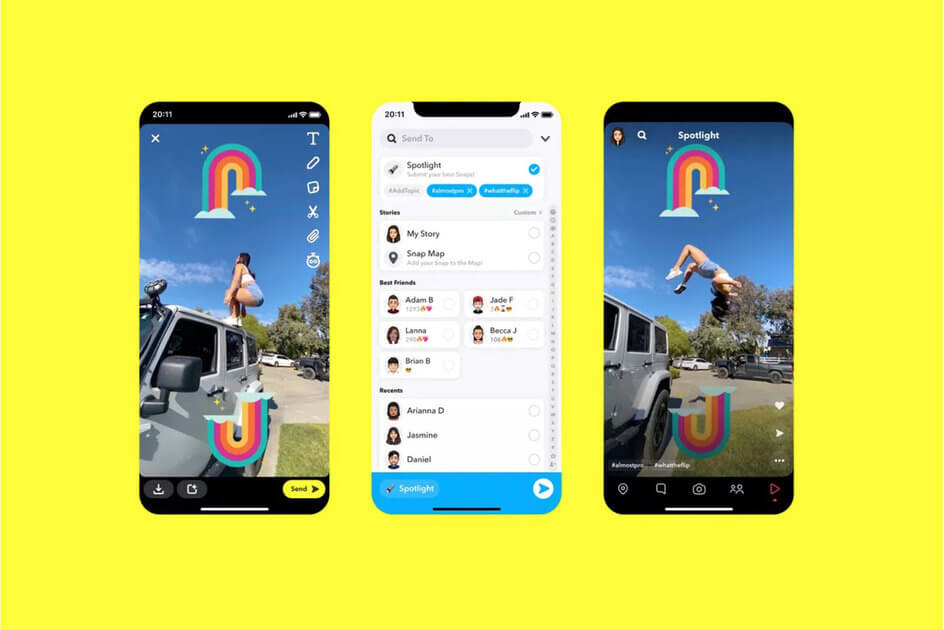 How to Make a Video Go Viral on Snapchat?
Be Creative
The first and most important thing is your creativity. People are more attracted to something unique, interesting, and engaging. You need to think out of the box and create something that users might like. Copying others' work and following others will not lead you anywhere near success.
The content goes viral on Snapchat when it has something exceptional. You can brainstorm some ideas and work on them. Getting viral on Snapchat also depends on your luck because there is no hard and fast rule. You might have seen people with simple content and getting viral on the platform. However, you need to try hard and be creative. The rest depends on how people react to the video and how many views and engagement it gets.
You can use Snapchat's filters and other native features. It is because Snapchat's algorithm detects its own features and filters easily and can show your videos to relevant users and under relevant search results.
Understand Video Format
Snapchat Spotlight has a video format. It accepts vertical video, which means a 9:16 aspect ratio. The minimum aspect ratio is 3:4. You need to make sure your video appears to be vertical. It should cover the whole frame without leaving any space. Moreover, you also need to take care of resolution. It must be up to the mark so that viewers can enjoy high-quality videos. The minimum horizontal resolution is 640px, but you need to upload a high-resolution video.
Add Hashtags
Spotlight allows you to add hashtags to your videos. You can add relevant hashtags while posting the video. Some users ignore hashtags, but it is important to use it because it gives you videos more reach. If someone is searching for a hashtag, he/she is more likely to end up on your video.
Hashtags become more important when it comes to following a trend. If you are following any trend or challenge, you should use relevant hashtags that other people are using.
Keep in mind that hashtags should not be random words. You need to use hashtags that are popular, and people are more likely to use them.
Use Professional Video Editor
You need to use a professional video editing tool to make your videos more interesting and engaging. Video editors have advanced tools, so you can edit your videos with perfection. You can precisely cut your videos, add effects, apply transitions, add text, change speed, and make other changes. Your video will look perfect. You can use Filme as it is a user-friendly video editor.
Guidelines
Make sure to create videos according to the general and community guidelines. If your videos are against the guidelines, they won't be considered for the prize. First, you need to make sure your content is copyright-free; otherwise, it will be rejected. You must have the right to every content and music in the video.
The videos will be public; therefore, you need to make sure you are following the community guidelines. Sexually explicit content, hate speech, bullying, harassment, threats, false information, illegal content, and a few other things are not allowed on the platform. In short, your submissions should be appropriate to a 13+ audience.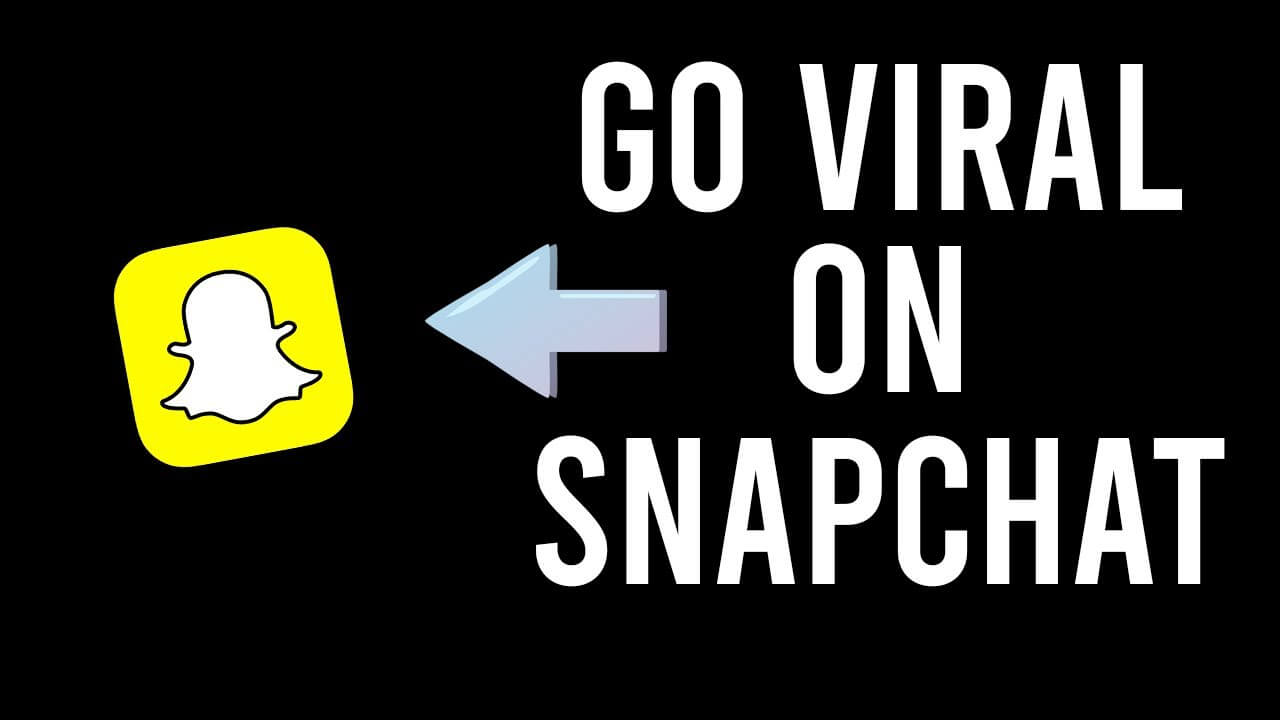 FAQs about Snapchat Viral Video
Q1. Does Snapchat pay for viral videos?
Yes, Snapchat pays for viral videos. Some creators have also received millions of dollars for their viral content on Spotlight. It is because Snapchat is trying to make its short video platform popular, and no one knows when it will last. The views and everything metrics are hidden; therefore, you don't know when your video will be qualified. You only get a notification if your video is eligible for the payment.
Snapchat does not disclose the criteria. Your videos must perform well in a single day, according to Pacific Time. The video must have accumulated at least $250 to qualify for the payment. This is the Value Threshold, and the users can reach the value threshold on any day in the first seven days of posting.
Q2. How long does it take to get paid from Snapchat Spotlight?
Snapchat first monitors the performance of your Spotlight video for seven days. If it performs well on any of the days, it could qualify for the payment if it meets the criteria. Once your video is eligible for payment, you get a notification. Now, you need to provide your complete information within 30 days and create your payment account. You also need parental consent if you are 16. After you provide everything, Snapchat provides the payment, but there is no exact time; there can be delays.
Q3. What is the best time to post on Snapchat Spotlight?
Currently, it is difficult to say which is the best time. It depends on the audience, country, and other factors. However, Snapchat calculates the performance of your videos according to Pacific Time. So, you can try uploading videos according to it.
Edit Your Snapchat Video to Help Get Viral
1) iMyFone Filme
iMyFone Filme is a professional video editor for beginners as well as experts. You can edit your videos like a professional and make them more appealing and engaging without any hassle. It is available for Windows and macOS users.
Features:
Basic Editing Tools
Filme has all the basic tools you need for editing. You can crop, trim, cut, adjust speed, adjust color, and make other changes. You can do all these edits precisely as Filme can help you magnify the timeline so that you can even focus on fractions of a second. The best part is that all the tools require a few clicks and a simple procedure to work. Thus, you can make your Snapchat videos perfect in no time.Imyfone filme have the best remove background noise from video tools,it is easy to use.
Advanced Features
Filme also offers advanced editing tools. You can add effects and transitions in one click. There are dozens of effects and transitions available in the library. You can add text, and there are many styles and fonts available. Filme also offers you screen recording, stickers, GIFs, and other advanced editing features. You can edit the sound of your video by adding effects and using a voice changer. Filme also has a music library to make everything easier. You can make your Snapchat videos more engaging.
Export Options
Filme offers advanced export options so that you can export your videos for any social media platform, including Snapchat. You can select the aspect ratio, resolution, codecs, frame rate, video format, and other settings. The video will be exported in the format you need.
Pricing:
Plan
Price (Limited Time Offer)
1-month Plan
$29.95 ($

49.95

)
1-year Plan
$39.95 ($

69.95

)
Lifetime Plan
$59.95 ($

109.95

)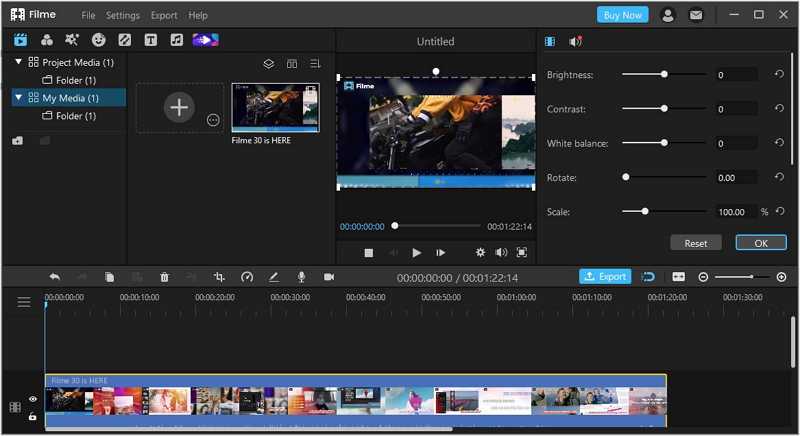 2) Splice
As one of the best Snapchat video editor apps, Splice is available both for iOS and Android devices. It is a simple video editing tool for quick editing. It only has Text and Music tools in the free version, so you cannot make other changes to your Snapchat video. You need to buy the premium features to use effects, speed control, and other editing features.
Features:
Aspect Ratio
You can create the project in your desired aspect ratio. It can be used to change the aspect ratio of any video. There are many options available, including 3:4, 4:3, 9:16, 1:1, 16:9, and 4:5.
Text:
Text can be added to any video using Splice. You can add text and edit it. There are different fonts, colors, and sizes available.
Music
Splice has its own music library that contains around 400 tracks. You can choose any track with one tap.
Pricing:
You can download splice for free. There are no ads in the free version. However, you there are extra In-App purchases that you can buy according to your needs.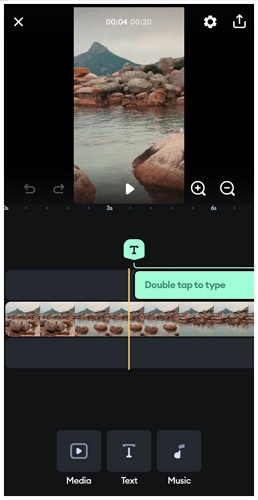 Also Read:
Easy Ways to Making Animated Videos on Snapchat >>
Final Words
We have discussed how you can create viral videos on Snapchat. You can follow the tips and try your best to earn. We recommend Filme for editing Snapchat videos. It has the basic and advanced tools to make your videos viral. It is one of the best video editors for Snapchat on desktop. It is suitable for everyone, even if you have never used a video editor before.