You don't need to hold the record button on Snapchat to record your videos. Snapchat introduced this feature in 2018, and before that, the users have to hold the button. You can now leave the record button and enjoy recording without holding your mobile. In this article, we will show how to do hands free Snapchat video. We will also share a video editing tool that you can use to make your Snapchat videos more engaging and interesting.
How Do You Record a Video on Snapchat Without Holding the Button
Recording a video on Snapchat without holding the button is quite simple. You just need to follow the simple steps.
Step 1: Open the Snapchat application on your mobile.
Step 2: You will be in the camera section. Now, you can record your videos and click snaps. First, you need to press and hold the record button.
Step 3: You will see a padlock on the left of the record button. You need to drag your finger to the padlock. This will lock the record button, and you can record your video without holding it.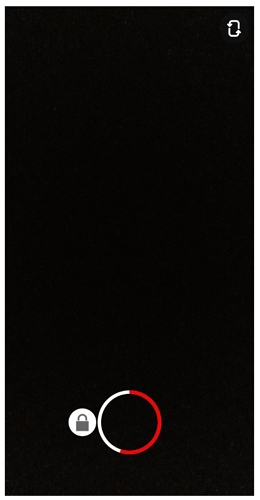 Step 4: Snapchat will keep recording your video until you press the stop button. Press the stop button when you want to stop the recording.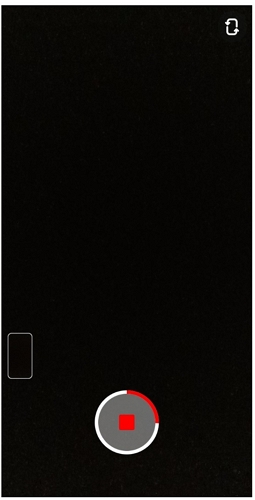 Step 5: You are ready with the video. Now, you can edit the video as you like. You can add text and music and do anything you want. Now, you can either save your recorded video to the device by tapping on the Save button or send it to someone.
Use Hand Free Mode on Snapchat for Over 10 Seconds
Hands free mode is excellent for recording videos by placing your mobile at a distance. Luckily, you can record over 10 seconds, and you can even remove the first part of the video that was required to set your device in place. The steps to record the hands free video for over 10 seconds are given below.
Step 1: Launch the Snapchat application on your mobile.
Step 2: You will see the camera screen. You can switch between the front and rear camera before you start a hands free video.
Step 3: Tap on the record button and hold your finger. Move the finger to the padlock, and it will lock the record button.
Step 4: Now, Snapchat will be recording your video. You can place your phone anywhere you like and record yourself like you are recording with a camera. Snapchat can record up to 60 seconds, and these will be split into six snaps of 10 seconds each. It will record your snaps one after the other, and you don't need to do anything. It will stop after 60 seconds or when you press the stop button.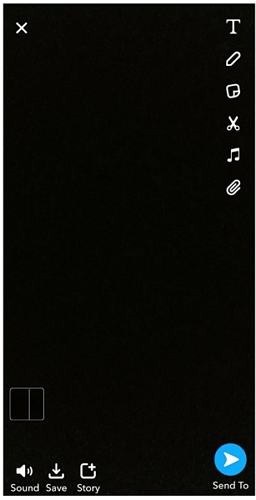 Step 5: Your video is ready, and you can edit it as you like. You can also trim the starting part by tapping on the timeline located at the bottom left corner. After all edits, you can save the video or send it to anyone. You can also upload it on Snapchat Story.
FAQs About Shooting Snapchat Video
Q1. How to record continuous videos on Snapchat?
Snapchat allows you to record continuous videos for up to 60 seconds. The continuous videos are in snaps of 10 seconds. It records snaps one after the order and stacks them up. You cannot record a single snap of 60 seconds; however, the 10-second snaps are just one after the other with a quick transition. You only need to tap and hold the record button, and Snapchat will record the snaps automatically. A new snap will stack up when the previous one finishes.
Q2. How long is a single snap video?
A single snap can be up to 10 seconds. It cannot be longer than that; however, you can record multiple snaps together. There can be at most six snaps in a video.
Q3. Can you record a video call on Snapchat?
Yes, recording video calls on Snapchat is not an issue. Anyone can easily record a Snapchat video call on his/her phone. The only problem is that the other person on the Video call will be notified whenever you record the screen. Snapchat keeps its users sure about their privacy. So, make sure to inform the other person before you start recording a video call on Snapchat. Video recording on Snapchat can easily be done by using the mobile's own screen recording feature, or you can also perform screen recording with the help of any screen recording software or application on your mobile.
Q4. Can you save someone else's Snapchat video?
Yes, you can save someone else's Snapchat video. This can be done in two ways. You can record the screen using a screen recorder, but this will send a notification to the sender. If you are fine with the notification, you can use it. But if you don't want to let the sender know, you need to follow some extra steps. This method only works if the snap is new and you have not seen it. First, you need to turn on airplane mode on your device. Start the screen recording. After recording, go to Snapchat's settings and clear the cache memory. Close the app and remove it from the recent apps. Finally, turn off airplane mode. You might also want to how to save Snapchat videos.
Want to Edit Video for Snapchat on Desktop? Try Filme
Filme is a desktop video editor for Windows and macOS. It is a professional and versatile tool that can help you create awesome and engaging videos for Snapchat.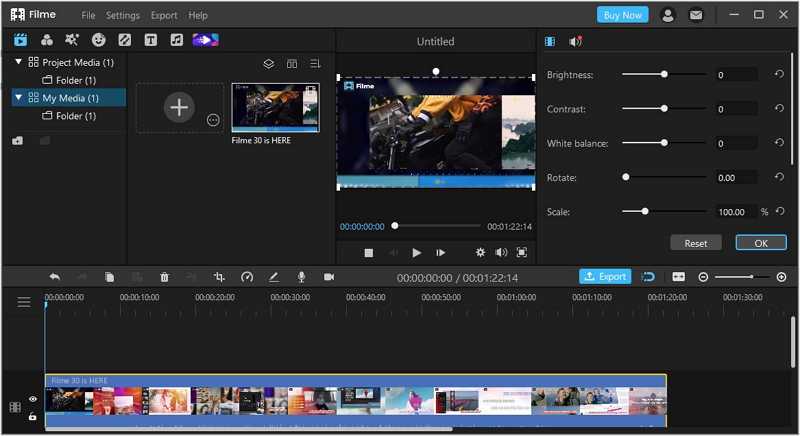 Features:
1) Basic Editing
Filme has all the basic tools for video editing. You can crop, trim, change speed, adjust color, rotate, and make other changes to your videos. Everything is quite simple and easy.
2) Advanced Effects, Filters, and Transitions
There are advanced filters, effects, and transitions, and they only require one click. You can apply all these exciting effects to your videos in no time.
3) Text and Stickers
You can add text to your videos. There are many styles, fonts, and sizes available. You can have titles, subtitles, and captions. Moreover, Filme also offers exciting stickers and GIFs. You can make your videos more engaging.
4) Slideshow
The slideshow maker of Filme is exceptional. There are dozens of professionally created templates that you can use to create an awesome slideshow. You only need to add images.
5) Audio Editing
Filme can also edit your audio. You can add sound effects, music, and voiceover. You can also use the voice changer to change your voice.
6) Export Options
The export options of Filme are suitable for social media platforms, including Snapchat. You can select the audio, video, and GIF formats. You can choose the desired aspect ratio, frame rate, bitrate, resolution, and other settings.
Final Words
We have discussed how you can record a Snapchat video without holding the record button. It is a simple and excellent feature for the users. You can create snaps and multiple snaps without any hassle. If you want to make your videos more appealing and engaging, you can use Filme. It is an advanced video editor, which is suitable for beginners as well as experts. It can help you edit your videos like a professional.