Snapchat is famous for its funny, creative, and animated filters that you can easily add to your photos and videos. But the real question stands: can you use filters on Snapchat video call ?
The answer is YES. Your favorite social media app allows you to add filters to live video chat with just a few taps on your smartphone. So, if you want to learn how to add filters in Snapchat video call to make it more exciting, then stick to reading.
Part 1. How to Enable Snapchat Filters on Video Call?
Snapchat offers a sleek video call feature allowing users to make a video call to a friend or a group of up to 15 friends at a time. Unleashing the exciting and yes, hilarious Snapchat filters during a video call with your friends is bound to make the communication more fun and super cool.
But before indulging in a lively Snapchat video call, you need to enable the Snapchat video call filters. Mostly, this feature is turned off so, you have to turn it on to use them in a video call.
Check out yourself how easy it is to enable Snapchat filters:
Step 1. From your smartphone's home screen, launch the Snapchat app.
Step 2. Scroll down on the Camera screen to open your profile. Then, hit on the Settings icon to open a menu window.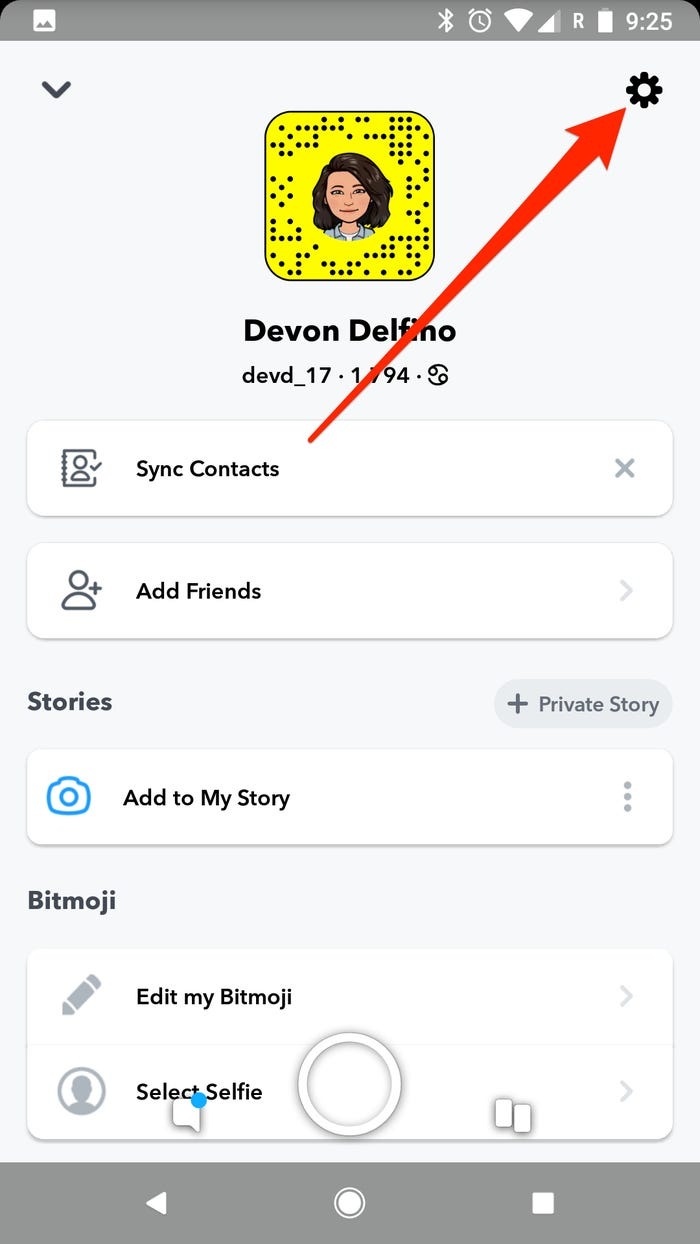 Step 3. Under the "Additional Services", tap "Manage" preferences.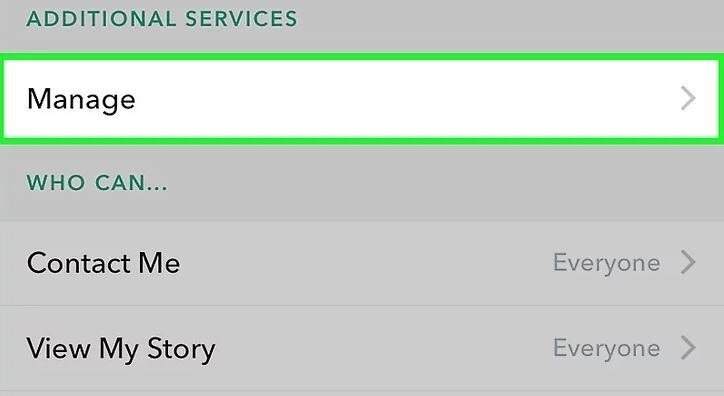 Step 4. Now, turn the slider on to enable filters. It will turn Green when Snapchat filters are on.
It won't take you more than a few seconds to enable Snapchat filters on your smartphone – both iPhone and Android.
Part 2. How to Use Snapchat Filters on Video Call?
After enabling the Snapchat filters, you must be wondering how to use Snapchat filter on video call. Guess what, it's easier than you think to transform your face or background while video chatting with your friends.
With just a few taps on the app's interface, you can explore a myriad of stunning filters during a live video call – and surprise your friend or BFF.
Make a Video Call
First of all, start a video chat with a friend or group of friends. To do that:
• Swipe right from the Camera screen to open the "friends" list
• Tap on the friend/s you want to make a video call
• Hit on the video recorder icon to initiate a video call.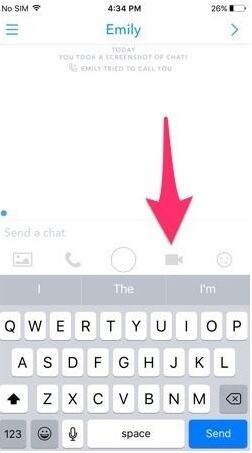 Use Snapchat Filters
Here's how you use Snapchat filters on a video call:
Step 1. Once the call pushes through, Snapchat will notify the friend on the other side. Wait until they have received the call.
Step 2. Once the call is made, you'll see many Snapchat filters right below your face icon. Scroll right to see all the filters available that you can use.
Step 3. To use a filter, simply tap on it and both you and your friend will see that filter. Some filters take a while to load as you haven't used them yet.
You can change the filter anytime you want. Just tap on any filter and it will replace the previous filter. Keep the chat interesting by regularly changing the filters.
Use Two or More Filters Simultaneously
If you want to use more than one filters at a time during a call, then all you need to do is:
• Apply the first filter
• Tap and hold the filter you have just applied
• At the same time, use another finger to swipe through the other filters and tap on a filter you want to apply over the first one.
Part 3. Add More Filters to Snapchat Video - iMyFone Filme
The main reason Snapchat got so popular is the wide range of super-amazing and funniest filters it offers to transform your looks. But if you're an avid Snapchat user, you may get bored after repeatedly using the same built-in filters.
That's where you need a professional Snapchat video editor like iMyFone Filme which offers unlimited filters and effects that you can apply on Snapchat videos. With just a few clicks, you can give Snapchat videos a completely new look.
Its intuitive and simple interface assure you attain perfection like a pro when it comes to editing Snapchat videos.
Key Features of Filme

Offers thousands of new and exciting effects to add to Snapchat videos
Multi-layering of Snapchat videos
Adjust style and atmosphere of Snapchat videos
Unlimited video effects and themes for Snapchat videos
All basic video editing features including rotate, crop, trim, split, and so on
Multiple editing modes
Can detach audio from Snapchat video
Adjust the speed of Snapchat video clips
Offers Fast video mode
Can create an impressive slideshow
Easily adds text to your Snapchat videos
Pros of Filme

Easy to use even for beginners

Users can apply filters and effects with one-click

Small in size yet very powerful in functionality

Easy accessibility to thousands of video editing tools

Instant preview of effects while editing
Check out yourself how to apply filters on Snapchat videos using Filme:
Step 1. After downloading and installing iMyFone Filme, launch it on your computer.
Step 2. Click on the Import Media option and browse and load the Snapchat video you want to edit.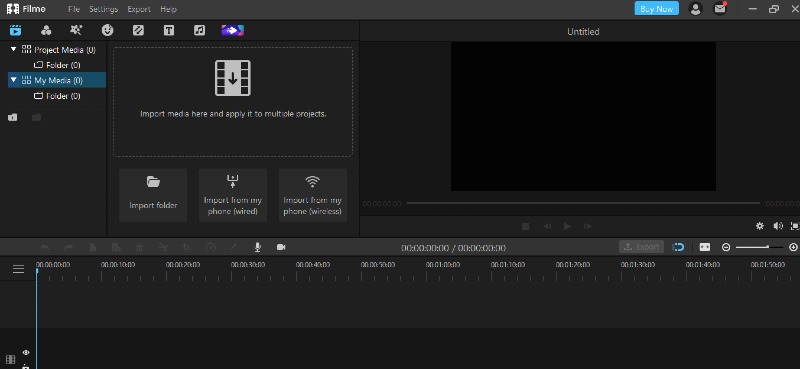 Step 3. Now, take your cursor to the Snapchat video and click on the "+" sign on the video to move it to Filme's timeline at the bottom tab.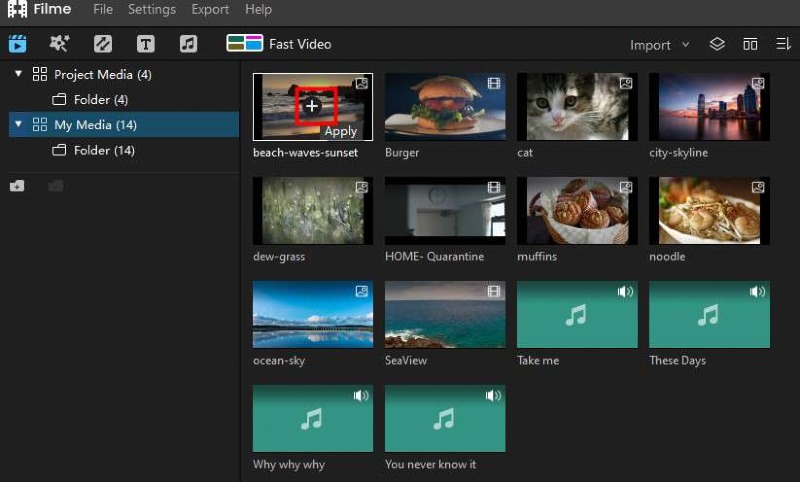 Step 4. After that, click the video in the timeline to select it. Now, you can apply unlimited filters and effects to this video.
Use the left tab to view the filters. To apply any filter, simply click on the "+" and hit Apply to add the effect where you want on the timeline.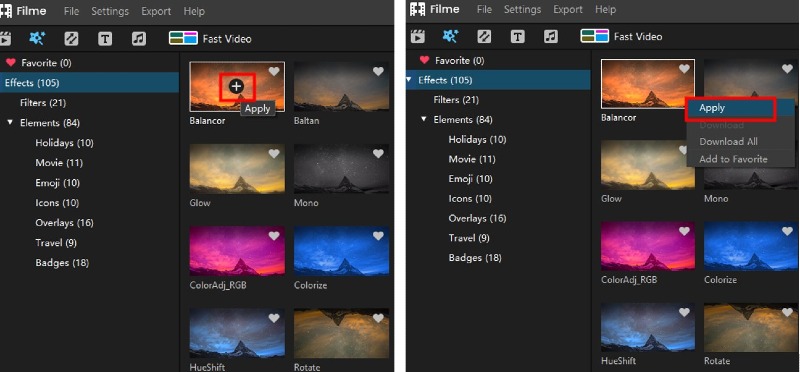 Step 5. Once you're done editing, hit on Export > Export Video at the top tab to download the final product to your computer.

iMyFone Filme has made it easier than ever to apply filters to Snapchat videos. It'd take you ages to try all the amazing filter it offers to make your Snapchat videos splashy.
If you're still having any confusion in using various features of this software, watch this video to clear up your doubts.
Also Read:
How to Make Videos with Filter on Snapchat [2021 Detailed Guide] >>
How To Rotate Snapchat Video: 2021 Complete Guide to the Tips and Best Editors >>
How to Save Snapchat Videos? >>
Part 4. FAQs
In this section, we will go through the FAQs of users related to applying filters on Snapchat video call.
1. Why can't I use filters on Snapchat video call?
If you are unable to use Snapchat filters, then make sure to enable them in the Settings > Manage and turning the filters slider on.
Also, check if you have a healthy internet connection as Snapchat filters are available only when your mobile has viable Wi-Fi or cellular data.
2. How to use Snapchat filters without creating an account?
Unfortunately, there's no way of using Snapchat filters until you have a username or create an account. In such a case, you can rely on alternative apps like iMyFone Filme to use unlimited filters, even more than what Snapchat offers, and spark creativity in your videos.
Part 5. Conclusion
Moving towards the end, hopefully, you have got the complete understanding of how to video call on Snapchat with filters. It's an amazing feature that makes your video chatting more exciting and enjoyable. So, next time you are in a video chat, don't forget to surprise the person on the other side with amazing filters to pep up the communication.
However, if you want to delve into the world of unlimited filters, then install iMyFone Filme and apply thousands of advanced and amazing filters to your Snapchat videos. With the stellar video editing features including an ocean of fun-filled filters it offers, Filme is your best bet.