Making a memorial slideshow is the perfect way to depict the "Always in our hearts" moment during a funeral. Losing someone is not easy. But since life and death is a cycle, it has to complete one day. Reminiscence is the most beautiful thing that you can have about a person.
Also the best way to address a funeral is by making a memorial slideshow with images of the person who has left for the heavenly abode. For doing so, it is important to use an apt memorial slideshow maker, one which lets you express your emotions with images and songs.
We know that at a time like this, it is not about making an impression, but that does not mean that you can create a slideshow in haste. Here are three incredible platforms to make memorial slideshows.
Part 1: When Will You Need a Loop Slideshow?
To create the best, you need the best. Working with a free memorial slideshow maker should be done by first checking the features and functionalities of the same. There are a ton of slideshow makers available for use, but not all of them are good enough to deliver the required results. Hence, we have found the top three slideshow makers for your reference.
1. Filme
iMyfone Filme takes the slideshow making experience to a whole new level and the best part is that even beginners can use the software without any trouble. This software has a wide gamut of in-app templates, songs, transitions, effects, and text options to make the perfect slideshow you need.
You can also select from customizable memorial slide templates to create a perfect video about the funeral that is appropriate and fits the occasion. If that's not all, Filme gives you the ability to edit and design the slideshow like a professional.
2. Filmora
The second option in the free memorial slideshow maker is Filmora that brings on board a collection of 450 templates. Yes, you can also customize these templates as per your requirements. Filmora also gives access to 100+ transition effects that makes watching the slideshow similar to a movie.
Using Filmora is a tiny bit more difficult than Filme as the former is built to assist professionals and medium level video editors. Despite this, if you are a beginner you can easily make a slideshow with Filmora as it can be easily learned.
3. Animoto
Animoto will surely make you a video editor without having any experience in the field. Working with Animoto will feel like a breeze and you will end up with a beautiful memorial slideshow, one that will surely bring back several memories for the viewers.
Animoto allows you to add images and customize them with a wide choice of colors, texts, and graphics. You can also add some memorial music for slideshows to create a better effect with the presentation.
Part 2: How to Make a Memorial Slideshow
Filme offers basic to advanced editing features that are required to build any type of memorial slideshow. As an incredible memorial slideshow maker, Filme lets you make professional quality slideshows without letting you dabble too much with the controls.
What follows is two-way strategy to answer your question on how to create a memorial slideshow with music.
Method 1: Fast Mode
Filme's Fast Mode is one of the best things about making a slideshow and this option fits well for every type of slideshow including memorial. The fast mode is a better option if you need to make a slideshow quickly, but without compromising on its quality. Even though you can customize the settings, it is not suggested as the Fast Mode is like add, preview, and export.
Here's a tutorial for how to make a slideshow in Filme:
Here's how it works.
Step 1. Open Filme and select the slideshow template you want to add. For memorial or funeral slideshows you can choose the Sorrow slideshow template.
Step 2. Click on one of the four options to add images to the slideshow maker. You can drag the images, import the entire folder from your desktop. Filme also gives you the option to add images from your phone by USB transfer or by wireless method.
Step 3. After importing files, just click on "Preview", you will see the video template effect. Isn't that easy?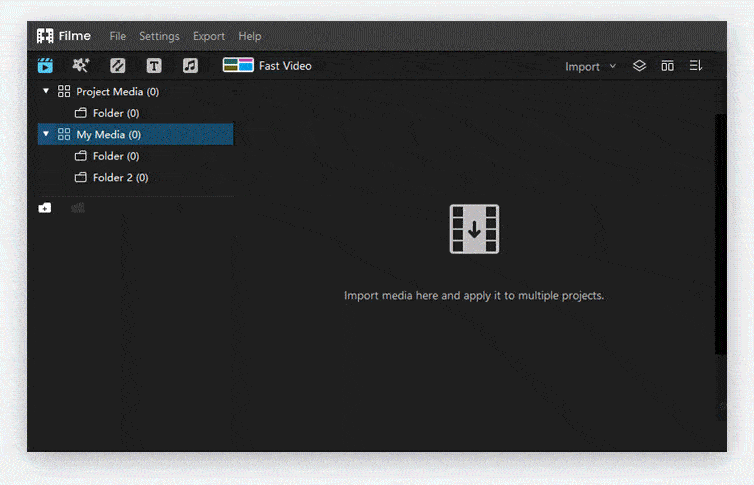 Method 2: Film Editing Mode
The Film editing mode is best for those who wish to take the editing into detail. The extensive editing abilities of the program will let you customize the memorial slideshow template or make a new one from scratch.
Step 1. Start by adding images to the software. You can import the images in one of four ways. Two of these options are for importing images from your disk drive and the other two are from mobile devices.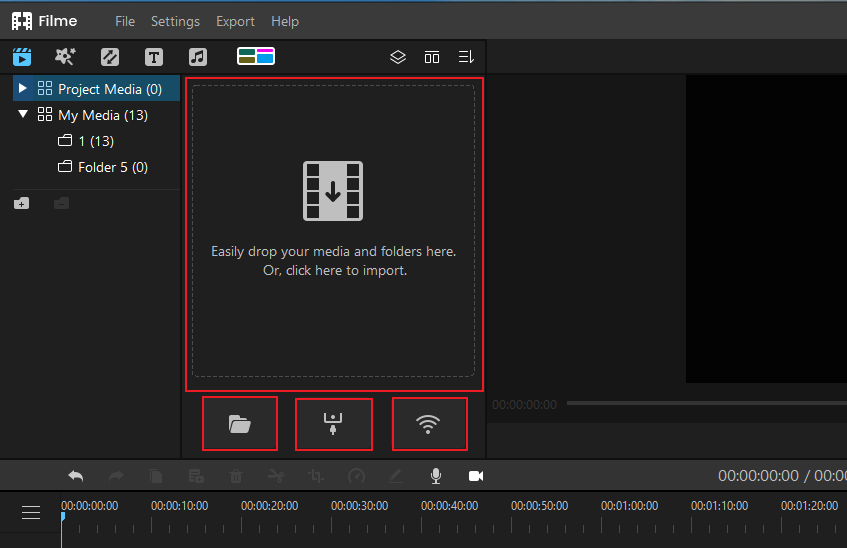 Step 2. Once the images are added, you can align them according to your choice and add effects, transitions, and text to them for better understanding. The free memorial slideshow maker, Filme offers a plethora of effects and transitions that can be added.
Step 3. If required, you can add any one of the music tracks provided in the repository. If any music track does not suit the purpose, you can also add an audio media file from your disk drive.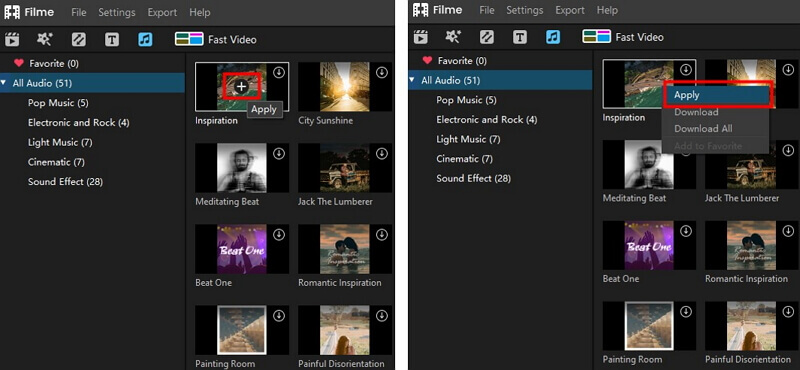 Step 4. In Filme, the time allocated to each image is automatically set on the basis of the audio file length. If you want to change the duration of the image length, drag the image from either end and drag it adjust accordingly.
Step 5. Once done, click on Preview to check the final outcome and if everything is good to go, click on Export to save the file on your disk drive. You can also upload the file directly to YouTube or Twitter.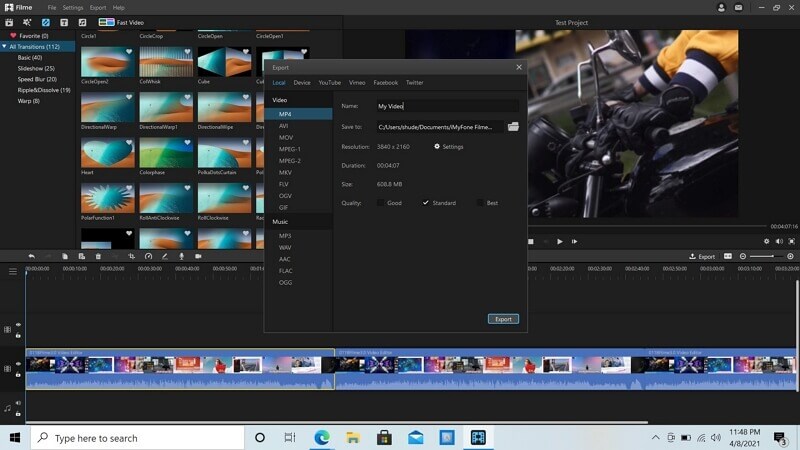 Part 3: The Best Memory Songs for Slideshow
It may happen that the music tracks and sound effects preloaded in the software are not appropriate for the slideshow. In that case, you can choose from a variety of different background songs that will fit perfectly into the slideshow.
Here are your options to add free music for memorial slideshow.
Instrumental Songs
Instrumental funeral songs add a soothing background to the slideshow. Creating a memorial slideshow requires the entire setting to be calming and quiet. Hence instrumental music is one of the best options for all sorts of memorial services.
| Song | Artist |
| --- | --- |
| Canon in D | Johann Pachelbel |
| Tears of Love | Audiocalm |
| Time to Say Goodbye | Sarah Brightman and Andrea Bocelli |
| Islands in the Sky | Geoff Harvey |
Traditional Songs
Traditional songs never fail to strike a unique chord with the listeners. Adding them to the list of memory songs for slideshows will surely take the listeners back to the golden days into the fountain of youth. For a memorial, such songs will be great.
| Song | Artist |
| --- | --- |
| I will Remember You | Sarah McLachlan |
| We'll Meet Again | Vera Lynn |
| The Prayer | Celine Dion and Josh Groban |
Spiritual Songs
We tend to find ourselves closer to the almighty in situations when we are helpless. Adding a spiritual song to the memorial services seems great. Here are a few options.
| Song | Artist |
| --- | --- |
| Remember Me | Mark Schultz |
| I'll Fly Away | Jim Reeves |
| Save a Place for Me | Matthew West |
Conclusion
Making a memorial slideshow is more about the emotions and less about the graphics. It is a situation, where you need to express the raw emotions without filters and effects. You can use any software to create a slideshow, but the ones which can help you build a simple slideshow without suggesting too many filters seems the perfect option here.
In that case, Filme is the right choice for a free memorial slideshow maker. It has a plethora of tools that you can use, but Filme also knows how to keep it simple yet impressive.