Memories are an integral part of a person's life. They make us what we are and nourish our feelings. Memories keep us alive and lively. The memory of your wedding day can be very mesmerizing to keep forever. The best way to keep your wedding event, in a nutshell, is a slideshow. A wedding slideshow always lets you keep your best days' glimpses with you. There are tons of ideas for a great wedding slideshow.
Top Wedding Slideshow Ideas
People have different memories that they want to hold on to for their life. I assure you also have one. You can hold on to the memories for as long as you want. It is just a click away because it has become possible with slideshows. If you want to hold on to the wedding memories, you can make a wedding slideshow video. Here I'll share some of the best ideas you can use for making wedding slideshow videos.
Life story
If you want to make a memorable wedding slideshow, you should try to make it from 'way back' when you both met or even your childhood pictures. You should then finish it at the point where groom is taking the bride away and write a cute little quote in the end. This idea will renew all your old memories you had with your spouse.
Family Interviews
How about interviewing your friends on your wedding day? No, I am not saying that you record or ask them anything, just let someone else do it for you. All you need to do is tell someone to ask this or that question from all your friends and family related to your wedding. For example: a question "who do you think will wear the pants in the house?" someone will say your name or others would say your husbands name but of course only you two know who wears the pants in the house. This idea is a great one as it includes every important person on your very special day of life, so why not keep all of them in one slideshow video?
Focus on the wedding
If you have not done the interview of your friends and don't have pictures in sequence of your husband and you, no problem! You can still make one of the best wedding video that will stay with you for the rest of your life. All you need to do is make a movie of the entire wedding place, the decorations, the people, priest, foods, anything and everything. Include all this in your wedding slideshow video and you will see that it is like a moment replaying itself in front of your eyes. Not many people do this; just honestly they are missing on such an important idea.
After getting the wedding slideshow ideas, you may also think of the best ways to make the slideshow mind-blowing, right? Well, here are the three fundamental steps you may follow for the best.
How to Make Wedding Slideshow in 3 Simple Steps
To create a wonderful and super professional wedding slideshow, you can always land on iMyFoneFilme. The software has various marvelous features for your wedding slideshow to stand out from any other. The top 3 amazing features of the software will be discussed below:
1. Choose a stunning template from 25+ templates and 175+ effects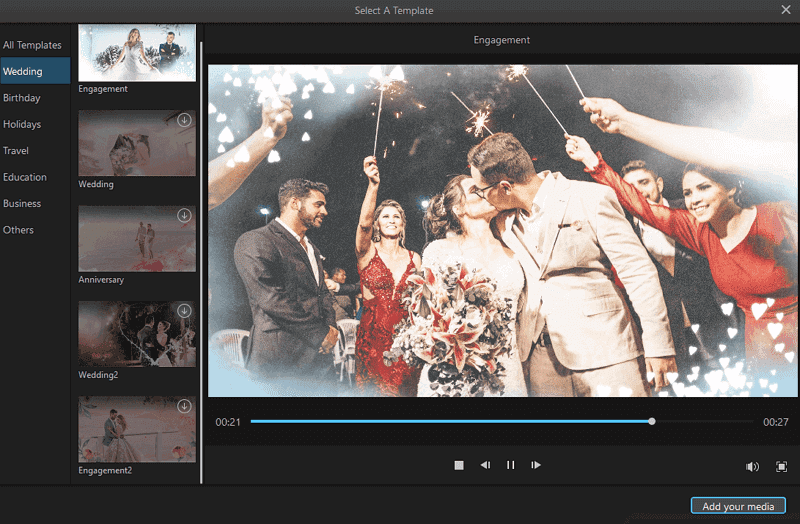 The first main feature of this software is that it provides you with tons of options and choices to select your perfect wedding slideshow template. This software allows you to add beautiful templates and effects to your video. Usually, you get to choose from very common or ordinary effects/filters for your slideshow. But this software allows you an abundance number of effects that can eventually change the entire theme of your video. The wedding slideshow templates can refashion the entire thread of your video. The right effect or filter can bring life to your simple slideshow. It can intensify the game of the video.
2. Customize your slideshow
Many software does not liberate you to alter or modify your video. While this wedding slideshow maker gives you full control over adjusting and reforming the pictures or small videos of the slideshow. You can also adjust the size of a particular picture as per your desire. You can add any picture of any size and orientation, i.e., landscape or portrait, which is a great feature as many software restricts you to add images of a specific size only. After making the complete wedding slideshow, you can make changes at the end too. Add text or emojis related to the event. This kind of customization is quite rare, but iMFoneFilme has provided you the best features after all.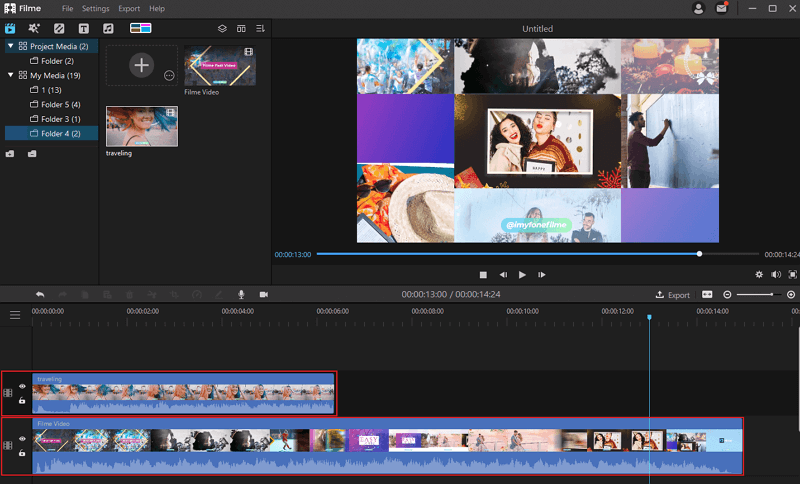 3. Export the video and preserve your everlasting memory
After you are done editing your wedding slideshow, it is now time to save it for a lifetime. The software allows you to transfer the video to any device. It may be an iPhone, iPod, smartphone, android, your laptop or personal computer (PC) or your PS4, etc. The options are not limited to the user. However, the video will be exported based on the quality you choose. The size of the video will remodel itself according to the quality. For instance, you choose HD quality; then the file will take more space than a premium quality video. The quality of the video will not change the wedding slideshow template or anything within the video but its resolution and pixels.
These were some very basic yet the most efficient software features that will abet your slideshow's view.
Now you may also think that why am I suggesting you go for iMfoneFilme for your editing? Well, I have some more features to disclose of the software, which many other software lacks.
Part 3: Why do We Suggest iMyFone Filme to Make Wedding Slideshow?
iMfoneFilme is the newest video editing software. It is made to help newbie content creators to create amazing videos. It also provides the service of wedding slideshow making and many other edits, like baby editing, GIFs, and allows the user to share the video to any platform.
Key Features:
Filmehas privileged you to create the videos in a very short period. You do not need to sit for hours to make a single video. The processing super-fast and adequate.

It has also made the audio edition possible for the user. This feature is essential when it comes to forming a connection between the video and the video makers, the couple. Adding your audio and narrating every event by heart is something very much overlooked, but it is something very precious.

The software not only allows you to add some basic text,also it has provided you with many fonts and sizes, which you can modify according to the picture or the theme of the video.

As discussed earlier, the software lets you play with numerous effects, which make a prominent change to your wedding slideshow.

It has also facilitated you in terms of making a video for your dearest baby. With its vast templates and effects, you can create a baby slideshow within 5 minutes or even less.
Another feature of iMyFone Filme is that it's the best approach for a newbie. If you have never edited a video before, this software will aid you in the best ways. It is super handy and easy to use. You do not require multiple qualifications to use this software, and for your assistance, you will find complete guidance on how to use the software and make use of all its features without any trouble. For a better idea, the software has created a video for its users! What can be cooler than this, right?!
Watch the video and know everything about how to make a slideshow
Now after suggesting to you the best software which is 100% user-friendly, we will discuss some innovative wedding slideshow ideas.
Part 4: 5 Tips on How to Make the Perfect and Unforgettable Wedding Slideshow
1. Captivating slideshows:
Always try to makeslideshows that are precise yet captivating. Your slides should be eye-catching not a bore-to-tears one. Try adding more funky texts or filters, nothing too much that it makes you look desperate.
2. Romantic Music:
Add a romantic music in your slideshow video in accorder to enhance the meaning of your wedding slideshow video. There are a lot of romantic songs you can put for example: "all of me" by John Legend or maybe "I won't give up" by Jason Mraz. Appropriate music counts a lot to create a wonderful atmosphere. You don't want to use songs for baby growing up in your wedding slideshow.
3. Theme designs:
Always think of a theme you are going to set before making a wedding slideshow video. Themes make your slideshows look more appealing and fun to look at. Maybe try using some themes with a beach side for your wedding slideshow video or whatever you like.
4. Hire a professional:
If you think that you cannot make a great wedding slideshow video, try hiring a professional wedding slideshow maker. They can make a wedding slideshow for you in less time than you would take. This can help save your time and efforts from wasting.
5. Add pictures:
When making a wedding slideshow video, try to add pictures of every event. Don't leave even a single one. For example: add a picture of bride coming in, then of bride and groom standing together, then ring exchange, after that you can add the picture of cake cutting, etc. Try making a video in this pattern so that the viewer doesn't miss even a single thing.
These were some very vital ideas for a perfect slideshow. If you are an easy-going person who doesn't want to overburden him or herself, you can always consult best wedding slideshow makers and create an amazing video. The wedding slideshow is in great demand as you can keep the memory of the most special day of your life, forever with you, and recall all the memories of that day in minutes. It can be the best souvenir of your life which you can always keep to yourself and use to freshen up the old memories.