Ever wanted to record a TikTok and save it for later without letting the publisher know? It is always a good idea to know how to screen record a video on TikTok. This article will help you learn multiple ways of screen recording on TikTok without you having to worry about the other person knowing.
There is also another way: you can use TikTok on PC and use a more professional video editor to record and edit TikTok video. Free download iMyFone Filme by clicking the buttons below and you will get the tool.
Part 1. Does TikTok notify screen recording?
Have you ever accidentally taken a screenshot of someone's Instagram story or screen recorded it for future reference and gotten scared that the person may have been notified? While Instagram had the feature of notifying users if their story or picture has been screen recorded, however, recently it has made the change of only restricting this notification to videos and photos sent via private direct messages.
However, TikTokers can rest assured as TikTok has never had the notification feature, and you can safely screen record various TikToks without notifying the publisher. It is only if you decide to share the content and make it public, that the original publisher will be notified.
Part 2. How to screen record on TikTok?
This section will discuss four methods of screen recording on TikTok. It will briefly explain the steps involved in each method and the link to each tool. Now you have multiple options of screen recording a TikTok video, choose the one that is ideal for you!
1. iOS built-in recorder – iOS
The first method discussed is the iOS built-in recorder. This is only useful for Apple users. Here are the steps to follow to screen record using this method.
Step 1: Open Control Center on your Apple device.
Swiping from the top of the screen will open the control center on your device.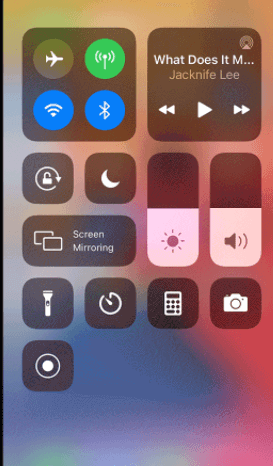 Step 2: Start Recording
Once you click on the gray dot on the screen, a countdown will begin to start the recording.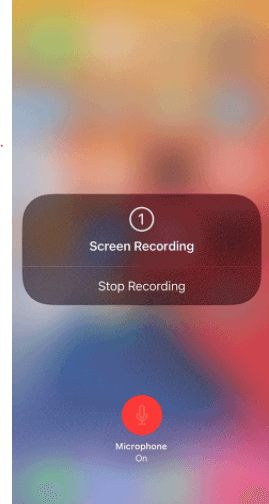 Step 3: Stop Recording
Once you have completed the screen recording, you have to click on the red strip on top of the screen to stop recording.
Step 4: Confirmation
The prompt will ask you to confirm to stop recording, once you click stop recording, the screen record will be saved in your photos.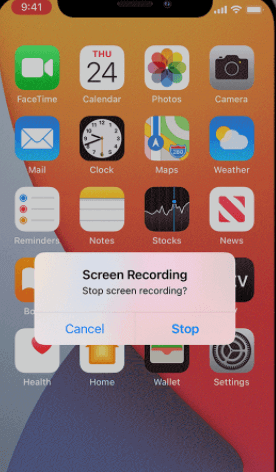 Where to get it?
This is an in-built feature in Apple products and is available on products that have iOS 11 or later.
2. FonePaw Screen Recorder – Windows PC & Mac
And if you want to record video on TikTok's web version from your computer screen, third-party screen recorder such as FonePaw Screen Recorder can be a suitable choice. Compared with the built-in screen recorder on your Windows or Mac, FonePaw Screen recorder can be handy and flexible to handle the screen recording task. Here's how it works.
Step 1: Launch the program and click on Video Recorder.
Download and install the suitable version on your computer. From the screen recorder's interface, click on Video Recorder.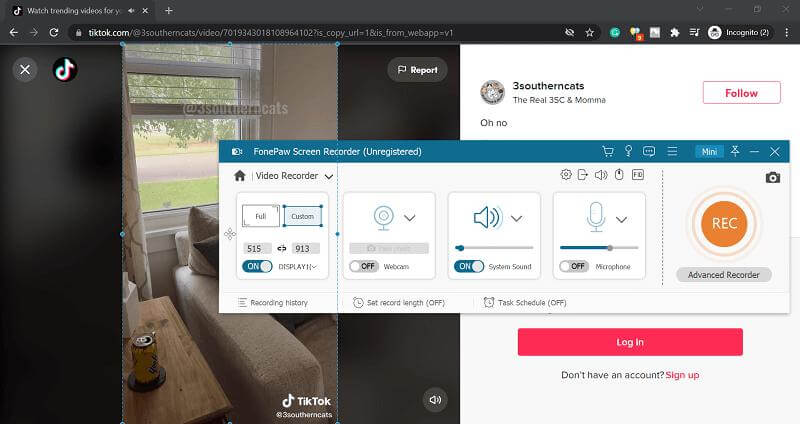 Step 2: Customize the recording settings.
A noticeable advantage of using third-party is that you have the option to customize the recording area. Now, tind the TikTok video that you want to capture, and switch to FonePaw Screen Recorder. Then, toggle the slider to set system sound volume and microphone volume.

Tips: Click on the Advanced Recorder button right under the REC button, and you can also select to Lock and Record a specific program window.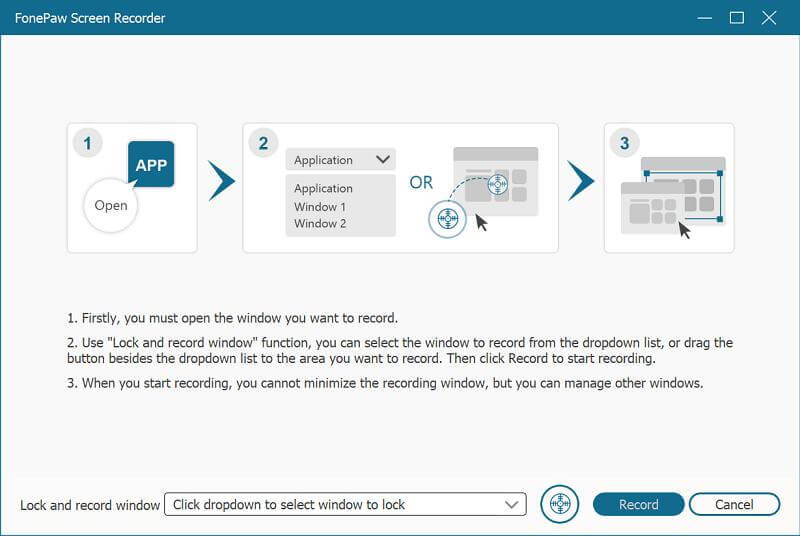 Step 3: Start recording TikTok video.
Click on the REC button to start the recording process. After a 3-seconds countdown, the recorders will start to capture the TikTok video. During the recording, you can also use the editing tools from the progress bar. Finally, click the Stop icon to finish the task. And a preview window will pop up to show what you've recording. Simply click Save to keep your TikTok video recording.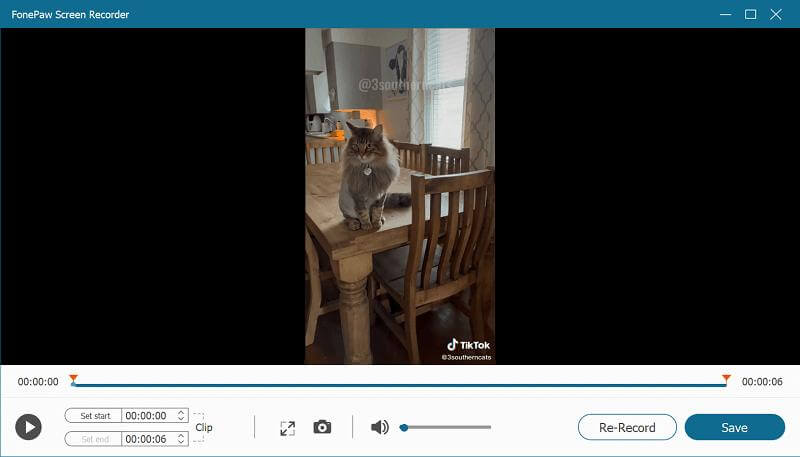 Where to get it?
You can navigate to FonePaw's official Screen Recorder page to download and install the software.
Link is here: https://www.fonepaw.com/screen-recorder/
As Android users may not have an in-built system for screen recording, the DU recorder application is an easy method for android users.
Step 1: Start Recording
Press on the orange tab on your screen to begin recording your screen. Once you have started recording you will see three other circles, which give you the option to pause, stop or go to settings.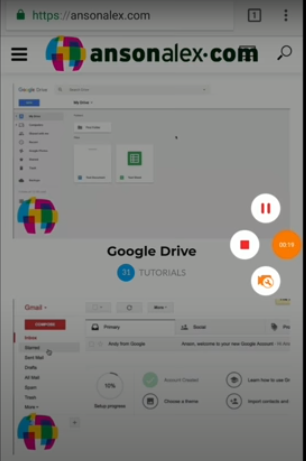 Step 2: Modify Settings
You have essentially begun recording in the first step, however, you can modify settings by clicking the "settings" tab on the screen. A screen with various options will appear, and you can move the toggles to select all the settings you want for your recording.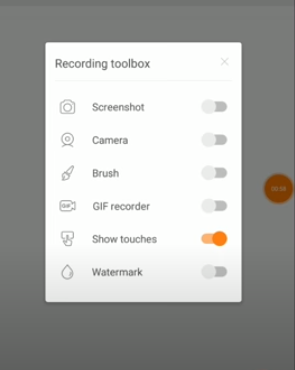 Step 3: Live Recording
After exploring all of the options, you can also record live videos by clicking the video icon on the top or view any screenshots or pictures that you have taken.
Where to get it?
The Du Recorder is available on the Play Store for Android users, Apple store for iOS users. You may also download the application from the official website at https://www.du-recorder.com/.
Another method for screen recording your TikTok video is using the iMyFone Filme application. In order to use this application, follow the below-mentioned steps.
Features of iMyfone Filme
Some of the exciting features that iMyfone Filme has to offer, which makes it a good choice as a screen recorder include:
Easy to use interface which anyone; a newbie or professional can use.

One month free trial to see if you can actually use it or if you want to continue with the full version.

Has multiple features that allow you to edit your screen recording and use it in numerous ways.
Take a look at this video tutorial to see how to screen record with Filme:
Step 1: Download iMyFone Filme
Download Filme onto your computer and then launch the software.
Step 2: Start Recording
Just go to the browser and type the URL 'tiktok.com' in the search bar. FInd the TikTok video you would like to record. In order to start recording the TikTok video from your computer, you can click on the record screen button.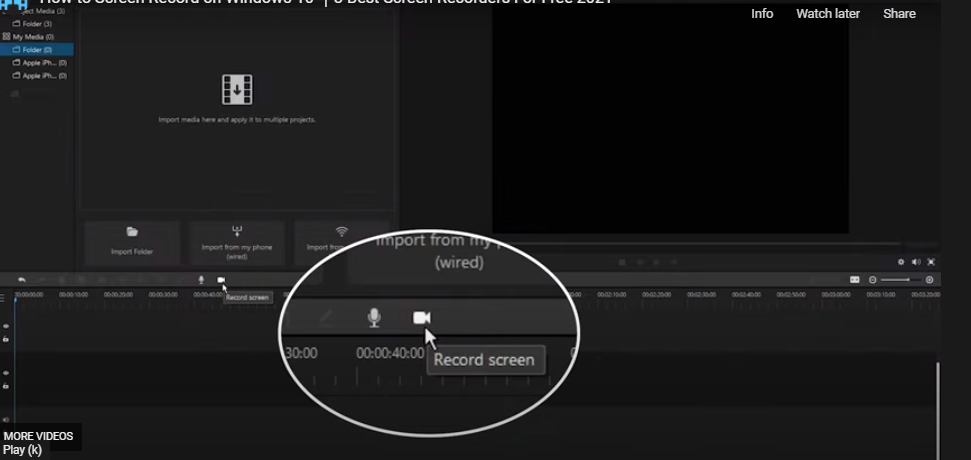 Step 3: Adjust Screen Size
Once you have clicked the record screen button, you then have to adjust the screen that needs to be recorded, in this case, the TikTok video. Once you have adjusted the screen, click on the record button that appears on the screen.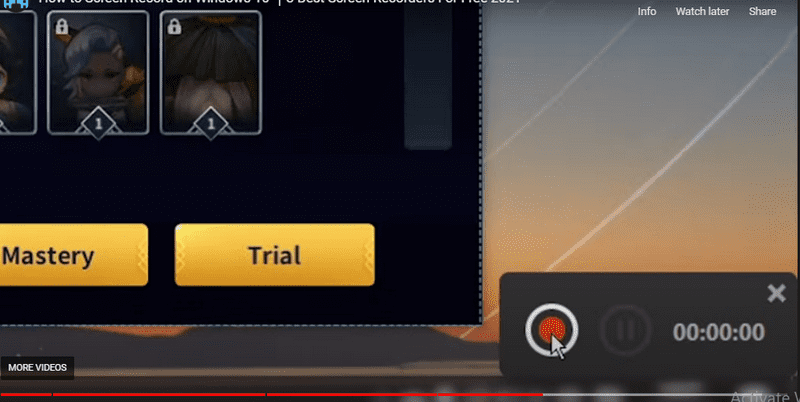 Step 4: Record the Screen You Like
Once your screen has started recording, and once you have recorded, it will automatically show on your iMyFone Filme interface. You can the screen recording as per your liking.
You may be interested in:
How to Make a Slideshow on TikTok >>
How to Speed up and Slow down Video on TikTok >>
Where to get it?
You can download the iMyfone Filme from the official website at https://filme.imyfone.com/video-editor/.
You can also use an online platform such as Panopto Express to screen record your TikTok video. Follow the steps below to see how it is done.
Step 1: Open Panopto Express
The first step is to open the website on your browser.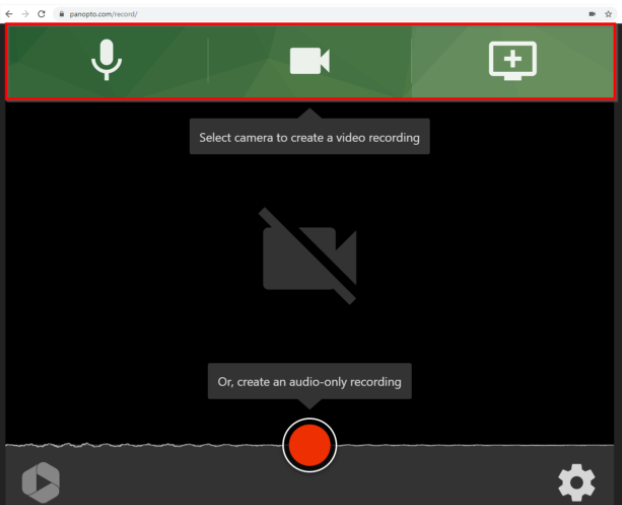 Step 2: Select the Screen
Once you have opened the browser, select the screen you want to record.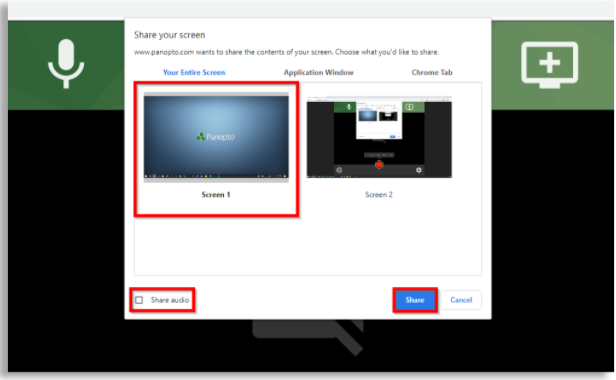 Step 3: Start Recording.
Once you have selected the screen to record, press the record button to start recording. Once you have recorded you can save the recorded video.
Part 3. Other Ways to Save TikTok Videos
SnapTik is a simple video downloader for TikTok. You can save your videos to your mobile gallery. This app is quite simple to use, and you don't need to copy the link to your clipboard. The best part is that the app has its own gallery that stores and organizes the downloaded videos.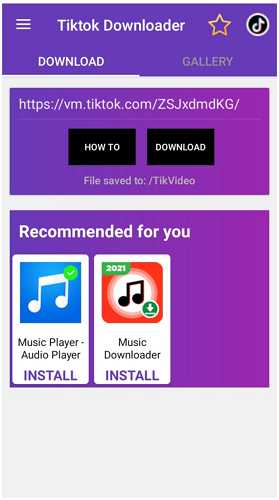 How to Download and Save Video Using SnapTik
Step 1: Install SnapTik on your Android device. Open the application.
Step 2: Open the TikTok application.
Step 3: Go to the video that you want to download. Tap on the Share button; you will see various apps in the option. You need to tap on the Other (three dots) option. Now, you will have more apps on the list. You will see the SnapTik app as well. Tap on SnapTik.
Step 4: SnapTik will open, and the video link will be copied to the SnapTik. Finally, tap on Download.
Step 5: This will start downloading the video. After downloading, you can check it in your gallery.
sssTikTok is a simple online tool that can download TikTok videos in no time. The best thing about it is that it can download TikTok videos without any watermark. It will save you a lot of time. It is perfect for TikTok users that use TikTok on their desktop. Moreover, you can also download the sound of the video in MP3.

How to Download and Save Video via sssTikTok
Step 1: Open any browser and go to TikTok's website.
Step 2: Find the video you want to download and click on the Share button. Click on Copy Link.
Step 3: Open a new tab and follow the link.
Step 4: Paste the link in the empty bar. Click on Download.
Step 5: You will have a few options. Click on Without Watermark to download the video. You will see the video in the Download section of your browser. Save the video wherever you like.
3) SaveTok
SaveTok is an excellent and quick application for downloading TikTok videos. You only need to copy the link of the video, and the application reads that link automatically. You don't need to paste the link anywhere.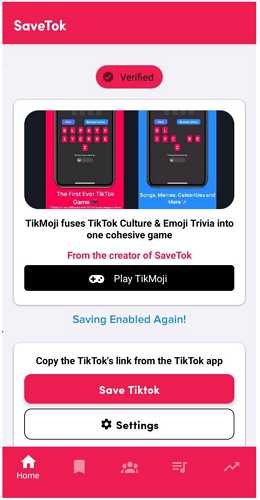 How to Download and Save Video Using SaveTok
Step 1: Open TikTok and go to the video you want to save.
Step 2: Tap on the Share button and tap on Copy Link. It will copy the link to the clipboard.
Step 3: Open the SaveTok application. Tap on Save TikTok.
Step 4: This will open the profile and the video. Tap on Save Now. This will save the video to your device.
Part 4. Tips for screen recording on TikTok
Here are some tips to follow when screen recording the TikTok video. If you want to screen record your TikTok, follow the tips below to make an amazing TikTok screen recording.
1. Choose your ideal screen recorder
The first and foremost important tip for you is to choose an ideal screen recorder. This article has shown four different screen recorders that you can use. It is a good idea to use a screen recorder you are comfortable with, which means that, easy-to-use interface. It is better to try out various methods before actually going with one. This will help you rule out the ones that you are not comfortable with.
2. Use a screen recorder that gives you editing options
It is a good idea to choose a screen recorder that gives you multiple editing options. Once you have screen recorded the TikTok video you may want to add some features to it, like animations and effects, for future use. Make a TikTok with music will help your TikTok video go viral. Editing tools are always a great feature to enhance your saved video. Once you are done screen recording, you can use various editing tools to create the video to your own liking.
3. Built-in screen recorders are easy and convenient
When you do not have to edit your recorded videos, or you only need to screen record for a future reference, it is always a good idea to use the in-built screen recorders on your phone. They are not only easy to use but also convenient, as they do not require external downloading. Built-in screen recorders are generally ideal if you need to record something quickly and do not have the time to download an external application.
Final Words
This article gives you a step-by-step guide on how to screen record your TikTok videos. It also shows you four different methods of screen recording, along with how you can download or access them. Sometimes, you want to screen record a TikTok without the publisher getting notified, and it is always a good idea to use a screen recorder for that. If you want an easy-to-use and multi-feature screen recorder, then the iMyfone Filme video editor is an ideal screen recorder, which allows you to not only record your screen but also edit the video and save it for later!
Now you do not have to worry about losing out on your favorite TikTok and you can save it without the original publisher knowing. You can try out different screen recorders to know which one is for you.