Videos are the most important media nowadays to share on your social media platforms. That is why the creation of videos is an essential process if you want to keep your audience engaged with your content. Using iMovie themes will help you create high quality videos on a fast manner.
On this article, you will learn how to download and change themes on iMovie. Get to know amazing tips and websites where you can download more iMovie themes.
Method 1: 5 Best Sites to Download More iMovie Themes
If you need iMovie themes, one of the quickest alternatives is searching for a site to download iMovie themes. This alternative might be limited in content if you choose a free website. Yet, it could be a lifesaver if you need templates or stock media content right away. Here are our recommendations:
1- Biteable
Biteable is a website that wants to promote the sharing of media to produce content. If you need imovie themes, you can get the best alternatives for free here. The goal of all the content available on this platform is to facilitate the marketing of your products.
They want to offer options to create easy videos that will convert into sales. Their website is rather user-friendly and they have themes for all kind of content. You just need to sign in and start checking their media library and online tools.
2- Envato Elements
Using the premium service of Envato Elements website, you get access to over 900.000 digital assets for all your content. Their library not only has iMovie themes for download, but also lots of templates and media you might use to create videos.
This is a great alternative in case you need inspiration or the resources to create content for big projects. It can be a great online library for beginners and senior designers. Not only it offers imovie themes but also graphic templates for presentations, stock videos, stock photos, and even web templates.
3- Lightmv
Lighthmv is a video creating platform you can use online. This website was created to offer a video tool that anyone could use. Regardless of how much experience you have, you can access to a huge library of templates on different categories of media. You can use iMovie themes for free with limitations or you can pay a monthly subscription for unlimited content and videos.
4- Adobe Spark Video
On the Adoble Spark Video application you get to create amazing stories on iOS and Apple devices. You get to use iMovie themes, photo stocks, graphics with animations, text fonts, and audio recordings.
One of the main features you might use for your iMovie is the motion graphics templates. You can customize these templates changing the typography, color palettes, and proportions. This will create an engaging video with professional outcomes.
5- FlexClip
Flexclip is a simple and reliable online video editor. You get to create videos for free with access to a stock media filled with royalty free content. You get to use templates and even add animations to your videos.
The customization is limited and it is suitable for beginners that want to dabble into the video creation world. It may also work as a fast and safe solution for iMovie themes download.
People Who Liked this Content Also Liked
2021 Review of iMovie for Mac >>
iMovie vs. Final Cut Pro | The Ultimate Comparison [2021] >>
Method 2: Try Other Video Editing Software with Themes/Templates
We mentioned some online platforms that could be useful if you are on an emergency. However, if you need quality content and more detailed information, then you might as well use a better tool. Here are two options we recommend for video editing and templates:
1. iMyFone Filme
iMyFone Filme is a premium tool for video editing. It includes multiple functionalities and it's a user-friendly tool that will be easy to use even if you are new to these programs for videos. The first pro you get using this tool, is that it can be supported by multiple operating systems including Windows, Mac, iOS, Android and so on.
It offers a huge number of editing tools and options you can adjust like a pro to get the video and theme you want. You can use the themes that are available on the iMyFone Filme library. These themes have different categories according the mood you need or the special occasion.
Once you choose a theme, you might as well customize the entire video as you prefer. You get to use video and audio filters. You can also add text and subtitles to your video. Another feature, includes adding animations to your video.
People Who Liked this Content Also Liked
How to Resize and Scale Video on iMovie
2. Camtasia Studio
Cantasia Techsmith is a video editor and screen recorder alternative you can use if you are a Windows user. Although it is limited to only Windows devices, it is a friendly video editor tool that you can use right away. Even if you are a beginner, you can learn quickly all the options and use the video themes to create a video.
The video editing options that Camtasia offers are simple yet reliable. You can also start your video using all the media available on the Camtasia media library. You can select and pre-adjust your favorite themes. These settings will save you valuable time of creating your videos. All the content available on the library is royalty free and might be used for any project.
Another useful feature is the screen recording and audio recording you can use with Camtasia Studio. It is designed to help you create the content with your own device and keep and impeccable quality of the media.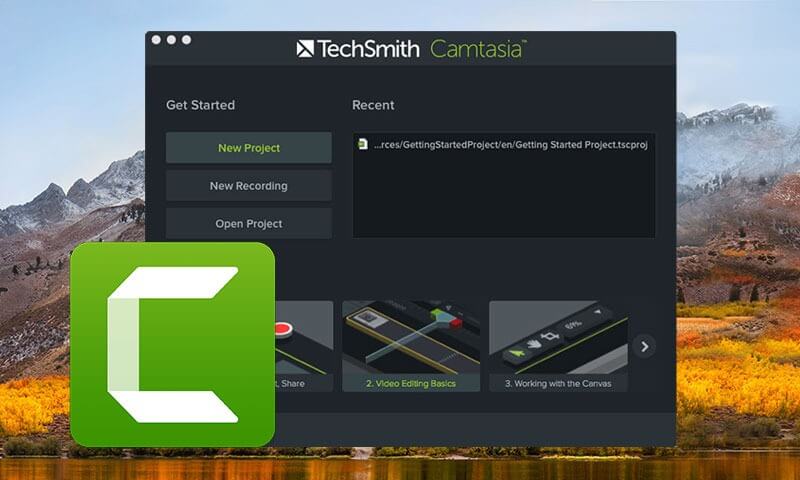 Method 3: Get More Themes from iDVD
You can download iMovie themes from iDVD as well. This application offers more than 100 artistic themes that you can download. These themes include menu and submenu designs, stock photos, and music library.
If you need to download iMovie themes using iDVD, you first need to open iDVD and start a new project. Once the project is created, you can choose and change a iMovie Theme once it is shared with iDVD. This step is crucial since it will allow you to share and adjust the content among these two applications.
To learn how to change themes in iMovie using iDVD, we invite you to follow these detailed instructions:
To download the themes, proceed to open the iDVD app and click on the option "Create a New Project" and a new window will open.

On the "Create Project" window, write the name of the project you want and choose the file location.

Now that the project is created, open the Theme section and proceed to choose all the themes available.

Now, scroll among all the themes and you will be able to download all the themes that are not on your menu already. That way you will increase the number of themes of your iMovie.

Confirm your action by clicking the "Download now" option.
The themes you download this way will be also available on the iMovie Theme menu. You just need to change your iMovie theme of the project to implement them. These themes are also compatible with iTunes and iPhotos. Keep in mind that there could be compatibility issues depending on your iOS version.
Tips: How to Change Themes in iMovie?
Each iMovie theme offers a group features like tittles formats and transitions animation. These themes are a tool to set a professional polis to your videos. You can change among the preset themes available or download iMovies themes.
You get to change the theme of your project at any moment. Once the theme changes, all the transitions and theme styled elements will adjust and change automatically to the new theme style. These changes include the theme-styled opening tittle and last clip. You might as well also edit it and customize the theme elements manually.
To learn how to change the themes in iMovie for a project, follow these steps:
Open the iMovie app and open or create the project you want to work with.

Now, click on Settings, located at the top-left corner of the timeline.

On the menu of options that will unfold, click on the "Theme" option.

On this window, you can choose a theme that is available on iMovie themes. If you want to, you can preview the theme you want to use by selecting it and then clicking on the "Play" button. Once you are sure about your selection, click on "Change" to change the iMovie Theme.

You might as well remove the entire theme if you want to manually create your content. For this, open the "Theme" window and select "No Theme" option. Then, click on "Change" to save the changes on your project.
Part 5: Conclusion
iMovie themes are a time saving tool that facilitates the video creation process. Once you find the right iMovie theme, then there is less work to do and you still get a professional outcome. There are Themes that are compatible with other iOS tools, like the case with iDVD themes.
We hope these recommendations help you create the content that you need. If your project is big and you need more detailed editing, remember to use a tool like iMyFone Filme to keep up with all the quality content you require.

iMyFone Filme
Release Your Creativity with Best Video Editor iMyFone Filme!
Download Now