Are you looking for software to overlay videos or images? If yes, then iMovie will be a perfect choice for you as it enables you to view two videos simultaneously. One video or image is displayed on a big screen, while another is on top of the main video.
The overlay video is beneficial for tutorials, video blogs, sports broadcasts, review videos, and podcasters. Do you also want to learn a way to play two different videos once on your screen? Get happy because, in this article, we will tell you how to add a picture on top of the video in iMovie.
How to Make a Picture-in-Picture Effect in iMovie 9/11
The picture-Picture effect helps to watch a thumbnail-sized video played in the corner of the main screen, enabling you to perform different functions side by side. The overlay video is inserted to highlight instructions, to give illustrations, or to narrate the scenes in more detail, occurring in the main video. The overlay graphics or clips make your video more attractive and engaging.
Let's proceed to know how to put pictures in iMovie with video!
Download iMovie 9/11 on your gadget.

Open your main video in iMovie 9/11. Then go to iMovie Preferences, and click on "General." Here, you can see a pop-up window where you need to turn on the "Show Advanced Tools" feature.

In the 3rd step, you will select a video clip that you want to apply as a picture in picture clip (PIP) and drag that video to the Project Library.

Right after the dragging video, you would be able to see a pop-up menu from where you can select the "Picture in Picture" option to apply on an overlay video or picture.

Now, you can see the overlay video but if you want to reposition it, then drag it on the main video. Moreover, you can also extend or shorten the iMovie picture in a picture clip by simply removing it.

For more functions, you can right-click on the small Action menu or Double-click the picture in the picture clip, and an "Inspector menu" will pop up. You can set the border color and width, etc. of PIP Clip to make it look better on the main video.
We have done with the picture-picture effect in iMovie 9/11, but these steps are not applicable for the iMovie 10 version. That's why we are going to explain how to put pictures in the iMovie version 10.
Let's explore the steps!
How to Make a Picture-in-Picture Effect in iMovie 10
There is no need to worry if you have iMovie 10 installed on your iPhone or laptop instead of iMovie 9/11. Simply follow the given steps to apply the Picture in Picture effect!
Drag the clip or image in your iMovie 10 that you want to use as a Picture-Picture effect. Then leave it above the main video in the timeline.

After dragging the video, you will find the Video Overlay Settings Icon, where you need to click for the Picture in Picture option.

After overlaying the video, you can adjust the PIP Clip anywhere over the background video. The size of the PIP video can also be changed according to your choice. You can add shadow and set borders of Picture in Picture Video to make it more visible and better.

After adding special effects of your choice, click on the "apply" button to save the changes and to put in the Picture in Picture effect.
These are simple and effortless steps on how to overlay a picture on a video in iMovie or on how to put pictures in video iMovie iPhone, but iMovie works with iOS and mac only. If you want a Picture-Picture effect on windows, then iMyFone Filme is definitely an accurate and outstanding option for you.
Faster Way to Make a Picture-in-Picture Effect on Win/Mac
Though iMovie is a great video editing software to use, but it only coperates on macOS system. There is one editing software that works on both mac and Windows and it's easier to use. The market is over-flooding with editing software, but iMyFone Filme is a powerful and one-click video editor where you can add multiple effects on your and your family's videos to make them more decorative, impressive, and memorable. Later, you can share these creative videos on social media or use them for your business purposes.
One of the most effective and useful editing features of iMyFone is overlaying a video or picture on the background video. iMyFone is a more efficient, quick, and comfortable editing platform than regular software as it adds PIP Effect on Windows by using a few quick and comfortable steps only.
Let's have a look at the guide to add a picture in picture effect.
Watch the Tutorial Video to Learn How to Make Picture-Picture Effect using Filme
A Guideline on How to Make Picture-in-Picture Effect using iMyFone Filme
Download iMyFone Filme, then launch the program.

Open iMyFone Filme video editor and import videos of your choice to the library. You can import as many clips as you like depending on the number of picture you like.

Drag the main video to the main timeline of iMyFone Filme, and it will appear as a background video.

Drag the second video, on the other video timeline (above the main timeline), on which you want to add Picture in Picture Effect. This video will be displayed on top of the main video in any corner.

Double click on the clips to adjust the size of the Picture-in-Picture Video according to your likeness, and you can also adjust it anywhere on the main video.

Import your videos by clicking on "Import" in the top menu to save your changes.
Pro Tip: You can also add multiple pictures-in-picture effect, and for this purpose, you can add additional timelines by clicking on "manage tracks."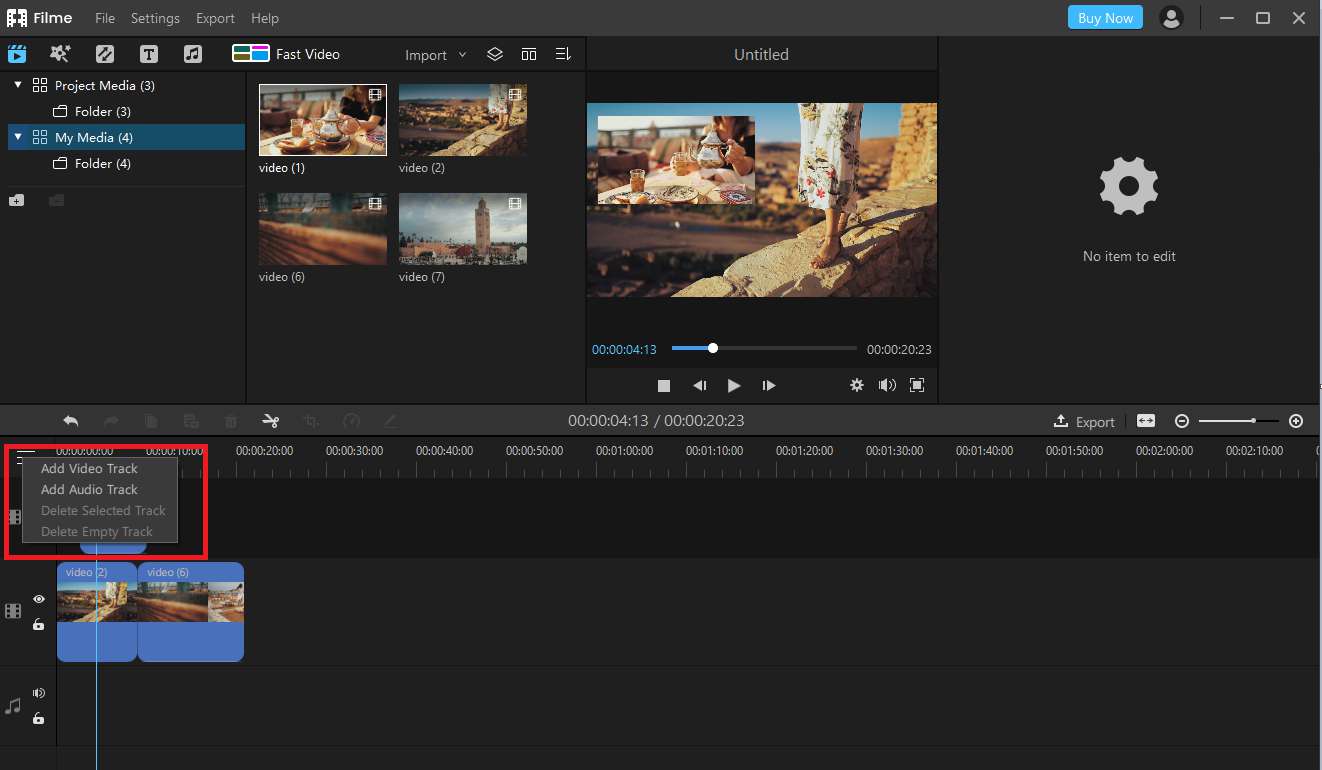 And then repeat the above procedure to get your perfered result.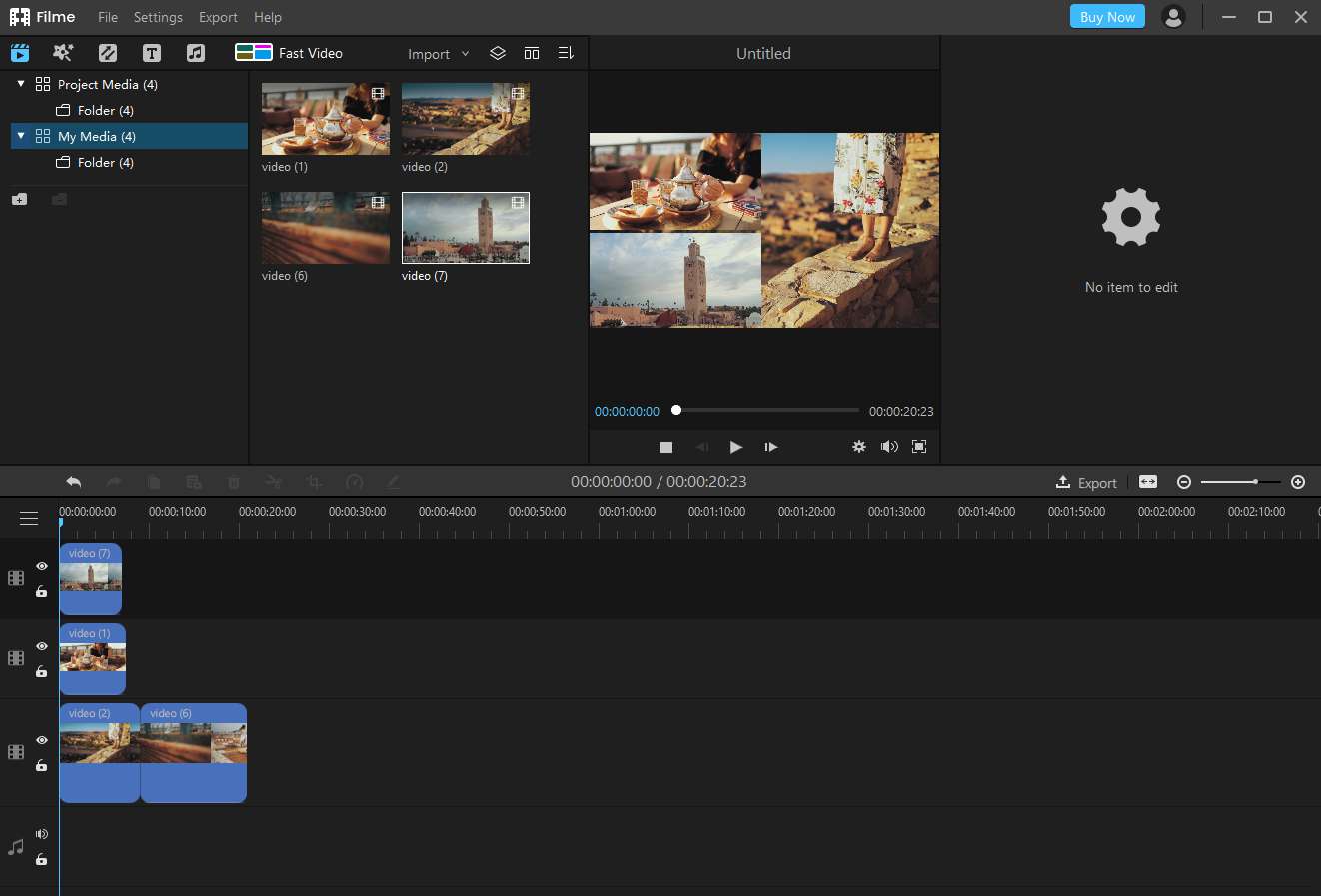 These steps mentioned above are super-convenient to apply the PIP Effect on your videos. They don't need a long list of tiresome steps to apply the PIP Effect. You don't need to practice or repeat the steps; simply dragging the videos can add magical effects to your video timeline.
Key Features of iMyFone Filme
iMyFone is a good editing-friend of professionals as well as beginners. This software is full-house of user-friendly premium features from the installation of software till the save of edited video.
A few of them are stated below:
iMyFone is an excellent video editing partner as it can crop, split, rotate, trim, and fade in/out your videos to make your precious memories more creative and magnificent.

It takes a few clicks only to resize and scale your video by using iMyFone Filme. Resizing and scaling give your video good impressions and provides the appropriate size to them for social media posting.

You can create beautiful videos and slideshows within second using Fast Mode with templates from the software.

It is a jam-packed software containing tons of super-easy and ultra-quick editing tools to make your videos cool and eye-catching. If you cannot shoot great videos, no worries, you can make them great via iMyFone literally with one click.

You can add transition, special effects and texts to make your story an eye-catcher.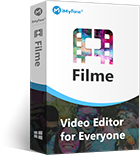 Conclusion
Video editing makes the videos more unique, creative, and entertaining for viewers. Picture in Picture is a useful effect that can be used for various functional purposes. iMovie is a software that adds a tremendous picture-picture effect on videos, but it has limitations as it can only be used with iOS and Mac.
The IMyFone Filme is the best, quick, and easy alternative of iMovie for the Picture-Picture Effect. iMyFone is advanced software that is highly recommended and super-beneficial editing software. It takes a few yet uncomplicated and non-technical steps to add pictures in picture effects on windows.