Part 1. What is CapCut & How to Install It?
Before we introduce CapCut, CapCut is an excellent video editor, but i would recommend iMyFone Filme. It is a much more comprehensive video editing tool. And it supports a wide range of file types and offers all common editing tools, along with filters, transitions, animation, text, fast video mode, and much more. Download iMyFone Filme below and get 3 month free license below.
CapCut is a mobile app for iOS and Android devices, specifically developed to complement the basic video editing features of the famous social platform, TikTok. The app is free to use and promoted as a free TikTok editing app. CapCut Android and CapCut iOS both have similar features that allow you to modify your TikTok videos with filters, stickers, speed changes, background music, effects, and more. In addition, it comes with split, reverse, and other editing tools to make your TikTok videos look more polished and professional.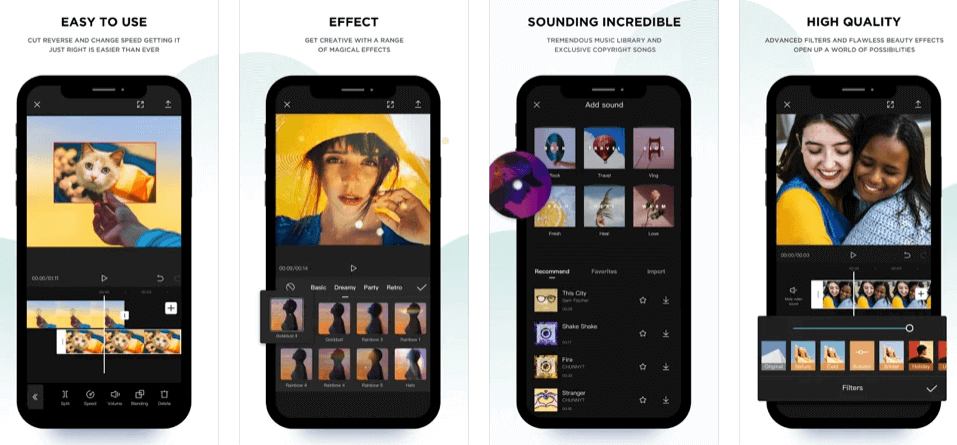 How to Install CapCut on iOS and Android
For Android Users: Link to Google Play Store Listing - Tap Install to download and install the app on your Android device.
For Android Users: Link to Google Play Store Listing - Tap Install to download and install the app on your Android device.
Part 2. Key Features of CapCut
After reviewing both versions (Android and iOS) of CapCut, we found that the app is indeed easy to use and includes a ton of attractive features designed for TikTok users. Would we recommend it to you? Yes, definitely, but with some caveats.
1. Split Function
Just open a video and move the playhead to where you want to split the file, and tap the Split function. You don't lose any bit of the video where you split the file because you can do this on a frame-by-frame basis to see the exact split position.
The best way to use the split function is to have a clear idea of which sections of the video clips you want to use. After that, import them into the app by tapping + and adding videos from your Gallery or Camera Roll. Once they're inside, select each one to edit it and split it at the points that you've already decided. Having a plan before you do it is often the best way, or else it can take up a lot of your time.
2. Speed Control
Tap on the Speed icon and choose a preset speed relative to the original speed of the video, such as 0.1x or 3.0x. You'll be able to see the duration of the video change as you apply these speed changes, which is quite useful.
One thing to keep in mind about speed control is the resolution of the original video. If you plan to use slow motion, make sure the original is in high resolution or shot at a high frame rate. For example, 30fps might be good for normal-playing videos but if you're slowing it down to 0.1x, it might look grainy and amateurish. Try getting the shot at 60fps or higher so you can avoid such issues.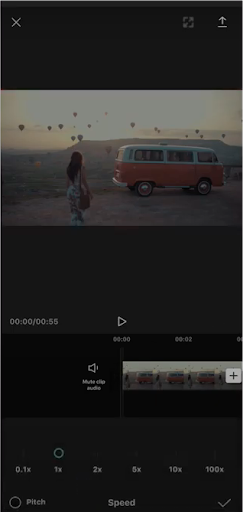 3. Reverse Video
This one's a little more tricky, not because the feature is hard to find or use but because you can only work with very short videos. The reason is that the processing at the back end is quite complex and resource-intensive, so larger videos could cause the app to freeze or your phone to crash. If you're reversing a video, make sure it's a short clip, or at least make sure your phone has adequate resources (8GB RAM or higher) to process large files.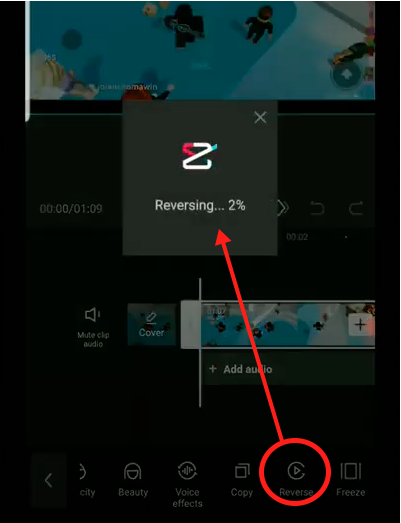 Reverse videos are great for short clips with a lot of movement in them. If you need to, you can create multiple clips, reverse them all, and then join them by putting them on different tracks, then positioning them to play one after the other by dragging each one into its place in a sequence. You can use it to reverse video for TikTok.
4. Music Library
CapCut comes with an impressive collection of royalty-free music and sound effects that can really make a huge difference to your TikTok videos. The tracks are high-quality, and you can easily insert them by adding an audio track and controlling its position to match the video.
It's often hard to find the right music, so here are some tips:
Try to find something with a beat that matches the movements in the video

Match the mood of the video with the appropriate genre of music

Use audio effects at strategic points in the video for maximum effect
5. Filters
Choose from various filters to soften or sharpen your videos and make them more professional-looking. There are color-based and season-based filters, as well as a range of beautification tools to enhance video quality.
Filters can also be used effectively if you have multiple clips that have color variations or different contrast and brightness levels. Since you can't edit most of these in CapCut, you can avoid having to use a desktop editor by choosing the right filters and applying them to all your clips to bring some uniformity.
6. Effects
There is also a wide selection of special effects such as split-screen, retro, comic, dreamy, party, and so on. What these effects do is overlay your video with fresh elements that make it look like it was professionally edited. Within each of these categories, you'll find sub-categories of effects, which means you can fine-tune your effects to get the exact one that's right for that video.
Another great effect you can try is the Blending effect, which allows you to overlay a video on top of another so the subjects merge with each other in the final output. Here's a great example of the Blending effect in use: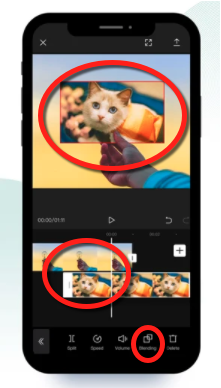 7. Stickers and Text
Stickers are fun to use because they're so expressive, and CapCut doesn't skimp on choices. You'll find almost anything you need to express yourself in an animated way on your video. You can add fun stickers for your TikTok videos. In addition, you can use text in a powerful manner on videos. Text with animation draws attention to specific elements of the video that the viewer might otherwise miss. It can also be used for humorous effects, which makes the video more engaging and entertaining.
One valuable tip here is to use stickers very sparingly. You don't want your audience to get distracted with too many stickers in a single scene. Spread them out and only use them if they have the desired effect. If not, you can do without those stickers.
Also Read:
Best Ways to Cut/Trim Video on iPhone >>
Part 3. CapCut - The Pluses and Minuses
So, what are the pros and cons of CapCut? Let's have a quick look:
Pros:

A convenient app to use

Lots of features

Impressive music and sound effects library
Cons:

Key editing features are not available

Not a comprehensive video editing tool

Limited by your phone's processing resources like hardware and RAM
Part 4. Alternatives to CapCut on Mobile and Desktop
For Mobile - Filme Lite
If you're on iOS, you might want to try Filme Lite. It is the mobile version of the desktop editor called iMyFone Filme. As such, the features are more robust than what a typical mobile app such as CapCut can offer.
Key Features of Filme Lite:
Divide - This feature lets you split a video into multiple parts so you can choose small clips from a single, large video file

Trim - Control the duration of your clips with the trim function - just drag the sliders and you're done!

Reverse - Play videos backward for a magical and hilarious effect

Speed Control - Create slow motion and fast motion videos in just a couple of taps

Filme Lite also allows you to compress and resize your videos to make them easier to share online or on social media channels like Instagram, Facebook, and Twitter

You can share directly from within the app, saving you time once you finish your edits

Extract audio, add from iTunes, or choose from the built-in music library; add voice overs using your phone's audio recording feature
Filme Lite is the ideal video editing app for TikTok users on iPhone and iPad. It is versatile, it is lightweight, it comes with diverse and extensive tools, and it is very easy to get used to.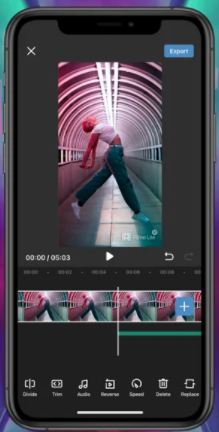 For Desktop - iMyFone Filme
iMyFone Filme is a much more comprehensive video editing tool for desktop users (Windows and Mac). It supports a wide range of file types and offers all common editing tools, along with filters, transitions, animation, text, fast video mode, and much more.
Key Features of iMyFone Filme:
Full editing suite - trim, crop, pan, zoom, color, brightness, contrast, etc.

Extras - Filters, animations, text with effects, transitions to join clips seamlessly, and a fast video mode to create video slideshows from your existing media on a preset theme

Easy editing with a user-friendly UI

Fast performance - no lags even on older systems

Timeline editing for precise frame-by-frame editing

Audio tracks and sound effects for free
Conclusion
CapCut is an amazing tool for editing TikTok videos but it does have its limitations. Complementing your TikTok toolbelt with iMyFone Filme and Filme Lite allows you to move freely from platform to platform and quickly edit and upload your TikTok videos from practically any device. Use this powerful combination of tools and let your audience get the most out of your TikTok video editing experience.