It seems as if everybody nowadays is looking for a video editor. Many people want to edit their favorite videos to make them look fascinating. Looking onto that aspect, we decided to test a particular video editor and then review it.
For this purpose, we picked Shotcut editor and used it for editing a couple of videos. After testing it, we decided to give an honest review about its working and what this tool is all about. We will give you a brief insight into the features, pros, and cons of this tool.
Let's start it.
Part 3: Alternatives to Shotcut

Part 1: Overview of Shotcut Video Editor
Shotcut is open source, full-featured, and free video editing software that deserves your appreciation. It is designed for Windows, Mac, and Linux devices.
You can use this program for high resolutions such as 4K, and it possesses a wide formatting supper that indicates the dominance of this software. In addition, it offers a native timeline editing process that means you don't have to import a video first.
Moreover, audio capturing and inbuilt webcam features make this software nothing but an impressive suite for professionals and creators.
To assist you in every aspect, we have come with some key features, pros, and cons of the Shotcut.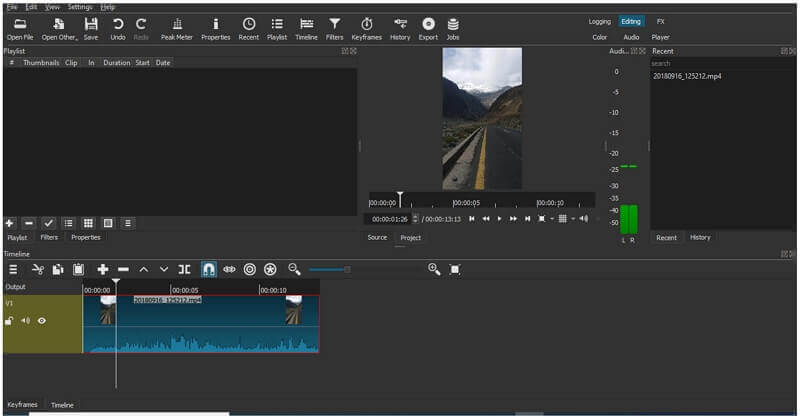 Let's discuss them.
Main Features
Shotcut possesses many unbelievable features to use with.
Let's take the opportunity to explore some of its key features.
1. Wide Format Support
Support for the videos and audio format.

It supports trendy image formats such as GIF, JPEG, TIFF, BMP, SVG, etc.

Webcam capture

Audio capture

It supports 4K resolution

Tone mapping SDR to HDR
Audio Features
That video editing software possesses many audio features.
Let's discuss some.
Audio scopes: peak meter, loudness, waveform, and spectrum analyzer,

Audio Filters

Volume Control

Tone generator

Jack transport sync

It also provides audio mixing for all tracks.
Video effects
Let's talk about the video effects feature of that editor.
It offers video composting for video tracks.

Auto-rotate

Deinterlacing

Video wipe transitions

Video filters

Speed effects for video/audio clips

Video scopes: RGB parade, RGB Waveform, Histogram, Zoom, and Vectorscope.
Editing Features
You'll find many worthy editing features in Shotcut editor.
Let's try to discuss some of them.
Easy to use copy, cut, and paste operations.

3-point editing,

Mute, hide and lock track controls.

Transport and Scrubbing control

Keyframe for filter parameters

Detaching audio from the video clip is also possible using this editing tool.

Presets for most export and filters- both user-created and supplied
Availability
Shotcut is completely free editing software that comes with no charging fee to worry about.
Pros:

Video composting

Drop and drag capabilities

It supports numerous file formats such as MLT XML.

Scrubbing and transport control

Three-way color correction feature
Cons:

There are no inbuilt profiles are available

No 3D editing
Full review of Shotcut
After using the Shotcut video editor, we realized that it has more superior features and qualities than its competitors.
Let's talk about what we found in this video editing tool after testing it.
1. Interface
Its interface has surprised us big time. We found that its interface is a lot more bare-bones than any other commercial video editor you might have ever tested.
When you open a video file on it and press the timeline button, it looks like a typical video editor with a preview window at the top, a source clip in a panel, and, most importantly, a timeline along with the button.
In addition, its panels are undockable and offer God interface customization. There are three interface colors available: light, dark, and system.
Although there is no major inconvenience you'll get with this tool, a minor one is that it doesn't offer a recent open option through the file menu.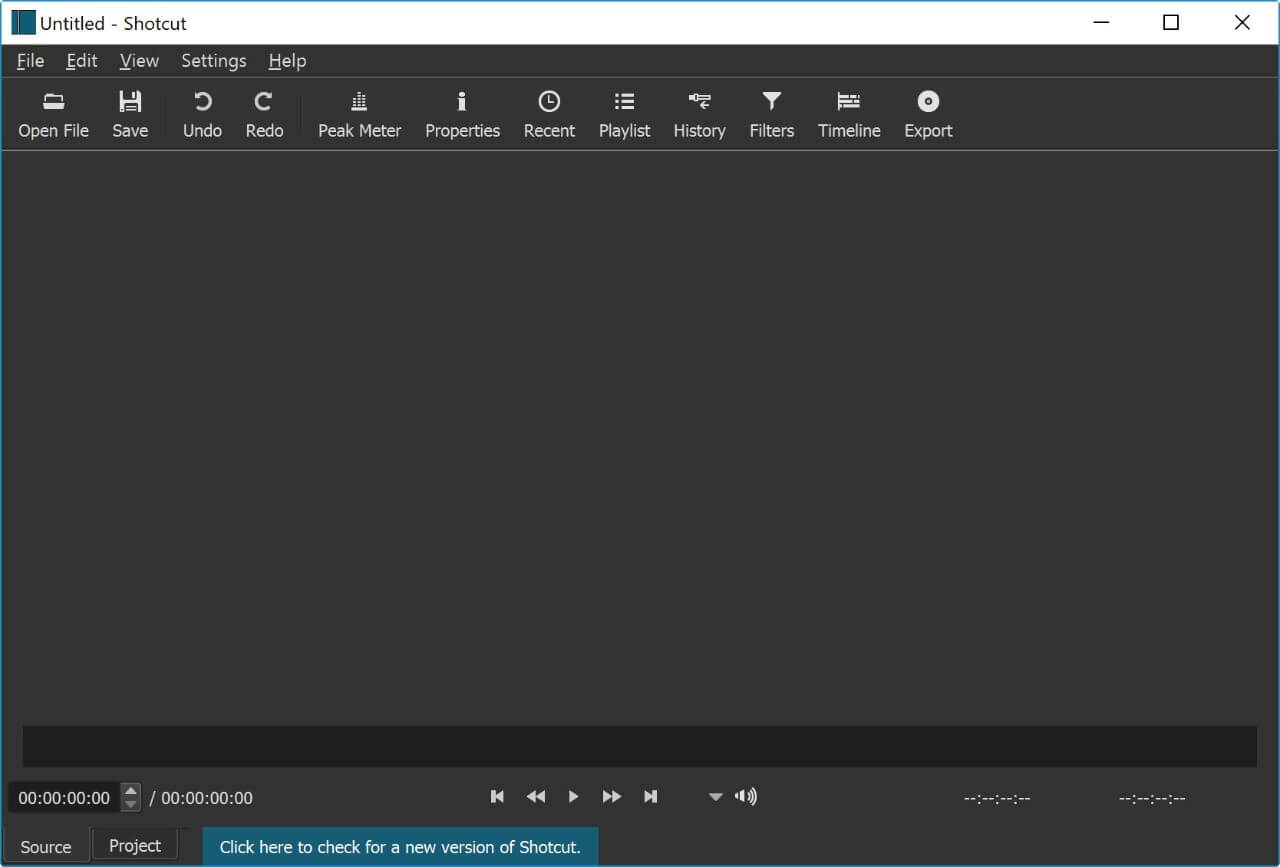 2. Transitions
When we talk about the transitions of that editing tool, it's a pretty easy process to add a relevant transition to a video.
You only need to move your video clip in your timeline, and you'll be able to add transitions to your file. However, if you add a regular transition, you'll need to follow instructions to put that in order.
First, you need to drag the clip where the overlap will create an automatic crossfade. But, if you want to add any other transition style, then you'll need to do it in another way.
All you need to do is click the transition space and find customizable options to get your job done.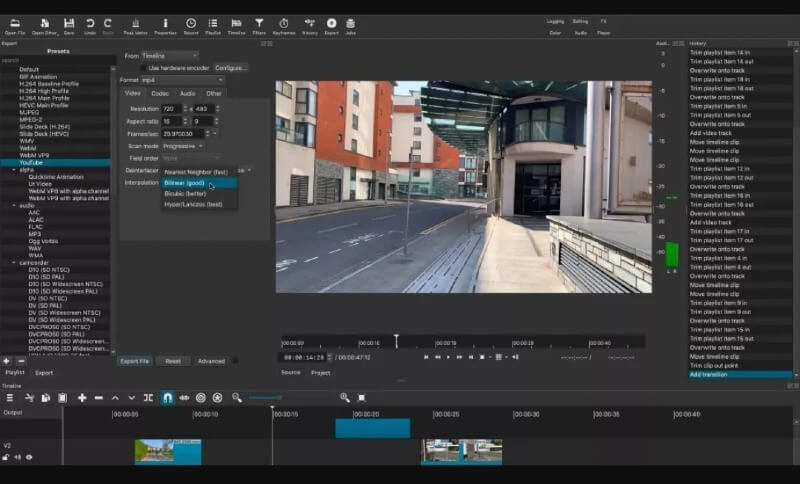 3. Effects
Applying an effect using Shotcut is somehow different from other editors, but once you successfully discover its process, it isn't too bad, to be honest. You'll need to hit the plus sign after opening the Filters panel.
In the next step, you'll require to select an adjustment (color and lighting, for example), effect ( think the circular frame and fade out), or filters( such as old film)
If you master the process of adding effects to your videos, you'll see fairly attractive and elegant effects to use along with your video. Moreover, Picture in Picture is another admiring effect that you can to increase the quality of your video using Shortcut.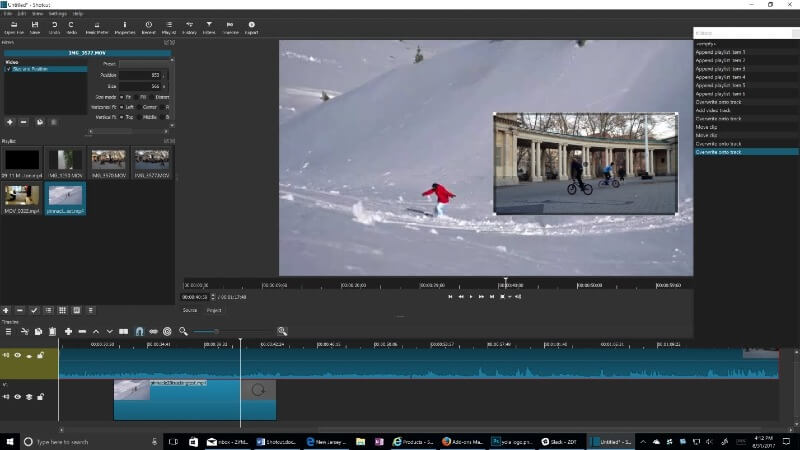 4. Trim, Crop, Split
When someone tries to edit a video, he'll always like to make some changes to make it more relevant and engaging. For this purpose, cutting or splitting a video is pretty common.
Everyone use would want an editor that can crop, trim, and appropriately split a video. We found all these three facilities in Shotcut while using it.
If you want to trim some parts of your video, you are only a step away from doing that. In addition, you can also cut a particular part of the video which you want to neglect from the video.
The process of splitting, trimming, or cutting a video is a bit different from others using this software, but it is more than effective in doing the job for you.
5. Audio
The audio of every video adds a prime value to its effectiveness. High quality and high voltage audio voice mean many viewers will like your video.
However, sometimes, we opt to change the audio of a video or add something extra to a video's audio to make the video more suitable for our purpose. Video editors can serve your purpose while changing the pitch of audio or making a necessary change on it.
But there is no better tool than Shotcut. It possesses extra audio features to make the viewer's experience memorable. You'll get audio filters and volume control features with that editing tool.
In addition, crossfade audio transitions add another dimension to a video's audio, making it a perfect fit for getting viewers' attention.
Moreover, the Fade out and Fade in audio feature makes sure the tone of audio voice remains relevant with the flow of your video.
Also Read:
VSDC Free Video Editor Review >>
Part 3: Alternatives to Shotcut
OpenShot
If you talk about the alternatives of Shotcut, the first editor that comes in our mind is OpenShot. It is a powerful editor that has a pretty easy interface and prolific effects to add with.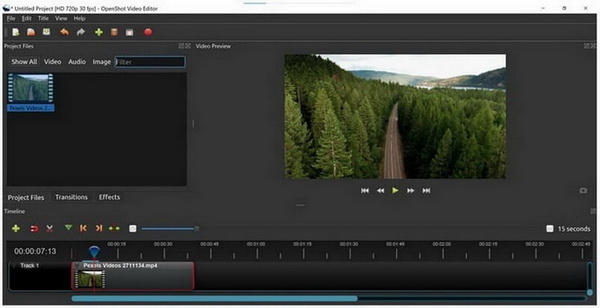 Features:
Just like Shortcut, OpenShot also offers some fascinating features to its user.
Let's explore some of its most important features
1: Cross-Platform
It is a cross-platform editor with support for Windows, Mac, and Linux.
2. Slice and Trim
You can easily trim your video using it. In addition, it also cuts your video to perfection whenever you want.
3. Video effects
You'll get some fascinating video effects with that video editor tool. Those mesmerizing video effects will make your video worth remembering.
Pros
Simple user interface

70+languages

3D animations
iMyFone Filme is a prolific video editing tool that can be useful in editing your wedding videos, music, and birthday video with immense quality.
Moreover, it offers strong features that'll make your video nothing less than mesmerizing.
Main Features
Filme is offering its users high-quality features to apply with.
Let's discuss some of those.
Crop, trim, split a video.
With Filme, a user can easily crop or trim a video by following small instructions. After you crop or trim a video, the quality of the video will remain the same.
Add transitions
IMyFone Filme is pretty effective at providing eye-catching transitions to your video clips. It'll make your video look fantastic.
Add effect
You can pick from 170+ filters to add to your video. In addition, Filme also offers a blend of fascinating effects to add to your video
Pros
User friendly

Highly effective

Fast and creative
Final Words
If you look for a dynamic and worthy video editor for free, Shotcut is the best possible option. Despite being a free video editor, you would get all those features from a paid video editor. Although it doesn't offer advanced features like paid videos editors, it is still reliable and easy to use.