Adobe Premiere Pro is a famous software in the film-making and video industry. In this article, we are going to give a detailed review of this software, and we will discuss its interface, price details, and how to use it. We will also share the best alternative to Premiere Pro. Let's start.
Adobe Premiere Interface
Adobe Premiere Pro has a well-managed, simple, and panel-based interface. All the panels are separated so that the users can understand everything. With a bit of practice and guidance, you can easily handle projects on Adobe Premiere Pro.
Now, let's talk about the interface of this software. After launching Adobe Premiere Pro on your device, you will see an empty workspace with different panels. At the top of the screen, you will see a simple Menu bar, and under it, there will be some options like Source Monitor, Effect Controls panel, Audio Mixer, and Metadata panel. You can view or judge your source material on the source monitor. On the right side of the source monitor, there is a program monitor on which users can see the preview of the selected videos on the timeline.
Under the source monitor, there will be a project panel through which you can have access to all footage files like audio, video, and photos that you have imported to Premiere Pro. The next panel you will see on the interface will be the Info panel that provides the information about the present media on the Timeline.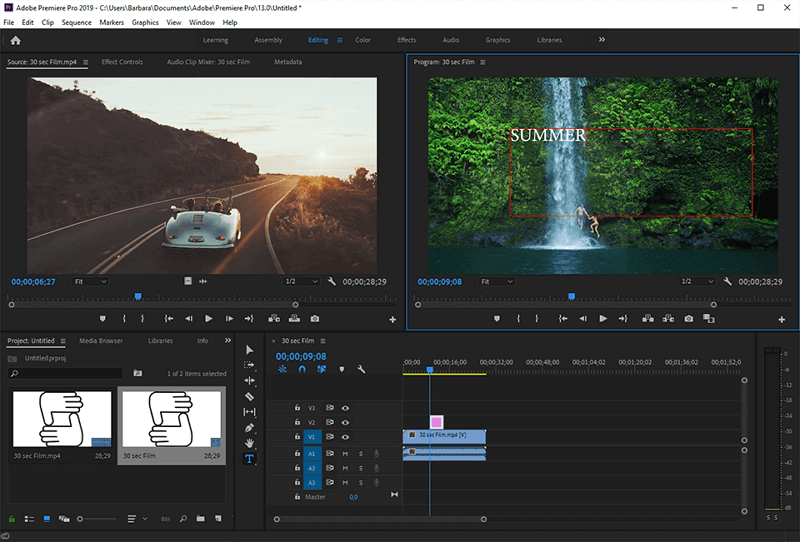 You will see an Effect panel next to the Info panel, which will give you access to all the video and audio effects. In the same row, the last option will be the Marker panel that allows you to set the markers for In and Out points, color coding tags, and comments.
On the right side of these options, there will be a column of tools called the Tools panel. Here, you will see Zoom, Slide, Slip, Hand, Razor, Rate Stretch, Rolling edit, Ripple edit, and Track selection tools. Next to the Tools panel, you will have the Timeline section, and the last column will give you audio settings, which is known as the Audio Meter panel.
Adobe Premiere Pro Cost
Adobe Premiere Pro is available on subscription. You can buy it for $20.99 per month if you take the yearly subscription. You can also buy the prepaid plan for $239.88. There is also a monthly plan available for $31.49 per month.
Adobe Premiere Brief Tutorial
Step 1: Install and open the software on your device. Its interface is already self-explanatory, but you can also change the interface according to your choice from the Window menu.
Step 2: After being satisfied with the interface, you can import files from your device to Premiere Pro. From the top of the screen, click on File > Import options and add your files to the software. The selected files will be shown on the Project panel.
Step 3: The next step is to deal with your asset. You will have to add your selected files to the Source monitor by double-clicking on the files from the Project panel. You can use the Premiere Pro shortcut keys here; press the I key to add In point and the O key to add the output point to your file.
Step 4: After setting the points, add clips to your final file. For this purpose, click on File > New >Sequence, and a new Timeline with the clips will pop up on the screen. You can also simply drag and drop the clips from the Project panel to the Timeline.
Step 5: To make your editing process fast, use key shortcuts for basic navigation. To start and stop the playback, use the Spacebar. To shuttle around the Timeline, use J, K, and L keys and Plus and Minus keys to zoom in and zoom out. Use the backslash to have a quick bird's eye view of your project.
Step 6: Now, it's time to use other features like audio mixing, templates, transitions, and text overlays. We have discussed their separate panels in the above section. Use the Tools panel to edit your video.
Step 7: At the last, Click on File and choose Export>Media. After this, you will have a dialog box for export settings. Here, you can make changes and set the format, location, and output name for your edited file and then export your file to your device or any social media platform.
Adobe Premiere VS Davinci Resolve/Final Cut Pro/ After effects
Here is a quick comparison among Premiere Pro, Final Cut Pro, Davinci Resolve, and After Effects.
1) Interface
Premiere Pro has a very responsive and professional interface with many productive, efficient, and compelling features and tools.
The After Effects interface looks a bit tricky and advanced because it allows you to use different panels not only for video editing but also for composing animated videos.
The interface of Davinci Resolve also looks like the interface of Premiere Pro and After Effects, and you need time to master it.
Final Cut Pro has a very simple and easy user interface that can be an excellent option for beginners who want to become professional video makers.
2) Effects
For effects, our first recommendation is After Effects because it offers a wide range of video, audio, and text effect presets. Adobe Premiere and Davinci Resolve have almost similar availability of video effects, while Final Cut Pro has some basic video effects that a beginner can use to modify the video's look.
3) Text Effects
Premiere Pro and After Effects offers customizable text with different text effects, motions, and styles. Final Cut Pro also allows you to add text to the videos with different fonts, colors, and styles. Davinci Resolve offers text addition to videos with limited text effects.
4) Pricing
Premiere Pro offers different plans, and you can have a look at them in Part 2 of this article. Final Cut Pro and Davinci Resolve demand a one-time payment for a lifetime license with costs around $299.99 and $299, respectively. After Effects also offers a monthly subscription for $20.99.
5) Compatibility
Adobe Premiere Pro and After Effects are compatible with Windows and macOS. Final Cut Pro is only available for macOS. Davinci Resolve is compatible with macOS, Windows, Linux.
Also Read:
Adobe Premiere Elements 2021 Review >>
Make a Professional Slideshow with Adobe Premiere Pro >>
Easy-to-use alternative to Adobe Premiere Pro - Filme
Filme is a professional and beginner-friendly video editing tool. You can use it on your Mac or Windows PC. It has almost every video editing tool that you need to make a perfect video. It can take your video editing skills to the next level.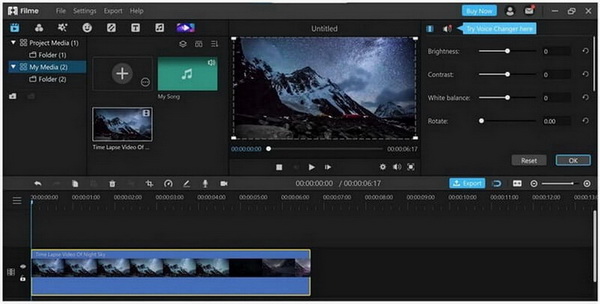 Reasons:
You don't need any experience to use Filme. It is perfect for beginners.

The user interface is simple and friendly. You can use the software without any hassle.

You can make perfect videos in no time. It requires only a few clicks, so you will be able to save time.

It is a versatile tool with tons of tools and features.
Features:
Filme offers one-click slideshows. You only need to select a template and import images.

It has all the basic tools for cropping, trimming, splitting, color adjustment, speed adjustment, rotation, scaling, and positioning.

There are libraries for music, effects, transitions, stickers, filters, and text.

You can export the video in any format you like.
How to use Filme to edit video easily:
Step 1: Open Filme and create a new project from the File menu.
Step 2: Import the videos and other media from My Media and drag them to the timeline.
Step 3: Now, you can trim the video by dragging the ends in the timeline. You can use other basic tools that are over the timeline. Double-click on the video to see more editing options.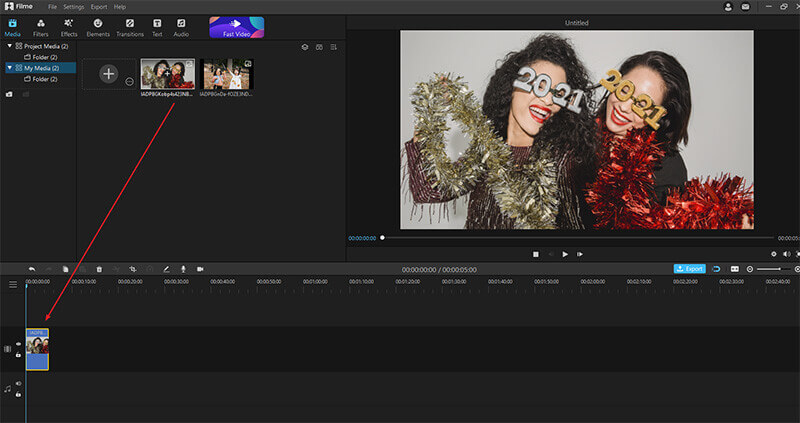 Step 4: You can add effects, transitions, music, stickers, text, and filters from the menus.
Step 5: After all edits, click on the export button and export the video in the desired format.
Watch this video to see how to use Filme to create a stunning video:
Final Words:
Adobe Premiere Pro is a professional video editing software, and there is no doubt it can help you create exceptional videos. We have discussed everything in detail and compared it with other video editors. We recommend Filme for beginners as well as experts. It is an amazing tool with all tools and features you need to create awe-inspiring and catchy videos.