PowerDirector is a famous video editor that beginners love. In this article, we will give you an in-depth review of the video editor. We will discuss everything in detail so that you can decide whether you should use it or not. Moreover, we will also introduce an alternative to PowerDirector. Let's GO!
Interface of PowerDirector Video Editor
The interface of PowerDirector is simple and clean. It is beginner-friendly, but still, beginners need to learn about different tools and explore everything on their own. You need some time to understand everything and interact efficiently with the interface.
The interface looks a bit cluttered as there are small icons and tools everywhere. After clicking on the icons, you will see a list of new categories. Everything looks small as the interface is overpopulated. The timeline is also messy. You will see various small tracks, and sometimes it is difficult to find the media you are looking for. Thus, it is better to have a bigger screen to enjoy video editing in PowerDirector.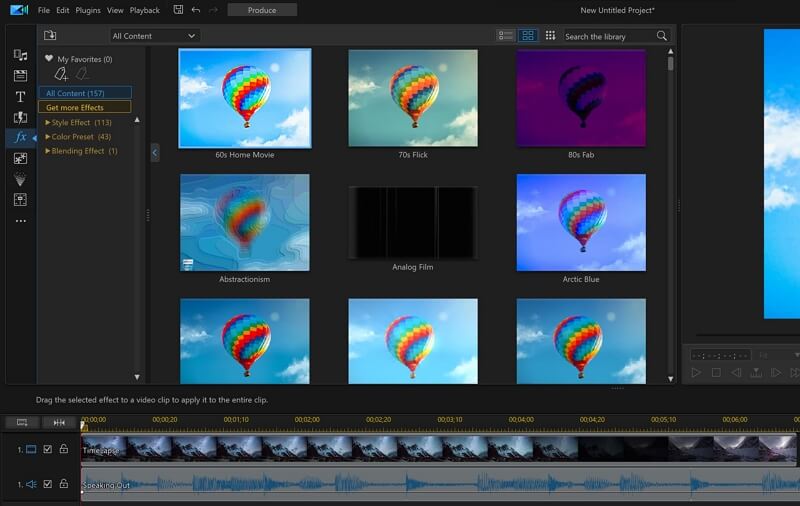 On the left, you have tools that you can explore. All these tools are easy to use, but you need to check everything to understand the use and purpose.
Overall, the interface is much friendlier compared to other similar video editors. It is perfect for beginners who want to make their videos more attractive.
Top Features of PowerDirector Video Editor
1) Green Screen Editing
If you are a content creator, filmmaker, or social media marketer, this feature will do miracles. You can use a green screen in your background and replace it with any mesmerizing or eye-catching background using the video editor. You can create special effects and turn your imagination into reality. The steps are quite simple, but the final result will be spectacular.
2) Motion Tracking
Motion tracking is a part of modern video editing. Without it, you cannot express your creativity and show your skills. It actually makes your video more attractive and appealing. You can make text, images, and other graphics to follow or act according to the motion of objects. Motion tracking is quite difficult, but PowerDirector has made it easy. Beginners can also do it after looking at simple tutorials.
3) Titles and Annotations
PowerDirector has two types of titles. One type is the motion graphics titles, and the other is epic titles. The motion graphics titles have some motions and animations to make the video more appealing. There are various styles available, and you need to select the best one according to your needs.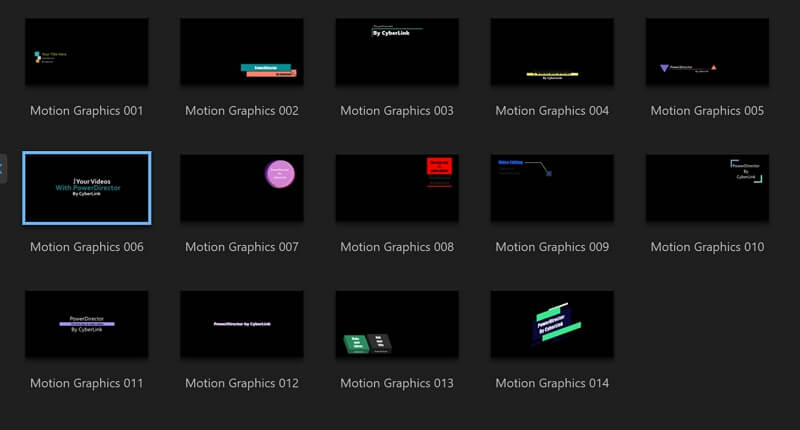 The epic titles are customizable titles that help you create a title of your choice. You can add stunning animations to it.
The video editor also offers some exciting annotations. There are different shapes and styles available. You only need to select a suitable one, and the text will fit automatically.
4) Transitions and Video Effects
PowerDirector has some cool transitions and video effects. There are around 185 transitions in the free version, and the paid version has more. You can also have custom transitions and can download if you want more.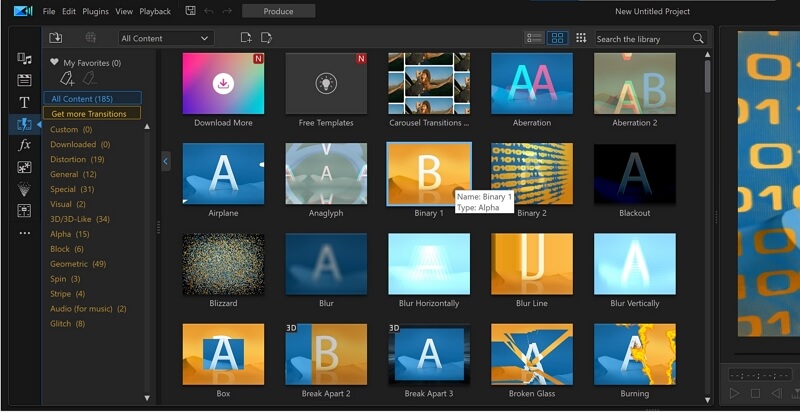 You will find almost every effect in the huge library of PowerDirector. You can add magical and cool effects to your videos without any hassle.
5) Royalty-free Stock
There is no need to worry about the media as PowerDirector provides everything. It has a library for royalty-free music, images, and sound clips. Moreover, Shutterstock is integrated with the video editor, so you can find premium images, videos, and photos. It makes video editing more simple.
Pricing of PowerDirector Video Editor
There are two plans for PowerDirector Video Editor. You can buy the Windows and Mac monthly subscription for $19.99. The annual plan is better and available for $69.99. You can also get discounts on special offers. The video editor is also available for Android and iOS. You can purchase its annual plan for $34.99.
There is also a Director Suite available, and it includes PowerDirector, PhotoDirector, ColorDirector, and AudioDirector. The suite is a complete package and has everything you need. It is available for $29.99 per month and $129.99 per year.
Pros and Cons of PowerDirector Video Editor
Pros:

Ease of Use
The first benefit of PowerDirector video editor is that it is easy to use. It has almost every tool and advanced feature, and it is still user-friendly. Beginners can also try this software, and with minimal effort, they can create stunning videos that can stand out from the crowd.
Usually, advanced video editors are difficult, and it is required to learn things before you use them. But PowerDirector is pretty easy to use.

Tons of Features
PowerDirector offers all features for video editors. It has everything, from basic tools to advanced tools. You can do cutting, cropping, trimming, resizing, and anything you like. There are special effects, cool transitions, and stunning titles. You can make your videos perfect. Advanced features, such as motion tracking and keyframing, take your video editing skills to the next level.

New Updates
You will receive new updates. The developers frequently fix bugs and issues and provide new features, plugins, and updates. You can download the updates for free and enjoy new features. Thus, PowerDirector remains up to date to compete in the market.

Excellent Video Quality
PowerDirector can edit high-quality videos and render them at a very fast speed. It can handle 4K, Full HD, Go Pro videos, and other qualities without any hassle. It is faster than other video editors in the market.

All-purpose Video Editor
You can use PowerDirector for any purpose. Whether you need to create social media videos for your profile or business, it is a perfect choice. You can add stunning effects and make videos more engaging, like a pro.
Cons:

a) Difficult to Deal with Plugins
It offers many plugins, and many come with new updates. But it is difficult to find the installed plugins and how to use them. This is a bit difficult for a beginner.

b) Need More Tutorial/Explanation
The new updates are sometimes tricky and difficult to understand. So, there is a need for tutorials and in-depth explanations whenever an update arrives.
Also Read:
Videopad Full Review in 2021 >>
Adobe After Effects Review and Alternatives >>
The Best Alternative to PowerDirector Video Editor – Filme
There are many tools in the market, but we recommend Filme as it is an exceptional video editor for beginners as well as experts. The best thing about Filme is that it is an all-in-one video editor. You can use it for creating slideshows, editing audio, recording the computer screen, changing the voice, conversion of videos, and various other purposes. It is a versatile tool with tons of features.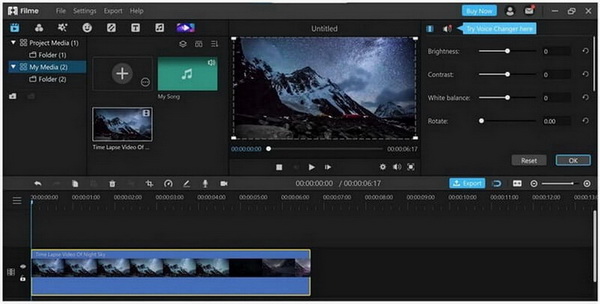 Pros:

Anyone can use Filme as it has a user-friendly interface. There is no experience required.

Filme offers a tutorial for every tool. You can watch video tutorials, and there are hundreds of blog poststhat you can read.

It has all the basic tools for video editing. You can cut, crop, trim and make other changes in no time.

The slideshow maker of Filme has dozens of templates. You can create a stunning video with effects and animation with a few clicks.

The effects, transitions, stickers, and filters are amazing. You can add them to your videos with one click.

You can also record your screen and change your voice in real-time.
Cons:

It is a paid tool, so you need to purchase the premium plan to remove the watermark.
Final Words
We have discussed features, pros &; cons, interface, and everything about PowerDirector. It is an excellent video editor that you can try. But if you want to explore more features, you can try Filme. It is also a professional and all-in-one video editor. It will help you create awesome videos.

iMyFone Filme
Release Your Creativity with Best Video Editor iMyFone Filme!
Download Now