The idea of using a professional voice changer for Discord to distort your voice to make it unrecognizable has both pragmatic and fun reasons. But finding a reliable voice changerDiscord isn't an easy task since the internet is full of such tools - all claiming to be the best in the business.
To help out our readers, we have handpicked the most sought-after Discord voice changer, Mac,Windows, and mobile, along with their noteworthy features, pros, and cons.
Let's read them up.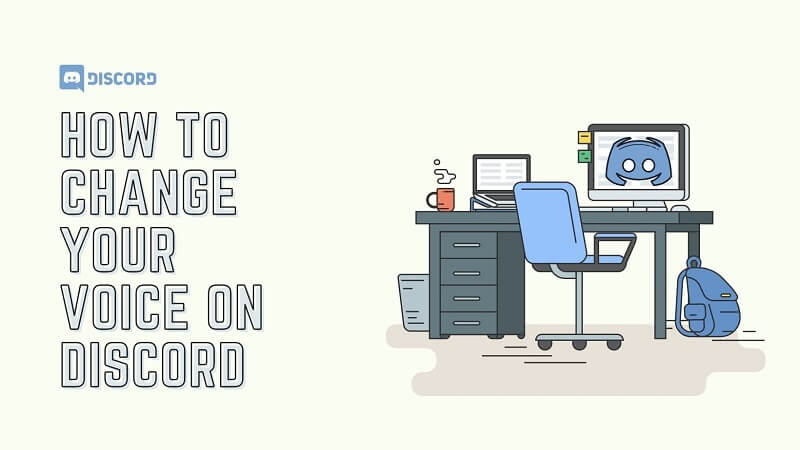 Bonus Tips
How To Use Male To Female Voice Changer ON Discord.
Part 1. Best Discord Voice Changer for Windows
The below are the three most sought-after Windows voice changer for discord. Let's discuss their features and pros and cons.
Its interface is well-designed and it got all the features that you need in a top-notch voice changer for Discord. The best thing about MagicMic is it works great with Discord and many other online apps and disguises your voice in high quality.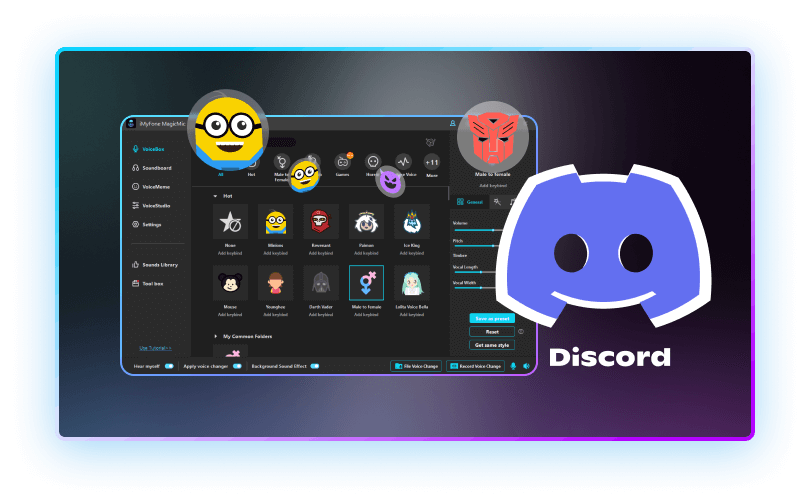 Key Features of MagicMic
Change your voice in real-time: It also allows you to set the keybind and switch your voice with 1 click with 225+ voice changing filters.

Supports various platforms: It can be used on Discord, PUBG, LOL, CF, Skype, Zoom, and many other platforms.

Abundant voice-changing effect: Including male to female, Monster, Minions, Devil, Chipmunks, Robot, Alien, etc.

600+ sound effects and voice memes available: Imitating people, animals, the environment, and so on.

Create your voice with ease: Lets you make your own voices as you want by adjusting the voice settings.

Keybinds control: Let you to make your own voices as you want by adjusting the voice settings.
Pros:

It is available for Windows and Mac.

It offers the most voice effects than other voice changers.

Voice effects sound natural and it has high-quality output.

It comes with in-build background sounds for creating various environments.
Cons:

It is relatively a new product in the market.
Also Read:
Best Soundboard For Discord Recommended >>
Change Your Voice on Discord >>
Elevate your Discord experience with VoiceMod, avoice changer for Discord. Offering a plethora of captivating voice styles and a user-friendly interface, it's your go-to choice. Whether you're aiming to sound like a robot, a girl, or add a baritone twist, Voicemod has you covered.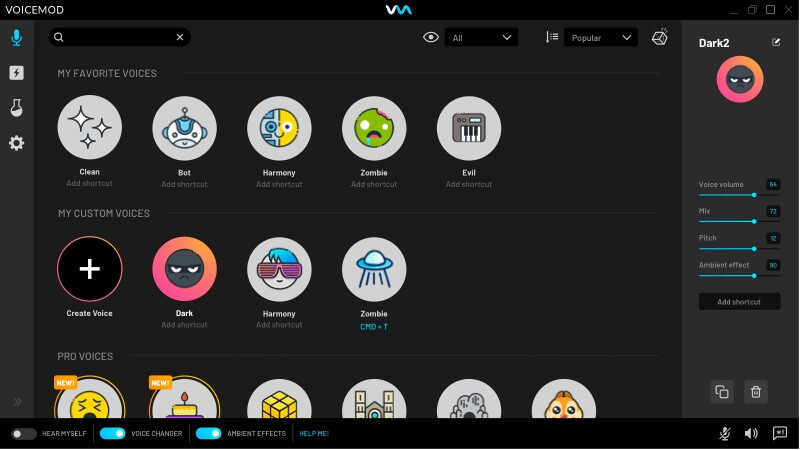 Features
Offers hundreds of voice modes

Applies effects in real-time

Provides live voice effect demos

It offers a straightforward interface.
Pros:

Works across all Windows OS

Compatible with other popular apps such as Skype, Twitter, modern games, and any online streaming app

It has many communities on various platforms
Cons:

Free version only comes with limited features

It is easily crashed.
Price: 12$/quarter
Also Read:
Is Voicemod Girl Voice Good?>>
Looking for a versatile Discord voice changer? AV Voice Changer empowers you to fully transform your voice, rendering it unrecognizable. Whether you aim to sound like a woman, child, or robot, this tool offers a wide range of voice preferences and effects for creating a distinct and unique voice every time.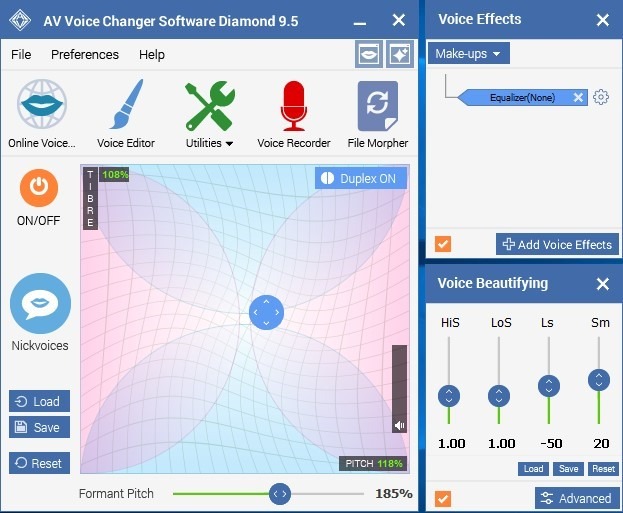 Features
Record your morphed voice

Built-in professional editor

Equipped with the superior virtual driver technology
Pros:

Professional-grade voice changer

Comes in various paid versions

Compatible with almost all VoIP programs
Cons:

Too expensive
Price: $99.5
Part 2. Best Free Voice Changer for Mac
Voice changer apps for Mac are quite popular among gamers. Here are the best voice changer for discord for Mac that you can use.
When it comes to Discord voice changer for mac, as we mentioned MagicMic is on Windows part, but another good thing about this software is that it works on Mac too. So you don't have to worry about compatibility.
This software itself features a quite impressive library of voice filters and sound effects, like female voice changing efffects, which allows you to add any audio files on it. Moreover, with voice studio function, you can customize your own voice filter with MagicMic.Don't hesitate to try it!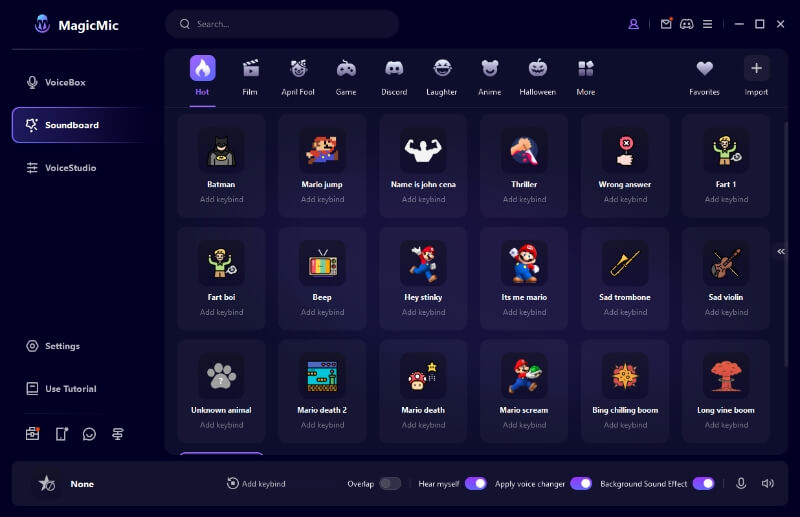 Equipped with a range of added effects and built-in sounds, MorphVOX Junior is one of the most popular voice changers for Discord Mac. It has a simple and easy-to-use system and works with almost all gaming applications.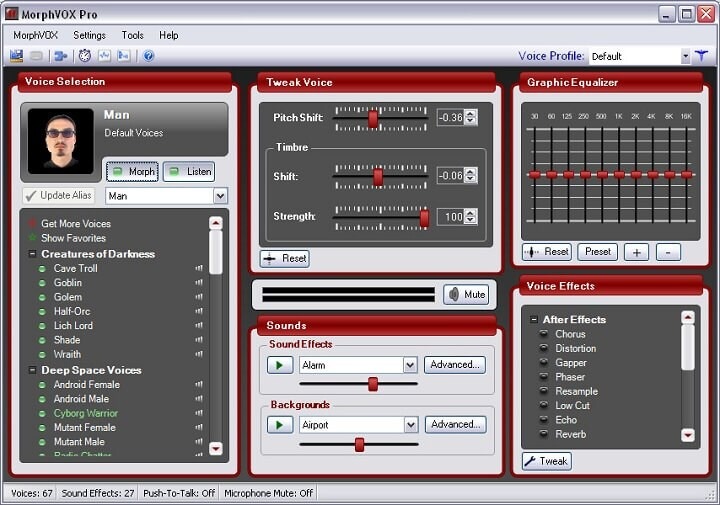 Key Features
Allows to remove the background noises

Tons of voice-changing effects

In-built superior voice learning technology

Add background effects in real-time
Pros:

Consumes little space

Users can create custom shortcuts

High quality voice changing output
Cons:

Free features has only 3 voice changing effects

Paid subscription is too expensive

Complicated installation process
Price: paid version priced at $39.95.
It is one of the finest voice changers for Discord Mac free which offers over 55 voice effects and styles. Due to its ability to adjust and filter background voices, it can disguise your voice in high quality.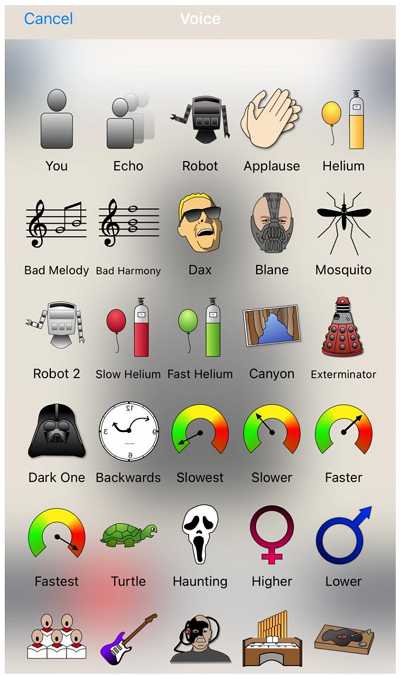 Features
Can play the recorded audio backward

Offers basic editing features

Wide array of editing effects
Pros:

Save and share audios quickly

Trim the recorded voice

Provides complete voiceover support
Cons:

Cannot record in real-time

Free version is very vague and full of ads

Low compatibility
Price: Free but offers in-app purchases.
If you want a Discord voice changer Mac that can change your voice in real-time into tons of exciting styles including female while playing games or during a call, then this tool is a perfect choice. Developed by renowned NCH developers, Voxal voice changers can disguise both your live and pre-recorded voice.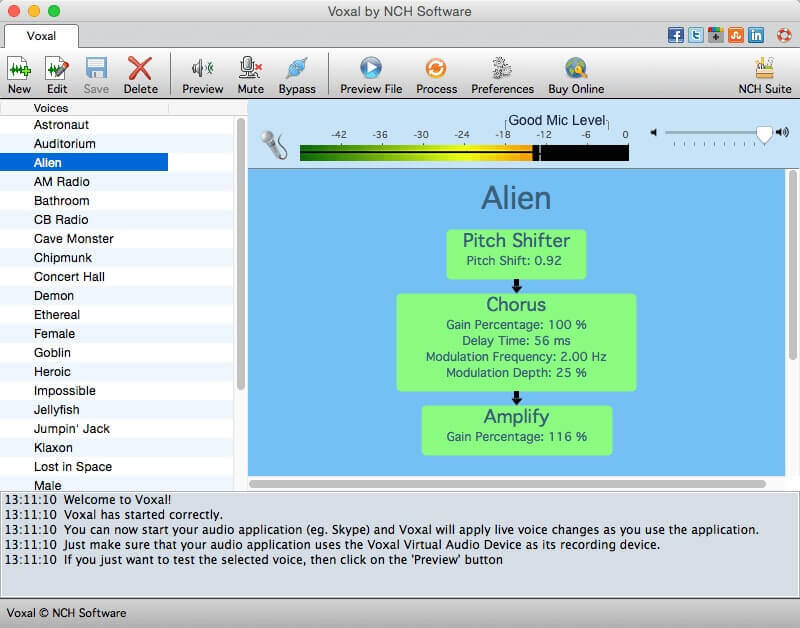 Features
Adds voice-manipulation effects in real-time to audio input devices like a microphone

Huge options of custom voice effects

Can apply effects to existing audio files

It can also use as a sound effect player
Pros:

Easy and straightforward interface

Low CPU usage

Users can hear the voice effects while recording
Cons:

Too many ads in the free version

Lacks editing features

Cannot export voices in MP3 version.
Price: Paid version is priced at $24.99. Also offers a free version.
Part 3. Best Free Voice Changer for Discord Online
Let us discuss the top online voice changer for discords that you can install and use right away.
This online free tool is as simple and straightforward as it can get. On its Welcome page, it offers dozens of exciting voice-changing effects to allow you to tweak your voice and make it recognizable.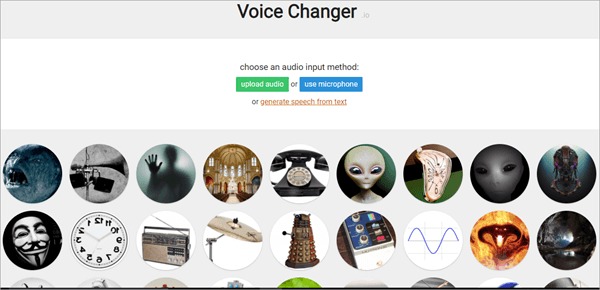 Features
Users can upload the file or use a microphone

Generates speech from text

Voice effect demos
Pros:

Very simple interface

Quick and easy to use

Totally free
Cons:

Limited features

No editing tools
Price: Free
To modulate your voice using this amazing tool, all you need is to head to the official website and upload the file or record a new voice. It then displays various voice effects that you can apply with just one click.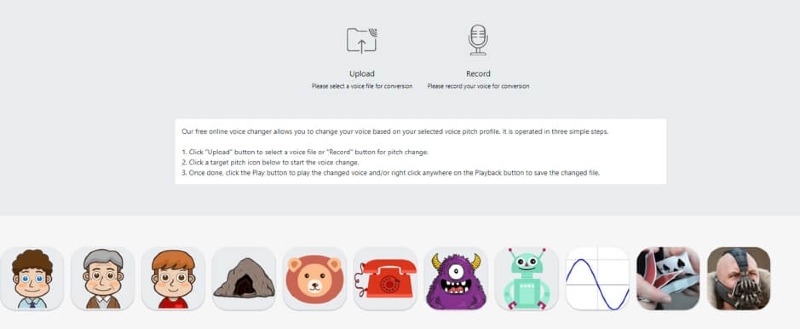 Features
Applies voice effects on both pre-recorded audio and real-time voice.

Offers many exciting voice modes
Pros:

Efficient and quick to use

Free for every user
Cons:

No editing feature

Saves the output in only WAV format
Price: Free
Another free online tool that makes it ridiculously easy for users to modulate their voices. All it takes a few clicks to make your voice completely unrecognizable and either save it or share it on various online platforms.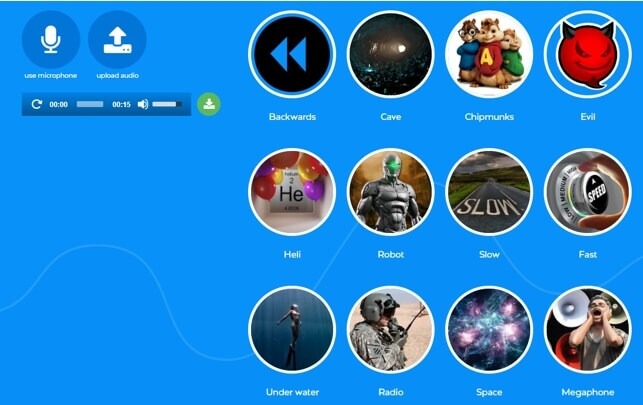 Features
Offers both uploading voice and live recording options

Share the output voice directly to the social media platforms.
Pros:

Supports many languages

Users can listen to the effect before saving the file

Very easy to use
Cons:

Too less voice effects

Output quality is compromised
Price: Free
Conclusion
It's fun and exciting to have a professional voice changer for Discord on Mac,Windows, and mobile. All the aforementioned apps are reliable, efficient, and offer unique and creative features to disguise your voice – for any purpose. Now that you know the key features and pros and cons of each software, you can better decide which app meets your requirements.
But as far as our recommendation goes, we recommend our users to rely onMagicMic Discord voice changer – which is the most professional and easy-to-use voice changer having stellar voice-changing features for discord Mac and Discord Windows, same to other platforms.
You can check out the voice demo below!