There are a lot of reasons why people blur something in video on social media. Some people may blur videos to protect their identity or to keep their image private. Some may blur videos as a form of censorship, as there is no way for anyone to verify if the video they're watching was altered from its original version. Some may only want the aesthetic of blurred footage, viewing it as a form of artistic expression or powerful imagery. And some think that blurring allows them a sense of anonymity and security when posting online content since faces cannot be easily identified in blurred footage.
Regardless of whatever people's reason might be for blurring something in video, we will discuss how to do so using some popular editing tools.
Part 1: How to Blur Part of Video with iMovie iPhone App
Want to know how to blur something in video with iMovie? iMovie is an excellent video editor, but i would recommend iMyFone Filme to add blur effect to video, you can blur video in iMyFone Filme with few clicks in 5 seconds. Download iMyFone Filme below.
The iPhone app is much easier to accomplish when you are recording with your phone, but it can be done in iMovie when you use the same techniques I explained above for the Mac. Now just follow the steps below to blur part of video in your timeline. However, using it on a Mac is relatively easier and faster.
Step 1. Create a project and import from the + button.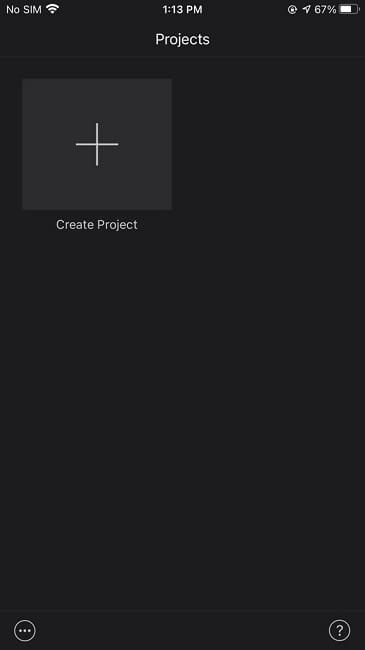 Step 2. Select the video to which you want to add blur effect to.
Step 3. Click on the plus button to import your desired video. Once you've selected the video click on done so that it's uploaded on the tmeline. You can also preview your video.
Step 4. Now, click on the video and then click on the recently added.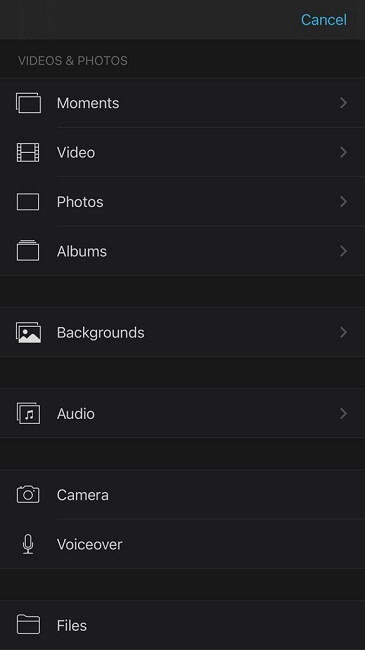 Step 5. You'll have multiple options to select. It's better to create a blur effect video using any online tool or software and save it on your phone.
Step 6. You can select the blur video or any other video that you want to add.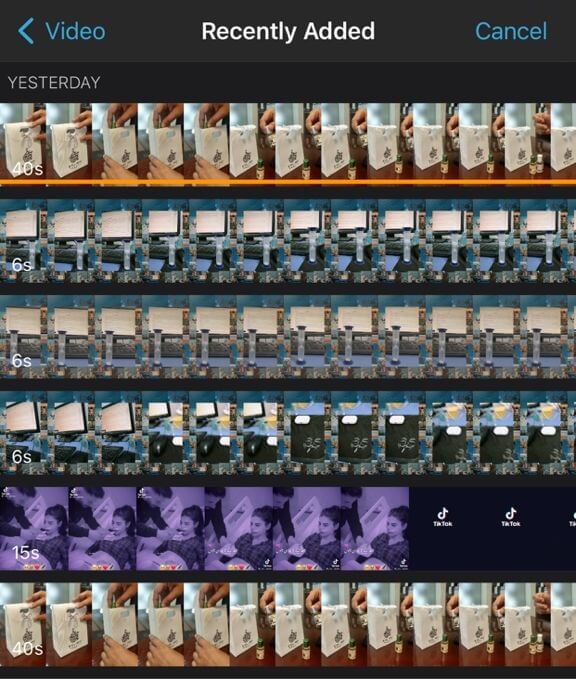 Step 7. Once you've selected the video click on rectangle inside the rectangle option.
Step 8. It will put the selected video above the old video. You can move the part where you want to add the blur effect.
Step 9. That's it. You can now save your video.
Part 2: How to Blur Something in Video with iMovie on Mac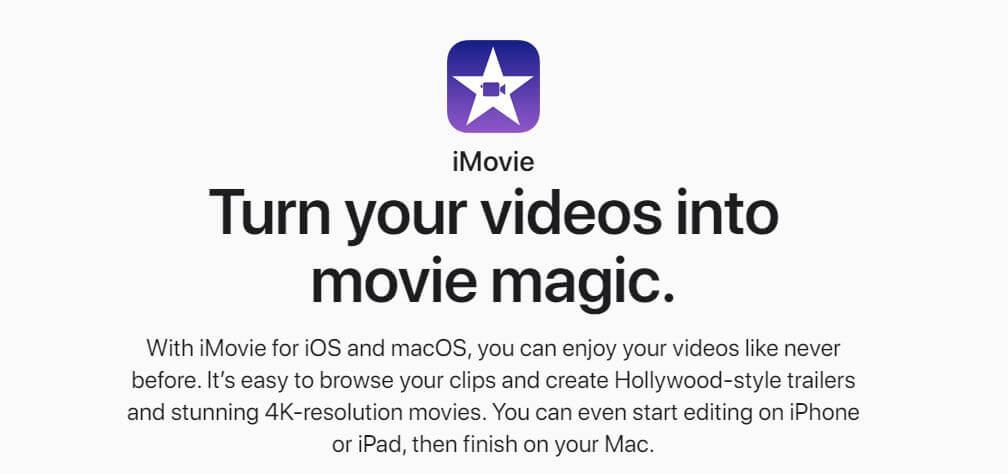 Steps Using iMovie Mac
Step 1. To start, you need to have a video clip, imported into your media bin, then drag it down your timeline. The video will appear on the title tab.
Step 2. Now you have to create a small image / rectangle which will be put on over the face or part of the video that will be blurred. You can create the image using canvas or any other online software.

Step 3. Once the image is created, increase the blur effect to maximum so that the image is completely blurred. Save the file into the png extention.
Step 4. Import the image and drag it over the video.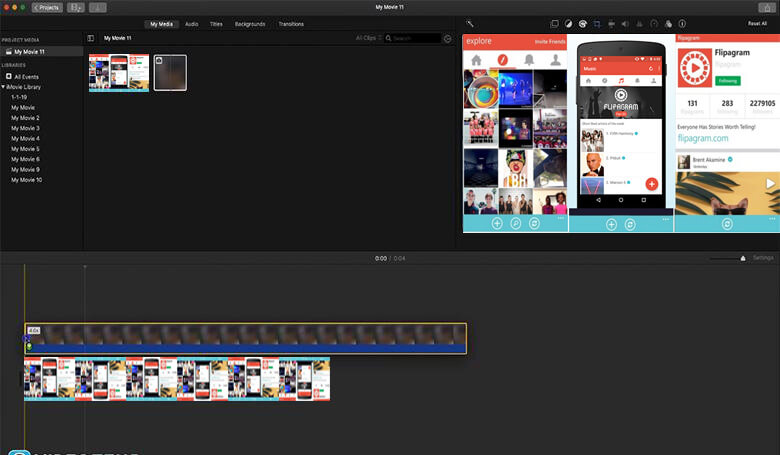 Step 5. Once the blur image is placed over the video, you will see the blur image on the screen. Click the overlay tool above the screen and changed the dropdown to picture in picture instead of cutaway. Change the number to 0, which is on the right side of "Dissolve" option.
Step 6. Now, click on the cropping tool. Select Fit to keep the image static.
Step 7. Now place the image on the face or any other part you want to blur. Since the required part will be moving in the video, we will have to use multiple key frames and put the blur image over all the places where the required part is moving.
Step 8. We're done. Just preview the video and it will blur the required part. You can now Save the video in your desired extension.
Also Read:
How to Blur Video Background in Lightroom >>

Part 3: Better Alternative to Blur Something in Video-iMyFone Filme
The iMyFone Video Editor for Mac is particularly excellent when it comes to Hollywood-style film effects. Due to that, it's the perfect tool for triggering glitter, skin bleaching, propeller effects, titles, and blurring. From the menu bar choose "Effects" and then "Blur". You can play around with the controls to create movie-like effects. The app offers a slew of other features including split-screen, sound cutting, animation effects, super slow-mo.
When you are done applying the effect to your video, you have an option to export it as HD video or SD/HD MP4 file. Additionally, it has a custom output option that lets you save your edited photos or videos in any format.
The steps are similar for all three platforms. It's about setting up the same effect using different ways of applying it.
Steps with Filme
Step 1. Download and install iMyFone Filme and launch the app.
Step 2. Import your video file. To do this step click on the import media icon. Now you'll have to pick a video from your gallery.
Step 3. Once you've imported a video, you will need to drag it to your iMyFone Filme's timeline.
Step 4. Choose Your Desired Background Blur
The next step is to select whichever background blur option you want to use. There are many blur options out there and you may select whichever you like.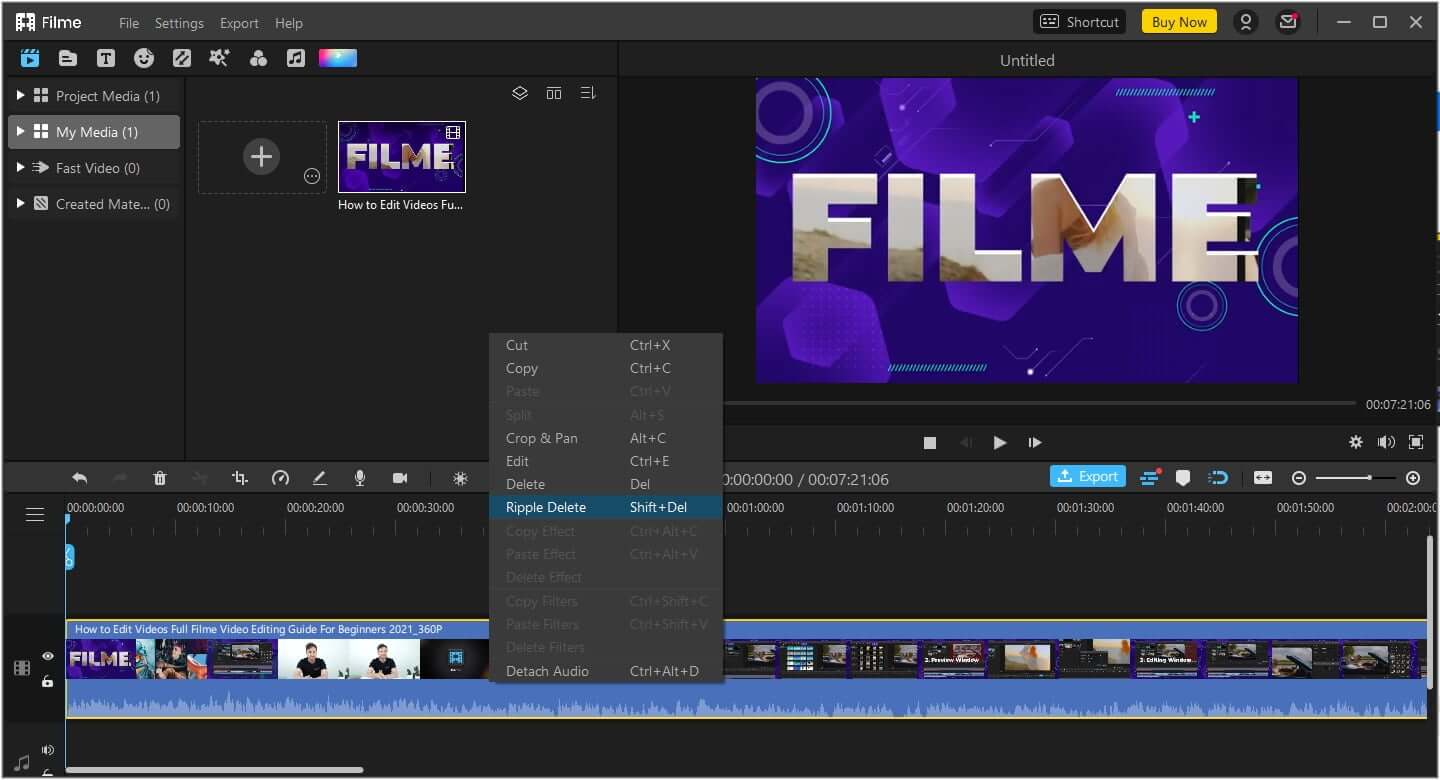 Step 5. Adjust Your blur option.Click edit and change blurriness properties.Now, after you click edit option,you can change blurriness properties.
Change the blur effect by clicking on the effect icon on the right. Then go to the video editing tab in the effects window. Select the blur option in the drop-down menu and change the amount of blur you wish to add to your video.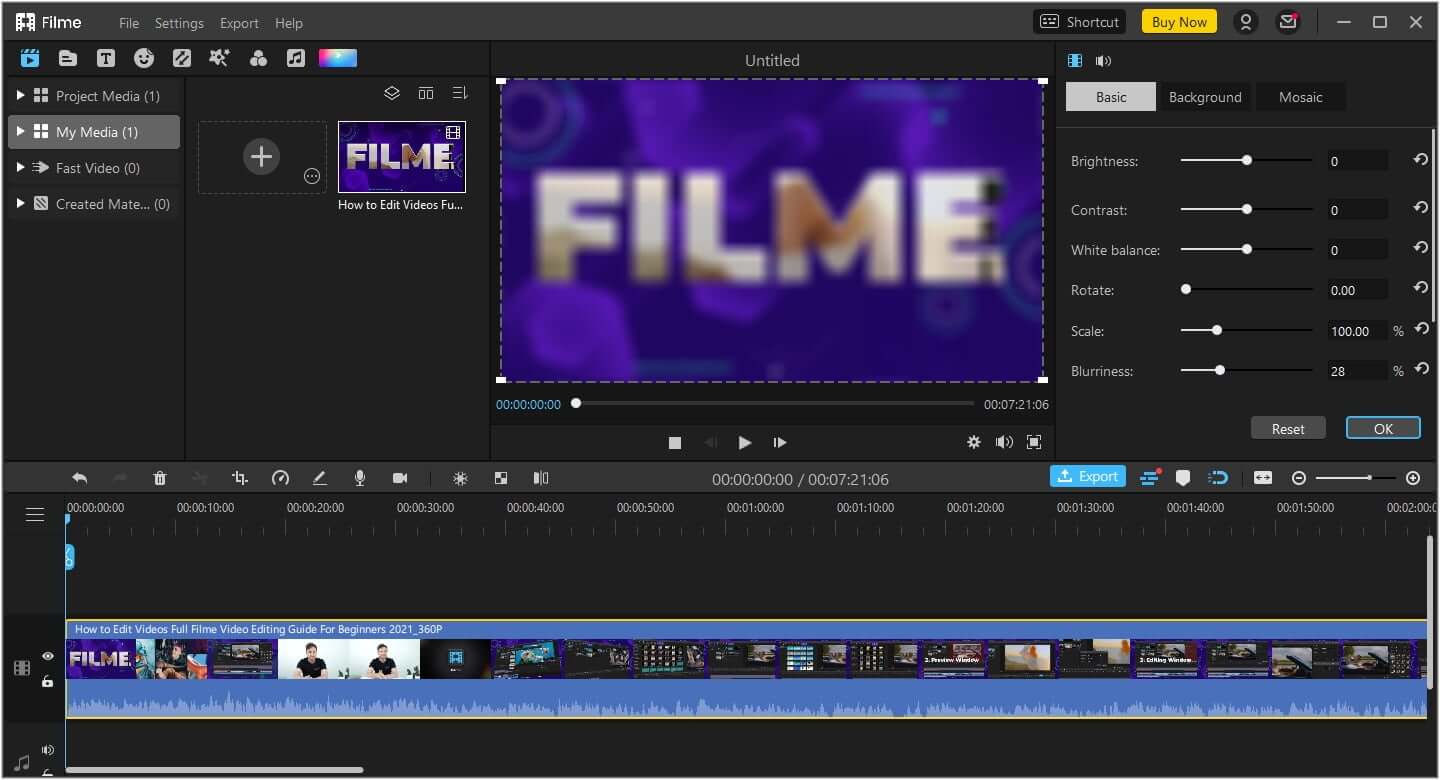 Step 6. Download the file
Once you've followed these steps, your video's background will be blurred and you may now download and export it using the ' Export button option''. You can download your blur video by clicking the export button to the right. This will save the file to your computer in a variety of formats including mp4, MOV, WMV, AVI, and more.
Benefits of Using iMyFone Filme
iMyFone Filme is an intuitive app that makes the entire process of blurring your videos simple and easy.
1. Simple Interface
The interface of the program is quite simple to use. You can quickly add your videos to the timeline, then edit them by simply dragging and dropping them wherever you like.
2. Effortless Editing
You can easily blur something in your video using filters with iMyFone Filme's movie editing tools, so you have complete control of the video right from the beginning till the end of the editing process.
3. Customized Output
The biggest benefit of this app over iMovie is that it can be used to download your video in any format you wish. With iMyFone Filme, you may make a variety of editing choices for your video. This app lets you adjust the file size of your movie, and change its format from MOV, MP4 to WMV, AVI, MP3, and more.
4. High-Quality Output
iMyFone Filme allows you to select a variety of formats for outputting the videos. It lets you switch the file size from high definition to standard definition or even low-quality format with ease.
Conclusion
As the tide has turned in favor of privacy over the past decade or two, it's become increasingly popular to blur photos and videos that are posted online to protect your privacy. However, many people feel that videos should not be blurred since the blurring causes the footage to lose an important sense of impact. Most people agree that you should never blur a person's face or any identifying features in any video, but they do hold varying opinions on whether it's acceptable for other parts of a video to be blurred. iMyFone Filme will support motion blur effect in the next version.
With the help of iMyFone Filme, you can blur something in your video in no time at all. You can download this free video editor app on your Mac, PC, or iOS devices. Although we discussed iMovie as well we highly recommend using iMyFone Filme because iMyFone Filme provides you standard editing tools that are used in movies. You can also add special effects, blur or heal your video easily. You can also define the duration of your video in minutes, seconds, or even hours. A wide range of options is available in this app so it is quite easy to edit your videos in several ways.