The addition of motion blur in a video or animation is a very common concept among video editors or cinematographers. Motion blur is a streak like effect that can be created in still as well as moving images. It is produced when the targeted objects or figures are moved rapidly in the image. It highlights an object's movement more naturally and makes your video stand out among other's work.
Many people still create this effect with a video camera but nowadays, a common practice is to produce motion blur through the video editing process. Motion blur via video editing is preferred because it's easy to create through a video camera. You don't have to utilize out of focus or blurry videos to create this effect. You just need an image or video and a good tool to create this effect.
Several highly efficient tools are available which you can use to create a motion blur effect. Sony Vegas Pro and iMyFone Filme are also among such video editing software. If you want to use these software, continue reading to know how you can use them and what our recommendation is:
Part 1: How to Add Motion Blur Effect to Video in Sony Vegas?
Sony Vegas Pro is video editing software for Windows. It can do multi-track videos and audio editing on multiple tracks in real-time. You can use it for free for a period of time and explore its various features, such as DVD authoring, advanced archival tools, and professional audio metering. You can also add Sony Vegas Motion blur plug-ins for better use of the motion blur feature.
Vegas Pro Edit price is $249, and Sony Vegas Pro is available at $299.Add motion blur effect in Sony Vegas Pro to your footage or graphic element:
Sony Vegas Pro is an excellent video editor, but i would recommend iMyFone Filme , Filme is a much more comprehensive video editing tool. It supports a wide range of file types and offers all common editing tools, along with filters, transitions, animation, text, fast video mode, and much more. You can blur video in Filme with single click. Download iMyFone Filme below.
Steps for Add Motion Blur in
Sony Vegas Pro
Step 1: Set up the project
First of all, create a project that contains footage to apply the motion blur effect. You can create moving texts or graphics with track motion or drag video clips recorded with high shutter speed.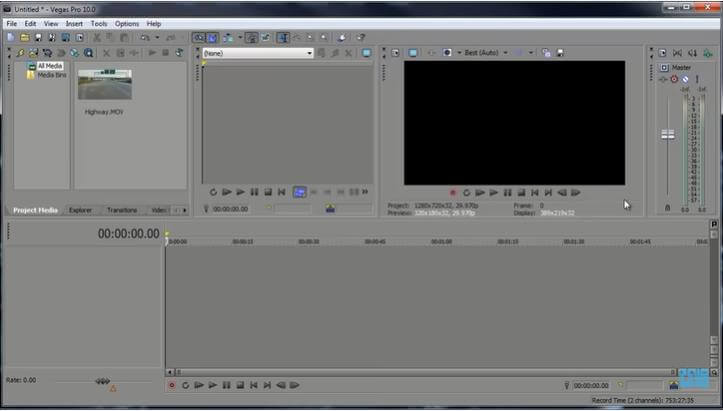 Step 2: Set motion blur type
Hit the Project properties in the toolbar>Motion Blur Type> Default motion blue Gaussian. You can also choose other blur types.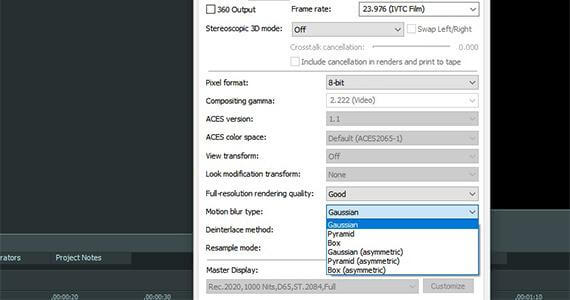 Step 3: Select video bus track
Go to View Tab and select Video Bus Track or Press Shift + Ctrl +B to choose Video Bus Track. You will now see a Video Bus Track below your original video track.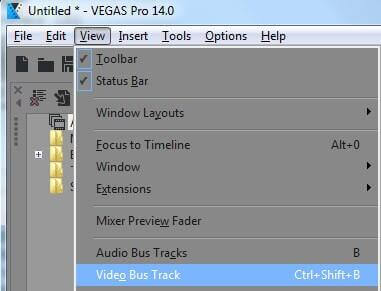 Step 4: Insert envelope
Right-click the video bus track and choose Insert/Remove Envelope. This will show you the Motion Blur Amount. Click on Motion Blur Amount, after which a pink line will appear over the Video Bus Track that shows Motion Blur Length.


Step 5: Add motion blur
Drag the pink line up to 10. If you look at the Video preview box, you will observe very shaky footage. If you further bring this bar to the top, the footage will become more blurry.
Step 6: Adjust motion blur
Now you need to adjust the motion blur effect. You can adjust the motion blur effect with the help of settings available on the head of the video bus track.
After that, click on the Animation settings icon to fade the track. Drag down to apply bottom colour fade or drag up for top colour fade.
You can also set motion blur length and fade for a specific part of the video by double-clicking on the particular part.

Step 7: Play the footage
To see how the final footage looks, find the bar with a little yellow triangle. Drag that yellow triangle across the whole clip. Now find Tools and choose Build Dynamic RAM Preview.
Now, you can play the footage. You will get a preview of very shaky but a bit smoother footage. If it's too much, you can bring the bar down to 5 and preview the footage again, following the same steps.

Step 8: Save the footage
If you are satisfied with the footage results, you can now save the footage.
Also Read:
How to Blur Video Background in Lightroom >>
Part 2: Better Alternative than Sony Vegas for Motion Blur-iMyFone Filme
Sony Vegas Pro is an excellent tool for video editing, but its free version is only available for a while, after which you need to buy it. It is quite expensive, and you might hesitate to buy its premium version.
iMyFone Filme is an affordable but powerful video editor. It can perform all the tasks that professional software can. It is all in one tool that you can use to edit your videos, audios, add effects, transitions and create influencing stories. Whether you want to refine any footage or compile various video clips, all is possible with Filme.
As you are here to find a good video editor for the motion blur effect, Filme can do this task perfectly. With its numerous transitions and effects inclusion features, motion blur is not a big deal. Its intuitive interface makes the whole process of adding motion blur effect relatively easy and understandable.
Moreover, if you use Filme, you will get rid of the time wastage that you usually encounter with traditional software. You would feel like the video editing process is fast-forwarded and accomplished within seconds.
Key Features of Filme
User-Friendly Interface

Compatible with Windows 7, 8, Windows 8.1 and 10

Multi-Track options

Free trial for 1-month

Video Editing

You can trim video clips, resize them, change the video speed and add a motion blur effect to videos. You can also add brightness, contrast, white balance and use certain other tools to adjust videos.

Effects, Filters, Text Options

You can apply countless transition effects, filters, text options to videos and images

Picture Editing
Filme can edit your pictures by adjusting picture position, trimming, cropping and using other tools
Part 3: What is Motion Blur and Why Do You Need Add Motion Blur?
In photography, video or film frames, the motion blur effect is a visual streaking effect created purposefully. It occurs when you record an image or video and the subject in that frame is moving rapidly. This effect is also naturally observed by the human eye when the human eye moves past an object at great speed.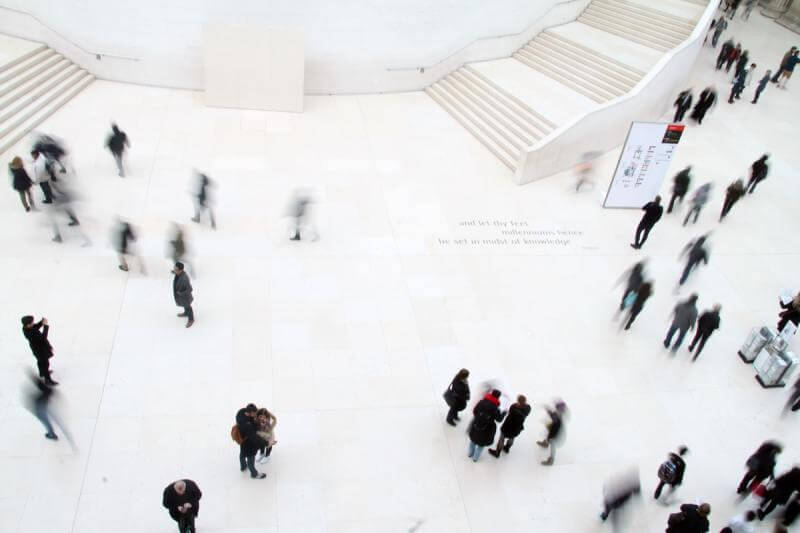 Motion Blur is typically used to create more natural-looking movements. If you make the footage too blurry, it will give high streaks or a ghostly appearance. However, a reasonable amount of blur makes the motion very natural.
Chiefly, motion blur is used with text or graphic animation to give a more natural look.
Most of the time, video or still image is shot with desired or enough shutter speed, and there is no need for additional digital blurring. But if the footage is shot with high shutter speed, it can create an unnatural and choppy motion effect. In such a situation, the addition of motion blurs effects become necessary.
Conclusion
So, if you are a professional and need a powerful video editor, you can go with Sony Vegas Pro. The price is a bit high; therefore, buy it only if you can afford it. If you have budget constraints and you still want a powerful and efficiently working video editor, we would highly recommend you to use iMyFone Filme. It is an amazing and affordable option to fulfil your video editing demands or add a motion blur effect to produce high-quality and professional results.