Adobe After Effects is a professional video editing software or tool that is famous worldwide because of its diversity. Among multiple types of effects that can be added to the video, motion blur is just another type.
Motion blur is a simple effect that allows the user to put reality into the video. While adding motion blur, you can arrange and adjust shutter angle as well as motion blur samples. This will add detail to the video, and it will look much better. If the specific object is moving in the video, motion blur will work wonderfully with it.
In this article, we will teach you how to add motion blur to any video using Adobe After Effects and iMyFone Filme. Although both are editing tools, we will compare the difference and steps required by each tool to add motion blur to video. Let's begin.
Part 1. How to Motion Blur Video in Adobe After Effects
Adobe After Effects is a very vast tool. It consists of options and affects more than we can imagine. For a beginner, it will be very difficult to use Adobe After Effects because it is a little complex.
With this tool, you can add layers to the video, which will allow you to edit with precision. Layers help you to compare the video with the original one. You can easily see the difference that you have added to the video. However, we will illustrate some steps that will help you to motion blur video in Adobe After Effects. Just follow these simple steps and ignore the complex options that arise and confuse you.
Adobe After Effects is an excellent video editor,but i would recommend iMyFone Filme , you can blur video in Filme with few clicks in 5 seconds.Filme is a much more comprehensive video editing tool. It supports a wide range of file types and offers all common editing tools, along with filters, transitions, animation, text, fast video mode, and much more,you can upload edited video to facebook,vimeo,youtube with single click without login social account.Download iMyFone Filme below and get 1 month free license below.
Step 1: If you do not have Adobe After Effects installed on your computer, firstly download and install it. You won't find Adobe After Effects free as it is a paid tool. Install the software and open it. After installation, open it and click on "New Project" as you want to edit a new file. Browse the video that you want to edit.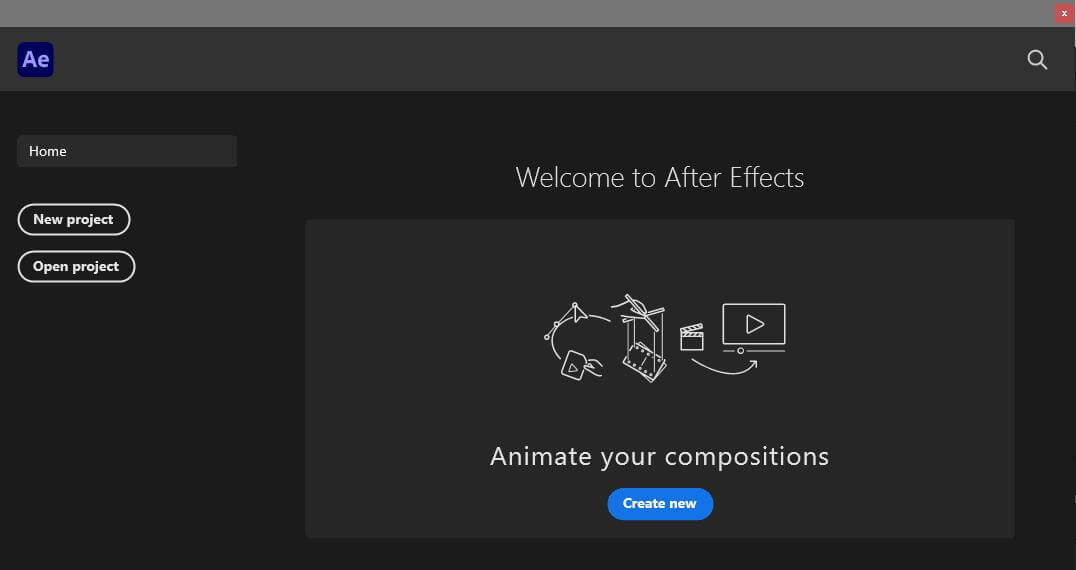 Step 2: After selecting the specific video, you will have different options on both left and right sides of the screen. We want to add motion blur to the video, and there are many ways to do this. But we will opt for the easiest one as this tutorial is for beginners.
On the right side of Adobe After Effects, you will have multiple options. Click on "Effects & Presets". It will generate a search bar. You want to add motion blur to the video, type "CC Force Motion Blur" in the search bar. As your video is in layers, you can add this effect to any layer that you want.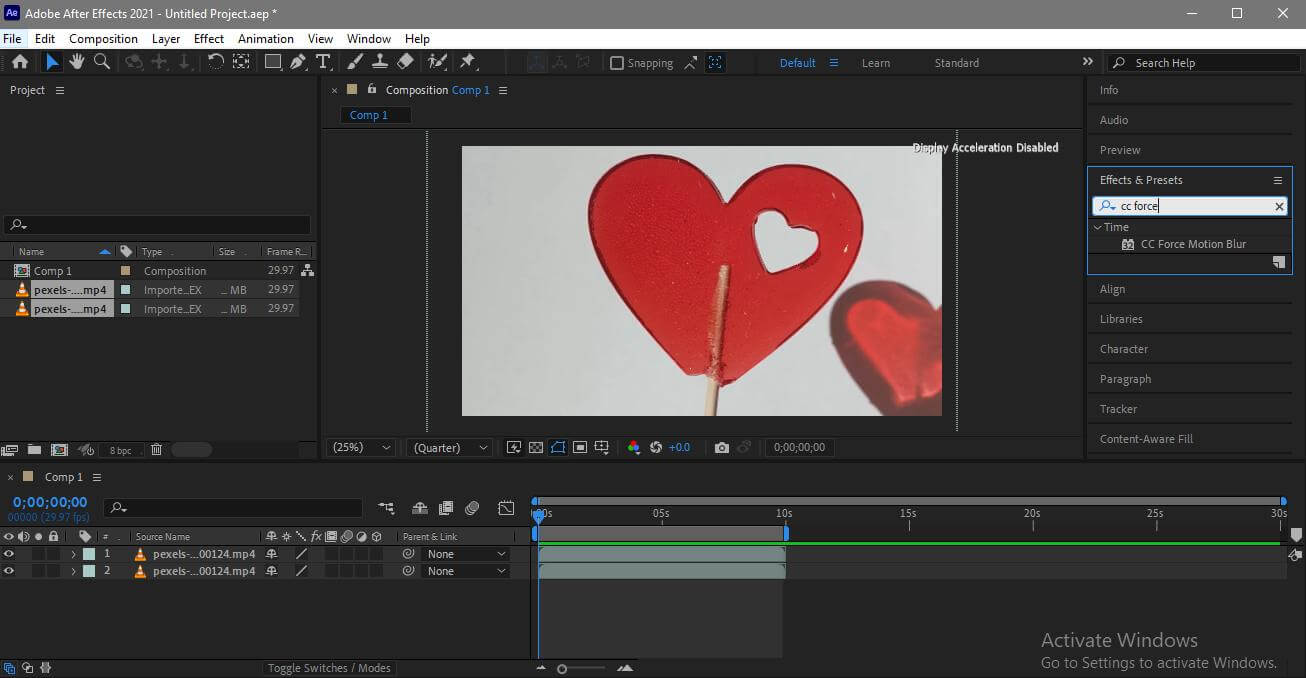 Step 3: Now drag the "CC Force Motion Blur" to your imported video, which is presented as layers on the bottom left of the screen. As soon as you drag and drop the "CC Force Motion Blur", you will see motion blur options on the left side of the screen. Here, you can adjust the motion blur according to your requirement. You can enter the values and observe the video accordingly. There are different options that you can adjust and change.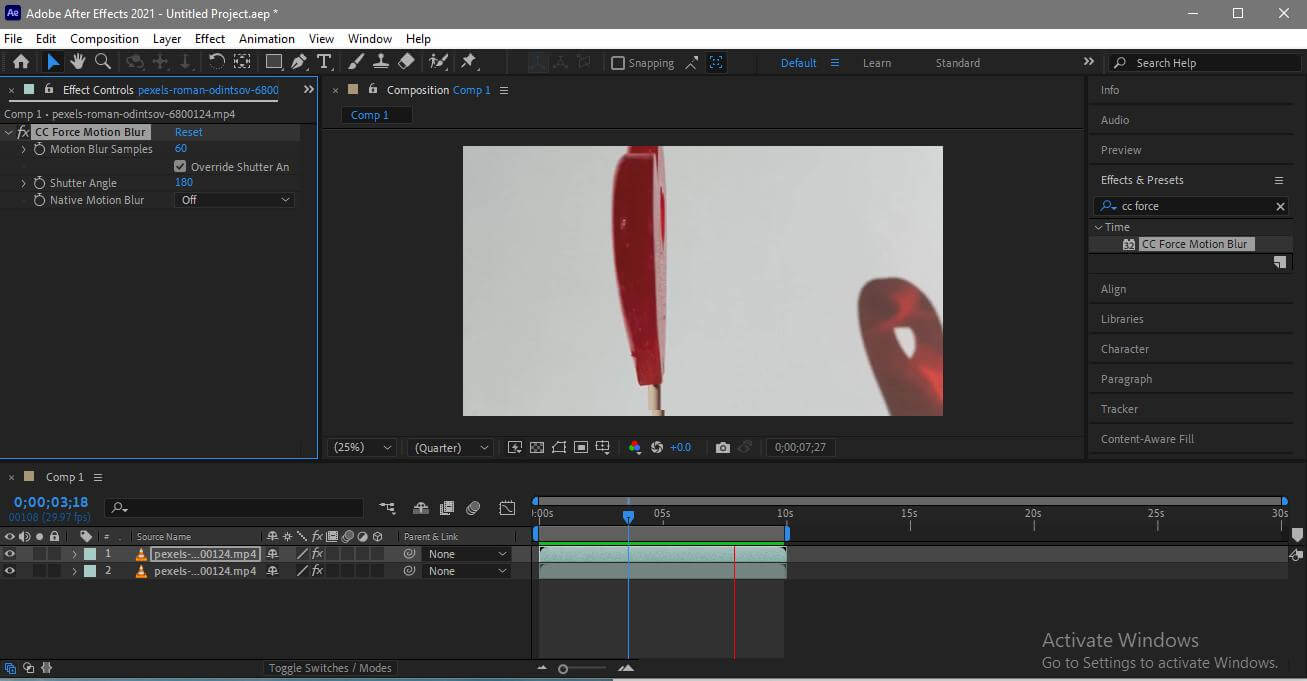 Step 4: Set "Motion Blur Samples" and "Shutter Angle" as you like. As soon as you make any changes, make sure to preview the video. Adjust according to your needs and requirements. Moreover, you can also add any other effect to the video if you want. Once you are done, you can go to "File" on the top left and save the video.
Also Read:
How to Blur Video Background in Lightroom >>
Part 2. Best Video Editor to Blur Video – iMyFone Filme
iMyFone Filme is one of the easiest yet diverse video editing tools. There are tons of exceptional editing tools and features to make your videos more attractive and engaging. It is a versatile video editor that has everything you need. It has effects, transitions, filters, stickers, text styles, and many other options to help your videos stand out from the crowd. Most importantly, it has a built-in video recorder, sound recorder, PPT to video converter, voice changer, video converter, and video resizer. Thus, it is an all-in-one video editing tool for all your needs.
Although there are many blur effects as well, we will take a basic blur effect and add it to the video. iMyFone Filme is not as complex as Adobe After Effects, so anyone can use it without any hassle. The user interface of iMyFone Filme is the simplest. Let us see how we can blur the video using iMyFone Filme with just a few steps.
Step 1: Download and open iMyFone Filme. You will see different options as it is a complete video editing tool. But we only want to add a blur effect to the video, so we will click on "Editing Mode".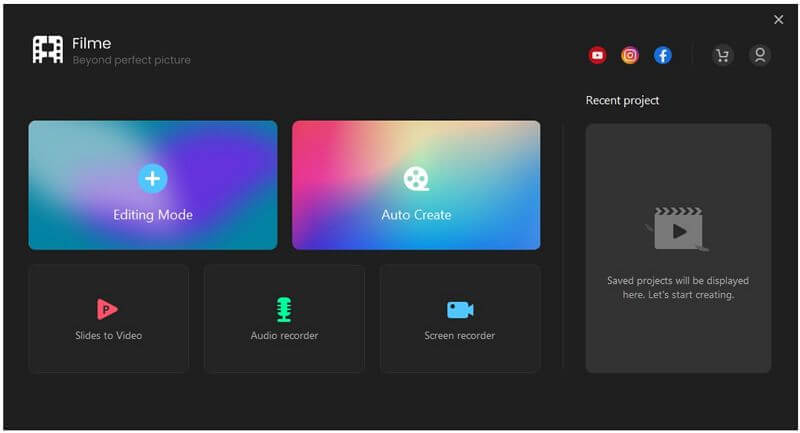 Step 2: After entering editing mode, you need to create a new project. Go to File>New Project and click on an aspect ratio. From the media menu, you can safely browse any video that you want to edit. Drag the video to the timeline for further editing.
Step 3: Now, you are ready to add the effect. Click on "Effect" on the top menu bar. After clicking on it, multiple effects will appear. There are many types of effects along with the blur effect, such as blur and square blur. Hover your mouse over the blur effect, and you will see the "+" button. Click on it to add the blur effect to the video.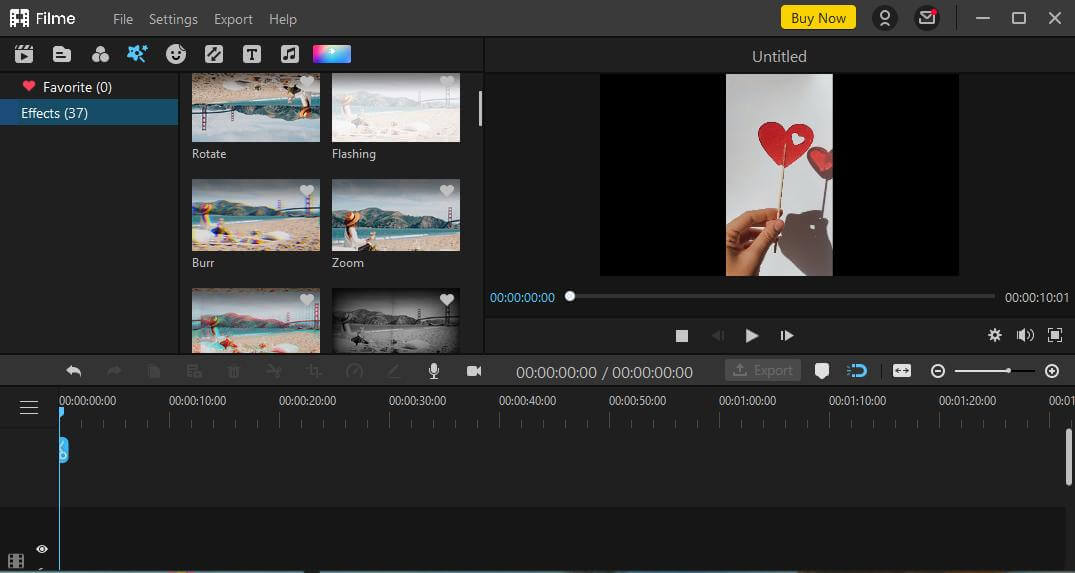 Step 4: After adding the effect, you can see the preview. You can also make other changes to your video at this stage. You can add filters, text, images, stickers, or anything you like. You can select anything from the menus. Filme also has a library for sound effects and music, so you can add any of them with one click.
Step 5: After all, preview the video. Once your editing is done, you can save the video by clicking on "Export". Select the desired location where you want to save the video and settings. Click on the Export button.
Part 3. Why Do You Choose Adobe After Effects to Add Motion Blur Effect
The reason to use Adobe After Effects to add a motion blur effect to video is very simple. It is one of the most famous tools used for editing all over the world. It is preferred by professionals because it offers perfection and optimal results. You can do almost anything with this fantastic editing software.
Due to its multiple options of editing, effects and presets, libraries, characters, etc., it is superior to other video editing tools. The details in Adobe After Effects are much more than any other software. You can create visual effects, stunning graphics, and everything you can think of; the sky's the limit. You can turn your imagination into reality.
You can customize your added effect, which you cannot do in other software. It is an amazing tool, but unfortunately, it is too difficult. It requires very in-depth knowledge and practice. Thus, you need to learn it before you do anything.
No doubt that Adobe After Effects is very complex, and one has to learn about it in the first place before using it, yet it is one of the most promising video editing tools that you can find anywhere on the internet. Once you use Adobe After Effects, there is no going back. You will always prefer it over other tools, but simplicity does not come with it.
If you want to use a simple yet easy tool to add motion blur to video, then you can easily opt for iMyFone Filme. It is a drag and drop tool that will not only help you to add effect, but it is a complete video editor. You can add text, images, GIFs, stickers, filters, effects, or anything else to your videos. It can help your crop, adjust color, change speed, trim, and make all changes. You can create a perfect video according to your needs. The best part is that it has a slideshow maker, audio editor, voice changer, PPT to video converter, video converter, and video resizer. It is a complete tool for all your video editing needs.
Conclusion
Motion blur can make your videos more attractive and give them a real feel. There are dozens of tools that you can use to add motion blur to video. But Adobe After Effects is one of the most preferred. It is a bit difficult to use, but we have shared some simple steps that can help you add the effect to your videos without any hassle. It offers excellent detailing and adjusting the effect according to your need.
We have also shared a simple alternative to Adobe After Effects. If you want to add an effect to a video such as motion blur, then iMyFone Filme is the simplest and easiest. It is a self-learning tool; you can open it and try multiple effects. Just by doing so, you will learn how to use it; it is that simple. It has all the basic to advanced features and tools to make your videos outstanding.