Do you want to blur license play in video or blur a name in video?Since the arrival of the blurring feature, its demand keeps on increasing with each passing day. You'd have seen people blurring out their faces, objects, and anything from their video. But have you seen a person willingly expresses his desire to hide his name from a video?It can be a new thing for the majority of the users, but on a larger picture, it's a common thing to talk about.
Now, if the relevant authority has permitted you to remove the logo from the content, you need to follow this article's guidelines to find out the best ways to blur license plate, name, and logo in a video.Let's start it.
Part 1: How to Blur License Plate in Video with iMyFone Filme
How many times did you watch Car license plates appearing in a video?It's not a good sight when you see a license plate in a video. Because these plates are for public purposes, not commercial purposes, you shouldn't show them in videos.Sometimes, when you're driving a car, and someone supposedly makes a video of your car, despite the fact it was a deliberate act or not, but one thing is for sure, it isn't ethical.
Similarly, when you record a video on the road for your commercial purposes, you may capture footage with a person's license in it. And you think you need to remove it from the video. Sometimes you need add motion blur effect to video.
How would you remove it?iMyFone Filme solves the problem for you by providing the terrific ability to blur anything you want from its platform.You don't need to perform any difficult tasks to get the job done; few simple steps would be enough to ensure you serve your purpose. Download iMyFone Filme below.
Steps of Blurring Out License Plates Using iMyFone Filme
Step 1: Import a file
First of all, download iMy Filme from its website and install it on your desktop. After, you need to import the video files you want to blur your license plate from.To upload a file, you need to click on Add files option and go ahead by clicking it here.Since you've uploaded a video, you need to drag the video clip to the application's timeline.It's important to drag any content towards a timeline to edit it.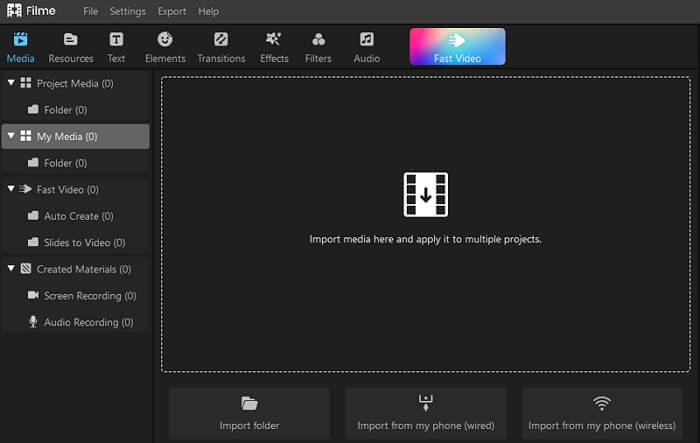 Step 2: Click edit and change blurriness properties
Now, after you click edit option,you can change blurriness properties.In this phase, you'll need to import a block photo, which you'll need to cover up the license plate position in the video. You can import it by hitting the + plus.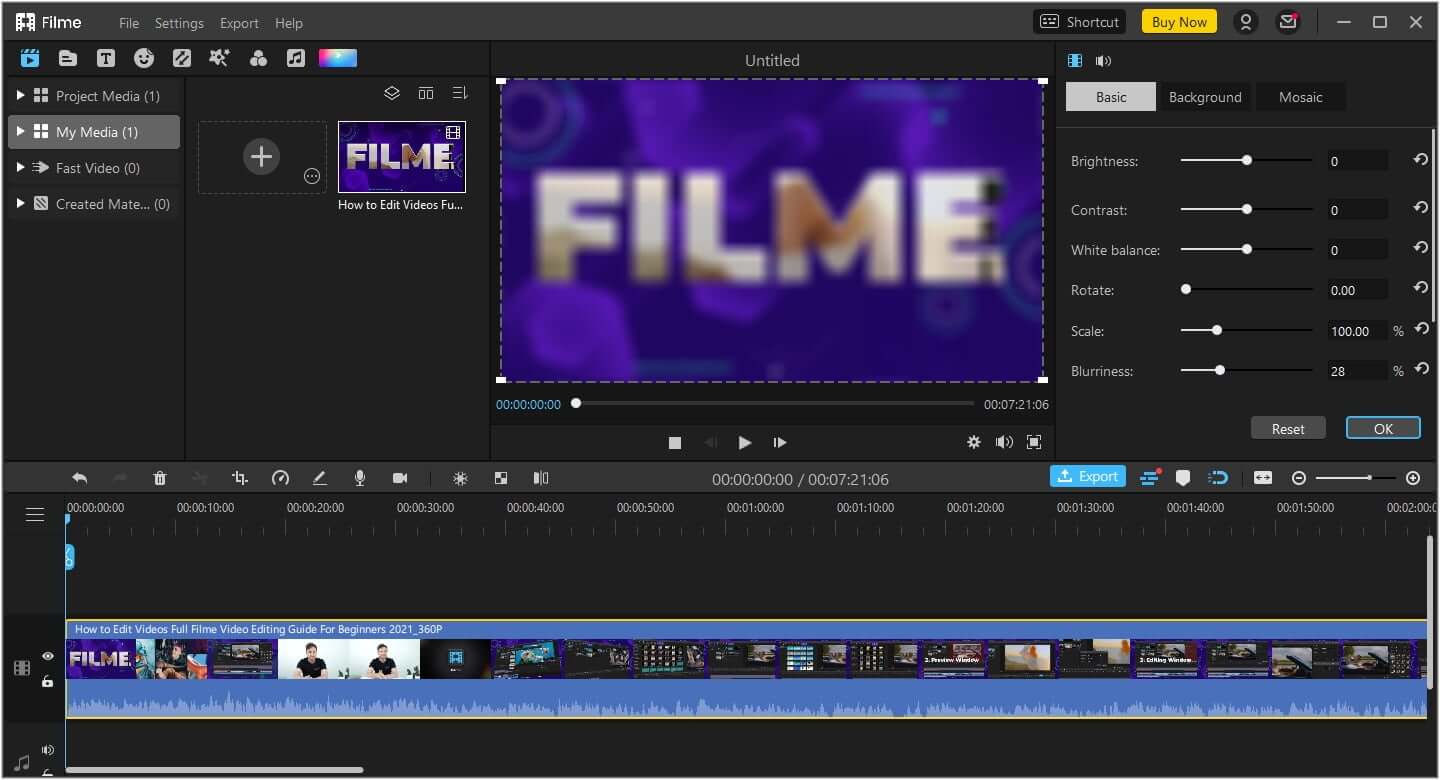 Step 3: Apply Picture in Picture Effect
After dragging a block photo to the timeline, you need to apply the Picture in Picture effect.After applying it, you need to edit the area of a video you want to blur. Since you're going to blur out the License plate, decide the duration in which you want to add a block image.
Step 4: Drag the picture
After setting the duration up, you need to place the block image on the part you want it to be hidden.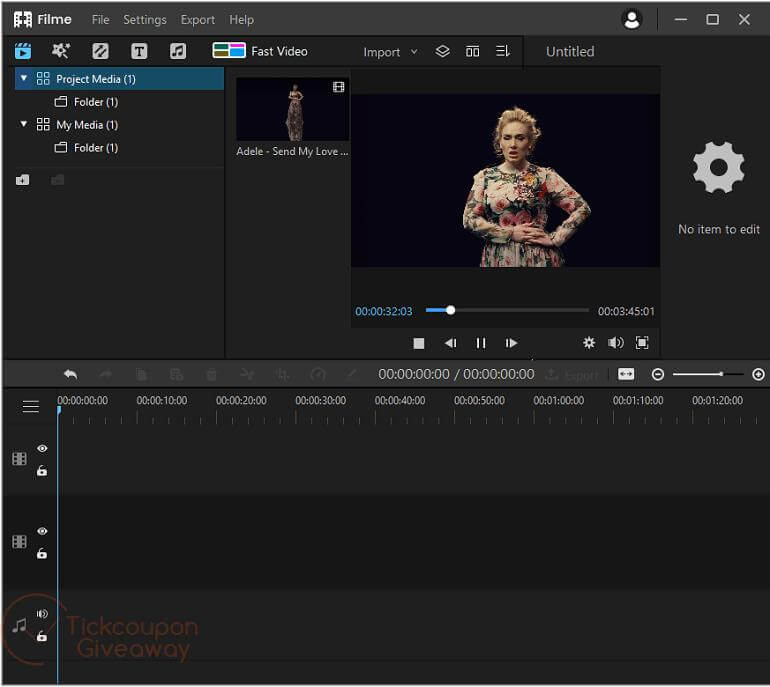 Step 5: Export the file
Now, check the video, and you see there isn't a license plate anymore.
Part 2: How to Blur a Name in Video
If you want to blur a name in a video, Gimpshop online can help you out. This software resembles Adobe Photoshop, but Gimpshop is free and doesn't ask for a paid version.It offers some prolific functions for its user to explore. Besides blurring out objects, you can also add editing features to your content.It doesn't offer a tough procedure to get your job done but a pretty easy task to serve your purpose.
Steps of Blurring Your Name
Step 1: Download GimpShop
First of all, install Gimpshop on your desktop after downloading it.
Step 2: Import a file
Now, you'll need to upload a file you want to hide your name from. After uploading it, you need to open it.
Step 3: Select a blur
In this phase, you need to select a blur option you want to apply to a video. You'll be provided with the options of a circular blur, shaped blur, and rectangle/Square.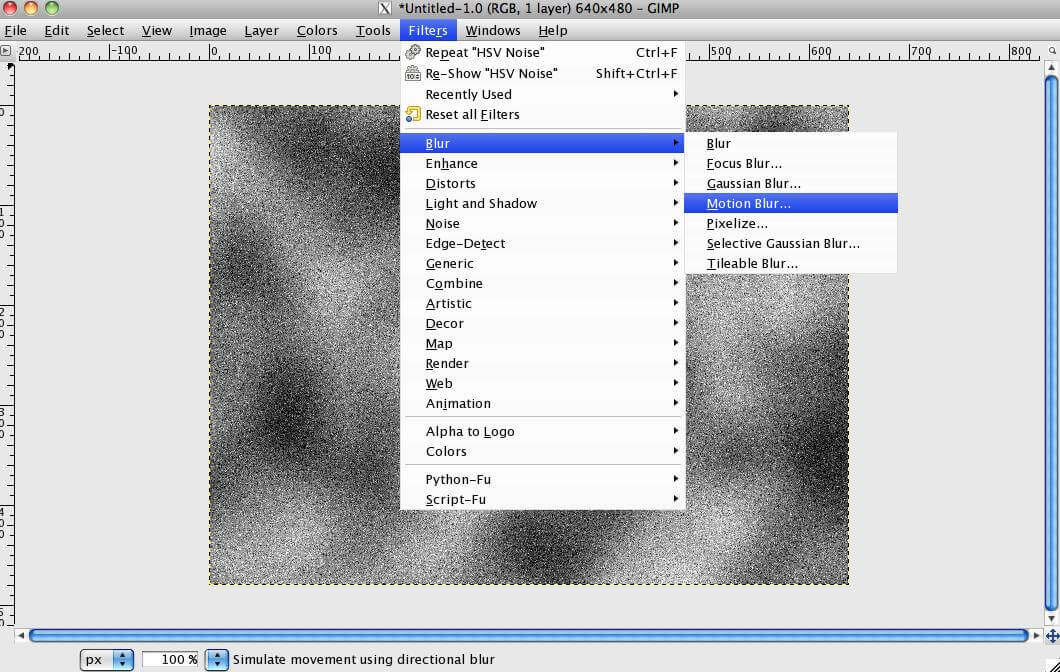 Step 4: Select your name
After selecting a blur option, you need to pick an area you want to blur out. Since you want to blur your name from a video, you need to adjust the duration in which your name comes.After, you need to apply a blur effect on your name. Holding shift key makes it the perfect way to blur your name.
Step 5: Pick a filter
You can also select a filter for adding to your video. Press on Filters and then blur>Gaussian Blur.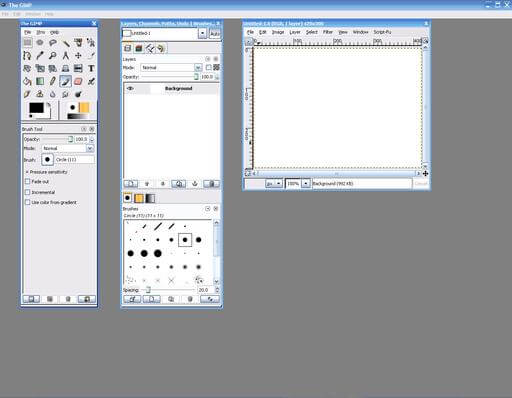 Step 6: Select a number
Now, you can also select a number you're happy with. You can increase or decrease a blur effect through numbers.
Step 7: Export a file
After you're satisfied with your video, you can explore it.
Part 3: How to Blur a Logo Image in Video
When playing a particular video using a VLC media player, you may see a graphic or hard-coded logo in your media that you'd want to remove from the view.These logos can frustrate you, consequently making you uncomfortable. Luckily, VLC offers a logo erase feature that might help you remove the logos.You only need to put a block on the place where the logo appears. You can browse that image from the gallery or Google. After putting that image, the logo will no longer be visible to you.
On the other hand, some people would like to blur a logo from their video to hide someone else's logo.A lot of debate has been ongoing on the moral grounds of whether it's ethical to remove a logo from a video or not.To put that into context, if you've acquired permission from a relevant authority, it's completely fine to remove any logo or object from the video. But if you didn't look to get approval, it doesn't have the same case anymore.
Steps to Remove the Logo from the Video
Step 1: Run video
After opening your video, you'll need to pause it.
Step 2: Click on tools
After pausing the video, you'll need to navigate to tools and then Filters and Effects. After, it would help if you moved towards Video Effects>Overlay.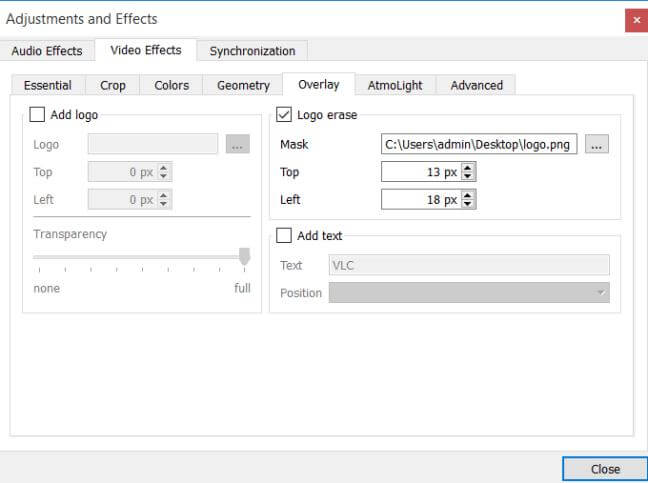 Step 3: Press three dots
Now, you need to hit three dots to import a block you want to put in the logo for hiding it.
Step 4: Place the block
After browsing the block, you'll need to place the block over your logo.And when you're done with it, click the Close button.You need to adjust the mask you've placed to cover the logo. And remember, this process doesn't remove the logo from your video permanently but temporarily.
Steps for Blur the Logos Permanently
If you want to permanently remove the logo from your video, you'll need to follow the steps below.
Step 1: Navigate to media
After navigating to the menu bar, you need to select Media>Save/ Convert. [CTRL+R]
Step 2: Select add
After, you need to press Add button and add the current video after browsing it.
Step 3: Select save
In this phase, all you need to do is hit Save/Convert button option.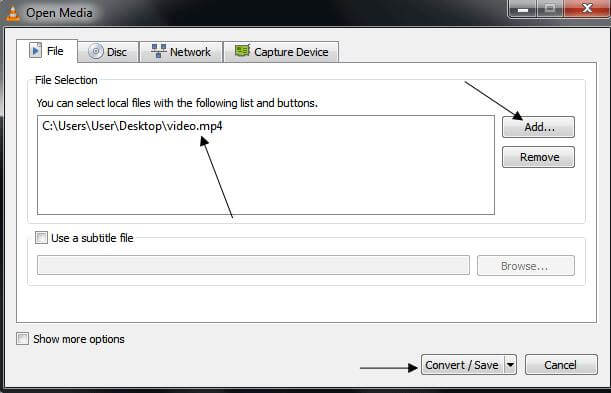 Step 4: Choose a destination file
Now, you'll need to select a destination file.After checking the default Profile, you'll need to click on the Start button to start the proceedings.The process will take some time to complete; you see, there will be no logo after it is completed.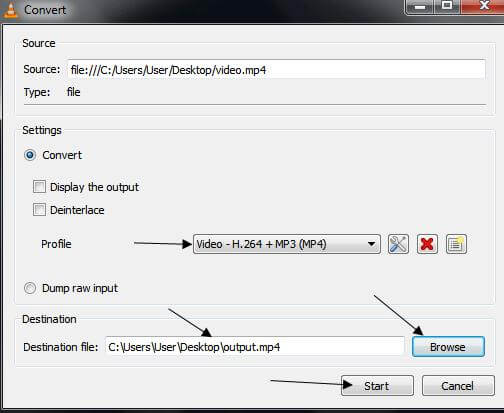 Conclusion
iMyFone Filme sets high standards when it comes to creating unique slideshows and videos. The ease of creating great content in iMyFone Filme is something to talk about.You can create beautiful wedding videos, party videos, and many more with minimal effort. Apart from its unique features, iMyFone Filme also offers fascinating professional features for its users. You can blur part of video on windows/mac with few clicks.
iMyFone Filme Key Features:
Fast Video Mode: Fast create videos with multiple templates of different themes.
Effects: Filme looks like a typical video editor. It has a timeline, an effects library and a preview window. The effects library has 172 effects. 43 of them are filters, and the remaining 129 are GIFs of various themes.

Transitions: There are 112 video transitions. Video transitions are effects that enable smooth transitions from one video clip to the next. 25 of 112 transitions are designed specifically for slideshows.

Text: There are 45 text types in Filme. You can find texts for titles, subtitles, end titles and titles that appear on the lower third of the screen. Some of these texts are animated.

Audio: The library also contains 51 audio clips that you can use in your slideshow. The audio clips belong to different genres, and you get 28 sound effects.
134524 people have Download it.