We all know that a Halloween party isn't complete without a killer playlist of Halloween tunes to help set the mood.
Are you planning a Halloween party for your ghoulish pals and need eerie music for the occasion? Or, if you are holding a trick-or-treat event for your little monsters, this massive collection of the best Halloween songs for kids on YouTube and Spotify has got you covered.
These 15 all-time fun Halloween songs for kids include movie soundtracks, theme music, and even creepy radio singles.
15 Best Halloween Songs for Kids at Their Costume Parties:
Some old, some gold, some new, and more than few……. you will get all the spooky and scary songs of all-time, listed below. Either use the YouTube link or Spotify link to play the songs on your Halloween party and rock the dance floor.

The song "Little Shop of Horrors" is the Prologue of the 1986 film and musical Little Shop of Horrors. The spooky prologue sets the tone for the rest of the program, implying that something spooky is on the way.

As an educator, teacher, or parents, you may want to share more with your kids other than the existing videos on Internet. If you are finding a way to share your Halloween knowledge with kids, you can convert powerpoint to video, or edit and join several video clips together with your own voice narration. To make your educational Hallloween videos attractive easily, without any technical issues, download iMyFone Filme now below.

I don't know about you, but there is nothing creepier than the Theme of the Addams Family. Oh, yes! The show itself was creepy, but the theme song was the epitome of the show.

Lana Del Rey sang an evocative yet spooky song for the film "Scary Stories to Tell in the Dark." Lana Del Rey imparts a meaningful & a profound fact of life behind the façade of spookiness "Season of the Witch."

When I was a young, this was the song that made me had nightmares. Michael Jackson's Thriller is a music video, which was released on December 2, 1983. It's an eternal Halloween scare-fest. As awesome as the video looks, the audio also gives us the perfect Halloween vibes.

Best for little kids. Jumpin' Jamie's song Ghost in My House belongs to the Children's Music genre. It was included as a single track on the album in the USA. It is not as scary as the other songs on this list, but it is irritating and funny.

Never make your kid listen to this song at night. "Bumps in the Night" is a "Halloween Song" that depicts the narrative of a 6-year-old boy professing bravery in the face of scary crawlers closing in on him. It is a funky, bluesy track with a creepy scratchy composition that will spook kids at night.

The name of the song itself is enough to raise goosebumps. Although the song is not intentionally meant to be about zombies or ghosts, the lyrics and music are scarier for kids.

This melody, which is part spooky, part jazzy, and entirely entertaining, is a terrific way to kick off your Halloween celebrations and include all generations in the spooktacular fun.

If you're going to play this Metallica song, make sure you're prepared to stay up all night with your kid. Heavy metal music is a terrifying reimagining of a nightmare.

This macabre tune from the Haunted Mansion ride at Disneyland is primarily about ghosts who want to interact. Still, it definitely sets the tone for a terrifying event like Halloween.

The 1981 song, published at the height of the UK's recession riots, still scares us out of our wits. Play the song to relive the old memory, while your kids dance like zombies to their hearts' content.

Warren Zevon's silly-witty 1978 novelty hit about commonplace monsters is a must-have for any Halloween singalong.

This extra track on Damon Albarn's cartoon troupe's 2001 debut evokes voodoo vibes with a deep dub groove.

https://img.youtube.com/vi/

Time has tamed horror. In 1981, the songs by Misfits were genuinely terrifying. They're as deadly as a Scooby-Doo mystery, in retrospect. But, what joy, magnificent Beelzebub!

Who are you going to call if something unusual happens in your neighborhood? Obviously, the Ghostbusters. You'd be wise to call on them also when it comes to entertaining any tiny monsters you're hosting this Halloween.

This '60s track has traveled through generations of black hearts and souls, and no Halloween gathering is complete without it.

Rockwell's friend and the Thriller's king, Michael Jackson, sang the hook for "Somebody's watching me." But he never appeared in the video.
Song#18: "Under My Bed" by Recess Monkey
The topic of monsters under the bed is scary, but this melody greets it with lively beats that demand for a dance marathon.
Richard O' Brien's musical is a spooky essential. It's everybody's party-favourite "Time Warp" dance.
This throwback to the 1960s will give you the chills! Sing along with a song in which Bert encounters Frankenstein, Dracula, and other horrible monsters in this thrilling adventure!
People Who Liked this Content Also Liked
Knock the Socks off by Creating Scary Halloween Videos >>
20 Spooky and Educational Halloween Videos for Students to Share with Your Class! >>
Brilliant Idea to Save Memories of this Year's Halloween Party
Of course, everybody loves to record memories and watch them with family later. Therefore, you can never go wrong with the idea of shooting our all-time favorite activity of the year, the Halloween Party.
Most importantly, if you will not shoot the event, how will you later appreciate the spooky costumes made by your mother, the spooktacular activities of the day, and most of all, the trick and treat mishaps that often cause us to roll on the floor with laughter.
Therefore, making a vlog is the best idea to save all these precious and fun-filled memories to watch later with our families and have the time of our life.
Let us bring to you our best video editing software, iMyFone Filme. It will assist you to create or edit your vlog and make it look astounding within minutes. The next part will define how you can use Filme to create spectacular Halloween videos.
How to Create a Simple Scary Halloween to Surprise Your Kids
iMyFone Filme is the ideal way to produce a spooky or fun Halloween video. It works best on Windows and Mac PC. It is a non-complicated app through which even a newbie can easily edit a vlog or create a theme video.
It has millions of media resources and excellent video editing tools. The most surprising part is that it supports almost all formats. You can post your videos on social media directly through this fantastic software.
Let us show you how to create a theme video or vlog using iMyFone Filme, the all-in-one editor: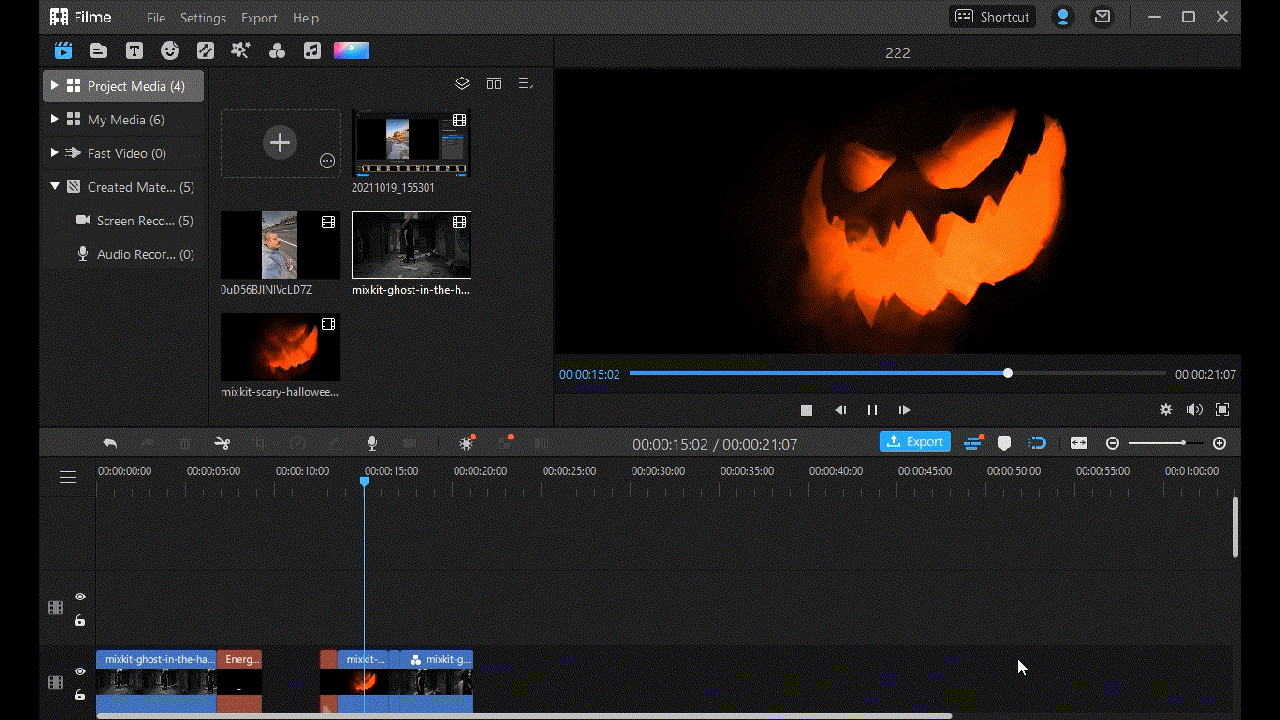 Step#1: Download and Install.
Go to the site iMyFone Filme, find the download option, choose the package that suits you and install the app.
Step#2: Start Edit Your Video with Halloween Elements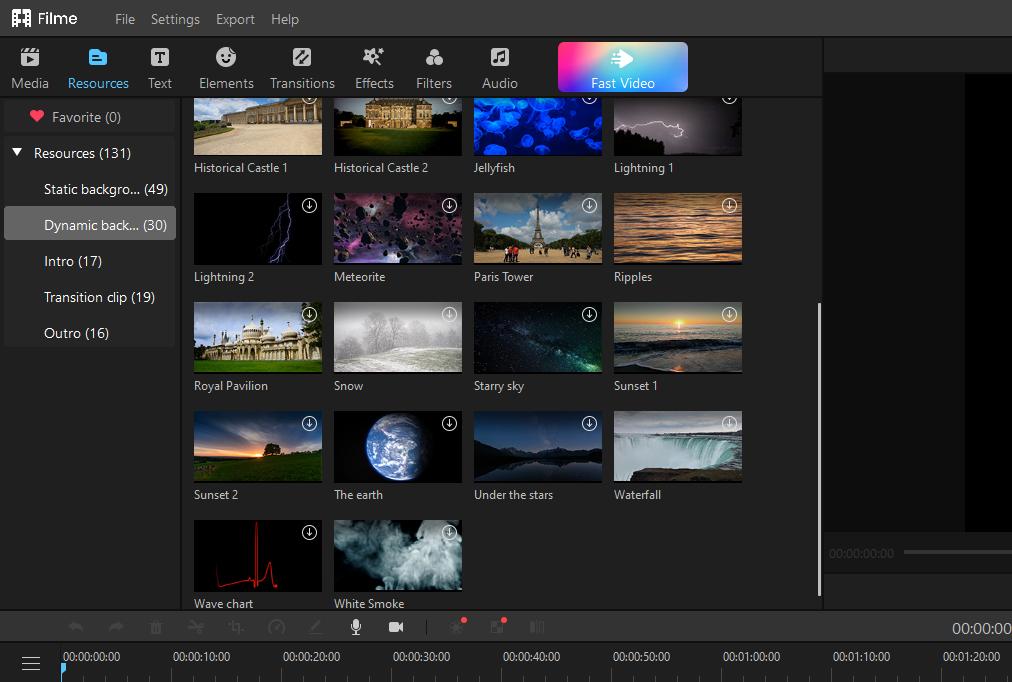 Filme offers you numerous templates, filters, effects, transitions, audio tracks, and much much more utilities to choose from for your Halloween vlogs.