We can't believe 2021 is coming to a close, and now it's time to start picking the songs for family memories slideshow. We seem to blink, and the year is gone every year. It always has an unfortunate effect on us. As songs for family memories play a significant part in developing memorable and flawless slide show projects, it is essential to bring all your memories together and make a slide show for your family using Filme. Do you want a song that would bring back fond memories of your family? There is a lot of great songs out there for you.
Part 1: Top 10 Songs for Family Memories Slideshow
1. The House That Built Me by Miranda Lambert
Such a lovely song that gets right to your heartstrings when you hear it. Lambert didn't write the song, but she felt a connection to it as a performer who has been through a lot of what was written about in the lyrics. Millions of individuals who have left home are emotionally connected to the richness of the music they've left behind.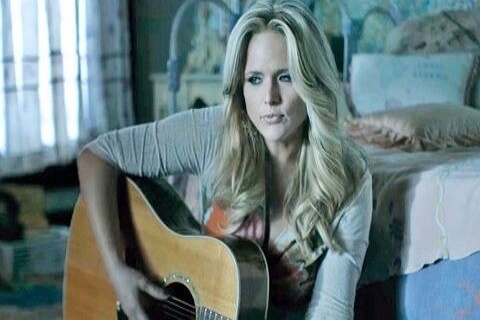 2. Daniel by Elton John
Daniel is a stunning ballad about the growing emotional distance between brothers when one of them returns from the Vietnam War. It's also one of the finest songwriting collaborations between Elton John and Bernie Taupin. Concerning military veterans and their communities in general, this song makes a statement about that connection. The song's emotional impact endures despite its popularity more than half a century after it was released.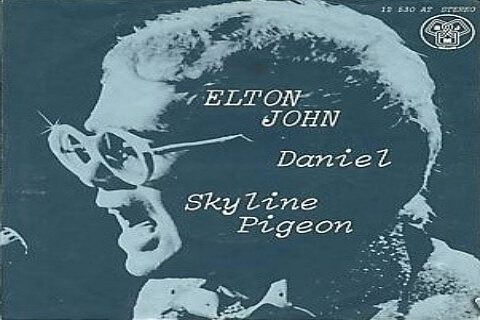 3. Dear Mama by Tupac Shakur
Tupac expresses no resentment against his missing father in this famous song, which serves as a heartfelt ode to his mother and the enormous sacrifices she made while raising him and his younger sister on her alone. "Dear Mama" portrays the tenacity of a family in the face of adversity, particularly for single mothers. How easily children fall prey to drug addiction is enlightening, as it shows that the absence of fatherly affection pushes them to the streets in the first place. No matter how much they rebel, kids still appreciate their parents' efforts, as shown by the 1995 rap song of the same name.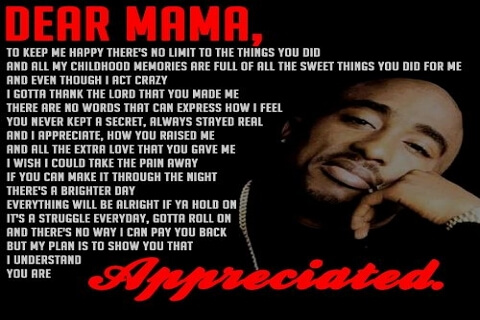 4. Family Portrait by Pink
For the most part, we didn't think much of these iconic naughties hit until we were in our 20s. To encourage her family to get along and work things out, Pink sings "Family Portrait", in which she begs them to "play pretend" as they do in family photos.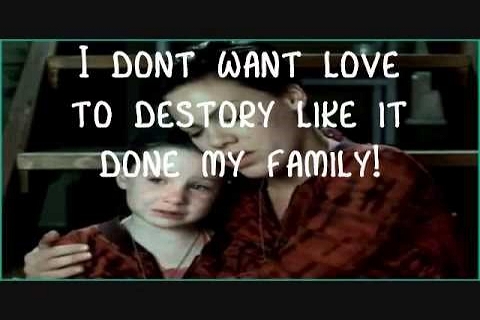 5. Dance with My Father by Luther Vandross
Luther Vandross' "Dance with My Father*" is a moving tribute to the love we have for our dads and is unquestionably one of the greatest songs ever written on the death of a parent. With co-writer Richard Marx, the song focuses on Vandross's personal experience with loss; when Vandross was a young boy, his father passed away from diabetes-related problems. The song is still a favourite among pop music fans and one of Vandross's finest compositions.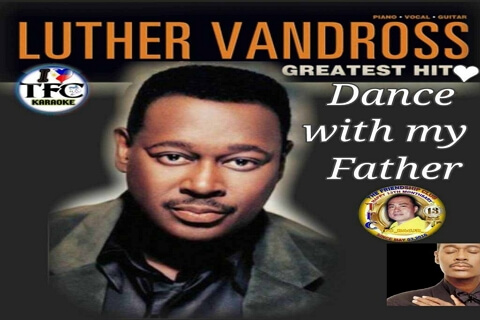 6. Cleanin Out My Closet by Eminem
'Discrimination, the disappointment of parents, and the mental conversation' is the theme of this 2002 rap song by MC Ren. Eminem expresses his regret to his mother for all he's done and the suffering he's caused her. A childhood filled with memories of dislike for his father and the pain of seeing his mother's drug addiction haunts him now. the abandonment of one's children by a mother is represented in the song by the word's "estrangement" and "suffering" as well as "bitterness."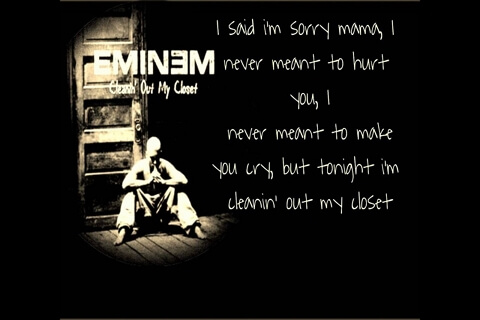 7. Daddy Sang Bass by Johnny Cash
Johnny Cash was destined to be a rock star, but his first love was gospel music, and he sang it well. And his family's ability to get through difficult circumstances by singing hymns together is shown in this gospel.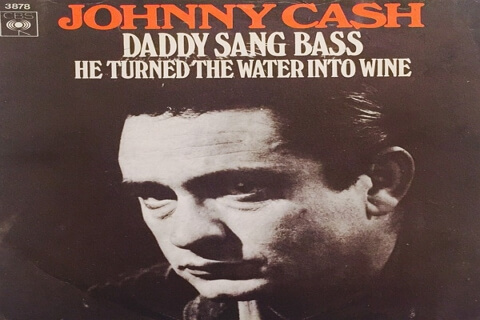 8. Wouldn't Mama Be Proud by Elliott Smith
Elliott Smith's critically acclaimed album "Wouldn't Mama Be Proud*" was released in 2000 to great acclaim. Despite his compulsive shyness, Smith was ecstatic with his success as a singer-songwriter since it allowed his mother to be proud of him.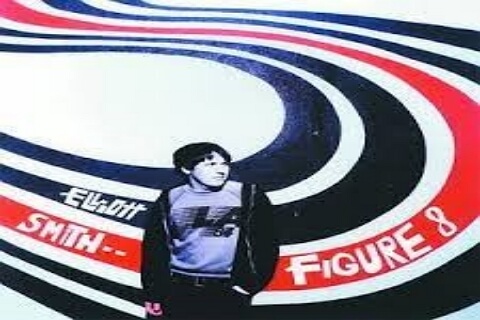 9. All That I Got is You by Ghostface Killah
Mary J. Blige sings on this tune about growing up impoverished and sharing an apartment with 15 members of her family. Ghostface Killah ends his statement by thanking his mum for everything.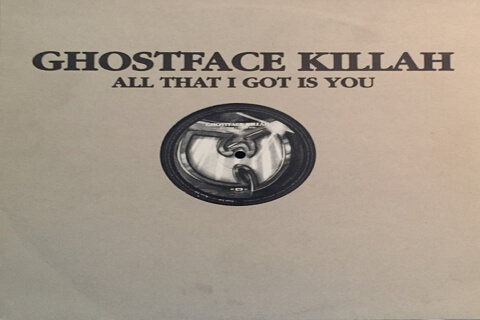 10. Oh, Mother by Christina Aguilera
This song from 2007 is unhappy since the lady singing it had visions of a fairy-tale existence before she married. The song is about a lady who had to cope with her husband's wife-battering to protect her children. It takes her spouse assaulting the children before she eventually leaves. Christina sings this song as a way of telling her mother that leaving her husband was the right thing to do since they would no longer have to deal with physical violence. Since she has watched her mother suffer for them, the mother and daughter have developed a strong connection, and she shows her appreciation for everything she has done.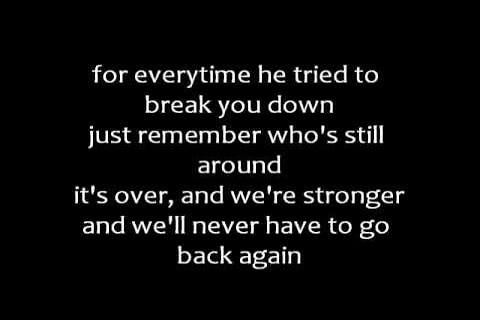 Also Read:
Best Songs about Kids Growing up >>
15 Best Graduation Songs for the Slideshow >>
Part 2: Ideas for Creating the Unforgettable Family Memory
1. Give the gift of time
A variety of options exist for you to accomplish this goal. Make bringing your kid to work a memorable event. To share this aspect of your life with him maybe an essential, impactful, and very successful manner. Consider taking one of your children along on errands so you can discuss something she finds fascinating, such as her favourite game or book or something she's learning in school. As essential as any other obligation on your schedule, set aside time to spend one-on-one with each of your children.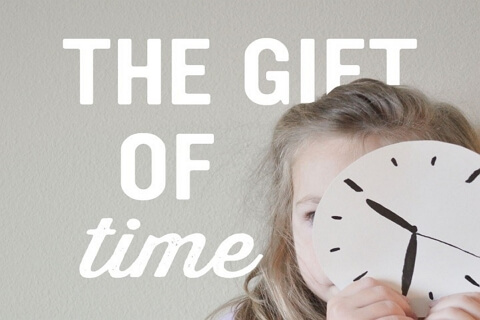 2. Put caring notes in your child's lunch box or on her pillow
Use your imagination to come up with unique methods to express how much you value them.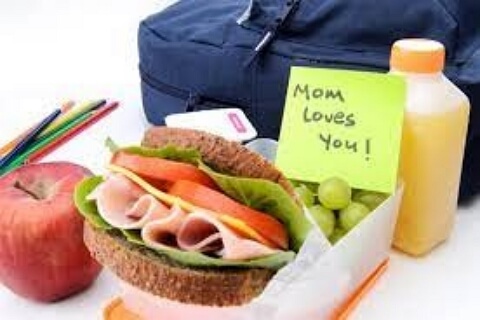 3. Make holidays unique
Start new traditions or revive existing ones to do this.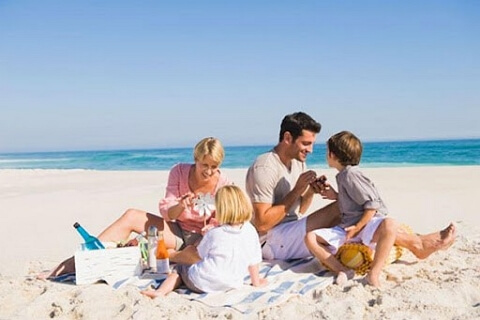 Part 3: Easily Create Family Memory Slideshow with iMyFone Filme
Video editing skills aren't necessary with iMyFone Filme since it makes it easy to rapidly-produce movies and slideshows from your digital camera or smartphone. The program features an intuitive interface that makes it simple for users to drag and drop various components and quickly create visually beautiful videos. To provide a more secure, comfortable, and enjoyable environment, this program uses unique effects that may be applied to any movie. Unlike many other professional film editors, it simplifies film editing by eliminating the requirement for specialised software.
Features of Filme
Crop

Split

Adjust Speed

Picture-in-Picture Effects

Screen recording

Wireless file import

Supports all platform

Dynamic effects and filters
Steps to Create Slideshow with Filme
Slideshows are becoming more popular in both personal and business settings. Especially creating the slideshow with music that can enhance your presentation. Through animated slideshows, people can communicate their ideas by showing a series of related pictures in succession. Slideshows that have been meticulously planned and executed come together flawlessly. Also, you may utilise it to thrill the audience and educate the attendees.
Step 1: Upload the file
You have to upload the file before creating the Slideshow with Filme. Click on the File option and select the new catalogue. Remember always select the aspect ratio according to your video size.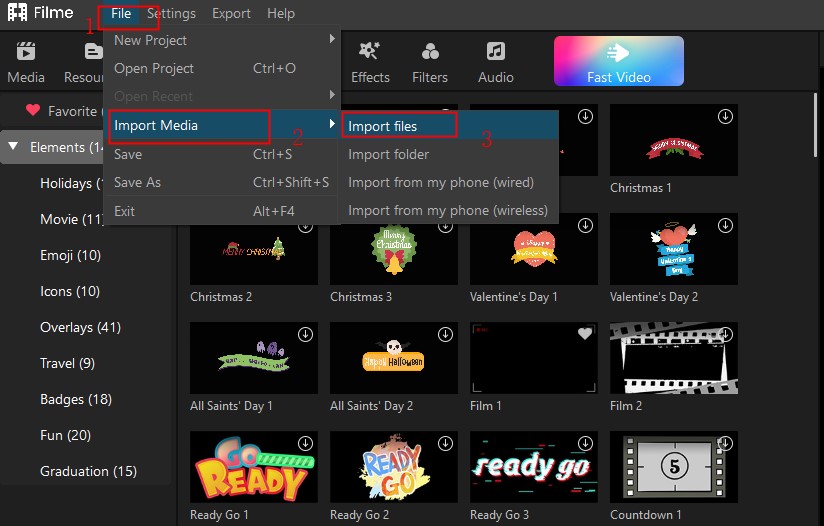 Step 2: Choose Template
On the dashboard screen, you will find the Window option, click on it, and you will get many temples. Select any templet that you like.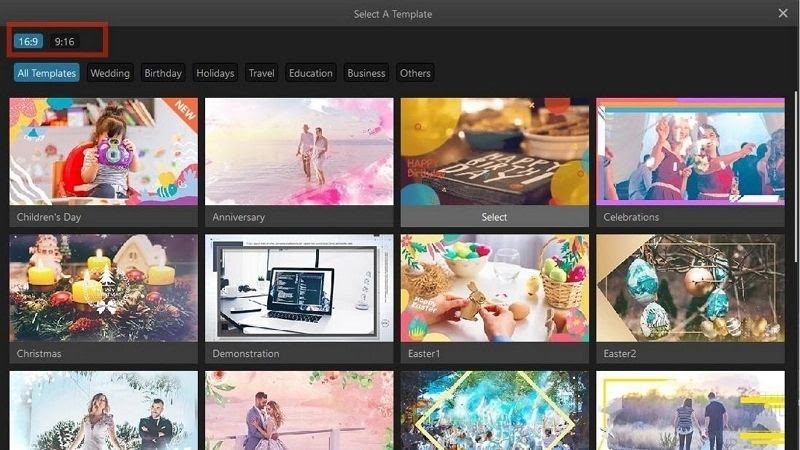 Step 3: Customise It
Customise these templates according to your file data.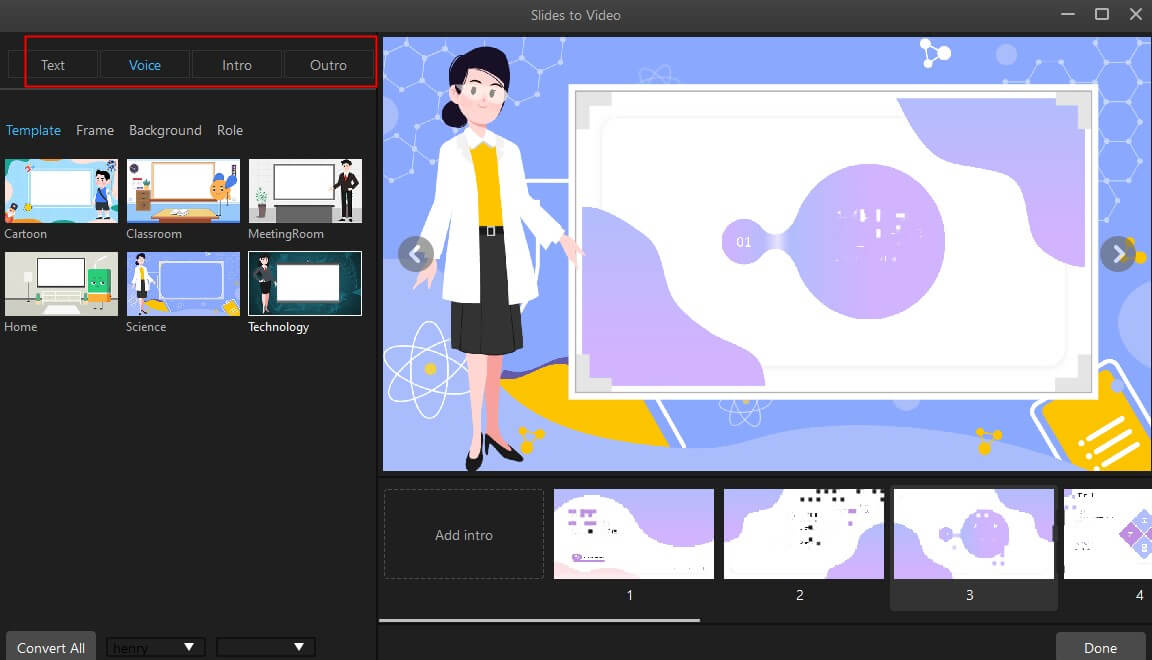 Step 4: Change the sound and text
After importing the files from your mobile or computer, you can arrange them as you like. You can also add the soundtrack as you like as well as text.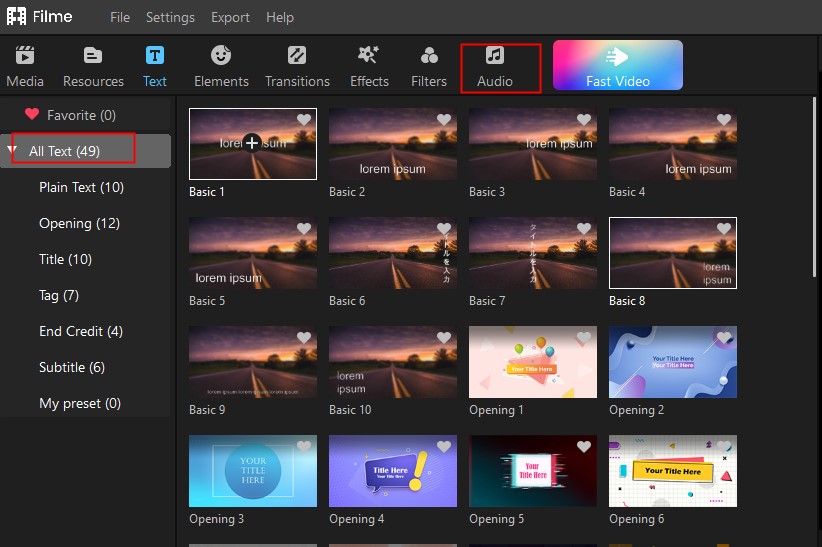 Step 5: Preview & Export
In the final step of creating the Slideshow, you can preview your customised Slideshow and click on the Export option from the setting menu.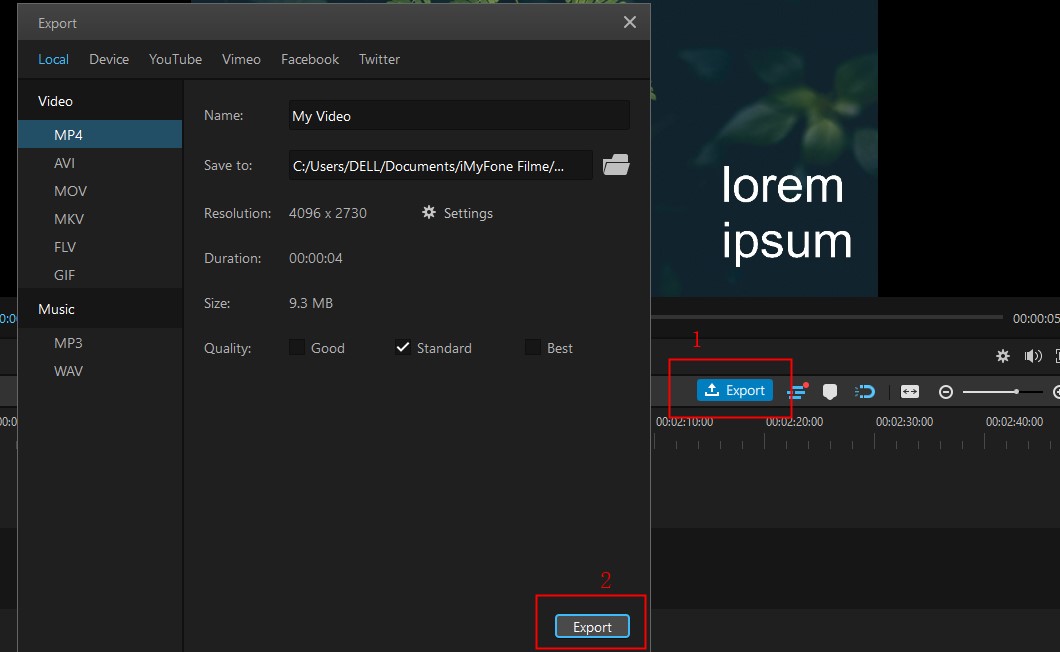 Part 4: FAQs about Songs for Vedio
What is a good song to dedicate to your family?
Nearly the same feelings come back when you create memories, and the music is playing in the background. At this point, you realise how long it's been since your family's last got together. As love songs or songs for family memories, "Eres Tu" may be interpreted differently. For example, the lyric, "You are the fire of my house; It's you as the flames of my bonfire," shows how Mocedades' popular song may be applied to family relationships.
Which song is best for family video?
When words fail to get your point through, turn to music. Always Use popular songs for family memories to show your loved ones how much you care about them. The House That Built Me" by Miranda Lambert is one of the best songs for family video. Such a lovely song that gets right to your heartstrings when you hear it.
What is a good memory song?
After its release, Richard Marx - Hold On To The Nights is one of the best songs from songs for family memories. This ballad-style song topped the charts and won the hearts of millions of people around. In this song, Richard Marx, a singer-songwriter, urges listeners to cherish their memories by recalling sweet times spent with friends and family members.
Final Words
Viewers get a nostalgic feeling when you use old newspaper clippings in your slideshows. With the help of iMyFone Filme Editor, you may edit your videos in a way that you can be confident in. Users are more likely to choose it if it has a welcoming atmosphere. As a result, the working environment is ideal for both new and experienced editors. An abundance of editing possibilities for media files draws editors. The editors are motivated to work faster since they have convenient tools and simple controls to access.