Halloween is one of the most popular holidays for both adults and kids. Videos can give your kids or students a vivid lesson to know more about the origin and story of Halloween, enjoying themselves even more in Halloween.
Things still haven't entirely improved after the Covid-19 outbreak, good thing is that you can still enjoy the Halloween holiday with your family and classmates.
Here are the top 20 Halloween videos you can share to your students and kids in the class.
20 Spooky and Educational Halloween Videos to Share with Your Class
Here is the top list of top 20 Spooky and Halloween videos for educating your kids and sharing the videos with your classmates.
1. Halloween Counting Show for Kids
It is an animated video created to introduce young children and toddlers to basic counting and numbers. Halloween Counting Show for Kids features three kids.
These three kids count many Halloween creatures after discovering them. This video is perfect for educating and entertaining small and large groups of kids.
As an educator, teacher, or parents, you may want to share more with your kids other than the existing videos on Internet. If you are finding a way to share your Halloween knowledge with kids, you can convert powerpoint to video, or edit and join several video clips together with your own voice narration. To make your educational Hallloween videos attractive easily, without any technical issues, download iMyFone Filme now below.
2. Halloween Kids Vocabulary
Halloween Kids Vocabulary is a fascinating animated video for kids. In this video, several kids get to learn about the basic vocabulary of English.
Kids can get to know about the fruits, animals, and vegetables, along with their pronunciation. It is a good video; you can also watch it along with your family.
3. Halloween Stories for Children
Halloween Stories for Children is one of the best Halloween videos for students. In this animated video, kids can learn about the different stories about the different creatures.
In the mid of a video, the creator of this video was keen to show the gossip between two famous creatures.
4. Five Jack O Lanterns
The five Jack O Lanterns Halloween video is unique compared to other videos. In this video, many kids have been seen singing spooky songs.
It is a lengthy and pretty interesting video that has impressed many kids worldwide. You can watch this video along with your kids and enjoy yourself.
5. Dino-Halloween Read Aloud
Dino-Halloween Read Aloud is another prolific animated Halloween video that covers a lot of topics for kids. In general, this video is about a book that contains knowledge about different creatures in the world. It can be pretty joyful and breathtaking for 6 to 7 minutes for your kids.
6. Halloween Funny Puzzle Game for Kids
This video falls in the category of funny Halloween videos for students or young kids. In this video, the creator intended to tell the kids to help others even if they're not nice to them.
You can see in this video that some monsters have forgotten the path of their destination, and some kids willingly helped them find their home.
7. Funny Scary Skeleton Yoga for Kids
This Halloween freaking video has everything in it. A girl appears once the video starts and starts doing the Yoga for the audience. A few moments later, some creatures appear and start dancing like that girl.
It is a great lesson for kids to know about the importance of Yoga. At the end of that video, you'll see the skeleton dance that lightened up the whole stage.
8. The History of Halloween for Kids!
You know about the Halloween being celebrated on the 31st of October. Do you know about its history?
If you don't, you can watch The History of Halloween for Kids animated video. In this video, the creator has creatively revealed the history of Halloween.
9. Learn About Halloween
It is another scintillating video that tells a lot about the history of Halloween. In this video, a girl starts the proceedings by asking a question to reboot when did Halloween start?
After she reveals that people had first celebrated Halloween two thousand years ago, she also tells what happened and why people started celebrating Halloween.
10. Kids Vocabulary—Happy Halloween
If you select the most influential animated Halloween video, you'll probably find Kids Vocabulary in the top list.
It is quite an exciting and awesome vocabulary video for kids in which different characters tell about their outfits in the Halloween holiday.
You'd love the concept of this video because it focuses on educating kids and providing them with a source of entertainment.
11. Halloween Nursery Rhymes
Halloween Nursery Rhymes videos give a clue "how should we educate our kids." The creator looked to educate kids about numbers, alphabet, colors, shapes, and more in this video. Kids will get to learn about a lot of things without any fuss.
12. Halloween Math Mystery
Halloween Math Mystery video is quite an amazing Halloween video you'll ever see. It tells you the story about a wizard who had lost magic treats, and some children have stolen those treats and being turned into pumpkins after eating those treats.
Wizards want to know about the children who have eaten his magic treats. He wants to save the children from becoming pumpkins for a lifetime.
13. Halloween Counting Song for Kids
Halloween Counting Songs for Kids is a rare video covering all aspects of educating kids on counting the numbers.
Kids will get to learn counting from 1 to 10 with extraordinary graphics and the breathtaking sound of the video. It is a top-notch Halloween video and worth your time.
14. Blippi Halloween Song
Blippi Halloween Song is another courageous song video that helps kids to sing Spooky Halloween songs.
In addition, it also educates the kid about colors, pumpkin drawing, and Halloween costumes. Your kids can get to learn a lot about listening and watching this exciting song.
15. Halloween Spelling
Halloween Spelling video is all about educating the little kids about all the spooky Halloween words.
Besides portraying pictures of words, you can also see the presence of some creatures along with words to increase the focus of kids towards this video. This video comes with stunning graphics and awesome style to impress the kids.
16. Learn Colors with Scary Surprise Eggs
The mesmerizing colors and outrageous graphics make this video one of the best Halloween videos for students. Kids can learn about the different colors in this video.
Besides knowing about these prolific colors, kids can also see several scary Eggs in the video. Overall, the sound of this video seems pretty interesting, and many kids have fallen in love with this song.
17. Halloween What Am I Quiz
This Halloween video is nothing less than spectacular. It allows the kids to test their minds. Kids have been asked ten different questions, with each question carrying three clues.
You have just 5 seconds to guess the answer; else, you'd be considered illegible to answer the question. These types of videos bring competition and educate the kids to prosper in the difficult exams of life.
18. Halloween Facts about Pumpkins!
There is no other Halloween video available on the internet that can tell you more about Halloween than this video tells little kids.
The beauty of this video is that two little girls with magnificent outfits tell you about the Pumpkins.
You'll see several pictures of pumpkins and many pumpkins in general in this video. The humor used in this video makes it best for kids to watch and enjoy it.
19. Halloween Counting for Kids
It is an entertaining counting song for kids and toddlers. You'll see 20 cute and elegant monsters.
The singer featuring in this video counts those 20 monsters one by one. It is a fun Halloween video that educates kids and provides them with a source of fun.
20. Halloween ABCs
Halloween ABCs is one of the most popular Halloween right now on YouTube. In this video, kids will get to learn the complete ABC within the shape of a song.
The singer in the video uses the different creatures to pronounce the letters of ABC. It would help if you told your kids to watch this video. They will understand the ABC more appropriately, and also, they'll enjoy listening to this song.
People Who Liked this Content Also Liked
Knock the Socks off by Creating Scary Halloween Videos >>
20 Best Halloween Songs for Kids at Their Costume Parties >>
BEST Halloween Decorated House EVER >>
Part 2: How to Create a Simple yet Educational Halloween Video for Students or Kids
If you want to create an educational Halloween video to tell your kids story or go viral on Youtube, iMyFone Filme can help you create an appropriate Halloween video.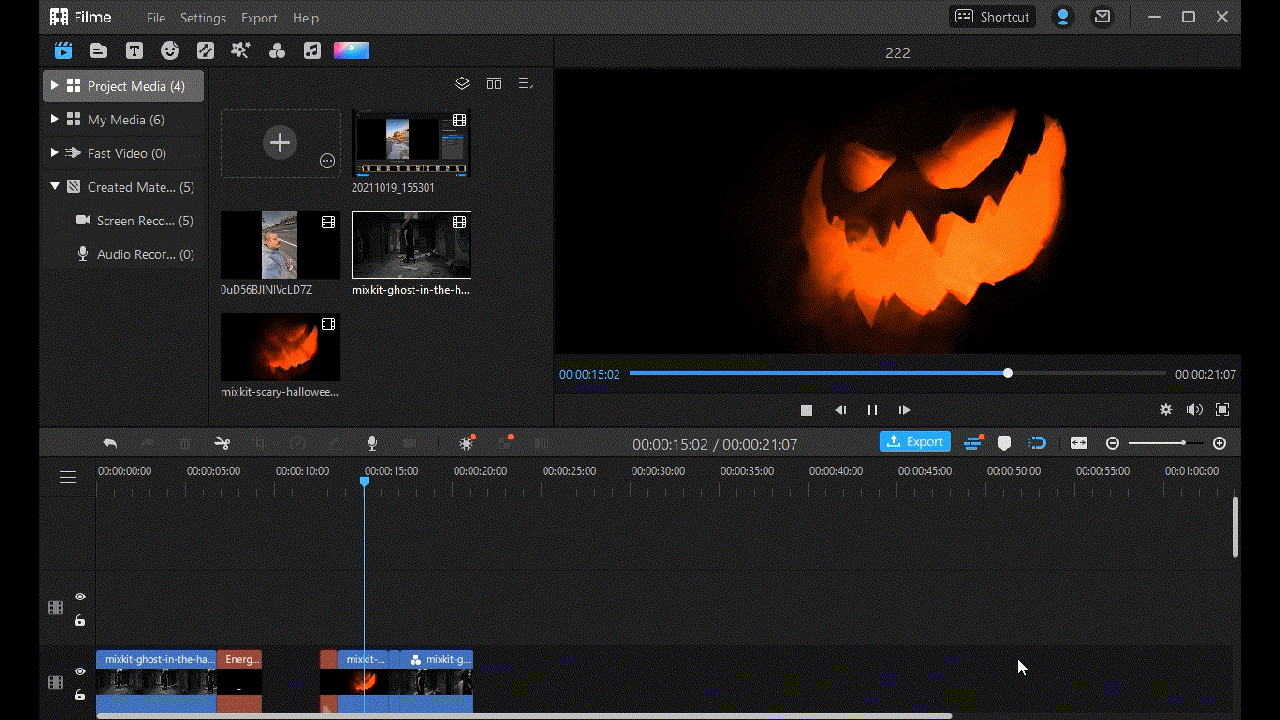 Step 1: Download High-quality Royalty-free Material Online
Pexel and Mixkit are two websites recommended by many professional video-creators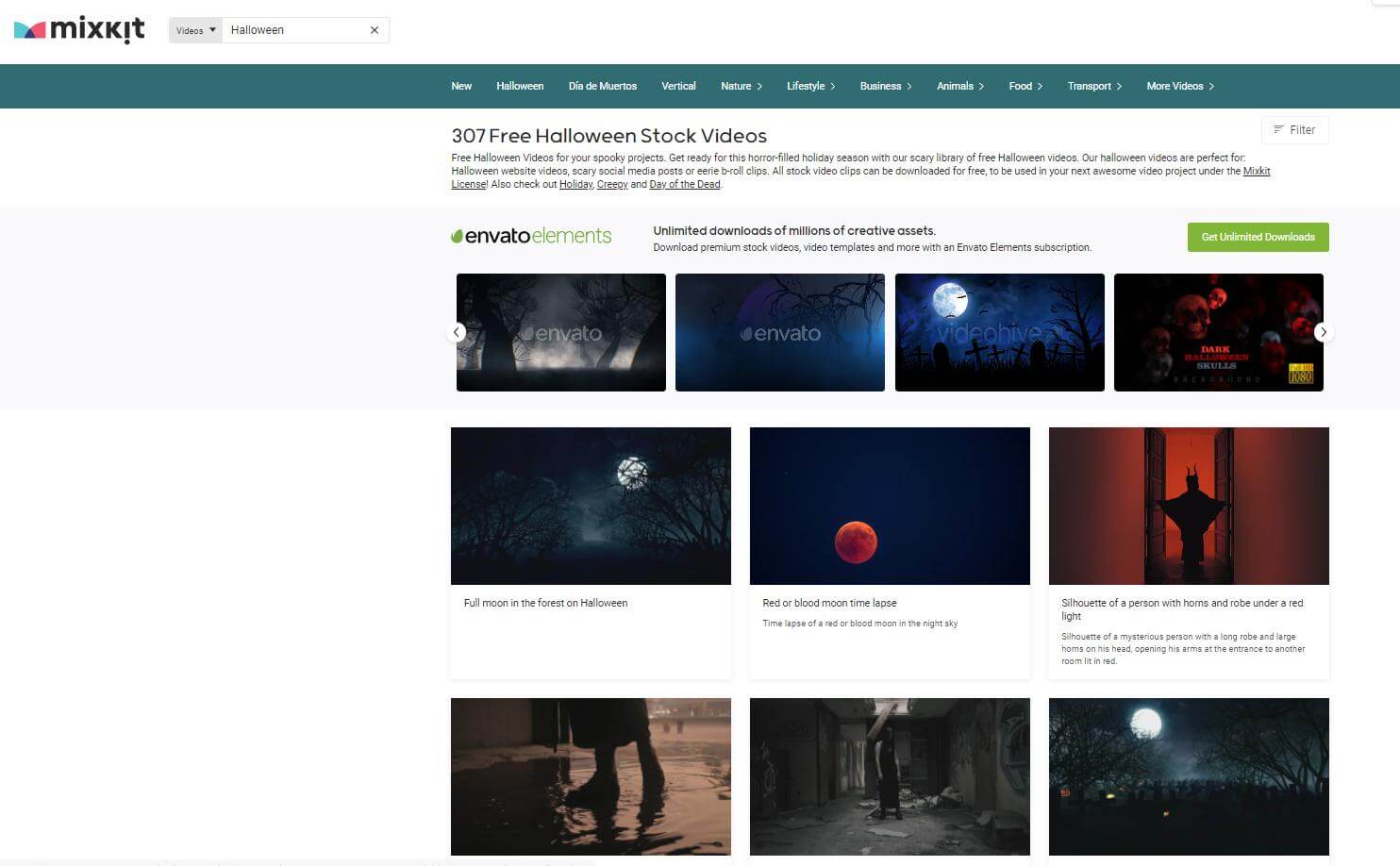 Step 2: Upload Your Shooting Video
Import the video shot by you, reflecting the wonderful time you spent with your whole family