Voice Cloner assists in cloning through artificial intelligence or deep machine learning techniques. create dynamic, iterable, and unique voices. This AI Voice Cloning software has made voice-over, and dubbing recording tasks very easy as they do everything with a few clicks. In this article, we are going to tell you what voice cloners are and how they work. Moreover, we will also introduce two best AI voice cloner generators along with their complete information. So, let's start!
Part 1:What is the Voice Cloner?
Voice cloning technology is a powerful tool that allows artificial intelligence and machine learning to replicate a person's unique voice with uncanny accuracy. By analyzing speech patterns, intonation, and vocal tone, voice cloning technology can not only create a highly realistic clone of a person's voice. but also enable the creation of custom audio files with different voices speaking the same words. This technology has potential applications in entertainment, gaming, and voice assistance services, but comes with privacy and misuse concerns that must be addressed.
Part 2: The Benefits of Use Voice Cloner to Get Realistic Voice
Accessibility: Voice Cloning technology can help individuals who have lost their voices due to medical conditions, accidents, or other reasons. They can use this technology to communicate with others in a way that sounds more natural than other assistive technology options.
Personalized digital assistants: Voice Cloning technology can create personalized digital assistants that sound like real people, making the experience more natural and human-like. This can improve user engagement and satisfaction with virtual assistants.
Voice-over work:The technology can be used in the entertainment industry, where voice-over work is common. With Voice Cloning, voice actors can produce more content with less effort, as the AI can replicate their voice in different contexts.
Dubbing and translations: Voice Cloning can help in the dubbing of movies and TV shows into other languages, as the technology can replicate the original actor's voice. This can reduce the costs and time needed for dubbing and translation.
Customization: Voice Cloning can help users personalize their digital content, such as audiobooks, podcasts, and videos, to match their preferences. This can improve the user's experience and engagement with the content.
Part 3:How to Clone Your Own Voice Via AI Voice Cloner
Today's market is full of different voice generators and cloners. It has become difficult to select the best option for professional and personal tasks. In this portion, we are going to cover two best Ai voice clone tools. We will have a look at their features, pros & cons, Review, and pricing details.
iMyFone VoxBox is a voice generator and also a voice clone function, which is supported to adjust parameters such as emphasis, pitch, and pause, to get a natural & realistic voice, etc.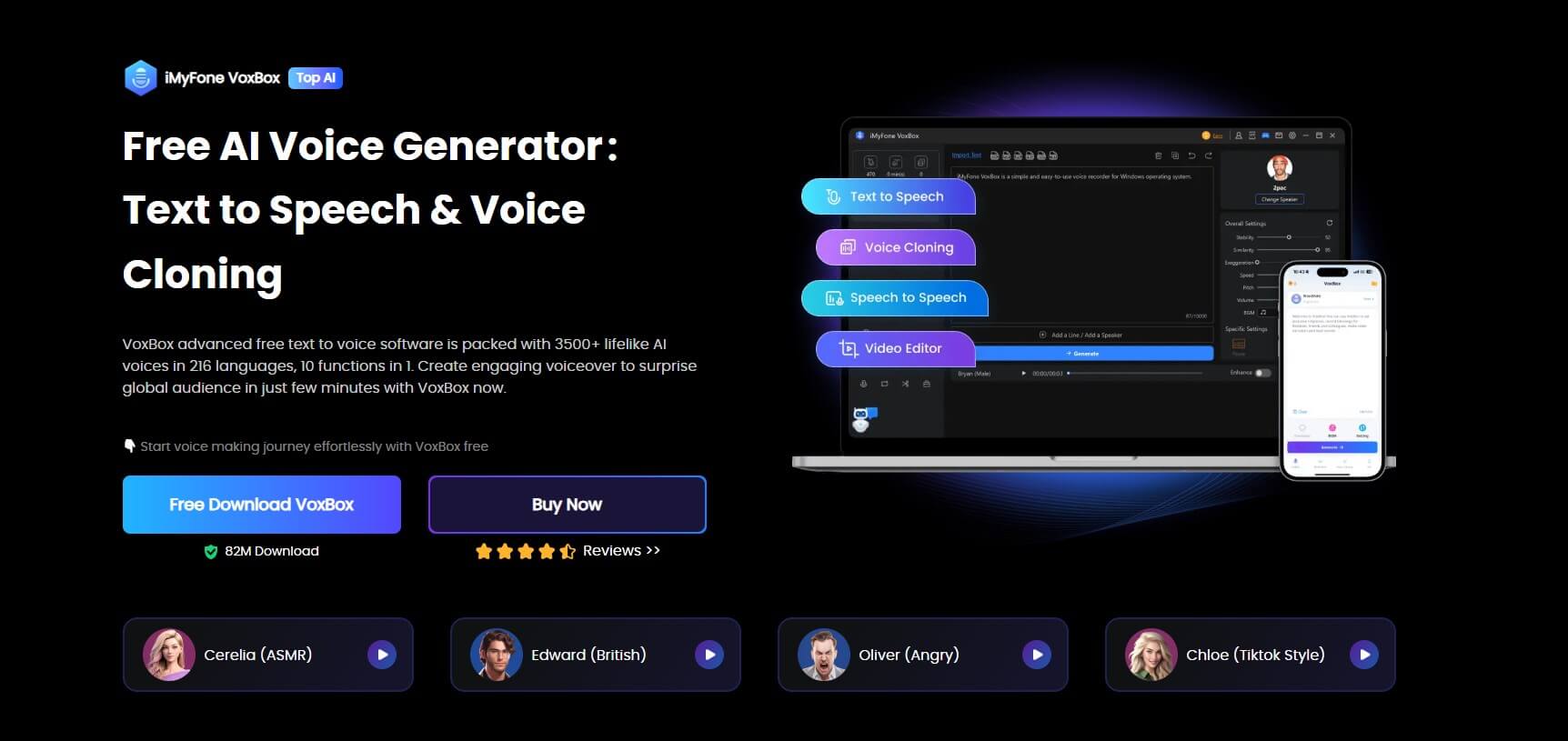 Features:
25 recordings & 25mins to get clone voices.

Supported 3200+ voices & 100+ accents & 46+languages.

Supported multiple functions such as speech-to-text, voice clone, video convert, voice record, audio edit. etc

Supported adjust parameters like Speed, Volume, Pitch, Pause,Emphasis, etc.

Supported multiple output format like MP3,OGG, etc.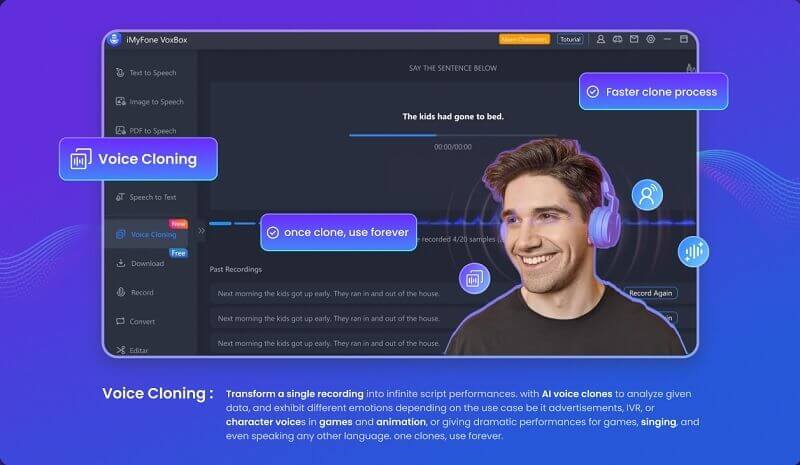 Pros:

Easy to use

No Ads

Safe and directly interface

Has a Trial Version.
Cons:

The free trial has no voice clone
Reviews:
4.7 stars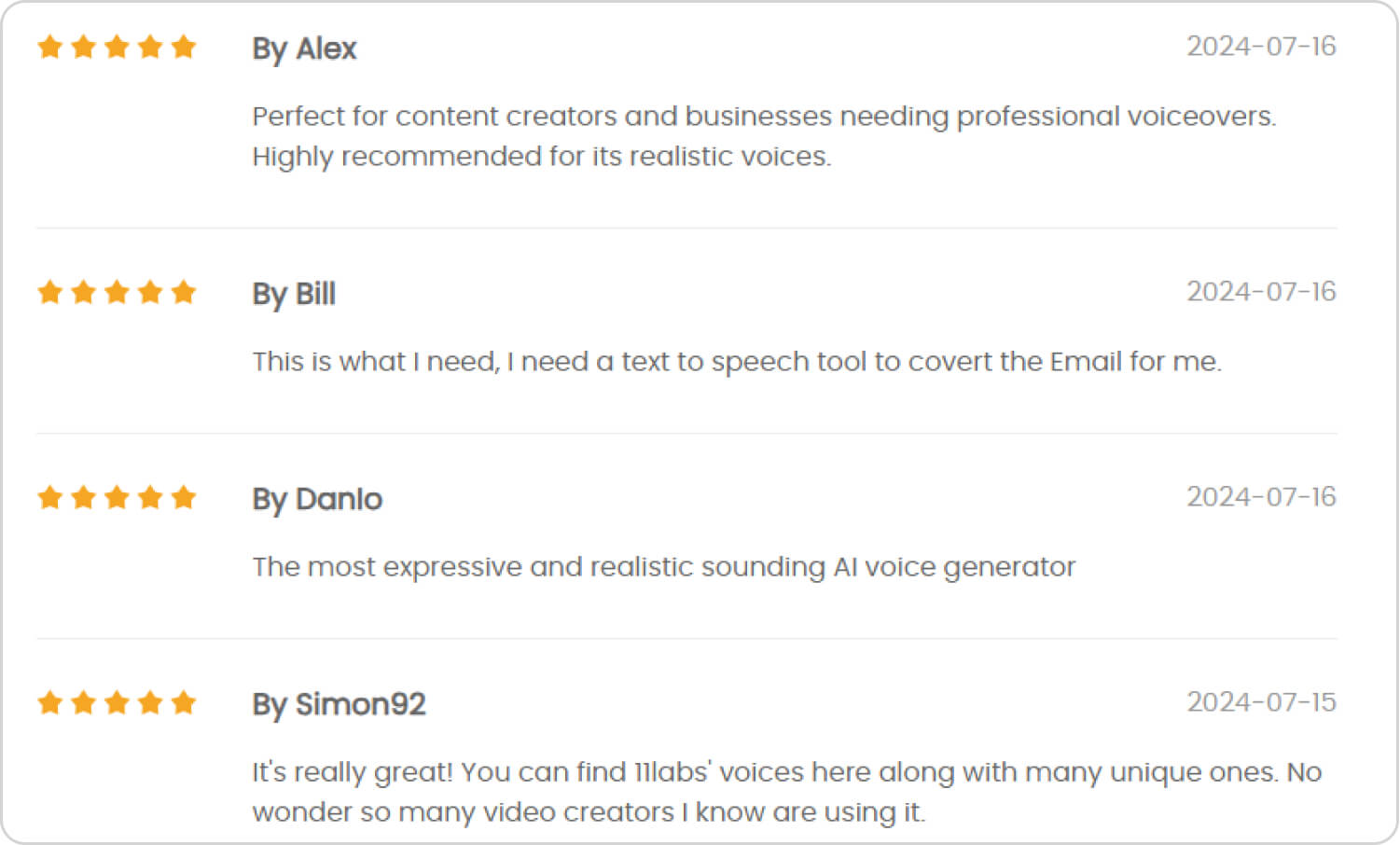 Price:
| Plan | Price |
| --- | --- |
| Clone Plan | $49.95 |
Resemble.ai is an online tool that performs multiple tasks with easy steps. It is a globally recognized tool by famous platforms like BYJU'S, bingo, Speechify, and Netflix. This tool performs unique functions to make the speech more realistic and natural. It adds pauses, accents, and a unique style to speech to make it closer to a particular emotional condition.
Through this tool, you can easily convert your own voice into another desirable sound just with a few clicks. Moreover, Resemble.ai also gives users a chance to localize their voice clips all around the world for unique recognition.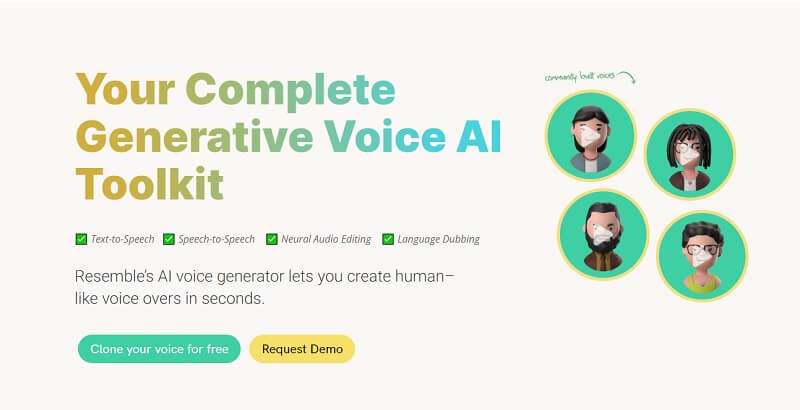 Features:
Supports fast and instant AI-based voice cloning in multiple languages.

Can add emotionally pinching style to voice.

Can localize your sound all around the world .

Supports conversion of pre-recorded voice into another sound just by simple clicks.

Supports neural audio editing.

Offers Text-to-Speech function with 100% accuracy.

Supports excellent language dubbing.

Offers real-time voice cloning.
Pros:

Simple and easy-to-understand tool.

Online tool.

Do Not need installation.

Offer multiple functions in a single place.

Allows users to build up a community.

A free demo is available.
Cons:

Internet connection is a must.

Paid subscriptions for unlimited features are required.
Reviews:
Resemble.ai is being used and recommended by famous names like Netflix, BYJU'S, bingo, Speechify, and many more. With a wide number of users, Resemble.ai used to read 2, 000,000 minutes of audio generation per month.
Price:
| Plan | Price |
| --- | --- |
| Basic Plan | $0.006 per second |
| Pro Plan | contact the company for this plan. |
Conclusion
The trend of voice cloners is modernizing day by day. Because of its popularity, many voice generators have been introduced to the market till now. It is very important to pick the best from all those numerous tools. We have helped you completely by guiding you on what voice cloners are, how they work, and what are the best voice cloners. iMyFone VoxBox is one of the best options to choose from because of its multi-purpose functioning and good results. We hope this article will help you to figure out the best voice cloner for your task.