Obi-Wan Kenobi, His voice, characterized by McGregor's calm and measured delivery, has become synonymous with the wise and composed demeanor of the Jedi Knight. Known for his distinct British accent, Obi-Wan Kenobi's voice exudes a sense of authority, experience, and compassion. It has resonated with fans, who admire his wisdom, courage, and unwavering dedication to the Jedi Order and the pursuit of justice.
In This article, through voice generation with AI technology, fans can now recreate and experience the iconic Obi-Wan Kenobi voice, adding an extra layer of authenticity and immersion to their Star Wars-related projects and content.
Part 1: Info of Obi-Wan Kenobi and Anakin in Clone Wars
"Obi-Wan Kenobi" is an American television miniseries created for the streaming service Disney+. It is part of the Star Wars franchise and features Ewan McGregor reprising his role as the title character from the Star Wars prequel trilogy. The series is set ten years after the events of "Star Wars: Episode III - Revenge of the Sith" (2005) and follows Kenobi's mission to rescue Princess Leia (Vivien Lyra Blair) from the clutches of the Galactic Empire. This leads to a long-awaited confrontation between Kenobi and his former apprentice, Darth Vader (Hayden Christensen).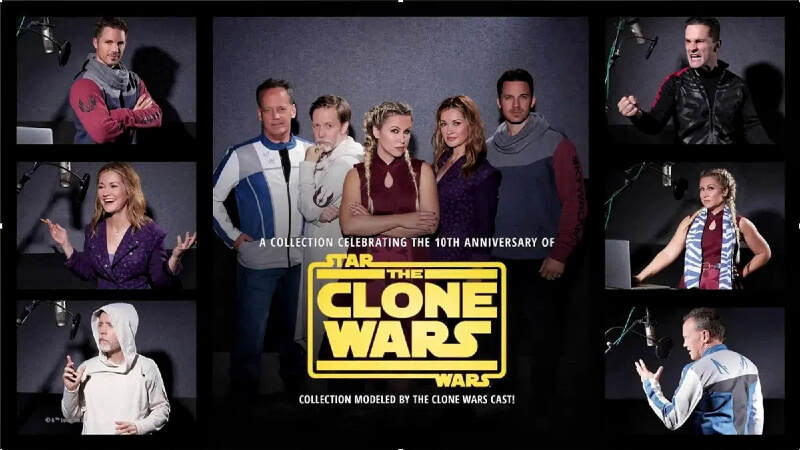 "Anakin Skywalker", a revered Force-sensitive human male, was a Jedi Knight of the Galactic Republic and the fabled Chosen One of the Jedi Order. His purpose was to restore equilibrium to the Force. Nicknamed "Ani" in his youth, Skywalker garnered the title of the "Hero With No Fear" due to his notable triumphs during the Clone Wars. However, his transformation into Darth Vader, the menacing Dark Lord of the Sith, occurred when he succumbed to the dark side of the Force and swore allegiance to Sith Lord Darth Sidious as the Republic Era neared its end.
Originally conceived as a spin-off film, the project took shape with the involvement of writer Hossein Amini and director Stephen Daldry. Ewan McGregor's return to the role of Obi-Wan Kenobi was confirmed in August 2019, and Deborah Chow was subsequently hired as the director a month later.
Part 2: Who Voiced Obi Wan and Anakin in clone Wars?
Who Voiced Anakin in Clone Wars?
If you ask who voiced Anakin in Clone Wars, it wasn't Hayden Christensen but Matt Lanter. This is the same for other Star Wars Clone Wars voice actors, such as James Arnold Taylor playing Obi-Wan Kenobi and Ashley Eckstein Playing Ashoka Tano.
Listen to Anakin AI Voice for free using iMyFone Voxbox down below!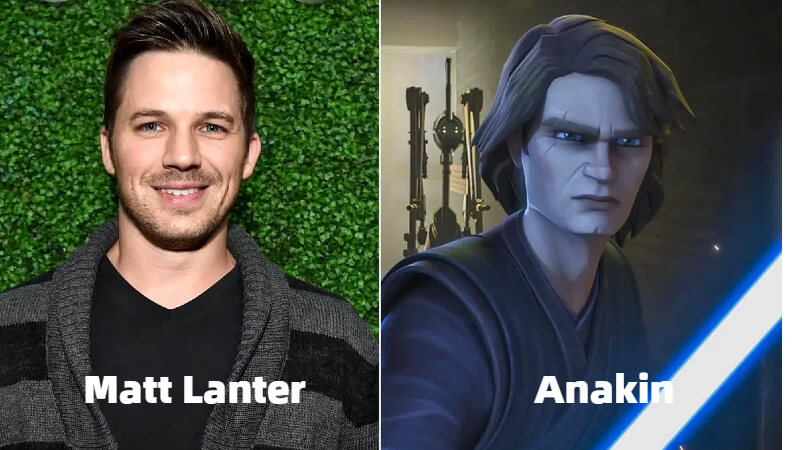 Who Voices Obi Wan in Clone Wars?
Clone Wars Obi Wan voice is done by an American voice actor, James Arnold Taylor. He is also double for Obi Wan Clone Wars voice actor Ewan McGregor who plays Obi Wan in the movies. James has also played "who voices Obi Wan in Clone Wars" in other features such as Star Wars Rebels.
Listen to Obi Wan AI Voice for free using iMyFone Voxbox down below!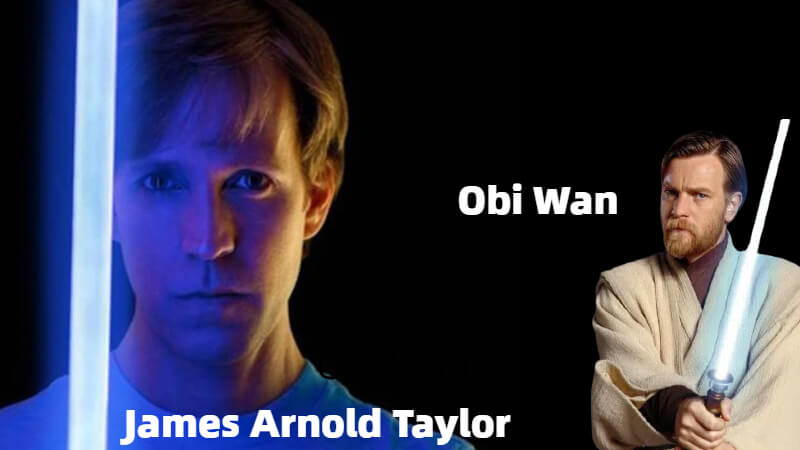 Part 3: How To Make Obi-Wan Kenobi AI Voice Using TTS?
So, are you ready to sound like Clone Wars voice actors? This section has the best voice generator for your question, "How To Make Obi-Wan Kenobi AI Voice Using TTS".
VoxBox is an advanced AI voice generator that brings Star Wars Clone Wars characters like Obi-Wan Kenobi and Anakin to life with natural and authentic voices. It offers a range of impressive features, including: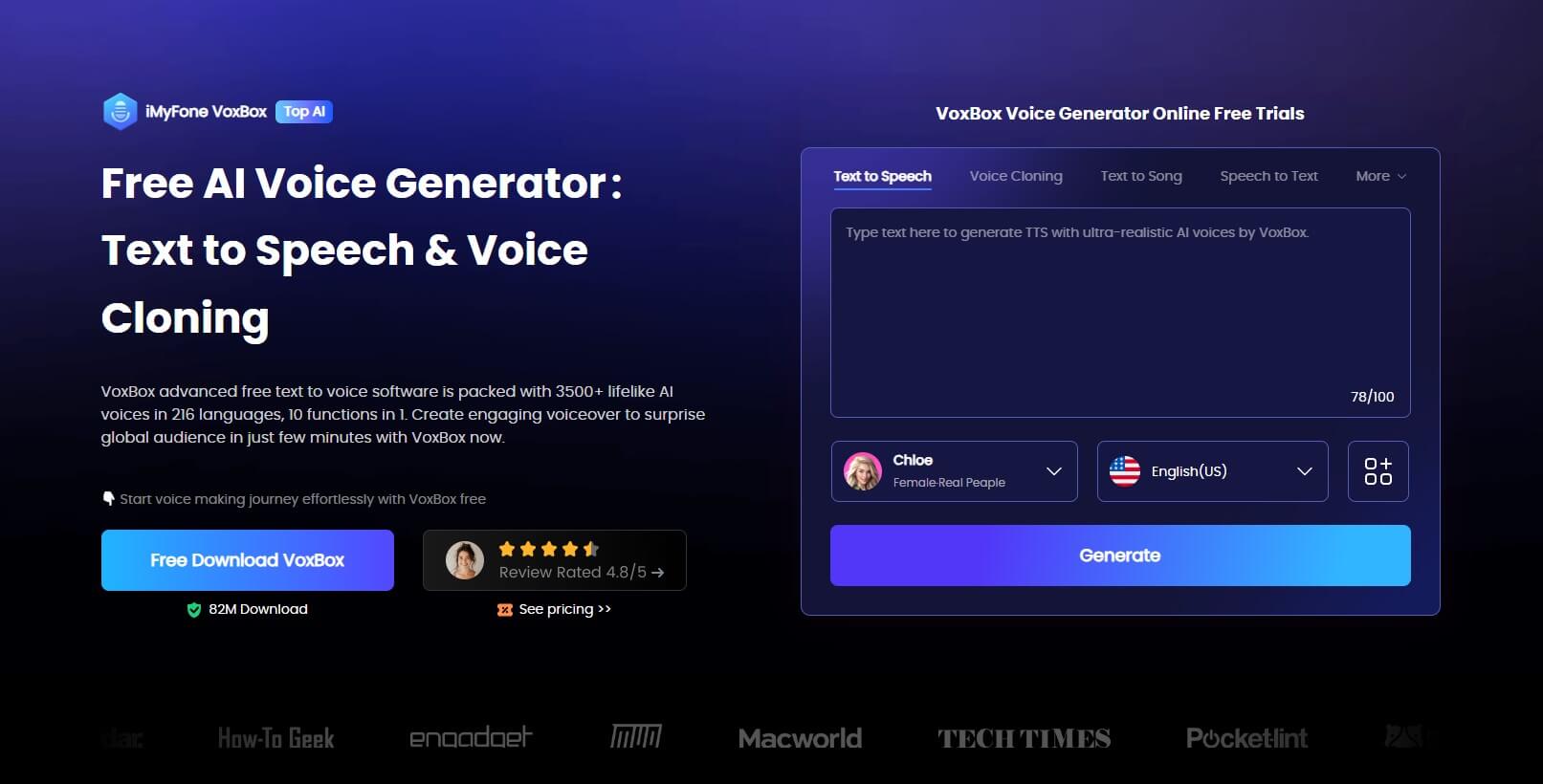 Key Features:
3,200+ voice to choose from.

VoxBox provides an extensive selection of over 100 artist filters, including Anime, Celebrity, Actor, Youtuber, Singer, and more.

Supported 46+ languages .

Customized, Safe, Faster, High-quality audio.
Step of Use VoxBox Generate Obi-Wan Kenobi AI Voice:
Step #1: After you install the VoxBox app downloaded from their main website, run it.
Step #2:Enter the text you want to hear, and press convert to get your desired voice.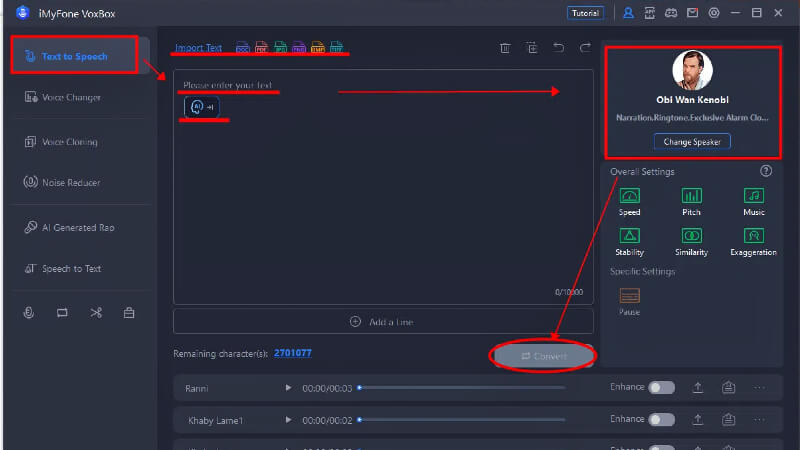 Pros:

Interactive UI.

Massive Library.

The free version has many functions.
Cons:

Need install.
Part 4: FAQs about Clone Wars Voice Actors
1. Who Did the Voice Acting for Clone Wars?
There are many Clone Wars voice actors who played their part in Star Wars Clone Wars and made it such a success. Some prominent voice actors who voiced Anakin in Clone Wars are Matt Lanter as Anakin, Ashley Eckstein as Ashoka, James as Obi-Wan, and many others.
Many famous actors like Liam Neeson as Qui-Gon Jinn and Jone Favreau as Pre Vizsla also participated.
2. Is There Any AI Voice Cloner to Clone AI Voice?
If you want to sound like Star Wars Clone Wars voice actors, especially the most popular ones like Darth Vader, Yoda, Obi-Wan, etc., you should use a more professional tool. If you also want a tool that isn't heavy on your pockets, we recommend iMyFone VoxBox.
3. How Can I Make Text-to-Speech Voice Cloning?
You can find the detailed steps in the section above explaining how you can use VoxBox to clone the Clone Wars Obi Wan voice with the help of simple steps. You can efficiently perform these steps with any other voice generator if you have your desired voice filter to clone readily available.
Conclusion
In conclusion, people use AI voice generators like iMyFone VoxBox to obtain the voice of Obi-Wan Kenobi for various reasons. By utilizing VoxBox's advanced technology, individuals can recreate the iconic and distinctive voice of Obi-Wan Kenobi from the Star Wars franchise. Whether for entertainment purposes, creative projects, voiceovers, or simply for fun, the Obi-Wan Kenobi voice generator in iMyfone VoxBox offers an immersive and realistic experience, allowing fans and users to bring the beloved character to life in their own creations. Try the Obi-Wan Kenobi voice generator in iMyfone VoxBox today and discover the power of AI-generated voices.