It is the time of gadgets and digital technology. With that being said, there are plenty of TTS applications to support the automatic reading of a particular text or written material. world.
If you are also looking for the best text-to-speech app for your mobile, then read this article carefully. We are going to share the best TTS applications for Android and iPhone with their features, user ratings, pricing details, and compatibility.
Stay with us and find the best option for your device.
Tips
No voice artists are needed, and no recording equipment is needed. You can easily convert your text to speech and voice using
iMyFone VoxBox
! Download it and try it out for free now!
Part 1: 3 Powerful Text-to-Speech Apps for iPhone
Natural Reader App is a text–speech application for iPhone users through which they can listen to their notes, notebooks, written content, PDFs, documents, and all e-learning contents easily.
This mobile application has shown excellence in grabbing users' attention by providing clear audible, and visual results.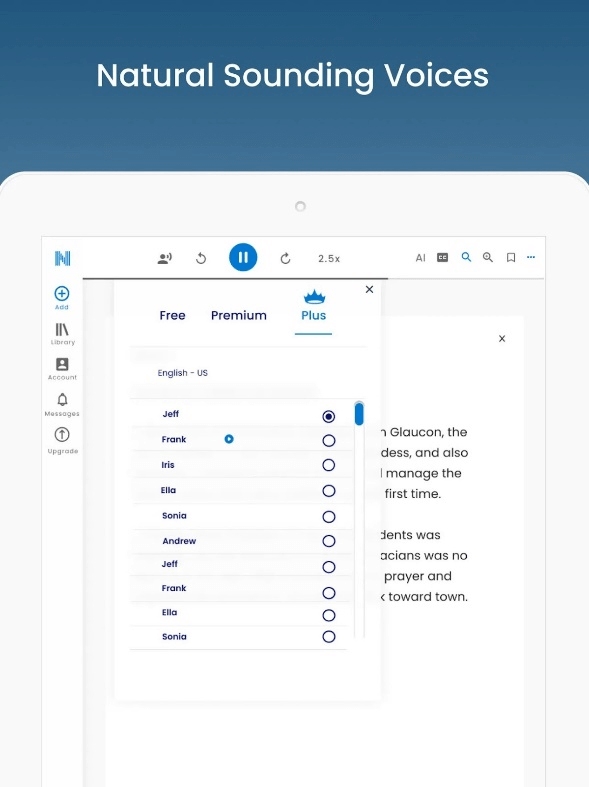 Key Features:
100+ different voices.

15+ different languages to choose from.

AI-based technology.

Best camera scanner to understand the text.

Best AI text filter.

Numerous Customizable options.

Support multiple data formats.
Text to Speech! is the second iPhone mobile application on our list. This application is also loaded with efficient text-to-speech conversion ability through various features and functions.
It reads the text with a visual representation for a better understanding of the user or listener. Although it offers more than 150 different voices, if you are not comfortable with the built-in sounds, then you can have pitch, sound, and rate customizations according to your choice.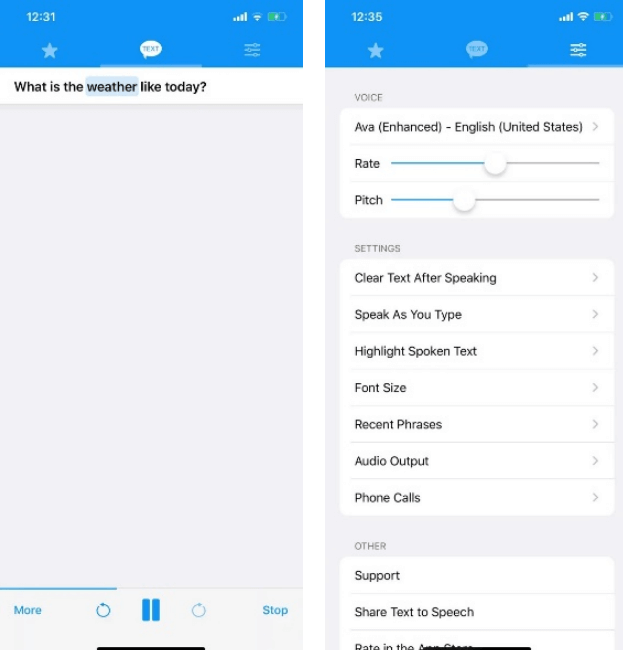 Overall, this application is designed to satisfy its users at every cost. Some of the most exciting features are listed below.
Key Features:
Works without an internet connection.

Mix speech with your phone calls.

63 different languages and accents.

Offers 178 different sounds and voices.

Highlight text while speaking.

It speaks as you type content.
Speechify text-to-speech is considered the #1 text-reading application on the App Store because it has more than 20 million users all around the world.
You can use and make audio voices according to your choice and comfort zone. Its smart camera scanner scans books, notes, documents, and other written content clearly and smartly for converting it into speech with 100% accuracy.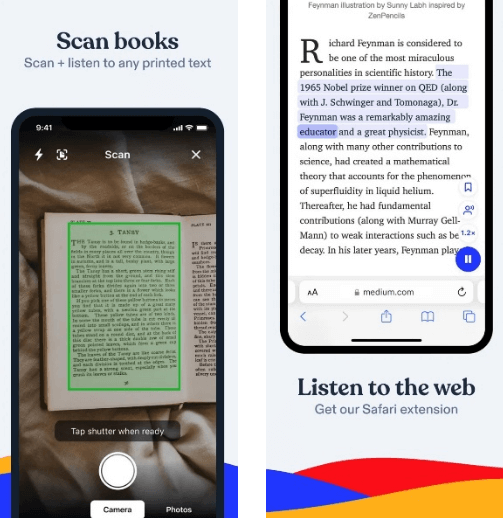 Key Features:
Convert screenshot images into audio.

Active and fast text highlighting.

Offers a Safari extension for website content.

Available in mobile and desktop versions.

AI converters and readers.

Provide hundreds of free audiobooks.

Can save audio bookmarks.
Part 2: 4 Best Text to Speech App for Android
Narrator's Voice is one of the popular mobile applications for Android platforms that allows users to share their messages with their family and friends in a very pleasant sound using various voices. It is also capable of converting text into speech very effectively and clearly without any errors or mistakes.
This application shows successful positive and well appreciative TTS results for the data like screenshots, PDFs, still images, e-learning projects, and many more.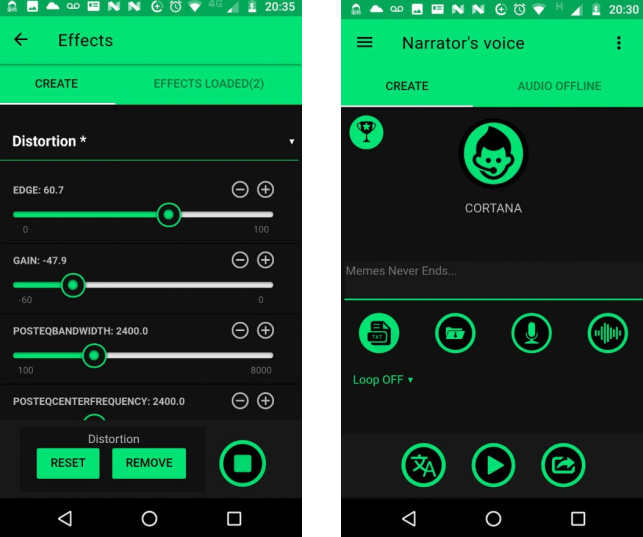 There are plenty of other features of the Narrator's Voice app. Let's have a look at them too.
Key Features:
Many voice effects are available in different languages.

Save and export both video and audio files.

Natural and realistic voices.

Read aloud TTS.

You will type, and your phone will speak the same.

Share text directly on social media.

Convert text to MP3 and MP4 files.
Like all the above-mentioned applications, Speech Central is also an amazing text-to-speech converter designed with multiple editing and settings options.
The thing that makes this application different from others is its consistency in speech. It will automatically and continuously convert text into speech by ignoring all the headers, footers, links, and footnotes from any text-based document.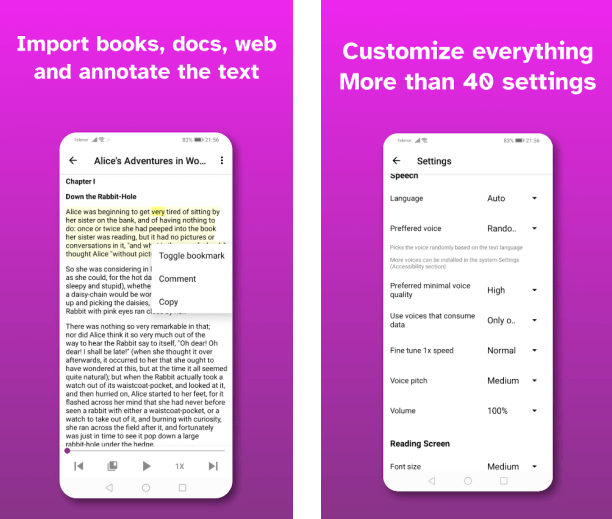 Let's see Speech Central's exciting features.
Key Features:
Built-in text annotation tool.

Numerous options to customize voice appearance and other parameters.

Provide the widest ebook, document, and file format support.

Export text to Docx format.

The free version is available with quantity limitations but the same quality as the paid one.

High privacy and security standards.

Totally free for blind people. Legally blind users are eligible to use it free of cost.
Voice Dream Reader is a helpful tool/application for android mobiles and tablets. It is available on the Google Play Store with the name Legere Reader—which is the same tool for Android as for iPhone by Voice Dream.
This application helps blind people and dyslexia-affected people to listen to any written content in audio form.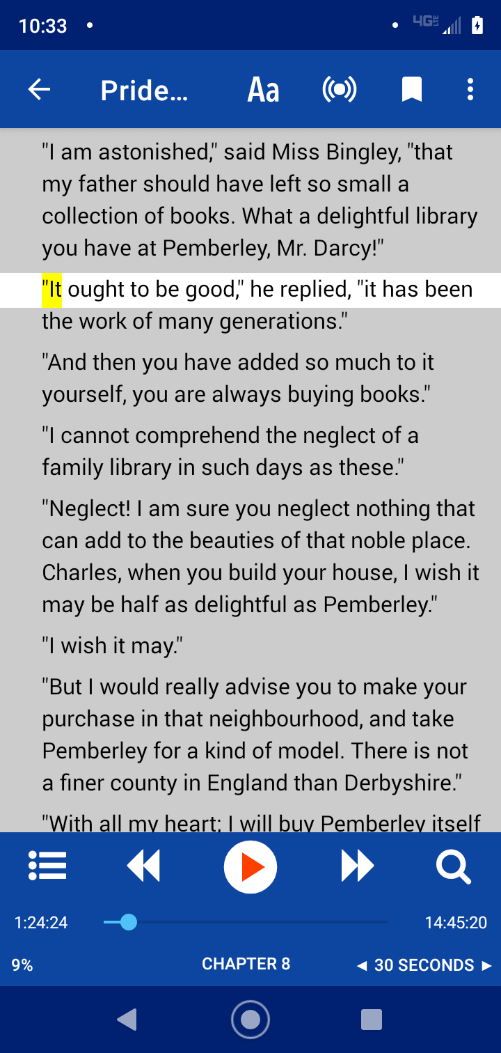 Let's have a look at the below-mentioned features list of this application.
Key Features:
Continue reading even when the mobile screen is locked.

Voice and reading speed can be changed from 50 to 700 words per minute.

Take a record of speech rate and voice used for any document.

Word and line highlighting synchronization.

Three customizable color themes.

Different files can be converted into PDF files.

Built-in web browser for downloading files.
Speech Services by Google is a two-way responding mobile application for Android users. It does not convert text into speech only but can also convert speech into text automatically.
Due to the STT features, it is commonly used all around the world in the normal routine on Google Maps while finding locations, transcribing recordings on your device, real-time voice changes on phone calls, and many more.
This application is very simple and easy to use. It has a very clean, self-explanatory, and intuitive user interface. After installation, it requires to be activated from Android settings.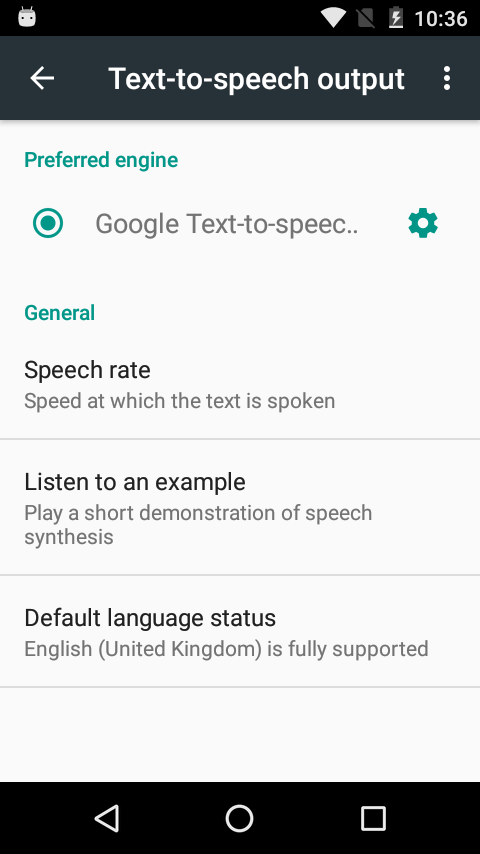 Here is the list of additional features of Speech Service by Google.
Key Features:
Automatically recognize what you say and what you type.

Can be used by Google Playbook.

Speak loudly to make the word and pronunciation clear for the listeners.

Talkback and accessibility features.

Can be used for real-time speech conversion on phone calls.
Part 3: Best Text-to-Speech Voice Generato For PC & Mobile
iMyFone has launched VoxBox, which is one of the best TTS generator.It has a bundle of different features and functions to support users generate rich & expressive voiceover.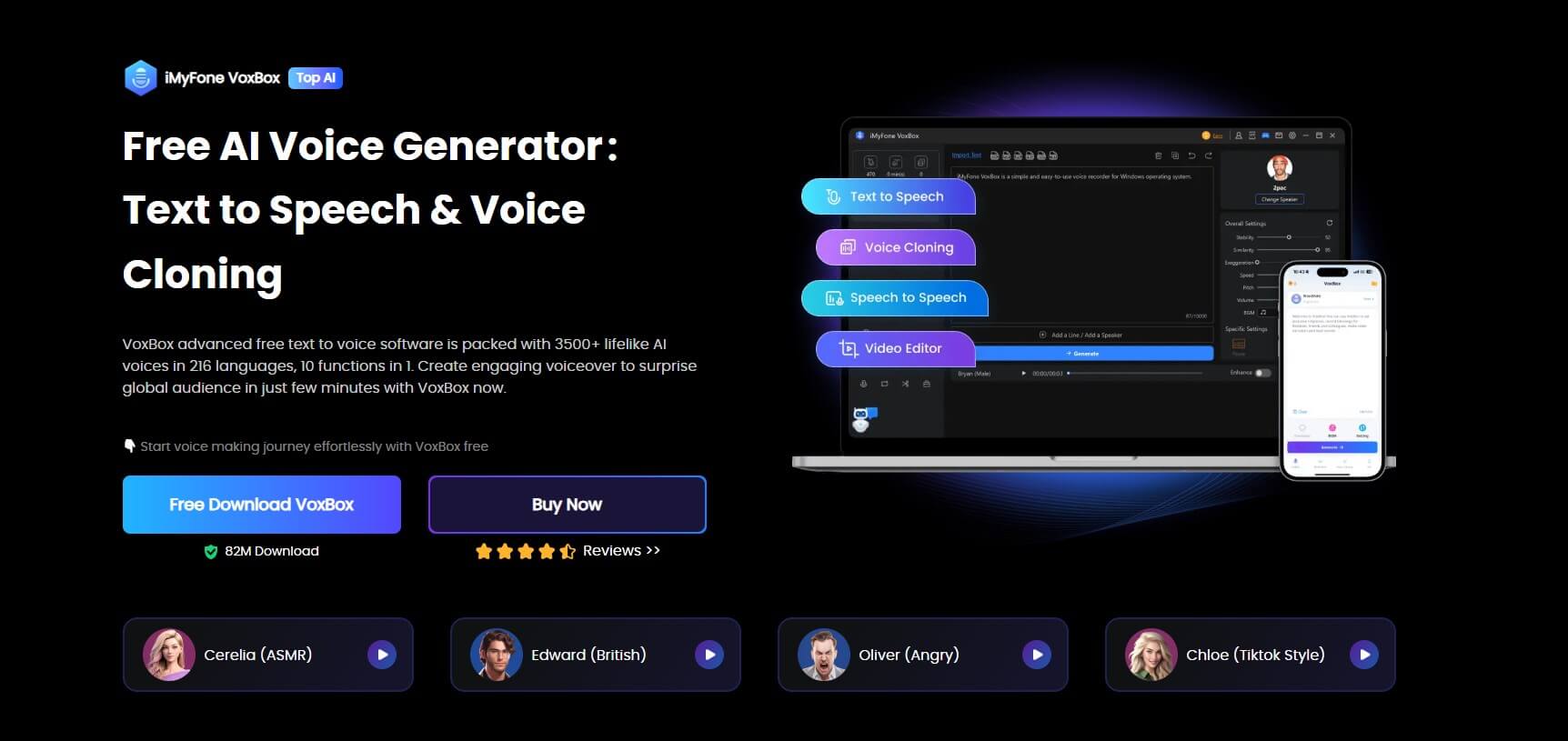 It uses advanced AI voice cloning & text to speech tech by supporting different output file formats. You can extract your output file in Mp3, Wav, and AAC formats.
Overall, this software can be used for professional and long-term tasks in a very easy and non-technical way.
Bonus Tips
Watch this video to learn more about using
AI voice generators
to make realistic & natural voice.
Key Features:
Offers 46+ different languages like Japanese, Hidin,etc.

3200+ AI voices like Obama, Trump, Biden, etc.

Multiple output formats supported.

Not only a dubbing software, but also supported text transcription.

Fast speed of voice clone, convert text to speech

Can be used for business, educational, professional, and personal tasks.

Very simple and easy to use.

Can record, convert, and edit audio files.
Pros:

Simple and straightforward to use.

User-friendly software.

A free version is available.
Cons:

Need installation.

Limited features in the free version.
Part 4: Comparison of 7 Best Text-to-Speech App
Here is the comparison of the 7 best Text-to-speech Apps for your references.
Text to Speech Solutions
Operating System
Price
User Ratings
iMyFone VoxBox

ALL in

$15.95/M

$49.95/Q

$89.95/Y

4.7

Natural Reader App

Require iOS 14.0 or above.

Free = $0

Premium plan (monthly) = $9.99

Plus plan (Monthly) = $18.99

Plus plan (Yearly) = $109.99

Premium plan (Yearly) = $59.99

4+

Speechify Text

· Require iOS 14.0 or above

Free = $0

Premium = $29.99

Dyslexia Donation = $29.99

Speechify Premium = $139.99

Dyslexia Donation = $109.99

Dyslexia Donation = $69.99

4.6

Narrator's Voice

· Requires Android 5.1 and later

In-app purchases = $0.49 - $169.99 per item

4.4

Speech Central

· Requires Android 8.1 and above

In-app purchases

$6.99 per item

Speech Services by Google

· Web-based tool

· Personal $14.25/m

· Professional $29.25/m

· Premium $74.25/m

4.2

Voice Dream Reader

· Requires Android 4.4 and above

In-app purchases = $9.99

4

Text To Speech!

· Requires iOS 12.0 or later

Free = $0

In-app purchases = $9.99

4.2
Part 5: FAQs about Best Text-to-Speech App
1. Which is the Best Text-to-Speech App for iPhone?
The app which can accept the text clearly and convert it into speech loudly is considered the best TTS tool. In this article, we have shared the three best text-to-speech apps for iPhones.
All of the above-mentioned applications, including the Natural Reader App, Text to Speech !, and Speechify Text Reader, fulfill the requirements.
2. Is There a Free and Realistic Text-to-Speech App?
Yes, all of the applications suggested in this article provide realistic and natural results, even with their free version. The only limitation of the free version is the quantity.
Otherwise, quality is not compromised for free or paid versions of these tools. You can choose any of the above-method apps according to your OS.
Conclusion
It has become difficult and time-consuming to read lengthy articles, newspapers, books, notes, and chapters in such a busy life. To solve this issue, companies are launching amazing TTS Apps and software for different devices.
In this article, we have also shared some of the best text-to-speech apps for Android as well as for iPhone platforms.
We have tried our best to give a detailed comparison of all these applications. And here we recommend iMyFone VoxBox as the best one.